Whilst some countries experience overtourism, there are still plenty of incredible destinations around the world that are crying out for visitors. Off the beaten path travel destinations offer the opportunity of a more profound, richer, fulfilling, and immersive encounter. In this post, we have teamed up with fellow travel bloggers who also share a love of off the beaten path travel, to bring you the best countries to visit for a thrill-seeking adventure.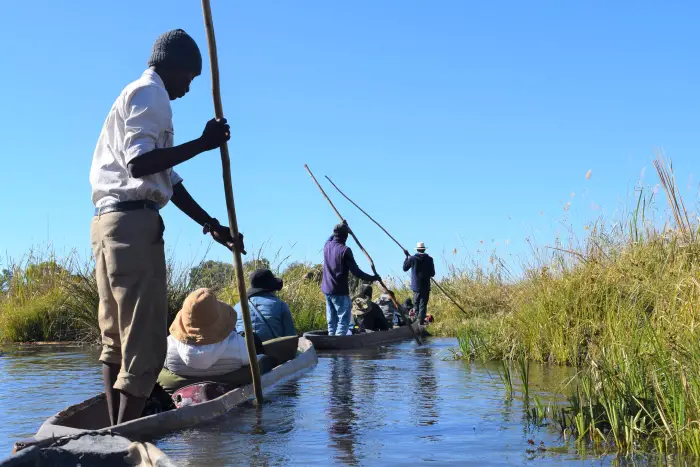 Disclosure: Untold Wanderlust contains affiliate links. If you click on these links and make a purchase, we will earn a small commission at no extra cost to you. You can find our full disclosure policy and privacy policy here.
Africa off the beaten path travel
1. Botswana
By Katie and Jake from Untold Wanderlust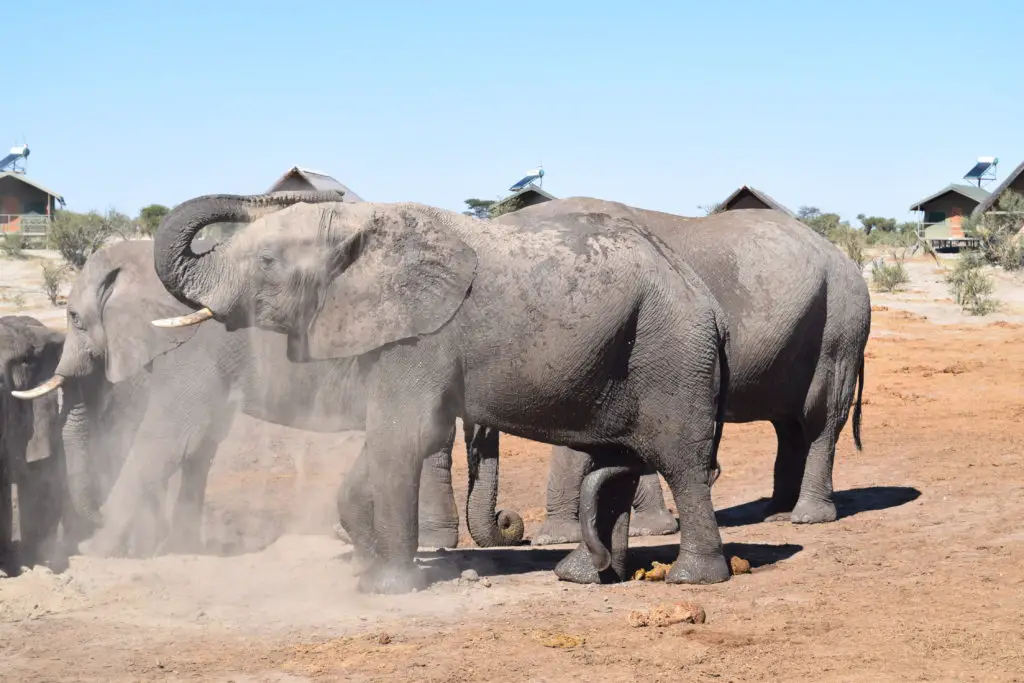 A landlocked country located in Southern Africa, Botswana is the perfect off the beaten path travel destination for all kinds of travellers. Whether you're a backpacker or a luxury lover, Botswana offers something for everyone. If you prefer a camping trip, just roll out your tent. Otherwise, you can easily opt for a luxury lodge. Botswana is often overlooked in favour of its more popular neighbours, South Africa and Namibia. However, Botswana was one of our favourite countries on our overland tour in Africa.
The landscape is defined by the Kalahari Desert and the Okovango Delta, making for a remarkable vastness in sightseeing. Furthermore, there are a plethora of safari opportunities. One of the must-do things in Botswana is an overnight excursion to the Okovango Delta. The area is truly magical. Floating down the romantic waterways whilst spotting hippos, elephants, giraffes, and everything in-between makes for the perfect day. To top it off, you will spend the night camping in the bush under a sea of stars. If a trip to the Okovango Delta still leaves you wanting more, an excursion to Chobe National Park should be on the cards as well. Whip out your binoculars and get ready to spot a leopard!
2. Ethiopia
Contributed by Madhurima from Orange Wayfarer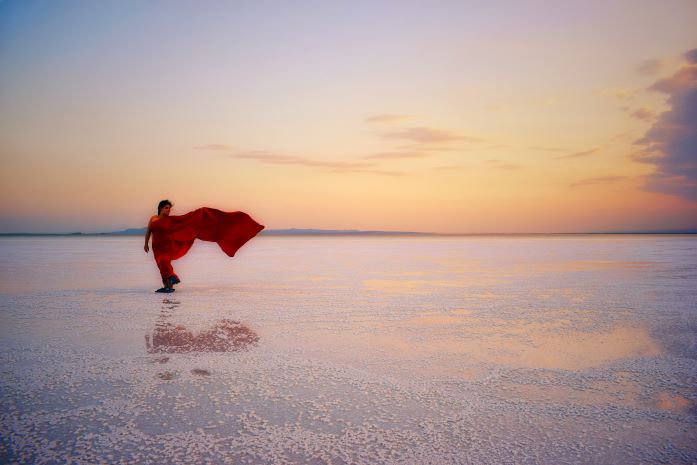 I fell in love with Africa while travelling to Masai Mara during the Great Migration, a spectacular natural event.
The landscape, food, and culture were all different from what we have been shown in the media all through my life! Falling in love with the people of Africa was an instantaneous affair that crossed the language barrier with a genteel smile.
Africa also happens to be one continent with a rather relaxed visa norm for an Indian passport holder, a woman, and a freelancer. On my third visit to the continent, I visited Ethiopia and that was a life-changing experience in the true sense.
Ethiopia was never colonised. The people of the country are extremely proud of this fact. Add to that, they are extremely hospitable, and warm to Indians, since many of my countrymen serve in their health sector and educational institutes, and have an interesting cuisine that resembles a lot with the high spice quotient of my country.
Ethiopia is one of the handfuls of countries where the majority of the people follow Old Christianity. While the rest of the world celebrates Christmas, Ethiopia waits for Timket in January. The old rock-hewn churches of Lalibela are stunning examples of historic events that unfolded in the region. The walls and roofs of these churches are often dotted with the face of Jesus that flaunts Afro hair.
Not many know, but coffee was first introduced in Ethiopia. Drinking coffee is a ceremony here, with aromatic incense and old rituals filling up the air as you drink the strong concoction. The north of Ethiopia is made of highlands. Similan mountain range, one of the oldest UNESCO world heritage sites, sits here as a crown jewel with endemic red-breasted Gelada baboons. Proceed towards the North East and you will be welcomed by the sprawling depression of the Danakil region. Active volcanoes, lava lakes, and saltpans adorn this area. The Afar region is also home to plenty of historical evidence that went into the Earth as the great African rift arose. The first human hominid, Lucy, whose bones date back a few million years, were found here.
The south of Ethiopia houses plenty of old African tribesmen, especially by the banks of the Omo River. Visiting Omo Valley is heavily disputed. The hurricane tours often treat these tribal groups as a human zoo, such goes the allegation.
3. Sao Tome and Principe
Contributed by Heather and Peter Cole from Conversant Traveller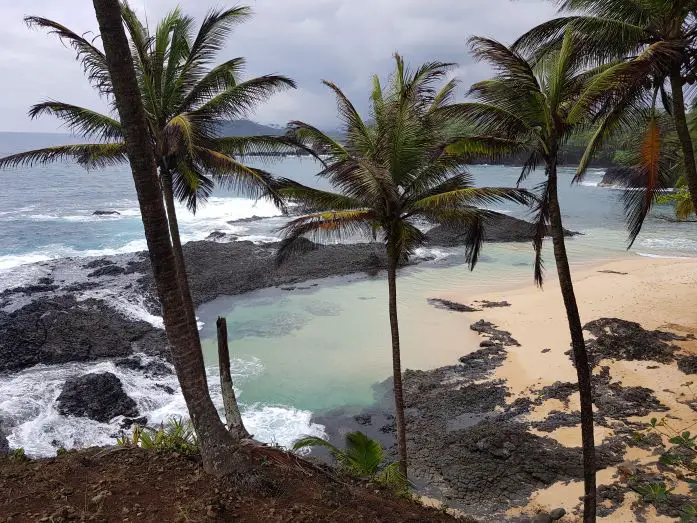 The remote islands of Sao Tome and Principe sit right on the Equator out in the Gulf of Guinea and off the west coast of Africa. Known as the 'Chocolate Islands', the archipelago was once home to hundreds of cocoa and coffee plantations, but after independence from Portugal in 1975, many fell into decline and were taken back by the rainforests that cover much of the land.
This tropical paradise is a favourite with nature enthusiasts, historians, and anyone who loves a good beach. Tourism is still relatively new here, so you'll often go for several days without seeing another visitor outside of your accommodation. There are a few luxury hotels in Sao Tome and Principe, as well as guesthouses which should all be booked in advance of your holiday.
Day trips and local transportation can be arranged once you're there, with 4×4 excursions, plantation visits, and diving all readily available. One of the best ways to explore Sao Tome and Principe is by joining a boat trip around the volcanic coast, stopping in sheltered bays for snorkelling and picnics on secluded beaches. Seeing the untouched shores and virgin forests feels like stepping back in time.
4. Sudan
Contributed by Emma from Journey of a Nomadic Family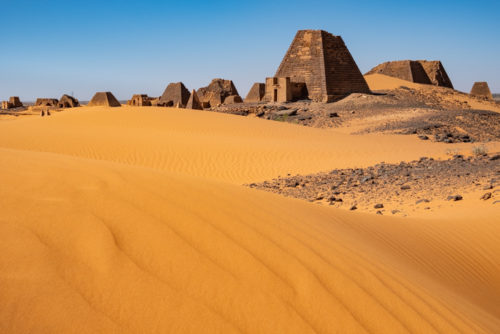 Sudan, in north-east Africa, is one of the most off-the-beaten countries we've been to and that is in part due to the financial sanctions placed upon it by America. Sudan is a cash-only country which makes it particularly difficult for foreigners and not only that, it is a two-currency country where you cannot order any local currency before you arrive.
You must also arrange your visa before arrival and it's best to do it in person at Sudan's embassy. However, once you have overcome those difficulties, Sudan will reward you with being a welcoming and fascinating country. It receives fewer than 15,000 travellers every year which means you'll probably have most of its attractions to yourself.
Did you know that Sudan has 255 pyramids? That's over 100 more than Egypt, and although they're not as big, they're cleaner, cheaper, and by far more impressive than Egypt's. As many are located in a desert, they glow orange and ripple in the sun. In fact, when we visited the Pyramids of Meroe, the historical site of Naqa & Musawwarat es-Sufra, the Nuri Pyramids, Old Dongola and Arkawit Gate, we were the only people there. This meant we received personalised tours from local guides and that our kids not only met friendly locals but learnt directly from them.
Sudan also has an impressive set of coral reefs which are found off the coast of Port Sudan. You can dive or snorkel with a local company, visit Mukawwar Island & the men who maintain the lighthouse and whilst you're there, you should definitely visit the destroyed port village of Suakin.
If you're looking for a true adventure in a country still unknown to the outside world, head to Sudan and revel in all it has to offer. It's a delight!
---
Asia off the beaten path travel
5. Bhutan
Contributed by Jeremy from Cultura Obscura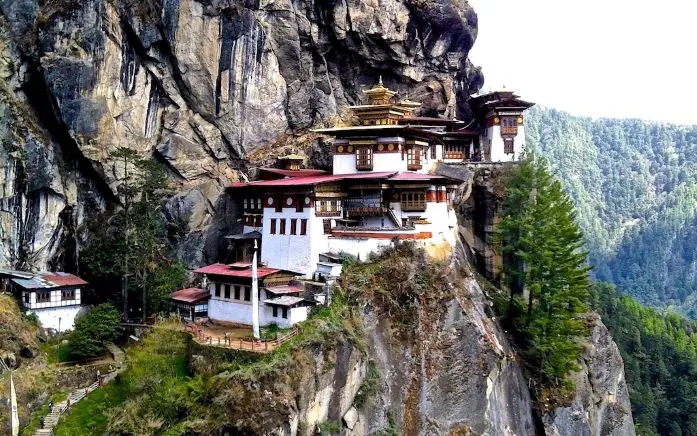 Bhutan is an extremely off-the-beaten-path destination due both to its isolated location and the daily tourist fee most visitors have to pay. However, for those able to visit, it is well worth the effort and cost as Bhutan is one of the most beautiful countries in the world.
As Bhutan is so seemingly tucked away from the rest of the world, its cultural identity is much more prevalent and well-preserved than in most other countries. It has a purity of self that envelops you the moment you enter the region, either by flying into the unique Paro airport or by steadily climbing up into the mountains from the border.
You'll see centuries of Bhutanese tradition everywhere you go; in the colours of the meticulously hand-painted buildings that line the streets, in the refreshing taste of local butter tea, and as you buy spices and crafts at the marketplaces, which is one of the best things to do in Thimphu, Bhutan's capital city.
The most popular and culturally significant activity of all has to be hiking up to the Tiger's Nest; a mountainside temple and holy complex that looks as if it comes straight out of a fantasy novel.
6. Central Asia
By Katie and Jake from Untold Wanderlust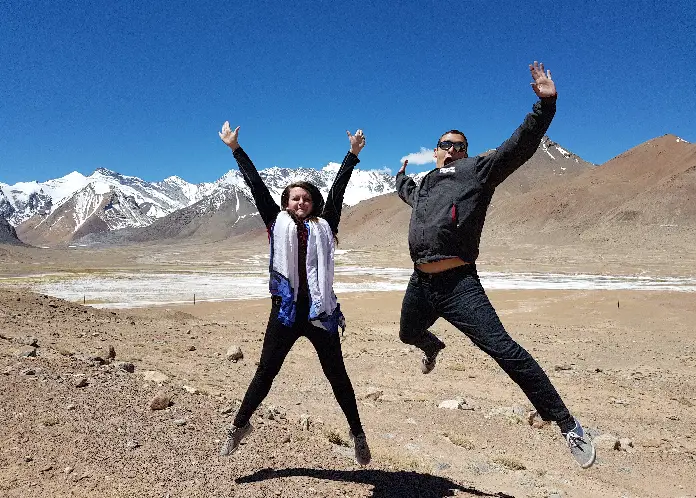 Whilst Central Asia is not the name of the country but the entire region, we found it difficult to choose just one. Central Asia is made up of five "stans": Kazakhstan, Kyrgyzstan, Uzbekistan, Tajikistan, and Turkmenistan. This region is truly fascinating, with a long history, mesmerising architecture, beyond-belief scenery, and intriguing culture, you have to at least visit once in your lifetime.
On a trip to Central Asia, you will find a plethora of activities and attractions to discover. Don't miss the beauty of Big Almaty Lake in Kazakhstan, a scenic horse trek in Kyrgyzstan, the mindblowing architecture of Registan Square in Uzbekistan, and the Gates to Hell in Turkmenistan.
Our favourite part of our time in Central Asia though was our 5-day tour of the Pamir Highway in Tajikistan. 5-days of marvelling at a diverse range of scenery; sparkling lakes, snow-capped mountains, rolling green hills, the thrill of riding along one of the world's most dangerous roads, and connecting with locals and learning about their lives and culture.
7. Iran
Contributed by Jiayi from The Diary of a Nomad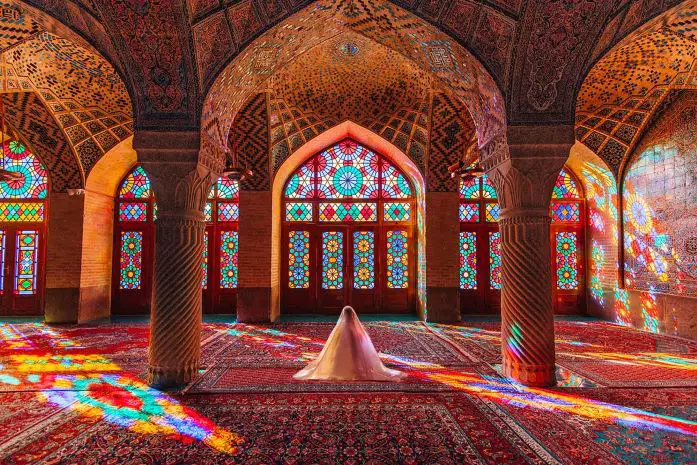 One of the most spectacular and underrated destinations on earth is Iran, a country filled with jaw-dropping architecture, an incredible history, breathtaking landscapes, and the most hospitable people. Unfortunately, not much of this is shown in the news or media, and that's why Iran is unfortunately often overlooked as a tourist destination. However, a trip to this country will leave you truly amazed, and you'll be wondering why more people aren't visiting.
Some of the most beautiful places in Iran are the incredible mosques around the country. Nasir Ol Molk Mosque, for example, has a stunning natural light show in the morning when the sun shines through the colourful stained-glass windows, making their colours reflect on the floor. Sheikh Lotfollah Mosque in Isfahan is another architectural gem that will leave you speechless. The intricate blue and orange tiles inside this structure are a true work of art; it's the reason this mosque is deemed by many as the most impressive one in the whole country.
Some of the other spectacular places to see in Iran are the desert town of Yazd, the charming city of Kashan, and the Kaluts desert. Make sure to also taste the local cuisine, especially the local kebab and the Isfahani biryani.
8. Iraq
Contributed by Christian from Unusual Traveler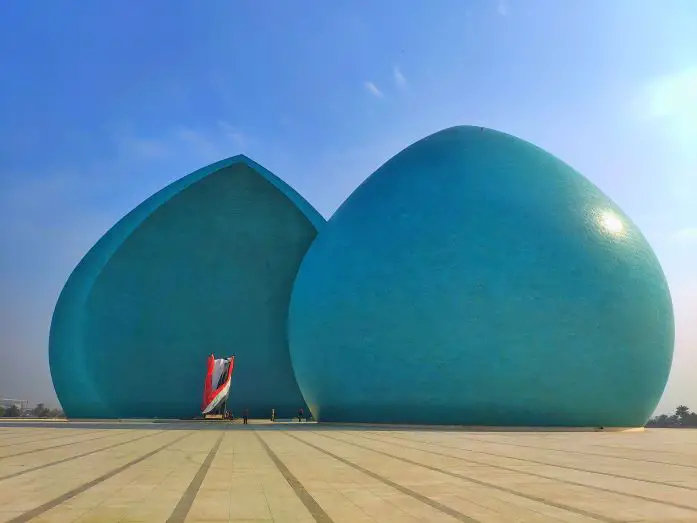 Iraq, the Cradle of Civilization, has slowly started to open up for foreign tourist once again after the country has been struggling with years of war and chaos (some parts of Iraq is still off limits). But these days things are improving so tourists can once again visit the ruins of Babylon and Ctesiphon, and now you can also visit some of the old private palaces belonging to Saddam Hussein. Most people will be surprised that it´s possible to have an ice-cold, locally made Baghdad beer next to the Tigris river or whilst visiting some of the holiest places in the world, Karbala and Najaf.
Iraq is not yet an easy country to visit. The visa is a bureaucratic nightmare, and you are required to have a local guide with you when travelling between places. If you do manage to obtain the visa and decide to visit Iraq, you will be surprised by how liberal and welcoming the locals are, though they are not yet used to seeing foreigners walking around the streets without armed protection.
9. Lebanon
Contributed by Poly Goy from The Wonderlusters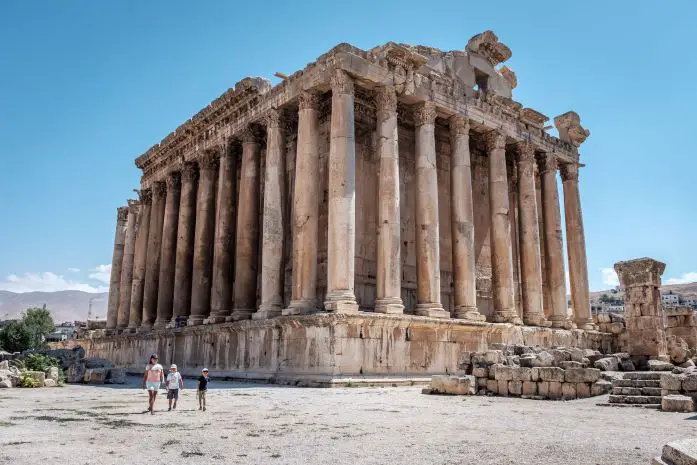 When it comes to time travel, Lebanon has few parallels. With a culture that goes back thousands of years, the country is literally an open-air museum. It has cities that stood the test of time and some of the most beautiful remains in the world.
Continuously inhabited since Neolithic times, Byblos has been closely linked to the legends and history of the Mediterranean region. You can't overlook Sidon, which has been one of the most important centres of the Phoenician Empire as a crucial Mediterranean port. Beirut, the capital, is so beautiful, it has earned the nickname "Paris of the Middle East".
Anyone who appreciates history must pay a visit to Baalbek to admire its colossal structures which are one of the finest and best-preserved examples of Imperial Roman architecture. Baalbek is one of the most beautiful places to visit in Lebanon.
Lebanon is among the few countries in the Middle East that embrace multiculturalism and religious diversity. The friendliness of the Lebanese people will leave an indelible mark on your heart. Moreover, Lebanese cuisine, which has influenced the gastronomy of the entire Mediterranean basin, is one of the most delicious in the world.
With its majestic landscapes, its overwhelming culinary traditions, and its rich and mixed history, this small country has everything to become your next big favourite.
10. Mongolia
By Katie and Jake from Untold Wanderlust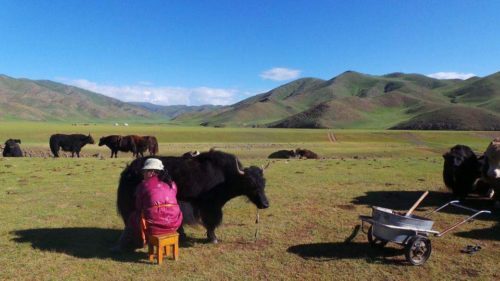 Mongolia is a country that will forever hold a special place in our hearts. After staying well and truly on the popular banana backpacking trail in Southeast Asia the previous year, Mongolia was one of the first countries where we strayed into unknown territory. It's safe to say that we fell in love with Mongolia, the ever-changing landscapes, the nomadic culture, and the yurt life cosying up by a log burner fire in the middle of nowhere. Just us and the stars! Despite Mongolia receiving more visitors year after year, the numbers of international tourists remain pretty low, making this landlocked country a must-visit for avid adventurers.
One of the main highlights of Mongolia is riding around in an old Russian minivan whilst taking in the open roads. The Gobi desert is also an unmissable attraction. The desert features Khongoryn Els dunes which you can climb to the top of for a fiery sunset. Also, take the opportunity of a scenic 2-day horse trek to Naiman Nurr. Ps. Don't forget to keep your eyes peeled for snow leopards that are native to Mongolia.
Above all else, if you find yourself in Mongolia in the middle of July, don't miss the famous Naadam Festival. The Naadam Festival is Mongolia's biggest celebration and national holiday where locals from all over the country head to the capital Ulaanbaatar to partake in nomadic games; horse riding, wrestling, and archery. You will even see kids as young as 4 galloping away on their horses and taking part in the games. It truly is a unique sight.
Still not sold on Mongolia? Make sure to check out these reasons why you absolutely have to visit!
11. Oman
Contributed by Cecily from Groovy Mashed Potatoes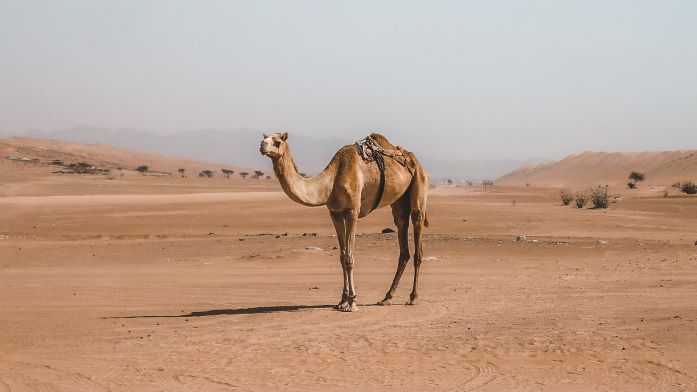 Oman is the perfect introduction to the Middle East. It is safe for tourists, so much so you can go on a road trip or even camp out in its exotic and unspoiled landscape. Oman's nature is diverse with its barren mountains, expansive dunes and the azure Arabian Sea. There are so many breathtaking places to discover.
What also sets Oman apart is that it preserves its traditional architecture. Other Middle Eastern countries, such as Qatar or the UAE are ultra-modern, with their tall skyscrapers and record-breaking buildings. In Oman, you will observe a blend of ancient Omani-style architecture with contemporary buildings.
If you are up for an adventure, Oman offers once-in-a-lifetime experiences that will take you off the grid.
Must-do things in Oman:
Take a road trip through Oman to experience Omani culture and explore its diverse landscape.
Stay at Desert Nights Camp, a luxury desert camp in the remote dunes. Make sure to watch the sunset from the top of the dunes.
Take a refreshing swim at Wadi Shab, an oasis in the hot desert with five natural pools.
Go camping in the Jebel Akhdar mountains. You will need a 4×4 vehicle to get past the checkpoint. It is a great place to camp since it's cooler up in the mountains.
Have a campfire by the Arabian Sea at White Sands Beach.
Walkthrough the magnificent Sultan Qaboos Grand Mosque. The architecture will blow you away.  
Enjoy this country rich in culture and natural beauty!
12. Taiwan
By Katie and Jake from Untold Wanderlust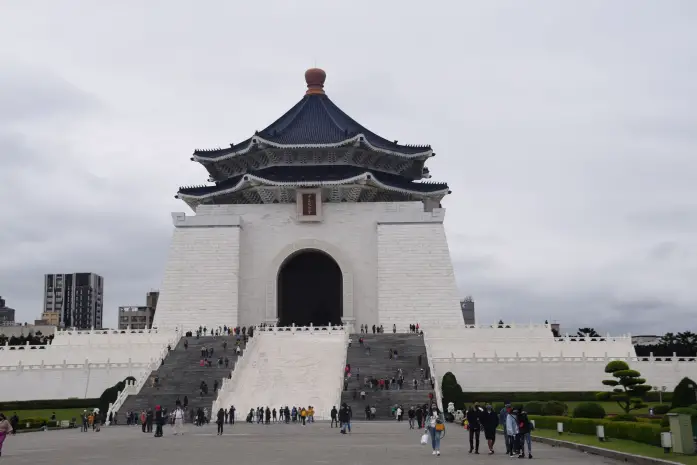 Taiwan should be at the top of the list of every travelling foodie. As night falls upon the capital city, the green hue from Taipei's tallest skyscraper shines bright, signalling the opening of the famous night markets. The well-organized metro system allows for convenient access to every different market scattered across the city, so be prepared for a belly-busting journey. With so much food to choose from, as you patter through the crowded and narrow streets, it can be quite overwhelming to decide what to eat. A must-eat recommendation is a Taiwanese pepper bun (Hujiao Bing) from Rhoe Street Night Market. A freshly made, piping hot crispy bun with a juicy, sweet pork and onion filling.
Aside from an evening of food binging, the daytime offers some fantastic tourist attractions. Our favourite attraction by far has to be Beitou Hot Springs. Consider starting your trip here to feel fully rejuvenated, ready to tackle the rest of your Taiwan itinerary.
A trip to Taiwan isn't complete without snapping a shot of some amazing architecture. Head over to Taipei 101, the famous tower, that some say resembles a tall stack of noodle boxes. Be sure to also visit CKS Memorial Hall square for epic views of the white marble buildings and surrounding gardens.
13. Timor-Leste
Contributed by Chris from Punta Cana Travel Blog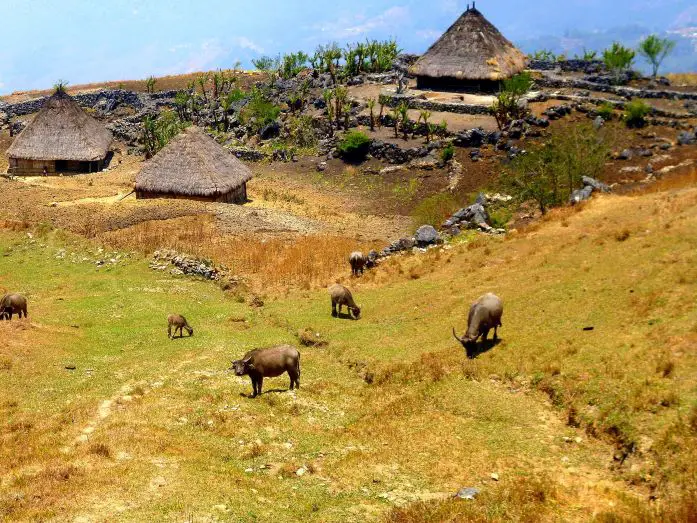 When it comes to countries, my most memorable off-the-beaten-path experience was for sure in Timor-Leste (also known as East Timor), a country in Southeast Asia that only recently (2002) gained independence. It was annexed by Indonesia and colonialized by Portugal before. This history already shows why Timor-Leste is so much off the beaten path. Technically, you could only visit Timor-Leste after 2010, as the country was plagued by civil unrest in the years previous.
Since then, an unexplored country is awaiting you like no other. To give you an idea: the big and famous booking.com only lists around 25 properties in the entire country. Most cities worldwide have more than 10,000 listings each…
And indeed, Timor-Leste is one of the biggest travel adventures you can have, probably only comparable with the remotest African countries. There is hardly any public transport (and if so, it is operated in trucks instead of busses), the roads in 90% of the country are either unpaved or are consisting of more potholes than tarmac, and accommodation has to be booked like 40 years ago: ask locals if they know someone or check out the local spokesperson to see if they can give you any recommendations. Internet, Lonely Planet, and other traveller reports (because there are hardly any) won't help you in Timor-Leste.
Once you tackle those challenges, you will have the adventure of your lifetime. The highest mountain of the country, Mount Ramelau, the mountain villages of Nunurlau und Aimeta, or the east of Timor-Leste with Baucau and Jaco are possible destinations you can visit. If you are just looking for a soft adventure, you can take the ferry from Dili and head over to Atauro Island.
However, East Timor doesn't feature a big list of things to do. It's the country itself which is a big adventure!
A big plus when you visit: Timor-Leste is safe if you apply standard precautions for travelling in poorer countries. That's an important condition to have a unique off-the-beaten-path experience in Timor-Leste!
---
Europe off the beaten path travel 
14. Armenia
Contributed by Vaibhav Mehta from The Wandering Vegetable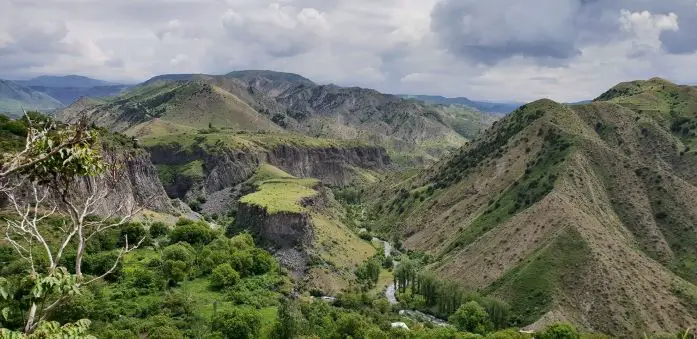 When you think of a European trip itinerary, you generally have mainstream travel destinations in mind like Italy, France, Switzerland, Germany, Rome, Spain, and the Netherlands. Rarely do you ever think of Armenia! But did you know that Armenia is the cheapest and the most budget-friendly European country to explore?
Armenia is an unexplored East European country that has to be on your travel bucket list. It offers you the perfect amalgamation of natural beauty, rich history, fantastic architecture, thrilling adventure, vibrant culture, and warm hospitality.
There are many things to do in Armenia, like the Amberd Fortress, Pagan Temple of Garni, Geghard Monastery, Sevan Lake, the spa town of Tsaghkadzor, Shaki Waterfall, and Areni village. You can also hike Mount Aragats or take a day trip to Tatev Monastery if you're craving a bit of adventure.
The capital city of Yerevan, in particular, is a traveller's delight. Some of the best things to do and see in Yerevan are the Republic Square, Genocide Museum, Yerevan Cascade, the Mother Armenia statue, and the Freedom Square.
When it comes to food, the local Armenian cuisine is incredibly diverse and lip-smackingly tasty. Not to forget, the delicious and exotic Armenian wines that make Armenia a wine lover's paradise. The best time to visit Armenia is during May-June or September-October period.
Do not miss exploring Armenia as it deserves to be on your travel bucket list and punches much above its weight to pleasantly surprise you with its charm.
15. Azerbaijan
Contributed by Kristin from Adventures with Ensuite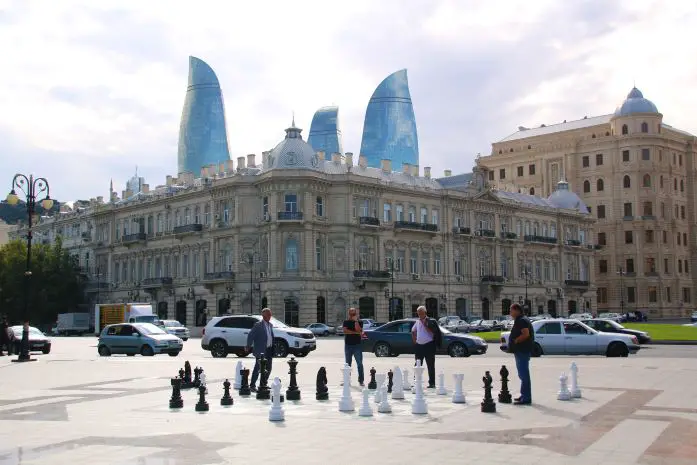 It is easy to think of the countries in the Caucasus as similar to one another, but they all have their distinctive culture, food, look and feel. What makes Azerbaijan stand out from its neighbours is its strong Silk Road heritage and its modern architecture.
Sheki, located close to the border with Georgia, was once a major stop on the Silk Road from China to Constantinople. Whilst visiting the over-the-top decorated palaces, such as the Sheki Khan's Summer Palace and the caravanserais that used to house hundreds of merchants travelling between the east and west, you can imagine what the town must once have been like. However, the main Baku tourist places are quite different. Baku has a small but atmospheric old town but the main reason to visit is the many futuristic buildings built using the country's large oil wealth.
Two of the places not to miss are the Flame Towers and the Heydar Aliyev Centre. In addition to all its new and old architecture, Azerbaijan has some interesting natural sights, such as the mud volcanoes and rock art of Qobustan. Furthermore, there are many hiking opportunities in the mountain villages around Quba. Trekking is only possible in the summer months, but Baku has the most comfortable temperatures during spring and autumn. It gets oppressively hot during July and August. Winters can be cold and rainy in the capital, but if you're looking for skiing opportunities this is a great time to visit the mountain resorts.
16. Bosnia and Herzegovina
By Katie and Jake from Untold Wanderlust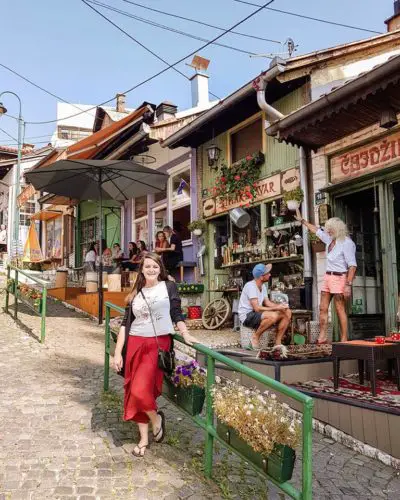 Sarajevo embodies the word quaint like no other city we've been to. Walking the pristine, stone-paved streets, passing by tiny trinket stores, under archways, and through narrow passages is an enjoyable experience in itself. Nothing beats a stop for a dollar scoop of ice cream or enjoying a traditional Bosnian coffee as the crowds pass by.
Despite being overlooked by tourists, in favour of nearby powerhouses like Dubrovnik and Budapest, Sarajevo, Bosnia's capital city, boasts a rich and important history. After all, Sarajevo is the epicentre of where World War 1 broke out, due to the assassination of Franz Ferdinand in 1914.
To end a perfect day, and welcome an even better evening, we recommend watching the sunset in front of the peach-tinted rooftops of Sarajevo. There are plenty of spots to choose from, however, our fav memories are from the Yellow Fort and the Avaz Twist Tower. After soaking up all the visual stimuli Sarajevo has to offer, it's only fitting to dine out and order a famous Balkans classic; cevapi. If you're on a wider trip, you also won't want to miss Mostar; a cute, small city filled with steep stone stairways and alleys. There are so many things to do in Mostar. Shop until you drop for colourful trinkets from the market stalls and dine out at one of the romantic restaurants in the old town. The star of the show though is Stari Most Bridge, an Ottoman-arched bridge that crosses over the Neretva River.
17. Kosovo
Contributed by Ellis from Backpack Adventures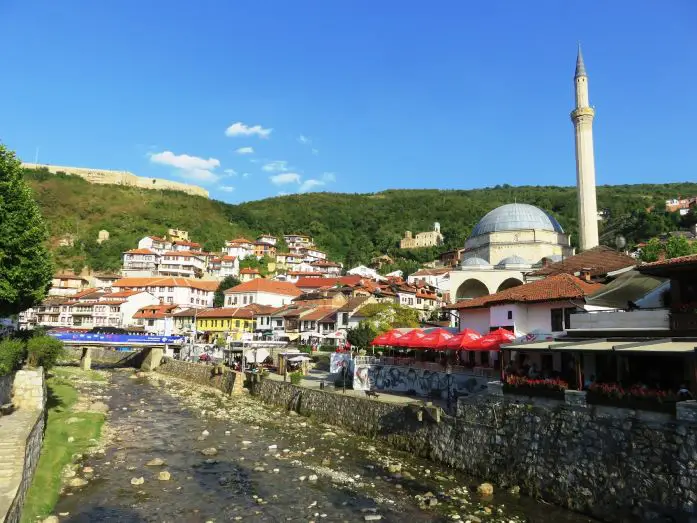 Kosovo is the newest country in Europe and became an independent state as recently as 2008. Its troubled path to independence is still the reason very few people will consider Kosovo as a travel destination. A pity, because it has lots to offer and is now also one of the safest countries in Europe.
Even though Kosovo is not that big, it has a surprising amount of things to see and do for its small size. Kosovo has mountains, canyons, Ottoman towns, and ancient orthodox monasteries. Kosovo has something for everyone whether you love nature, culture, or good food.
For nature head to the little town of Peja with its bustling bazaar. This place is the gateway to the beautiful Rugova Canyon, one of the deepest and longest canyons in Europe. It's on the way to the Accursed Mountains where you can go hiking in alpine sceneries and little mountain villages.
If you are more into the culture, you will love the multicultural city of Prizren. This small city was heavily influenced by the Ottomans and if you walk through the bazaar it definitely feels more east than west. There is the beautiful Sinan Pasha mosque and an ancient hammam. However, the city has churches and cathedrals as well, and the 14th-century Decani monastery is an easy day trip away.
At last, don't miss Kosovo's capital with its trendy cafes and great restaurants where you can indulge in Kosovo's delicious food and meet its extremely friendly and welcoming people.
18. Liechtenstein
Contributed by Smita from My Faulty Compass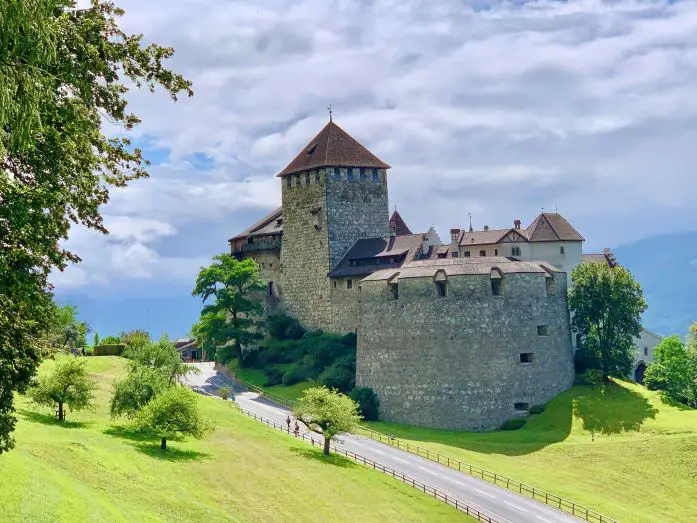 The tiny little country of Liechtenstein often escapes the radar of tourists when they are visiting Europe. However, pristine Alpine beauty and fascinating history make the country a wonderful place to visit.
Located between Switzerland and Austria, Liechtenstein is the 6th smallest country in the world. Spend a day driving around, or longer if you'd like to explore the beautiful hiking options during the summer or the fantastic ski slopes in the winter.
Despite its size, there are plenty of incredible things to do in Liechtenstein. 4 municipalities make up the country – Schaan, Vaduz, Triesenberg & Balzers – and all 4 of them have lots of fantastic places to explore.
Vaduz is the capital of Liechtenstein and the home to the famous Vaduz Castle. Perched on a hilltop, this castle has wonderful views over the Rhine Valley. Vaduz's pedestrian street in Städtle is a lovely place to explore the local shops and Liechtenstein's famous stamps.
Triesenberg is a beautiful mountain town with panoramic views over the hills and valleys. Balzers is another place famous for its castles. The Gutenberg Castle sits high above the town and makes for a beautiful spot to take in the views around.
Other than beautiful towns, Liechtenstein offers several amazing hikes, some of the most popular of which are the Liechtenstein Trail, a route connecting the municipalities, the Princes' Way Hike, a high-altitude hike and the Princess Trail, a hike along a stunning ridge.
19. Lithuania
Contributed by Debjani from the Vagabong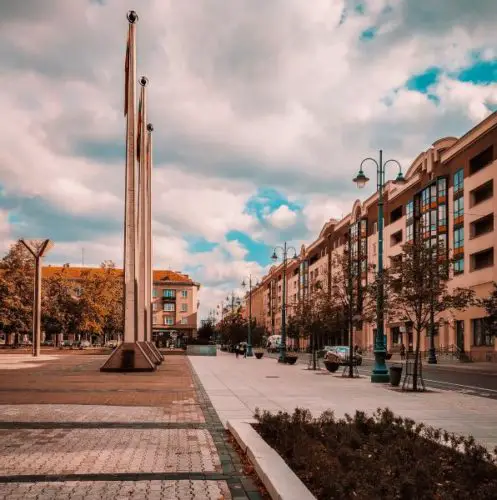 Lithuania is one of the most beautiful off-the-beaten-path countries in Europe, at least on the Global Tourist Map. It is one of the Baltic countries which is steeped in war history and has been through a series of revolutions to acquire its independence from Russia until very recently in 1991. Lithuania is also one of the lesser expensive European Countries located in northern Europe and one can easily spend a week exploring this country. In the 14th century, Lithuania was the largest country in Europe. But at the end of the 18th century, the downfall of the Lithuanian kingdom was effectively split between Prussia's and Russia's empires. After the Lithuanian language, Russian is the most commonly spoken language as the country was under Russian rule for a very long time.
The people of Lithuania have gone through war oppression and have come out resilient. It is also a very small nation with a lot of potential for cultural/historical tourism, as people should be aware that the tragic holocaust past, where 91% of Lithuanian Jews were executed.
Vilnius is the capital of Lithuania and has three national parks inside the city, thus making it a natural hub. The old town of Vilnius also has beautiful old chapels and castles which are worth visiting.
One of the main dishes of Lithuania is Cepilinai which is made of Potato. So, for potato lovers, Lithuania is a food paradise. A few of the main tourist attractions in Lithuania, which can be covered through a day trip from Vilnius, are Rumsiskies, Klapeida, Kaunas, Trakai Castle, and Palanga Beach Town.
So, while planning a budget trip to Central and Northern Europe, Lithuania should definitely not be missed.
20. Romania
By Katie and Jake from Untold Wanderlust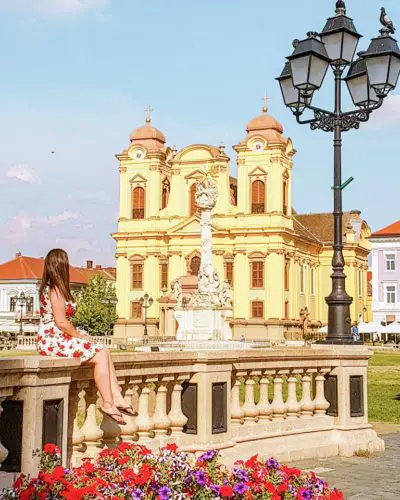 Magical fairytale castles, medieval cobblestone streets, bright red rooftops, and warm friendly people were our introduction to Romania. As soon as we arrived in Brasov, we knew we were going to love it. Despite Romania having a profusion of attractions, it is surprising that international visitors are not flocking to the country. Romania has to be one of Europe's best-kept secrets.
Romania, home to Transylvania, isn't all about playing hide and seek with Dracula. Although a trip to Bran Castle is a must. Visiting Bran Castle during the Halloween period should be on everyone's bucket list. Aside from Bran Castle, make sure to head over to Pele's Castle too. The architecture is magical! If you love the outdoors and nature, a drive along the mountain pass road, Transfăgărășan is a must. The road is so beautiful, it even made an appearance on BBC's Top Gear in 2009. If fairytale castles and mountain roads aren't enough, Timisoara has been voted the cultural capital of 2021! Timisoara is the second-largest city in Romania but has an artsy, laid-back vibe. Not only that, but you will also find plenty of divine cuisines to sink your teeth into. After all, Timisoara is home to 21 ethnicities and 18 religions.
21. Ukraine
By Katie and Jake from Untold Wanderlust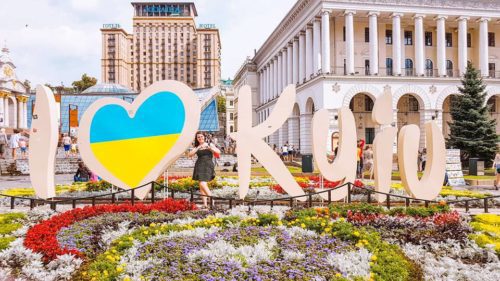 Unlike cities in Western Europe, where mass tourism ascends on the cobbled streets, you will find a more peaceful setting in Ukraine. Ukraine still boasts the weird and wonderful in Lviv, amazing architecture in Kyiv, and sandy beaches in Odesa. One of the best draws to Ukraine though, is how cheap it is! Much cheaper than Western Europe, but still boasts all the fine attractions that you seek on a trip to the more popular European cities. Whilst it may seem a lot, that on average 14 million tourists visit Ukraine each year, when you compare it to almost 90 million visitors to France, you can easily see why Ukraine remains an off-the-beaten-path travel destination.
Whilst in Ukraine, it is obvious that no trip would be complete without a visit to the famous 1996 disaster site, Chernobyl. A trip to Chernobyl and the ghost town of Pripyat is a great addition to a Ukraine trip, especially for those who seek the thrill of abandoned places. Furthermore, don't miss the mystique love tunnel in Rivne. The love tunnel, which is a train track that has been taken over by flourishing nature, is the perfect place for photographers.
---
North America off the beaten path travel
22. Cuba
Contributed by Talek from Travel with Talek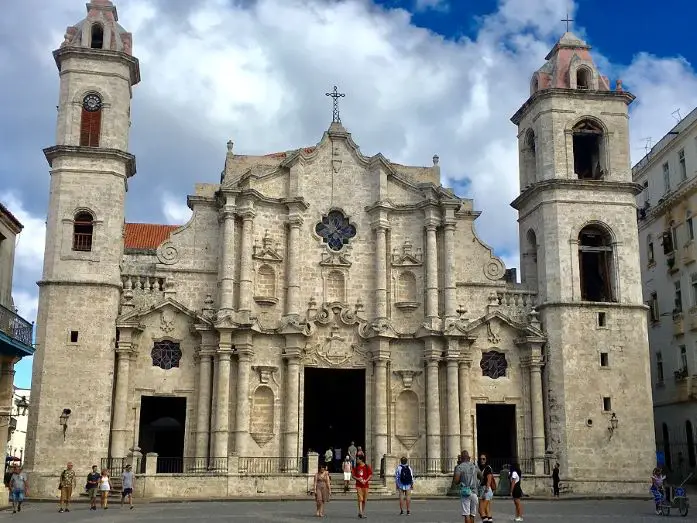 Although just 90 miles from the southeastern coast of the U.S., Cuba seems like a million miles – and 60 years – away.  Isolated from the U.S. due to an economic embargo and restrictive travel regulations, Cuba remains frozen in time.
The island is the biggest in the Caribbean. It is a culturally fascinating travel destination with largely intact colonial architecture, vibrant music, art, nightlife scene and jaw-dropping natural beauty.
Cuba's capital city of Havana, founded in 1519 by Spanish conquistadors, is an intriguing collection of neighbourhoods. Old Havana, the easternmost, and oldest, part of the city is a UNESCO World Heritage site with winding cobblestone streets and broad leafy plazas surrounded by colonial buildings and museums.
Despite Havana's charms, there is so much more to see in Cuba. The most visited cities outside the capital are Vinales with its tobacco plantations, Trinidad one of the best-preserved colonial towns, Cienfuegos, founded by French settlers from Bordeaux and Louisiana, Santiago de Cuba, the Pearl of the Caribbean and so much more.
With 9 UNESCO World Heritage sites, 6 UNESCO Biosphere preserves, and hundreds of protected nature areas, Cuba is a true wonderland worth visiting.
23. El Salvador
Contributed by Bistra and Nace from The Magic of Traveling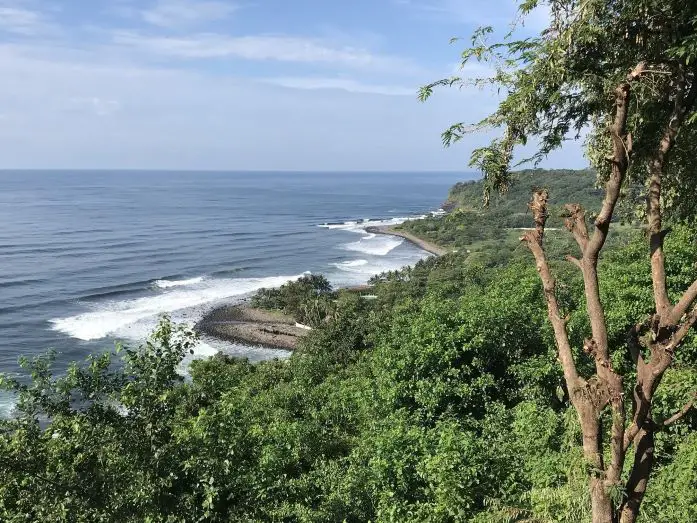 Everybody who we met on our trip to Central America advised us not to visit El Salvador. It's dangerous, something bad is going to happen to you in that country. The only problem was none of those people had ever set foot there, so instead, we decided to trust those who did travel to El Salvador.
We started with El Tunco – the surfers' paradise on the Pacific coast. Although it was a fenced resort town, we felt super safe and the only danger we could imagine was the danger of eating too many of the delicious pupusas (the traditional cornmeal flour flat cakes stuffed with cheese, veggies, etc.). So we decided to hire a driver and continue with the Ruta de Las Flores. The Flower Route takes you to volcanoes, mountains, waterfalls, and spectacular views. You stop by different villages on the route to experience how locals live, their traditions, and the history of the country.
After stumbling upon a typical Sunday fiesta in one of the villages, we got even braver and decided to take the local bus and travel to the second biggest city – Santa Ana. Santa Ana welcomes you with an endless street market and its beautiful downtown architecture. The cathedral and the theatre buildings are among the most beautiful in Central America. You can also hike the cherry on the cake – the majestic Santa Ana volcano which inspired the active volcanoes in Antoine de Saint-Exupéry's novella "The Little Prince".
24. Honduras
Contributed by Lozzy from Cuppa to Copa Travels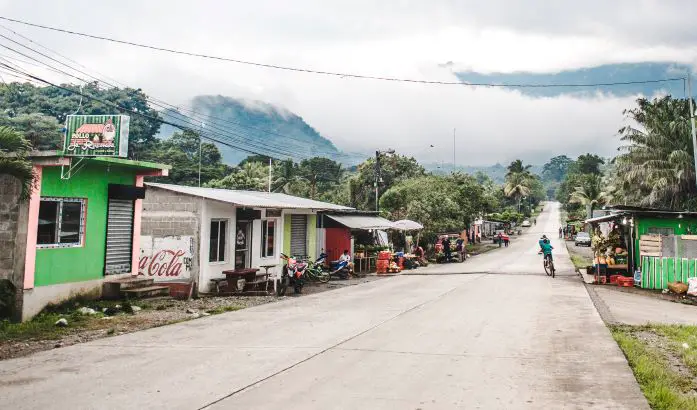 As the least visited country in all of Latin America, Honduras is well and truly off the beaten path. Only 850k tourists venture to this part of the world annually, but recently this number is very slightly beginning to grow. Honduras is unfortunately held back by its violent reputation – the major city of San Pedro Sula was named the murder capital of the world only a few years ago (it's now dropped down to 15th in a 2020 study).
However, those who dare see past this will realise just how much this nation has to offer. The people are open and friendly, the prices are cheap and the landscapes are absolutely stunning. Honduras really does have it all, from paradise islands and world-renowned dive spots to ancient Mayan temples and sprawling cloud forests. Must-dos in this off-the-beaten-path country include kayaking the expanse of Lake Yojoa, ziplining through the mists of the mighty Pulhapanzak Waterfall, getting dive-certified in the Bay Islands and exploring the Mayan ruins of Copan.
While lots of the hostels in Honduras are basic, there are luxury resorts to be found – especially on one of the country's Caribbean islands – which can give you a VIP experience for a fraction of the price of resorts further up the Central American coast.
---
Oceania off the beaten path travel
25. Papua New Guinea
Contributed by John from Tulsatrot – Globetrotting Around the World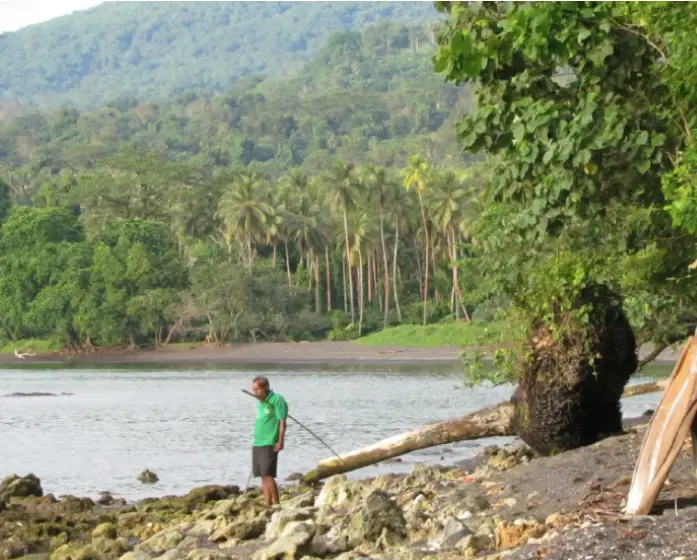 Hot, wet air greeted our arrival on the black tarmac of a city that The Economist ranked 139th least livable city in the world out of 140. That was Port Moresby, Papua New Guinea, the capital of a country with over 750 spoken languages and tribes that have lived in isolation from the rest of the world.
A quick walk past the restroom stained with bright red betel nut supported this ranking.
Welcome to Papua New Guinea folks.
Within fifteen minutes, PNG quickly introduced us to what to expect over the next ten days, the unexpected in a southwestern Pacific country where comedy and menace live side by side.
Pigs are highly valuable in PNG. They serve as a form of currency. If you want to marry that special someone, true love requires swine. If you wrong another tribe, retribution is live poker. Visiting Karkar Island off the northern coast, pigs and comedy caught my eye in a newspaper title.
So when I saw "Pig Lover Nabbed" as one of the lead news articles on the front page of the national Papua New Guinea Post Courier, it caught my attention. Not only the content but the need to post that on the front page. "Was it a slow day in the newsroom?"
Another animal demands focused attention. PNG is home to the world's most dangerous bird, the cassowary. It resides in the tropical forests, but by happenchance, one was at the same coconut and cocoa farm and fortunately, that single fascinating bird was behind a secure fence. The danger lies not in its multicoloured prehistoric head, but in the sharp menacing claws on its feet. It informed me of its prowess with a wicked gurgling howl. Sounded like my buddy's first girlfriend.
PNG is a land rarely visited by tourists and they are often bird watchers and scientists, but a land ripe with fascinating attractions to explore.
26. Marshall Islands
Contributed by Erika from Erika's Travels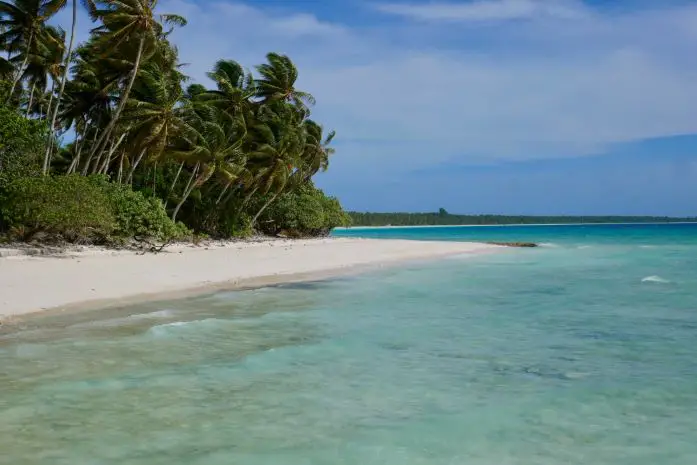 The Marshall Islands, a sprawling archipelago nation that sits in the middle of the vast Pacific Ocean, is among the most remote and undiscovered countries in the world.
The far-flung country consists of 29 coral atolls that lie between Hawaii and the Federated States of Micronesia. Its tiny islands are so remote, that fewer than 5,000 visitors per year set foot on their sands.
If you are travelling to the Marshall Islands, chances are that Majuro will be your introduction to the country. The crowded capital island is the main gateway to the Marshall Islands and home to the country's only international airport.
Unfortunately, while it is the most accessible atoll, Majuro is not the paradisiacal tropical island you might have dreamed about. The densely populated atoll is crowded, congested, and full of stray dogs.
Luckily, palm-fringed Arno Atoll is only a short boat ride away and connected to Majuro by 3x weekly boat service. Arno boasts turquoise water, swaying palms, white-sand beaches, and a slow pace of life that appears almost untouched by modernity.
There are almost no amenities on Arno Atoll, so it would be best to bring along food and necessities if you choose to visit.
Travelling around the Marshall Islands is not an easy affair. Outside of Majuro and Arno, the country's coral atolls require time and money to visit properly. Transportation between the islands—whether by boat or by air—is unreliable at best. Unless you're sailing around the Pacific with unlimited time, it is not the type of place where you can easily hop between destinations.
The Marshall Islands is a country that entices intrepid and adventurous travellers. It may not have the tourist amenities that can be found on other Pacific islands, but its rustic charm is precisely what makes the far-flung archipelago nation so special.
---
South America off the beaten path travel
27. Uruguay 
Contributed by Erin from Sol Salute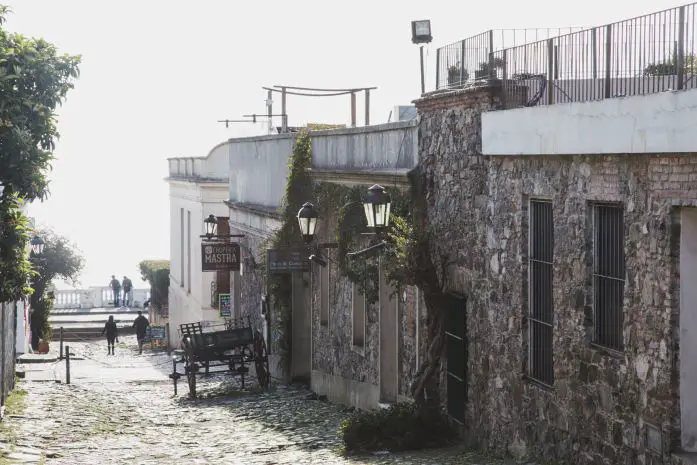 Uruguay is a tiny, off-the-beaten-path country nestled between big brothers Argentina to the south and Brazil to the north, but Uruguay has just as much to offer! The capital city, Montevideo, features old European charm thanks to immigration from the early 20th century. The historic downtown is filled with original architecture and the central market is a must-visit for meat lovers.
The small town of Colonia del Sacramento is one of the most popular things to do in Uruguay. This tiny village was founded by the Portuguese and retains all of its original architecture and charm. It's easy to visit as a day trip from nearby Buenos Aires but is worth a longer stay to explore the regional wineries between Colonia and nearby Carmelo.
Red wine is excellent in Uruguay and the wine region is underappreciated and waiting to be discovered. The real beauty of Uruguay is its Atlantic Coast. In the many beach towns here, there is something for everyone. Punta del Este is luxurious. It is a place to see and be seen in the warm summer months. It's also one of the best places to be in South America for New Year's Eve. Punta del Diablo and Cabo Polonio, further up the coast, cater to a more hippie, laid-back crowd. Go there to disconnect and sink into all of Uruguay's undiscovered charms.
Essential travel resources
Travel Insurance – No matter where you're travelling to, it's a good idea to make sure you're covered for any accidents or losses. We spent days and weeks searching for insurance, but most insurers would not allow us to take out a policy as we were already abroad. Our personal choice is Safteywing. You can opt for automatic monthly payments, just like a subscription. More importantly, it is available in 180 countries and can be purchased whilst already travelling. There is no cap on the duration of travel.
Visa – Before you travel to any country, make sure to check if you need a visa. iVisa is a fantastic website that is super easy and quick to use. Just type in where you are from. and where you are going. to check if you need a visa. If you do, you can quickly make an application online.
Accommodation – Booking.com is our go-to when looking to pre-book accommodation online. Booking.com tend to almost always have the best rates and a FREE cancellation policy for most properties.
Overland transport – Our go-to website for overland transport is Bookaway. Bookaway offers multiple forms of transport, from buses, mini-vans, trains, and ferries. The routes on offer are extensive and certainly cover most of the backpacker trails. Bookaway works a little like Skyscanner but for overland transport. You will find plenty of transport options from a range of companies. All you simply need to do is book online and receive your ticket by email. The email will contain essential information, such as where the bus leaves from and departure and arrival times.
Tours & Activities – If you want to book tours and activities online, make sure to check out Get Your Guide. Get Your Guide takes the stress out of booking activities abroad. You will also find a range of benefits, such as skip-the-line passes, lunch included in your tours, and so much more.
Travel tips ebook -Before you head off on your adventure, make sure to download our free ebook. It has a whopping 109 budget travel tips to help you make your hard-earned cash go further. Click here to download your FREE ebook.
Like this post? Pin it!