Arranging a backpacking Mongolia itinerary isn't easy! As Mongolia is well and truly off the beaten path, unlike backpacking in places such as Thailand and Vietnam, routes and itineraries are not readily available for you to follow. So, after spending a month in Mongolia, we have put together a perfect itinerary for first-timers. The itinerary takes you on a 2-week escapade through the Gobi Desert and Central Mongolia.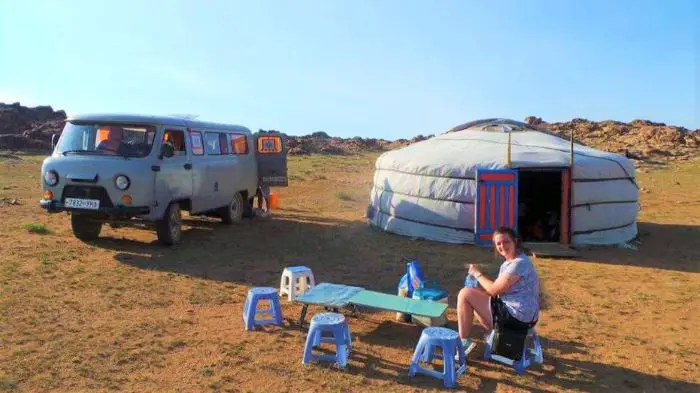 Disclosure: Untold Wanderlust contains affiliate links. If you click on these links and make a purchase, we will earn a small commission at no extra cost to you. You can find our full disclosure policy and privacy policy here.
Day-to-day backpacking Mongolia itinerary
Day 1 – Leave Ulaanbaatar
For this backpacking Mongolia itinerary, you will need to stock up the van with food, water, toiletries and snacks before leaving Ulaanbaatar. The drive today takes 5 hours along a paved road. Make a stop at 'Baga Gazariin Chuluu', a fascinating rock formation in the middle of the dusty plain.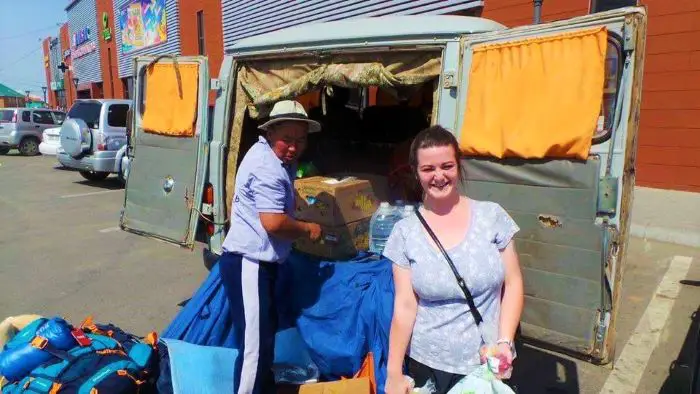 Day 2 – Drive to the great canyon of 'Tsagaan Suvarga'.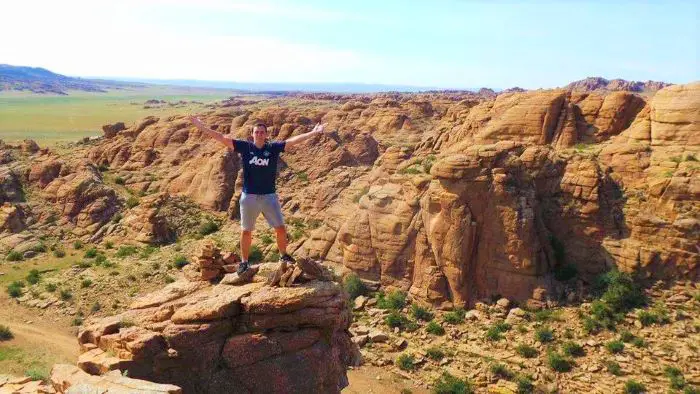 Day 3 – Drive to Yolyn Am in the middle of the Gobi Desert. Along the way stop at the ice gorge surrounded by rocky scenery. Here you can opt to rent a bicycle for 6,000 Tugrik ($2.20) and cycle to the ice gorge.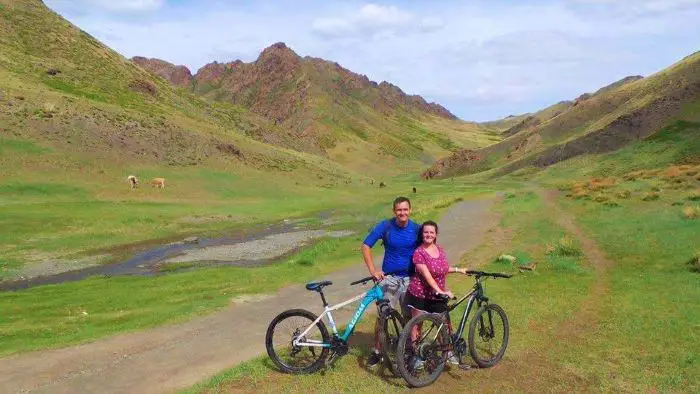 Day 4 – Drive to Khongoryn Els Sand Dunes. The dunes are spectacular and are surrounded by stunning views.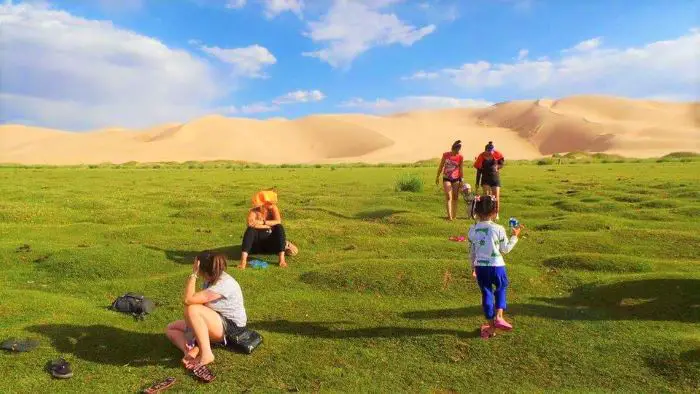 Day 5 – No driving today! Take a camel ride in the Gobi Desert and soak up the beautiful scenery. Later in the day, climb the dunes to witness a memorable sunset.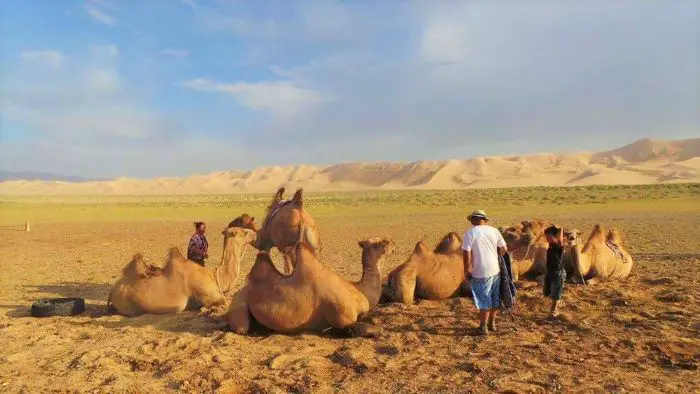 Day 6 – Drive to Bayan-Zag; the flaming cliffs that are famous for the discovery of dinosaur fossils.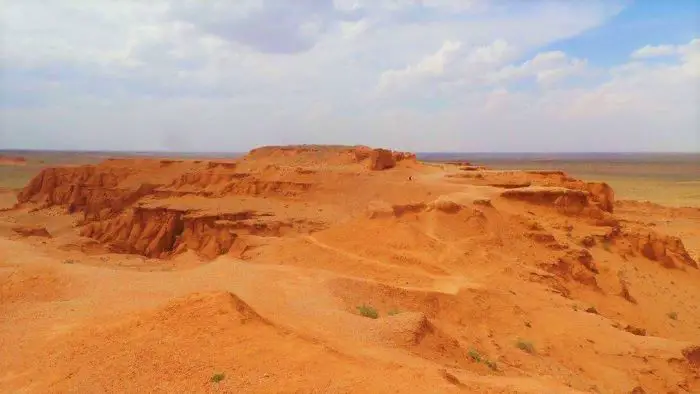 Day 7 – Today is a long drive through Ongi Steppe. Admire the flat landscape along the way, and click your cameras away at the many animals.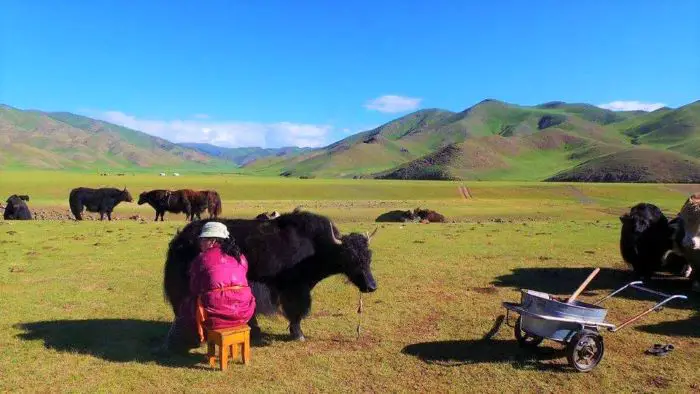 Day 8 – Drive to Orkhon Valley, where you will stay for 3 nights. The scenery here is spectacular and very different from the Gobi Desert. Be warned, it can get very cold at night, so make sure to bring plenty of layers. Even in the summer months!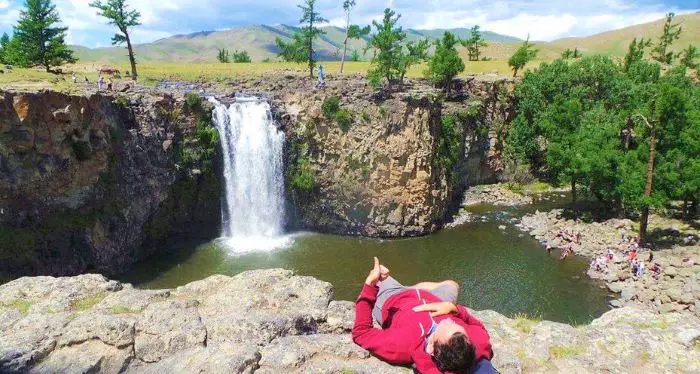 Day 9 and 10 – Take a horse ride to Naiman Nurr (also known as Eight Lakes). The horse trek will take all day and you will need to stay overnight by the lake area, before returning the following day. After arriving back to Orkhon Valley, check out the waterfall.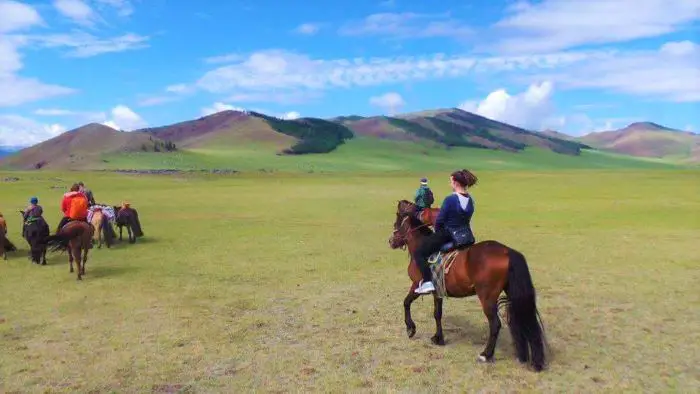 Day 11 – Your backpacking Mongolia itinerary is slowly coming to an end, but not before a stop at Tsenkher Hot Springs. After two days of horse riding, your body will certainly need to relax. What better way to do this than being surrounded by lush green nature?
Day 12 – Drive through the old city of Kharakhorin and visit Erdene Zuu Monastery, Mongolia's earliest surviving monastery.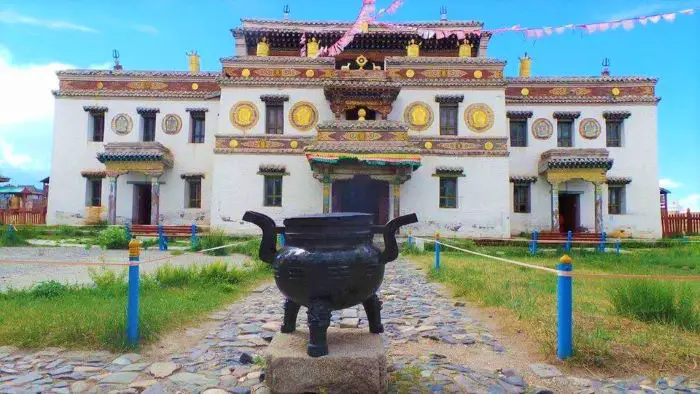 Day 13 – Drive back to Ulaanbaatar.
Well, that's the end of this itinerary. This route is ideal for first-timers and allows you to see some of the best attractions that Mongolia has to offer. It takes you through a diverse range of landscapes and allows you to get in touch with a fascinating culture. If you have longer than 2 weeks in Mongolia, you can continue this backpacking Mongolia itinerary with a trip to Terelj National Park. Here you can expect tons more nature, and a chance to get up close and personal to the world's largest statue of a man on a horse, the Genghis Khan Statue.
How to get to Mongolia
Overall, flights into Mongolia are quite expensive. If you do choose to fly, we recommend checking out Skyscanner for the latest deals and prices. The cheapest way to get to Mongolia is overland via Russia or China. We entered Mongolia overland from Beijing. In total, from Beijing to Ulaanbaatar (the capital city of Mongolia) we paid $55.50 per person. The journey took two days using buses and trains. 
How to get around for this backpacking Mongolia

itinerary
Unlike other countries, Mongolia can be quite difficult to get around, due to mass open landscapes and lack of paved roads. Fact: Mongolia is the least populated country in the world and of its (just over) 3 million inhabitants, around half of them live in the capital, Ulaanbaatar! Whilst hitchhiking is always an option, we recommend joining a tour for the optimal Mongolian experience. After all, you don't want to end up stranded in the middle of a desert with no food or water. We decided to get a group together, find a cheap Mongolia tour and hire a driver for 13 days.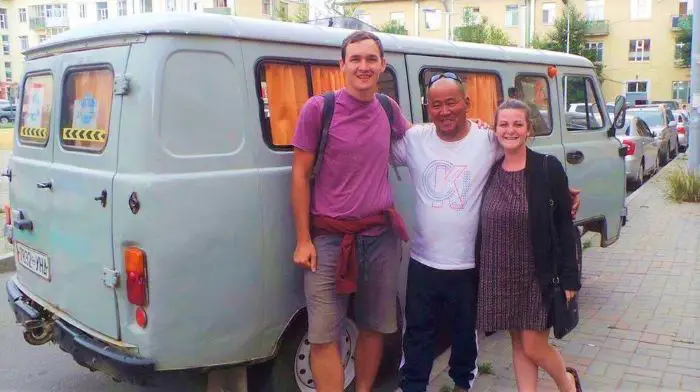 About the tour and costs
After we had managed to find other people to do a tour with, we all agreed to head towards the famous Gobi Desert and central Mongolia, for dune climbing, star gazing and a variety of landscapes. However, there are plenty of other regions of Mongolia, such as the Altai Mountains, which offer incredible hikes. So, make sure to choose wisely which region of Mongolia you would like to travel to.
The cost to hire a driver and cover the cost of fuel in a Russian van totalled $1,248 for 13 days. This worked out at $249.60 per person. The price also included two nights' accommodation at tourist camps, where we could take a much-needed shower.
Aside from the driver hire costs, we needed to pay for our accommodation, food and activities as we went along. Below is a breakdown of those costs.
Accommodation in Mongolia
For accommodation, you have 3 options; tourist camp, family ger or tent.
Tourist camp – usually has a western toilet and shower. Expect to pay around 15,000 – 18,000 Tugrik ($5.50 – $6.60) per person.
Family Ger – Between 7,000 – 10,000 Tugrik ($2.57 – $3.67) per person.
Tent – Free but you will need to buy your tent and sleeping equipment beforehand.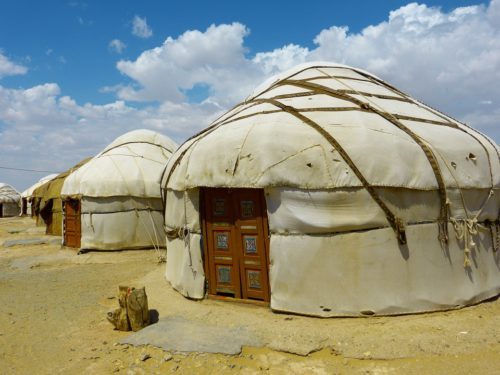 Food in Mongolia
On most days you will stop by a small town that has a few restaurants. Food costs around 4,000 – 6,000 Tugrik ($1.47 – $2.20) for a typical Mongolian meal, consisting of rice, egg, chips, mutton and veg. For your evening meal, you will need to cook yourself. The driver will bring along cooking equipment and utensils. You will just need to buy the things you want to eat from the shop. We practically lived off pasta and pot noodles for two weeks.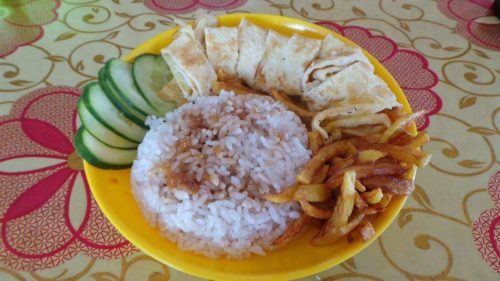 Activities in Mongolia
Protected areas – Entrance into the protected landscape areas usually costs 3,000 Tugrik ($1.10).
Camel riding – 10,000 – 12,000 Tugrik ($3.67 – $4.40) for one hour.
Horse riding – 30,000 Tugrik ($11) per day and includes the cost of the guide and an extra horse to transport your belongings.
Essential resources for travelling in Mongolia
Travel Insurance – No matter where you're travelling to, it's a good idea to make sure you're covered for any accidents or losses. We spent days and weeks searching for insurance, but most insurers would not allow us to take out a policy as we were already abroad. Our personal choice is Safteywing. You can opt for automatic monthly payments, just like a subscription. More importantly, it is available in 180 countries and can be purchased whilst already travelling. There is no cap on the duration of travel.
Visa – Before you travel to any country, make sure to check if you need a visa. iVisa is a fantastic website that is super easy and quick to use. Just type in where you are from. and where you are going. to check if you need a visa. If you do, you can quickly make an application online.
Accommodation – Booking.com is our go-to when looking to pre-book accommodation online. Booking.com tend to almost always have the best rates and a FREE cancellation policy for most properties.
Tours & Activities – If you want to book tours and activities online, make sure to check out Get Your Guide. Get Your Guide takes the stress out of booking activities abroad. You will also find a range of benefits, such as skip-the-line passes, lunch included in your tours, and so much more.
Travel tips ebook -Before you head off on your adventure, make sure to download our free ebook. It has a whopping 109 budget travel tips to help you make your hard-earned cash go further. Click here to download your FREE ebook.
Has your time in Mongolia come to an end? Pop over to Jeju Island in South Korea. Flights are cheap and there are tons of things to see and do!
Like this post? Pin it!