The Love Tunnel in Ukraine is a beautiful example of nature taking over. The Love Tunnel is a train track that is overgrown with trees and bushes. As the train still runs on the track, a beautiful nature archway has formed, making it look like something straight from a fairytale book. Read on to find the ultimate guide on how to get to the Love Tunnel in Ukraine.
WARNING: This post was created before the war in Ukraine. We are in no way promoting travel to Ukraine at this time, due to the ongoing conflict.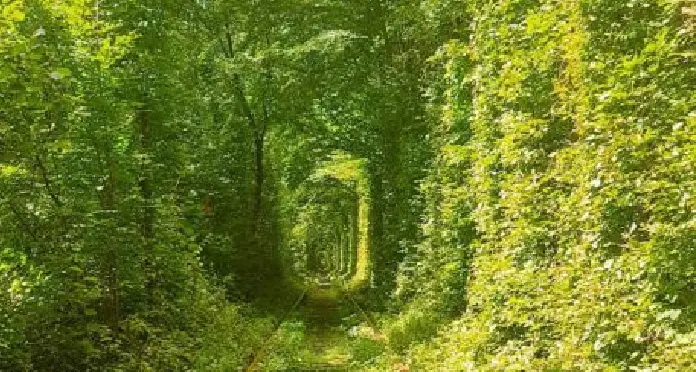 Disclosure: Untold Wanderlust contains affiliate links. If you click on these links and make a purchase, we will earn a small commission at no extra cost to you. You can find our full disclosure policy and privacy policy here.
Where is the Ukraine Love Tunnel located?
Ukraine Love Tunnel is located in a small village called Klevan, which is in northwestern Ukraine. Rivne is the nearest city to Klevan.
How to get to Rivne from Lviv or Kiev
The best way to reach Klevan is to first go to the nearby city of Rivne. Rivne is well-connected by bus and trains from popular cities; Lviv, to the left and Kyiv, to the right. We arrived in Rivne from Lviv by train. The train took around 3 hours and cost just $8.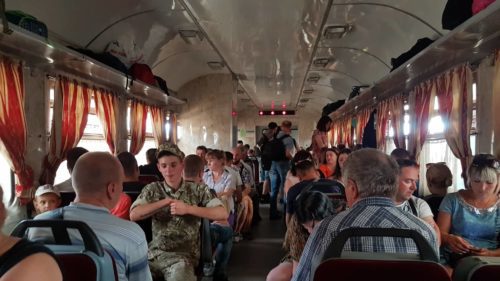 To get there from Kyiv, you can take a bus or train. Both take 6-7 hours and cost around $13. However, after experiencing a train ride from Lviv to Rivne, we would opt for the bus any day.
Before we continue, if you don't have a full day or two to set aside to make the trip by yourself, you can always take a guided tour from Lviv or Kyiv. A guided tour will take the stress out of getting there yourself!
How to get to Klevan from Rivne
In Rivne, you need to go to the bus station that is right outside of the train station. From there you can take a public bus (marshrutka) to Klevan. The bus takes around 40 minutes and costs just 23 UAH ($0.94).
How to get to the Ukraine Love Tunnel once you're in Klevan
Once you reach Klevan, you need to get off the bus when you see this sign (pictured below).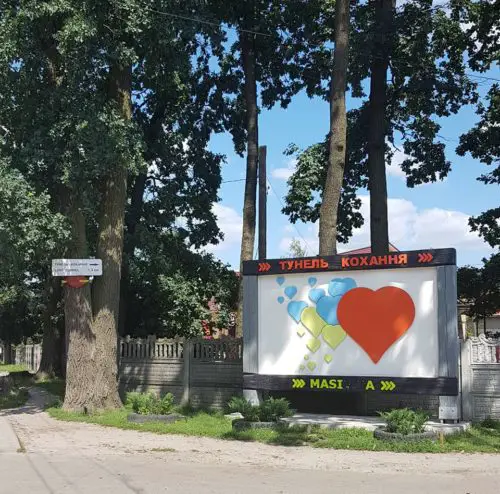 However, we recommend taking a screenshot of the Love Tunnel on your phone to show the driver, so he/she can let you know when to get off.
When you get off you will need to walk for about 2 km. Just follow the road straight. You will pass a few shops and a few houses along the way. Towards the end, you will cross over some modern train tracks. Then there you are! On the right-hand side of you will be the Love Tunnel. Don't worry! You won't miss it as it's well-signposted.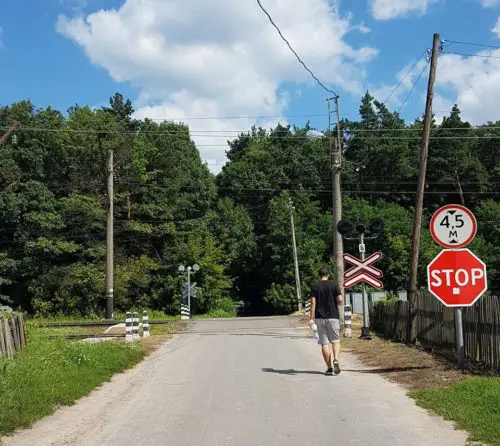 Walking through the Love Tunnel
As the name suggests, it's a great place for lovers to take a stroll up and down the train tracks. Whilst the tunnel is like something from a magical storybook, where you may just walk into another realm at any time, the tunnel's magic gets ruined by the millions of bloodthirsty mosquitoes. The track spans over 5 km and we would have loved to have walked the entire way and admired the beauty, but the number of mosquito bites was just too intense. So, if you do decide to visit the Love Tunnel, don't forget to cake yourself with tons of mosquito repellent.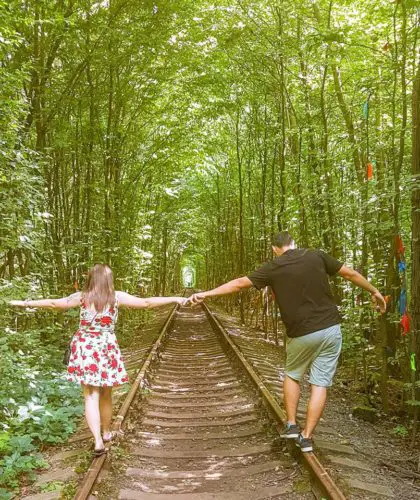 The further up the Love Tunnel you get, the prettier the tunnel becomes. The track becomes greener and the tunnel gets thicker with undergrowth. Many people turned back after the first 500 meters, but we fully recommend walking at least 1 km to see the tunnel at its best.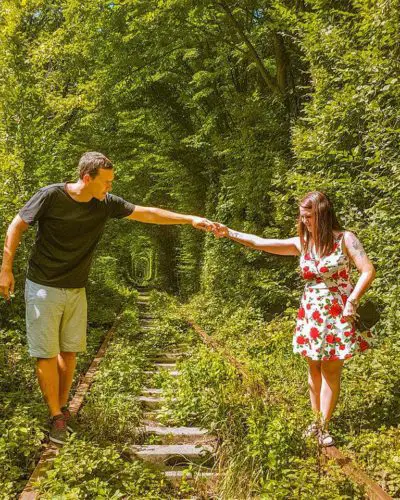 How to get back to Rivne
To get back to Rivne from the Love Tunnel, you will need to walk the same way you came. Walk back to the village and to the bus stop where you get off the bus (near the big sign). When you reach the sign take a right and continue up the road for about 50 meters. Cross over the road and the bus stop is directly facing a shop. Then take a direct marshrutka back to Rivne for the same price as when you came; 23 UAH ($0.94). If you're still looking for a place to stay in Rivne, we recommend checking out Rivne Hostel; it's modern, clean and super cheap.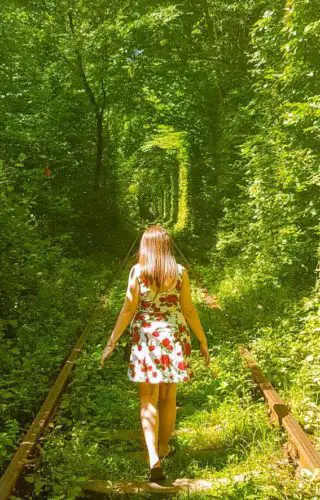 There you have it! The easy way to reach the famous Love Tunnel from Rivne, Ukraine. There is no need to book an expensive and rushed day trip from either Lviv or Kyiv. You can easily go by yourself! Good luck! If you have any questions pop us a comment below.
Are you heading to Lviv next? Check out our post on unusual things to do in Lviv.
Essential resources for travelling in Ukraine
Travel Insurance – No matter where you're travelling to, it's a good idea to make sure you're covered for any accidents or losses. We spent days and weeks searching for insurance, but most insurers would not allow us to take out a policy as we were already abroad. Our personal choice is Safteywing. You can opt for automatic monthly payments, just like a subscription. More importantly, it is available in 180 countries and can be purchased whilst already travelling. There is no cap on the duration of travel.
Visa – Before you travel to any country, make sure to check if you need a visa. iVisa is a fantastic website that is super easy and quick to use. Just type in where you are from. and where you are going. to check if you need a visa. If you do, you can quickly make an application online.
Accommodation – Booking.com is our go-to when looking to pre-book accommodation online. Booking.com tend to almost always have the best rates and a FREE cancellation policy for most properties.
Overland transport – Our go-to website for overland transport is Bookaway. Bookaway offers multiple forms of transport, from buses, mini-vans, trains, and ferries. The routes on offer are extensive and certainly cover most of the backpacker trails. Bookaway works a little like Skyscanner but for overland transport. You will find plenty of transport options from a range of companies. All you simply need to do is book online and receive your ticket by email. The email will contain essential information, such as where the bus leaves from and departure and arrival times.
Tours & Activities – If you want to book tours and activities online, check out Get Your Guide. Get Your Guide takes the stress out of booking activities abroad. You will also find a range of benefits, such as skip-the-line passes, lunch included in your tours, and so much more.
Travel tips ebook -Before you head off on your adventure, make sure to download our free ebook. It has a whopping 109 budget travel tips to help you make your hard-earned cash go further. Click here to download your FREE ebook.
Like this post? Pin it!