Do you only have a night in Penang? Look no further, we have you covered with all the best things to do in Penang at night. Even if you have more time in Penang, you will probably find yourself wanting to do these things multiple times. This nighttime Penang itinerary covers everything from magical sunsets, the best drinking spots, and of course, where to get the most mouthwatering food.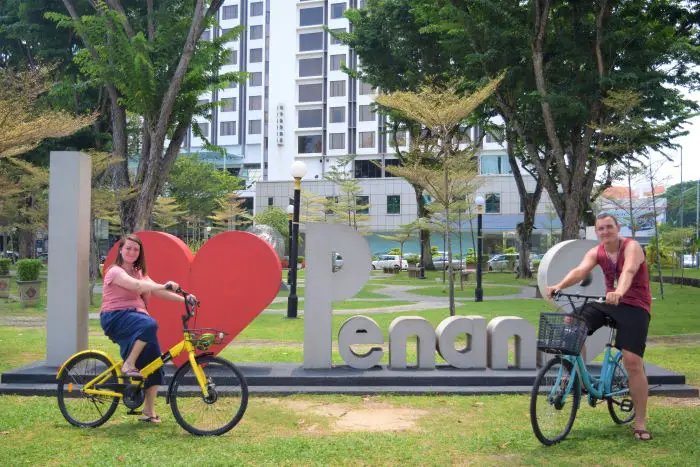 Disclosure: Untold Wanderlust contains affiliate links. If you click on these links and make a purchase, we will earn a small commission at no extra cost to you. You can find our full disclosure policy and privacy policy here.
The best itinerary for a night in Penang
No matter how long you have in Penang, it's an unmissable stop on a backpacking Malaysia itinerary. Penang is packed with unique places, a plethora of art, culture, delicious food, and buzzin' nightlife. After a day of going on a street art hunt, or cycling the quaint old town on a tandem bike, it's time to get yourself ready for an unforgettable evening. Without further ado, we will dive right into this 1 night in Penang itinerary.
Tuck into Wan Tan Mee
After a long day of exploration, make sure to fill your tummy and slurp away at a big bowl of Wan Tan Mee. Wan Tan Mee is an extremely popular dish that originated in China but has since become a sensation in Malaysia, Hong Kong, and Singapore. Different regions have different variations of the dish, but in Penang, you can typically expect the dish to consist of egg noodles, thin slices of pork (char siu) and wontons doused in soy sauce, oyster sauce, and sesame oil. Finally, it's garnished with chopped spring onions. Whilst you will find plenty of places with Wan Tan Mee on the menu, undoubtedly the most famous and popular place is the unnamed stall located on Chulia Street Night Hawker. With the crowds that surround it, it's pretty hard to miss. We recommend you get there as early as possible for a seat!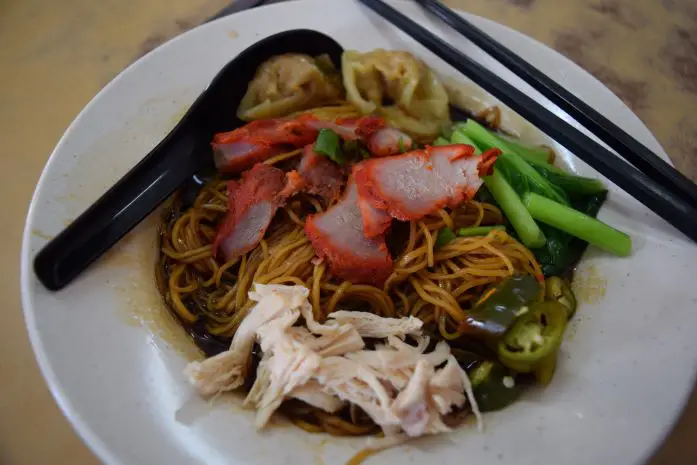 Watch a magical sunset from Penang Hill
Head an hour outside of the backpacker hotspot of Penang to Penang Hill, where you will be met with breathtaking panoramic views of the city. Pull on your hiking shoes and get ready for a magical sunset. To get to Penang Hill, head to George Town Jetty and board the 201 bus. The bus costs 2 ringgit ($0.47) and leaves every 30 minutes. The last bus is at 11:30 pm. Once you reach Penang Hill, you have the option of hiking to the top (for FREE) or taking the train. A standard return ticket for the train costs 30 ringgit ($7.08). Penang Hill boats 6 peaks and the highest stands at an impressive 833 meters above sea level, making for the best lookout of Penang mainland. Make sure to get there just in time for dusk for an unforgettable sunset experience.
Start the party at Drippin' Dragon Hostel
After Penang Hill, head back to your accommodation to freshen up and start your night on the town. We fully recommend staying at Drippin' Dragon Hostel, as not only is it a great bang for the buck, it's one of the best places to start the party. We booked to stay here for 3 nights, but we felt super comfortable, and having the pool to dip into in the midday heat was a blessing. This hostel is one of the busiest in town and if you're a guest here, make sure to take advantage of the cheap drinks from the bar by the pool.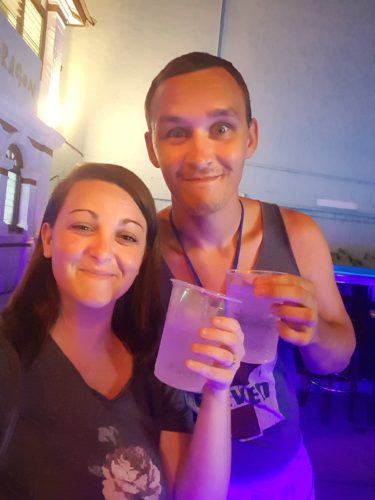 Chug cheap beer's at the "elbow" drinking spot
If you're looking for cheap beers at a local watering hole, make sure to check out the "elbow". It's officially known as Antarabangsa Enterprise, but it gets its name from the bent elbow shape of the road that scatters the street with tiny plastic stools and tables. Similar to Beer Street in Hanoi, you will find locals, ex-pats, and backpackers alike clashing cheap cans of beer. At just 5 ringgit a can, you can easily have a frugal fun night out! The drinking spot it a little tucked away, so we recommend you check out the route on Google Maps. Just tap in this address: 21 Lorong Stewart, George Town.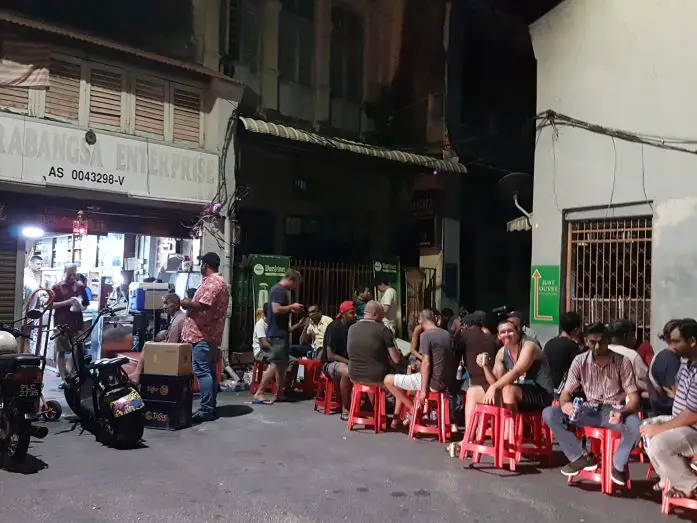 Continue the evening on Love Lane
If after a few drinks at Antarabangsa Enterprise you're still feeling the party vibe, head over to Love Lane. During the day, Love Lane is all about street art, but by night the street is lined with bars and shindigs. Just like when spending 2 days in Kuala Lumpur, you will want to experience the nightlife in Penang too. Antarabangsa Enterprise closes shop come midnight but the bars dotted along Love Lane are open until the early hours of the morning. With plenty of places to choose from, you're sure to find a nice drinking spot to suit your vibe.
Treat your tastebuds to a late-night delight
After a night in the town, you may feel a bit peckish. Let's face it…who doesn't love a greasy burger at the end of a night? In such a case, make sure to call by the Old Trafford burger van that is located on Chulia Street. Now, the burgers here are not just any ordinary burger, there is something deliciously addictive about them. So much so, it has been ingrained in Jake's head since he first tried one in 2016. 4 years later, he couldn't wait to get his hands on one again.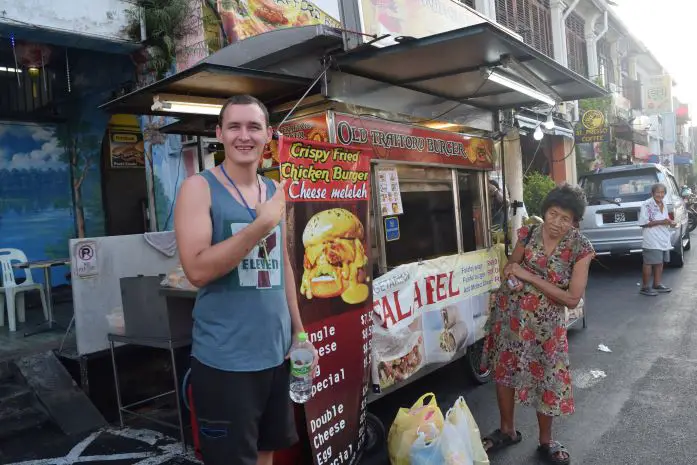 Finally, if you're looking for a slightly healthier option, head further down the road on Chulia Street to the vegan falafel food cart, which is right outside the Reggae bar. The falafels here are so divine they are to die for! Choose between a falafel burger, wrap, or just on the plate falafels. No matter which food you choose to satisfy your taste buds, make sure to get there before the closing time of 2:30 am.
Essential Resources for Travelling Around Malaysia
Travel Insurance – No matter where you're travelling to, it's a good idea to make sure you're covered for any accidents or losses. We spent days and weeks searching for insurance, but most insurers would not allow us to take out a policy as we were already abroad. Our personal choice is Safteywing. You can opt for automatic monthly payments, just like a subscription. More importantly, it is available in 180 countries and can be purchased whilst already travelling. There is no cap on the duration of travel.
Visa – Before you travel to any country, make sure to check if you need a visa. iVisa is a fantastic website that is super easy and quick to use. Just type in where you are from. and where you are going. to check if you need a visa. If you do, you can quickly make an application online.
Accommodation – Booking.com is our go-to when looking to pre-book accommodation online. Booking.com tend to almost always have the best rates and has a FREE cancellation policy for most properties.
Overland transport – Our go-to website for overland transport is Bookaway. Bookaway offers multiple forms of transport, from buses, mini-vans, trains, and ferries. The routes on offer are extensive and certainly cover most of the backpacker trails. Bookaway works a little like Skyscanner but for overland transport. You will find plenty of transport options from a range of companies. All you simply need to do is book online and receive your ticket by email. The email will contain essential information, such as where the bus leaves from and departure and arrival times.
Tours & activities – If you want to book tours and activities online, make sure to check out Get Your Guide. Get Your Guide takes the stress out of booking activities abroad. You will also find a range of benefits, such as skip the line passes, lunch included in your tours, and so much more.
Travel tips ebook -Before you head off on your adventure, make sure to download our free ebook. It has a whopping 109 budget travel tips to help you make your hard-earned cash go further. Click here to download your FREE ebook.
Make cash on the road – If you're on a long trip, you may want to start earning whilst on the road. One way to do this is to teach English online. One of our favourite companies for this is Palfish, as the schedule is super flexible. You can open and close slots, as and when you choose, meaning you don't have to commit to the same days and hours each week. Just make sure you are TEFL certified to apply!
Like this night in Penang itinerary? Pin it!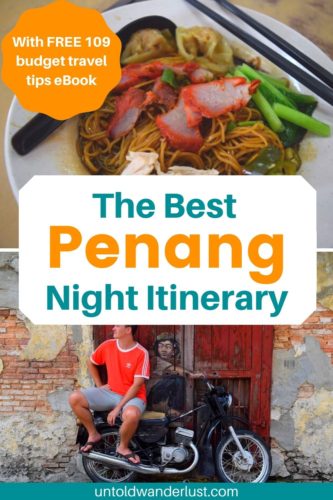 ---