When a deadly nuclear reactor exploded in 1986, the entire population of a town were forced to evacuate, and no one has lived there since. The town of Pripyat, in Ukraine, is now nothing but a ghost town. All that is left are empty abandoned buildings, shops, and an amusement park. This creepy town, which is now totally inhabitable, stands the same way it was left back in 1986. Read on to find out more information about Chernobyl, and how to find the best Chernobyl tour.
WARNING: This post was created before the war in Ukraine. We are in no way promoting travel to Ukraine at this time, due to the ongoing conflict.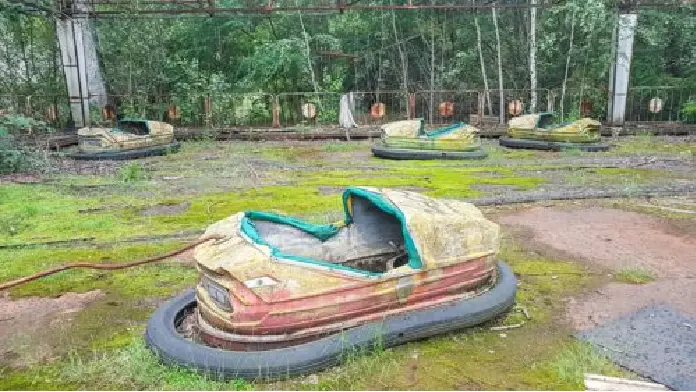 Disclosure: Untold Wanderlust contains affiliate links. If you click on these links and make a purchase, we will earn a small commission at no extra cost to you. You can find our full disclosure policy and privacy policy here.
How to book the best Chernobyl tour
You must book a guided tour to Chernobyl. You cannot go by yourself as you need a special permit to enter. Without a permit and a tour group, you will not be granted access. We fully recommend booking your Chernobyl tour in advance. Do NOT wait until a few days before, as you run the risk of missing out completely. For peace of mind, you can easily book your trip to Chernobyl online.
Which is the best Chernobyl tour company?
Chernobyl Travel – We chose Chernobyl Travel for their expertise and well-informed knowledge of the Chernobyl disaster. The group sizes are small (6 people + a guide) and allow for a more personal touch. The guide was able to answer all our questions individually and made sure we were kept safe throughout the tour. Furthermore, it's important to choose a company that is registered with qualified guides to take tourists to the Chernobyl exclusion zone. Guides at Chernobyl Travel are all fully-qualified and are well aware of safety measures. They will guide you throughout the day and give you essential safety advice.
Getting there – Kyiv to Chernobyl
The day began by meeting our tour group at the meeting point; opposite Shevchenko University. We were greeted by our friendly guide and did the routine passport check before boarding the comfortable, air-conditioned Mercedes Sprinter. On the way, we called at a gas station to fill up the tank and grab morning coffee and snacks.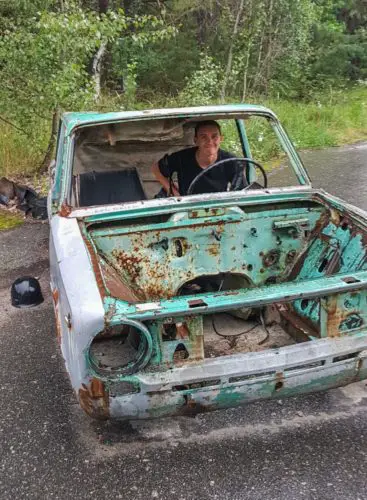 The drive to Chernobyl took around 2.5 hours. On the way, our guide played a well-produced and informative documentary about the Chernobyl disaster. The movie lasted the duration of the journey and kept us well entertained. The documentary was not only intriguing but also educational and set the foundations for the day ahead.
The restricted zone at Chernobyl
There is a 30 km restricted zone around Chernobyl. To enter the zone, you must have a special permit. Don't worry though, all this is taken care of by Chernobyl Travels, and your guide will deal with all necessary paperwork. When you arrive at the restricted zone, you must get out of the van and pass through a checkpoint where you will need to show your passport to the guards. Once through the first checkpoint, you will be on your way to the first stop of the tour.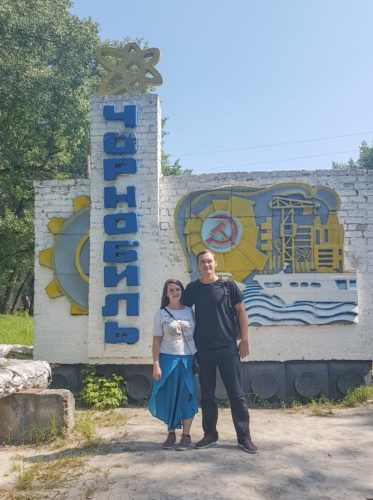 Important points about the Chernobyl disaster
The Chernobyl disaster happened on 26th April 1986, in the early hours of the morning.
People were not evacuated in the nearby town of Pripyat until 36 hours after the disaster.
People thought they were leaving for a mere 3 days. Little did they know, they would never return to their homes again!
Radiation from the reactor that exploded, started to spread across Europe and even reached the UK. The whole of Europe was under threat.
It took months for officials, the army, and even ordinary civilians to control the deadly radiation, and prevent it from spreading.
Subsequently, many people died or suffered tragic injuries and deformities. Towns surrounding the nuclear reactor were evacuated and residents never returned to live there again. Now, an entire ghost town is left rotting.
Highlights of the Chernobyl tour
Abandoned village
Once you've passed the first security checks, and have entered the 30 km exclusion zone, the first stop of the day is an abandoned village. You will learn from your guide all about how the town was evacuated 36 hours after the explosion. You will notice how lots of the local's possessions were left in the rush to evacuate.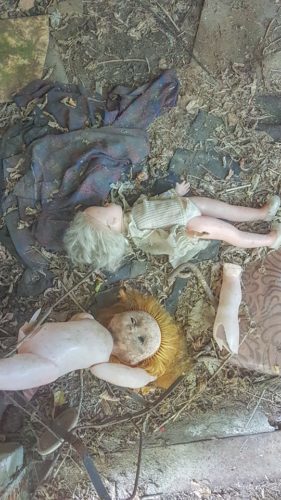 High school & kindergarten
The town of Pripyat was once a prospering town until 26th April 1986, with many children and young people living happy lives. With that came many schools and kindergartens in the area, the remains of which tell a story of how abrupt the town was abandoned.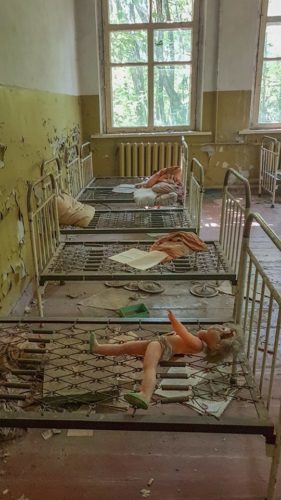 The desks of the high school were left in a way that makes it easy to imagine a typical classroom atmosphere in the blink of an eye. Each of the desks is skewed at such an angle that represents a rush for the exit.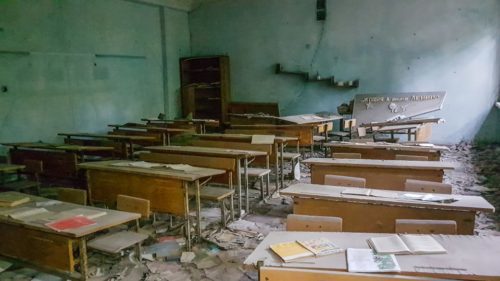 In the kindergartens, teddies, toys, and books scatter the floors. There had been nothing of value to be looted during the initial aftermath of the disaster, so most of what was left upon evacuation, remains there to this day!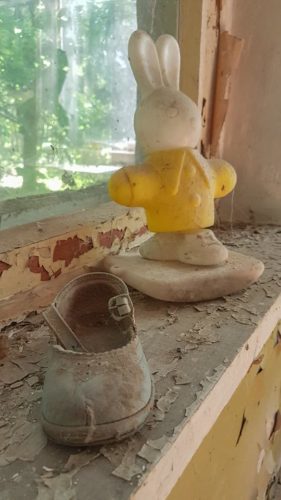 Reactor 4 site
Reactor 4 (of 6) was the building in which the explosion occurred, releasing deadly nuclear particles into the air. Since the disaster, 28 countries have worked extensively to contain the radiation, at a whopping cost of $2 billion. Since 2017, the reactor has been encased in a dome to decrease the amount of radiation it emits by up to 3 times. The dome also functions as a complex to clean and evacuate radioactive material, to be stored somewhere safe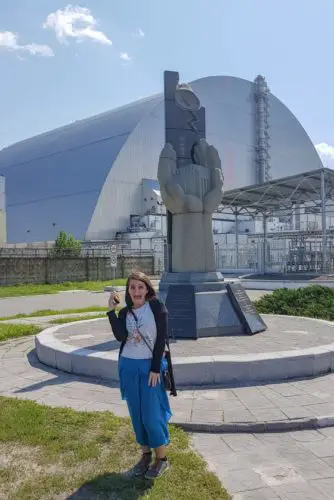 Pripyat ghost town & abandoned amusement park
50,000 people used to live in Pripyat Town, now it's a ghost town! The most iconic image of the Chernobyl disaster is the Ferris wheel, which was the main feature of the newly built amusement park. Sadly, the nuclear disaster struck just 3 days before the park was due to open, so none of the residents even had the opportunity to enjoy the park.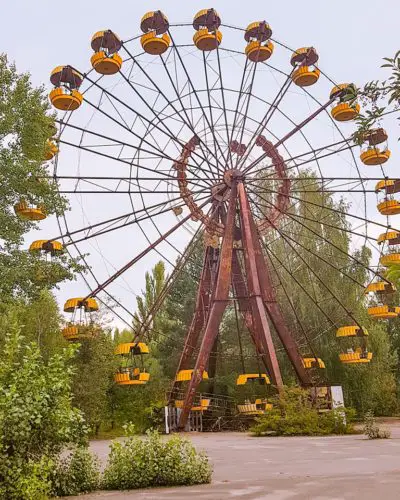 Once brand new, the still-standing decaying wheel is a symbolic reminder of the dangers of nuclear fallout. During your tour of Pripyat, you will learn about the main buildings in the area, how they functioned and most shockingly, how they once looked in the late 1970s.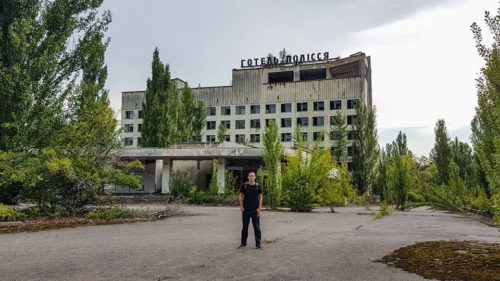 Secret Military Base (Duga Radar)
Amidst the overgrown forest of Chernobyl, lays an old Soviet radar that used to be able to detect incoming missiles being launched from other parts of the world. The reason it had been built nearby the Chernobyl power plant was because it required such high amounts of energy to work.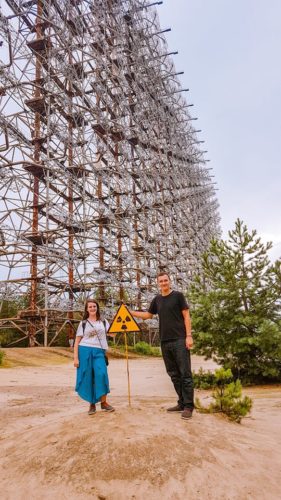 Are Chernobyl tours safe from radiation?
This is a question that most tourists are concerned about. However, there is no need to be! If you're only visiting for one day, the levels of radiation you will be exposed to are relatively minimal. A day's dose of radiation is equal to that of a 2-hour flight and the radiation levels you will receive are 160 times smaller than an X-ray chest exam. This goes to show that a one-day tour is completely safe. If that isn't enough to convince you, our guide from Chernobyl Travel has taken tours to Chernobyl for over 8 years and he isn't showing any signs of glowing green yet.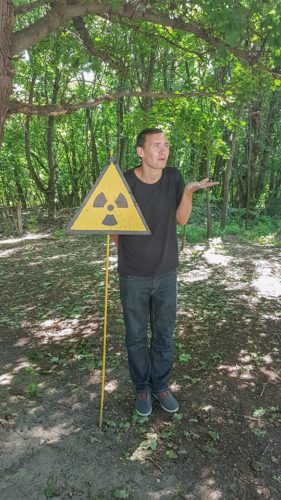 Tips you must know about the Chernobyl tour
Don't forget your passport –  Make sure you bring your passport on the Chernobyl tour. You will need your passport for the security check to enter, and exit, the Chernobyl exclusion zones. You don't want to have your Chernobyl tour ruined because you forgot to pack your passport!
Book your Chernobyl tour in advance – Make sure to book your Chernobyl tour in advance to avoid disappointment. Tours fill up quickly, and you may need to pay extra if you need to book a day before. It's better to book in advance, not only to save money but for peace of mind. You can book your tour online here.
Follow the instructions of your guide – You should NEVER explore the area around Chernobyl by yourself as some areas are potentially very dangerous. Therefore, it is important to listen to your guide and follow his/ her instructions. Following instructions carefully will prevent you from getting injured. When people ask, "are Chernobyl tours safe?", The answer is simply YES, providing you follow the instructions of your guide.
Bring long sleeve clothing – You will need to cover your arms and legs when you reach nuclear reactor 4. This is just to ensure your safety, and to provide maximum protection against any harmful radiation particles.
Wear comfy but inexpensive shoes – Avoid wearing expensive shoes as there is still high amounts of radiation on the soil. The ground in Pripyat is mostly untamed with moss, so be careful not to step on it.
Bring an umbrella – The tour will go ahead rain or shine! Make sure to pack an umbrella if the heavens do decide to open.
Packs some snacks – You will be provided with lunch during the Chernobyl tour, but the day is 12 hours long. We, therefore, recommend that you pack some snacks to nibble on when you're feeling hungry.
Bring a bit of money for souvenirs – There is a shop at the end of the tour where you can buy Chernobyl souvenirs. If you wish to buy anything, make sure you bring a small amount of money. The shop sells key rings, badges, and other small gifts.
Have FUN – Last but not least, HAVE FUN, and make sure to learn something new and interesting about the world's largest nuclear disaster. If you follow your guide and don't go wandering around by yourself, you will be safe. There is nothing to worry about!
Are you sure Chernobyl tours are safe? – YES! Just follow your guide, follow instructions, and you will be on your way home just fine.
Ready to explore Kyiv? Check out these top things to do. Alternatively, check out this eerie abandoned water park in Hue, Vietnam.
Essential resources for travelling in Ukraine
Travel Insurance – No matter where you're travelling to, it's a good idea to make sure you're covered for any accidents or losses. We spent days and weeks searching for insurance, but most insurers would not allow us to take out a policy as we were already abroad. Our personal choice is Safteywing. You can opt for automatic monthly payments, just like a subscription. More importantly, it is available in 180 countries and can be purchased whilst already travelling. There is no cap on the duration of travel.
Visa – Before you travel to any country, make sure to check if you need a visa. iVisa is a fantastic website that is super easy and quick to use. Just type in where you are from. and where you are going. to check if you need a visa. If you do, you can quickly make an application online.
Accommodation – Booking.com is our go-to when looking to pre-book accommodation online. Booking.com tend to almost always have the best rates and have a FREE cancellation policy for most properties.
Overland transport – Our go-to website for overland transport is Bookaway. Bookaway offer multiple forms of transport, from buses, mini-vans, trains, and ferries. The routes on offer are extensive and certainly cover most of the backpacker trails. Bookaway works a little like Skyscanner but for overland transport. You will find plenty of transport options from a range of companies. All you simply need to do is book online and receive your ticket by email. The email will contain essential information, such as where the bus leaves from and departure and arrival times.
Tours & activities – If you want to book tours and activities online, make sure to check out Get Your Guide. Get Your Guide takes the stress out of booking activities abroad. You will also find a range of benefits, such as skip the line passes, lunch included in your tours, and so much more.
Travel tips ebook -Before you head off on your adventure, make sure to download our free ebook. It has a whopping 109 budget travel tips to help you make your hard-earned cash go further. Click here to download your FREE ebook.
Make cash on the road – If you're on a long trip, you may want to start earning whilst on the road. One way to do this is to teach English online. One of our favourite companies for this is Palfish, as the schedule is super flexible. You can open and close slots, as and when you choose, meaning you don't have to commit to the same days and hours each week. Just make sure you are TEFL certified to apply!
Like this post? Pin it!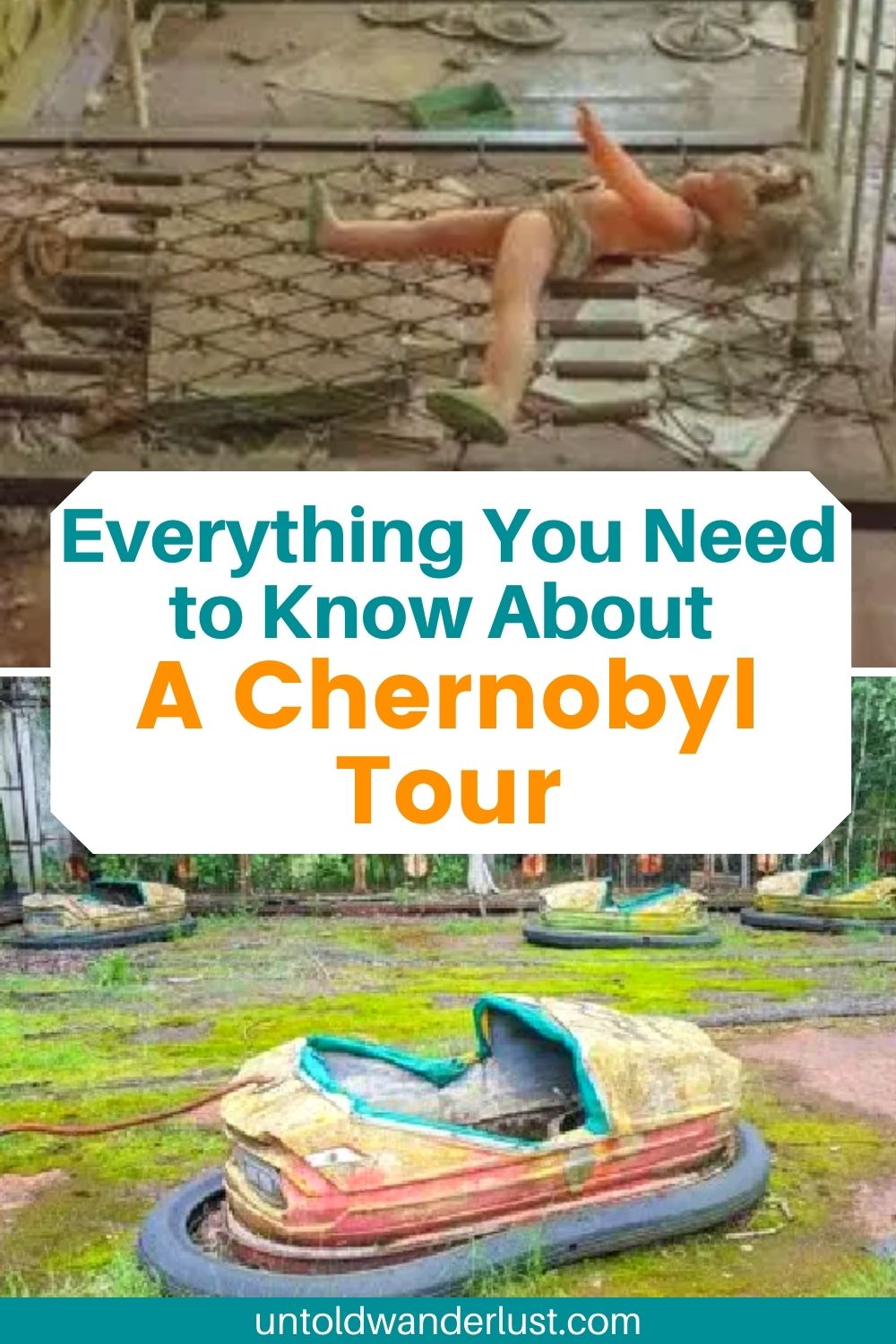 *This post is sponsored by Chernobyl Travel. All opinions are our own, based on our experience.*