Is Mongolia worth visiting? YES, YES, and YES again! When we arrived back in Vietnam, after 4 months of backpacking through Hong Kong, Macau, China, Mongolia, South Korea and Japan, many people were curious to know where exactly was our favourite destination. Without hesitation, both of us, hands down would say Mongolia! Mongolia is a unique country that will forever hold a special place in our hearts. Here, we have compiled a list of 9 reasons why you should DEFINITELY visit Mongolia.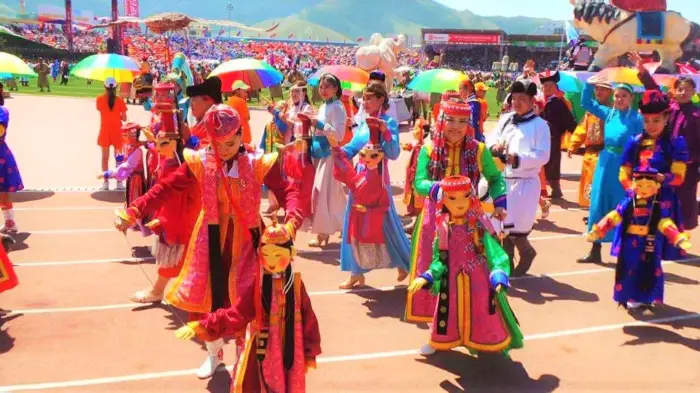 Disclosure: Untold Wanderlust contains affiliate links. If you click on these links and make a purchase, we will earn a small commission at no extra cost to you. You can find our full disclosure policy and privacy policy here.
Travelling to Mongolia is a path less trodden
Many people have heard of Mongolia and the Mongol Empire, but how many people do you know who have been? Probably not many, right? Mongolia is one of those countries that are less travelled, but we think this is definitely going to change over the next few years. Infrastructure is rapidly improving, and the country is becoming more popular and modernized. We recommend you book a Mongolian tour fast before the culture and natural preservations are overshadowed by mass amounts of tourism and international influences. However, for now, the country is still a relatively undiscovered and untouched corner of the Earth.
Make sure to check out our ultimate backpacking Mongolia itinerary for more inspiration!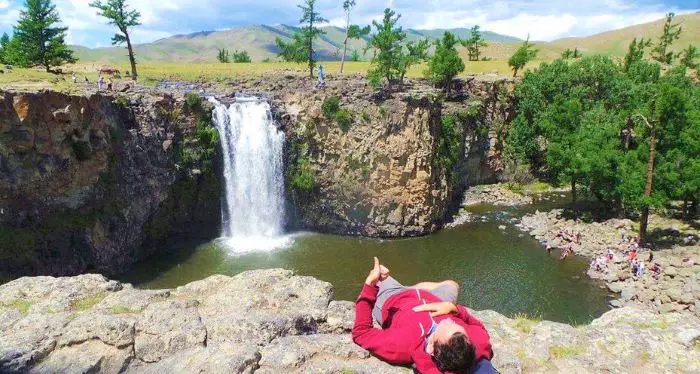 The incredible landscape throughout Mongolia
Is Mongolia worth visiting for its landscapes? Of course! Mongolia boasts landscapes that will blow you away! One of the most interesting things about Mongolia is that it has the lowest population density in the world, and half of Mongolia's 3 million population lives in the capital city, Ulaanbaatar. Therefore, the land outside of the city is untouched and ready to take your breath away. Mongolia has a vast amount of open land that constantly changes as you venture further away from the city. From the dunes in the Gobi Desert, the glaciated snow-capped mountains in the west, to the lush green forests in central Mongolia; you are sure to discover landscapes so different, yet so close by like you have never seen before. Honestly, it is out of this world, and it somewhat reminded us of landscapes that are so unrealistic that you would see them in a cartoon.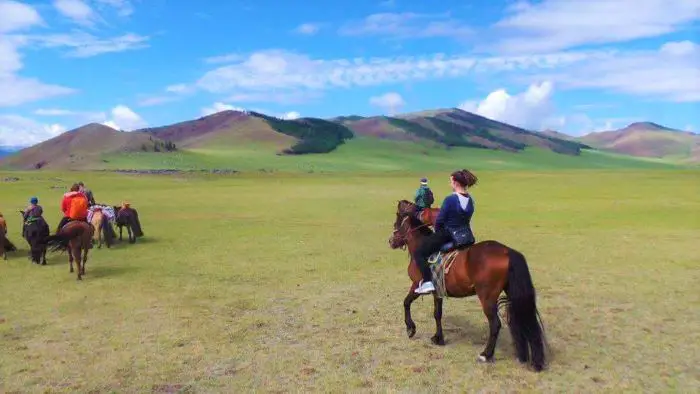 Go for a Mongolia adventure
Amazing adventures await! A sense of adventure is certainly out there, even for the most well-organised travellers. Once you hop into your old Russian mini-van and leave the city, who knows where you will end up for the night, what you will eat, or what you will see along the way? You could go days before you get the chance to take a shower, eat a nice warm meal, or even sleep in a comfy bed free of creepy crawlies. But what we can be sure of is the amazing wildlife and animals you will see, the kind-hearted families you will meet, and the lifelong lessons you will learn along the way.
The adventure is continuous, with opportunities to watch heavenly sunsets at the top of dunes, ride on horseback through lush steppes and lakes, camel ride into the sunset in the desert, bike through an ice glacier in the summer heat, or sleep under the magical night stars.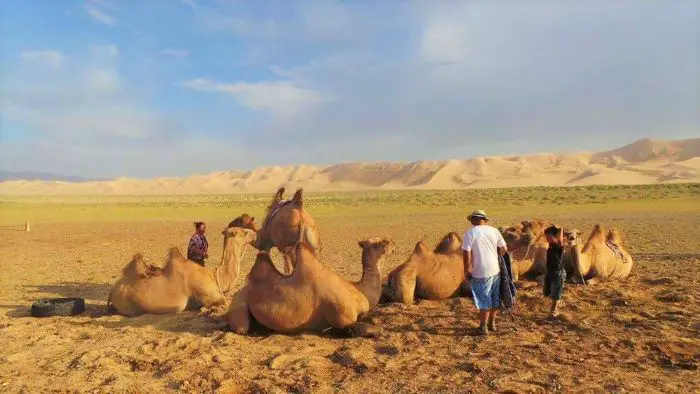 Mongolia culture
There is nothing quite like Mongolia's distinctive culture! Mongolian culture is unique, and you will find no other culture like it. From the fascinating nomadic lifestyle to the colourful and rich traditional dress sense; you will be intrigued to learn more about this captivating culture that has been preserved, despite living in a fast-advancing world. Immerse yourself into the culture by sleeping in a traditional ger with a local nomadic family and eating freshly made goat cheese biscuits and slabs of mutton meat. You may even get the chance to become a farmer for a day, by helping the family herd their sheep.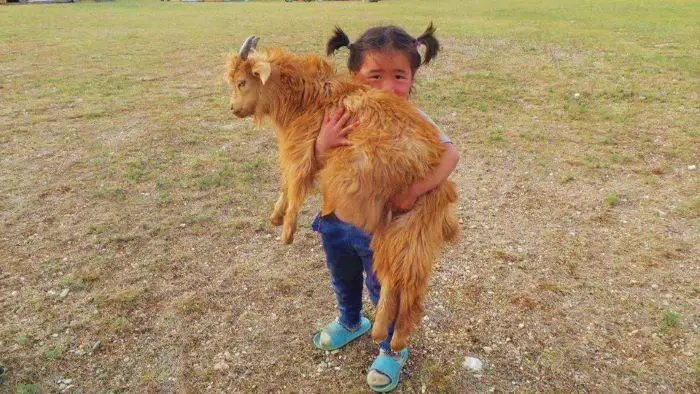 Go to Mongolia alone and take a break from civilization
Take a break from people! Mongolia is one of the least populated countries on Earth. Once you leave the city it's not hard to get lost in your thoughts. The mass open landscapes, no houses, no buildings, and no people will truly make you feel like you're the only one in the world. Find fun in the simpler things in life; like skipping stones in the lakes and chasing goats and sheep off the road. Or even hanging your head outside of a fast-moving van, to feel the wind gliding through hair.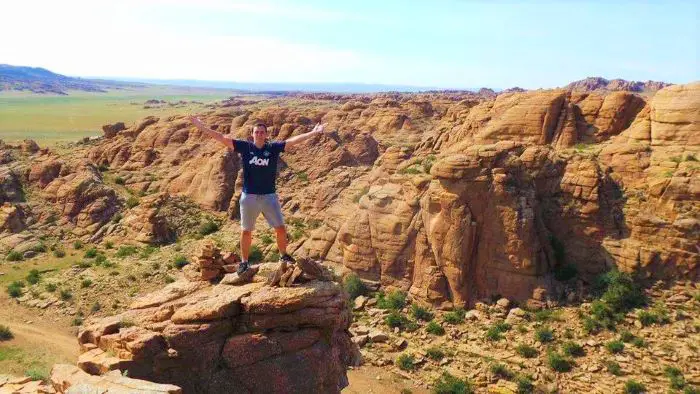 The epic Naadam Festival
Is Mongolia worth visiting for its festivals? Absolutely! The epic annual Naadam Festival takes place around the middle of July and lasts for 3 days. We were very lucky to have had the chance to witness the festival, despite not having originally planned to be there during the festival time. The festival kicks off with a huge opening ceremony that plays out the history of Mongolia. Afterwards, you will have the chance to watch traditional Mongolian wrestling, archery and, of course, horse riding.
This festival has even been dubbed the 'Mongolian horse racing festival', for the number of horse races that take place; from wee babies riding horses, to fully grown adults. Aside from being astonished at children as young as 5 years old galloping around on their horses, make sure to feel the suspense as 115+ kg wrestlers take each other to the ground. If you can, we highly recommend planning your trip to Mongolia around the Naadam Festival. Make sure to buy your tickets in advance, as you don't want to miss out on the day's events.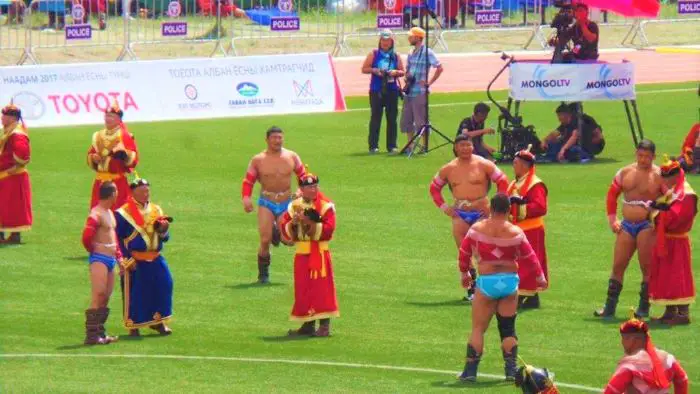 The kind-hearted people of Mongolia
Of course, Mongolia is worth visiting for the welcoming people! The people of Mongolia are among the most kind-hearted people we have ever come across. They are just as much intrigued about you, as you are about them. Despite a language barrier, the people will go out of their way to help you, make you feel welcome, feed you, and make sure you are comfortable for the night. We experienced nothing but kindness from our host families across the entire country. One family even went as far as moving out of their bedroom ger to make room for us for the night.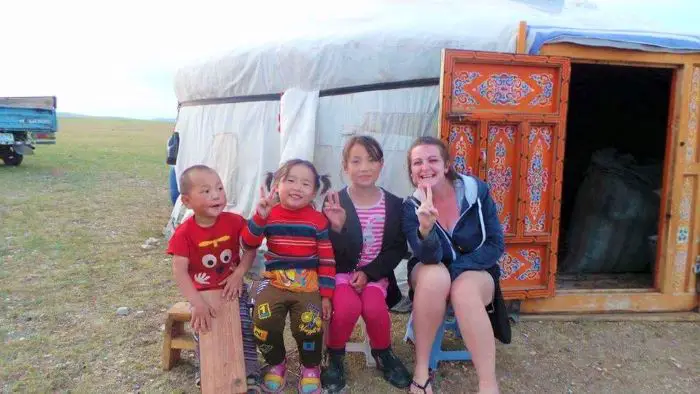 The funky capital of Mongolia – Ulaanbaatar City
The funky, old-soviet style city of Ulaanbaatar is a great place to hang out for a few days. With half of the population in Mongolia living in the capital, you would expect the city to be relatively big. Nope! You can easily cover the city on foot, as it is quite small. Surprisingly, despite the rest of the country living on a farm with little technology, the city is built up. Ulaanbaatar has all the conveniences that you would find at home. The city has a Russian feel to it and is worth taking a few days to explore. Not only is Ulaanbaatar a nice city to spend a few days in, but it's also the perfect place to start your trip. It's easy to reach from both Russia and China via train. For more information on how to reach Mongolia from China the cheapest way, check out our post.
If you're looking for somewhere to stay in Ulaanbaatar, make sure to check out the latest prices HERE.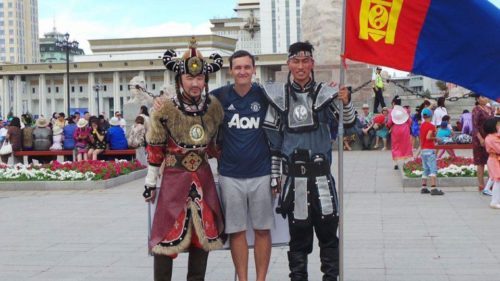 Fascinating Mongolian history
The history of Mongolia is utterly fascinating! If you're a history sponge, then Mongolia is undoubtedly a country for you. The history of Mongolia spans way back to the 13th century when the Mongols rose to rule the world. Relive the past at the National Museum or follow in the footsteps of Genghis Khan, with a trip on horseback through Mongolian forests, steppes and lakes. The possibilities to unfold centuries worth of history are endless. But a cool place to visit is the Genghis Khan Statue, which can easily be combined with a trip to Terelj National Park.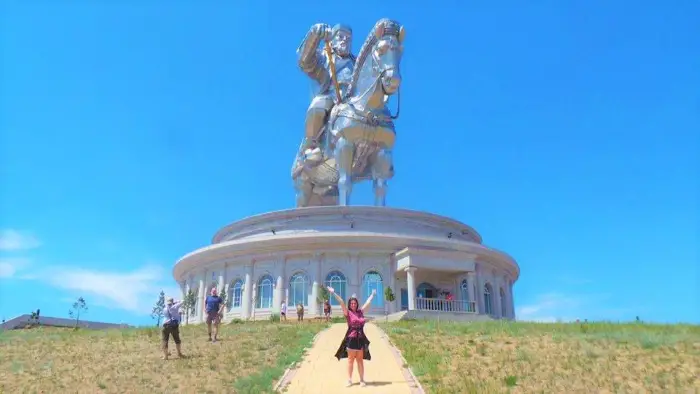 Essential resources for travelling in Mongolia
Travel Insurance – No matter where you're travelling to, it's a good idea to make sure you're covered for any accidents or losses. We spent days and weeks searching for insurance, but most insurers would not allow us to take out a policy as we were already abroad. Our personal choice is Safteywing. You can opt for automatic monthly payments, just like a subscription. More importantly, it is available in 180 countries and can be purchased whilst already travelling. There is no cap on the duration of travel.
Visa – Before you travel to any country, make sure to check if you need a visa. iVisa is a fantastic website that is super easy and quick to use. Just type in where you are from. and where you are going. to check if you need a visa. If you do, you can quickly make an application online.
Accommodation – Booking.com is our go-to when looking to pre-book accommodation online. Booking.com tend to almost always have the best rates and a FREE cancellation policy for most properties.
Tours & Activities – If you want to book tours and activities online, make sure to check out Get Your Guide. Get Your Guide takes the stress out of booking activities abroad. You will also find a range of benefits, such as skip-the-line passes, lunch included in your tours, and so much more.
Travel tips ebook -Before you head off on your adventure, make sure to download our free ebook. It has a whopping 109 budget travel tips to help you make your hard-earned cash go further. Click here to download your FREE ebook.
So, what do you think? Is Mongolia worth visiting? We hope this list of reasons to visit Mongolia has inspired you to visit this amazing country! It's quite clear that Mongolia is the perfect retreat for nature lovers and cultural enthusiasts. Don't hold back from visiting; book that flight, change cars for horses, houses for gers, and roads for gravel dirt paths.
If you're inspired to visit Mongolia (which you should be), find out how to get a Mongolian visa here.
Like this post? Pin it!