Ukraine is one of those countries less frequented by Western tourists, but a country with so much to offer; the weird, the wonderful, and the crazy! Our first stop in Ukraine was the colourful Lviv. Read on to find the most bizarre and unusual things to do in Lviv.
WARNING: This post was created before the war in Ukraine. We are in no way promoting travel to Ukraine at this time, due to the ongoing conflict.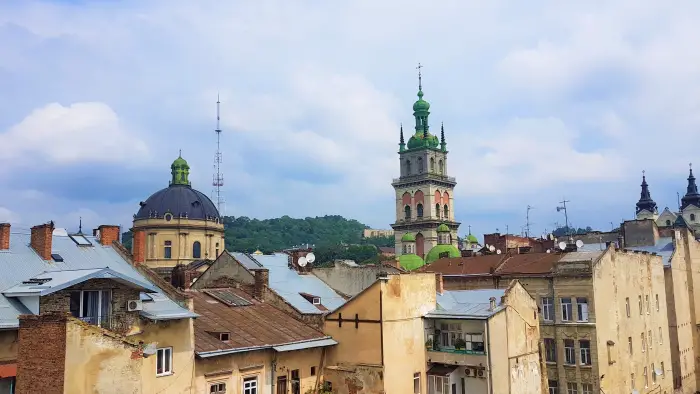 Disclosure: Untold Wanderlust contains affiliate links. If you click on these links and make a purchase, we will earn a small commission at no extra cost to you. You can find our full disclosure policy and privacy policy here.
Awesome things to do Lviv
Let your inner chocolate monster free at Lviv chocolate manufacture
Chocolate, chocolate, chocolate! Everybody LOVES chocolate. And if you don't, then you're a bit weird. So, now that we have established that everybody loves chocolate, it makes perfect sense to head to Lviv's 5-floor chocolate factory.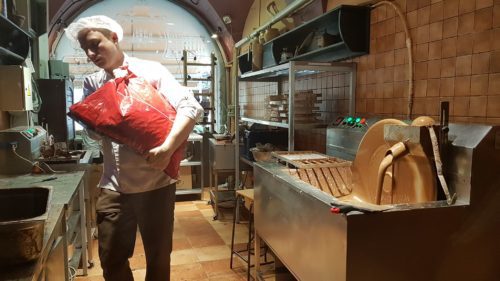 When you enter, on the first floor you can witness chocolate being made. You will see chocolate machines churning litres of thick creamy chocolate, men filling buckets of dark chocolate, and workers filling cute rabbit and heart shape domes with the chocolate ready to sell.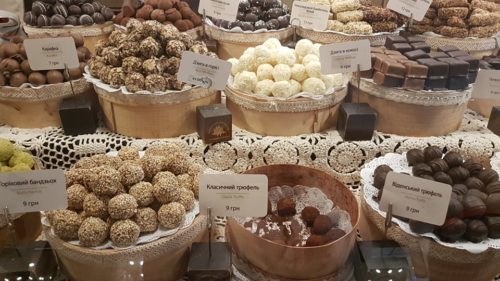 After that mouth-watering experience for starters, it's time to head upstairs and wander around the chocolate shop. Here you will final the products, which you can buy. Otherwise, you can head upstairs again and relax in the café and enjoy the extensive menu of sweet delicacies. We opted for the nut chocolate tasters and a chocolate milkshake that consists of melted chocolate, ice cream and caramel. YUMMMY!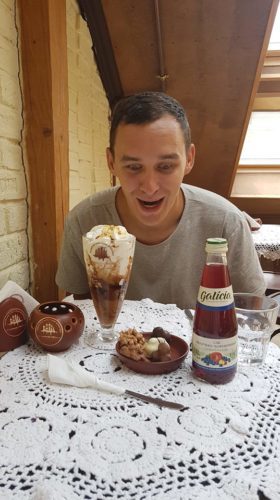 Price: To walk around the chocolate manufacturers is FREE. The menu is also quite cheap. We spent a total of 154 UAH / $5.77.
Be transported back in time at the secret Kryjivka bar
Next up on the list of unusual things to do in Lviv is Kryjivka bar. Now, you may be thinking that a bar is not an unusual thing to see, but this bar is far from normal. It's certainly no ordinary bar where people go just to have a drink. To start with, you need to hunt around town to find it. Be warned, it is not sign-posted. Once you finally find the bar, you will need to fight past the angry beast of a guard dog (pictured below).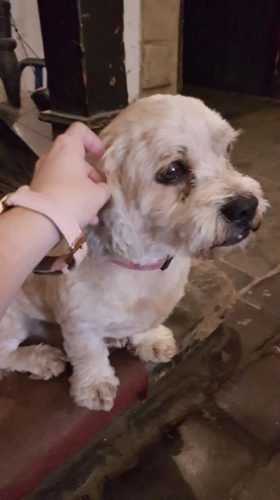 Once you reach the door, you must knock and wait to be invited in by a guard holding a machine gun. You will only be invited in if you give the guard the correct password. Now because we want you to enjoy the bar too, we will be nice and let you in on the secret. The password is "Slava Ukraini", which means glory to Ukraine.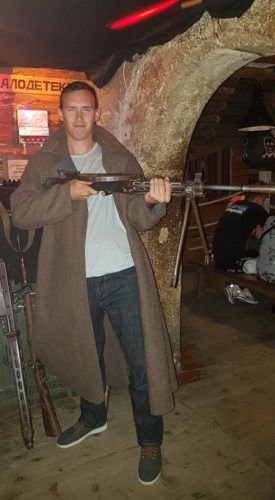 Once inside, you will be welcomed with a shot of spicy vodka and led underground. The bar is situated in an old bunker that was used during the days of the war. The bar is decorated with furniture from the 1940s, making you feel like you have been transported to a different time zone. There are also coats and different types of guns for you to play dress up and take plenty of photos.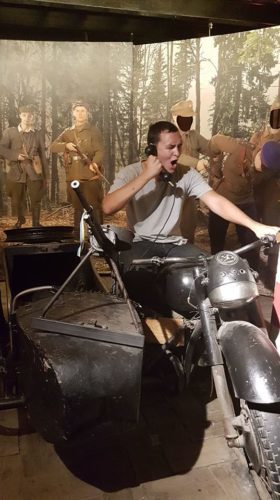 The food menu in the Kryjivka bar is relatively cheap. We opted for the potatoes with pepper. The beer is nicely priced at 35 UAH / $1. The food isn't much to write home about, but the vibe and quirkiness of this bar certainly are.
Price: To enter the bar is free. Our potatoes, peppers and 2 half litres of local beer came in at a total of 160 UAH / $5.99.
Drink fire coffee at the underground coffee mining factory
The coffee mining factory is located just a one-minute walk up the road from the Chocolate manufacturer. Much like the Chocolate factory, but with coffee; as soon as you walk in the smell of fresh coffee will hit you right in your face! On the ground level, you will see millions of fresh coffee beans roasting away next to large sacks of coffee beans ready to be sold. Further along, you will find a souvenir shop selling the final coffee products and various coffee-related souvenirs.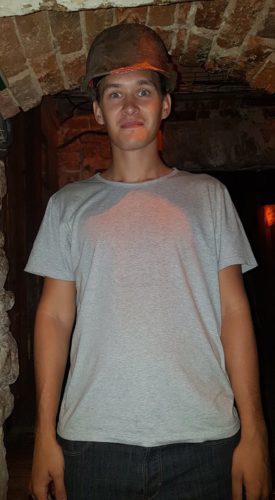 Now, this is the best bit. You will see a set of descending stairs that almost look as though you shouldn't go down. GO DOWN! Down in the mine area is a café maze selling all different types of coffee ready for you to try. It's a coffee addict's paradise down there. When you reach the bottom of the stairs you will be given a safety helmet to protect your head from bumps, as the ceiling is quite low.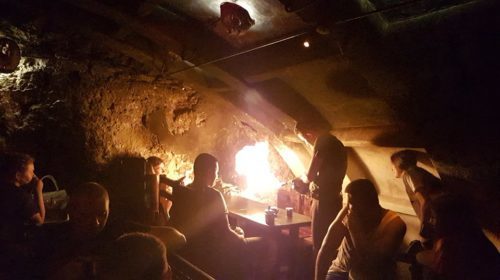 Unfortunately, we opted not to try the coffee as coffee plays havoc with Katie's stomach. No matter how much we were tempted to try the ever-so-popular fire coffee, we knew it would come back to haunt us. Whilst we didn't buy a drink here, we took a quick look at the menu and it seemed nicely priced. If we remember correctly, the Fire coffee costs a little under $2.
Get creeped out in toys' backyard
Next on the list of unusual things to do in Lviv, is toys backyard. Just a short walk from the old town is a garden full of old abandoned and lost toys. Now, this may sound a little creepy and actually…IT IS!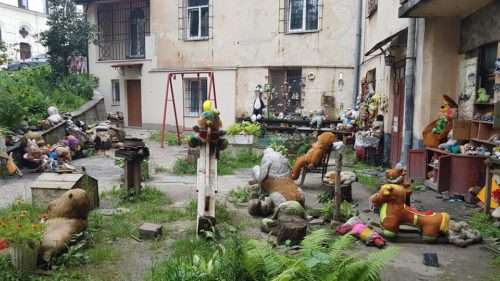 Whilst the concept behind leaving toys in one place for owners to find is quite nice, we couldn't help but feel creeped out at the mouldy wet teddy bears that seemed to be following us around with their black, beady, marble eyes. It was like each teddy once had a happy soul that had slowly been drained away in the wet mouldy garden.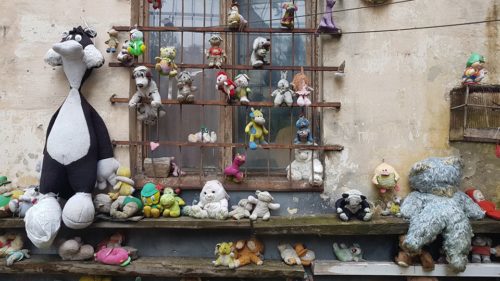 Price: FREE
Where to stay in Lviv
Ready for more unusual things to do in Lviv? Let's carry on the unusual theme with a stay at Loft Prison Hostel. Yep, you guessed it! This hostel is prison-themed. Hand yourself in and experience prison life. Check in with a mug shot of your latest crimes and head to your cell for the night.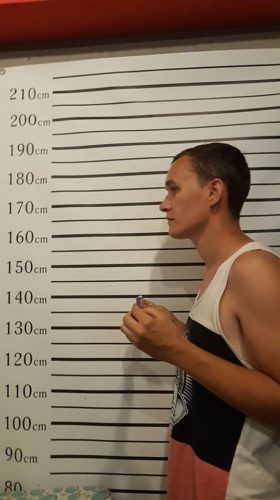 Jokes aside, the Loft Prison Hostel is in a great location; just 1 km away from the old town. For good behaviour, you may be let out for the day, before having to return to your super comfy bed fully equipped with thick fresh quilts.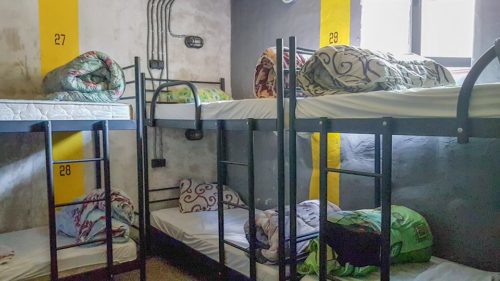 The hostel is well-kept and has a fully equipped kitchenette and lounge area with a large flat-screen TV. The hostel is kept very clean and there is a no-shoe policy. You will be given a fresh pair of slippers upon check-in.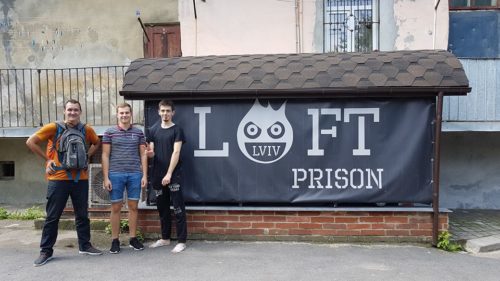 We fully recommend Loft Prison Hostel for anyone looking to experience something different and quirky. It's the perfect hostel to add to your list of unusual things to do in Lviv.
For more prices and deals on properties in Lviv, CLICK HERE.
Where to eat in Lviv
After checking out all the unusual things to do in Lviv, it is time to EAT.
Celentano – A cheap but delicious Italian restaurant located right in the centre of the old town. They serve a large choice of pizzas and pasta. We opted for an extra-large pizza to share. It was MASSIVE! This plain cheese pizza and 2 bottles of fizzy drinks cost a total of 200 UAH / $7.50. This also included a tip for the waiter.
If you're after a more local kind of dining experience, book a Lviv-themed restaurant tour. You will have the chance to experience the gastronomic traditions of the city and visit 5 different restaurants all with a local, knowledgeable guide. Make sure to book in advance though, as tickets are likely to sell out fast.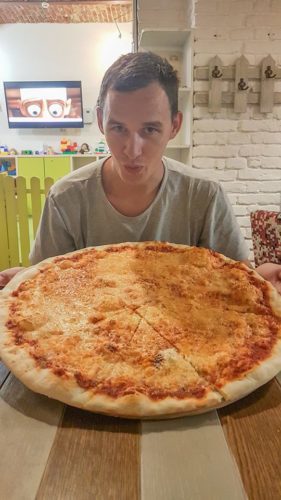 Essential resources for travelling in Ukraine
Travel Insurance – No matter where you're travelling to, it's a good idea to make sure you're covered for any accidents or losses. We spent days and weeks searching for insurance, but most insurers would not allow us to take out a policy as we were already abroad. Our personal choice is Safteywing. You can opt for automatic monthly payments, just like a subscription. More importantly, it is available in 180 countries and can be purchased whilst already travelling. There is no cap on the duration of travel.
Visa – Before you travel to any country, make sure to check if you need a visa. iVisa is a fantastic website that is super easy and quick to use. Just type in where you are from. and where you are going. to check if you need a visa. If you do, you can quickly make an application online.
Accommodation – Booking.com is our go-to when looking to pre-book accommodation online. Booking.com tend to almost always have the best rates and a FREE cancellation policy for most properties.
Overland transport – Our go-to website for overland transport is Bookaway. Bookaway offers multiple forms of transport, from buses, mini-vans, trains, and ferries. The routes on offer are extensive and certainly cover most of the backpacker trails. Bookaway works a little like Skyscanner but for overland transport. You will find plenty of transport options from a range of companies. All you simply need to do is book online and receive your ticket by email. The email will contain essential information, such as where the bus leaves from and departure and arrival times.
Tours & Activities – If you want to book tours and activities online, make sure to check out Get Your Guide. Get Your Guide takes the stress out of booking activities abroad. You will also find a range of benefits, such as skip-the-line passes, lunch included in your tours, and so much more.
Travel tips ebook -Before you head off on your adventure, make sure to download our free ebook. It has a whopping 109 budget travel tips to help you make your hard-earned cash go further. Click here to download your FREE ebook.
We hope you enjoyed this list of unusual things to do in Lviv and we hope you are inspired to visit Lviv soon. If you're heading to Krakow next, you can easily take a night bus across the border. Check out our Krakow budget guide here.
Like this post? Pin it!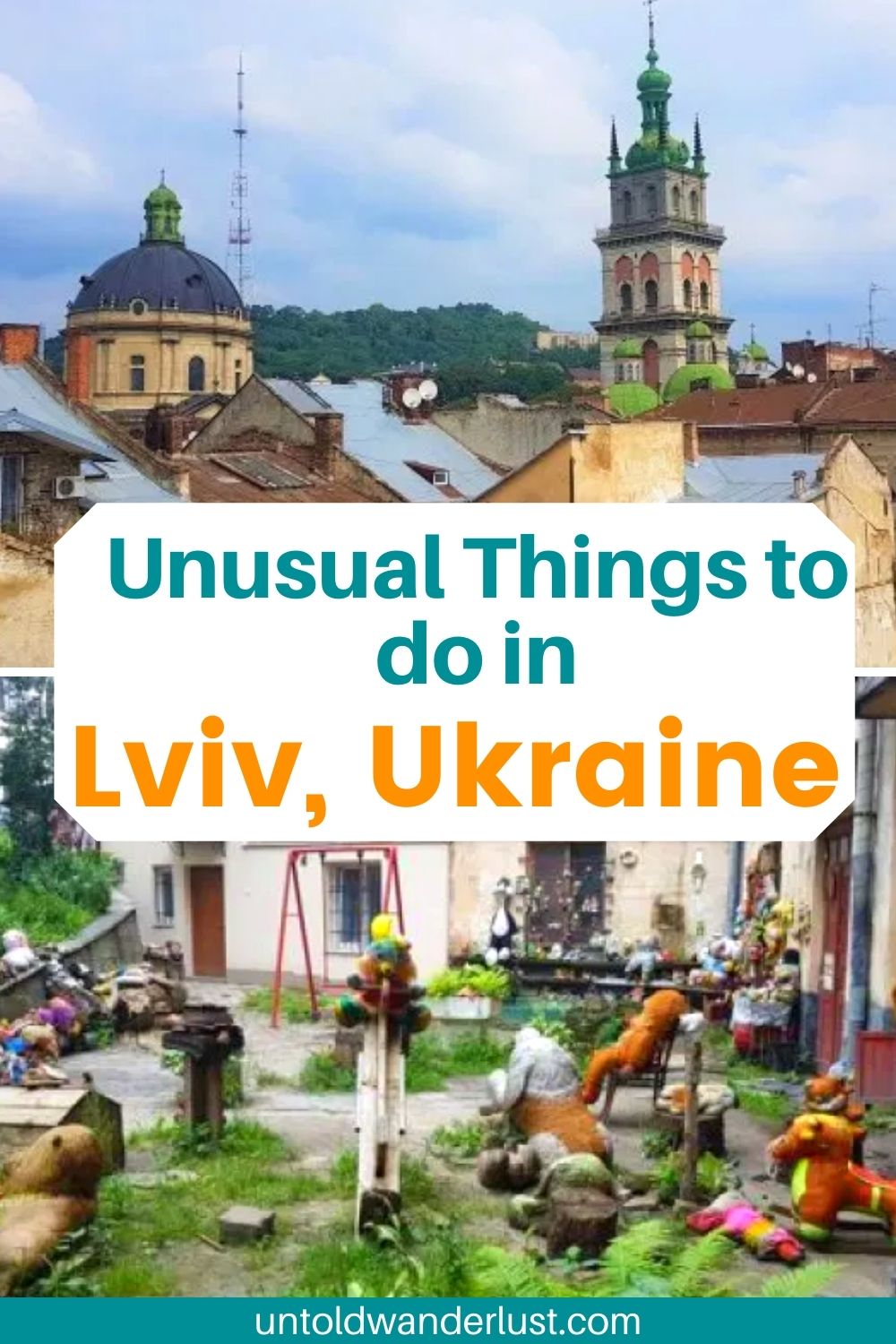 *We were hosted complimentary by Loft Prison Hostel. All opinions are our own, based on our experience.*