Looking for places to visit in Taiwan? Famous for delicious street food, pretty temples and relaxing hot springs, Taiwan makes for the perfect getaway. Here we have put together the ideal backpacking Taiwan itinerary for first-timers.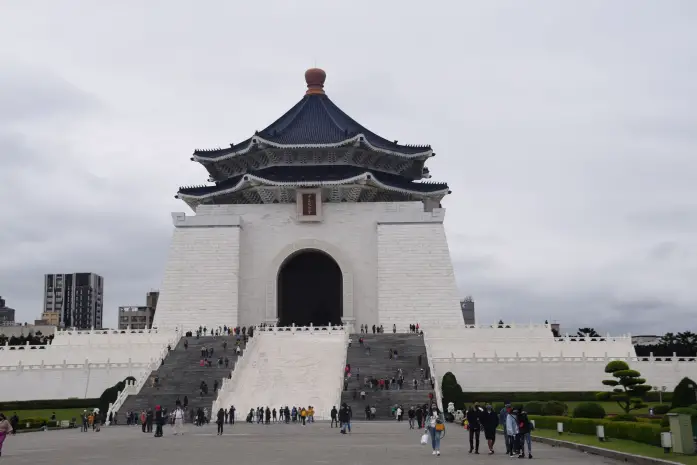 Disclosure: Untold Wanderlust contains affiliate links. If you click on these links and make a purchase, we will earn a small commission at no extra cost to you. You can find our full disclosure policy and privacy policy here.
Getting to Taiwan
There are so many reasons to visit Taiwan, so don't let getting there put you off. Taiwan is a small island in the Pacific Ocean, so the best way to get there is by plane. Outside of peak times, flights to Taiwan are relatively cheap if you are travelling from nearby countries. We bagged a return flight to Taipei from Vietnam with VietJet Air, for 5,000,000 VND ($210 each). However, this flight left during peak time; over the Chinese New Year. Flights outside of the holiday period can be as low as $65 each one-way. To check for the cheapest flights, we recommend using Skyscanner and being flexible with your dates.
Backpacking Taiwan places to visit
The following itinerary is perfect for first-timers to Taiwan and mainly takes on the east side of Taiwan. However, if you want a nature fix, you may want to consider extending your trip and including Taroko Gorge on your itinerary too.
Things to do in Taipei
Of course, the first stop on this list of places to visit in Taiwan, is Taipei, after all, it's one of the best holiday destinations in Asia for families! When you arrive in Taipei, it is a good idea to purchase a Taiwan sim card at the airport, so you have data and airtime to help you plan your trip. After that, we fully recommend heading to the train station and buying a Taipei Pass. Passes are available to buy for periods of 1 day, 2 days, 3 days, and 5 days. With the pass comes a very helpful booklet that provides multiple itineraries of places to visit across the city. The pass allows you to use the subway and buses an unlimited amount of times. This makes it very easy, and cost-effective, to go anywhere in the city. Below is a list of our top pick of attractions we discovered using the Taipei Pass.
Shilin Tourist Night Market and Raohe Street Night Market
There are plenty of night markets across Taipei, all of which are filled with the most delicious Taipei street foods. However, we personally think that the Shilin Market and Raohe Street Market are the best. There are hundreds of stalls with different picks of foods; you will be spoiled for choice! The markets are a foodie's haven and you should NOT miss them on a trip to Taiwan.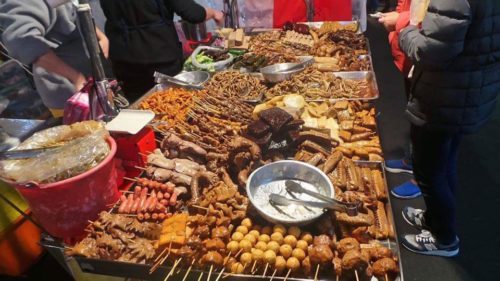 Taipei 101
The iconic tower of Taiwan! Make sure to stop by to marvel at the 508-metre tower and take a few snaps. The tower also has an observatory deck for you to enjoy the views of the city. However, we did not go to the top as the price was a little out of our budget and we had seen many city views before. The entrance fee on the door is 600 TWD ($19.71). To save money, consider purchasing tickets online.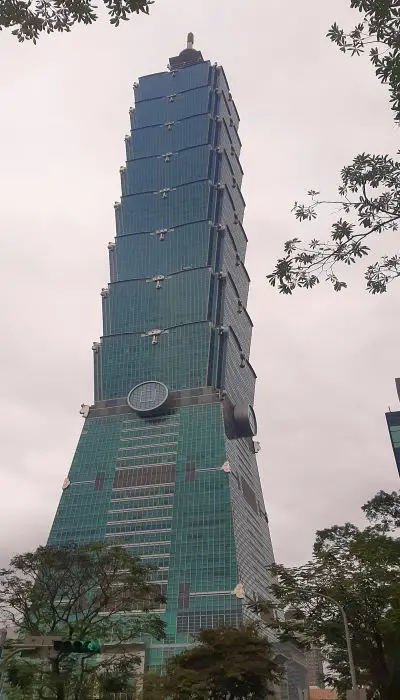 CKS Memorial Hall
At the CKS Memorial Hall, you can witness the guard changing ceremony which takes place every hour. The blue-tiled roof and the majestic marble white walls are fascinating to admire. To wander around the grounds and watch the changing of the guards is completely FREE.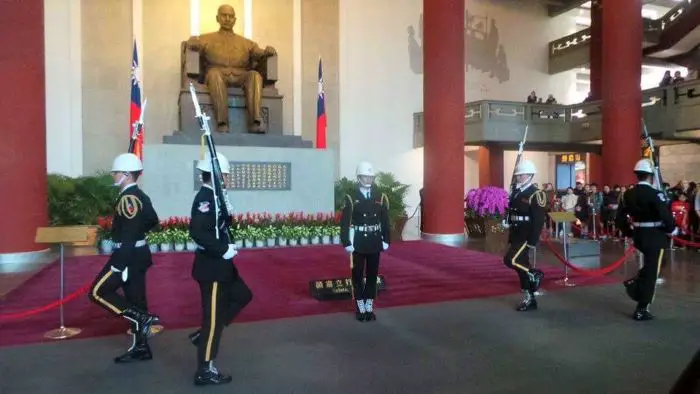 Songshan Ciyou Temple
Songshan Ciyou Temple, constructed in 1753, is simply stunning. The temple is located right next to Raohe Street Night Market, so it's difficult to miss. At night the temple lights make it look magical, so be sure to visit during the evening before heading to the market.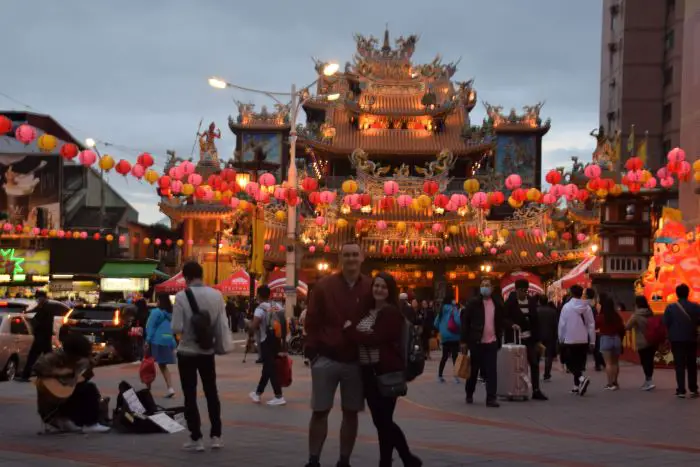 Yangmingshan National Park and Zhuzhu
Explore and admire the lush green trails of Yangmingshan National Park. Afterwards make your way to Zhuzhu, a natural basin filled with beautiful calla lilies. From here you can marvel at the surrounding mountains and the bird's eye view of the city.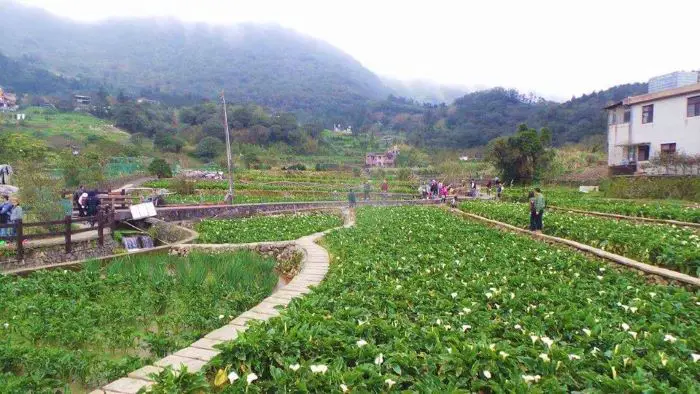 Shifen Station and Old Street
Take the train directly to Shifen, to experience the charm of the old train station that is lined with quaint shops. Over the Lunar New Year, many people let off lanterns by the train station. Witnessing the sky filled with lanterns over the old station is a truly beautiful sight.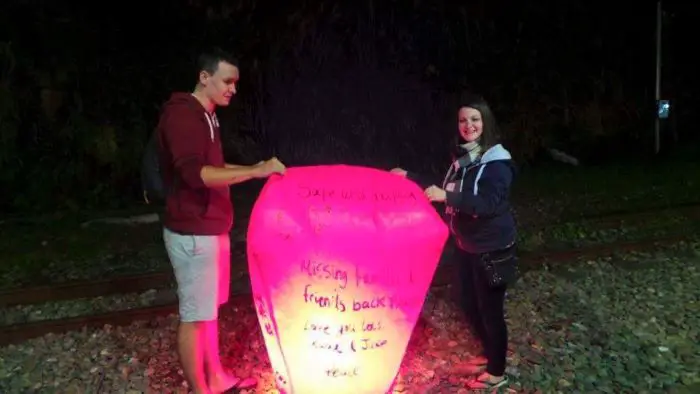 Taipei Zoo and Maokong Gondola
The zoo is massive, and you can easily spend the full day there. The zoo hosts many animals that are well looked after and fed. After spending some time in the zoo, take the 4 km long gondola and peer at the magnificent views of the city's skyline and the surrounding tea plantations. The cost to enter the zoo is 60 TWD ($1.97). The cost for a round trip on the gondola is 260 TWD ($8.54) per adult. However, we highly recommend purchasing a 1-day Taipei pass + Maokong Gondola for 350 TWD ($11.50).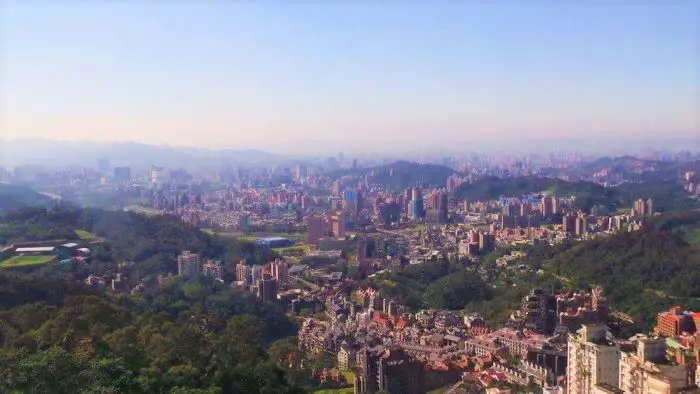 Keelung and Yehliu Geopark
Take a trip to the port of Keelung, to see the seaside and Yehli Geopark. The rock formation and stunning scenery make this one of the best Taiwan tours.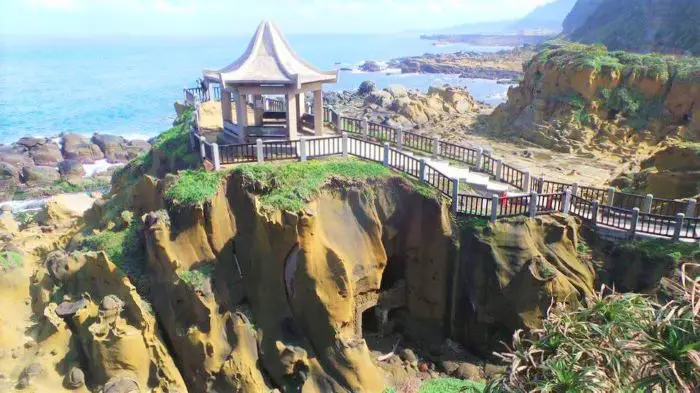 Beitou Hot Springs and Thermal Valley
A trip to a hot spring bath is an absolute must whilst backpacking Taiwan. Beitou Hot Springs can easily be reached on the metro line with your Taipei pass. The cost to enter the hot springs is just 40 TWD ($1.31), and you can spend a full hour dipping in and out of the hot spring pools. After relaxing your bone, head over to the source of the hot springs; Thermal Valley. The sulfurous boiling hot water can be seen bubbling and letting off steam. Warning: It can get very smelly!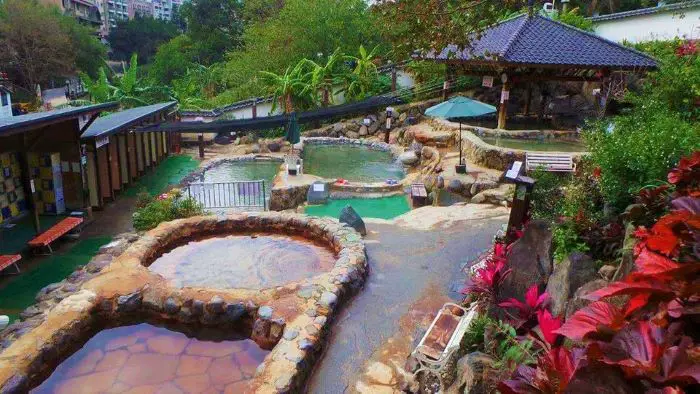 Taipei to Taichung
The cheapest way to get to Taichung from Taipei is by bus. The bus costs 220 TWD ($7.23) and takes 2.5 hours. You can also take the high-speed rail for 500 TWD ($18), which takes 40 minutes.
Taichung attractions
Sun Moon Lake
We fully recommend purchasing one of the package deals to make the trip to Sun Moon Lake. The packages include the bus, both there and back, a round trip on the boat, and bicycle rental. The cost of the packages varies depending on your requirements. Of course, we chose the cheapest option (mentioned above) for 390 TWD ($12.81). The lake itself is very scenic and worth making the trip for. TIP: If you have unused vouchers, save them, and you can get a refund from the ticket office.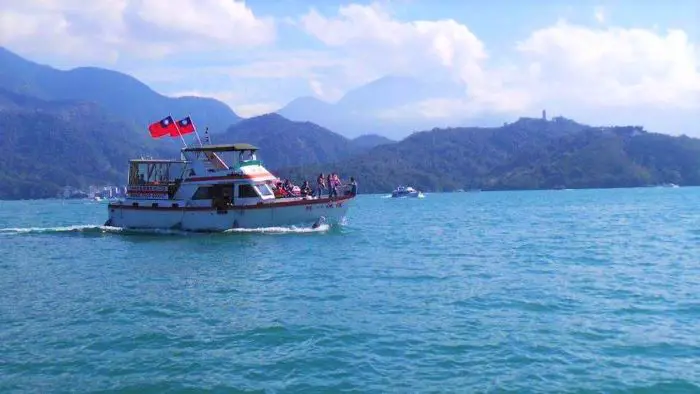 Fengjia Night Market
Fengjia Night Market is a very large market, just downtown from Taichung centre. The market is massive and boasts hundreds of food and clothes stalls.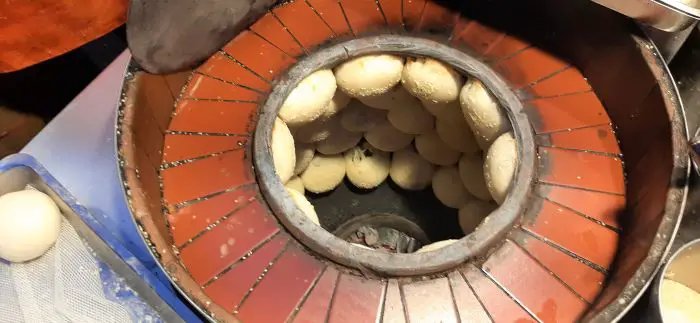 Taichung to Kaohsiung
Kaohsiung is the last stop on this backpacking Taiwan itinerary. The fastest way to reach Kaohsiung is by high-speed rail. The journey is made in 1 hour and costs 790 TWD ($25.96). For a cheaper option, you can take the bus for 300 TWD ($9.86), which takes 3 hours.
Kaohsiung itinerary
There are plenty of things to do in Kaohsiung. The best way to get to know the town is by taking the Hamasen Cultural Tour.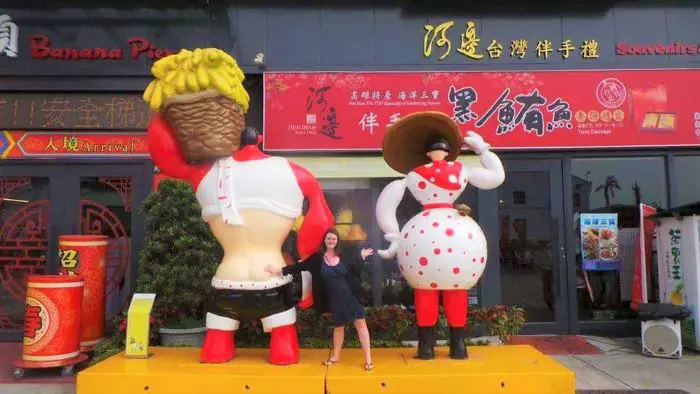 The Hamasen Cultural Tour is a small bus that circles a specific route regularly. You can hop on and off at each stop. The bus stops at different attractions, allowing you to enjoy the sites and learn about the area. Whilst on the tour make sure to stop by at Daitain Temple, the Banana Warehouse, Rose Basilica, and the Love Pier.
Did you enjoy this itinerary in an off-the-beaten-path country? Don't forget to check out these awesome underrated countries too!
Cost of backpacking Taiwan
Currency: The local currency is the Taiwan Dollar. The current exchange rate is 30 TWD to $1. ATMs are widely available and international cards are accepted.
Daily budget: Backpacking in Taiwan is not as cheap as backpacking in places like Thailand and Vietnam. Therefore, we upped our usual budget of $50, to $80 per day, between the two of us. This covered the cost of our accommodation, food, and transport around the cities.
Hotel/ hostels: Private rooms across Taiwan are relatively expensive, so we opted for dorm rooms. Dorm rooms are fairly priced for what you get. For a bed, in a dorm room, the price averaged out at $15 per night each. In Taipei, we managed to find private double-bed pods that cost $26.
Food and drink: The cost of food at the markets ranges from 40-120 TWD ($1.30 – $4). The cost of drinks ranges from 50 – 80 TWD ($1.65 – $2.60).
Transport: Transport around the cities is very cheap. The cost to get from one station to another, on average, costs 20 TWD ($0.66).
Recommended accommodation for backpacking in Taiwan
When it comes to accommodation, you're in for a TREAT! Taiwan has many fantastic modern hostels to choose from. As we travelled during peak season, we opted to stay in dorms to cut costs. We often chose to stay in a double bed pod. The pods allow privacy, as they have a pull-down shutter. Most pods have air conditioning, lights, plug sockets and even a TV.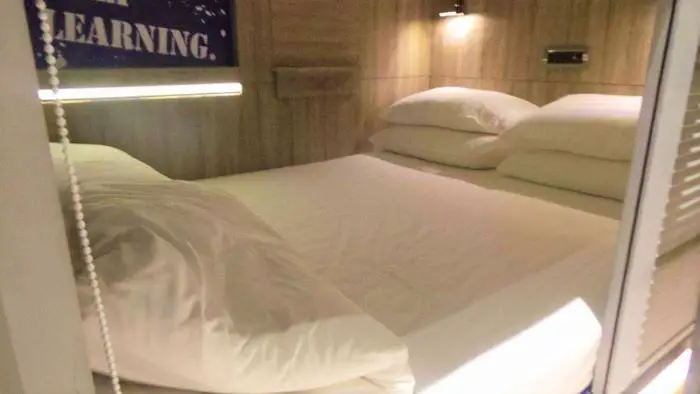 Work Inn 101, Taipei – (48, Section 2, Keelung Rd, Xinyi District, Taipei City, Taiwan 110) – Very clean modern hostel with pod beds. The facilities in the pods and bathrooms are excellent.
Best Hostel, Taipei – Similar setup and style to Work Inn 101. However, this hostel provides more of a social space for meeting new people. It is particularly great for solo female travel in Taiwan!
Chance Hotel, Taichung – (63, Jianguo Road, Central District, Taichung City, Taiwan 400) – Clean hotel has small dorm rooms with lockers. The hotel is conveniently located across the road from the train station and provides a buffet breakfast.
Pathways Hostel, Kaohsiung– ( 80245, Taiwan, Kaohsiung City, Lingya District) – A nice hostel, not too far from the underground. The hostel is very clean and provides free toast and tea/coffee throughout the day.
Backpacking Taiwan travel tips
Taipei transport passes – Make use of the day passes that allow unlimited use of the trains and buses in and around Taipei. Believe us, the passes will save you a ton of cash!
Early hot spring start – Get to the hot springs early to avoid the crowds. The later in the day you go, the more chance you have of rubbing shoulders with hairy old men.
Leave beauty products at home – Hostels in Taiwan seem pretty well equipped with facilities such as a hairdryer, shampoo, body wash and plug sockets, so there is no need to bring these items with you.
Night market food – Make sure to eat at the night markets; they are a big part of a trip to Taiwan. Be adventurous and try new foods! You may discover some new favourites. We recommend the black pepper buns – Delicious!
Book in advance during peak season – If you're backpacking Taiwan in peak season, you may want to book your transport and accommodation ahead of time. Prices during the Chinese New Year increase and transport and hotels can get booked up very quickly. Don't run the risk of leaving it too late, and paying a fortune just for somewhere to sleep.
Don't jaywalk – It's illegal in Taiwan to cross the road when the green man is not showing green. Even if there are no cars or bikes!
Want more travel tips and general must-knows? Learn all the best Taiwan travel tips here.
Essential resources for travelling in Taiwan
Travel Insurance – No matter where you're travelling to, it's a good idea to make sure you're covered for any accidents or losses. We spent days and weeks searching for insurance, but most insurers would not allow us to take out a policy as we were already abroad. Our personal choice is Safteywing. You can opt for automatic monthly payments, just like a subscription. More importantly, it is available in 180 countries and can be purchased whilst already travelling. There is no cap on the duration of travel.
Visa – Before you travel to any country, make sure to check if you need a visa. iVisa is a fantastic website that is super easy and quick to use. Just type in where you are from. and where you are going. to check if you need a visa. If you do, you can quickly make an application online.
Accommodation – Booking.com is our go-to when looking to pre-book accommodation online. Booking.com tend to almost always have the best rates and a FREE cancellation policy for most properties.
Overland transport – Our go-to website for overland transport is Bookaway. Bookaway offers multiple forms of transport, from buses, mini-vans, trains, and ferries. The routes on offer are extensive and certainly cover most of the backpacker trails. Bookaway works a little like Skyscanner but for overland transport. You will find plenty of transport options from a range of companies. All you simply need to do is book online and receive your ticket by email. The email will contain essential information, such as where the bus leaves from and departure and arrival times.
Tours & Activities – If you want to book tours and activities online, make sure to check out Get Your Guide. Get Your Guide takes the stress out of booking activities abroad. You will also find a range of benefits, such as skip-the-line passes, lunch included in your tours, and so much more.
Travel tips ebook -Before you head off on your adventure, make sure to download our free ebook. It has a whopping 109 budget travel tips to help you make your hard-earned cash go further. Click here to download your FREE ebook.
Continuing your travels? Maybe China is your next stop. Check out our ultimate 30-day backpacking China guide.
Like this post? Pin it!