Getting from Brasov to Bran Castle, the home of Count Dracula, couldn't be easier! So, put your purse and wallets away and hold back from booking that excursion. Here is how to make the trip yourself, the easiest and CHEAPEST way!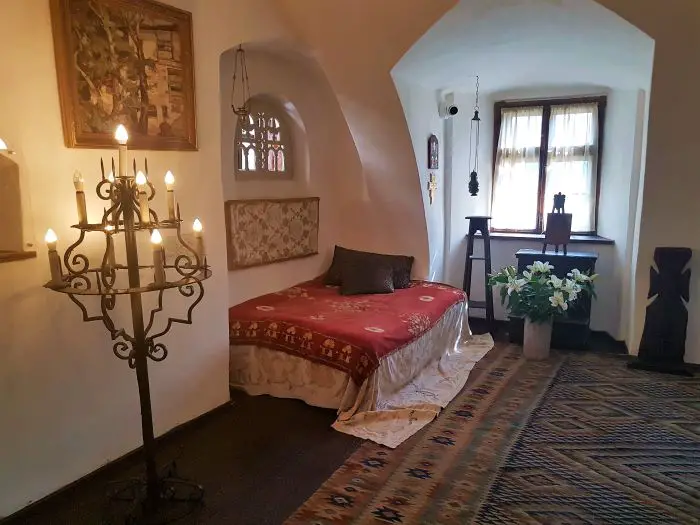 Disclosure: Untold Wanderlust contains affiliate links. If you click on these links and make a purchase, we will earn a small commission at no extra cost to you. You can find our full disclosure policy and privacy policy here.
How to get to Brasov ready for a trip to Bran Castle
Brasov is the nearest major town to Bran Castle. Brasov is the perfect place to base yourself whilst exploring Transylvania. You can easily reach Brasov from Romania's capital city, Bucharest, via a quick 2.5-hour train or bus ride.
You can also reach Brasov by a 12-hour direct bus from Chisinau, Moldova. Rather than staying in Bran, it is better to do a day trip from Brasov, as Brasov has more to offer in terms of accommodation, restaurants, and entertainment.
How to go from Brasov to Bran Castle by bus
Brasov to Bran Castle by public transport is quick, easy, simple and most importantly CHEAP! There is no need to book an organised tour. With a little patience and planning, you can have a great day out at less than half of the price of taking a tour. However, if you're on a luxury break, and don't want the hassle of navigating to bus stations, you can book a perfect Bran Castle tour to suit your needs. Furthermore, you may want to take a tour that includes the benefit of skipping the lines. The entrance can get super busy during the summer months.
Leave from Auto Gara 2
To get to Bran from Brasov, you will need to go to Auto Gara 2 (bus station). The bus station is a little out of the way from the city centre, but you can easily get there by taking bus number 5 from the Central Bus Station in Brasov. You will need to get your tickets for the local bus beforehand at one of the kiosk stations, located on the street next to the bus stop. Tickets for buses around Brasov are just 2 Lei (50 cents), but you must buy them as a set of two. So, 2 tickets will cost 4 Lei ($1).
Take a bus to Bran
When you reach Auto Gara 2, you will need to wait for the bus to Bran to show up. You can buy your ticket directly from the bus driver. The bus costs 13 Lei ($2.78) per person one-way. The bus to Bran is scheduled to leave every half hour; on the hour and half past the hour. However, we waited for an hour for a bus to show up. Therefore, the scheduled timetable may be a little unreliable, but the bus will come eventually. The journey to Bran takes around 50 minutes.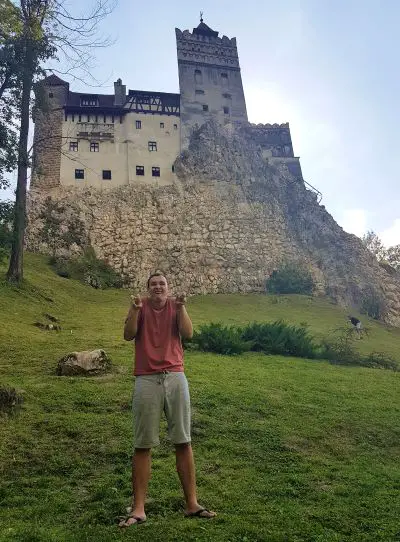 Brasov to Bran Castle by taxi
If you don't fancy being cooped up on a public bus, there is also the option to take a taxi to Bran Castle. Of course, a taxi is going to cost a lot more than the 8 Lei ($1.86) bus ride. The distance from Brasov to Bran is just 28 km, so the taxi fare shouldn't cost too much. We didn't take a taxi, so we are unable to give you an accurate quote based on our personal experience, but after much research, it seems that the average price is around $30 one-way. We recommend asking the staff at your accommodation for the best prices and the best taxi companies. The staff at your hostel should be able to help you book a taxi.
Entrance and prices to Bran Castle
When you get off the bus in Bran, you will only need to walk a couple of hundred meters to the entrance of Bran Castle. In the middle of summer, the line to purchase entrance tickets may be quite long. During our visit, the line snaked through the garden, through the market, and back out onto the main road!
The entrance ticket costs 40 Lei ($9.50) for an adult and 10 Lei ($2.35) for a child.
The times of admission into Bran Castle vary, depending on the day and the season. You can check the official website for more details.
The outside grounds of the castle are FREE to walk around and make for the perfect picnic setting. It may be a good idea to knock some sandwiches and bring along some fresh fruit, snacks, and juice so you can have a relaxing picnic on the grounds of the Castle.
Are you a lover of unusual attractions and less travelled by places? Make sure to check out these awesome off-the-beaten-path travel destinations!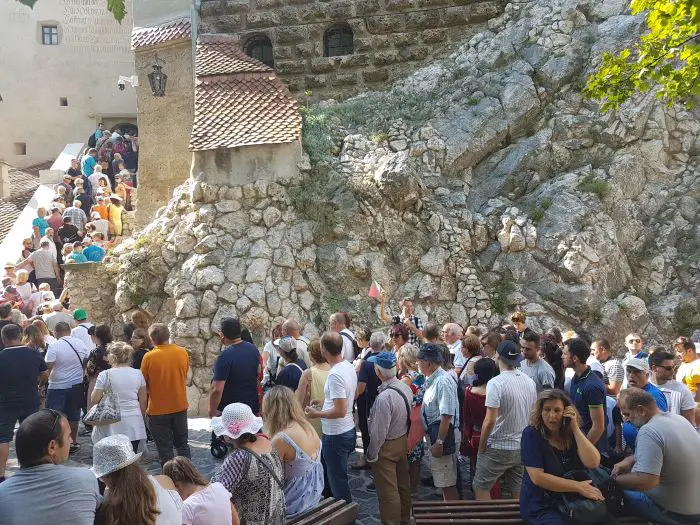 About Bran Castle
Bran Castle is a medieval fortress between Transylvania and Wallachia, in Central Romania. The construction of the fortress was completed in 1382, to protect the border of Transylvania. Bran Castle is thought to be the inspiration for Dracula's lair in Bram Stoker's famous 1987 vampire story, making it a major reason for its popularity and the reason a million tourists pass through its gardens, souvenir shops, and doors each year.
Despite the lack of Vampires hiding in the closets at Bran Castle, millions of tourists still cling to the notion of sinister happenings in and around the ground. Maybe this is the reason it's a major draw and tourist boost for Romania. It's even thought that the Romanian government still promotes the connection of Bran Castle with Dracula, to encourage tourists to visit.
In reality, the castle is fit for Queens and Princesses and is easily one of the most Instagrammable places in Romania. Queen Marie of Romania was very fond of Bran Castle and was subsequently gifted the castle in 1920 by the people of Brasov. During her residency, Queen Marie decorated the castle with beautiful paintings of royalty and built up collections of unique antiques and 14th-century armour and weaponry. All of which are still on display today.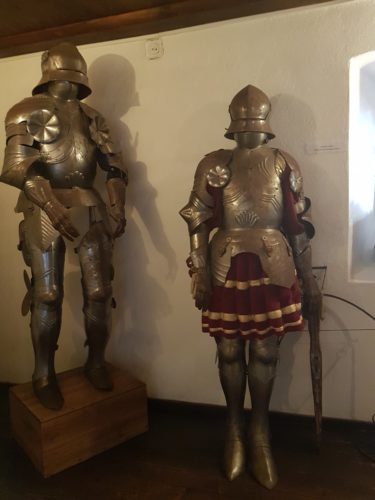 Wandering around the town of Bran
The town of Bran itself is very pretty with medieval walls and old buildings. Take some time to wander around the shops and the plenty of market stalls selling gimmicky Dracula souvenirs. The things you will find may surprise you! If you're there in the Autumn time, it would be a good idea to buy some Halloween decor or souvenirs for your next Halloween party.
If you get a little hungry after exploring the castle, there are plenty of cute cafes to grab a bite to eat and drink. You could choose to dine at one of the fancy pubs for a nice hot sit-down meal, or you could quickly grab a chip barm from the chippy that is located just outside of the bus stop that the bus leaves from to go back to Brasov. Our personal recommendation is the chippy! It's cheap, delicious, and certainly a nice treat after the horror of our food being smothered in dill during our Central Asia trip.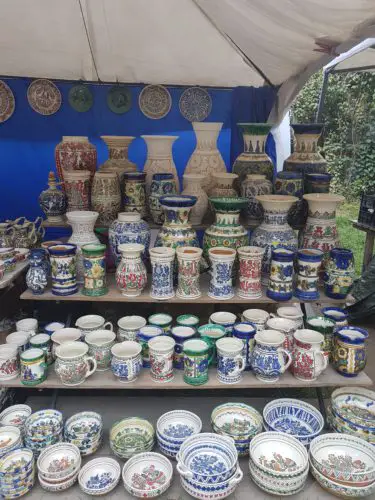 Where to stay in Brasov
Feeling luxurious: Calea Poienii Penthouse – Apartment-style accommodation that has an outdoor swimming pool. Perfect for families! Just a 3-minute drive from Brasov city centre.
Budget private room: Cozy Central Studio – Great value for money! Clean studio apartments in the city centre that boast mountain views from the bedrooms.
Dorm life: Carrousel Hostel – The staff are very friendly, and the dorm rooms are well-kept. The best perk to this hostel is that the price includes breakfast. It's also just a 5-minute walk to the main square. We would fully recommend this hostel for solo travellers and young couples who like a social atmosphere.
For more prices and deals on properties in Brasov, CLICK HERE.
All in all, a trip from Brasov to Bran Castle is super simple. You can easily reach the famous castle in under 2 hours via bus, and the total cost of the trip is less than $5. So, save your cash and enjoy a spine-tingling day out at Bran Castle.
Essential resources for travelling in Romania
Travel Insurance – No matter where you're travelling to, it's a good idea to make sure you're covered for any accidents or losses. We spent days and weeks searching for insurance, but most insurers would not allow us to take out a policy as we were already abroad. Our personal choice is Safteywing. You can opt for automatic monthly payments, just like a subscription. More importantly, it is available in 180 countries and can be purchased whilst already travelling. There is no cap on the duration of travel.
Visa – Before you travel to any country, make sure to check if you need a visa. iVisa is a fantastic website that is super easy and quick to use. Just type in where you are from. and where you are going. to check if you need a visa. If you do, you can quickly make an application online.
Accommodation – Booking.com is our go-to when looking to pre-book accommodation online. Booking.com tend to almost always have the best rates and a FREE cancellation policy for most properties.
Overland transport – Our go-to website for overland transport is Bookaway. Bookaway offers multiple forms of transport, from buses, mini-vans, trains, and ferries. The routes on offer are extensive and certainly cover most of the backpacker trails. Bookaway works a little like Skyscanner but for overland transport. You will find plenty of transport options from a range of companies. All you simply need to do is book online and receive your ticket by email. The email will contain essential information, such as where the bus leaves from and departure and arrival times.
Tours & Activities – If you want to book tours and activities online, make sure to check out Get Your Guide. Get Your Guide takes the stress out of booking activities abroad. You will also find a range of benefits, such as skip-the-line passes, lunch included in your tours, and so much more.
Travel tips ebook -Before you head off on your adventure, make sure to download our free ebook. It has a whopping 109 budget travel tips to help you make your hard-earned cash go further. Click here to download your FREE ebook.
Like this post? Pin it!