When on a trip to Romania, or even Europe for that matter, Timisoara should be high on your list. Timisoara is often overlooked by tourists, compared to its more popular nearby neighbours; Belgrade, Budapest & Brasov. However, Timisoara has plenty to offer. From incredible architecture to a fantastic mixture of cultures and heritages. Here are 7 reasons why you MUST visit Timisoara on your European adventure.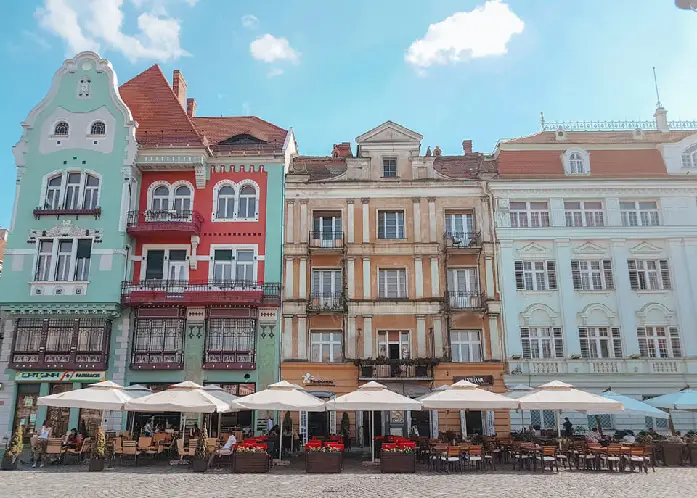 Disclosure: Untold Wanderlust contains affiliate links. If you click on these links and make a purchase, we will earn a small commission at no extra cost to you. You can find our full disclosure policy and privacy policy here.
Reasons to visit Timisoara
Culture galore
Timisoara didn't win Europe's Culture Capital of 2021 for no reason! This small city is teeming with culture. In the past, Timisoara had been under rule by the Hungarian, Ottoman, and Habsburg empires. Thus, a diverse range of people and influences have sculpted the city. Today, there is a young and hip vibe to the place, which brings us nicely to our next reason why you should visit Timisoara.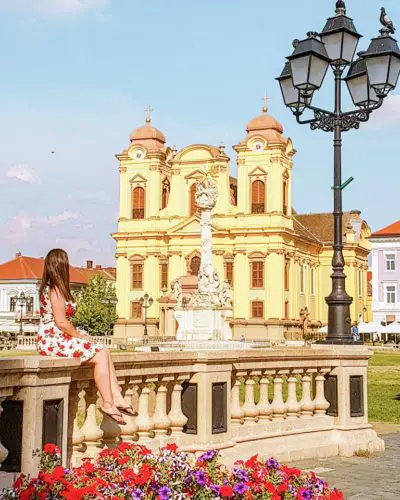 Bars, bars and even more quirky bar

s

Timisoara has a thriving nightlife and plentiful bars for you to enjoy a few drinks in the evening. You will have plenty of options to choose from depending on your party style. We recommend just heading out and seeing where the night takes you.
Mouthwatering food choices
When it comes to food and choosing somewhere to eat, you will NOT struggle. Timisoara has several squares with cute cafes and restaurants offering a variety of Romanian cuisine and more! The most popular squares are Victory Square and Unirii Square. In our opinion, Victory Square has the best choice for food, whilst Unirii Square has the best choice for drinks. During our time in Timisoara, we booked a one-way flight to Vietnam. To celebrate, we ate at Little Hanoi Bistro. We highly recommend this restaurant for its delicious Asian food and cheap beer!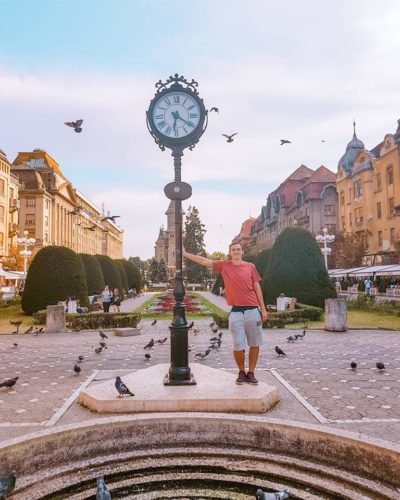 Gingerbread architecture
Speaking of the many squares in Timisoara, each one has plenty of fascinating architecture to admire. The buildings are a variety of soft pastel colours. As we wandered the streets, we couldn't help but feel like we were walking through a gingerbread town. Apart from what we like to call gingerbread buildings, there is a mix of Neo-Moldavian and Byzantine architecture. Make sure to stop by the symbol of the city; the Timisoara Orthodox Church.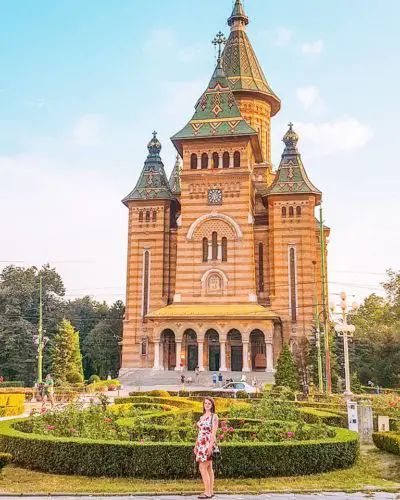 Get in touch with history at the many museums
Timisoara offers a variety of museums for you to educate yourself on the local culture and arts. The museums in Timisoara are affordable and a perfect addition for history buffs to add to their Timisoara itinerary.
The many pretty nature parks
Last but not least on the list of reasons to visit Timisoara, are the pretty parks and botanical gardens that Timisoara offer. Parks are a perfect way to enjoy the sunset or take a relaxing stroll. The parks add to the relaxed and sleepy vibe that Timisoara offers.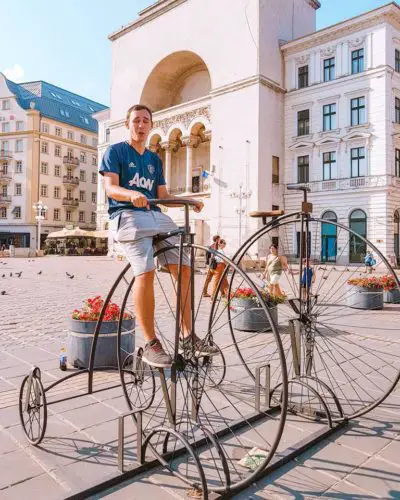 Plenty of accommodation on offer
Timisoara offers plenty of accommodation, so you will be spoilt for choice. Most accommodation is pretty new and modern. During our time in Timisoara, we stayed at 2 different hostels as we decided to extend our time from 3 nights to 5 nights. YES! That's how much we enjoyed relaxing in this cute city. It's the perfect place to take a break from the fast pace of travelling.
Exit Routine Hostel
Exit Routine hostel is located less than a 2 km walk from Victory Square and is well-connected by bus and tram. There is also a supermarket within 500 meters. The hostel itself boasts a cosy and colourful atmosphere; wall art and memes scatter the premises. The kitchen is the most well-equipped we've ever used in a hostel. We fully recommend this hostel for small groups of travellers and couples.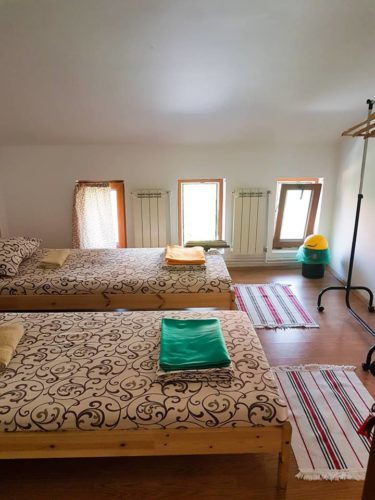 Casa Luna Rosa Hostel
Casa Luna Rosa Hostel is a newly built hostel that is just a quick tram ride from the city centre. The rooms are brand new and boast metal-framed beds, fresh thick quilts, memory foam pillows, a built-in air conditioning system, and secure lockers. The bathrooms are also fitted with shiny new showers. The place is immaculate! Need we say more? This hostel is perfect for anyone who is looking for a nice modern and relaxed environment.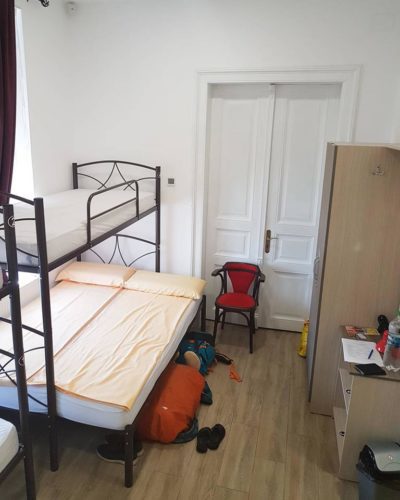 For more deals and prices on properties in Timisoara, CLICK HERE.
How to get to Timisoara
You will be glad to hear that Timisoara boasts an airport, making access to visit Timisoara relatively easy!
If you are heading to Timisoara from Brasov, you can book a direct bus online. Buses run directly from Autogara 1 in Brasov (the bus station at the side of Brasov Train Station). The journey takes around 8 hours.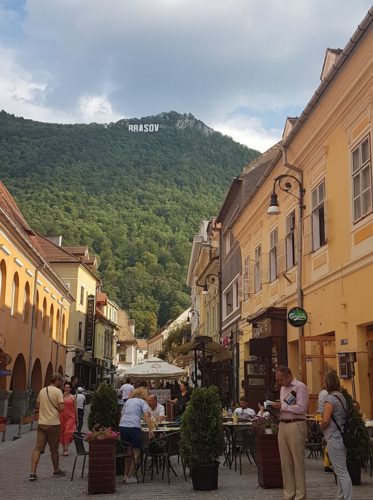 Unfortunately, when we tried to book our bus, some buses had been cancelled, and the ones that were not cancelled were already full. Therefore, we broke up the journey by first going to Sibiu and then from Sibiu to Timisoara. By doing this we saved 10 Lei but added an extra 2 hours to our journey. So, this is an option if you find yourself in the same situation as us.
So there you have it guys! 7 reasons why you should visit Timisoara on your Europe trip. Timisoara is an up-and-coming destination. With stunning architecture, history, and lots of delicious food, it is perfect for a quick quirky getaway.
Want more of Romania? Don't miss out on Brasov, the heart of Transylvania. Or maybe spend a day in Bucharest, Romania's capital.
Essential resources for travelling in Romania
Travel Insurance – No matter where you're travelling to, it's a good idea to make sure you're covered for any accidents or losses. We spent days and weeks searching for insurance, but most insurers would not allow us to take out a policy as we were already abroad. Our personal choice is Safteywing. You can opt for automatic monthly payments, just like a subscription. More importantly, it is available in 180 countries and can be purchased whilst already travelling. There is no cap on the duration of travel.
Visa – Before you travel to any country, make sure to check if you need a visa. iVisa is a fantastic website that is super easy and quick to use. Just type in where you are from. and where you are going. to check if you need a visa. If you do, you can quickly make an application online.
Accommodation – Booking.com is our go-to when looking to pre-book accommodation online. Booking.com tend to almost always have the best rates and a FREE cancellation policy for most properties.
Overland transport – Our go-to website for overland transport is Bookaway. Bookaway offers multiple forms of transport, from buses, mini-vans, trains, and ferries. The routes on offer are extensive and certainly cover most of the backpacker trails. Bookaway works a little like Skyscanner but for overland transport. You will find plenty of transport options from a range of companies. All you simply need to do is book online and receive your ticket by email. The email will contain essential information, such as where the bus leaves from and departure and arrival times.
Tours & Activities – If you want to book tours and activities online, make sure to check out Get Your Guide. Get Your Guide takes the stress out of booking activities abroad. You will also find a range of benefits, such as skip-the-line passes, lunch included in your tours, and so much more.
Travel tips ebook -Before you head off on your adventure, make sure to download our free ebook. It has a whopping 109 budget travel tips to help you make your hard-earned cash go further. Click here to download your FREE ebook.
Do you want to be inspired to visit more off-the-beaten-path places? Check out the unknown country of Transnistria!
Like this post? Pin it!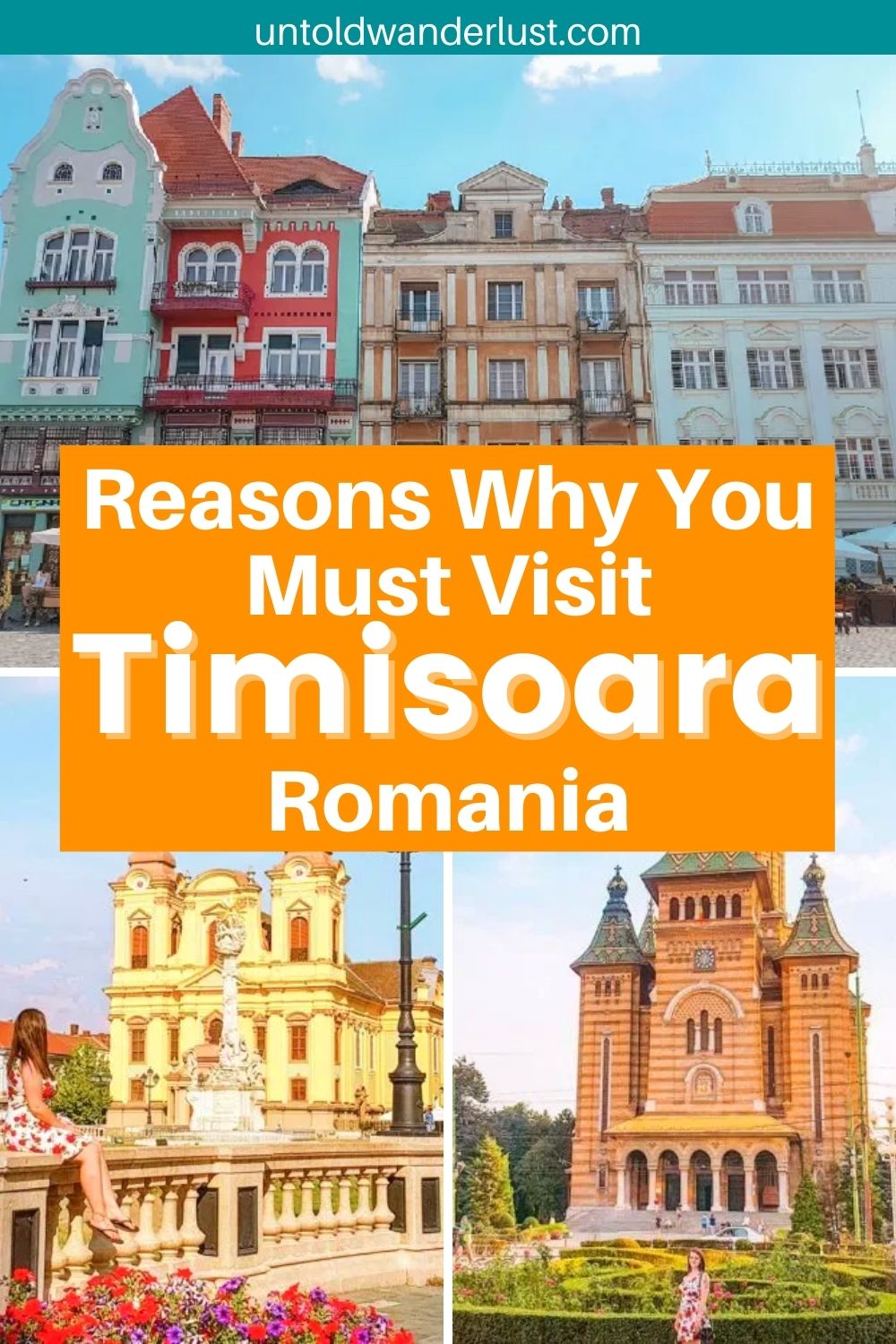 *We were hosted complimentary by Exit Routine Hostel and Casa Luna Rosa Hostel. All opinions are our own, based on our experience.*