Sarajevo is an upcoming destination for a European city break. It's a city where the East meets the West. With every turn through the narrow streets, there's something to feast your eyes on, history to delve into, or delicious food to eat. So, pack your weekend bag and hop on that flight (or bus) to Sarajevo. Here is our list of the top 15 Sarajevo sightseeing attractions and things to do.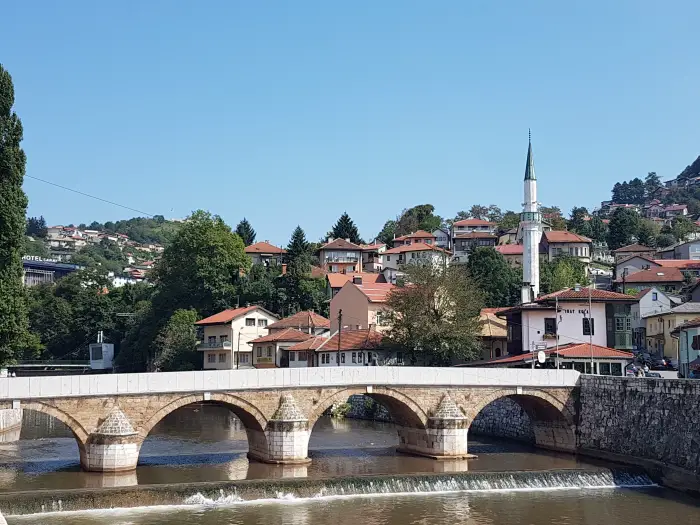 Disclosure: Untold Wanderlust contains affiliate links. If you click on these links and make a purchase, we will earn a small commission at no extra cost to you. You can find our full disclosure policy and privacy policy here.
How to get to Sarajevo
We arrived in Sarajevo after a six-hour car journey from Belgrade, and we were more than ready to get some kip ready to explore one of the best places in Bosnia and Herzegovina.
The journey from Belgrade to Sarajevo is made easy with GEA tours. All you need to do is call to reserve a seat in a car and you will be picked up from your hostel in Belgrade and dropped off at your hostel in Sarajevo. The cost of the journey is €20 ($22.34) per person.
Alternatively, if you don't plan to enter Sarajevo over-land whilst on a Balkan road trip, then you can take a direct flight from most places in Europe. We recommend checking
Sarajevo sightseeing & things to do
Wander the narrow streets of Bascarsijia (the old town)
Undoubtedly, the old town is one of the top Sarajevo sightseeing attractions. You could easily spend a few days walking around and getting lost in the small alleys. Wandering through the old town is like being transported back in time. We would love to return here in the winter months! We can just imagine how cosy it would be sipping hot coffee, looking out at the snow-covered tiny cobbled streets and cute alleyways.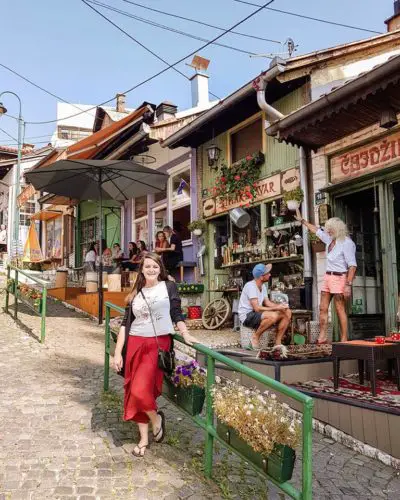 There are plenty of shops filled with antiques, many bars to relax and smoke shisha, and countless cafes to sip Bosnian coffee or Turkish tea. This brings us nicely to our next point of things to do in Sarajevo.
Treat your taste buds with Bosnian coffee
For the coffee lovers out there, your trip to Sarajevo wouldn't be complete without sampling Bosnia's finest coffee. Bosnian coffee is STRONG! Be sure to drink your coffee in style with a side of Turkish delight. Make sure to pop by Caffe Bar ANDAR. The family-run café used to make and repair shoes, but as this trade slowly died out, the store turned into a café but still kept the shoe theme alive.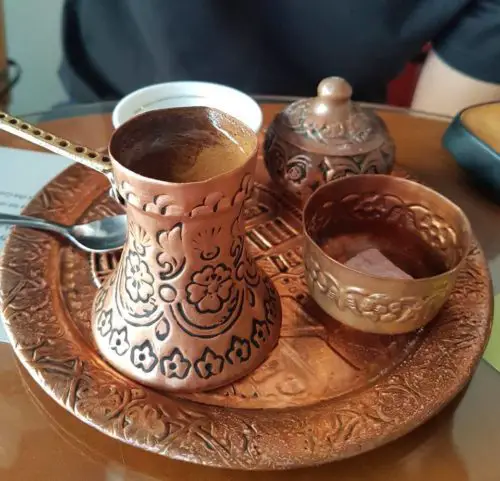 Watch a magical sunset over the city at the Yellow Fort
Climb to the top of the Yellow Fort for fantastic views of the city, and to watch a romantic sunset. There is a café nearby where you can buy non-alcoholic drinks. The walk up the hill is quite steep but well-paved. The tiring short walk is worth the views of the sunset. It is the perfect way to end a day of Sarajevo sightseeing!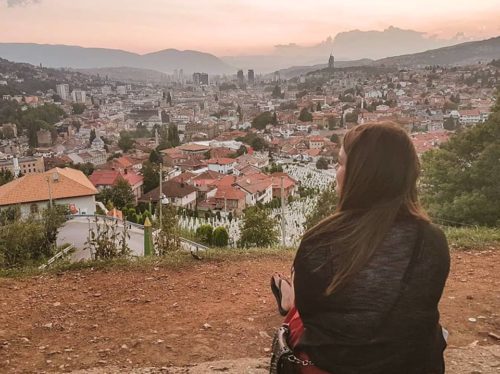 Urban it out at the 1984 Winter Olympics bob-sleigh
The abandoned bob sleigh was once a roaring attraction for those attending the Olympic games. Competitors used to skillfully race down the track. Now, the bob-sleigh is abandoned and filled with graffiti, making it a great place to snap away for some urban-style pictures.
Stand in the very spot where World War 1 broke out at Latin bridge
Sarajevo is one of the best Balkan holiday destinations for history buffs. Don't miss the corner where Archduke Franz Ferdinand of Austria was shot dead. The assassination of Franz Ferdinand, on June 28th, 1914, was the event that ultimately started World War 1. Thereafter, the series of events changed the order of the entire world. On the corner, you will also find the Museum of Sarajevo where you can delve further into the events of this significant date. The cost to enter is 4 Marks ($2.25).
Looking for other historical places in Europe? Don't miss a trip to Krakow!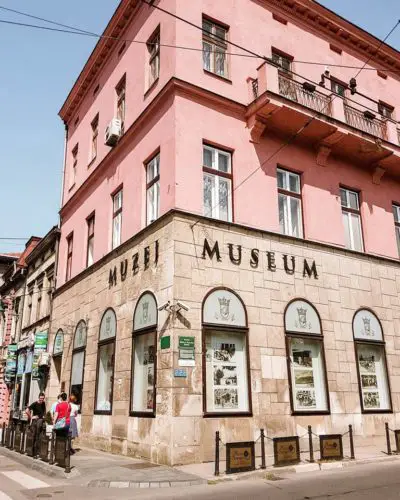 Overindulge in ice-cream
As you wander around the old town you will find plentiful ice-cream carts selling every flavour you can think of. Aside from the plain Jane's, vanilla, strawberry and chocolate, you will find bubble gum, mint, Mars, Snickers, and Ferrero Rocher….the list is endless. However, our faves are Mars and Snickers. At only 1 Mark ($0.56) a scoop, it was hard to resist an ice cream (or two) a day.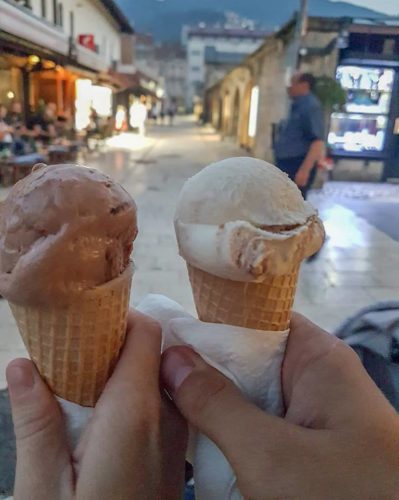 Go crazy over the mix of architecture on Curciluk Veliki Street
Make sure to take a walk down Curciluk Veliki Street. This street is literally where east meets west. On one side you will find old Ottoman-style buildings and on the other, European-style buildings. It surely is a fascinating mix of architecture.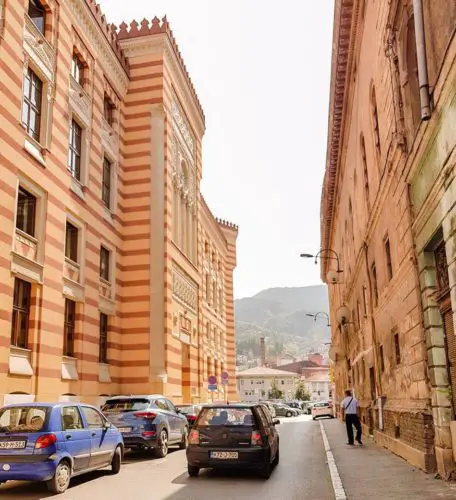 Drink an endless flow of cheap beer on Ferhadija Street
Head out on the town and party the night away with an endless flow of cheap beer, or sit back and relax with a shisha. Ferhadija Street is the perfect place to relax in the evenings. You can guzzle a 0.5 litre of beer for around 4 Marks ($2.25).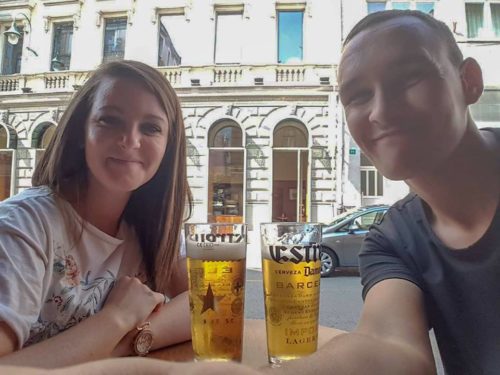 Visit the House of Spite
Make sure to stop by the House of Spite. The House of Spite is now a restaurant, but the story behind it is pretty cool, which is why it makes it onto this list of Sarajevo sightseeing attractions.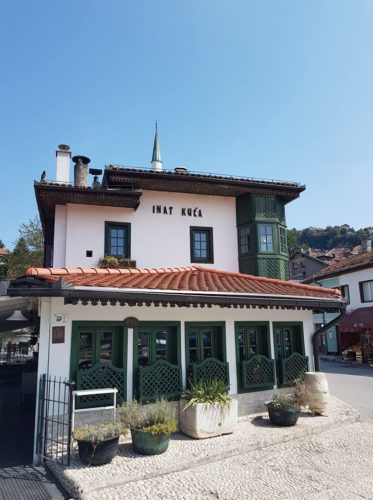 The story: When the Austrian-Hungarian government took over Sarajevo, they wanted to build the City Hall. However, they ran into a problem when one man refused to sell his house. As the man owned the land underneath his house, the Austrian-Hungarian government were unable to carry out their plan to build the City Hall.
After many negotiations, the man finally agreed to sell the land, BUT, under one condition! The government must move his house, brick by brick, to the other side of the river. He sat for days, drinking coffee and smoking cigarettes, watching carefully as men got to work to rebuild his house using the old bricks.
Gaze out over Sarajevo in the Avaz Twist Tower
Make sure you go to the twisted tower for panoramic views of the hills of Sarajevo. There is a 360 degrees observation deck at the top of the tower which costs 2 Marks ($1.13) to go to. However, we recommend spending that money on a coffee, or a beer, in the café on the 35th floor. It's just one floor below the observation deck.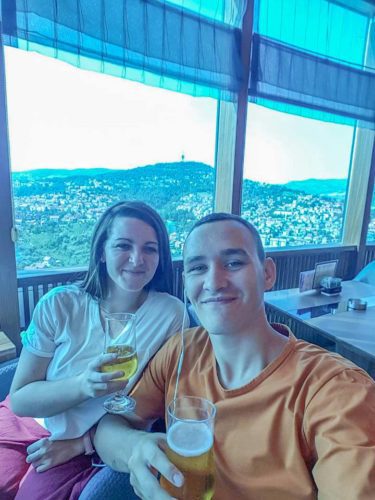 Forget Western food and make sure to try delicious cevapi
Fatten up at one of the many Cevapi restaurants! Cevapi is a local Balkan dish that consists of grilled minced meat served with flatbread, onions and a side of kajmak (soft cheese), and ajvar (a spicy sauce). Trust us, it is delicious!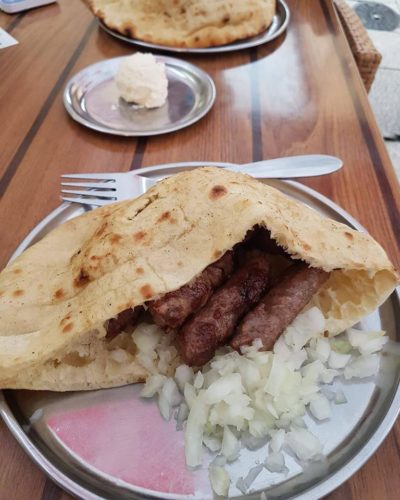 Take notice of the bullet-hole houses
Whilst Sarajevo, the worst-hit city during the Yugoslav war, has made a full recovery from the recent tragedies in the '90s, the buildings still bear the scars of war to this day. As you wander the streets, look beyond the pretty architecture of the mosques and houses etched into the mountains, and take time to look at the more run-down buildings. If you look carefully, you will see bullet holes are still prevalent.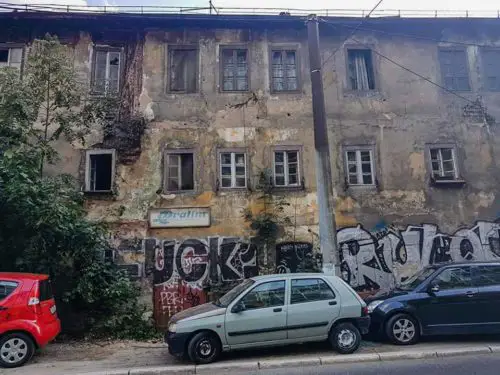 Feel the history of the war by taking a walk through the Tunnel of Hope
Take a tour of the Tunnel of Hope. The Tunnel of Hope is an underground tunnel that was built to connect Sarajevo to neighbouring cities. Whilst Sarajevo was under the siege of the Army of Republika Srpska, the Tunnel of Hope was the only way in and out of the city and the only way to get supplies to the local people of Sarajevo.
Remember the victims of the war as you pass red marks on the floor
Finally, on this list of Sarajevo sightseeing attractions, as you walk around Sarajevo, you may notice red splodges on the floor that look somewhat like bloodstains. These stains are a stark reminder of the effects of the war. They represent the blood and lives lost and are the exact point where someone died. Make sure to be respectful and take a moment to remember the victims.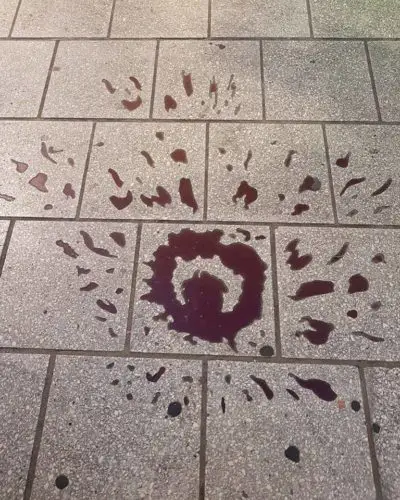 Did you enjoy this itinerary in an underrated country? Make sure to check out these other awesome off-the-beaten-path destinations.
Where to stay in Sarajevo
Feeling luxurious: Hotel Bejturan – Equipped with an indoor swimming pool and an on-site bar. The hotel offers double rooms and apartment-style rooms that come with cooking equipment. Perfect for families or couples looking for a luxury stay.
Budget private room: Hotel Boutique Libris – Well-decorated, modern, cosy rooms. Perfect for couples! Also, in an excellent location for all of the attractions. Rooms are all well equipped with wifi, a private bathroom, and hairdryers.
Dorm life: Hostel City Rest – A clean hostel that is centrally located to all of Sarajevo's main attractions. Just 800 meters from Latin Bridge and 1 km from the main drinking street. Each room has a private bathroom and wifi.
Essential resources for travelling in Bosnia
Travel Insurance – No matter where you're travelling to, it's a good idea to make sure you're covered for any accidents or losses. We spent days and weeks searching for insurance, but most insurers would not allow us to take out a policy as we were already abroad. Our personal choice is Safteywing. You can opt for automatic monthly payments, just like a subscription. More importantly, it is available in 180 countries and can be purchased whilst already travelling. There is no cap on the duration of travel.
Visa – Before you travel to any country, make sure to check if you need a visa. iVisa is a fantastic website that is super easy and quick to use. Just type in where you are from. and where you are going. to check if you need a visa. If you do, you can quickly make an application online.
Accommodation – Booking.com is our go-to when looking to pre-book accommodation online. Booking.com tend to almost always have the best rates and a FREE cancellation policy for most properties.
Overland transport – Our go-to website for overland transport is Bookaway. Bookaway offers multiple forms of transport, from buses, mini-vans, trains, and ferries. The routes on offer are extensive and certainly cover most of the backpacker trails. Bookaway works a little like Skyscanner but for overland transport. You will find plenty of transport options from a range of companies. All you simply need to do is book online and receive your ticket by email. The email will contain essential information, such as where the bus leaves from and departure and arrival times.
Tours & Activities – If you want to book tours and activities online, make sure to check out Get Your Guide. Get Your Guide takes the stress out of booking activities abroad. You will also find a range of benefits, such as skip-the-line passes, lunch included in your tours, and so much more.
Travel tips ebook -Before you head off on your adventure, make sure to download our free ebook. It has a whopping 109 budget travel tips to help you make your hard-earned cash go further. Click here to download your FREE ebook.
This is the end of this list of Sarajevo sightseeing attractions and things to do. We hope you enjoyed reading it! Now, it's time to book your flight and go out and explore Sarajevo. Whilst you're at it…why not plan a trip around all of the Balkans? To get you started, check out this great list of tips for backpacking in the Balkans.
Where to next? Head over to Romania and visit Europe's culture capital of 2021, Timisoara.
Like this post? Pin it!