If you're on a Central Asia trip, chances are you're preparing to take on the ancient cities of Uzbekistan. Currently, citizens of most countries need a visa to enter Uzbekistan. Bishkek, the capital of Kyrgyzstan, is the best place to make an Uzbekistan visa application. Here's how!
*Note: As of February 2019, UK citizens can enter Uzbekistan visa-free for up to 30 days.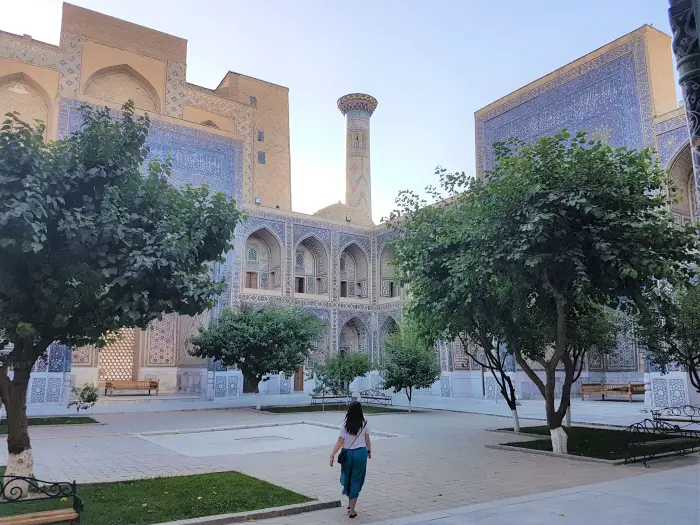 Disclosure: Untold Wanderlust contains affiliate links. If you click on these links and make a purchase, we will earn a small commission at no extra cost to you. You can find our full disclosure policy and privacy policy here.
Uzbekistan visa requirements
Passport
2 passport photos
Printed and filled in the visa application form – You can print this online
Photocopy of passport
Getting to the Uzbekistan embassy in Bishkek
You can easily reach the Uzbekistan embassy from Apple Hostel, by taking bus 132 from the West Bus Station, which is next to the Apple Hostel. The journey is about 7 km and takes 25 minutes. You will need to get off the bus on Akhunbaev Street, right after the bus makes a left turn off Peace Avenue.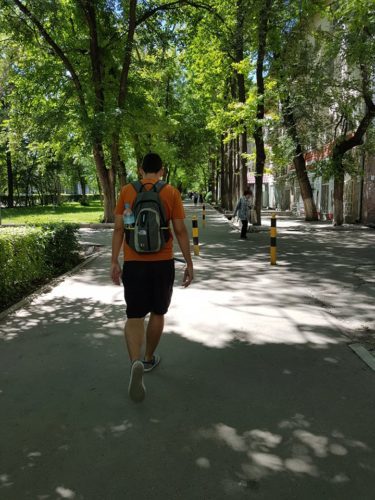 Walk back down the road you were going straight on, on the bus, (Peace Avenue) and walk for 1.6 km. You will see Oxford International School on your left-hand side. Take a left here and follow the road around. You will see the Uzbek flag waving in the distance. The road splits into 2. Take the right split and the door to the embassy is on your left.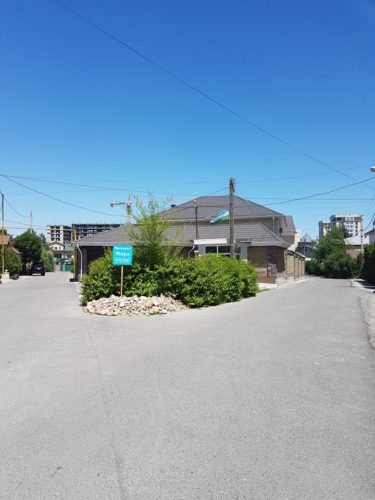 Process of applying for an Uzbekistan visa in Bishkek
The process of applying for the visa is very simple; probably the simplest we have ever done! Once you're inside the embassy, you need to hand in your documents to the person at the desk. In return, he/ she will give you a date to pick up your visa. You can also pick it up after that date.
NOTE: You do not need to leave your passport at the embassy.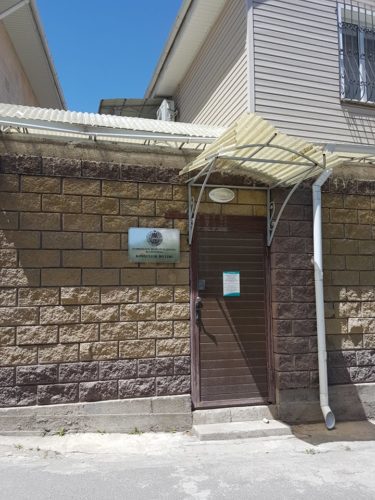 Picking up the Uzbekistan tourist visa
When you go to collect the visa, you need to go to the same office where you applied. Remember to bring your passport with you! Once you hand in your passport to the person behind the desk, he/ she will give you a payslip. The cost of the visa is $55 for UK citizens. You will then need to take this slip to the bank and pay the fee.
The closest bank to the Uzbekistan embassy is KICB, which is on Peace Avenue, 800 meters in the direction you walked to the embassy, but on the right-hand side. The ATM here dispenses USD, which you will need to pay for the visa. Once you have paid the fee, the banker will give you another slip that you will need to take back to the Uzbekistan visa office. Head back to the visa office and hand in the slip that you received from the bank. After 5 minutes, your passport will be handed back to you with a newly fresh Uzbek visa glued to a page in your passport.
Yay! Now your Uzbekistan visa application has been successful, you are free to begin your backpacking Uzbekistan trip and take in the stunning architecture of the ancient cities of Samarkand, Bukhara and Khiva.
Where to stay in Bishkek
Apple Hostel – Apple Hostel is conveniently located right next to West Bus Station, which has plenty of transport links to the airport, places around Issy-Kul Lake, and Osh. The rooms at Apple Hostel are super comfy and are all equipped with good-quality bedding. We recommend this hostel for travellers who like to be social and meet fellow globe trotters.
Solutel Hotel – Solutel Hotel is a shining example of a hotel that knows what it's doing! The hotel is well equipped with amenities such as a fridge and mini-bar, restaurant, breakfast bar, sauna and gym. The rooms are modernly decorated and boast HUGE beds. We recommend this hotel for travellers that want some luxury before heading out into the wilderness of Kyrgyzstan.
For more prices and deals on properties in Bishkek, CLICK HERE.
Essential resources for travelling in Kyrgyzstan
Travel Insurance – No matter where you're travelling to, it's a good idea to make sure you're covered for any accidents or losses. We spent days and weeks searching for insurance, but most insurers would not allow us to take out a policy as we were already abroad. Our personal choice is Safteywing. You can opt for automatic monthly payments, just like a subscription. More importantly, it is available in 180 countries and can be purchased whilst already travelling. There is no cap on the duration of travel.
Visa – Before you travel to any country, make sure to check if you need a visa. iVisa is a fantastic website that is super easy and quick to use. Just type in where you are from. and where you are going. to check if you need a visa. If you do, you can quickly make an application online.
Accommodation – Booking.com is our go-to when looking to pre-book accommodation online. Booking.com tend to almost always have the best rates and a FREE cancellation policy for most properties.
Tours & Activities – If you want to book tours and activities online, make sure to check out Get Your Guide. Get Your Guide takes the stress out of booking activities abroad. You will also find a range of benefits, such as skip-the-line passes, lunch included in your tours, and so much more.
Travel tips ebook -Before you head off on your adventure, make sure to download our free ebook. It has a whopping 109 budget travel tips to help you make your hard-earned cash go further. Click here to download your FREE ebook.
Whilst you are waiting for your visa to be processed, why not explore more of Kyrgyzstan?
Like this post? Pin it!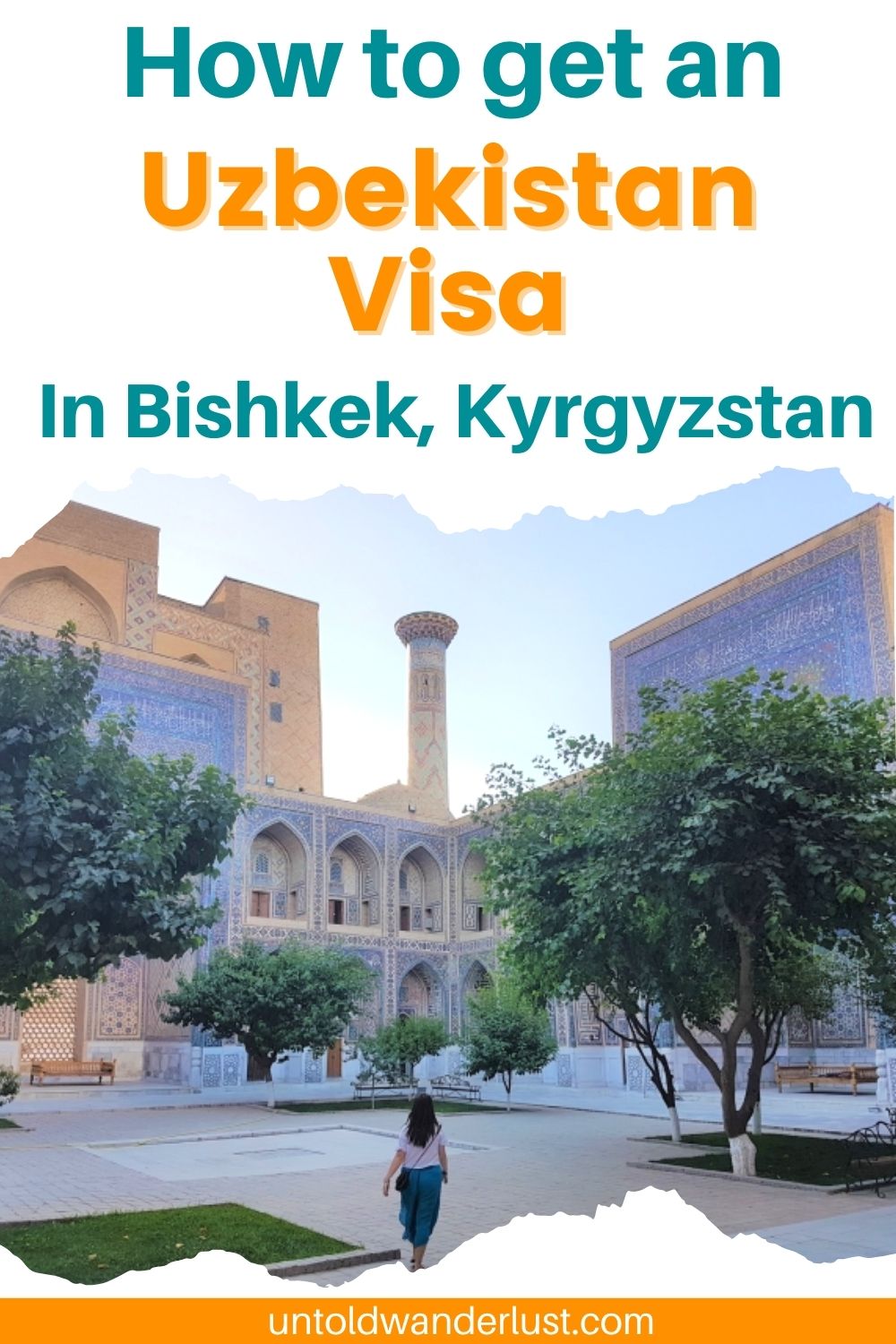 *We were hosted complimentary by Apple Hostel and Solutel Hotel. All opinions are our own, based on our experience.*