Samarkand is often referred to as the heart of the Silk Road. Why? Because it was once the hub of the silk trade and the halfway point of the trade route that connects Europe to Asia. A trip through Uzbekistan is undoubtedly going to lead you through Samarkand; a city rich in history, and streets lined with mosaic architecture. Read on to find the best things to do in Samarkand, where to eat, and where to stay.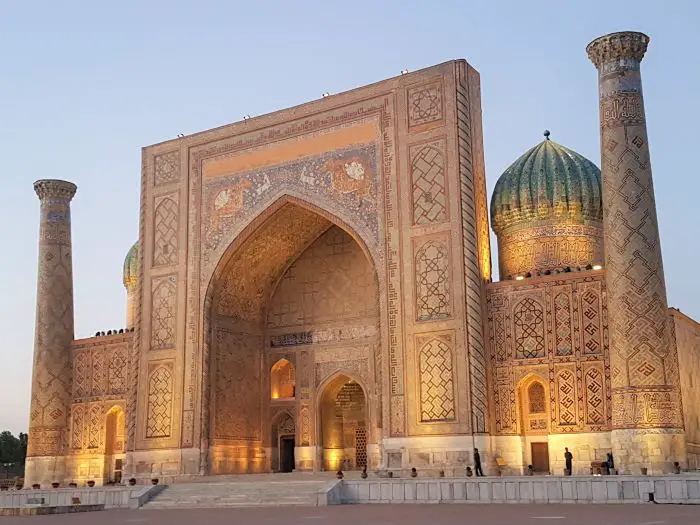 Disclosure: Untold Wanderlust contains affiliate links. If you click on these links and make a purchase, we will earn a small commission at no extra cost to you. You can find our full disclosure policy and privacy policy here.
Samarkand sightseeing attractions
Registan Square, Samarkand
First up is the famous Registan Square. Unlike backpacking through Kyrgyzstan and Tajikistan, which are famed for their out-of-this-world nature, Uzbekistan, Samarkand in particular, is all about memorizing architecture. Registan Square was once a noisy and lively square filled with market stalls, where farmers and artisans sold their goods. But today, there stand 3 very notable structures; Ulughbek Madrasah, Tilya-Kori Madrasah and Sher-Dor Madrasah.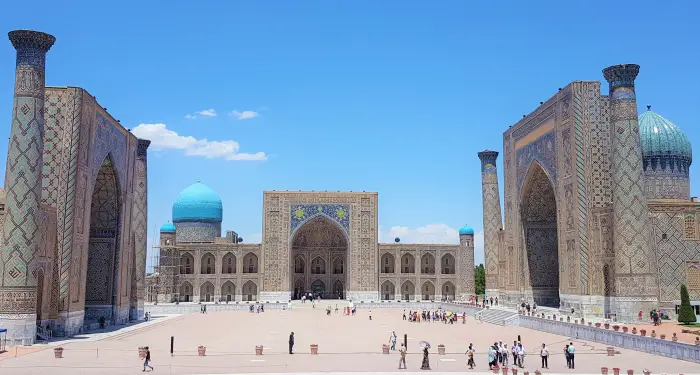 Ulughbek Madrasah
The first building, Ulughbek Madrasah, dates back to 1471. The other two buildings were built in the 17th century to replicate Ulughbek's fascinating dreamy design of stars in the night sky.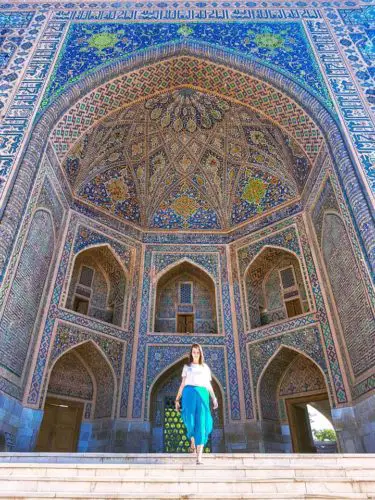 Registan Square history
The three Islamic buildings were ordered to be built by two different rulers at different times. Ruler, Yalangtush Bahadur, ordered the construction of a second madrassah (Sher-Dor) intending to mirror that of Ulughbek. However, after 200 years, Ulughbek's madrasah had shrunk into the ground. Therefore, today Sher-Dor stands slightly taller.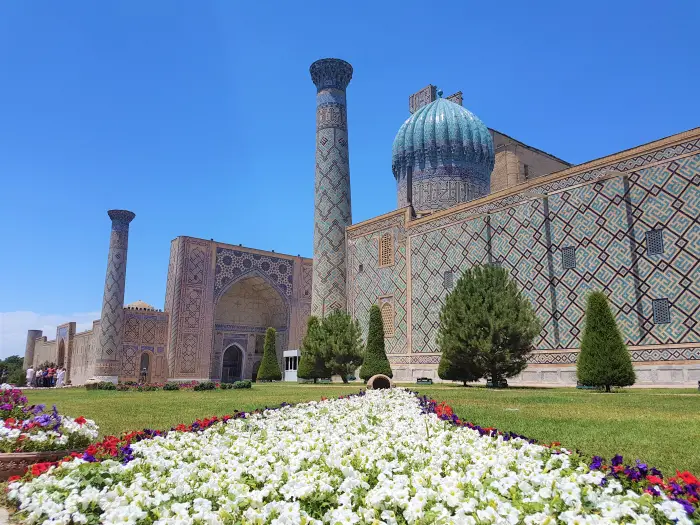 Entrance to Registan Square
We thoroughly enjoyed wandering in awe at the glazed mosaic designs. So much so, we went 3 times; once in the morning, once at sunset and once at night-time.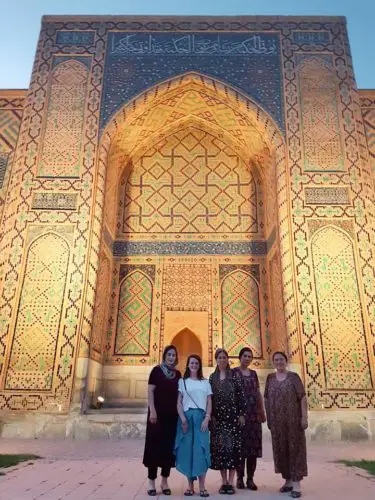 We woke up super early in the morning to catch the sunrise over Registan Square. We arrived at the square at 6 am, but the ticket office doesn't open until 8 am. Feeling a little gutted that we couldn't go inside, we waved over to the guard to see if he could help us. In the end, we paid him $5 to open 'the secret door' that leads upstairs to the higher levels of the buildings. He allowed us to roam freely for the next two hours until the ticket office opened at 8 am.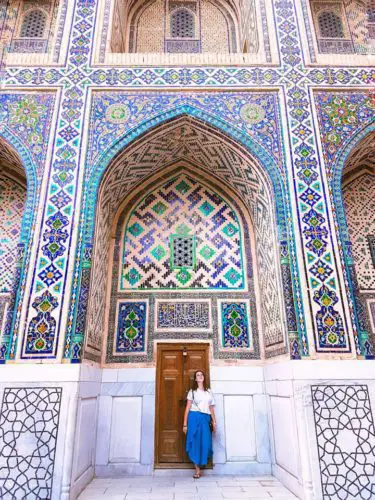 The official ticket cost is 30,000 Som and lasts the entire day.
Silk Carpet Factory Samarkand
Whilst in Samarkand, the heart of the silk road, it makes perfect sense to visit a silk carpet factory. It's here where you can witness silk carpets being intricately designed and handmade by local women.
Each carpet can take anywhere between 3 months to 2 years to complete. The length of time depends entirely on how many knots (how much detail is in each carpet).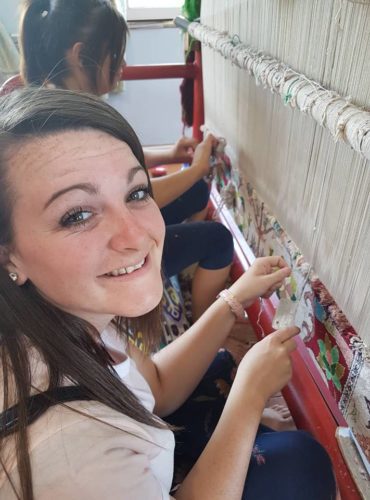 It's interesting to see the young women at work and to learn about the production of silk carpets. We would have loved to have bought one, but with prices starting at $3,000, it was a little (actually way) out of our budget.
A visit and tour of the silk factory are completely FREE. The owner was extremely helpful and enthusiastic whilst showing us around. He knew beforehand that we had no intentions of purchasing a carpet, but he still explained the process thoroughly and was happy to answer any of our questions.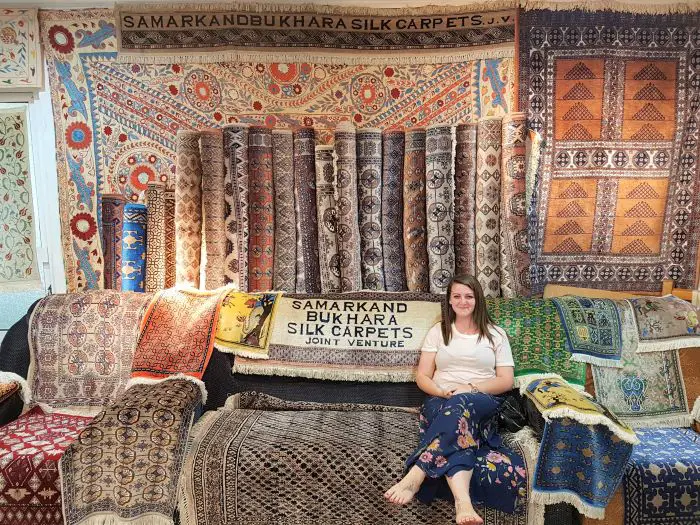 Other things to do in Samarkand
Gur Emir Mausoleum – 22,000 Som ($2.31)
Ruhabad Mausoleum – FREE
Bibi Khanym Mosque – 22,000 Som for 3 days entry ($2.31)
Siob Bazaar – FREE
Shakhi Zinda Mausoleum – 22,000 Som ($2.31)
Prophet Daniel Mausoleum – FREE
Ulughbek's Observatory – 22,000 Som ($2.31)
Where to eat in Samarkand
Café Magistar – They have a selection of local food and plenty of Western food to choose from, including pizza, pasta and fries. The prices are fair and there is wifi available.

Burger Club – Serves delicious burgers and wraps. Not many places have chicken, but Burger Club does. We spent a few hours in here drinking their delicious mojitos and snagging the fast wifi connection that the old city generally lacks.
Where to stay in Samarkand
Timur the Great Guesthouse – A family-run guesthouse in the heart of the old city. The guesthouse is just 5 minute's walk from Registan Square, making it convenient to visit multiple times throughout the day. The rooms are very clean and traditionally decorated. What makes this place great is the very filling delicious breakfast that consists of traditional Uzbek pastries, bread, cheeses and egg. The owners speak English well and are super helpful and attentive.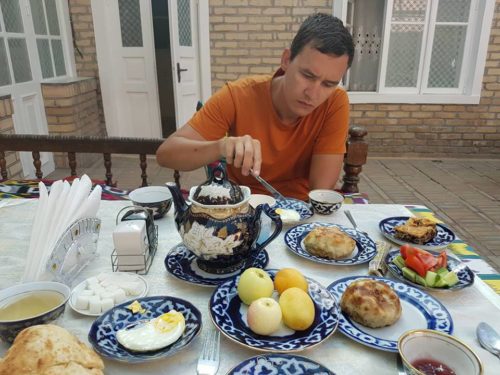 We hope you enjoyed reading this quick guide to Samarkand. It truly is a fascinating place. Let us know how your visit went in the comment section below.
For more prices and deals on properties in Samarkand CLICK HERE.
Essential resources for travelling in Uzbekistan
Travel Insurance – No matter where you're travelling to, it's a good idea to make sure you're covered for any accidents or losses. We spent days and weeks searching for insurance, but most insurers would not allow us to take out a policy as we were already abroad. Our personal choice is Safteywing. You can opt for automatic monthly payments, just like a subscription. More importantly, it is available in 180 countries and can be purchased whilst already travelling. There is no cap on the duration of travel.
Visa – Before you travel to any country, make sure to check if you need a visa. iVisa is a fantastic website that is super easy and quick to use. Just type in where you are from. and where you are going. to check if you need a visa. If you do, you can quickly make an application online.
Accommodation – Booking.com is our go-to when looking to pre-book accommodation online. Booking.com tend to almost always have the best rates and a FREE cancellation policy for most properties.
Tours & Activities – If you want to book tours and activities online, make sure to check out Get Your Guide. Get Your Guide takes the stress out of booking activities abroad. You will also find a range of benefits, such as skip-the-line passes, lunch included in your tours, and so much more.
Travel tips ebook -Before you head off on your adventure, make sure to download our free ebook. It has a whopping 109 budget travel tips to help you make your hard-earned cash go further. Click here to download your FREE ebook.
Are you heading to Bukhara next? Check out the perfect Bukhara itinerary.
Like this post? Pin it!