The thought of a 14-hour bus journey spanning 605 km from Bishkek to Osh, made us feel sick at the thought of it. So, we decided to break up the journey with a stop at Toktogul Lake. And we are totally glad we did! Here's how to make the journey from Bishkek to Osh the easy way.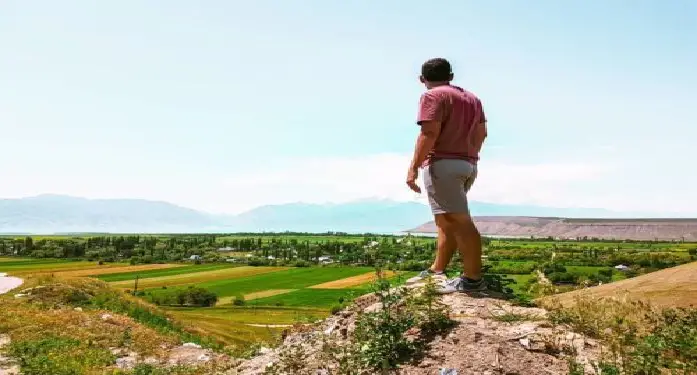 Disclosure: Untold Wanderlust contains affiliate links. If you click on these links and make a purchase, we will earn a small commission at no extra cost to you. You can find our full disclosure policy and privacy policy here.
Go to the Western Bus Station in Bishkek
After exploring Bishkek all day, going back and forth from the Uzbekistan Embassy to the bank, and bartering at the market for a tent, we were finally packed and ready to make our way towards Osh. Even though locals and tourists alike, regularly travel on the road from Bishkek to Osh, there are still no direct buses or trains. The only way to get there is to take a shared taxi. Shared taxi leave from the Western Bus Station, which is handy if you're staying at the popular backpacker Apple Hostel.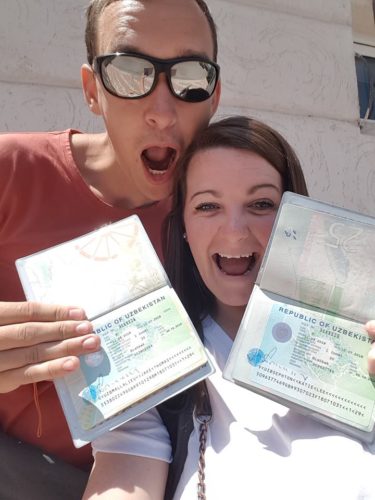 Bishkek to Osh distance and price
The distance from Bishkek to Osh is a staggering 605 km and takes approximately 14 hours to get there via car. The roads on the way are mountainous, windy and at times even SCARY! A seat in a shared taxi running from Bishkek to Osh should cost no more than 1,750 Som ($25). Due to the long journey, we decided that it would be best to make a stop halfway to get some rest and replenish. After speaking with the staff at our hostel in Bishkek, we decided to make a stop in Toktogul.
Bishkek to Toktogul drive
When we found a driver that offered to take us halfway to Toktogul for a fair price, we had to wait an hour for the car to fill up, before beginning the mountainous journey. We agreed on a price of 400 Som ($6) each for the 6-hour journey. The journey is windy, but the scenery is incredible, drifting from green land to snow-capped mountains. At one point, we were close enough to physically touch the snow. But no sooner had we gotten out of the taxi, the driver was waving us back in.
TIP: Even if you're only going to Toktogul, we recommend arriving at the Western Bus Station early in the morning to have more chance of finding a shared taxi. The taxis do not leave at set times. They only leave once they are full.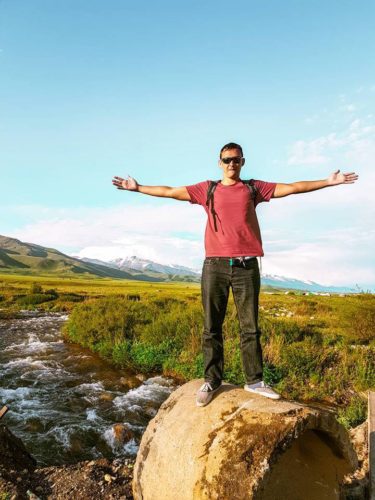 Staying 2 nights in Toktogul and visiting Toktogul Reservoir
On the surface, Toktogul doesn't seem to have much to offer, but the stunning crystal blue lake alone makes it worth the visit. We arrived in Toktogul around 9 pm, so we tucked in for the night at our cosy homestay. The next morning, we woke up ready to head out and see what the small town had to offer.
Enjoying an afternoon at the reservoir
First, we stopped off at a bunch of local ship container shops to grab a dish of potatoes and a drink of tea. After we filled our bellies, we popped by the local market to buy some fruit to snack on down by the lake. From Toktogul market, the walk to the shore of the lake is around 5-6 km, and takes around 90 minutes to walk, at a nice leisurely pace. Now, we could go into detail and describe the lake, but we think these pictures speak way louder than words about how beautiful it is.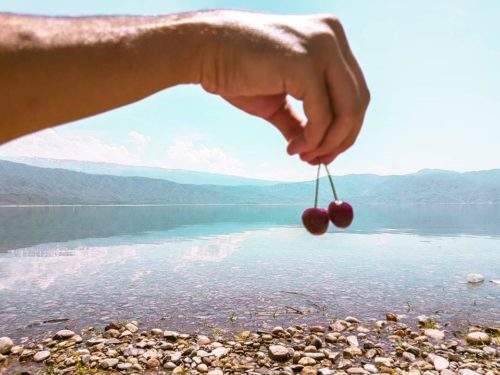 Heading back to our homestay from the reservoir
After a relaxing few hours of chatting away with a few locals, using nothing but hand signals, and watching a few of them fishing and their kids splashing around in the lake, we decided to head back to our homestay. After walking for about 10 minutes, the lazy bug within us started to kick in, and we so badly hoped that someone would drive past us, so we could flag down a lift. Just 2 minutes later, a taxi drove past and agreed to take us back into the town centre for just 100 Som between the two of us.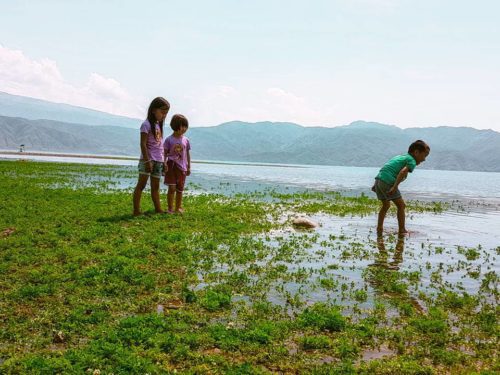 Toktogul to Osh journey
The next morning, we woke up early expecting to go to Jalalbat to spend the night there to test out our new camping gear. Unfortunately, locals in Toktogul informed us that Jalalabat doesn't have much to offer in terms of nature and camping. So, we opted to go directly to Osh from Toktogul.
To get to Osh from Toktogul you will need to take a marshrutka to Jalalabat. The marshrutka leaves only twice per day. We took the 1 pm marshrutka, which took approximately 6 hours to reach the centre of Jalalabat. From the drop-off location in Jalalabat, you will need to take another marshrutka to Osh. The journey from Jalalabad to Osh takes just under 2 hours.
Bus cost: Toktogul – Jalalabat: 330 Som ($4.70) Jalalabat – Osh: 120 Som ($1.70)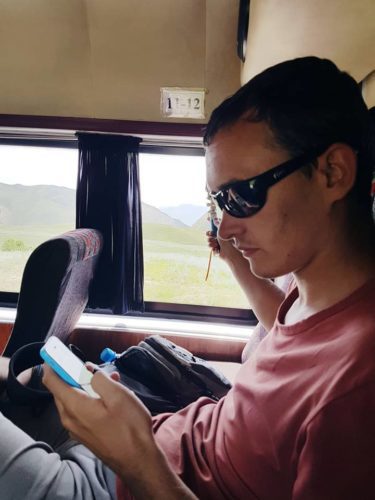 Where to stay in Toktogul
Kagan Guesthouse
We had the pleasure of being hosted by Guka and her family at Kagan Guesthouse. We arrived late at night, but Guka was very friendly and made time to chat, with us despite being ready to go to her home nearby with her children.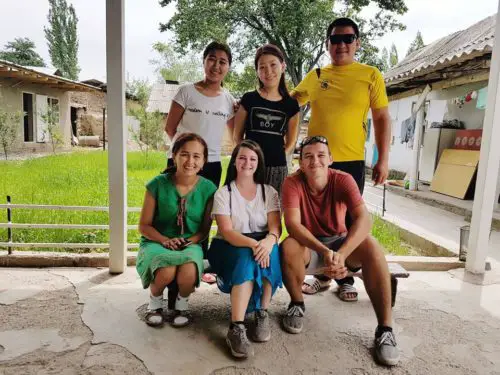 The guesthouse is situated on quiet grounds with a garden in the centre. The rooms are cosy and have a homely touch. Breakfast and tea are included in the price of the stay. There is also the option to order home-cooked food for lunch or dinner. What makes this guesthouse special is the friendly staff that runs the property. Guka speaks excellent English and can help you plan your trip, and book tours around Kyrgyzstan.
Thinking of where to go next? Why not head into Tajikistan, for a once in a lifetime trip to the roof of the world; the Pamir Highway?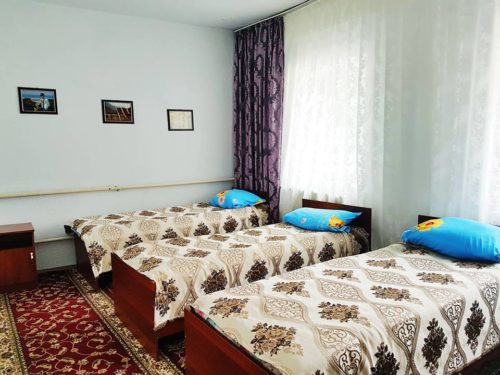 Where to stay in Osh
Apple Hostel
For our last stay in Kyrgyzstan, we had to check out the newly opened Apple Hostel. Like the other 2 properties, in Bishkek and Cholpon-Ata, the hostel is lively and a great place to meet fellow travellers. The hostel is very clean, and the beds are cosy. Similar to the Apple Hostel in Cholpon-Ata, the hostel is run by volunteers. So, if you fancy staying in Osh a while longer, or want to gain some hostel work experience, we recommend this full-of-life hostel. Just contact the owner, Aigul at +996553280881. She is also available on Whatsapp.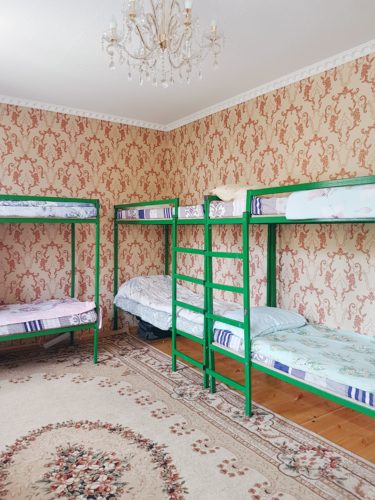 Osh is often the ending point of a Kyrgyzstan trip. After Osh, you may be planning a trip through Tajikistan. Osh is the perfect base to organise your trip and find fellow travellers to join you. We organised our trip with the help of Aigul, who contacted a driver on our behalf. She was able to bag us a great deal. If you need help in planning your trip, we fully approve of Aigul's help. Just contact her on the number above for more information.
For more prices and deals on properties in Osh, CLICK HERE.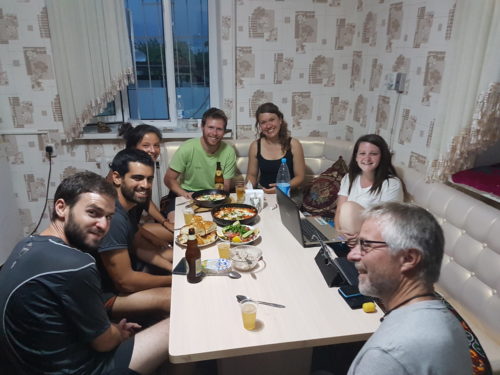 Essential resources for travelling in Kyrgyzstan
Travel insurance – No matter where you're travelling to, it's a good idea to make sure you're covered for any accidents or losses. We spent days and weeks searching for insurance, but most insurers would not allow us to take out a policy as we were already abroad. Our personal choice is Safteywing. You can opt for automatic monthly payments, just like a subscription. More importantly, it is available in 180 countries and can be purchased whilst already travelling. There is no cap on the duration of travel.
Visa – Before you travel to any country, make sure to check if you need a visa. iVisa is a fantastic website that is super easy and quick to use. Just type in where you are from. and where you are going. to check if you need a visa. If you do, you can quickly make an application online.
Accommodation – Booking.com is our go-to when looking to pre-book accommodation online. Booking.com tend to almost always have the best rates and a FREE cancellation policy for most properties.
Tours & Activities – If you want to book tours and activities online, make sure to check out Get Your Guide. Get Your Guide takes the stress out of booking activities abroad. You will also find a range of benefits, such as skip-the-line passes, lunch included in your tours, and so much more.
Travel tips ebook -Before you head off on your adventure, make sure to download our free ebook. It has a whopping 109 budget travel tips to help you make your hard-earned cash go further. Click here to download your FREE ebook.
All in all, we are totally glad we broke up the long journey from Bishkek to Osh. Not only did it work out cheaper, but we also got to see an untouched part of Kyrgyzstan. Toktogul is worth the stop for the stunning reservoir alone. So, instead of sitting for 14 hours cooped up in a shared taxi, make sure to stop by this super cool, local town.
Like this post? Pin it!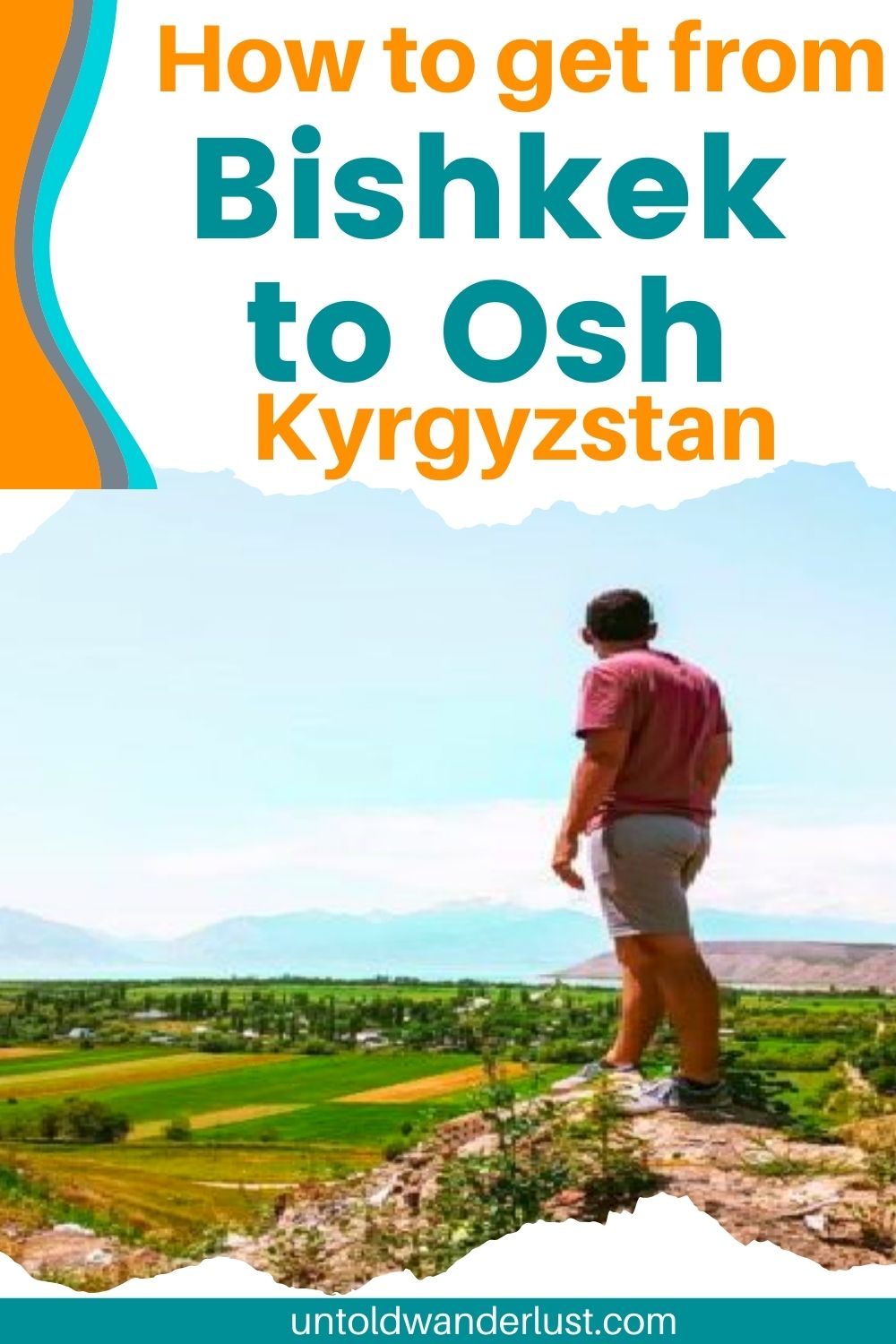 *We were hosted complimentary by Kagan Guesthouse and Apple Hostel. All opinions are our own, based on our experience.*