Uzbekistan is an upcoming destination that is rich in culture and architecture, making it perfect for history buffs and architectural lovers. Uzbekistan should well and truly be included on a trip to Central Asia. Here you will find the perfect backpacking Uzbekistan itinerary, that will see you through some of the most exciting ancient cities along the Silk Road. You will also find costs and essential tips. Read on to find out more!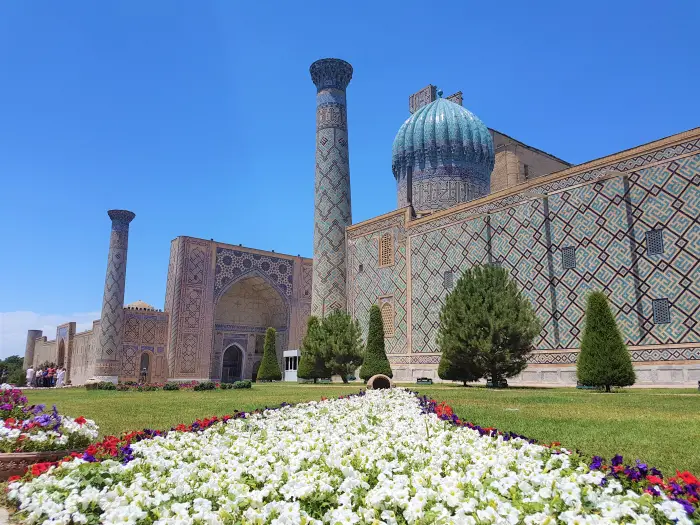 Disclosure: Untold Wanderlust contains affiliate links. If you click on these links and make a purchase, we will earn a small commission at no extra cost to you. You can find our full disclosure policy and privacy policy here.
Uzbekistan travel itinerary – Which Uzbekistan cities to visit?
Considering Uzbekistan is one of the top travel places in the world, we're certain you are going to enjoy this itinerary. This Uzbekistan itinerary will start with Uzbekistan's most important city, Samarkand, before moving on to the ancient city of Bukhara, and the scorching hot desert city of Khiva. Unlike other Silk Road cities, such as Bishkek and Dushanbe, the cities on this trip are filled with dazzling architecture and Silk Road history. In each city's section, you will find the must-see's and do's, along with entrance costs and fees.
Things to do in Samarkand (4 nights)
The first stop on this Uzbekistan backpacking itinerary is Samarkand; also known as the heart of the silk road. We arrived in Samarkand from the Fan Mountains in Tajikistan, crossing at the newly open border in Penjikent. Samarkand is the halfway point along the silk trade route, connecting Europe to Asia. It's Uzbekistan's tourist gem and for great reason! A trip to Uzbekistan wouldn't be complete without stopping off in Samarkand.
Here are a few things to see:
Registan Square – 30,000 Som
Silk Carpet Factory – FREE
Gur Emir Mausoleum – 22,000 Som
Ruhabad Mausoleum – FREE
Bibi Khanym Mosque – 22,000 Som (lasts 3-days)
Siob Bazaar – FREE
Shakhi Zinda Mausoleum – 22,000 Som
Prophet Daniel Mausoleum – FREE
Ulughbek's Observatory – 22,000 Som
For a more detailed picture diary of Samarkand, check out our post here.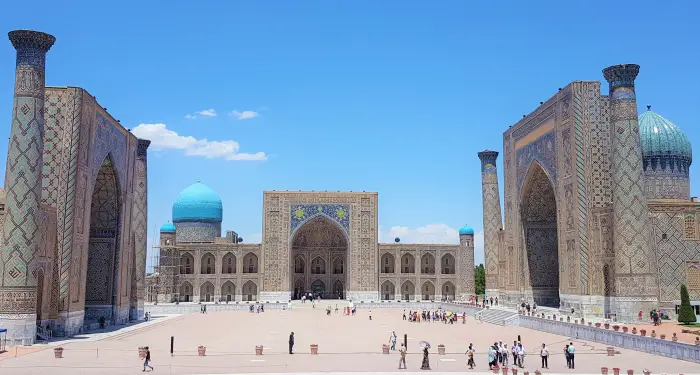 Where to stay in Samarkand
Timur the Great Guesthouse – The guesthouse has large cosy rooms and a very helpful owner. We felt welcomed as soon as we arrived. Each morning the owner cooked us a delicious breakfast that we ate in the courtyard. The guesthouse is a short walk away from Registan Square, making for easy access at sunrise.
For the latest prices and deals on properties in Samarkand, CLICK HERE.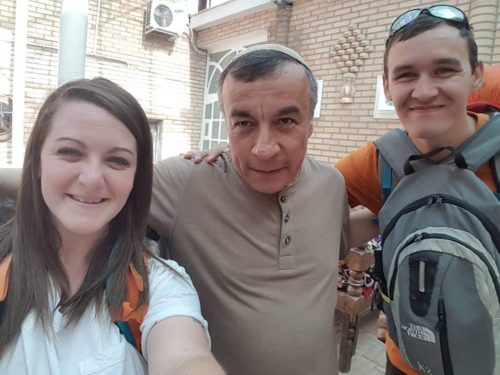 Things to do in Bukhara (5 nights)
To reach Bukhara from Samarkand, the easiest way is to take the direct train. There are different train options available, but we chose the fast train which takes a swift 1.5 hours. The cost of the train is just 110,000 Som ($11.65). The low cost combined with a quick journey was a no-brainer, compared to a cooped-up 4-hour car journey.
Bukhara has a considerable number of things to see and do:
Lyabi Hauz Square – FREE
Tea Museum – FREE, just pay for the cost of your tea
Aziz Khan Madrasah & Mizro Ulugbek Madrasah – 5,000 Som each
Poy-I-Kalyan complex – FREE
Zindon prison – 10,000 Som
The Ark – 15,000 Som
Boro-Hauz masjid – FREE
Samandi Mausoleum – 4,000 Som
Want a more detailed itinerary of Bukhara? Head over to our Bukhara itinerary.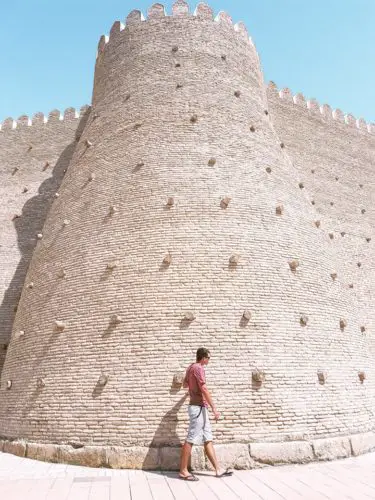 Where to stay in Bukhara
Minzifa Boutique Hotel – The location is perfect! It's located on a quiet road, but only a short 5-minute walk away from the lively Libya Hauz Square. The staff at the hotel have great English and helped with all our questions. The room is nicely decorated, and the beds are very comfortable. The rooms are also well equipped with toiletries, a hairdryer, a fridge and a TV. The wifi also worked great! Which makes a change from Uzbekistan's usually very slow wifi.
For more prices and deals on properties in Bukhara, CLICK HERE.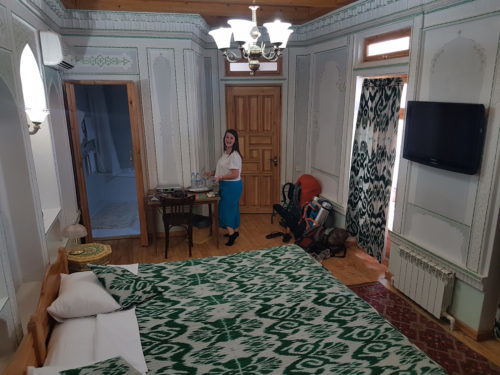 Things to do in Khiva (3 nights)
Khiva is often overlooked on an Uzbekistan backpacking itinerary, due to its 7.5-hour car ride from Bukhara, and 17-hour train journey from Tashkent. However, it's certainly worth going the extra mile. After all, an Uzbekistan backpacking trip wouldn't be complete without visiting all 3 of its major ancient cities. To get to Khiva from Bukhara you can take a shared taxi for $10 per person.
Things to do in Khiva:
Pakhlavan Mahmoud mausoleum
Kalta minor
Khodja minaret
Djuma Mosque
Get lost in the narrow ancient streets
Shop at the local trinket shops
Walk the castle walls and see the sunset
Look out over Khiva from a watchtower
Where to stay in Khiva
Meros B&B – We stayed here for 3 nights and were very pleased with our stay. The hotel is located very centrally, within the castle walls. The property has a great rooftop too with amazing views over the city. It's the perfect place to relax and watch the sunset! Each morning the friendly staff provided us with an appetizing breakfast and tea. The rooms are comfortable and have a private balcony to sit out on and relax. The staff at the B&B are knowledgeable about Khiva and can give advice and tips for your trip.
For more prices and deals on properties in Khiva, CLICK HERE.
Tashkent (1 night) – The final stop on this Uzbekistan itinerary
Tashkent was the last stop on our backpacking Uzbekistan itinerary before our Kazakhstan trip would begin. To get to Tashkent, we took an overnight sleeper train from Urgench station, which is situated a 30-minute drive away from Khiva. The train took 17 hours and cost 110,000 Som ($11.65) per person. We didn't explore Tashkent much, as we opted to relax at our hostel (Tashkent Backpackers) and watch the world cup. However, if you have extra time, there are plenty of things to see and do in Tashkent, such as shopping, museums, and more amazing architecture.
Backpacking Uzbekistan trip costs
Currency: The local currency in Uzbekistan is Uzbek Som. However, due to such a high exchange rate to the dollar, we recommend taking USD and exchanging $50 at a time. This will prevent you from having to carry around a spare backpack to carry all those notes. The exchange rate is 9,400 Som to $1.
Daily budget: Our daily budget whilst in Uzbekistan was $40 per day, based on two people. We only just managed to keep within this budget.
Accommodation: Dorms in Uzbekistan are sparse, so we did not stay in any hostels. Double rooms or 3-bed rooms are between $10 -15 per person and often include a large traditional Uzbek breakfast.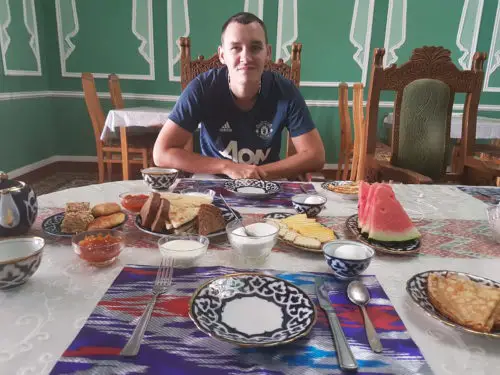 Food & drink: For a local meal expect to pay around 20,000 Som. Western food is hard to come by, but when you do find it, expect to pay 40,000 Som per meal. A large bottle of water at the local shop is 3,000- 4,000 Som.
Transport: Transport around the cities is relatively cheap. The cost of the bus is 1,200 som per ride. Taxis are slightly more expensive than a bus but are still very affordable. A 30-minute taxi journey costs around 20,000 Som.
Activities: Many madrasahs, ancient complexes, and museums require an entrance fee. Prices vary between 15,000 Som – 30,000 Som; 30,000 Som being the highest entrance fee for Registan Square in Samarkand.
For a more detailed breakdown of the cost of travelling in Uzbekistan, click here.
Essential Uzbekistan travel tips
Carry USD – Before entering Uzbekistan we recommend exchanging your currency for USD. Whilst the US dollars are not accepted in restaurants, shops and on public transport, it is widely accepted at hotels and hostels.
Exchange $50 at a time – The currency denominations are very small in Uzbekistan. Withdrawing just $50 worth of Som will give you a thick wad of cash, only ever seen in a rap video. We recommend just exchanging $50 at a time or you will end up with too many notes to fit in your bag.
Book trains in advance – If you're planning to use the trains in Uzbekistan, we recommend booking at the ticket office a few days before you plan to leave. Trains fill up quickly, and you could be left waiting around.
Barter for taxis – Taxis may try to over-charge you! Halving the price was about the right amount and the same as what locals would pay.
Visit Registan Square at 6 am – Visit Registan Square early in the morning. Hardly anyone will be around, and you may get the entire place to yourself (if you pay a small fee to the security guards).
Get up for breakfast – You're probably on holiday and may want a lay-in, but trust us, the breakfasts in Uzbekistan are worth getting up for. They are huge and can fill you up for the rest of the day.
Hide from the heat – If you are visiting Uzbekistan in the summer months you should pack plenty of sun cream. Also, try to avoid the mid-day burn by exploring during the early mornings and evenings. Even local people go inside and nap during the hours of 2 pm -6 pm because the heat is just too intense.
Essential resources for travelling in Uzbekistan
Travel Insurance – No matter where you're travelling to, it's a good idea to make sure you're covered for any accidents or losses. We spent days and weeks searching for insurance, but most insurers would not allow us to take out a policy as we were already abroad. Our personal choice is Safteywing. You can opt for automatic monthly payments, just like a subscription. More importantly, it is available in 180 countries and can be purchased whilst already travelling. There is no cap on the duration of travel.
Visa – Before you travel to any country, make sure to check if you need a visa. iVisa is a fantastic website that is super easy and quick to use. Just type in where you are from. and where you are going. to check if you need a visa. If you do, you can quickly make an application online.
Accommodation – Booking.com is our go-to when looking to pre-book accommodation online. Booking.com tend to almost always have the best rates and a FREE cancellation policy for most properties.
Tours & Activities – If you want to book tours and activities online, make sure to check out Get Your Guide. Get Your Guide takes the stress out of booking activities abroad. You will also find a range of benefits, such as skip-the-line passes, lunch included in your tours, and so much more.
Travel tips ebook -Before you head off on your adventure, make sure to download our free ebook. It has a whopping 109 budget travel tips to help you make your hard-earned cash go further. Click here to download your FREE ebook.
Overall, Uzbekistan is the perfect destination to get your history fix and marvel at mesmerising architecture that is like no other in the world. We hope this 2-week backpacking Uzbekistan itinerary, helps you on your way to exploring the heart of the Silk Road.
Do you still need your visa for Uzbekistan? Consider applying for your Uzbekistan visa in Bishkek. The process is simple and easy!
Like this post? Pin it!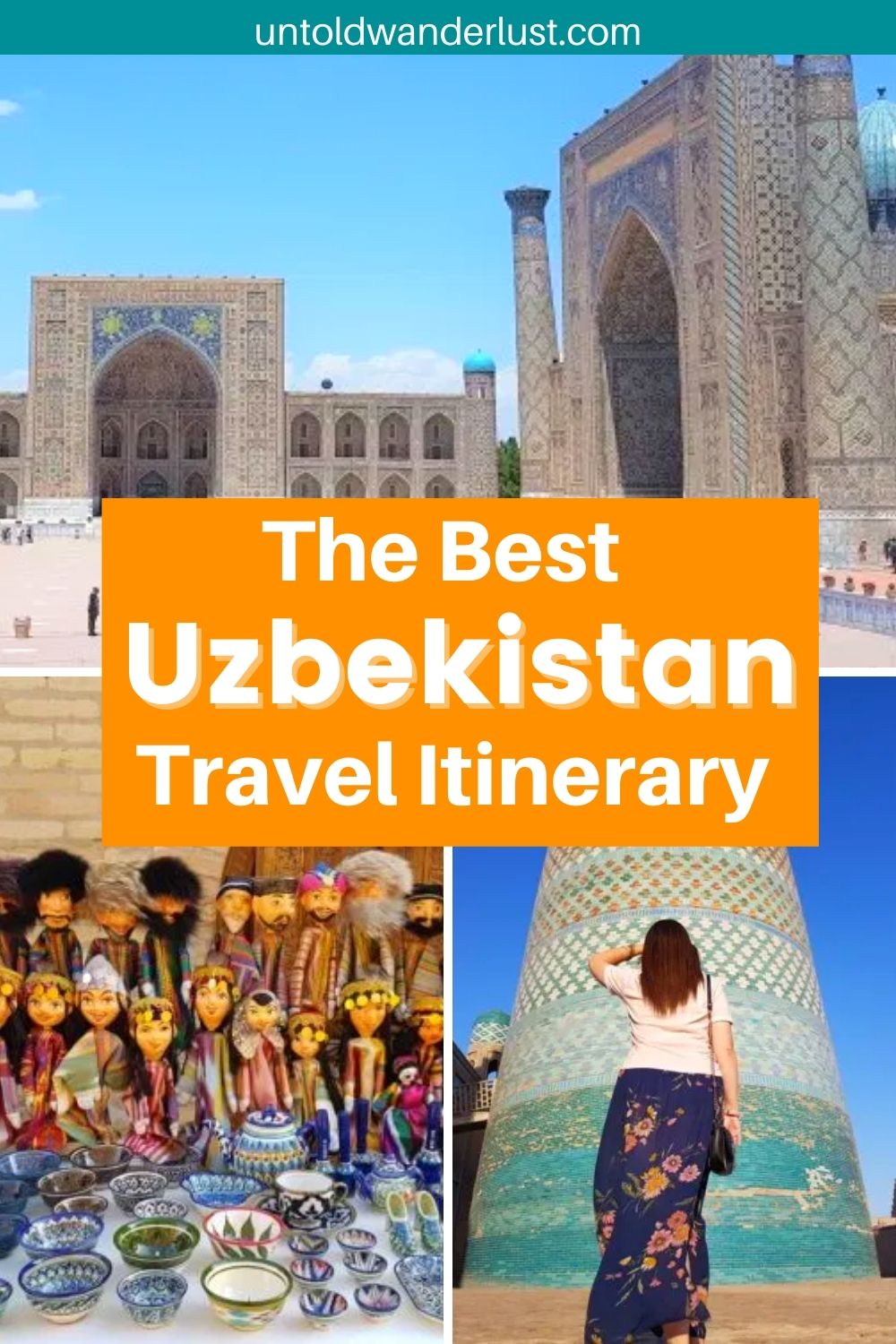 *We were hosted complimentary at some of the hotels/ hostels mentioned in this article. All opinions are our own, based on our experience.*