Karakol is located on the eastern tip of the stunning Issy-Kul lake in Kyrgyzstan. Karakol is the perfect base for multiple-day treks into the snow-capped mountains and national parks. However, Karakol has much more to offer than just a base for hikes in the area. Here are the best things to do in Karakol that don't involve hardcore trekking.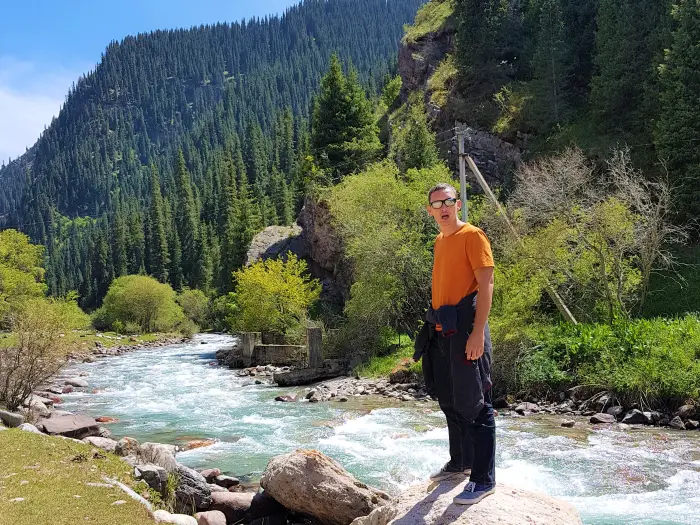 Disclosure: Untold Wanderlust contains affiliate links. If you click on these links and make a purchase, we will earn a small commission at no extra cost to you. You can find our full disclosure policy and privacy policy here.
Things to do in Karakol
Visit Jeti Oguz
Jeti Oguz is a fascinating red sandstone formation located just 30 km away from Karakol.  The bright red rock formations are supposed to resemble 7 bulls that stand out against the surrounding mountains. Whilst Jeti Oguz is worth the visit alone, the nearby valley of flowers stole the show for us. Along a dirt path that follows a clear running stream, you will find lush nature; pine trees, poppies, snow-capped mountains, and yurt camps.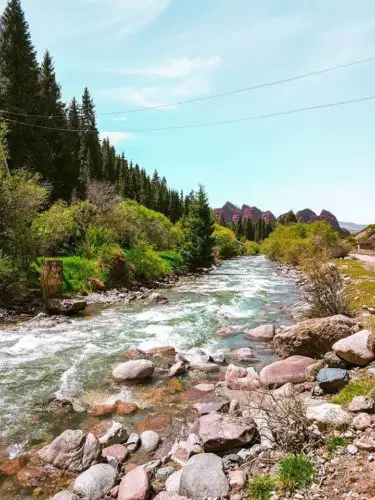 How to get there
To get to Jeti Oguz, you can take a Marshrutka from the main bazaar's south corner in the centre of Karakol. Just ask around for the Marshrutka going to Jeti Oguz village. It's around 17 km away and costs 30 Som ($0.23) per person. When you reach Jeti Oguz village you will need to take a taxi for a further 12 km to the red rock formation. A shared taxi should cost no more than 50 Som ($0.69) each. After marvelling at Jeti Oguz follow the dirt path for a nice nature walk. The road is flat which makes for a nice stroll through a fairy-tale forest.
Kayaking on Issy-Kul lake
Book yourself a kayaking tour of the stunning Issy-Kul lake, which is surrounded by beautiful mountains on either side. You have the choice of a half-day tour or a full-day tour. The cost of a half-day tour is 1,000 Som ($13.72)and the full-day tour is 1,500 Som ($20.58). We opted for a half-day tour which consisted of 5 hours of kayaking. We were picked up in a van at our hostel and were taken to the lakeshore. All equipment is provided, from the life jackets to gloves.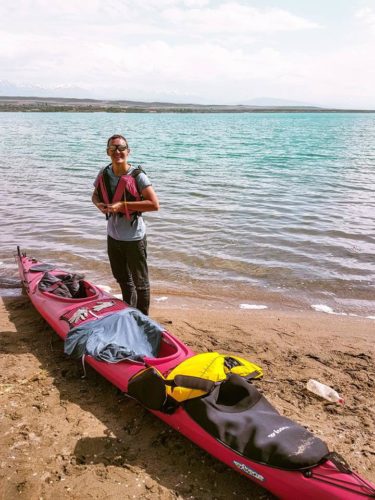 We thoroughly enjoyed calmly kayaking across the crystal blue lake. After about 2.5 hours we rowed to shore and took a break for an hour to eat lunch. We forgot to pack lunch in the morning, so our two guides kindly shared their lunch with us. The guides were knowledgeable about the area and spoke enough English to answer all our questions and queries.
How to book the tour
You can book the tour at one of the tourist information shops in Karakol. Alternatively, you can book your tour directly by contacting Sergey (the owner).
Phone number: +996555837225 – also available on Whatsapp
Facebook: Sergey Troff
Email: [email protected]
Karakol walking tour
Take a walking tour of Karakol. There are many sites to see, from parks, cathedrals and mosques. You can book a FREE walking tour at the Destination Karakol tourist office. Whilst the tour is FREE, a tip of 200 Som ($2.74) is recommended. If you prefer to explore Karakol at your own pace, you can download the free walking tour app and go by yourself. The app gives lots of useful information about each point on the tour. We fully recommend downloading the app. After all, it is FREE, so you have nothing to lose. Here are just a few places you will come across on the tour:
Russian Orthodox church (pictured below)
Dungan Mosque
Tatar Mosque
Russian Quarter
Bugu Bazaar
Check our more essential backpacker apps here!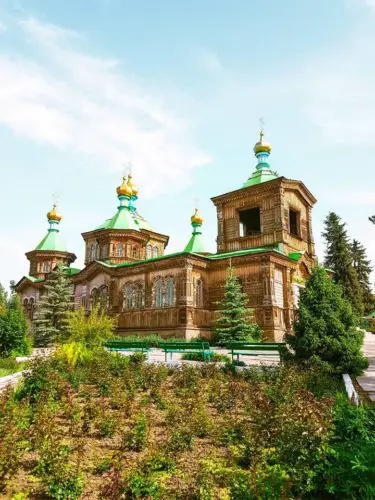 Where to stay in Karakol
Hillside Karakol – The Hillside Hotel is a newly built, modern property that is located near the main street in Karakol. You can take bus 106 to get to the centre in just 5 minutes. The rooms are well furnished, and the beds are very comfortable.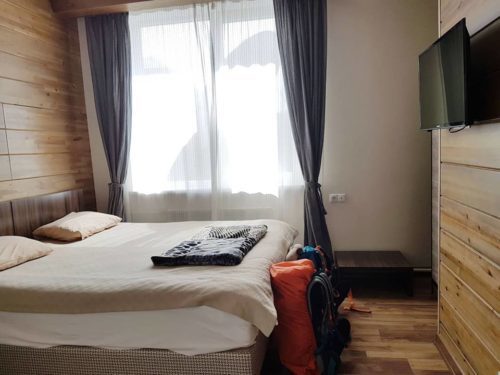 There is also a kitchen area where free tea and coffee are provided throughout the day. A huge breakfast with a range of cheeses and bread is also included in the price. If you're considering skiing nearby, Hillside rent out all the equipment required. Extra amenities include a projector for a possible film night and games consoles with a range of games to choose from. The owner, Ahmet, was very welcoming and gratuitous in helping us plan a day trip to Jeti Oguz. This hotel is perfect for couples looking for a mountain getaway.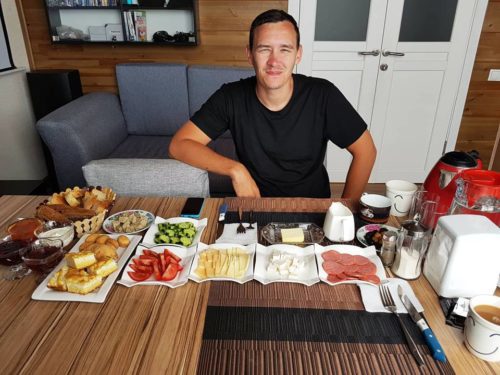 Turkestan Yurt Camp – Turkestan Yurt Camp is a great place for travellers looking to experience a night's stay in a yurt. It was very cold when we arrived, so we opted to stay in a private room instead. The cottage-style rooms are very cosy and are equipped with an electric heater. Perfect for cold nights! The rooms and bathroom facilities are kept very clean.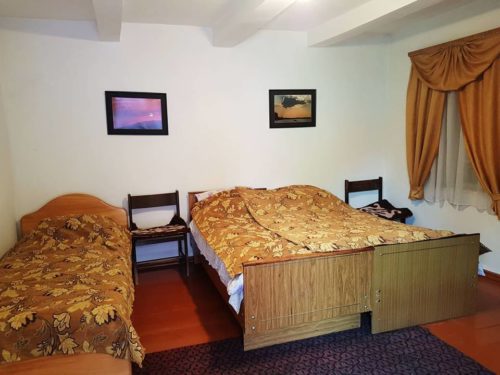 What really makes this place special is the caring and attentive staff. They cooked us breakfast each morning, gave directions, washed our clothes, and kindly informed us of the jewellery we had left in our room. They even went out of their way to return the jewellery to us in Bishkek.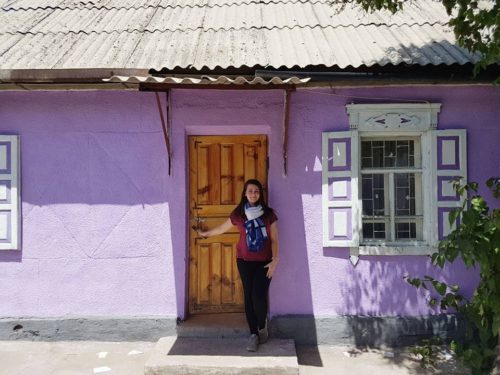 For more routes around Kyrgyzstan, check out our Kyrgyzstan backpacking itinerary.
Essential resources for travelling in Kyrgyzstan
Travel Insurance – No matter where you're travelling to, it's a good idea to make sure you're covered for any accidents or losses. We spent days and weeks searching for insurance, but most insurers would not allow us to take out a policy as we were already abroad. Our personal choice is Safteywing. You can opt for automatic monthly payments, just like a subscription. More importantly, it is available in 180 countries and can be purchased whilst already travelling. There is no cap on the duration of travel.
Visa – Before you travel to any country, make sure to check if you need a visa. iVisa is a fantastic website that is super easy and quick to use. Just type in where you are from. and where you are going. to check if you need a visa. If you do, you can quickly make an application online.
Accommodation – Booking.com is our go-to when looking to pre-book accommodation online. Booking.com tend to almost always have the best rates and have a FREE cancellation policy for most properties.
Tours & activities – If you want to book tours and activities online, make sure to check out Get Your Guide. Get Your Guide takes the stress out of booking activities abroad. You will also find a range of benefits, such as skip the line passes, lunch included in your tours, and so much more.
Travel tips ebook -Before you head off on your adventure, make sure to download our free ebook. It has a whopping 109 budget travel tips to help you make your hard-earned cash go further. Click here to download your FREE ebook.
Make cash on the road – If you're on a long trip, you may want to start earning whilst on the road. One way to do this is to teach English online. One of our favourite companies for this is Palfish, as the schedule is super flexible. You can open and close slots, as and when you choose, meaning you don't have to commit to the same days and hours each week. Just make sure you are TEFL certified to apply!
Like this post? Pin it!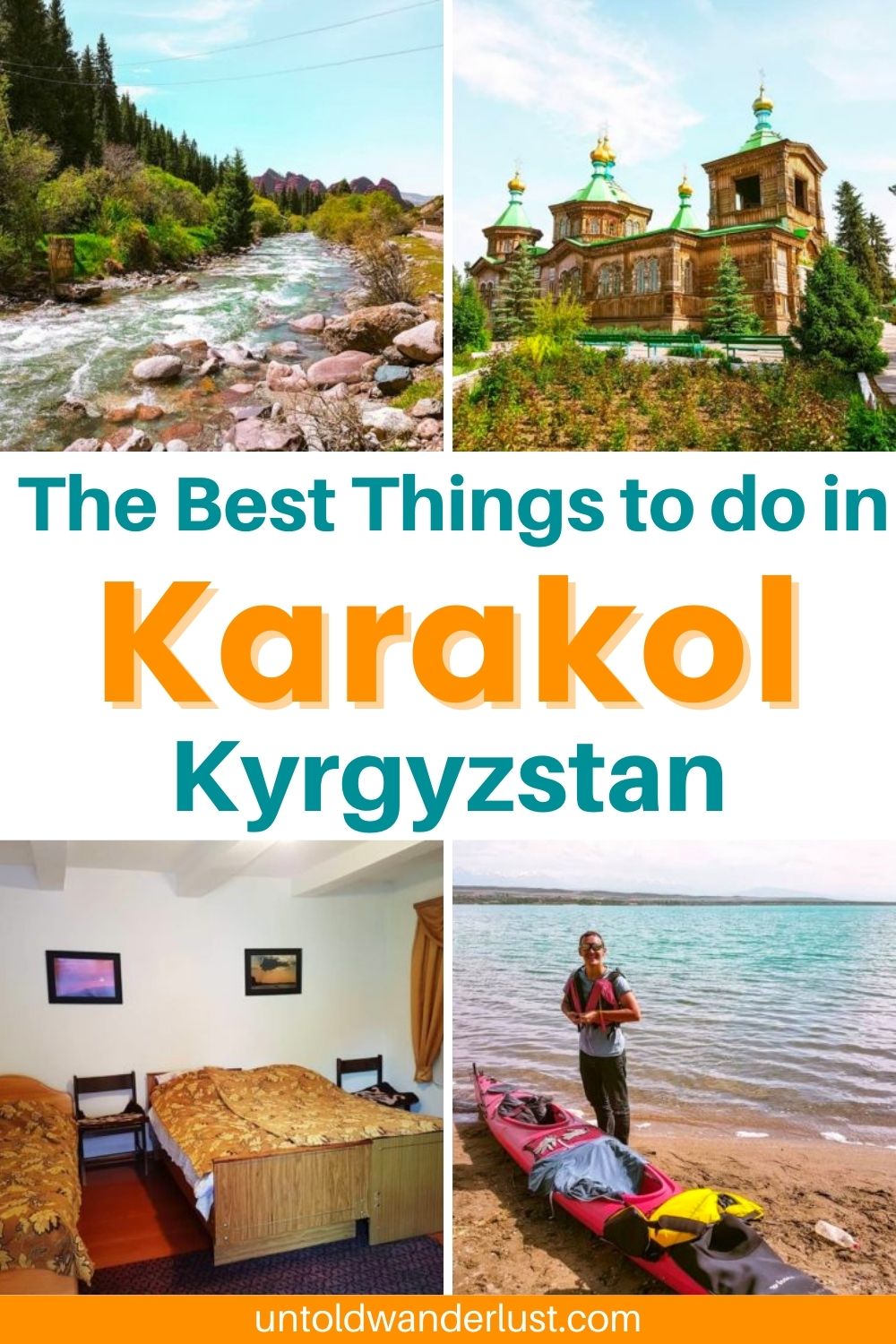 *We were hosted complimentary by the hotels and tours mentioned in this post. All opinions are our own, based on our experience.*