Looking for the perfect Jeju itinerary? Look no further! Here we have put together the ultimate budget traveller's itinerary to Jeju Island. As a whole, travelling in Jeju is not pocket-friendly for budget backpackers. With prices at a lot of museums and attractions starting at 8,000 Won ($6.47), it's not hard for costs to mount up quickly. We spent 3 nights, and 2 full days exploring the Island and spent less than $25 each. Here's how!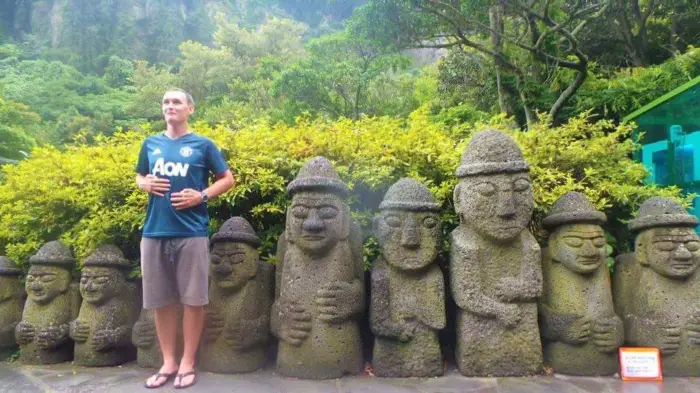 Disclosure: Untold Wanderlust contains affiliate links. If you click on these links and make a purchase, we will earn a small commission at no extra cost to you. You can find our full disclosure policy and privacy policy here.
Transportation in Jeju – ways to get around
First and foremost, before taking on this Jeju travel itinerary, do not underestimate the size of the island. Whilst it looks small on a map, the drive time from the north to the south can take at least an hour in a car, or two hours on a scooter. You have 4 options:
1. Rent a car – $50-70 per day
2. Rent a scooter – 25,000 – 30,000 Won ($21.50 – $26) per day
3. Bus – A single fare starts at 1,300 Won ($1.10), and increases based on the distance
4. Hitchhike – Free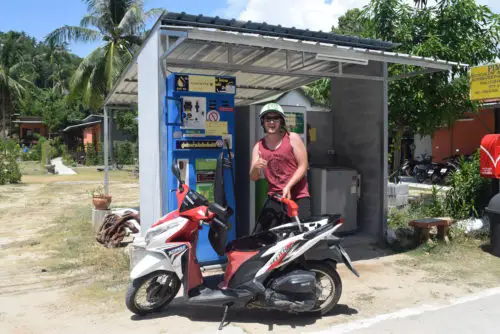 Scooter rental in Jeju
At first, we wanted to rent a scooter, but being the "last-minute travellers" we are, we forgot to change our driving licenses into international licenses. Consequently, we were unable to rent a scooter. Unlike countries in Southeast Asia, such as Thailand, South Korea is very strict when it comes to renting out motorbikes. NO LICENSE = NO BIKE.
Instead, we begrudgingly headed for the bus terminal. We started the day by taking buses, but because of the infrequency of the buses, we began to hitchhike. Looking back now, not being allowed a scooter was a blessing in disguise because we realized it would have taken too much time to get from place to place. Besides, the cost of a motorbike rental works out more than using buses and hitchhiking.
If hitchhiking isn't for you, and you would prefer to rent a car, then check out this excellent self-drive guide.
Jeju itinerary day 1- The south-west
O'Sulloc Tea Museum
Entrance costs: FREE
See the lush green tea fields and learn how tea is made. There are many flavours of tea that you can try for free. Should you like any, they're available to buy in the shop.
Get there: From the Intercity bus terminal (North of the island) take bus 755 and get off at the O'Sulloc tea museum stop. The bus costs 2,800 Won $2.40).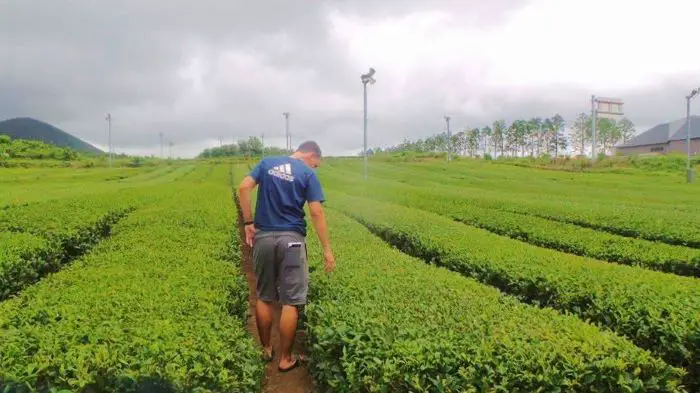 Mount Sanbangsan
Entrance costs: 1,000 Won ($0.87) to hike but the two temples are FREE to enter.
In the mood for a hike? Hike up the mountain for panoramic views of the ocean road.
Get there: Get back on the 755 bus, at the same stop you got off at for the tea museum. Get off at the Saturday market entrance stop. The bus costs 1,300 Won ($1.13).
From the Saturday Market entrance, walk 30 seconds back to the crossroads and turn right. Walk straight until you reach the post office. Across the road from the post office, there is a bus stop from where you can take the 750-1, or 702 bus, bound for Sanbangsan Cliff. This bus also costs 1,300 Won ($1.13).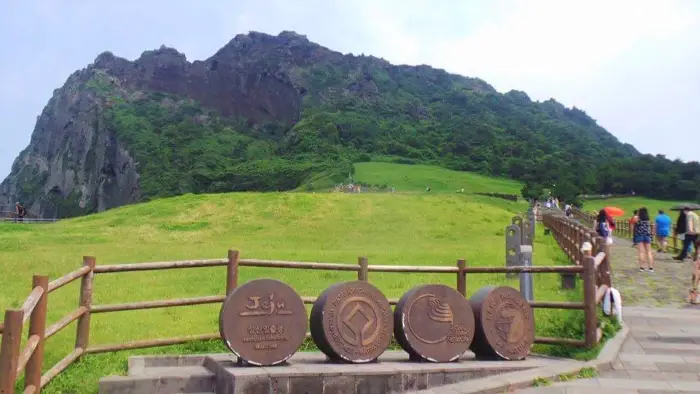 Jusangjeolli Cliff
Entrance costs: 2,000 Won ($1.73).
The fascinating volcanic rock formation is a must-visit. The black rock surrounded by the crystal blue sea makes this place a picture haven.
Get there: Hitchhike from Mount Sanbangsan. Try to catch your ride from just out of the car park area. Most tourists, in rented cars, are now on the same route that is full of viewpoints and attractions.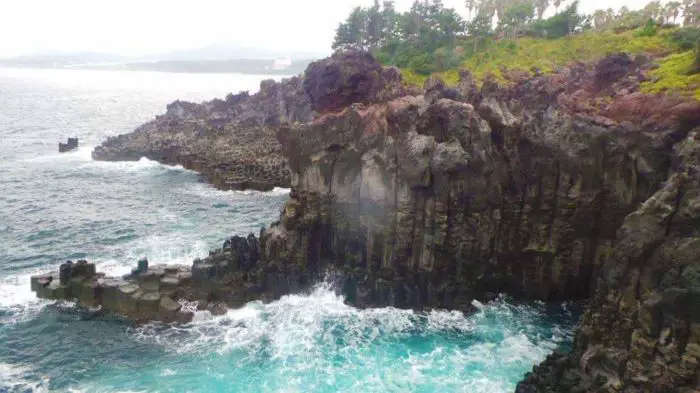 Cheonjeyeon Waterfall
Entrance costs: 2,500 Won ($2.16).
Get there: Hitchhike from Jusangjeolli Cliff. When you leave the cliff area, walk through the car park and then to the top of the road that leads out onto the main road. Take a left at the top and hitch a ride from there.
Cheonjiyeon Waterfall
Entrance costs: 2,000 Won
Get there – Hitchhike from Cheonjeyeon Falls. Walk through the car park and out onto the main road and turn right. Hitch your ride from a few hundred meters up the road (outside of the supermarket) because the road is bendy and you need to give the car a safe space to pull over for you.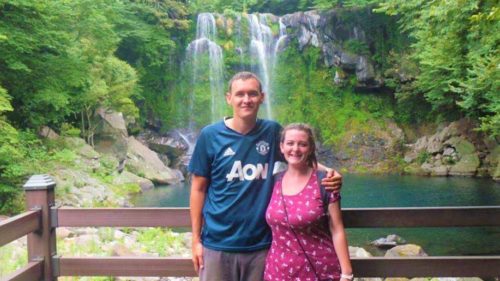 Jeongbang Waterfall
Costs – 2,000 Won ($1.73).
Get there: Hitchhike from Cheonjeyeon Falls. Walk left out of the car park and then take the first right. You can try to hitchhike from here, but we didn't have much luck. We needed to walk 1 km to where the road splits and take a right. We managed to get a ride here because the road leads straight to Jeongbang Waterfall.
These 3 waterfalls are the most famous Jeju island points of interest, so make sure to visit each one, even if you plan to do nothing else! For more detailed information about the waterfalls, click here.
Back to the north of Jeju
From the last waterfall, walk to the bus stop and take a bus back to your accommodation. The bus costs 2,800 Won ($2.42). Day 1 is very long! We left the intercity bus terminal at 10:20 am and did not arrive back until 8:00 pm.
Jeju Island itinerary day 2 – The east side
Manjang Cave
Entrance costs: 2,000 Won($1.73).
Walk through a lava tube and admire the interesting structures and formations inside.
Get there: From the Intercity bus terminal, take bus 701 and get off at the Iljiudong stop. The bus costs 2,300 Won ($2). Walk straight and immediately turn right. You can either try to hitch a ride or walk for 2 km along the road.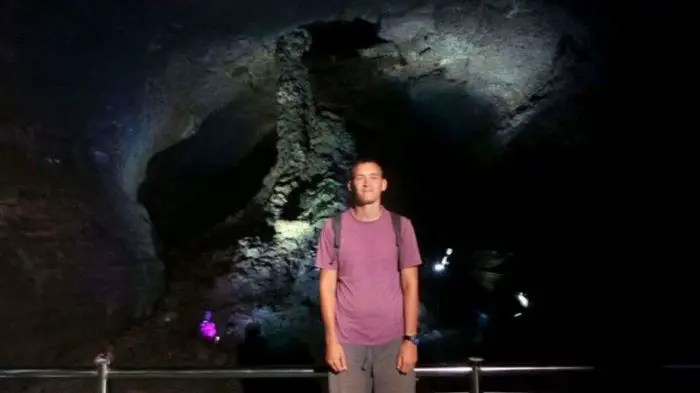 Seashore Road (beaches)
Entrance costs: FREE
Get there: Hitchhike from Manjang Cave. Walk through the car park and take the left, where the road splits. Hitch a ride from here. Alternatively, if you don't want to spend time on the beach you can head to Mount Halla for more hiking. We were too tired from day 1, so we decided to have an easy relaxing day.
Seongsan Illchulbong (Sunrise Peak)
Entrance costs: 2,000 Won ($1.73).
Hike up the peak ready in time to watch a perfect sunset. Right by the peak is where you will also find the famous women divers. They do a song and a dance for spectators before they dive into the sea to catch fish and other sea creatures.
Get there: Hitchhike from the beach.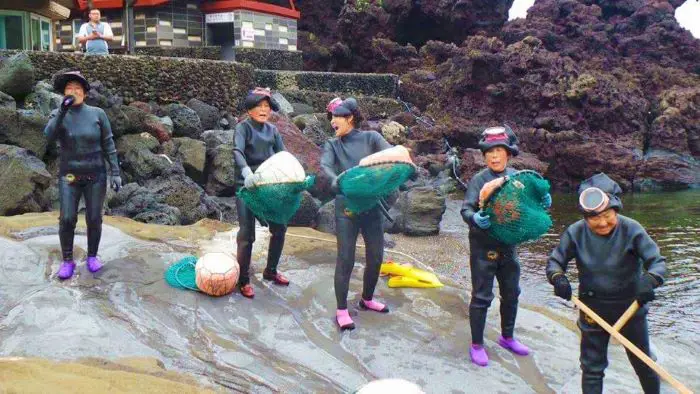 End of your Jeju itinerary
This is the end of the 2-day Jeju itinerary. To get back to the Intercity bus terminal, take bus 701 from outside of the sunrise peak area. The bus costs 2,300 Won ($2).
Where to stay on Jeju Island
Feeling luxurious: Grabel Hotel – This hotel has Western and Korean-style rooms. There is a swimming pool for relaxation time and a buffet restaurant.
Budget private room: Gudeok Guesthouse – Great for couples and highly rated on booking.com. The guesthouse even serves American breakfast each day. The guesthouse also has a fully equipped kitchen.
Dorm life: You&I Guesthouse – Great value for money and a fab way to meet other travellers.
For more prices and deals on properties on Jeju Island, CLICK HERE.
So there it is a fun-filled packed 2-day Jeju itinerary. This itinerary cost a total of 25,700 Won over the two days. The equivalent of $22.25. BARGIN'!
Essential resources for travelling in South Korea
Travel Insurance – No matter where you're travelling to, it's a good idea to make sure you're covered for any accidents or losses. We spent days and weeks searching for insurance, but most insurers would not allow us to take out a policy as we were already abroad. Our personal choice is Safteywing. You can opt for automatic monthly payments, just like a subscription. More importantly, it is available in 180 countries and can be purchased whilst already travelling. There is no cap on the duration of travel.
Visa – Before you travel to any country, make sure to check if you need a visa. iVisa is a fantastic website that is super easy and quick to use. Just type in where you are from. and where you are going. to check if you need a visa. If you do, you can quickly make an application online.
Accommodation – Booking.com is our go-to when looking to pre-book accommodation online. Booking.com tend to almost always have the best rates and a FREE cancellation policy for most properties.
Tours & Activities – If you want to book tours and activities online, make sure to check out Get Your Guide. Get Your Guide takes the stress out of booking activities abroad. You will also find a range of benefits, such as skip-the-line passes, lunch included in your tours, and so much more.
Travel tips ebook -Before you head off on your adventure, make sure to download our free ebook. It has a whopping 109 budget travel tips to help you make your hard-earned cash go further. Click here to download your FREE ebook.
For a full guide to South Korea, check out our backpacking South Korea itinerary. Also, make sure not to miss out on a DMZ trip to North Korea!
Like this post? Pin it!