After spending time getting lost in Uzbekistan's mesmerizing mosaic designs, we were finally ready to get our nature fix. Upon arriving in Kazakhstan's former capital, Almaty, we put a visit to Big Almaty Lake firmly on our to-do list. But getting there seemed like a bit of a problem. With tours to Big Almaty Lake only leaving on the weekends, how could we possibly visit during the week? Here's the complete guide on how to get to Big Almaty Lake without a tour!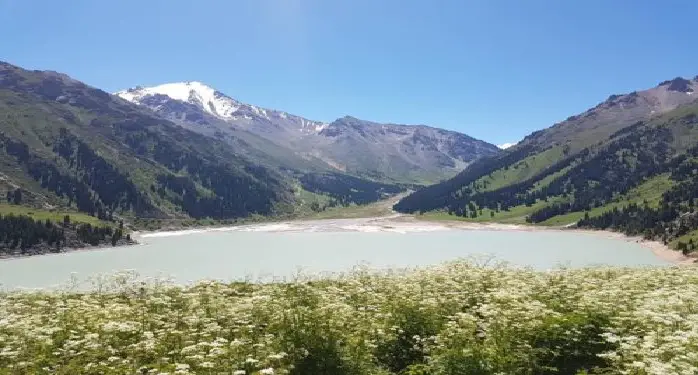 Disclosure: Untold Wanderlust contains affiliate links. If you click on these links and make a purchase, we will earn a small commission at no extra cost to you. You can find our full disclosure policy and privacy policy here.
Figuring out a route to Big Almaty Lake
After getting to grips with the essential information about Almaty, we did some quick research on how to get to Big Almaty Lake. However, we were a little disappointed at the thought of possibly having to do a tour and overpay for the 30 km journey just outside of the city. Luckily, after digging further and having a chat with our Couchsurfing host, we decided to use a combination of buses, mini-vans and hitchhiking – and it couldn't have been simpler! Similar to our hitchhiking experience at the Genghis Khan Statue in Mongolia, hitchhiking to Big Almaty Lake was super straightforward.
Take bus 28 out of Almaty City
The first task was to get to the outskirts of Almaty City. The best way to do this is to take the number 28 bus from President's Park. The journey takes about 30 minutes, and the bus costs 150 Tenge, or 80 Tenge if you have a Unified Transport bus card.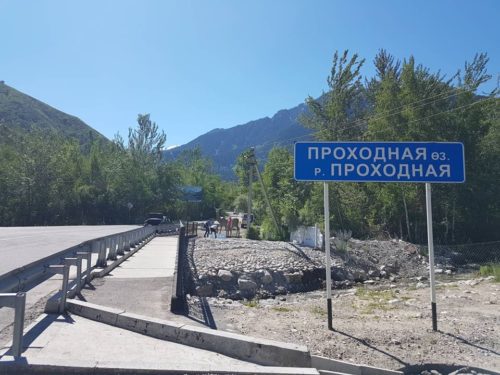 Hitchhike or take a mini-van from Kokshoky Village to Big Almaty Lake
You will need to get off the bus at the last stop, in a village called Kokshoky. When you get off the bus there will be a few mini-vans and taxis that will offer to take you to the lake. The tourist rate in a mini-van is 2,000 Tenge ($5.15) per person.  We both looked at each other and debated if to pay the price and get to Big Almaty Lake quicker. However, with a little hesitation, we decided to try the good old sticking out the thumb tactic.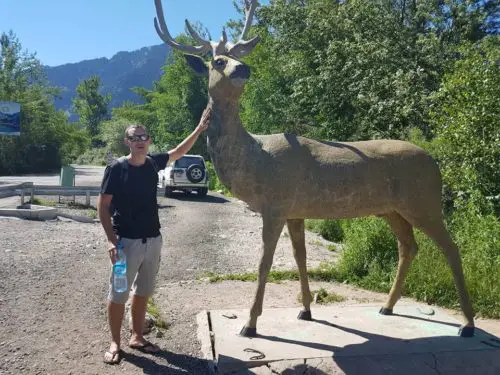 Hitchhiking to Big Almaty Lake
We walked 1 km up the road and found a nice spot to hitch our first 18 km ride in Kazakhstan. Quite a few cars passed by and did not attempt to stop; only a taxi driver who wanted to charge us 3,000 Tenge.
After around 10 minutes, another mini-van pulled over and offered to take us both for 2,000 Tenge. After a few whispers to each other, Jake whipped out a 1,000 Tenge note and asked the driver if he could take us both for 1,000. The driver gave us a look of hesitation for just a split second before waving us in.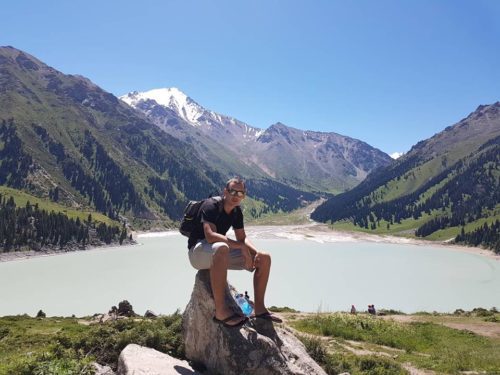 The roads on the way up are winding and steep. As we hung our heads out of the window and took in the towering pine trees, we couldn't help but feel glad that we weren't the two backpackers, we had just passed, hiking the full 18 km. YAY, the last leg to Big Almaty Lake was a success!
Arriving at Big Almaty Lake & entrance costs
Upon arriving at Big Almaty Lake, we were blown away by the beauty of the lake and the surrounding area. Trees tower over the lake for miles; which made the lake seem much smaller. The colour of the lake is a stunning light blue, and you could sit for hours just taking in the beauty. Much like the rest of the scenery in Central Asia, Big Almaty Lake did not disappoint. The best bit…the lake is completely FREE to roam around.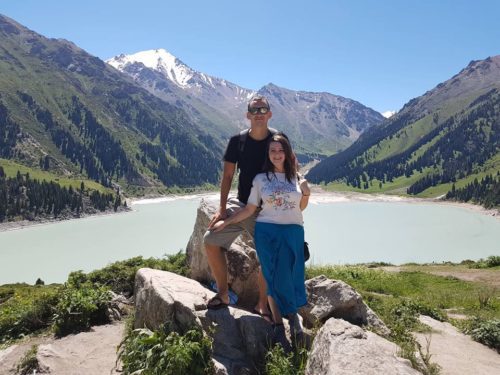 We spent about 2 hours at the lake; hiking down a steep hill, climbing on rocks for better views, taking photos and eating our packed lunch of chicken, pepper, and potatoes, that we had cooked the night before.
Heading back to Almaty City from Big Almaty Lake
Heading back from the lake seemed a little more difficult. By the time we had hiked back uphill and taken a 10-minute rest, more and more people had arrived waving around their selfie sticks. There were a few cars and two mini-buses parked up, but not one of them showed any signs of moving. So, we decided to start walking back down and sticking out our thumbs each time a car passed by.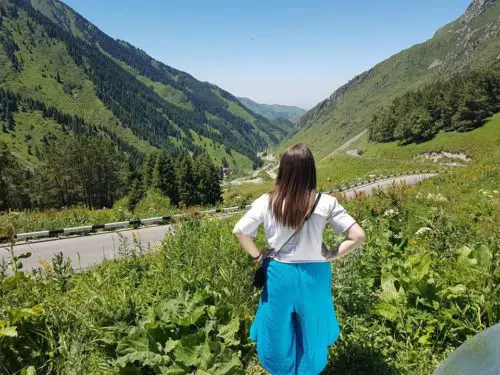 We walked for about 20 minutes before a young guy picked us up. He drove us about 10 km before dropping us off at a viewpoint and picking up his mates. 3 cars later we were back in Almaty City; just 200 meters from where we started our journey. What we anticipated to be a very long, tiring, and potentially expensive day to the lake turned out to be easy peasy, and we only spent 660 Tenge ($1.70) each on transport.
Enjoy hitchhiking? Consider hitchhiking through Japan to save on travel costs!
A quick summary of how to get to Big Almaty Lake
Make your way from your accommodation to President's Park.
Take bus 28 to Kokshoky Village: 150 Tenge without IC card or 80 Tenge with IC card.
Hitchhike/ take a mini-van to the big Almaty lake: Free – 1000-2000 Tenge.
Relax and eat lunch at the lake: FREE.
Hitchhike back to Kokshoky Village.
Take a bus back to your hostel or next stop in Almaty City: 80/ 150 Tenge
Note: If you're not comfortable with navigating your way there, then we suggest you book a tour. Unfortunately, cheap tours only leave at the weekends.
Where to stay in Almaty
Feeling luxurious: Renion Park Hotel – Modern style rooms that are well equipped with everything you need; sofa, TV, slippers, hairdryer and more! The hotel also has an indoor swimming pool for you to relax at the end of the day.
Budget private room: Interhouse Almaty – Has cosy home-style rooms and breakfast is served each day. Perfect for those on a budget, who like to spend time by themselves.
Dorm life: Almaty Central Hostel – Perfect for meeting other travellers! Highly rated and has a well-equipped kitchen for those who like to cook.
For more prices and deals on properties in Almaty, CLICK HERE.
Essential resources for travelling in Kazakhstan
Travel Insurance – No matter where you're travelling to, it's a good idea to make sure you're covered for any accidents or losses. We spent days and weeks searching for insurance, but most insurers would not allow us to take out a policy as we were already abroad. Our personal choice is Safteywing. You can opt for automatic monthly payments, just like a subscription. More importantly, it is available in 180 countries and can be purchased whilst already travelling. There is no cap on the duration of travel.
Visa – Before you travel to any country, make sure to check if you need a visa. iVisa is a fantastic website that is super easy and quick to use. Just type in where you are from. and where you are going. to check if you need a visa. If you do, you can quickly make an application online.
Accommodation – Booking.com is our go-to when looking to pre-book accommodation online. Booking.com tend to almost always have the best rates and a FREE cancellation policy for most properties.
Tours & Activities – If you want to book tours and activities online, make sure to check out Get Your Guide. Get Your Guide takes the stress out of booking activities abroad. You will also find a range of benefits, such as skip-the-line passes, lunch included in your tours, and so much more.
Travel tips ebook -Before you head off on your adventure, make sure to download our free ebook. It has a whopping 109 budget travel tips to help you make your hard-earned cash go further. Click here to download your FREE ebook.
Have more time in Kazakhstan? Check out our backpacking Kazakhstan itinerary.
Like this post? Pin it!