A trip to Kazakhstan isn't easy to plan with so many unknown places to see. Here you will find the ideal backpacking Kazakhstan itinerary of the main highlights, costs, and essential tips.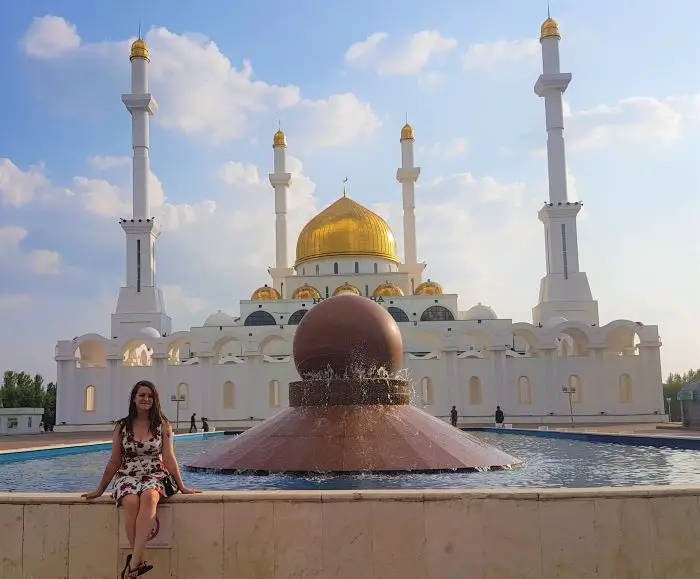 Disclosure: Untold Wanderlust contains affiliate links. If you click on these links and make a purchase, we will earn a small commission at no extra cost to you. You can find our full disclosure policy and privacy policy here.
Things to do in Kazakhstan and places to visit
Kazakhstan is a bizarre and fascinating country with plenty of opportunities to marvel at the architecture, go hiking in the world's most stunning landscapes, and relax by pristine lakes. This backpacking Kazakhstan itinerary will see you visit the incredible cities of Shymkent, Almaty and Astana, whilst also making plenty of trips out to nature paradises.
Things to do in Shymkent
If like us, you are entering Kazakhstan from Uzbekistan, then you are likely to end up in Shymkent. There isn't much to see in Shymkent itself, but many people come here to take a day trip to nearby Turkistan. Turkistan is famous for its mausoleums and underground mosque. Whilst we did have plans to visit, we got a little lazy and decided to skip it due to the similar architecture in Samarkand and Bukhara. However, if you are not planning on visiting Uzbekistan, then it's highly recommended that you check it out.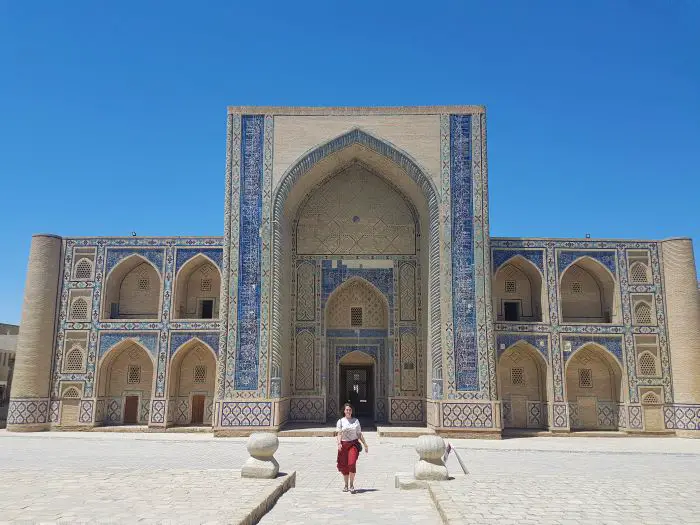 Where to stay in Shymkent
Feeling luxurious: Rixos Khadisha Shymkent – Elegantly decorated suites! Boasts an indoor swimming pool and fitness centre. Perfect for those who need a break from camping in Central Asia and are looking to pamper themselves.
Budget private room: Express City Hostel – Great Value for money! Breakfast is included and there are tea and coffee making facilities in the rooms.
Dorm life: House Hostel – A nice hostel that is located just outside of the centre but is well-connected by many buses. The owner is helpful, and the rooms are well-kept.
For more prices and deals on properties in Shymkent, CLICK HERE.
Shymkent to Almaty
From Shymkent head to Kazakhstan's former capital; Almaty. Almaty is a modern city and even has a metro station to get around. Like most cities in Central Asia, there isn't much to see in the city itself but there are some nice parks and gardens to stroll around. The real beauty of Kazakhstan lies just outside of the city. Almaty is the perfect base to make day trips from.
Almaty places to visit and tours from Almaty
Big Almaty Lake
Big Almaty Lake should be on anyone's radar when in Kazakhstan. It's easy and cheap to get to and you can reach the nature and lake in no time. To read how to get there in more detail check out our Big Almaty Lake post.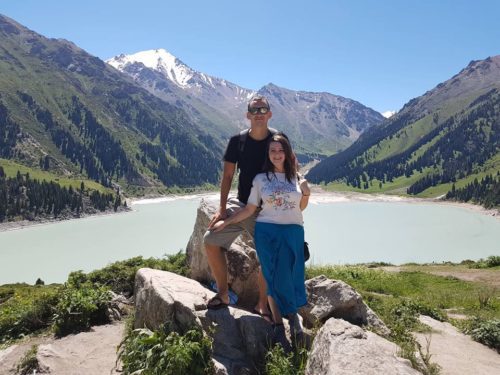 Charyn Canyon
Charyn Canyon is probably Kazakhstan's greatest attraction and is located just a 3 to 4 hours' drive away from Almaty. The canyon spans over 90 km and is over 30 million years old. The best way to get there is by an organized tour on the weekend. The cheapest price we found was with Kaz tours at 4,500 Tenge ($11.58) for a day trip. If you choose to go in the week you will need to either spend a lot of time on public transport, or lots of money on a private taxi.
To get there using public transport you will need to take a bus from Sayhat Bus Station in Almaty heading for Kegen (you will need to ask the driver to stop before then at the turning for the canyon). From there you will need to find a shared mini-bus or hitch a ride. In total, you will probably end up spending the same as going on an organized day tour from Almaty at the weekend.
Kolsai & Kaindy lake
Another trip you can make from Almaty is to the stunning Kolsai and Kaindy Lakes. You can get here by going on an organized tour for 2 days, or by making your way there through a combination of public transport and hitchhiking.
For more information on Almaty check out this Almaty guide.
Where to stay in Almaty
Feeling luxurious: Renion Park Hotel – Modern style rooms that are well equipped with everything you need; sofa, TV, slippers, hairdryer and more! The hotel also has an indoor swimming pool for you to relax at the end of the day.
Budget private room: Interhouse Almaty – Has cosy home-style rooms with breakfast served each day. Perfect for those who want time to themselves who are on a budget.
Dorm life: Almaty Central Hostel – Perfect for meeting other travellers! Highly rated and has a well-equipped kitchen for those who like to cook.
For more prices and deals on properties in Almaty, CLICK HERE.
Things to do in Astana
Last on this Kazakhstan backpacking itinerary is Astana. Take an overnight train from Almaty to Kazakhstan's newly formed capital, which is just 20 years old. There isn't much to do activity-wise in Astana, but it's a cool city to roam around. It's like stepping into a futuristic city! We like to think of Astana as a city of many shapes due to all of the cool buildings that are dotted around. Astana is also filled with nice cafés and bars; perfect for relaxing and catching up on the blog.
Looking for more things to do in Kazakhstan? Check out these 13 best things to do.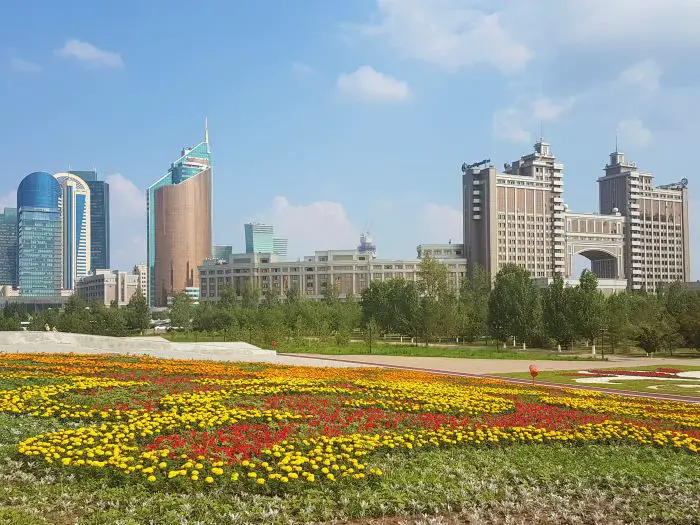 Where to stay in Astana
Feeling luxurious: Hotel Duman – Spacious rooms with excellent facilities. The hotel has a large indoor swimming pool, bowling alley and restaurants! Great for those who don't want to stray too far from the hotel!
Budget private room: Hotel Inju on Braeva 9 – Cozy double rooms! Great for couples that need some relaxing time away from the hostel life. The hotel is next to a bus stop, making it easy to get around.
Dorm life: Elite Hostel – Clean and modern 4-bed dorms. It's a nice place to stay for such a cheap price. It also has a kitchen and is surrounded by shops and restaurants.
Cost of this backpacking Kazakhstan itinerary
Currency: The local currency is Tenge. The exchange rate is 388 Tenge to $1. ATMs are widely available in all the major cities, so there is no need to bring tons of cash with you.
Daily budget: We originally budgeted $30 per day for the two of us. However, accommodation in Kazakhstan turned out cheaper than we had anticipated, and in the end, we averaged $22 per day for the two of us. NOTE: This budget does not include a trip to Charyn Canyon or a trip to Kolsai Lakes.
Accommodation: Accommodation is very cheap in Kazakhstan. We stayed in dorms during our trip. A bed in a dorm averaged $3.50 per night.
Food & drink: Food and drink are relatively cheap. It cost us around 2,000 Tenge ($5.15) per day to buy ingredients from the supermarket, which would last for 3 meals each. Meals consisted mainly of rice, pasta, sauce, veg and potatoes. A large bottle of water costs around 120 Tenge ($0.31).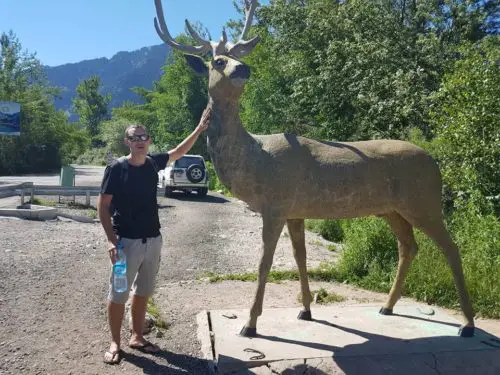 Transport: Buses are relatively cheap. A bus ride in Almaty is 150 Tenge ($0.39), or 80 Tenge ($0.21) if you use the Unified transport card. You can buy these cards from one of the small kiosks for 500 Tenge ($1.29), and then top up the card at the many top-up stations around the city. Buses in Astana cost 90 Tenge ($0.23) per ride.
For transport across the country, we recommend using the trains. Prices vary depending on the train and which type of seat you choose. Whatever you do, make sure to book in advance as seats and beds fill up quickly.
Activities: For an easy time in Kazakhstan, the only way to see the beauty of this country is to take organized tours. Tours to places outside of Almaty are cheap if you choose to go at the weekend, but in the week, they are very expensive.
Backpacking Kazakhstan travel tips
Book trains in advance – Trains fill up quickly, so we fully recommend booking online beforehand as far as a couple of weeks before you want to travel.
2GIS app -Download the 2GIS app; it's a lifesaver. Trust me! It shows you the map of the city and you can input your location and where you want to go. The app will then show you how to get there and which bus you need to catch.
Tours at the weekend – Try to take tours at the weekend as they are 10 times cheaper than going in the week. Do your research on the tour companies as some are a lot cheaper than others.
Unified transport card – Buy the bus card in Almaty. The card will save you quite a bit of cash. You can buy the bus cards at the small kiosks for 500 Tenge ($1.29).
Don't drink the tap water – The tap water in Kazakhstan is not edible like it is in Kyrgyzstan. Avoid it by buying bottled water, or investing in a steri-pen.
Know some interesting facts before you go – Before you head on your adventure through Kazakhstan, geek out and read up on some interesting facts about Kazakhstan before you go.
Essential resources for travelling in Kazakhstan
Travel Insurance – No matter where you're travelling to, it's a good idea to make sure you're covered for any accidents or losses. We spent days and weeks searching for insurance, but most insurers would not allow us to take out a policy as we were already abroad. Our personal choice is Safteywing. You can opt for automatic monthly payments, just like a subscription. More importantly, it is available in 180 countries and can be purchased whilst already travelling. There is no cap on the duration of travel.
Visa – Before you travel to any country, make sure to check if you need a visa. iVisa is a fantastic website that is super easy and quick to use. Just type in where you are from. and where you are going. to check if you need a visa. If you do, you can quickly make an application online.
Accommodation – Booking.com is our go-to when looking to pre-book accommodation online. Booking.com tend to almost always have the best rates and have a FREE cancellation policy for most properties.
Tours & activities – If you want to book tours and activities online, make sure to check out Get Your Guide. Get Your Guide takes the stress out of booking activities abroad. You will also find a range of benefits, such as skip the line passes, lunch included in your tours, and so much more.
Travel tips ebook -Before you head off on your adventure, make sure to download our free ebook. It has a whopping 109 budget travel tips to help you make your hard-earned cash go further. Click here to download your FREE ebook.
Make cash on the road – If you're on a long trip, you may want to start earning whilst on the road. One way to do this is to teach English online. One of our favourite companies for this is Palfish, as the schedule is super flexible. You can open and close slots, as and when you choose, meaning you don't have to commit to the same days and hours each week. Just make sure you are TEFL certified to apply!
We hope this backpacking Kazakhstan itinerary has helped kick-start your trip. This itinerary takes in the best that Kazakhstan has to offer in all of the major cities. So, book that flight and let your Kazakhstan adventure begin.
Have you visited Kyrgyzstan yet? If not, it's right next to Kazakhstan and it's the perfect place to delve deeper into the Central Asian culture. Check out our backpacking Kyrgyzstan guide here.
Like this post? Pin it!