Cholpon-Ata was our first stop into the wilderness of Kyrgyzstan, after spending a few days in Bishkek. We were super excited to finally be surrounded by nature and to see Kyrgyzstan's famous Issyk Kul Lake. After reading a few articles on Kyrgyzstan, we initially thought that Cholpon-Ata did not have much to offer. But we couldn't have been more wrong!  We spent 3 full days in Cholpon-Ata and found so much to see and do here. Here are 10 awesome things to do in Cholpon-Ata.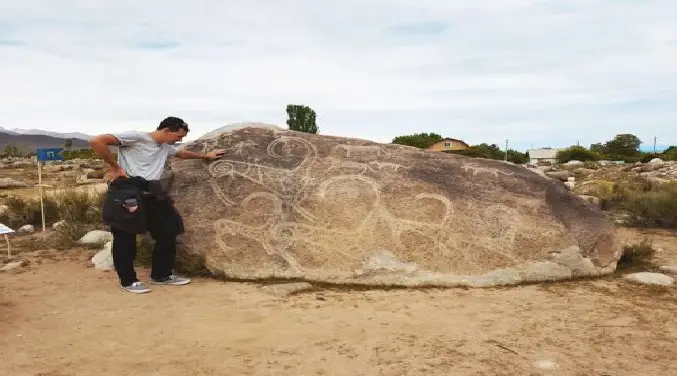 Disclosure: Untold Wanderlust contains affiliate links. If you click on these links and make a purchase, we will earn a small commission at no extra cost to you. You can find our full disclosure policy and privacy policy here.
Things to do in Cholpon-Ata Day 1
Visit the Historical Museum
The Historical Museum has many traditional Kyrgyz items, such as relics dating back to the 10th century, artefacts, and ancient weapons. The museum is a great way to learn about Kyrgyzstan's history. The cost to enter the museum is 80 Som ($1.15). There is also an extra charge of 50 Som ($0.72) for phones or cameras.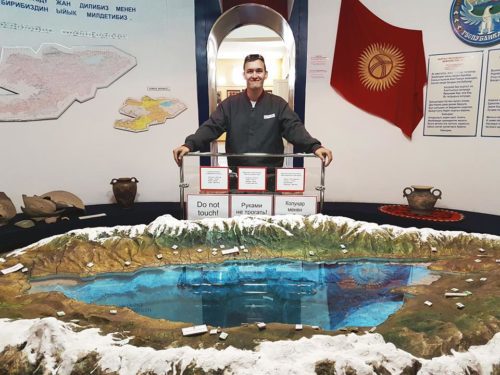 Shop at Cholpon-Ata Market
After visiting the museum, take a taxi to the bazaar, which is located just a 10-minute drive from the Historical Museum. We managed to get a taxi for 50 Som ($0.72). Get a feel for true local life by wandering around the market stalls. The locals will be surprised to see you and will want to show you what they are selling. Fruit and veg are relatively cheap, so pick a few bits up to tuck into later.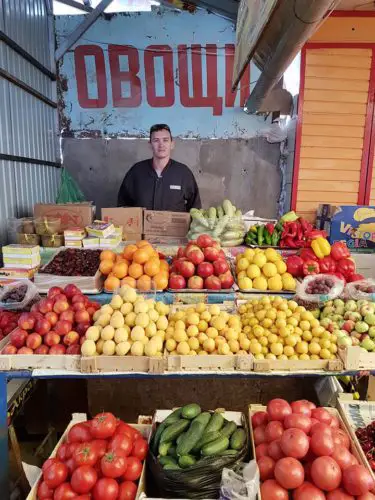 Play aeroplanes at the abandoned runway
Abandoned places always spark the curiosity of people, whether that be the abandoned water park in Hue or Chernobyl in Ukraine. So, when we heard there was an abandoned runway, we had to check it out. After wandering around the market, head out and on the left-hand side of you is the abandoned airport runway. It's cool to walk along the completely deserted airport runway, whilst admiring the snow-capped mountains in the distance. And the best bit is that it's completely FREE!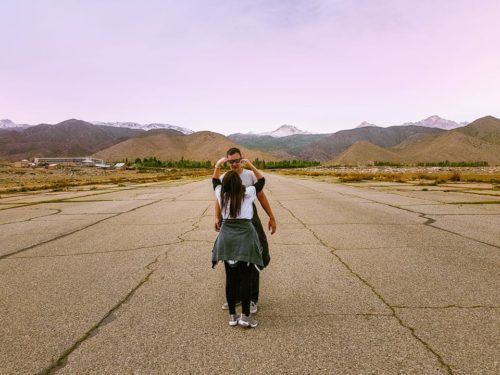 Visit the Cholpon-Ata Petroglyphs
After walking for around 2 km up the abandoned runway, you will find the entrance to Cholon-Ata Petroglyphs on your right-hand side. The huge field has many boulders that depict drawings and carvings of humans and various animals on them. Some of the carvings date back to 2,000 BC. Pretty impressive! In winter, it's free to enter the grounds of the petroglyphs, but in the summer, there is a charge of 50 Som ($0.72). Be aware of locals that hang around the area, posing as entrance officials.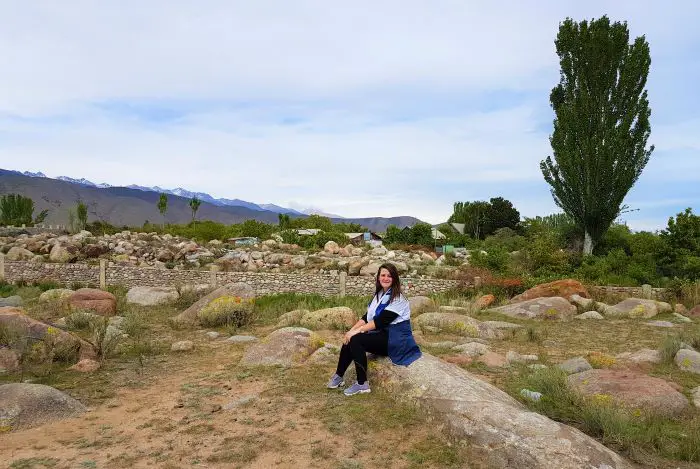 Cholpon-Ata Hippodrome
After admiring the artwork on the boulders, take a taxi or marshrutka to the hippodrome. Unfortunately, we were just a few months too early in seeing the World Nomad Games that are held every 2 years at the Hippodrome. Nevertheless, it's still worth a visit to see the stadium whilst you're in Cholpon-Ata.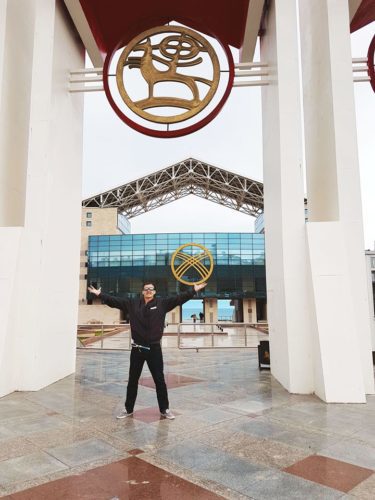 See unique chapels at Ruh Ordo Cultural Center
Finally, on your way back to your hostel, stop off at Ruh Ordo Cultural Center. Here you can learn about the history of the world. What makes the cultural centre unique are the 5 chapels that represent the world's 4 main religions. The cost to enter is 400 Som ($5.73).
Things to do in Cholpon-Ata Day 2
Watch eagle hunting in Kyrgyzstan
During our time in Cholpon-Ata, we stayed at Apple Hostel. The owner of Apple Hostel kindly arranged for us to see a famous Eagle Hunter that lives around 15 km from Cholpon-Ata. To get there, you can take a marshrutka (30 Som/ $0.43) from along the main road heading towards Karakol. You need to get off when you reach Komsomol Village, which is just past Bosteri Village. When you get off, you will need to ask around for the local eagle hunter. Locals know where he lives and will be able to take you to him for a small fee (50 Som/ $0.72). Visiting the eagle hunter and watching the fake hunting scenario turned out to be one of the highlights of our time in Cholpon-Ata. Just like feeding deer in Nara, Japan, is a top attraction, watching eagles hunt in Kyrgyzstan is the equivalent.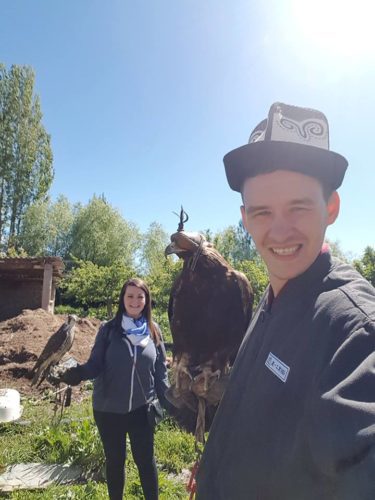 Spot snow leopards at NABU Rehabilitation Center
From Komsomol Village, hop back on a marshrutka going towards Karakol (50 Som/ $0.72), and get off when you reach Ananyevo Village. Here you will find a few shops and a small market to buy lunch. Afterwards, jump in a taxi and ask to go to the Snow Leopard Rehabilitation Center. As English is not widely spoken in Kyrgyzstan, we recommend using a translator app or at least an image on your phone.
We paid 500 Som ($7.16) for a taxi to take us there and then back to Ananyevo Village. The rehabilitation centre is located up in the mountains on a bumpy dirt path. The drive took around 30 minutes. The NABU Rehabilitation's website states that you need to call in advance, but we just showed up and a young man showed us around. Using his little English, he tried his best to give us some information. The centre is home to 3 snow leopards, a Lynx and some injured eagles, all of which are there to be taken care of due to injuries. Unfortunately, we were not allowed to take pictures.
Relax at Chong Oryuktyu Hot Springs
AHHH, time to relax! After visiting the snow leopards, jump back on the marshrutka (30 Som/ $0.43) to the hot springs. You will need to get off at Chong Oryuktyu and follow the well-posted signs to the hot springs, which are 1.5 km away. After a jam-packed two days, it's time to relax and cleanse your body in the hot springs that are surrounded by snow-topped mountains. The cost to enter the hot springs is 200 Som ($2.86) for 2 hours. Totally worth it!
BBQ on Issyk Kul Lake beach
Finally, take a marshrutka back to Cholpon-Ata. The cost is 100 Som ($1.43). When you arrive back in Cholpon-Ata, head to the supermarket to pick up some food to cook on a BBQ that you can borrow from Apple Hostel. Take your BBQ to the beach and enjoy food and drinks during sunset over Issyk Kul Lake. It's the perfect way to end your time in Cholpon-Ata.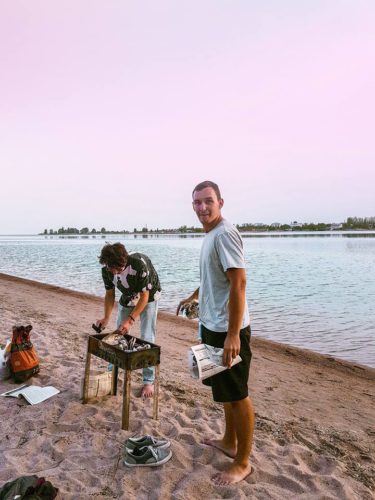 Where to stay in Cholpon-Ata
We stayed at Apple Hostel, which we would fully recommend! The rooms are cosy and have just 4 beds in each room. There is also a kitchen to cook and to socialize with fellow travellers. The hostel is well located across the road from the Historical Museum and a small supermarket.
If you fancy staying in Cholpon-Ata for a while, then there are volunteer opportunities at Apple Hostel. The hostel is usually run by volunteers only. Volunteering is a great way to see the area and gain some work experience whilst on the road. If this tickles your fancy, contact Aigul (the owner) for more information at +996553280881. She is also available on whats-app. You can also contact her via email at [email protected]
For more prices and deals on properties in Cholpon-Ata, CLICK HERE.
Essential resources for travelling in Kyrgyzstan
Travel Insurance – No matter where you're travelling to, it's a good idea to make sure you're covered for any accidents or losses. We spent days and weeks searching for insurance, but most insurers would not allow us to take out a policy as we were already abroad. Our personal choice is Safteywing. You can opt for automatic monthly payments, just like a subscription. More importantly, it is available in 180 countries and can be purchased whilst already travelling. There is no cap on the duration of travel.
Visa – Before you travel to any country, make sure to check if you need a visa. iVisa is a fantastic website that is super easy and quick to use. Just type in where you are from. and where you are going. to check if you need a visa. If you do, you can quickly make an application online.
Accommodation – Booking.com is our go-to when looking to pre-book accommodation online. Booking.com tend to almost always have the best rates and a FREE cancellation policy for most properties.
Tours & Activities – If you want to book tours and activities online, make sure to check out Get Your Guide. Get Your Guide takes the stress out of booking activities abroad. You will also find a range of benefits, such as skip-the-line passes, lunch included in your tours, and so much more.
Travel tips ebook -Before you head off on your adventure, make sure to download our free ebook. It has a whopping 109 budget travel tips to help you make your hard-earned cash go further. Click here to download your FREE ebook.
Looking for other places to visit in Kyrgyzstan? Check out our ultimate Kyrgyzstan itinerary.
Like this post? Pin it!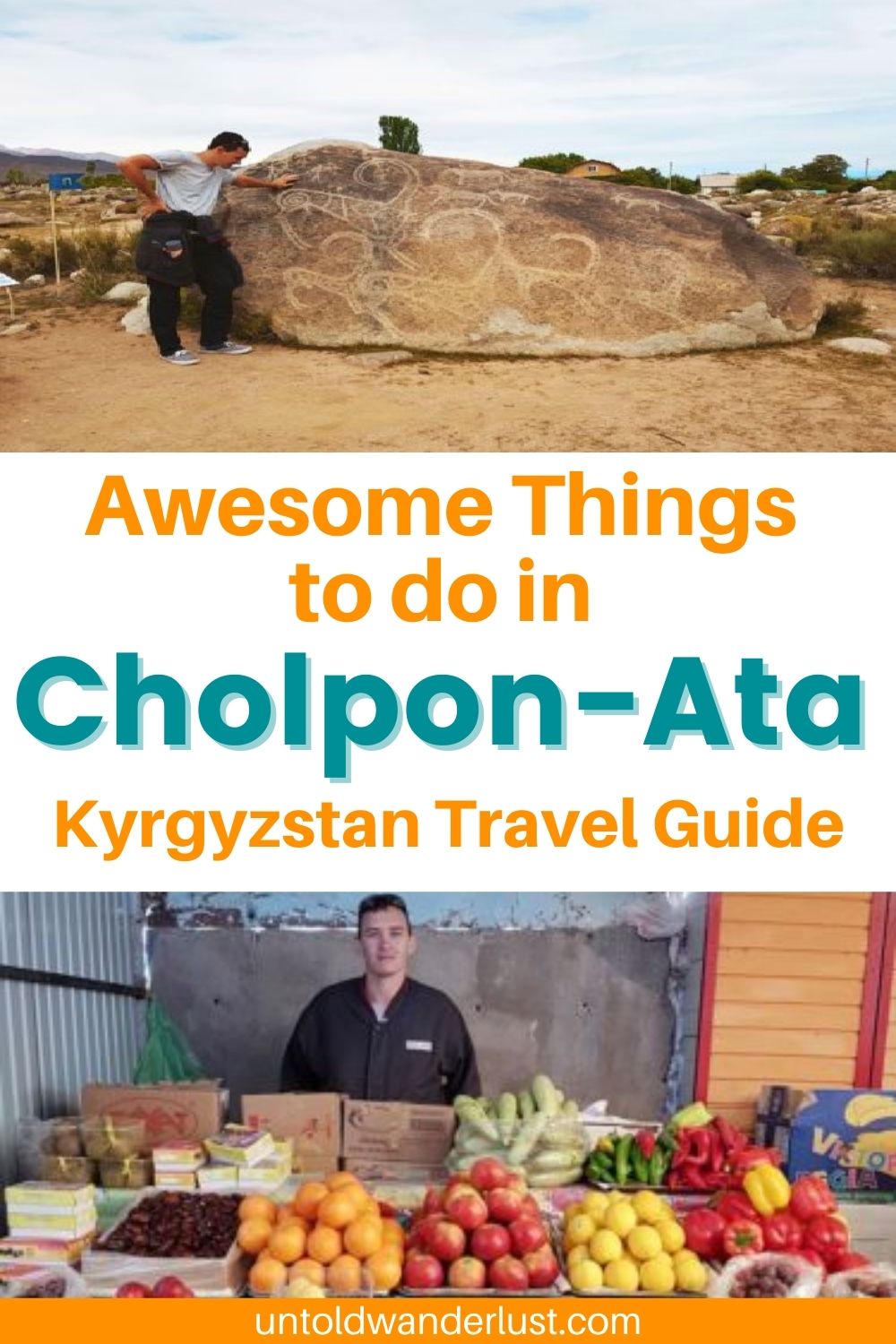 *We were hosted complimentary by Apple Hostel. All opinions are our own, based on our experience.*