Hong Kong backpacking itinerary! Here you can find the perfect itinerary for visiting Hong Kong on a budget. Hong Kong is a buzzin' country filled with skyscrapers, a mix of nature, and an infusion of cultures. Whilst it's often deemed as one of Asia's most expensive countries to travel to, you can easily see Hong Kong on a budget.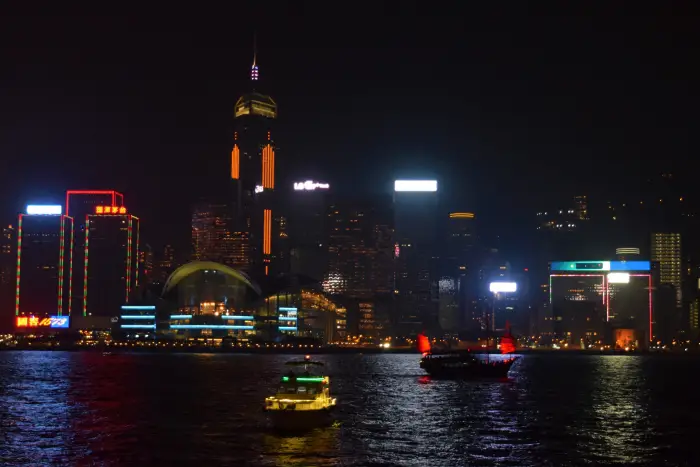 Disclosure: Untold Wanderlust contains affiliate links. If you click on these links and make a purchase, we will earn a small commission at no extra cost to you. You can find our full disclosure policy and privacy policy here.
How to get to Hong Kong
Flights to Hong Kong are relatively cheap from countries in Southeast Asia. We managed to bag a one-way flight for just $38 from Ho Chi Minh, Vietnam with VietJetAir. We recommend checking out Skyscanner for the latest deals and fares.
Once you arrive at Hong Kong airport, you have the option of taking a bus, train, or taxi to your accommodation. As this Hong Kong backpacking itinerary is all about being on a budget, we decided to take the bus, which is the cheapest option of the three.
The airport is well-connected by bus and you can easily reach the popular area of Tsim Sha Tsui. To reach Tsim Sha Tsui you can take the A21 bus line. A single fare costs only 33 HKD ($4.24) and the journey takes around 80 minutes. If you're heading back to the airport after backpacking in Hong Kong, buy a return ticket. You can return within 30 days and it works out cheaper than buying two single tickets.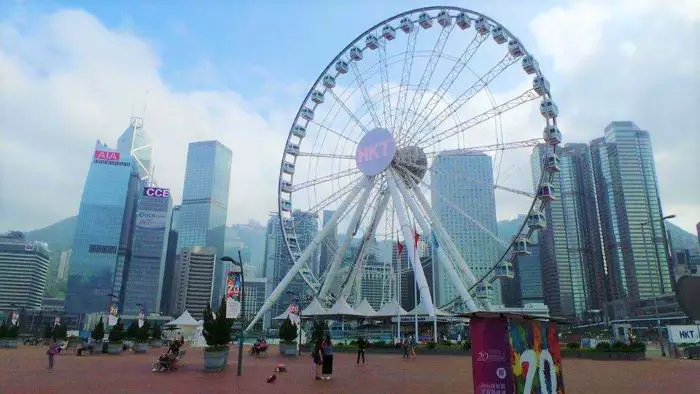 Things to do – Hong Kong backpacking
Hong Kong has so many things to see and do, making it one of the must-visit Far East travel cities. From glamorous light shows to statues of famous people such as Bruce Lee, you can easily pack out a couple of days of exploration. Below we have listed the must-see attractions for budget travellers.
Watch the Symphony of Lights & admire the skyline
The Symphony of Lights is a light show that takes place every night at 8 pm. The show is completely free, which is great for those visiting Hong Kong on a budget! Viewers can watch the light show from both Tsim Sha Tsui and Hong Kong island. Although, the view is better on the Tsim Sha Tsui side. The lights make the buildings pop and make for stunning pictures of Hong Kong's skyline.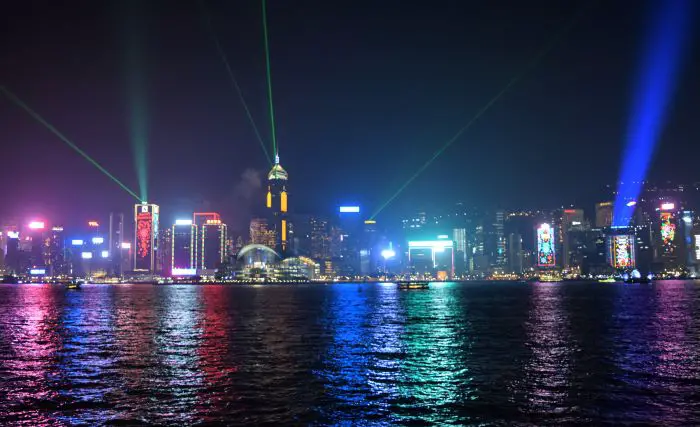 Explore Hong Kong Island by tram
Using public transport, is an essential practical tip for travelling in Hong Kong. The tram around the island is extremely cheap at just 2.30 HKD ($0.30) per ride. You can hop on and hop off the tram around the entire island. Sitting back and watching the busy life of the locals is a great way to spend an hour witnessing daily life in Hong Kong.
The cheapest way to reach Hong Kong Island from Tsim Sha Tsui is by taking the Star Ferry, which costs just 2.50 HKD ($0.32 one-way. The ferry takes just 5 minutes to cross the water.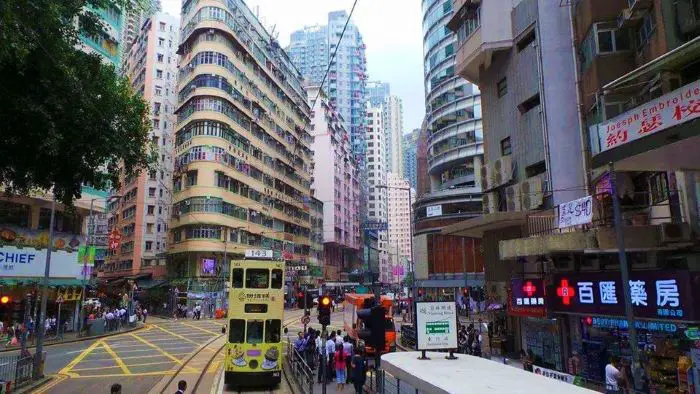 Ride on the world's longest escalators
The escalators are located on Hong Kong Island and span over 800 meters through the hillside. For more information about this cool attraction check out this ultimate guide!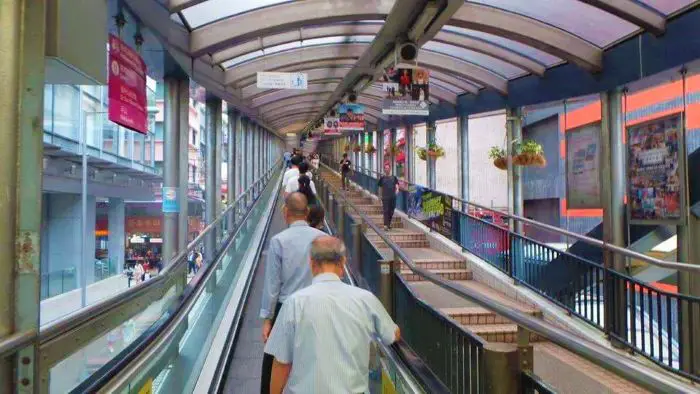 Relax in a park
Hong Kong has plenty of lush gardens to unwind. However, our favourite is Victoria Park; a little gem hidden away by all the towering skyscrapers. The park is a nice place to relax for a little while, whilst being surrounded by nature.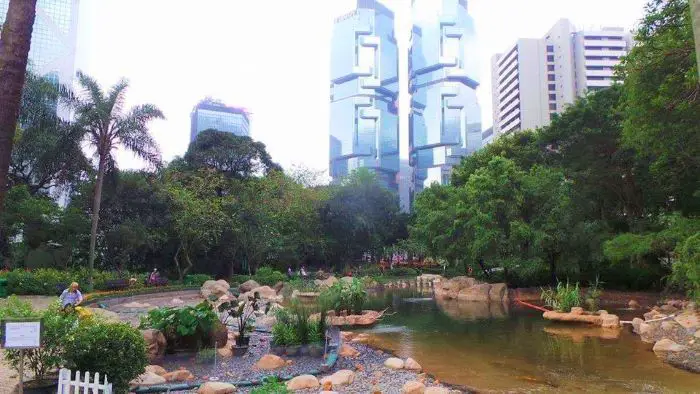 The Avenue of Stars
Visit the Avenue of Stars where you can find out about the famous people of Hong Kong. You will find statues and handprints of Hong Kong's most well-known stars; the most well-known being, the one and only, Bruce Lee.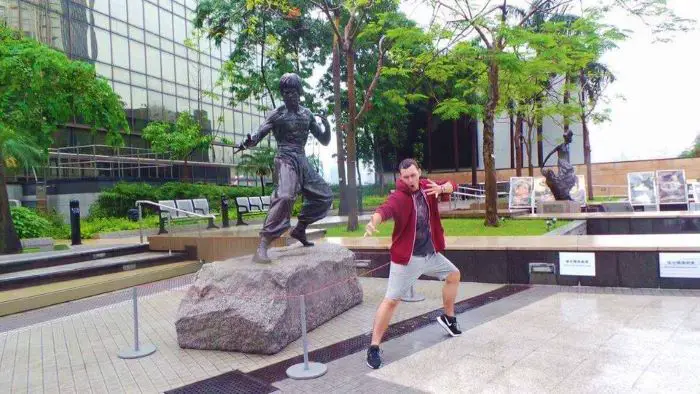 Lantau Island to see the Big Buddha & Po Lin Monastery
Unfortunately, on our trip, we didn't make it to Lantau Island, due to the ferry service being cancelled because of the weather. However, if you have time, it's highly recommended to check it out! To get to Lantau Island, you first need to get across to Hong Kong Island and then take a one-hour ferry ride from there. Once you reach Lantau, make sure to check out the main attractions, the Big Buddha statue and Po Lin Monastery.
Interested in other giant Buddhas? Make sure to check out the Giant Leshan Buddha in China.
Costs of Hong Kong backpacking
Currency: The local currency is the Hong Kong Dollar (HKD). The exchange rate is $1 to 7.78 HKD. Credit and debit cards are widely accepted at ATMs.
Daily budget: For this Hong Kong backpacking itinerary, we budgeted 500 HKD ($65) per day for two people.
Accommodation: There are plenty of reasonably priced rooms in Hong Kong. You can find cheap rooms for around $20 per night, but these are very basic.
Food & drink: The cost of a meal in a local eatery ranges from 40-60 HKD ($5.14 – $7.71). Water from Seven-Eleven is between 8-12 HKD ($1.03 – $1.54). However, if you want to splash out a little and tuck into other delicious meals, check out this post for some ideas of places to brunch in Hong Kong.
Transport: Transport is very cheap. For a 15-minute journey on a bus, expect to pay between 5-10 HKD ($0.64 – $1.29).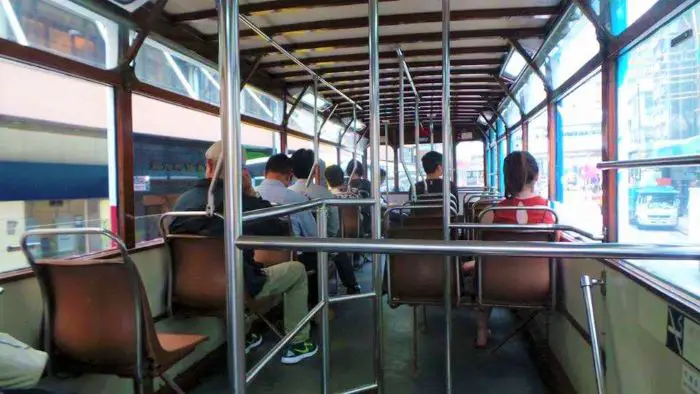 Recommended accommodation
Feeling luxurious: Hotel ICON – Has a rooftop pool overlooking the harbour. Perfect if you are after a luxurious stay in Hong Kong!
Budget private room: Tom's Guesthouse – A perfect little stay! This guesthouse provides private rooms with a bathroom. Whilst the rooms are very small, the rooms are super clean and boast comfy beds. A bonus is that tea and coffee are free for guests.
For more budget accommodation stay in Chungking Mansion. Chungking Mansion is a massive building that houses many hotels and guest houses at budget prices. The mansion spans over 17 floors, so there are plenty of cheap options to choose from. What makes this place perfect is its location to the shops, eateries and public transport.
Dorm life: Rainbow Lodge HK – Fantastic location! Near Tim Sha Shui and Chungking Mansion. The hostel has many types of rooms and beds to choose from for a range of different prices. 
For more prices and deals on properties in Hong Kong, CLICK HERE.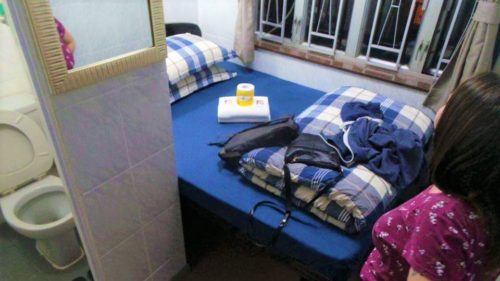 Hong Kong backpacking travel tips
Make use of public transport – Use the tram and buses to get around; they are cheap, efficient and will save you heaps on taxis. Public transport in Hong Kong is extensive and easy to use.
Fill up water bottles – No need to spend money buying water. Just fill up your water bottle at the many water fountains across the city. Unlike in other countries in Asia, the water in Hong Kong is completely fine to drink from the tap.
Exact money for public transport – Make sure to always have the exact amount of money for public transport. Drivers don't give change! Alternatively, you can buy a prepaid octopus card so you never have to worry about having the correct amount.
Expensive food – Hong Kong is generally an expensive place to travel, particularly for budget backpackers. Food in a restaurant will set you back a fair bit. However, eating street food will help you keep costs down.
More tips – Need more tips before you go to Hong Kong? Check out these 19 tips for first-time visitors.
Essential resources for travelling in Hong Kong
Travel Insurance – No matter where you're travelling to, it's a good idea to make sure you're covered for any accidents or losses. We spent days and weeks searching for insurance, but most insurers would not allow us to take out a policy as we were already abroad. Our personal choice is Safteywing. You can opt for automatic monthly payments, just like a subscription. More importantly, it is available in 180 countries and can be purchased whilst already travelling. There is no cap on the duration of travel.
Visa – Before you travel to any country, make sure to check if you need a visa. iVisa is a fantastic website that is super easy and quick to use. Just type in where you are from. and where you are going. to check if you need a visa. If you do, you can quickly make an application online.
Accommodation – Booking.com is our go-to when looking to pre-book accommodation online. Booking.com tend to almost always have the best rates and have a FREE cancellation policy for most properties.
Tours & activities – If you want to book tours and activities online, make sure to check out Get Your Guide. Get Your Guide takes the stress out of booking activities abroad. You will also find a range of benefits, such as skip the line passes, lunch included in your tours, and so much more.
Travel tips ebook -Before you head off on your adventure, make sure to download our free ebook. It has a whopping 109 budget travel tips to help you make your hard-earned cash go further. Click here to download your FREE ebook.
Make cash on the road – If you're on a long trip, you may want to start earning whilst on the road. One way to do this is to teach English online. One of our favourite companies for this is Palfish, as the schedule is super flexible. You can open and close slots, as and when you choose, meaning you don't have to commit to the same days and hours each week. Just make sure you are TEFL certified to apply!
We hope you enjoyed reading this Hong Kong backpacking guide, and we hope you feel ready to tackle the bustling streets of Hong Kong on a budget. Just remember, travel doesn't need to be expensive. Tick off the free things first, tuck into street food and use public transport.
Next stop? Head over to Macau to get a glimpse into the rich and famous casinos.
Like this post? Pin it!