Gorkhi-Terelj National Park is just a short 2-hour bus ride from the capital city of Mongolia, Ulaanbaatar. The national park is surrounded by lush green pine trees and nature. If you have just arrived in Mongolia after backpacking China, you may be craving some relaxation time, in which case Terelj National Park is the perfect spot for you! Or, if you have extra time in Mongolia after a tour with other people, then it is the ideal place to end your whirlwind of an adventure. With opportunities to hike in the day, ride around on horseback, and then curl up by a cosy fire in a ger at night-time, what better way to end your Mongolian journey!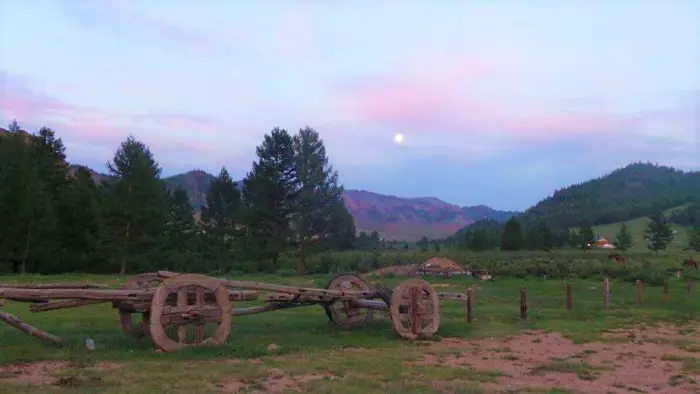 Disclosure: Untold Wanderlust contains affiliate links. If you click on these links and make a purchase, we will earn a small commission at no extra cost to you. You can find our full disclosure policy and privacy policy here.
Ulaanbaatar to Gorkhi-Terelj National Park by bus
From Ulaanbaatar, you can easily reach Gorkhi-Terelj National Park by bus. You will need to go to Peace Avenue and find the bus stop, which is directly across the road from the Narantuul Hotel. The bus costs 2,500 Tugrik, leaves at 4 pm, and takes around 2 hours to reach the national park. The bus will drop you off right at the foot of the national park entrance.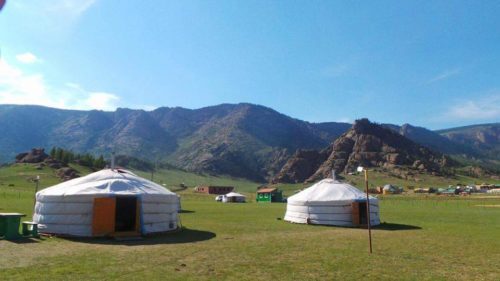 Terelj National Park ger camp
From the foot of the national park, you will need to find accommodation for the night. A ger camp at Terelj National Park is easy to find, so there is no need to worry too much. Alternatively, you can book a ger camp online before you arrive for peace of mind. We stayed in the ger camp right behind Turtle Rock. We paid just 40,000 Tugriks ($16), for 2 nights for both of us to stay in a ger by ourselves.
After a 2-week long trip through central and southern Mongolia, and sharing gers with our fellow travellers, this was a nice romantic break just for the two of us. After a day of exploring the national park, we hit the local shop, bought a few bars of Snickers and other snacks to munch on, got the fire crackling, and felt snug as a bug whilst playing cards in our homely ger.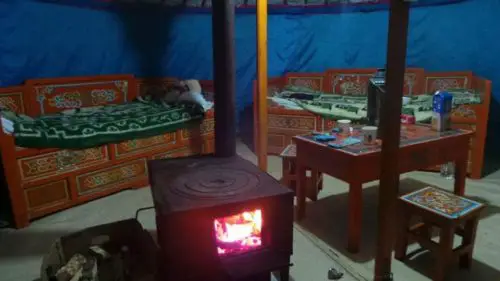 Self-guided Gorkhi-Terelj National Park tour
You can easily explore the national park on foot! After 2 weeks of getting up early and travelling around in a van through central Mongolia, we decided to take it easy. We opted to sleep past 10 am. We took our time eating breakfast and getting ready. By which point the sun was shining, the air crisp! After filling up on a bowl of noodles, we were ready to get our hike on. Here are a few of the hotspots of Terelj National Park.
Turtle Rock Terelj
Firstly, we checked out Turtle Rock, which you guessed it…it's a rock formation that is shaped like a turtle. Turtle Rock is difficult to miss, as it is right at the national park entrance and right next to the shop. The rock formation is fascinating, and if you feel like it, you can even hike up the rocks. Just make sure to wear suitable footwear to prevent you from slipping and falling.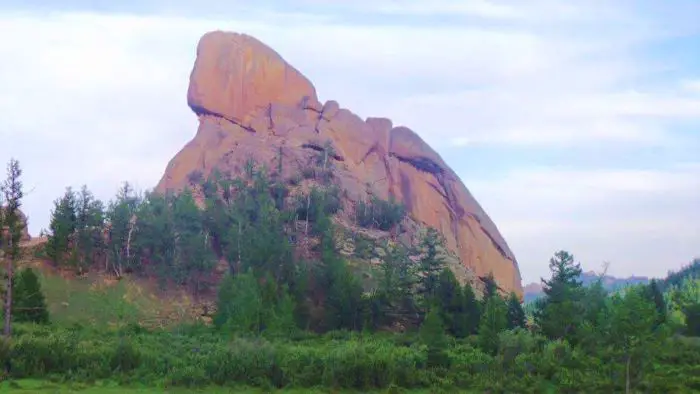 Aryabal meditation monastery
If you continue to hike along a dusty path for about 40 minutes, you will eventually reach Arayabal Monastery. The monastery is unique, as it clings to granite cliffs. The area around the monastery is considered one of the most beautiful spots in Terelk National Park, surrounded by scenic valleys and twisting rivers. The temple was originally built in 1810 but was restored and reopened in 2006.
Horse riding in Terelj National Park
What better way to end your trip than with a horse ride back to your ger? Feeling a little lazy to trudge back to our camp, we took a man up on his offer of a horse ride. A handful of men with horses, wait outside Aryabal Monastery ready to offer tired tourists a relaxing ride on their horses. The prices of horse rides vary depending on the season and length of the journey. Make sure to negotiate a price beforehand!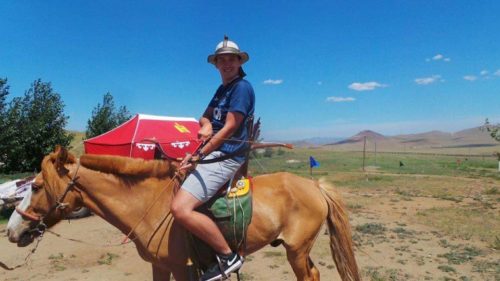 There it is, a nice relaxing cheap way to end your trip in Mongolia. As you can see, getting around Terelj National Park is very simple. A guide is not necessary to get around. Just hop on a bus from Ulaanbaatar, get cosy in your ger camp, hike through valleys and mountains, and relax surrounded by nothing but greenery and the sounds of birds chirping.
Essential resources for travelling in Mongolia
Travel Insurance – No matter where you're travelling to, it's a good idea to make sure you're covered for any accidents or losses. We spent days and weeks searching for insurance, but most insurers would not allow us to take out a policy as we were already abroad. Our personal choice is Safteywing. You can opt for automatic monthly payments, just like a subscription. More importantly, it is available in 180 countries and can be purchased whilst already travelling. There is no cap on the duration of travel.
Visa – Before you travel to any country, make sure to check if you need a visa. iVisa is a fantastic website that is super easy and quick to use. Just type in where you are from. and where you are going. to check if you need a visa. If you do, you can quickly make an application online.
Accommodation – Booking.com is our go-to when looking to pre-book accommodation online. Booking.com tend to almost always have the best rates and a FREE cancellation policy for most properties.
Tours & Activities – If you want to book tours and activities online, make sure to check out Get Your Guide. Get Your Guide takes the stress out of booking activities abroad. You will also find a range of benefits, such as skip-the-line passes, lunch included in your tours, and so much more.
Travel tips ebook -Before you head off on your adventure, make sure to download our free ebook. It has a whopping 109 budget travel tips to help you make your hard-earned cash go further. Click here to download your FREE ebook.
Psst…if you have more than 1 day at the national park, take a short trip to see the world's largest equestrian statue. The best part about this trip is that it's super cheap, as you don't need to book a tour.
Like this post? Pin it!