Planning a trip to South Korea? Here we have put together the ultimate backpacking South Korea itinerary! This itinerary will take you to the cultural city of Busan, through the stunning nature of Jeju island, and the temple filled Seoul. The itinerary is ideal for a 2-week break.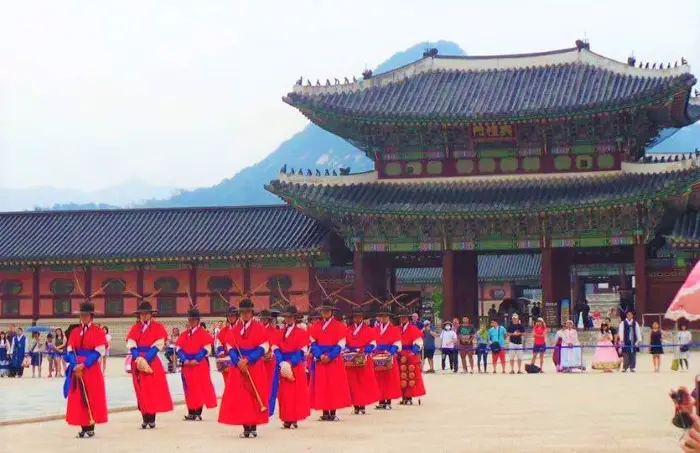 Disclosure: Untold Wanderlust contains affiliate links. If you click on these links and make a purchase, we will earn a small commission at no extra cost to you. You can find our full disclosure policy and privacy policy here.
Getting to South Korea
Before beginning your backpacking South Korea itinerary, it's important to first arrange a way to get there. Reaching South Korea is easy via a flight. We flew with Air Busan from Mongolia for $180, which was a bargain.
Backpacking South Korea route
This backpacking Korea guide will see you visit three popular cities in South Korea; Busan, Jeju Island and Seoul. These three places will give you a taste of everything and are the perfect starting point for first-timers to South Korea.
Busan backpackers travel guide
Busan, located in the South of the country, has it all; culture, delicious food, markets and beaches. But if you're pushed for time, we recommend spending no more than 3 days here. Below we have listed the essential things that you must see and do whilst in Busan. Alternatively, you may wish to take your time and spend more days in Busan, in which case we recommend you check out these awesome top 10 things to do and eat.
Gamcheon Cultural Village
Spice up your life with a splash of colour! Gamcheon Cultural Village is full of colourful houses built at the edge of a coastal mountain. This place is known as the "Machu Picchu of Busan". Tucked away around every narrow alleyway is a unique form of art. To get here take line 1 and get off at Toseong (stop 109). Then take bus number 1.1, 2 or 2.2. The bus takes around 10 minutes.
Entrance: Free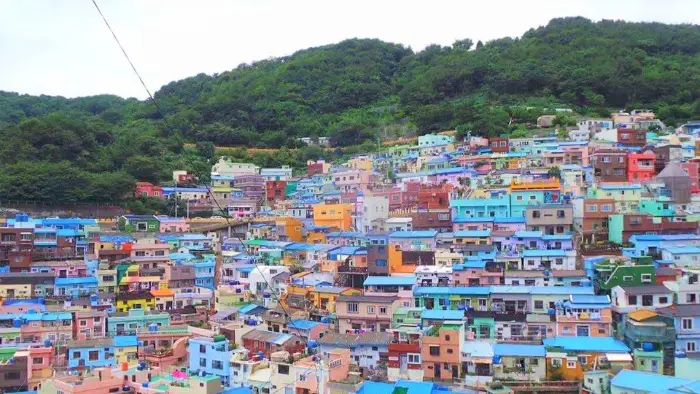 Dadaepo Beach
It's time to whip out the sun loungers and umbrellas. Put your sun cream on and head to Dadaepo Beach. The beach can get busy, particularly during the weekend, but it's a stunning beach that is great for relaxing and soaking up the sun. To get here take line 1 to Dapaeo Beach (stop 95), which is at the end of the line.
Entrance: Free
40-Step Cultural Theme Street
40 Step Cultural Theme Street is a 450-meter-long road that is dotted with sculptures and figures, that depict life post-war. The figures represent the hardship that poor people faced during the 1940s-1950s. To get here take line 1 and get off at stop Jungang (stop 112).
Entrance: Free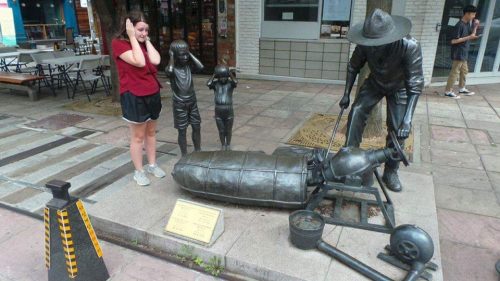 Biff Street & Gukje Market
Biff Street is a popular street lined with shops, bars and restaurants. It's the perfect place to visit during the early evening. The area is teeming with life. You can take time to enjoy the vibrant atmosphere and tuck into some delicious South Korean street food. Whilst you're in the area, make sure to pop by Gukje Market. The market is huge, and you can easily spend a couple of hours here, shopping until you drop, or eating until you can no longer stand. To get here take line 1 and get off at Jagalchi (stop 110).
Entrance: Free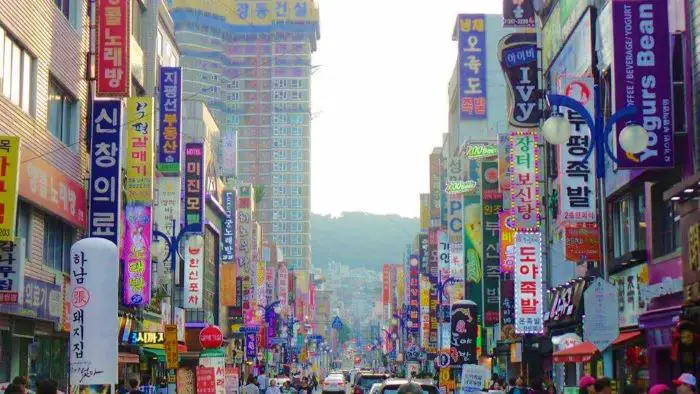 Where to stay in Busan
Feeling luxurious: Haeundae Grand Hotel – One of a few hotels in Busan that boasts a swimming pool. Great for couples who are looking for a bit of luxury.
Budget private room: Hotel 109 – Clean rooms with TVs, private bathrooms and balconies. A fab hotel that is set near the beach.
Dorm life: Uncle's Guesthouse – Offers both male and female dorms. Super cheap and highly rated!
For the latest prices of more properties in Busan, click HERE.
Jeju Island itinerary
For the next part of your South Korea trip, you will be hopping over to the beautiful Jeju island. Prepare yourself for plenty of waterfalls, greenery and stunning views. From Busan, you can either take a ferry or fly. We recommend taking a flight, as it's much quicker and costs a lot less than the ferry. Below we have briefly listed a few of the must-see things to do on Jeju Island. If you want a more in-depth guide on how to do all of the following activities on a budget, make sure to check out our Jeju Island on a budget guide.
Mount Sanbangsan
Take an enjoyable hike to the cave inside of a lava mountain! Look out at the stunning views across the glistening blue sea. There are also two colourful temples on the mountain, which are free to enter.
Entrance: 1,000 Won ($0.85)
Jusangjeolli Cliff
Watch the waves crash against the cliff edges that were created as a result of a lava eruption. The site provides breathtaking views of the coast. Jusangjeolli Cliff has even been compared to Giant's Causeway in Northern Ireland.
Entrance: 2,000 Won ($1.70)
Visit the 3 most popular waterfalls
The following three waterfalls are in the same location, just a very short walk from each other. All you need to do is follow the signs and let each of them take your breath away.
Cheonjeyeon Falls – Entrance: 2,500 Won ($2.12)
Cheonjiyeon Waterfall – Entrance: 2,000 Won ($2.12)
Jeongbang Falls; The only waterfall in Asia that falls directly into the ocean – Entrance: 2,000 Won ($1.70)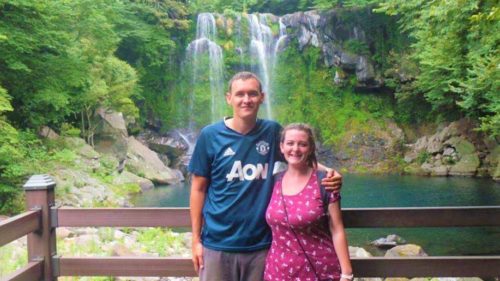 O'Sulloc Tea Museum
Are you a lover of all things tea? Pop by at O'Sulloc Tea Museum to watch the process of tea being made. Take the opportunity to sample some of the best flavours before you decide to purchase any. Once you have indulged in some fruity tea flavours, stroll around the gardens and go picture crazy.
Entrance: FREE
Manjang Cave
Ready to see something cool? Take a walk through a lava cave, that is home to the world's largest lava column. The cave is also the 12th longest lava tube in the world, at 8.938 km long.
Entrance: 2,000 Won ($1.70)
Seongsan Ilchulbong (Sunrise Peak)
If you love hikes, Jeju Island is the perfect place for you. But if you have limited time and had to choose only one or two hike routes, we recommend hiking Seongsan Ilchlbong, also known as the Sunrise Peak. As the name suggests, it is the perfect spot to watch the sunrise and sunset. So, make sure to combine your hike with the chance to see the sun lighting up the sky in luminous shades of orange and pink.
Entrance: 2,000 Won ($1.70)
Relax on one of the many beaches
This one is kinda obvious, but we will throw it in anyway. As Jeju Island, is of course island, there are plenty of spots for you to roll out your towel and enjoy the sand and sea. The coast is stunning, and you can easily enjoy a day or two at the beach.
Entrance: FREE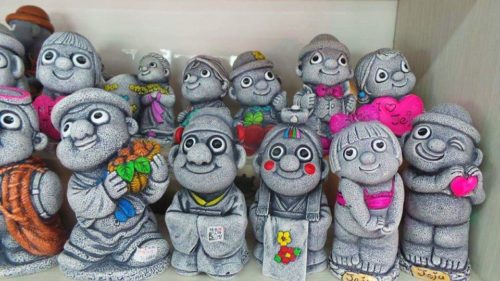 Where to stay on Jeju Island
Feeling luxurious: Grabel Hotel – Boasts Western and Korean-style rooms. There are an onsite swimming pool and a buffet restaurant.
Budget private room: Gudeok Guesthouse – Great for couples, and highly rated on booking.com. The guesthouse even serves American breakfast each day. The guesthouse also has a fully equipped kitchen.
Dorm life: You&I Guesthouse – Great value for money, and a fab way to meet other travellers. The dorm rooms are clean and comfortable.
For the latest prices of more properties on Jeju Island, click HERE.
Seoul itinerary
From Jeju Island, fly to South Korea's vibrant capital, Seoul. A flight to Seoul takes just under 1 hour. Once you land in Seoul, be prepared for a jam-packed time. If you only have 2 days in Seoul, make sure to check out this awesome guide on how to see Seoul in 2 days on foot!
DMZ tour
A trip to the DMZ, the border of North Korea, is a must whilst in Seoul.  The price of the tour varies depending on the type of tour and the company you go with. There is so much we can learn from the tragic events of a country, families and cultures being split apart. The ongoing struggle between the two countries is compelling to witness with your own eyes. During this trip, you will even have the chance to get a glimpse into life in North Korea. We found this super cool but also kind of creepy at the same time. Make sure to book in advance, as you don't want to be left feeling disappointed if the tours are fully booked! It's best to book 5 days ahead. For more information about the DMZ tour and which company NOT to go with, take a look at our DMZ post.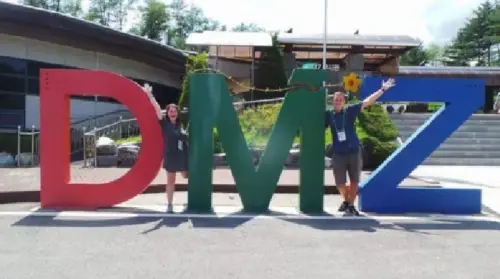 Gyeongbokgung Palace
Visit the palace and witness the daily changing of the guards. The performance lasts 20 minutes and is FREE to see. To get to the palace take line 3 and get off at stop Gyeongbokgung. Throughout the day, you can witness the traditional event of the guards changing duty. The guards are dressed in traditional colourful robes, whilst they perform fascinating movements to traditional Korean music; so be sure to have your camera at the ready! Not only that, but the palace setting is also picturesque with rugged mountains in the background.
Entrance to inside the palace: 3,000 Won ($2.54)
National Palace Museum
After exploring the palace, head over to the museum which is located right next door. Here you can see over 40,000 artefacts, some of which are royal treasures. The items date back to the Joseon Dynasty.
Entrance: Free
War Memorial Museum
Soak up the history of the Korean War. The museum is extremely informative and perfect for history sponges. To get here take line 4 and get off at stop Samgakji.
Entrance: Free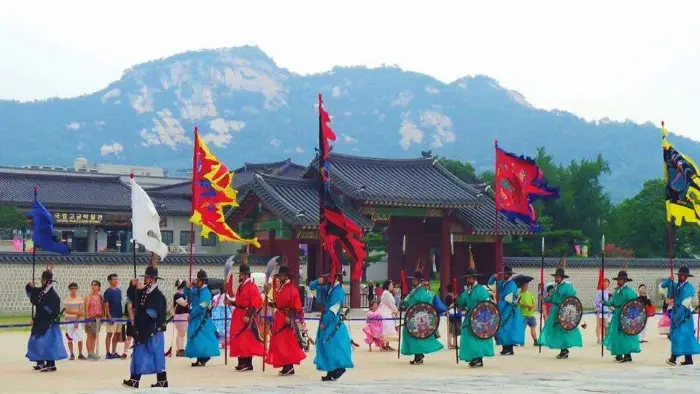 See a Baseball Match
In the evening, grab a bag of fried chicken and a pint of lager, kick back and enjoy an atmospheric baseball game. As two Brits, we had never seen a live baseball game before, and even though we didn't quite understand the rules, we had a blast anyway. Each player had a catchy song that the crowd would sing when it was their turn to hit the ball. This was pretty fun, as by the end of the night we were able to sing a bit of Korean. As well as watching the baseball game there is fun entertainment in the form of cheerleaders and dancers, that perform quirky dances and hype up the crowd. Seoul was the perfect place to experience our first-ever baseball game! We attended a game at Jamsil Stadium, located along lines 9 and 2 at the sports complex stop.
Entrance: 12,000 – 20,000 Won ($10.17 – $16.95), depending on the seat.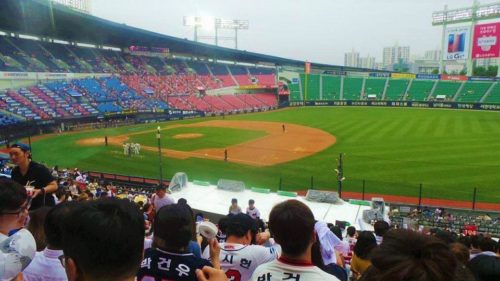 Hang out in the Hongdae neighbourhood
There are plenty of things to do in Hongdae. The area is filled with shops, eateries and entertainment. The vibe is lively and everything that you would expect Korean streets to look like. You will also see many street performances by young students. The area is located along line 2 of the monorail.
Entrance: Free
Go on a foodie adventure
Sampling delicious Korean food is a huge part of a trip to South Korea. Everyone we know who has been, and all of the blogs we read online would always boast about how amazing the food in Korea is. From Bibimbap to Bulgoki, Korea has it all. Korean food is largely based on rice, meats and lots of veg. Our personal favourite part of the food is cheese. Melted cheese on top of the rice is mouth heaven. With so many grills, food stalls and ordinary restaurants lining the streets of Seoul, you are certain to find something to satisfy your taste buds.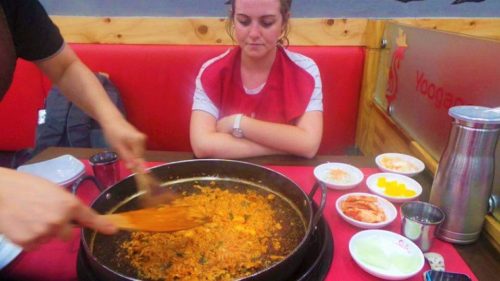 Seodaemun Prison
A former prison that is now a museum. The museum pays tribute to those who defended their country during war times. The prison is located at the Dongnimmun stop on line 3.
Entrance: 3,000 Won ($2.54)
Insa-dong area
An upmarket area that is teeming with eateries and shops. It's a great place to dine and spend the evening. To get here take line 3 and get off at stop Anguk. This is where the young hip action is at. Take some time to wander the streets, and you will be sure to find unique shops filled with unique trinkets. It's highly likely you will also stumble across aspiring boy/ girl bands that are performing their songs or cool dance routines. If they're not on TV, you will surely find them knocking some shapes out in the street with a crowd surrounding them.
Entrance: Free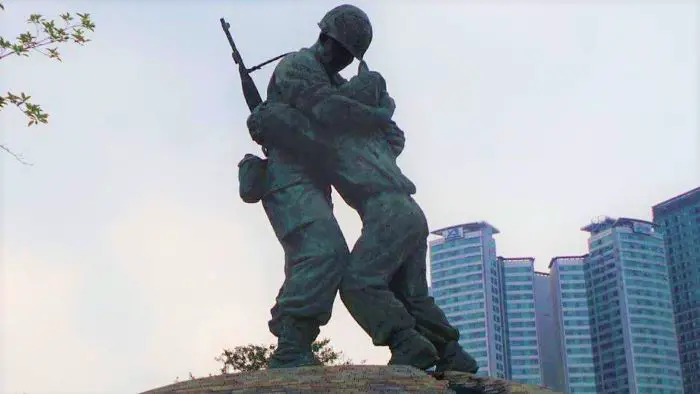 Where to stay in Seoul
Feeling luxurious: Royal Hotel Seoul – Has excellent reviews. The property has spa and wellness services for you to end your trip in style.
Budget private room: Coups Hotel – Clean, modern rooms. The hotel is located just a 10-minute walk away from Changgyeonggung Palace and has excellent metro links.
Dorm life: Itaewon Inn – Basic but super cheap and has great metro links. This place is perfect for travellers on a budget.
For the latest prices of more properties in Seoul, click HERE.
Cost of backpacking South Korea
Currency: The local currency is the Korean Won. Currently, the exchange rate is 1,180 Won to $1.
Daily budget: $45 per person per day. This should cover the cost of accommodation, food and drink, and cheap activities and attractions.
For more tips on ways to handle your money & budget whilst on the road, click here!
Accommodation: The average cost for a basic double room, with a private bathroom is $20-35.
Food and drink: A meal at a regular restaurant ranges from 6,000 – 11,000 Won ($5 – $9). Water at a shop costs 800 – 1,000 Won ($0.70 – $0.85).
Local public transport: South Korea has an extensive metro system. The starting price of a ticket within the city is around 1,300 Won ($1.10). Prices for the buses also start at the same price.
Across-country transport: For the above itinerary, you do not need to take trains or buses across the country. Instead, we recommend flying, as it's much quicker and cheaper.
Backpacking South Korea travel tips
Make use of the metro system – One of the most important things to know about South Korea is that public transport is super-efficient. Make sure to use the metro as it's an easy, convenient, and cheap way to get around.
Try lots of foods – South Korea is known for its cuisine among travellers. Take the opportunity to get your taste buds watering. Kimchi, Bulgogi and Bibimbap are just to name a few.
Sharing meals is not allowed – This is quite annoying, particularly if you don't know if you will like the dish. Ordering one meal to share is strictly forbidden. Each person has to order one dish!
Fly to Jeju Island – Flying to and from Jeju Island is cheaper than taking the ferry. It also saves a lot of time.
DMZ tour – It's compulsory to take a tour; you cannot just go there yourself! We recommend carefully researching the company beforehand, or your day could end up ruined! You can find out all about what happened to us here.
Backpacking solo – Are you a female traveller that is planning to visit South Korea alone? Good choice! It's the perfect solo female destination.
Schedule a visit to South Korea during cherry blossom season – If you can, plan your trip during the cherry blossom season which begins in late March to early April. The streets are blooming with pretty pink flowers. It's one of the best times to visit South Korea.
Essential resources for travelling in South Korea
Travel Insurance – No matter where you're travelling to, it's a good idea to make sure you're covered for any accidents or losses. We spent days and weeks searching for insurance, but most insurers would not allow us to take out a policy as we were already abroad. Our personal choice is Safteywing. You can opt for automatic monthly payments, just like a subscription. More importantly, it is available in 180 countries and can be purchased whilst already travelling. There is no cap on the duration of travel.
Visa – Before you travel to any country, make sure to check if you need a visa. iVisa is a fantastic website that is super easy and quick to use. Just type in where you are from. and where you are going. to check if you need a visa. If you do, you can quickly make an application online.
Accommodation – Booking.com is our go-to when looking to pre-book accommodation online. Booking.com tend to almost always have the best rates and a FREE cancellation policy for most properties.
Tours & Activities – If you want to book tours and activities online, make sure to check out Get Your Guide. Get Your Guide takes the stress out of booking activities abroad. You will also find a range of benefits, such as skip-the-line passes, lunch included in your tours, and so much more.
Travel tips ebook -Before you head off on your adventure, make sure to download our free ebook. It has a whopping 109 budget travel tips to help you make your hard-earned cash go further. Click here to download your FREE ebook.
Overall, South Korea is the perfect place for foodies and cultural enthusiasts. It is a great destination for all kinds of travellers; solo travellers, couples, families and groups of friends. By following this itinerary from Busan, Jeju Island to Seoul, you will have the opportunity to see the best of what the country has to offer. Of course, there are way more places to see and way more things to do in South Korea, but we believe this itinerary is a great starting point that will keep you busy if you're on a short 2-week trip to South Korea.
Continuing your Far East Asia trip? You can get cheap flights over to Japan. Check out our backpacking Japan guide here.
Like this post? Pin it!