China is a captivating country that has plenty to offer; from hiking in the Avatar Mountains to awing at cute pandas. The variety of activities China has to offer makes it essential for every traveller to go backpacking China at least once in their lifetime! Here we have put together the perfect backpacking China itinerary. This itinerary takes 3 weeks to complete, but you can easily take your time and spend an entire 30 days in China.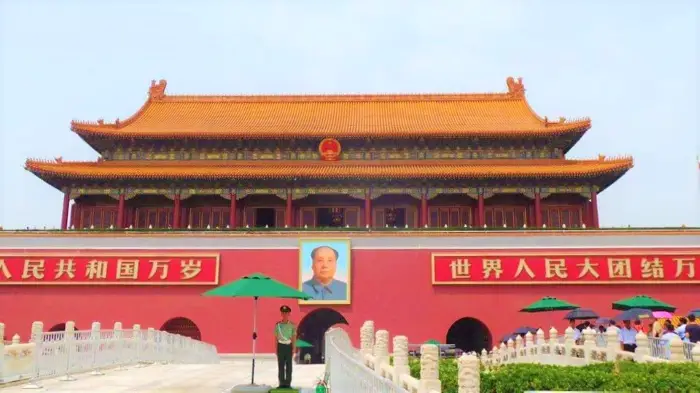 Disclosure: Untold Wanderlust contains affiliate links. If you click on these links and make a purchase, we will earn a small commission at no extra cost to you. You can find our full disclosure policy and privacy policy here.
Getting to China
Before going to China, make sure to have your visas ready and stamped into your passport! Citizens of Singapore, Brunei, and Japan or the only people who are granted visa-free access for 15 days. China can be reached both overland and by flight.
Macau to Guangzhou
If you're starting your backpacking China journey overland, you can take a bus directly from Macau to the neighbouring port city of Guangzhou. In Macau, there are free buses from the big hotels and casinos that run directly to the border. Once you have stamped out of Macau and into China, you will exit into a shopping mall. Go down the escalators and go ahead straight towards the tourist information desk. The ticket booth is down another set of escalators to the left, marked CTS. The bus costs 70 Yuan ($10) and takes two hours to reach Guangzhou.
Backpacking China itinerary
This backpacking China itinerary takes 3 weeks to complete at a fast pace. For a more relaxed pace, the itinerary can easily be spread over 4 weeks. In total, we spent 27 days in China. Below is a quick rundown of the cities and towns you will stop at in order.
Guangzhou
Yangshuo
Changsha
Zhangjiajie
Changsha
Chengdu
Xi'an
Beijing
Guangzhou itinerary
Day 1 – Explore the local area and see the skyline of Guangzhou
Local area – After a day of crossing borders and sitting on buses, it could be late afternoon by the time you arrive. Spend the rest of the afternoon getting to know your surroundings and trying local foods.
Huacheng Square – In the evening, head to Huacheng Square to see the night skyline of Guangzhou. The square boasts some of the best views of the city. Take the opportunity to take some stunning pictures of the skyline and the rainbow-coloured Canton Tower.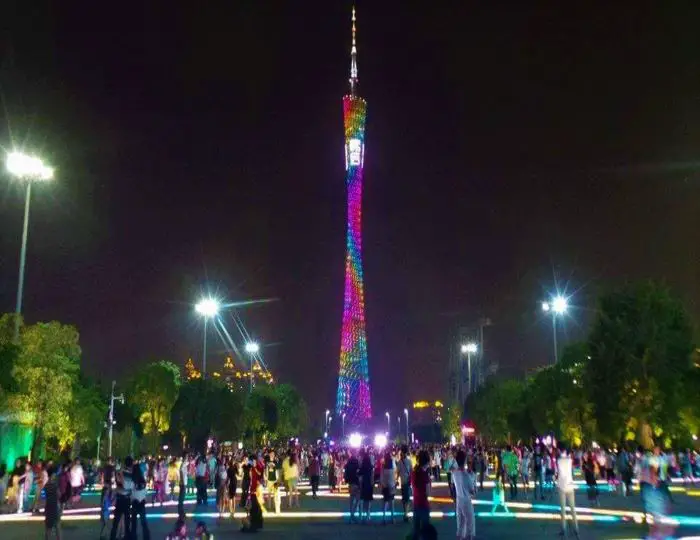 Day 2 – Baiyun Mountain, cable car, Shamian Island, Beijing Pedestrian Street
Baiyun Mountain and Park – At the foot of the mountain there is a stunning and colourful park. The cost to get into the park is 10 Yuan ($1.43) per person. Here you can take many pictures of the beautiful scenery.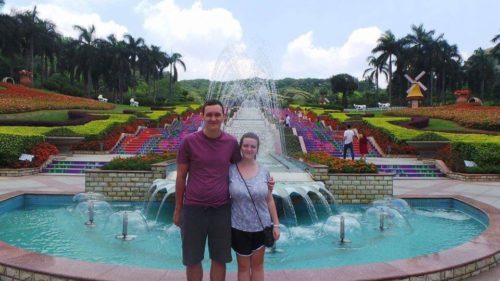 Cable car – After taking a stroll in the park, take the cable car up the mountain for panoramic views of the city in the distance. When you reach the top of the mountain there is a small bird aviary and a few eateries. The cost to go up the cable car is 25 Yuan ($3.57), and the cost to go back down is 20 Yuan ($2.86).
Shamian Island – Across the road from the park, take bus number 217 which will take you directly to a subway station (it is the last stop on the bus). From here, take a short ride on the subway to Shamian Island. The island is a pretty place to look around and sit for a drink. The streets are lined with historical buildings influenced by European colonial times.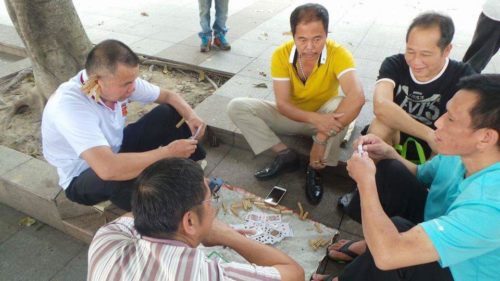 Beijing Pedestrian Street – After a day of taking in some cracking scenery, head towards Beijing Pedestrian Street for some tasty food. The street is filled with all kinds of food options, entertainment, and shops.
Where to stay in Guangzhou
Feeling luxurious: White Swan Hotel – Looking for some relaxing time? This hotel has a huge swimming pool and spa facilities. It is also close to the metro for easy access around Guanzhou.
Budget private room: Elves BNB (Guangzhou East Train Station) – Apartment-style accommodation. The rooms are clean, modern, spacious and overlook the city.
Dorm life: Alley Time Youth Hostel – Close to local markets and street food. It has a great social environment that is equipped with a pool table.
For more prices and deals on properties in Guangzhou, CLICK HERE.
Yangshuo itinerary
Day 3 – Take the bullet train to Yangshuo
It's time to take the first train journey on this backpacking China itinerary. In Guangzhou, you will need to take the subway to Guangzhou South Railway Station. The bullet train from Guangzhou to Yangshuo costs 117 Yuan ($16.71) per person and takes 2.5 hours. When you arrive in Yangshuo you will see a bus ticket office to the right of the train station. Take a 45-minute bus, which costs 20 Yuan ($2.86) per person, into the centre of Yangshuo. This bus will take you to a bus station located a 5-minute drive away from West Street (the main strip in Yangshou).
Day 4 – Ten-Mile Gallery and West Street
Ten-Mile Gallery – Rent a bicycle or an electric scooter and cruise down this fairy-tale-like road. You will be surrounded by mini green hilltop mountains. The average cost of bicycle rental is 20-30 Yuan ($2.86 – $4.28) per bike for the day. To rent an electric scooter, expect to pay between 50-60 Yuan ($7.14 – $8.57) for day hire.
Along the path, there are many attractions. Below is a list of the attractions:
The Ancient Totem Path
Butterfly Spring
 Big Banyan Tree
 Assembling Dragon Cave
 Moon Hill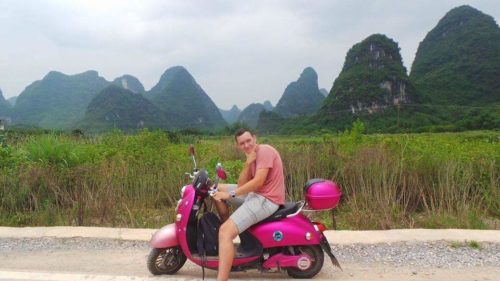 If like us, your budget doesn't allow you to visit all of them, then we highly recommend the cave, located by Moon Hill. The price at the ticket office is 73 Yuan ($10.42) per person for a tour of the cave, the mud bath, and the hot springs. HOT TIP: Many local people are hanging around that will offer to get your ticket for you at a discount price. We took the risk and it certainly paid off. We managed to bag the ticket for a discount price of 50 Yuan ($7.14) per person.
West Street – Filled with eateries and shops, you will be sure to find something to satisfy your taste buds. At night the street sparkles with lights from the temple-shaped shops and quaint bridge. This is a perfect chill-out spot to eat food, and maybe chug down a drink or two.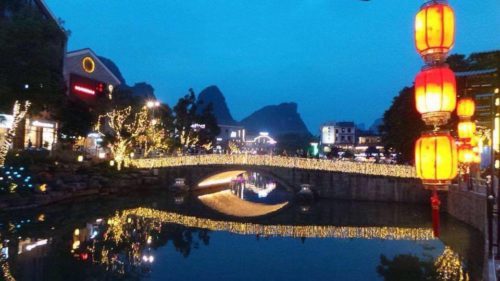 Day 5 – Visit Xingping
Make sure your electric bike is fully charged, and head out on an hours-long drive through the mystical hilltops, into the ancient town of Xingping. The stone streets and buildings give this place an old, but authentic feel. Besides the ancient town, you can see the viewpoint of the 20 Yuan note. It is a great spot for snapping away on your camera!
For a more detailed guide, check out these things to do in Yangshuo.
Where to stay in Yangshuo
Feeling luxurious: Longting Hotel – Large spacious rooms with a classy finish. The hotel also boasts a stunning swimming pool for relaxing at the end of a busy day exploring.
Budget private room: Riverside Retreat Hotel – A stunning hotel that overlooks the mountains. The hotel provides a delicious breakfast and a swimming pool.
Dorm life: Yangshuo 11 Youth Hostel – A small hostel that has a female dorm room, and a mixed-bed dorm room. Great value for money!
For more prices and deals on properties in Yangshuo, CLICK HERE.
Changsha itinerary
Day 6 – Make a quick stopover in Changsha, whilst on your way to Zhangjiajie
From Yangshuo town centre, you will need to make your way to the North Bus Station. Here, board the bus bound for Guilin (psst…if you have extra time, check out why you should visit Guilin). The ticket offices all display signs in English, unlike most other places in China. Find the ticket office that is displaying the Guilin Express sign. The bus takes 1.5 hours and costs 27 Yuan ($3.86) per person.
When you arrive in Guilin, you will need to walk about 500 meters from the bus station to the train station. The cost of the bullet train is 192 Yuan ($27.42) and takes 3.5 hours. The train stops at Changsha South Railway Station. From here make your way to your accommodation for the night.
The next morning, your train will leave for Zhangjiajie from Changsha Railway Station (not the one you arrived at yesterday). This train takes 6 hours and costs 54 Yuan ($7.71) per person.
Zhangjiajie itinerary
Day 7/8 – Zhangjiajie national park
Zhangjiajie is probably going to be the most scenic stop on your backpacking China itinerary. It's home to the famous Avatar Mountains; yup that's right…the mysterious and beautiful mountains that you have seen in the movie, Avatar, are real. Zhangjiajie National Park is massive, and it can easily take you 4 days that your ticket is valid, for you to cover it all. Whilst in the national park make sure to take a ride on the world's longest outdoor lift and a cable car ride over the magical green-shrouded mountains.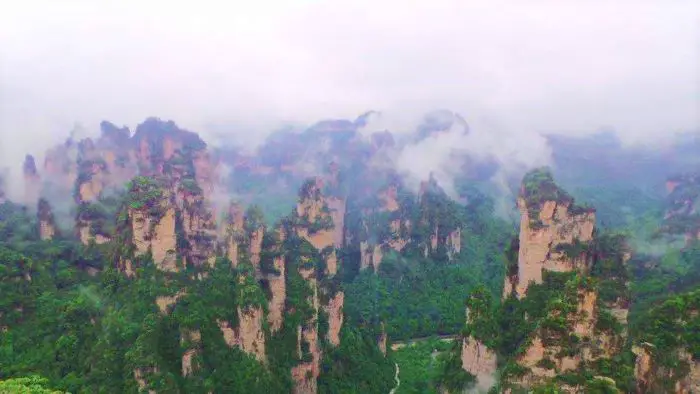 The cost to enter the park in peak season is 248 Yuan ($35.41). The price includes access to all areas of the park and buses around the park. The cost for the outdoor lift is 72 Yuan ($10.28) one-way and an additional 72 Yuan ($10.28) for the cable car.
Day 9 – Tianmen Mountain
Arrive at Tianmen Mountain's lower cable car station early in the morning, ready to take the longest cable car in the world to the top of this spectacular mountain. When you reach the top, you will feel like you are walking on cloud nine, as you will be way above the cloud level.
Whilst on the mountain you can walk around the cliff edge walkway to witness incredible views. If you're brave enough, you can even walk along the glass walkway as you peer down at the never-ending drop below. Finally, hop on a bus to make your way around then the famous 99 road bends to the bottom of the mountain.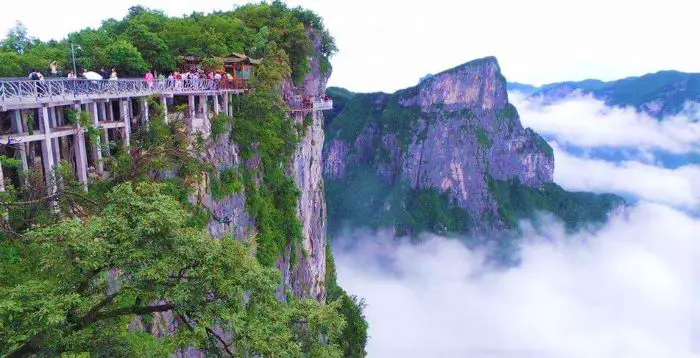 The cost to enter the mountain is 258 Yuan ($36.80) in peak season. The price includes a one-way cable car ride and a one-way bus ride around the 99 bends. Therefore, you must choose which way you would like to go up and down the mountain.
Check out our more detailed review of Tianmen Mountain.
Where to stay in Zhangjiajie
Feeling luxurious: Pullman Zhangjiajie Hotel – Has a MASSIVE swimming pool and plentiful facilities such as a bar, karaoke, and fitness centre. Perfect for those who want to explore the mountains, but also want a relaxing time.
Budget private room: Xiao Wu Ding Inn – Perfect for couples! Offers clean double rooms and a buffet breakfast for you to fill up on ready for a day of exploring.
Dorm life: Zhangjiajie Cloud Youth Hostel – Great value for money, with a variety of dorm rooms to choose from. It also boasts a balcony with spectacular views of the mountains.
For more prices and deals on properties in Zhangjiajie, CLICK HERE.
Chengdu itinerary
Day 10 – Train day to Chengdu
Today is a big travel day! You will travel from Zhangjiajie to Chengdu via Changsha. You will need to get up bright and early today to reach Zhangjiajie Train Station first thing in the morning. If you stay in downtown Zhangjiajie, then you will be able to lie in bed for an extra hour. Otherwise, if you're staying in Wu Lingyuan scenic area you will need to take a mini-bus to the bus station. The minivan will take 1 hour and 15 minutes and is a flat rate of 20 Yuan ($2.85).
Take a train back to Changsha that costs 86 Yuan ($12.27) and takes 4.5 hours. Our train left at 8:15 am and arrived in Changsha at 12:50 pm. From Changsha take an overnight sleeper train to Chengdu for 456.5 Yuan ($36.59).
Day 11 – Panda Research Base and Jinli Ancient Street.
Panda Base – One of the most awesome and interesting facts about Chengdu, is that it is home to the giant panda. Make sure to get up bright and early to see the cute Pandas rolling around at the Chengdu Research Base of Giant Panda Breeding. We recommend you arrive as early as 7:30 am; the time when the pandas are most active. The cost to enter is 58 Yuan ($8.27). If you want to hold a panda, you must book in advance, as it is not an option to book and pay on the day.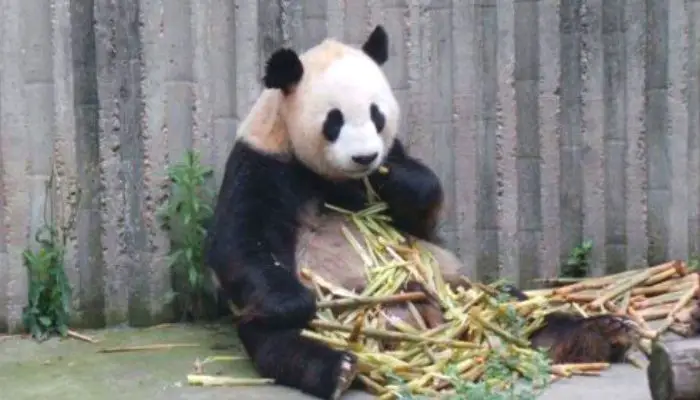 Want to know more about a trip to the panda sanctuary? Click here.
Jinli Ancient Street – After a long day of walking around the Panda Sanctuary, head over to Jinli Ancient Street for some delicious street food. You will be spoiled for choice!
Day 12 – Leshan Giant Buddha and Kuanzhai Ancient Street
Giant Buddha – To see the Leshan Buddha, you will need to make the 2-hour bus journey to Leshan from Chengdu. The bus costs 48 Yuan one-way from Xinnanmen Bus Station. The cost to enter the scenic area around the Buddha is 90 Yuan ($12.84). Alternatively, you can see the Buddha from a boat ride on the river which costs 70 Yuan ($9.99) per person.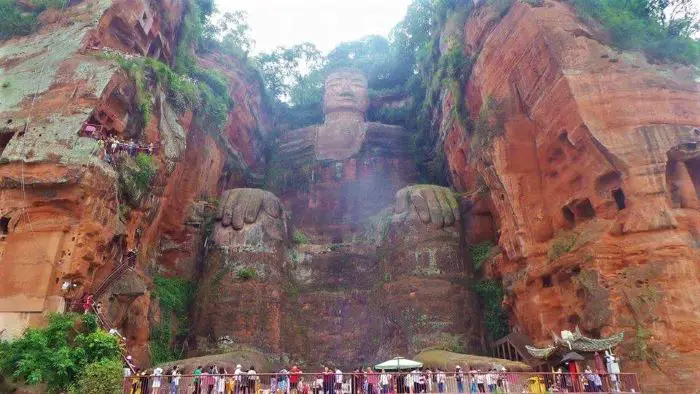 Want more info about the giant Buddha and how to get there? Check out our more detailed blog post here.
Kuanzhai Ancient Street – At night, head to the pretty lantern-filled ancient town for some food, and maybe a drink or two in one of the many bars.
Day 13 – Renmin People's Park and Dongmen Bridge
Renmin People's Park – After two fun-packed days, today is the day you can take a little rest. Head to the stunning park and spend some time taking in nature. There is also a pretty lake where you can rent slow boats for 40 Yuan ($5.71) per hour.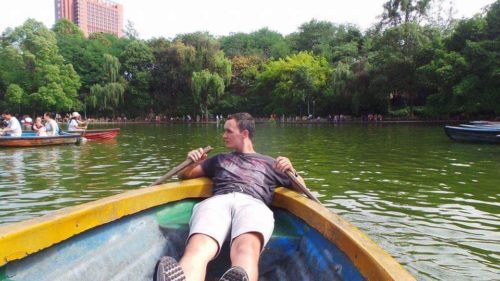 Dongmen Bridge – In the evening head to see the bright-coloured bridge, and tuck into some traditional Chengdu food from the street vendors nearby.
Where to stay in Chengdu
Feeling luxurious: Felton Gloria Grand Hotel – Elegantly decorated rooms with plentiful facilities. There is also an indoor swimming pool for guests to enjoy.
Budget private room: Travelling with Hotel – Cozy place to stay with a great social vibe. The hotel has free games and table tennis.
Dorm life: Chengdu Flipflop Hostel Poshpacker – Fantastic location! The hostel boasts a cosy lounge area with games and books for guests. They also offer tour services.
For more prices and deals on properties in Chengdu, CLICK HERE.
Xi'an itinerary
Day 14 – Train from Chengdu to Xi'an
Today you will need to pack up your bags and spend the day chilling out in one of the many tea shops, whilst you wait for your train. Your next stop is Xi'an; home to the Terracotta Warriors. Take an overnight sleeper train from Chengdu to Xi'an. The cheapest train costs 244 Yuan ($34.82) for a hard sleeper. The length of the journey differs from 10 to 18 hours, depending on the train. It's impossible to fit everything into a 21-day trip to China, so in this itinerary, we have only allocated 1 full day in Xi'an to see the Terracotta Warriors, but if you have more time in Xi'an there is so much more to see and do. Check out this awesome Xi'an itinerary.
Day 15 – Terracotta Warriors and the Muslim Quarter
Terracotta Warriors – A visit to the Terracotta Army is a must when backpacking China, so make sure to dedicate a day to admiring this amazing work of art. The easiest way to get there is to go to Xi'an Railway Station. From the railway station take bus 306 (line 5) which goes directly to the Terracotta Warrior site in a swift 1 hour. The bus costs 7 Yuan ($1) one-way. The cost to enter the Terracotta Warrior site is 150 Yuan ($21.41) per adult. The cost of an audio guide is 40 Yuan ($5.71). If you want a human guide to take you around, this can also be arranged.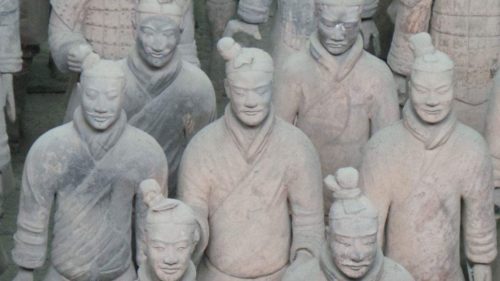 Muslim quarter – In the evening explore the Muslim quarter. Many local street stalls sell all kinds of foods. The area is buzzing, and you're bound to find some delicious treats.
Where to stay in Xi'an
Feeling luxurious: New Century Grand Hotel – The hotel has on-site spa services, a swimming pool, and a restaurant. Perfect for couples looking for a relaxing time together.
Budget private room: Alley Youth Hostel – Clean hostel with a range of bed types; dorm, single private, or double private. There is also a restaurant and a tour desk. The hostel is a great place to connect with other travellers.
Dorm life: Alley Youth Hostel – As mentioned above, the hostel offers a range of beds and room types. It's also in a fantastic location!
For more prices and deals on properties in Xi'an, CLICK HERE.
Beijing itinerary
Day 16 – Travel to Beijing
Beijing is the last stop on your backpacking China trip! The easiest way to get to Beijing is by taking the high-speed rail. You can reach Beijing in a quick 4.5 hours as opposed to a long 13-hour road journey. The cost of a second-class seat will set you back 515 yuan ($73.50). When you arrive in Beijing, it may take you a while to get to your accommodation, due to the long queues at the subway station, and the sheer size of Beijing. By this point, you may want to grab something to eat and take a rest. P.S. If you plan to head to Mongolia after Beijing, it's a good idea to apply for your Mongolian visa on your first day in Beijing.
Day 17 – Forbidden City, Beihai Park and Wangfujing Snack Street
Forbidden City – Today you will explore the famous Forbidden City; where the Emperors of China, from past dynasties, once lived. The complex is one of the largest in the world and you can easily spend a few hours here admiring the amazing architecture and structures. The cost to enter is 60 Yuan ($8.56). TIP: Don't forget to bring an ID as this is required to buy a ticket.
Beihai Park – Located just 1 km from the exit of Forbidden City. The park costs 10 Yuan to enter and is a nice way to relax after walking around the huge Forbidden City complex.
Wangfujing Snack Street – After a long day, take a trip to this famous snack street. You can try anything from delicious dumplings to fried spiders and scorpions. If you're still hungry for more Chinese delicacies, make sure to check out these other food markets in Beijing too.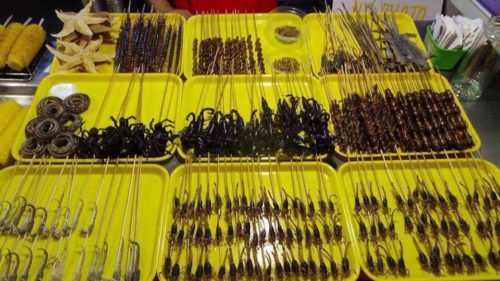 Day 18 – The Great Wall of China at Mutianyu
It's time to tick off that bucket-list goal! For spectacular views of the wall head to the Mutianyu entrance. You can easily reach the wall by public transport. The cost to enter the Great Wall is 45 Yuan ($6.42) per person. You can also take opt to take the cable car, chair lift, or toboggan up and down for a total cost of 110 Yuan ($15.70). Don't fancy going it alone? look into booking an organised tour.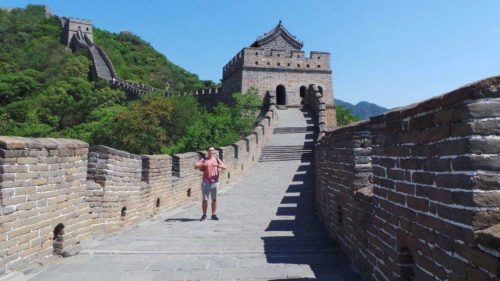 Click here for more information about the Great Wall at Mutianyu and our experience.
Day 19 – The National Museum
Take some time to learn about the history of China at the National Museum. You can easily spend a couple of hours here absorbing all the country's history and dynasties. The best thing…the museum is free to enter.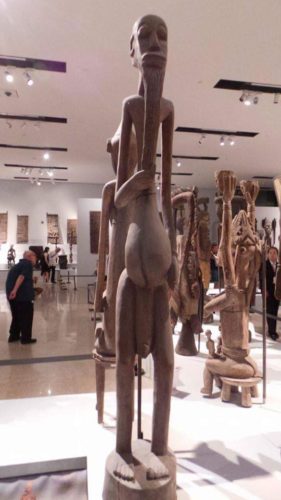 Day 20 – Last-minute shopping
This is the last day before heading off home, or continuing your travels in other parts of the world. Take some time to explore the streets and go shopping for a bargain in Beijing.
Day 21 – Time to leave
After a whirlwind of a time backpacking China, it is finally time to pack up and leave. For us, it was time to make the journey overland from China to Mongolia for an awesome backpacking Mongolia adventure.
If you are not ready to leave China just yet, why not check out these historical places in China?
Where to stay in Beijing
Feeling luxurious: Asia Hotel Beijing – Offers an indoor swimming pool, garden area, and fitness facilities. In a great location for travellers interested in sightseeing.
Budget private room: Beijing Together Hostel – Offers dorms and twin double rooms. Great for couples that want to socialise with others but also want the privacy of their room.
Dorm life: Lab Hostel – Has a wide range of bed types to choose from and has a great social space. The hostel boasts a bar that serves cocktails and a room to watch films.
For more prices and deals on properties in Beijing, CLICK HERE.
Costs of backpacking China
Currency: The local currency of China is Renminbi. However, the currency is often referred to as Yuan or Quay. All three mean the same thing. The current exchange rate is 7 Yuan to $1.
Daily budget: We recommend a budget of $40/ 280 Yuan per person per day.
Accommodation: For a private double room with a bathroom expect to pay between $20 – $26.
Food and drink: For chow mien or egg fried rice, in a small local eatery, prices range from 15 – 25 Yuan ($2.14 – $3.57). A small bottle of water from a shop costs 3 Yuan ($0.43).
Local transport: The transport systems within the cities and towns are extensive and fairly cheap. For a 40-minute journey on the subway expect to pay around 6 Yuan ($0.86).
Across-country transport: China is a massive country! Therefore, the prices of trains can vary massively. The cost depends on the type of train and the length of the journey. The cheapest train we rode was 70 Yuan ($10), whilst the most expensive was 515 Yuan ($73.54). However, if you want to save on costs, consider cycling in China, which will certainly allow you more freedom.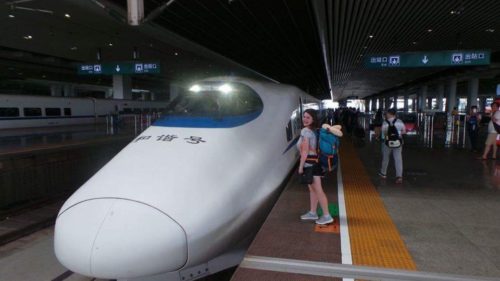 Backpacking China travel tips
Book trains in advance – Backpacking China isn't easy when it comes to transport. Unlike in Southeast Asia, transport needs to be booked in advance as seats get filled quickly. We recommend booking your train to your next destination at least 2-3 days before you want to leave. At peak times we recommend booking even sooner.
Download a VPN – For social media addicts out there, you may want to download a VPN before entering China. A VPN will allow you to use your fave social media sites. The two free VPN apps that we used were VPN Master and VPN Robot, but the former has malware risks, while the latter no longer works in China. You may alternatively choose to consider paid VPN apps that tend to be safer and more reliable.
Use Ctrip – Ctrip is a site where you can book flights, trains, and hotels in advance. However, there is a small charge for doing this. Even if you don't book through Ctrip, you can use it to jot down the train code, to make it easier for you to book the train at the counter.
Download word translator apps – People in China speak very little English, so having a word translator will help you a lot.
Lay off the beer – Beer is quite expensive, so try to limit your intake. Doing so will mean that you have more money for other fun activities.
Make use of the metro – The metro is very easy to use, and most cities and towns have one. It's an easy and convenient way to get around.
Buy water before entering attractions – As with anywhere in the world, water and snacks are considerably more expensive inside attractions. Save money by purchasing water beforehand.
Keep an eye on your budget – Costs can quickly add up! We were surprised at how much we spent whilst backpacking in China. By keeping track of where you are spending your money, you will be able to cut out inessential items.
Essential resources for backingpacking China
Travel Insurance – No matter where you're travelling to, it's a good idea to make sure you're covered for any accidents or losses. We spent days and weeks searching for insurance, but most insurers would not allow us to take out a policy as we were already abroad. Our personal choice is Safteywing. You can opt for automatic monthly payments, just like a subscription. More importantly, it is available in 180 countries and can be purchased whilst already travelling. There is no cap on the duration of travel.
Visa – Before you travel to any country, make sure to check if you need a visa. iVisa is a fantastic website that is super easy and quick to use. Just type in where you are from. and where you are going. to check if you need a visa. If you do, you can quickly make an application online.
Accommodation – Booking.com is our go-to when looking to pre-book accommodation online. Booking.com tend to almost always have the best rates and a FREE cancellation policy for most properties.
Tours & Activities – If you want to book tours and activities online, make sure to check out Get Your Guide. Get Your Guide takes the stress out of booking activities abroad. You will also find a range of benefits, such as skip-the-line passes, lunch included in your tours, and so much more.
Travel tips ebook -Before you head off on your adventure, make sure to download our free ebook. It has a whopping 109 budget travel tips to help you make your hard-earned cash go further. Click here to download your FREE ebook.
What's next on your bucket list? Why not go from backpacking China, one of the world's most densely populated countries, to backpacking Mongolia, one of the world's least populated countries?
Like this post? Pin it!