Here is a fun, jam-packed 3-week backpacking Malaysia itinerary, that will take you through the vibrant capital city of Kuala Lumpur, the street art paradise of Penang, stunning tea fields in the Cameron Islands, and the Dutch colonial city of Melaka. Find the ultimate route to take, costs, tips & more!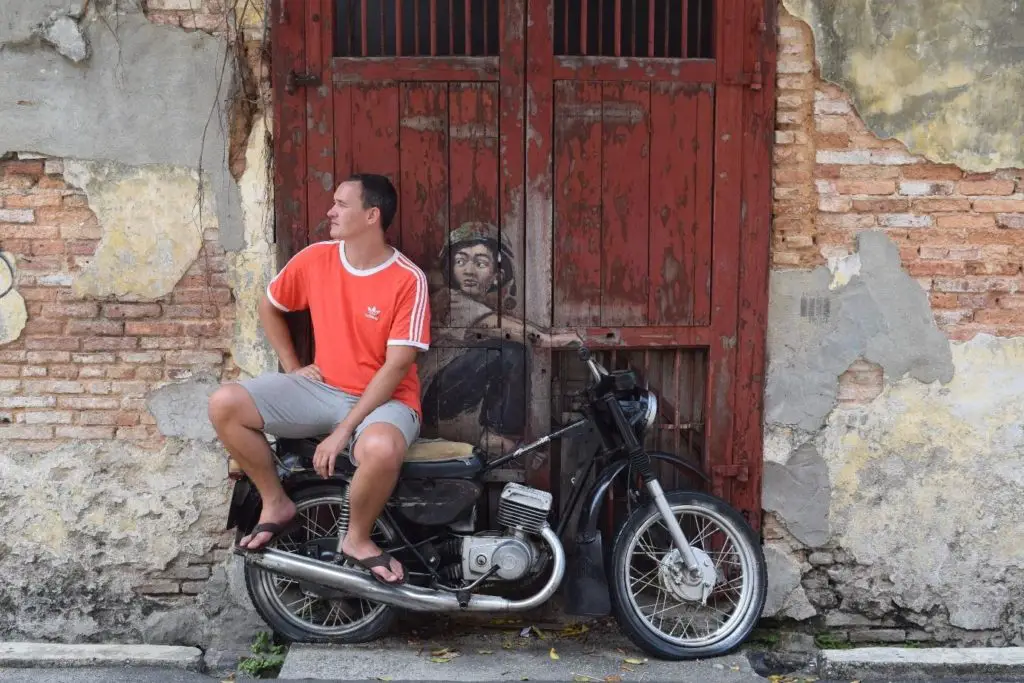 Disclosure: Untold Wanderlust contains affiliate links. If you click on these links and make a purchase, we will earn a small commission at no extra cost to you. You can find our full disclosure policy and privacy policy here.
Getting to Malaysia
Kuala Lumpur's airport is well-connected with nearby countries, making flights into the capital city very cheap. We recommended checking Skyscanner for the cheapest fares. Once you arrive at the airport there are many transfer options to the city centre.
Apart from taking a flight into Malaysia, the only route overland/ sea would be from Thailand or Singapore. Boats depart from Langkawi to the Thai Islands, so this is an option to consider if you prefer not to fly. If you are entering Malaysia from Singapore, there are regular local buses that connect Singapore and the city of Johor Bahru in Malaysia.
Malaysia backpacking itinerary
Below you will find the perfect itinerary for backpacking in Malaysia over 3-weeks. This route will have you see the best that Malaysia has to offer and is perfect for first-timers to this intriguing Southeast Asian country.
Places to visit in Kuala Lumpur – 5 days
The first stop on this backpacking Malaysia itinerary, is, of course, the vibrant capital, Kuala Lumpur. Kuala Lumpur is a modern city, and there are plenty of things to see and do in the capital alone. Here are just a few…
Petronas Towers
The towers are a must-see; particularly at night when they are lit up. There is also the option to view the city skyline from the observatory deck and the sky bridge. We did not do this, so we are unable to comment on the price or if it's worthwhile. Either way, be sure to experience the awesome views of the towers from KLCC Park.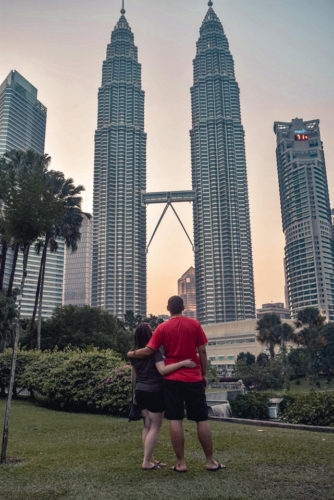 The Discovery Centre
The Discovery Centre is an interactive science museum that is situated in the Petronas towers. It's a great experience, particularly on a rainy day. There are plentiful interactive displays, interesting designs and information about science. The admission price for an adult is RM 30 ($6.96).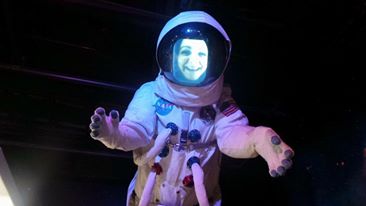 Bukit Bintang
Bukit Bintang is a very popular area with backpackers! Here you will find a range of hotels and hostels to meet your needs. There are plenty of shops, nightclubs and other forms of entertainment. There is also a buzzin' strip filled with local eateries and food stalls. This place is perfect for those who want to go on a foodie adventure and try out some local food.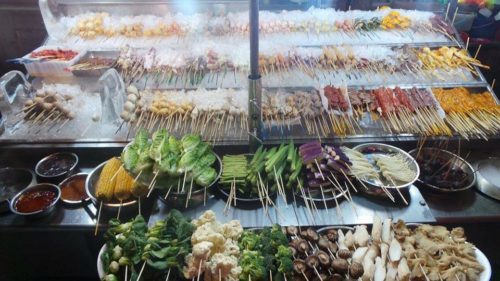 Batu caves
A trip to Batu Caves is a must! Getting to the caves is relatively easy, using the metro system. First, you will need to go to KL Sentral Railway Station, to hop on the train to the terminal station; Batu Caves. The journey takes 30 minutes and costs RM 4 return.
Upon arriving at the caves, you will first notice (what feels like) a million steps up towards the well-known Hindu shrine. But no worries, there are plenty of monkeys chilling out around you, keeping you entertained whilst you make the leg aching journey towards the top. Climbing the steps and admiring the caves from the outside is free. You can also opt for a guided tour inside the caves.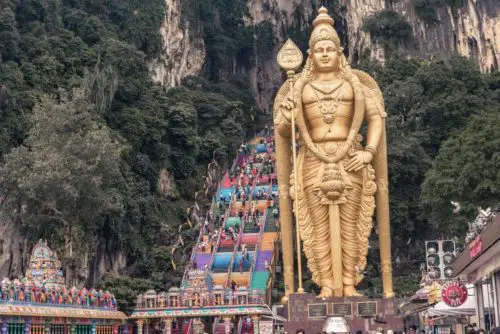 Kuala Lumpur is a huge city with so much to see and do. Make sure you have a belly full of food to start your day! Check out these must-try breakfast and brunch spots to get you started.
If you only have 2 days in Kuala Lumpur, make sure to check out our ultimate Kuala Lumpur itinerary!
Where to stay in Kuala Lumpur
Big M Hotel – Conveniently located by Jamek Mosque and Masjid Jamek Station. From the hotel, you can easily access Kuala Lumpur's main attractions; the Petronas Towers, Bukit Bintang and China Town.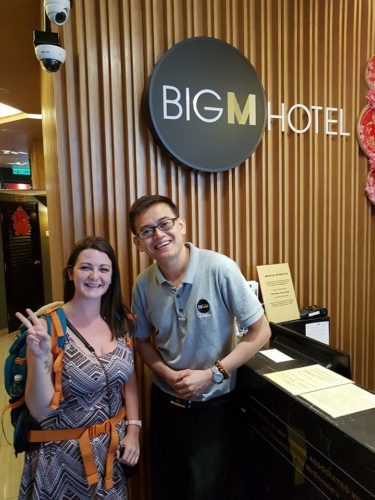 Big M hotel is a perfect budget hotel for couples and families. The rooms are well decorated and very clean. The hotel provides amenities such as free coffee, toiletries, a safe, hairdryer and a kettle. Furthermore, there is a rooftop area where you can see out to the nearby mosque. The staff at the hotel are very friendly and helpful. We fully recommend staying here if you are visiting Kuala Lumpur.
Penang itinerary – 5 days
Penang is probably going to be the most popular stop on this backpacking Malaysia itinerary! To reach George Town from Kuala Lumpur, you will need to take a bus to Butterworth, which costs RM 40 ($9.28) and takes 4 hours.
At Butterworth, you will need to walk just a few minutes to the ferry terminal. Take the 15-minute ferry across to Penang at a small cost of RM 1.20 ($0.28). When you arrive on Penang Island you will exit the ferry terminal by the Rapid Penang Jetty Bus Terminal. From here you can take the bus to anywhere you would like to go on the Island.
Penang street art
Penang is a street art paradise, there are many 3D wall arts to take awesome creative pictures with. As there are so many, we recommend grabbing a map that pinpoints where they are located. You can easily spend half a day strolling around trying to tick them all off. Or…you could rent one of these if your legs start to hurt…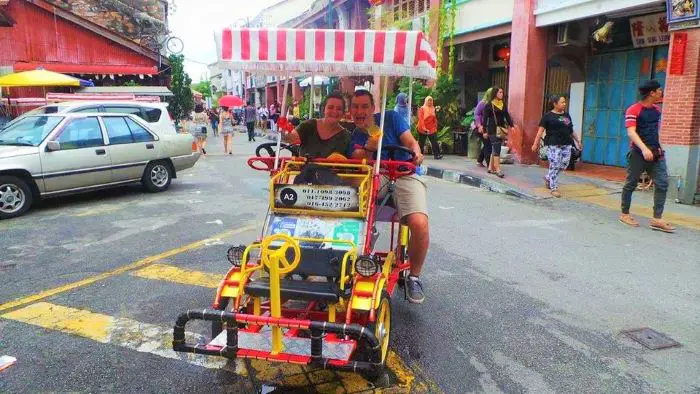 Upside down museum
Does as it says on the tin; keep with the creative trend and take some more cool pics of yourself hanging upside down. It takes around 40 minutes to 1 hour to walk around the museum, and it costs RM 27 ($6.26) per adult.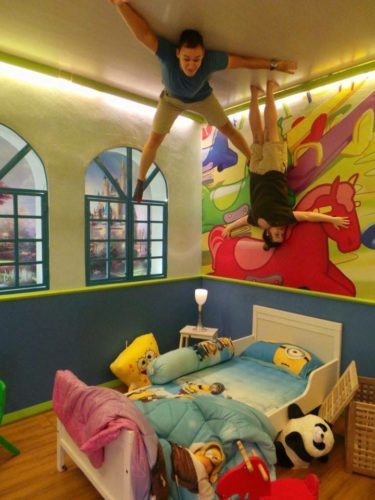 Ghost museum
For those who are interested in ghost and horror stories. Take a walk through the ghost museum and hear about local ghost stories, along with other traditional horror tales. The cost of admission is RM 36 ($8.35).
For more things to do in Penang at night, check out this awesome post!
Where to stay in Penang
Rainbow House – Small but cosy clean rooms that are within walking distance of the main attractions and street art in Penang. It's perfect for couples!
Langkawi itinerary – 4 days
Next on this itinerary is Langkawi, which makes for a fantastic honeymoon destination in Asia. The easiest way to reach Langkawi from Penang is to take the ferry. The ferry costs RM 60 ($13.92) one way or RM 120 ($27.84) return. The total journey length is 3 hours. The ferry gets booked up quite quickly, so it is best to book in advance from either a travel shop in Penang or online. If you wait too long, you run the risk of not securing your seat, meaning you will have to hang out in Penang for a while longer, or make the long, pain in the ass journey back to the mainland and then to another ferry terminal.
Island wildlife
The best things in life are truly free! Rent a scooter for the day and take a drive up the mountains that surround the island; marvel at the stunning scenery and spot the beautiful wildlife.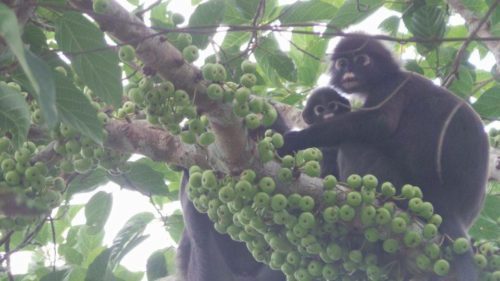 Cable Car & Sky Bridge
The views are incredible! The prices vary depending on the type of car you choose; private or clear bottom. You can also buy package deals that allow you entry to other attractions, such as the 3D art museum. Once you exit the cable car, don't miss one of the best activities to do in Langkawi – a walk along the iconic Sky Bridge for more breathtaking views.
3D art museum
This museum is an art paradise where pictures come to life! You could spend hours here having fun and clicking away on your camera.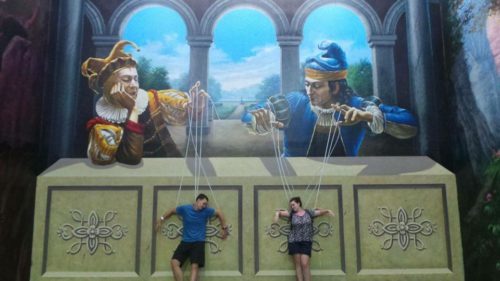 Where to stay in Langkawi
Rainbow Lodge – We arrived in Langkawi late at night without accommodation pre-booked. We ended up spending over an hour walking around trying to find accommodation that was within our budget. Luckily, after a while, a local man showed us to Rainbow Lodge, situated a 10-minute walk from all the bars and eateries. The surrounding area is very peaceful and quiet. The room was spacious, clean and had a private bathroom.
Cameron highland trip – 3 days
Reaching the Cameron Highlands from Langkawi can be a bit of a pain, but it's worth the effort! First take the 1 hour 15-minute ferry from Langkawi to Kuala Perlis, which costs RM 20 ($4.64). From Kuala Perlis, you can board a bus to Ipoh. The bus takes 4 hours 20 minutes and costs RM 30 ($6.96). Finally, take the bus from Ipoh to the Cameron Highlands. The bus takes 2 hours and costs RM 16 ($3.71).
Take a countryside tour
The countryside tours can easily be booked from your accommodation, from nearby travel agents or online. You will be picked up in a minivan from your accommodation.  The day consists of your guide taking you to the rolling green tea plantations, a butterfly farm, a strawberry farm and more.
Where to stay in the Cameron Highlands
Traveller Bunker Hostel – A modern, lively hostel! You can choose from male, female or mixed dorm rooms. Each bed has a curtain for added privacy. There is also a social space for you to meet other travellers. Perfect for the social butterfly!
Melaka trip – 4 days
The last stop on this backpacking Malaysia itinerary is the Dutch colonial city of Melaka. To reach Melaka from the Cameron Highlands, you will need to take a bus to Kuala Lumpur. The bus takes 4 hours and costs RM 40 ($9.28). From Kuala Lumpur take another 2-hour bus that costs RM 13 ($3.02) to Melaka. When you arrive at Melaka you will need to then take a local short bus to the backpacker area. You can easily get an overview of Melaka in 2-days, but 4 days is the perfect amount of time for a combination of exploring and relaxation.
Explore the UNESCO City
Melaka is a small place, so you can easily explore on foot. As you wander around, make sure to admire the European style buildings. A particular place of interest is the red washed square, which is home to the Dutch built church.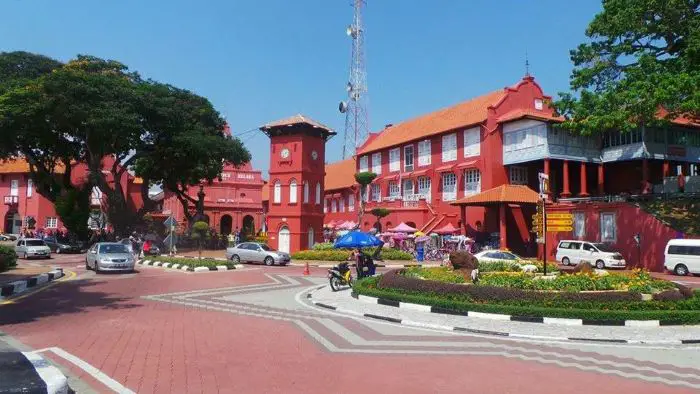 Ride a trishaw
It's hard not to notice the many tacky themed trishaws that roll around Melaka, whilst blurring out all kinds of music. It may sound silly, but a short ride on these funky vehicles can be a bit of fun. The cost of a trishaw ride is RM 25 ($5.80), and the journey lasts about 15 minutes.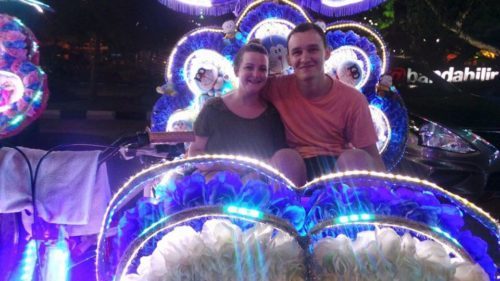 Hang out at the shopping mall
The shopping mall has everything you need, and plenty of entertainment. There is a bowling alley, cinema, arcade, karaoke booths, and even indoor archery. So, if you want to get away from the outside heat, this place is perfect to spend a few hours having fun.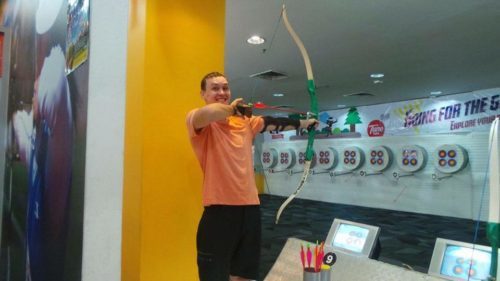 Where to stay in Melaka
The Pillohouzzze – Highly rated, but cheap accommodation in the heart of Melaka! The hotel offers all types of rooms; dorms, single, twin and double. The rooms are clean and are equipped with the essentials. Perfect for couples on a budget!
Malaysia backpacking itinerary map
Cost of Malaysia backpacking
Currency: The currency is the Malaysian Ringgit (RM). £1 is equal to 5.36 RM and $1 is equal to 4.31 RM.
Daily budget: We recommend a budget of $25 per person. This budget should be enough to use local buses and stay in cheap accommodation. When we arrived at our destination, we often rented a motorbike to explore the area to keep the cost of local transport and taxis down.
For more tips on ways to handle your money & budget whilst on the road, click here!
Accommodation: A double bed in a private room with a bathroom, on average, costs RM 50 ($11.60). Melaka was slightly more expensive and cost around RM 60 ($13.92) for a private double room.
Food and drink: The average cost of local food ranges between RM 5-10 ($1.16-2.32). Food across Malaysia is generally cheap. Even popular fast-food chains, such as Nando's, are cheaper than in the USA and UK. Beer is more expensive than the rest of Southeast Asia due to high tax rates. A pint of beer averaged RM 15 ($3.48).
Motorbike: The average cost of motorbike rental is RM 15 ($3.48).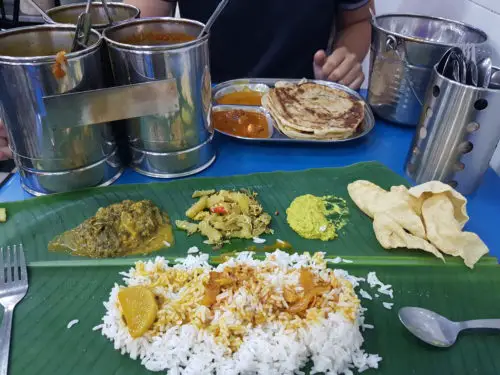 Backpacking Malaysia travel tips
Take a cardigan – Buses, museums, cinemas, shopping centres, you name it, anything inside is freezing! The air-con is turned up so high, it often gave me a headache from shivering. Make sure to bring a cardigan to slip on when you decided to take part in indoor activities.
Hostel barter – Don't feel cheeky to ask for a lower rate if you plan to stay for a couple of nights. Places will often give you a discount, if you stay for more than 2 nights, and are willing to pay upfront.
Book a 2 by 1 seater bus – If you can, try to book the buses that have two seats on the left, and one on the right. They allow you more leg space and are roughly the same price as buses that have more seats.
Monorail in KL – Make use of the simple and easy to use monorail system in Kuala Lumpur. No need to spend money on taxis. The monorail is very easy to use and can get you almost anywhere you want to go to the city at very cheap prices.
Cut down on alcohol – Alcohol in Malaysia is quite expensive compared to its neighbouring countries. Try to drink less, so you have more money for other fun activities that you can't do elsewhere.
Wrap up in the Cameron highlands -The Cameron Highlands are very cold in comparison to the rest of Malaysia. Trust us, you do NOT need accommodation with air-con. We spent ages trying to find somewhere with an AC unit, but nowhere has it, because it isn't needed when dawn falls. Make sure to bring a jacket and even a thing scarf to keep you toasty during the chilly nights.
Essential resources for travelling in Malaysia
Travel Insurance – No matter where you're travelling to, it's a good idea to make sure you're covered for any accidents or losses. We spent days and weeks searching for insurance, but most insurers would not allow us to take out a policy as we were already abroad. Our personal choice is Safteywing. You can opt for automatic monthly payments, just like a subscription. More importantly, it is available in 180 countries and can be purchased whilst already travelling. There is no cap on the duration of travel.
Visa – Before you travel to any country, make sure to check if you need a visa. iVisa is a fantastic website that is super easy and quick to use. Just type in where you are from. and where you are going. to check if you need a visa. If you do, you can quickly make an application online.
Accommodation – Booking.com is our go-to when looking to pre-book accommodation online. Booking.com tend to almost always have the best rates and have a FREE cancellation policy for most properties.
Overland transport – Our go-to website for overland transport is Bookaway. Bookaway offer multiple forms of transport, from buses, mini-vans, trains, and ferries. The routes on offer are extensive and certainly cover most of the backpacker trails. Bookaway works a little like Skyscanner but for overland transport. You will find plenty of transport options from a range of companies. All you simply need to do is book online and receive your ticket by email. The email will contain essential information, such as where the bus leaves from and departure and arrival times.
Tours & activities – If you want to book tours and activities online, make sure to check out Get Your Guide. Get Your Guide takes the stress out of booking activities abroad. You will also find a range of benefits, such as skip the line passes, lunch included in your tours, and so much more.
Travel tips ebook -Before you head off on your adventure, make sure to download our free ebook. It has a whopping 109 budget travel tips to help you make your hard-earned cash go further. Click here to download your FREE ebook.
Make cash on the road – If you're on a long trip, you may want to start earning whilst on the road. One way to do this is to teach English online. One of our favourite companies for this is Palfish, as the schedule is super flexible. You can open and close slots, as and when you choose, meaning you don't have to commit to the same days and hours each week. Just make sure you are TEFL certified to apply!
We hope you enjoyed this backpacking Malaysia itinerary. Of course, it isn't fully comprehensive and doesn't explore everywhere in Malaysia. But we believe it is the perfect itinerary for first-timers with only 3 weeks in Malaysia. So, don't hang around, put Malaysia firmly on your Southeast Asia trip! It's the ultimate location for art lovers, foodies and cultural enthusiasts.
Heading to Singapore next? Check out our backpacking Singapore guide.
Like this post? Pin it!