A question that is often asked, is how to travel to Thailand on a budget. Hitchhiking is a great way to save money on transport. It's cost-effective, fun, and allows you the opportunity to truly connect with other people. This article explains the ins and outs of hitchhiking in Thailand.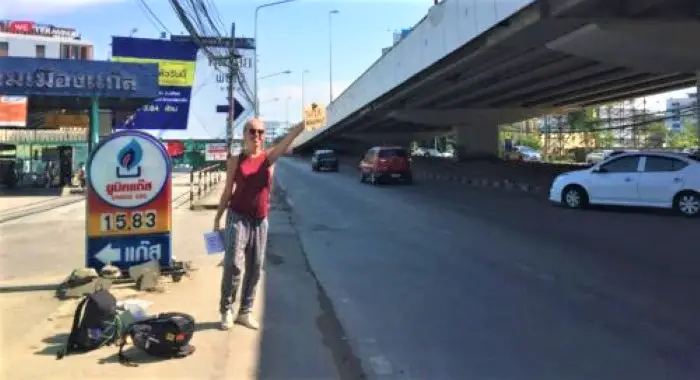 Disclosure: Untold Wanderlust contains affiliate links. If you click on these links and make a purchase, we will earn a small commission at no extra cost to you. You can find our full disclosure policy and privacy policy here.
The basics of hitchhiking in Thailand
Don't keep all your money and personal belongings in one place. Put some cash in your socks, a credit card in your cell phone case, and if you have a fanny pack tie it to your body and put your passport in it. Better safe than sorry! Also make sure you carry some food and water, as you don't know when you will next have the chance to grab something to eat or drink.
Making a sign for hitchhiking in Thailand
The only thing you need now is a sign. We usually get a piece of cardboard from the supermarket and borrow a marker there as well. Write down 3 places on your route in Thai and English, so you have a higher chance of getting a ride fast. For instance, if you will be travelling from Chiang Mai to Bangkok, which is roughly 700 km apart, you are more likely to find someone who's going to the nearest town than someone who drives all the way to Bangkok. The key is to divide your journey up into smaller pieces.
How to hitchhike in Thailand
Ask a local where you can find the highway, or just write down "highway" on your sign; that's always the best place to start. Make sure you smile while holding your thumb up and explain what you're doing and where you're going. If they don't speak English, this translation might be useful:
ผมเดินทางด้วยเงินจำนวนเล็กน้อยเพื่อเป็นค่าอาหารและที่พักราคาถูก ผมจึงโบกรถเพื่อเดินทาง ขอผมติดรถไปทางเดียวกับคุณด้วยได้ไหมครับ คุณจะส่งผมข้างหน้าที่ไหนก็ได้ที่สะดวก แล้วผมจะโบกรถต่อไปเอง
Translation: I am hitchhiking. I travel with small money, only for food and cheap hostels. When your car turns off the road, drop me off and I'll find another car.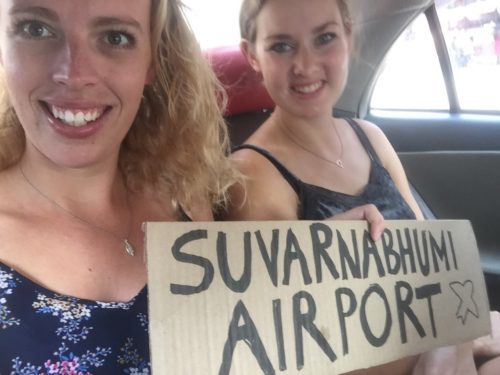 While looking for a ride, make sure you are on the right side of the road. This might sound a bit silly, but it definitely happens more often than you think! Keep in mind finding a ride can take around 15-20 minutes, and sometimes even up to an hour. When you find a ride, engage with the people who host you in their car. Most of them want to teach you more about their culture and are bound to be curious about yours too.
How to hitchhike safely
It's really important to hitchhike as safe as possible. Only get in the car if you feel comfortable with the host. While getting in the car, just pretend to wave at somebody so the host will think people are aware of you getting into his/her car. Always take the front seat. If you want to stop and get out of the car, but you have the feeling your host is not going to stop the car, say you're feeling carsick and have to throw up. To make sure you don't find yourself in a situation where you can't get out of the car, bring some paper and a lighter, and just light it up! The driver will think something is wrong with the car and have to make a stop.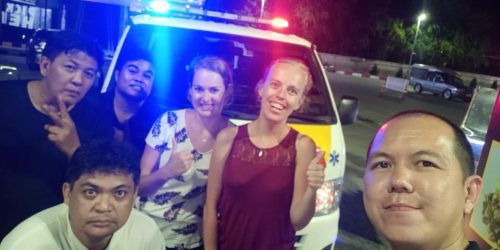 The people of Thailand
The people in Thailand are generous. However, you won't notice that at first sight, because most tourists won't make a connection with the local people. If you want to travel on a really tight budget and meet locals whilst doing so, it's possible. Hitchhiking in Thailand is the perfect way to get around the country. The concept is not familiar to most Thai people, and they will definitely become curious when they see you holding your thumb up, or waving your city signs around. It's not as scary as it may sound, you just have to prepare for the occasion.
Personally, we have never had any problems with finding a ride. We have met some great people, who were all so helpful and kind. All of them honestly wanted to take care of us, buy us food, and speak with us. Hitchhiking really is the best way to get in touch with locals, whilst travelling for free!
Now you have mastered hitchhiking in Thailand, why not try your hand at hitchhiking in Japan? It can save you tons of cash!
Like this post? Pin it!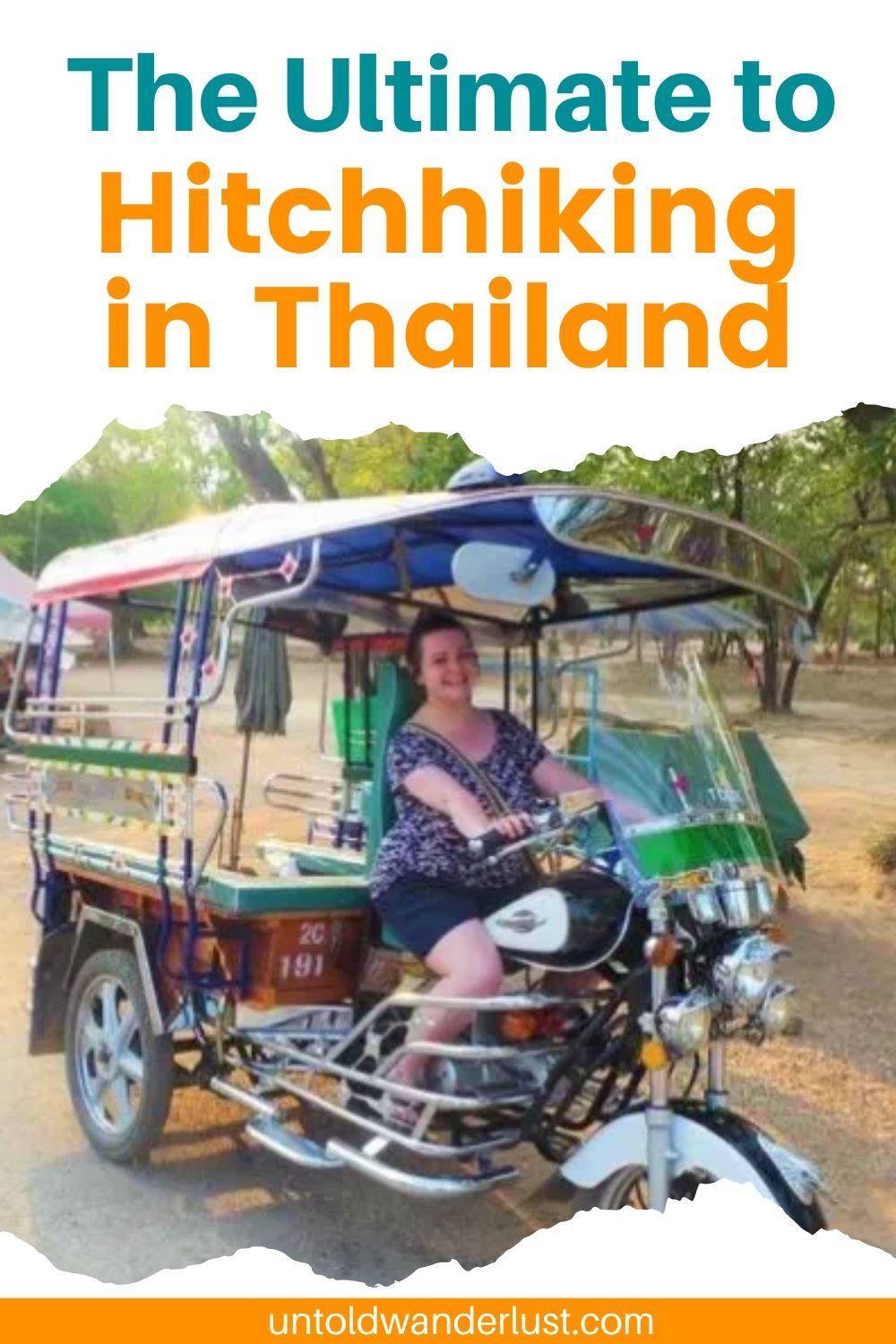 Meet the guest bloggers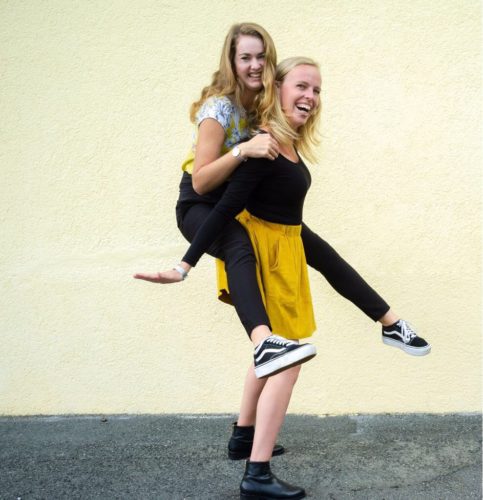 Author Bio – We are Lisa & Peggy, an adventure-seeking couple who started travelling from the Netherlands. Two years later, we are still travelling, working abroad and discovering a lot of new, and beautiful places. We love to pack extremely light, discover LGBT places, travel on a budget, and look at all the bright sides of this beautiful planet. Want to know more? Follow us on Instagram.