While in Lisbon, you will probably notice some beautiful green spaces and parks around the town. These places bring a new life and freshness to the city, and they are also perfect spots to go walking or to sit down to enjoy the fresh air. Below is a list of some of Lisbon's nicest parks to visit while you are in the city. You will probably be walking around a lot, so keep your bags out of the way at a Lisbon luggage storage. Don't let heavy gear slow you down!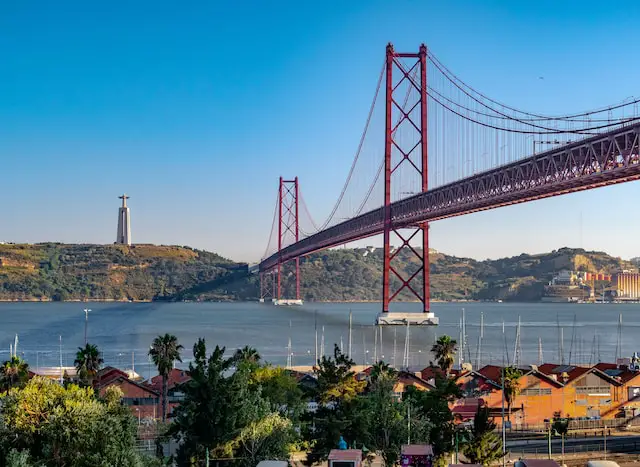 Disclosure: Untold Wanderlust contains affiliate links. If you click on these links and make a purchase, we will earn a small commission at no extra cost to you. You can find our full disclosure policy and privacy policy here.
Jardim de Estrela
The Jardim de Estrela is a beautiful place to visit, especially for families. On-site, you will find a duck pond and a big playground where kids can go to get their energy out! Lots of people love coming here to admire the exotic types of plants and the statues that stand around the area. If you get hungry while you are enjoying the beautiful park, stop by the cafe by the pond. They sell coffee and tasty homemade treats.
Jardim Gulbenkian
The gorgeous Jardim Gulbenkian was designed by Gonçalo Ribeiro Telles back in the 60s. This park spans an entire city block so there is much for you to explore and it is the perfect spot to take a break from the busyness and noise of the city centre. Each corner of the park has something new for you to discover, so come here the next time you want to get away from the buzzing streets for a bit!
Parque Eduardo VII
This park was built near the end of the 19th century and was first named Parque da Liberdade. However, in 1902 its name was changed in honour of King Eduardo VII of Britain after he visited the city. This park offers stunning views of central Lisbon and River Tagus and is a lovely spot to take a stroll at any time of the day. The park is sometimes used as a venue for concerts or events, like the annual Lisbon Book Fair, for example.
Jardim Botânico da Universidade de Lisboa
You will find the entrance to the Botanical Gardens near the National Museum of Natural History and Science and it is the only way to get through the walls around the garden. Between 1858 and 1878 this greenspace was used to house exotic trees and plants from the Portuguese colonies and even further places all around the world. Today, you can find plant species from Japan, China, Australia, New Zealand, South America, and more. Stop by during your time in Lisbon to admire thousands of species of flora including bamboo, cycads, ferns, and palm trees!
Parque Florestal de Monsanto
Parque Florestal de Monsanto, also known as the Monsanto Forest Park, is a great place to go for events with family and friends or just for jogging and trekking since it is the biggest park in the city! Aside from hiking and walking trails, you will find a skatepark, places to have picnics with grills, as well as playgrounds for the kids to enjoy. This big park is located just a short distance outside of the city centre and is easily accessible by car and by public transportation.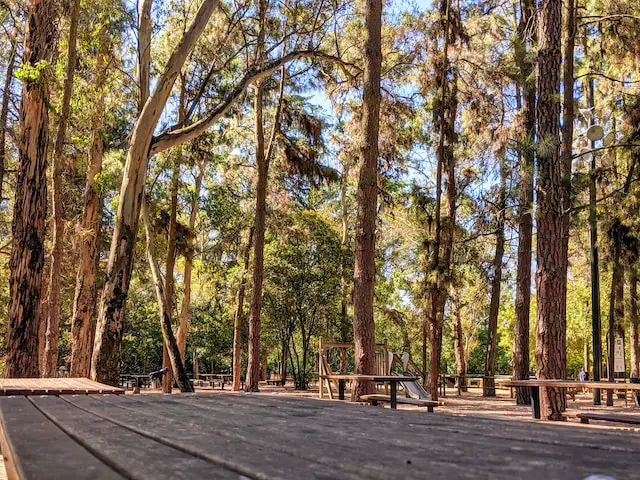 Jardim do Ultramar
The Jardim do Ultramar is situated east of the Jeronimos Monastery and was first inaugurated in 1906. At the time King Charles I began the park as a research centre for the Institute of Tropical Science, and the research was aimed to help the overseas colonies of Portugal. A French landscaper named Henry Navel laid out the plans for the garden which now contains close to 600 different kinds of plants, both tropical and subtropical. Most of the flora originates from South America, Asia, and Africa, and is owned by the University of Lisbon.
Parque dos Poetas
Just west of the Lisbon city centre is another gorgeous green space, the Parque dos Poetas. It spans 22.5 hectares and houses the works of over 40 different sculptors. In total there are about 60 statues of Portuguese performers, poets, and writers, so see if you can recognize any of them while you explore the area! The statues are split up into three different areas; Troubadours to Renaissance, Baroque to Romantic, and 20th Century poets. It took a couple of years to complete the statue collections and new ones were regularly added between 1998 and 2015. 
Jardim do Torel
The Jardim do Torel is beautiful but a little hard to find, which also means that it's quiet! This 19th-century garden is located on one of Lisbon's seven hills and looks out over central Lisbon and Liberdade Avenue. Right by the entrance, there are some pretty little palaces as well as a stunning mansion that was designed by Jose Luis Monteiro. Consider checking them out before you visit the park.
Enjoying the Greenspaces of Lisbon
Spending time in nature is good for your head, your body, and your soul. Doing so can positively affect your well-being both mentally and physically and offer great opportunities for community engagement as well. Luckily for you, Lisbon has quite a few green spaces, so you will never be too far away from a park and can go on a relaxing walk or hike anytime that you need to. It is important to remember to slow down and admire the nature around us now and then, so take some time to discover the parks in Lisbon!