The holiday season often conjures up images of cosy homes filled with family, twinkling lights, and towering Christmas trees. But if you're a backpacker lusting for adventure, you may want to spend Christmas a little differently this year.
Backpacking during the holidays can be a magical and budget-friendly way to experience Christmas in an exotic destination, share the spirit of the season with new friends worldwide, and create unique memories to cherish for years to come.
From snow-capped alpine villages to tropical beaches ringing with holiday music, here are some of the best places to spend Christmas backpacking!
Disclosure: Untold Wanderlust contains affiliate links. If you click on these links and make a purchase, we will earn a small commission at no extra cost to you. You can find our full disclosure policy and privacy policy here.
Lapland, Finland
If you really want a unique Christmas experience, head north to Lapland. This arctic region in northern Finland is Santa Claus' home, after all! Cross the Arctic Circle and spend Christmas Eve watching the Northern Lights dance across the night sky before retiring to your glass igloo.
Christmas Day can be spent on thrilling winter excursions like husky sledging, reindeer sleigh rides, snowmobiling, skiing, and snowshoeing. Afterwards, warm up with hot berry juice as you relax next to a cosy fire in a remote Lapland cabin. It's an unforgettable way for backpackers to feel the magic of Christmas.
Vancouver, Canada
Backpackers wanting a more urban Christmas escape should consider Vancouver. Its lively Christmas market at Jack Poole Plaza features artisan gifts, tasty treats, and regular live music. Festive light displays like the Bright Nights Train in Stanley Park and the Celebration of Light lantern walk get you in the holiday spirit.
Take advantage of last-minute cruise offers to visit Victoria or Seattle for a day. On Christmas Eve and Day, find free concerts around downtown to join in carolling with locals or head up Grouse Mountain to ski and take in incredible city views.
With a mild winter climate and abundant holiday cheer, Vancouver is a fantastic Christmas backpacker stop.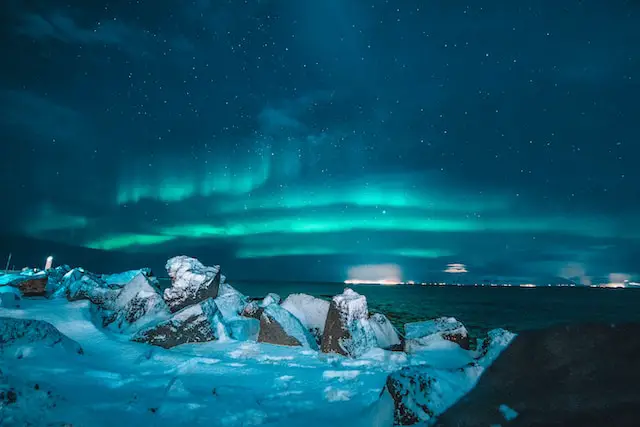 Reykjavik, Iceland
Iceland's cool capital city comes alive during the Christmas season. Reykjavik's main street Laugavegur has festive storefronts and a bustling Christmas market selling hand-knit Icelandic sweaters and other unique Nordic gifts.
On Christmas Eve, backpackers can join in the local tradition of enjoying a holiday feast before lighting lanterns and singing cherished carols together as a community. Under the mystical glow of the Northern Lights, it creates an incredible holiday night.
Spend Christmas Day viewing the city's dazzling holiday lights displays and trees before joining in a spirited pub crawl with fellow backpackers. Reykjavik's stunning winter scenery combined with its warm holiday charm make it a perfect backpacker destination.
Rovaniemi, Finland
Since Rovaniemi straddles the Arctic Circle, Santa Claus is prominent here. Visit the Santa Claus Village theme park to meet Kris Kringle himself and cross the magical line at the Arctic Circle marker.
Beyond Santa, Rovaniemi offers excellent winter activities like reindeer and dog sledging, skiing, ice fishing and snowmobiling on acres of pristine wilderness under the Northern Lights. Its bustling Christmas market, gingerbread shops, and Santa-themed restaurants will make you feel the holiday spirit.
For Christmas Eve and Day, retreating to a remote wilderness cabin lets backpackers immerse themselves in Lapland's tranquil snowy forests. Rovaniemi provides a wonderland backpacking adventure.
Abisko, Sweden
Nestled high in northern Sweden, Abisko is an ideal spot for backpackers seeking solitude and natural beauty this Christmas. Known for clear blue skies and optimal Northern Lights viewing, you're almost guaranteed an incredible Lights show at Abisko on Christmas Eve.
Spend the day dogsledding or cross-country skiing through remote forests before warming up in your hostel with new friends. Head outdoors after midnight to watch the mystical green, red and purple Lights dance overhead next to a cosy bonfire.
It's a peaceful way for backpackers to reflect on life's blessings at Christmas in nature's splendour. You can attend a lovely Christmas Day church service in the tiny village before heading out for more wintry adventures under the mystical Lights.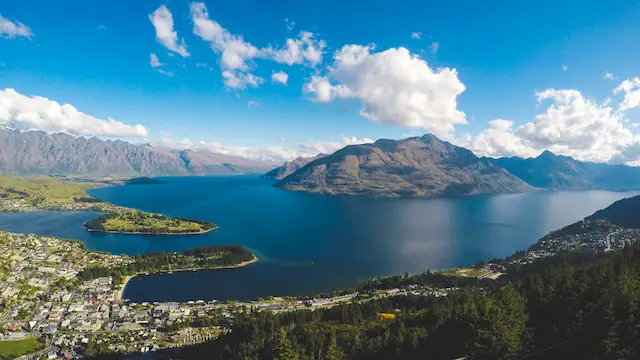 Queenstown, New Zealand
With warm summertime temperatures in December, Queenstown is perfect for backpackers wanting a change from chilly Northern Hemisphere holidays. Nestled against a stunning mountain and lake backdrop, Queenstown has endless outdoor adventures like hiking, biking, bungee jumping and kayaking to enjoy before joining merry backpackers for a festive Christmas dinner.
Wake up on Christmas morning to unwrap gifts in your cosy hostel before heading to Queenstown Gardens or Mountain Bike Park for outdoor fun. The charming city has loads of ambient bars and cafés to relax in after your adventures, with many hosting free Christmas meals or events to join in the hijinks.
With its stunning landscape and welcoming community, Queenstown promises a Christmas to remember.
Conclusion
Whether you dream of a white Christmas in an Alpine village or a sunny seaside celebration halfway across the world, there are amazing places out there waiting to give you a holiday season you'll always remember. These are just a few of the top Christmas backpacking destinations to inspire your own adventures.
Wherever you choose to spend Christmas on the road, the real meaning of the season – joy, connection, generosity, and the love of humankind – will shine through. Happy Holidays and Merry Christmas from all of us backpackers!