Do you only have 1 day in Prague? Here's how to spend a fun-filled, cheap day out in Prague. There's no need to worry about overspending as most of this Prague itinerary allows you to explore the best of the Czech Republic's capital city on a budget.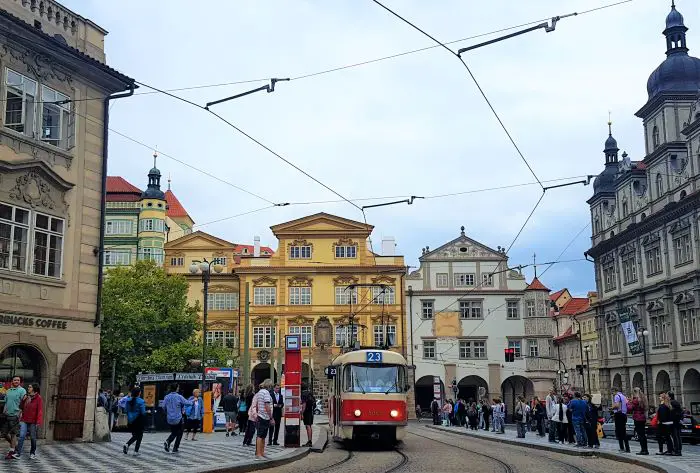 Disclosure: Untold Wanderlust contains affiliate links. If you click on these links and make a purchase, we will earn a small commission at no extra cost to you. You can find our full disclosure policy and privacy policy here.
Things to do in 1 day in Prague
Fill up on bread bowl potato soup
Start the day with a full belly! Whilst it may be gimmicky, Czech goulash in a bread bowl is certainly going to make your taste buds pop and give you the much-needed energy to escapade through Prague in 1 day. Bread bowl soup is a traditional Czech food and can be found in plenty of eateries. We bought one each, but we could have easily eaten one between the two of us. This Czech classic is the perfect hearty dish to keep warm during winter in Prague.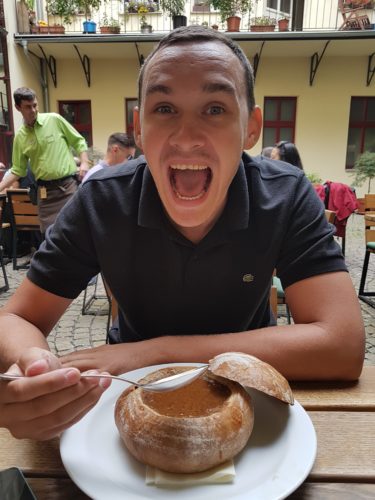 Admire the astronomical clock tower
Once you have a belly full of food it's time to get your feet moving through the Gothic Old Town, to reach one of Prague's most famous attractions; the astronomical clock tower. This famous medieval clock was first installed in 1410 and is the oldest astronomical clock still operating to date. Make sure to visit the clock on the hour (from 9:00 am to 11:00 pm) to see the clock strike and the apostles and other figures set in motion.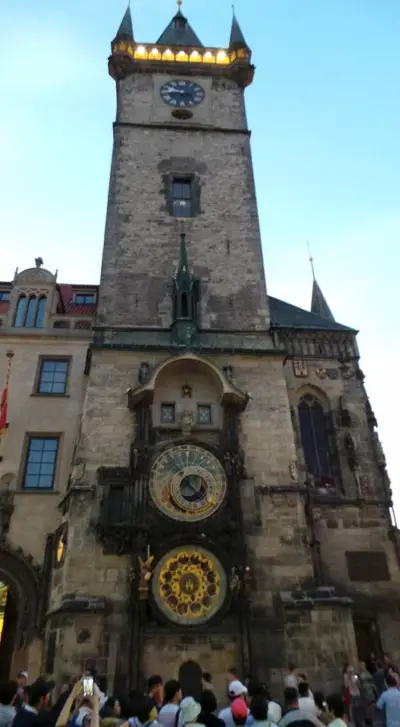 Walk Charles Bridge
Whether you're on a day trip to Prague, or even on a wider Czech Republic itinerary, Charles Bridge is a must-visit. Charles Bridge is a stone bridge that links the old town of Prague to Prague Castle, with the Vltava River flowing beneath it. If you're on a bigger budget and are looking for things to do in Prague at night, you may want to consider taking a river cruise to see the magic of the city at night. During the day, Charles Bridge is bustling with tourists and locals that are enjoying a day out. As you stroll down the bridge take time to admire the street artists, bands and dancers that provide entertainment for passers-by.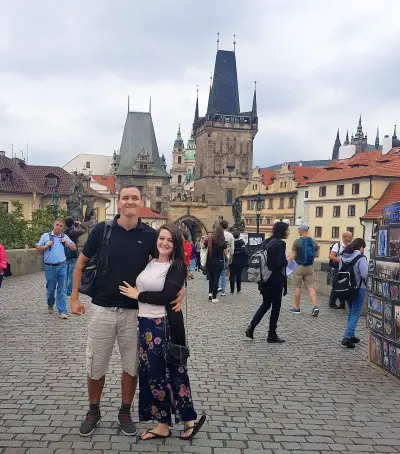 Watch the changing of guards at Prague Castle
Prague Castle is one of many fairy-tale castles in the Czech Republic. Once over Charles Bridge, you can make your way to Prague Castle to watch the hourly changing of the guards. Whilst there is a fee to go inside Prague Castle, it is completely free to roam the grounds and admire the pretty architecture. If you wish to go inside the castle, the entrance fee is 250 – 350 CZK ($10.82 – $15.15), depending on which circuit you choose. Or, you could opt for a Prague castle tour! For more information on how to get to the castle and the different circuits, check this post.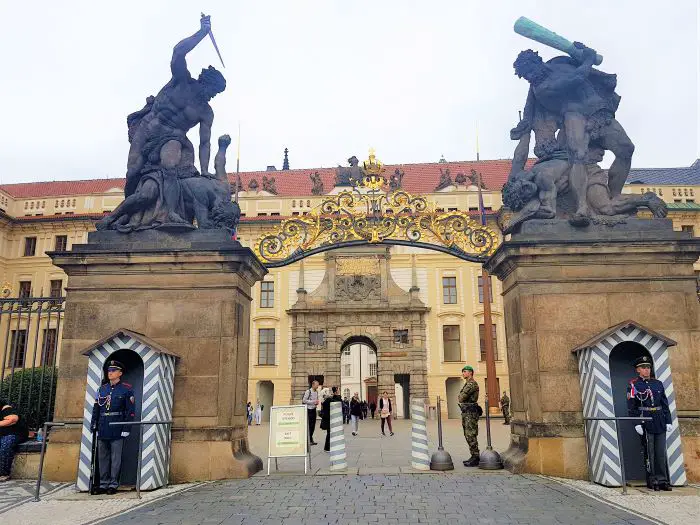 Feel like a princess at St. Vitus cathedral
Whilst Prague Castle is pretty, St. Vitus Cathedral steals the show with its Gothic architecture that dates back over 600 years ago. The cathedral is the biggest and most important in the whole of the Czech Republic and should not be skipped as it is just a stone's throw away from Prague Castle. It truly is one of the Czech Republic's beautiful places.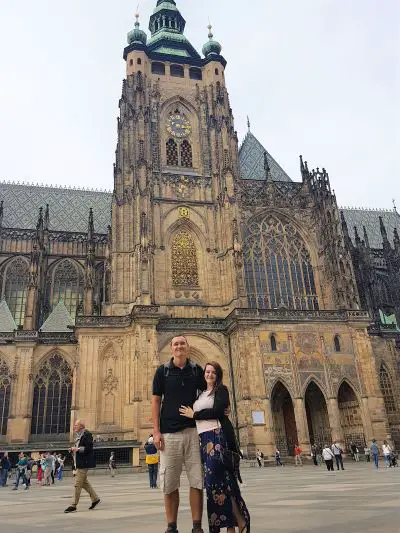 Try Trdelnik – A pastry dessert
After working up a sweat walking to Charles Bridge and around the castle and cathedral, it's time to treat yourself to a well-deserved yummy pastry; Trdelnik. You can find these rolled pastries just about anywhere in the city. They are a common sweet treat and are a must-try on any visit to Prague. You can opt for a plain one with sugar or go a bit extra and add in some melted chocolate. Or, if you have a super sweet tooth, you can get them with ice cream too!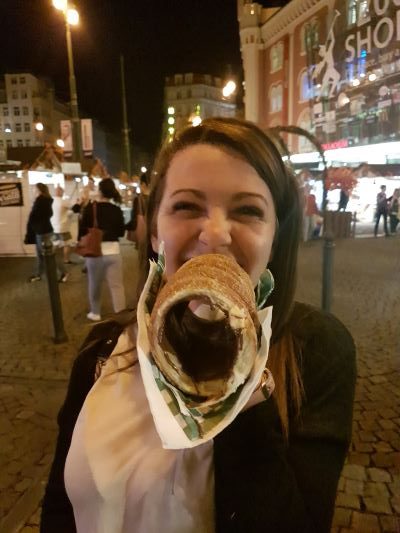 Stop by at the Dancing House
Do we have any architect lovers out there? This building is strikingly modern and unique compared to Prague's more historic Neo-Gothic buildings. It's not hard to understand where this quirky building gets its name from – as the house looks like it is boogying away. The building is now used as an office but there is a restaurant at the top that offers views of Prague and the river.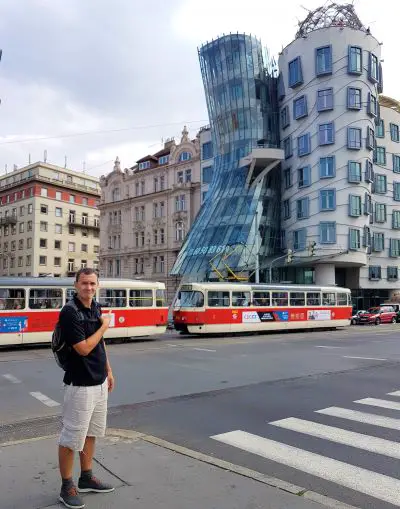 Visit Franz Kafka – The moving face statue
Let's keep with the quirky architect theme and head over to this fascinating statue. The 11-meter-tall sculpture is one of Prague's newest attractions; built in 2014. The enormous stainless-steel statue twists and turns before eventually forming into the face of a famous Czech writer, Franz Kafka. It's pretty cool to observe!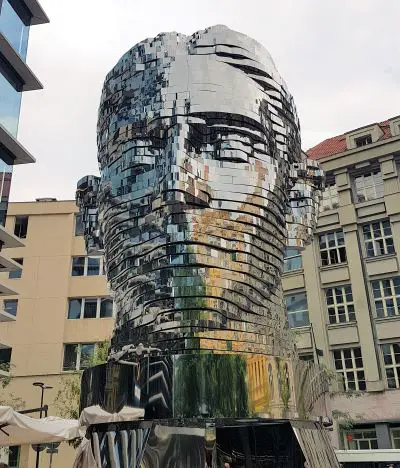 Graffiti the John Lennon Wall
In the 1980s, what was once an ordinary wall was turned into the John Lennon Wall, where people paid tribute to John Lennon and his ideas of peace, freedom, and free speech in the form of drawings and lyrics. Over the years the wall continues to evolve as locals and tourists make their mark on the colourfully spray-painted bricks.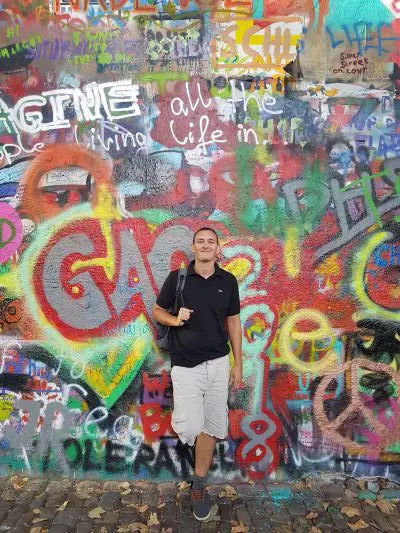 Eat a 3-course traditional meal
A trip to Prague wouldn't be complete without sampling some traditional Czech food. Head on down to one of the cute pubs around the old town to tuck into a delicious 3-course meal. The menus are often set to a few dishes and you pay a set price for the starter, main, and dessert. Starters usually consist of soup with bread followed by a traditional main dish of meat and potatoes. Lastly, finish up with some delicious ice cream or cake.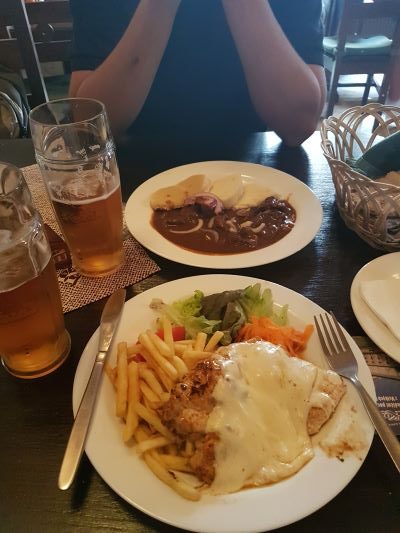 Watch street performances in the old square with a beer
Finally, end your 1 day in Prague with a beer or a glass of wine in Old Town Square. Sit back, relax, and enjoy the entertainment. Many people go out into the square to perform their music and dance moves.
For a unique experience in Prague, consider the Madrid to Prague tour. This off-the-beaten-path adventure takes you to the hidden gems of the city, including local food markets and historical landmarks. Immerse yourself in the authentic culture and discover Prague beyond its popular tourist attractions. And if you're feeling adventurous, indulge in traditional Czech dishes like goulash or schnitzel. Embark on this journey and unlock the true essence of Prague.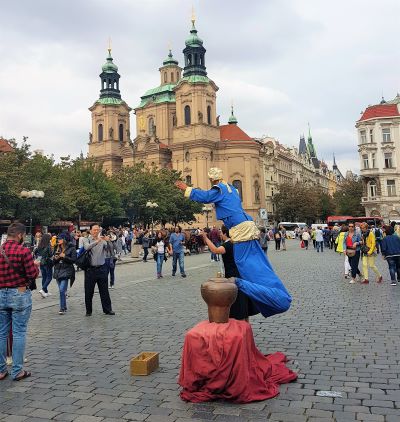 Did you enjoy this 1 day's Prague itinerary? Then check out this 1 day in Bratislava guide!
Where to stay in Prague
Feeling luxurious: Hotel Kings Court – Want to treat yourself to a swimming pool and some spa time? This hotel is perfect for those who want a luxury stay! It's also in an excellent location, close to Prague's hot spots.
Budget private room: Bed & Books Art Hotel – Just 600 meters from the Old Town Square! The vintage rooms provide a cosy stay for those who are on a budget but want some personal space and privacy.
Dorm life: Little Quarter Hostel – A highly rated hostel in the heart of Prague; just 200 meters away from Prague Castle. The hostel boasts a roof terrace, a bar, and a bicycle rental service. It's perfect for social butterflies!
For more prices and deals on properties in Prague, CLICK HERE.
Essential resources for travelling in the Czech Republic
Travel Insurance – No matter where you're travelling to, it's a good idea to make sure you're covered for any accidents or losses. We spent days and weeks searching for insurance, but most insurers would not allow us to take out a policy as we were already abroad. Our personal choice is Safteywing. You can opt for automatic monthly payments, just like a subscription. More importantly, it is available in 180 countries and can be purchased whilst already travelling. There is no cap on the duration of travel.
Visa – Before you travel to any country, make sure to check if you need a visa. iVisa is a fantastic website that is super easy and quick to use. Just type in where you are from. and where you are going. to check if you need a visa. If you do, you can quickly make an application online.
Accommodation – Booking.com is our go-to when looking to pre-book accommodation online. Booking.com tend to almost always have the best rates and a FREE cancellation policy for most properties.
Overland transport – Our go-to website for overland transport is Bookaway. Bookaway offers multiple forms of transport, from buses, mini-vans, trains, and ferries. The routes on offer are extensive and certainly cover most of the backpacker trails. Bookaway works a little like Skyscanner but for overland transport. You will find plenty of transport options from a range of companies. All you simply need to do is book online and receive your ticket by email. The email will contain essential information, such as where the bus leaves from and departure and arrival times.
Tours & Activities – If you want to book tours and activities online, make sure to check out Get Your Guide. Get Your Guide takes the stress out of booking activities abroad. You will also find a range of benefits, such as skip-the-line passes, lunch included in your tours, and so much more.
Travel tips ebook -Before you head off on your adventure, make sure to download our free ebook. It has a whopping 109 budget travel tips to help you make your hard-earned cash go further. Click here to download your FREE ebook.
Where are you heading next? Hop over the border to Budapest for more incredible European culture. Or, if you're looking for somewhere more off-the-beaten-path, check out the unknown country of Transnistria.
Like this 1 day in Prague post? Pin it!