Ready to take the famous slow boat to Luang Prabang in Laos? Here we have everything you need to know about making the journey from Chiang Rai through to the charming town of Luang Prabang. You will find out how to get to the border, all about the 2-day route, and where to purchase your tickets at the best prices.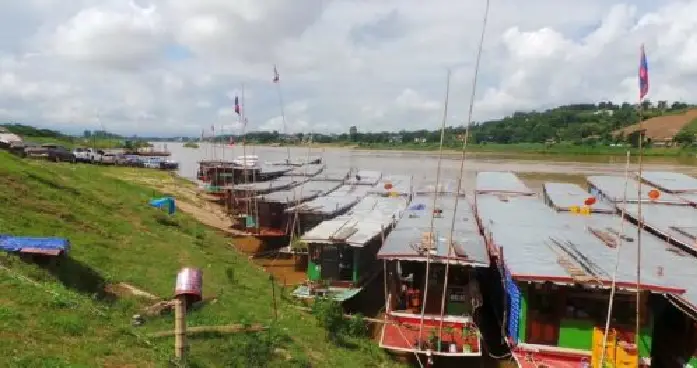 Disclosure: Untold Wanderlust contains affiliate links. If you click on these links and make a purchase, we will earn a small commission at no extra cost to you. You can find our full disclosure policy and privacy policy here.
How to get to the Lao border 
Many travellers head from places in the north of Thailand into Luang Prabang, as this is the most obvious route along the banana pancake trail. To do this you will first need to reach the Thai/ Lao border at Huay Xai. To get there you can either go directly by bus from Chiang Mai or Chiang Rai. A local bus from the bus station in Chiang Rai to Chiang Khong costs 65 Baht ($2.08) and takes 2 hours. After the morning drive, you will be dropped off on the roadside and greeted by tuk-tuks. You will then need to hop in a tuk-tuk and cross over the friendship bridge to the immigration point. The cost of the tuk-tuk is around 30 Baht ($0.96) per person.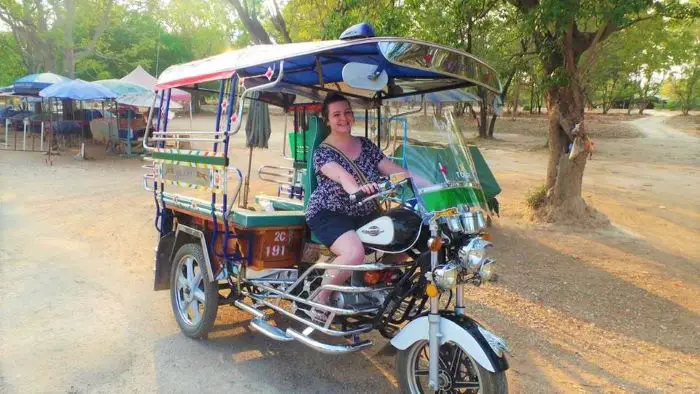 Passing through the Thai/ Laos border
When you arrive at the border you will need to fill in an immigration form to get your visa. For U.K. passport holders the cost of the visa is 30 USD for 30 days' single entry into Laos. After getting your visa stamped into your passport, proceed to the Lao side of the border. You will then come out into a small bus terminal. From here you can take a short bus ride to the nearby town of Huay Xai. Now you have two choices; if you have managed to get to Huay Xai early enough, you can jump straight on the boat for the first leg of the slow boat journey. If you miss the boat that day, you can stay the night in Huay Xai. The small town is lined with guesthouses for you to choose from before continuing the slow boat journey to Luang Prabang.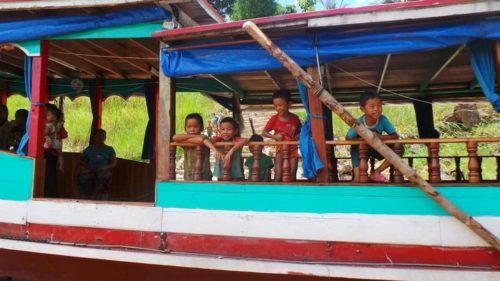 Where to buy tickets for the slow boat to Luang Prabang
The pier to board the slow boat to Luang Prabang is easy to find. You should buy both parts of your ticket from the dock at the pier. The total cost for the ticket is 220,000 Kip ($24.77) per person. Be aware that many places in the town will try to sell you the tickets beforehand at an inflated rate. Make sure to keep your ticket safe. This is your pass to carry on the journey the following day. The slow boat to Luang Prabang is scheduled to leave at 11:00 am. Therefore, we recommend arriving at the pier at 10:00 am to be sure to get a ticket and a good seat on the boat.
The slow boat to Luang Prabang experience
The first leg of the slow boat to Pakbeng
The first leg of the journey takes around 7 hours. The next day is around 6 hours. Along the way, you will float down the river that is surrounded by lush green mountains and clear blue skies. Whilst onboard, take the opportunity to meet new people to have an awesome time within Laos. You can buy snacks and drinks on the boat, but the prices are slightly higher than they are on land. If you don't fancy paying the prices on the boat, you can always buy a few things beforehand and take them with you. Tip: The seats are relatively comfortable but try to sit at the front of the boat. The closer you get to the back, the noisier it is because of the engine.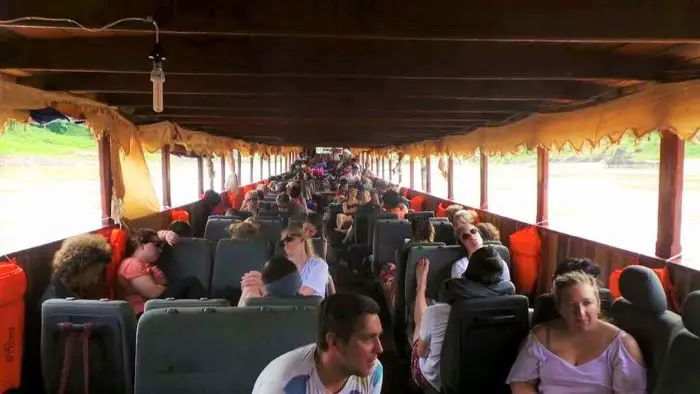 Stay the night in Pakbeng
Whilst on the boat a worker comes around asking if you want to pre-book your accommodation. They will probably try to scare you by saying you risk not having anywhere to stay because the guesthouses are full. The truth is, is there are plenty of nice places to stay! When you get off the boat you will be met with plenty of hotel and hostel owners. If you agree to stay at their place they will give you a free ride in their truck up the 1km long hill.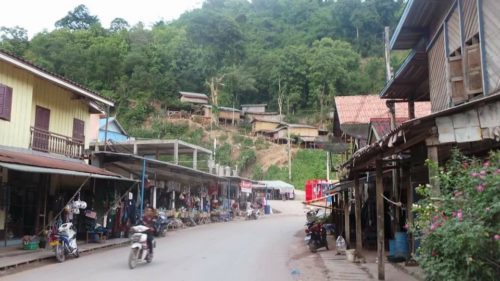 The average cost of a private double room is around 100,000 Kip ($11.26) for the night. There isn't much to do in Pakbeng, but there are many eateries for you to choose from for your evening meal. After tucking into a nice meal, get a good night's rest ready for the next leg of your boat journey the next day.
The second leg of the slow boat to Luang Prabang
After the 6-hour journey for the second day in a row, you may be starting to get a little restless. When you arrive in Luang Prabang you will need to walk up the muddy riverbank and worm your way past all the touts that are asking you to stay at their hotel. We managed to find a private double room with a bathroom for 110,000 Kip ($12.38). We also managed to get a free ride there in the back of a truck. Finally, after a tiring but fun and exciting 2 days, you can relax and enjoy the sights and charm of Luang Prabang.
All in all, the slow boat to Laos was an experience, to say the least. Similar to our overland journey from Laos to Myanmar, this sow boat journey is one that will stay ingrained in our memories for a lifetime. So before booking that flight, remember there is always the 2-day slow boat adventure to get you there.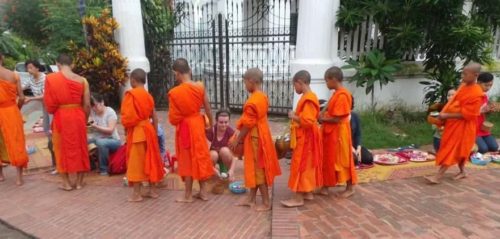 Where to stay in Luang Prabang
Sok Dee Guesthouse – The guesthouse is located in a quiet area, but within walking distance to the market and shops. The guesthouse is clean and boasts very spacious rooms, equipped with a TV and dressing table.
For more prices and deals on properties in Luang Prabang, CLICK HERE.
Essential resources for travelling in Southeast Asia
Travel Insurance – No matter where you're travelling to, it's a good idea to make sure you're covered for any accidents or losses. We spent days and weeks searching for insurance, but most insurers would not allow us to take out a policy as we were already abroad. Our personal choice is Safteywing. You can opt for automatic monthly payments, just like a subscription. More importantly, it is available in 180 countries and can be purchased whilst already travelling. There is no cap on the duration of travel.
Visa – Before you travel to any country, make sure to check if you need a visa. iVisa is a fantastic website that is super easy and quick to use. Just type in where you are from. and where you are going. to check if you need a visa. If you do, you can quickly make an application online.
Accommodation – Bookinging.com is our go-to when looking to pre-book accommodation online. Booking.com tend to almost always have the best rates and a FREE cancellation policy for most properties.
Overland transport – Our go-to website for overland transport is Bookaway. Bookaway offers multiple forms of transport, from buses, mini-vans, trains, and ferries. The routes on offer are extensive and certainly cover most of the backpacker trails. Bookaway works a little like Skyscanner but for overland transport. You will find plenty of transport options from a range of companies. All you simply need to do is book online and receive your ticket by email. The email will contain essential information, such as where the bus leaves from and departure and arrival times.
Tours & Activities – If you want to book tours and activities online, make sure to check out Get Your Guide. Get Your Guide takes the stress out of booking activities abroad. You will also find a range of benefits, such as skip-the-line passes, lunch included in your tours, and so much more.
Travel tips ebook -Before you head off on your adventure, make sure to download our free ebook. It has a whopping 109 budget travel tips to help you make your hard-earned cash go further. Click here to download your FREE ebook.
Now you have arrived in Laos, you're probably planning to see a bit of the country. Check out this backpacking Laos itinerary!
Like this post? Pin it!