Here is the ultimate jam-packed Vietnam itinerary (3 weeks), filled with everything from the chaotic streets of Ho Chi Minh, and Hanoi, Vietnam's deep history, and delicious food, to sailing on a junk boat through one of the world's most pristine natural wonders; Ha Long Bay. This 3-week itinerary allows you to experience a bit of everything the country has to offer. P.s. for more information on travel in Vietnam, don't miss this awesome Vietnam guide.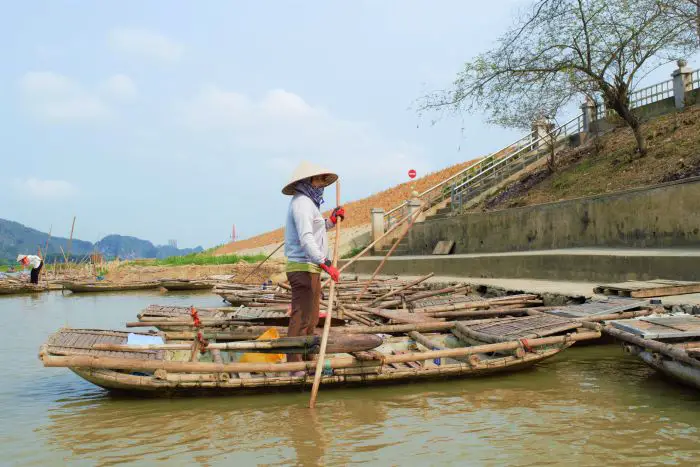 Disclosure: Untold Wanderlust contains affiliate links. If you click on these links and make a purchase, we will earn a small commission at no extra cost to you. You can find our full disclosure policy and privacy policy here.
How to spend 3 weeks in Vietnam
Before we begin this itinerary, if you're strapped for time or want to take the stress out of navigating Vietnam by yourself, then consider taking a 30-day adventure tour! You will see all the places on this itinerary and more.
3 days in Ho Chi Minh City – Vietnam itinerary 3 weeks
The first stop on this backpacking Vietnam itinerary (3 weeks), is Ho Chi Minh City, which is easy to reach by bus from Cambodia if you're on a wider Southeast Asia itinerary. Note: Whilst this route starts in the south of the country, it's also very easy to do the same route in reverse. So, without further ado, let's kick-start this awesome itinerary.
Bui Vien
Bui Vien is backpacker central! The main strip in Ho Chi Minh City is filled with bars, eateries and cheap dorm rooms. The strip is buzzing until the early hours of the morning with travellers from all over the world, who sit up chugging down cheap beers and tucking into local street food.
Mekong Delta
Book a trip to the Mekong Delta at one of the many tour shops along Bui Vien. Shops offer similar packages but shop around for the cheapest. The price of the tour depends on the size of the group and your length of stay. We recommend booking the cheapest 1-day option because you're likely to receive the same experience. The average cost of a shared half-day tour ranges between 200,000 – 250,000 VND ($8.64 – $10.79) per person and includes lunch. However, if you really want to immerse yourself in Mekong Delta life, we recommend you book a private 3-day tour.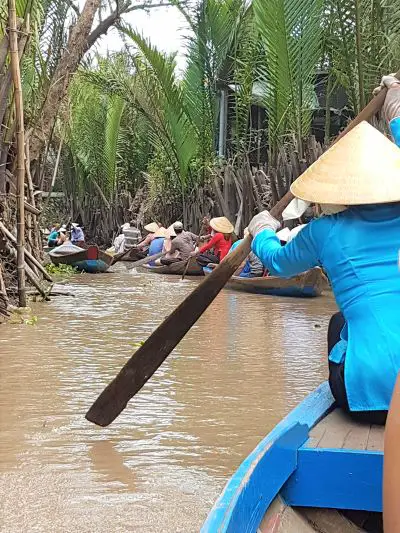 Cu Chi Tunnels
The Cu Chi Tunnels are a fascinating part of the Vietnam/ American War. A trip to the Cu Chi Tunnels will leave you with a better understanding of how guerrilla warfare enabled Vietnamese troops to defeat the American army. As with the Mekong Delta trip, we recommend booking a tour at one of the many tour shops along Bui Vien. Trips are as cheap as 120,000 VND ($5.18) per person for half-day tours. The cost of the trip includes transport, a guide, and your entrance fee into the Cu Chi Tunnels.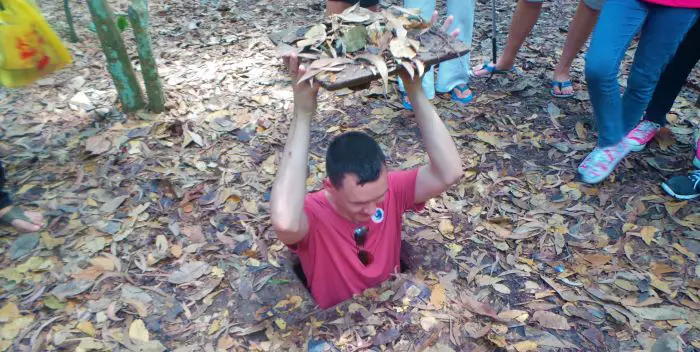 Ben Thanh market
Check out the massive market that is packed with all sorts of stuff, from clothes, coffee and typical Vietnamese gifts. You can spend hours here mooching around all of the stalls. Although, it can sometimes get frustrating when you are constantly being nagged by the vendors to 'look' or 'buy something'. Don't feel pressured, and just politely decline! It's a good idea to scope out the prices of items first, so you know what items are worth and to help you avoid overpaying.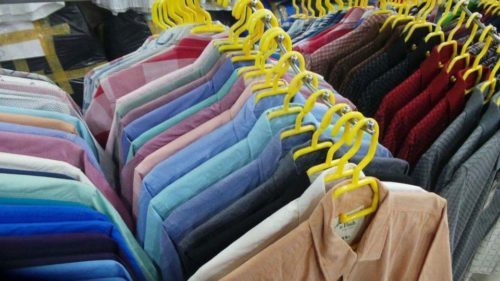 Saigon Notre-Dame & Post office
Visit the famous Notre Dame Church and old post office. Both attractions are located next to each other, so it makes sense to visit both at the same time. Both are FREE to enter. There are also some nice eateries nearby to grab lunch.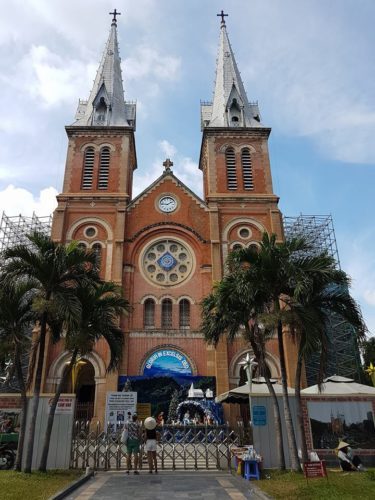 War Remnants Museum
The War Remnants Museum is not an easy place to visit for some people. However, it is most defiantly worth a visit to learn about the atrocities of the war. The cost to enter the museum is 10,000 VND ($.043) per person. To fully explore the 3-floor museum, it typically takes around 2 hours.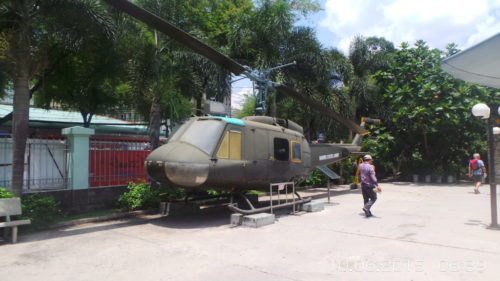 Dam Sen Water Park
The water park is located slightly out of the main tourist area but can easily be reached by taxi or local bus. The cost to enter the water park is just 110,000 VND ($4.75) for the day. The park has plenty of slides, a lazy river, a wave pool, and ordinary pools to relax.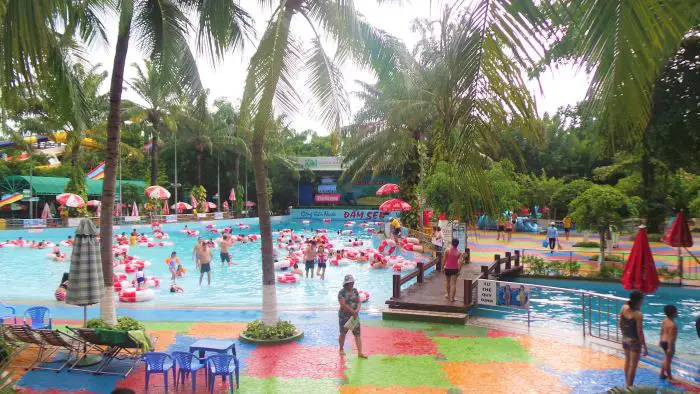 Bitexco tower
Bitexco Tower is an iconic building of HCMC, where you can admire the views of the city from up high. The cost to go to the sky deck is 200,000 VND ($8.64) per person. However, there is a café just a few floors below the sky deck, which is free to enter. The cost of a drink is more than what you would pay on the street (we paid 90,000 VND ($3.89) for a bottle of Tiger), but it's half the price of entrance to the sky-deck, and you get a drink to admire the views with.
Where to stay in Ho Chi Minh City
Galaxy Capsule Hotel – Excellently located less than a minute's walk from Bui Vien but tucked down a quiet alleyway for a good night's sleep. The staff are extremely friendly and helpful. The rooms are new, modern and clean. You can book tours and bus tickets here as well.
3 days in Dalat – Vietnam itinerary 3 weeks
Canyoning
Trek through the jungle, abseil down a 25-foot waterfall before letting go to drop 5 meters in the water, jump from a cliff edge, and get your heart racing with tons more adrenaline-pumping activities. Tours can be booked from one of the many tour shops, or your accommodation. We booked a canyoning trip throughout the hostel, with a company called Viet Action Tours for 700,000 VND ($30.21) per person for the day. The cost included 2 professional guides, equipment, sandwiches and fruit for dinner. Warning: Always book with reputable companies and never attempt to do this by yourself!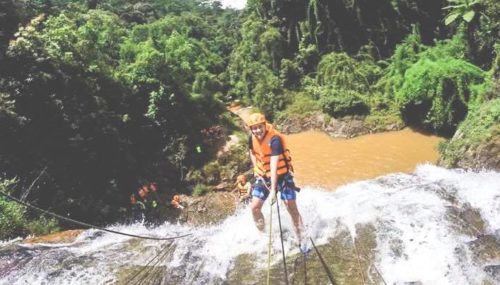 Crazy house
An artistic building filled with many corners and wacky stairs to explore. The Crazy House is worth a visit whilst in Dalat. The cost to enter is 40,000 VND ($1.73). Guests also have the option to stay overnight in one of the many themed rooms.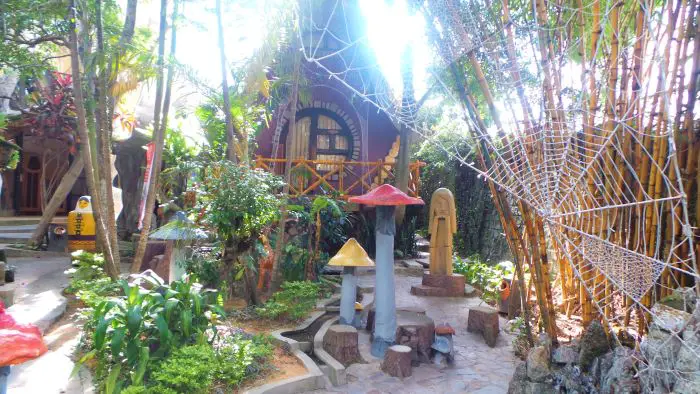 Romantic lake and more
Dalat is a beautiful place that is surrounded by a forest. Take some time to explore its surroundings and check out the lake, where many honeymooners go to relax.
For a more detailed guide on things to see and do in Dalat, check out our Dalat guide. Here you can find more details on prices, places to eat, accommodation, and more attractions. But here is just a quick list of what to expect in Dalat:
Waterfalls
Mountain drives
Pagodas
Clay Tunnel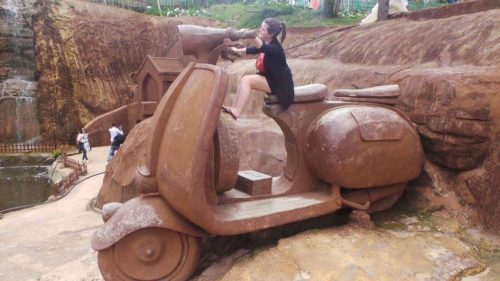 Where to stay in Dalat
Original Kens Backpacker Hostel – We stayed here the first time we visited Vietnam in 2015. The room was very clean, and the staff were extremely friendly and helpful. The hostel offered welcome food and breakfast each morning. A member of staff even took us on a free tour of her beautiful city, and we made a life-long friend.
Dalat Backpackers Hostel – On our most recent trip to Dalat, we stayed at Dalat Backpackers Hostel in a private double room, with a private bathroom. Whilst the room was basic, the bed was comfy, and the room was clean. The hostel staff were extremely friendly and very helpful in providing information. The hosts cooked us a very delicious meal on our first night, and we received breakfast and coffee each morning. The hostel also offers free pick up from the bus station; provided it's after 6 am. The hostel is conveniently located just a 10-minute walk to the night market.
3 days in Nha Trang – Vietnam itinerary 3 weeks
Egg-Mud Baths
After a whirlwind of time exploring Dalat and canyoning down waterfalls, you may be ready for some relaxing time. The egg-mud baths are a great way to do this. The baths are egg-shaped pods that are placed on top of a mountain. After relaxing in the mud for a while, there are hot tubs for you to continue to relax.
Prices vary depending on the package that you choose. We opted for the 300,000 VND ($12.95) per person package. This price package included a private egg pod and access to the two swimming pools and hot tubs. The egg mud baths are a little out of the main area, so you would either need to rent a motorbike or order a taxi. Taxis are cheap in Vietnam; just make sure the driver starts the meter.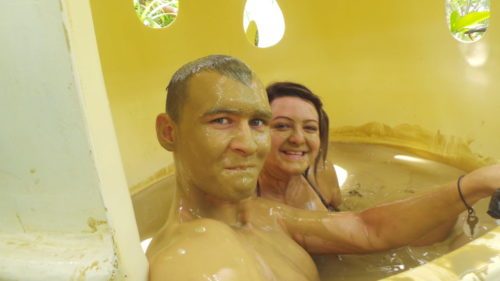 Snorkelling trip
Book a boat trip and spend the day admiring the sea and small surrounding islands. Now and then the boat will stop and allow you time to do some snorkelling. The cost of a large group trip is 260,000 VND ($11.22) per person. The cost includes the snorkelling gear and lunch on the boat. However, if you want to feel comfortable on your snorkelling trip, make sure to invest in some good quality water shoes, which will come in handy for any water activities or just simply lazing around at the beach.
Po Nagar Cham Towers
Po Nagar Cham Towers is a very old complex of temples that date back to the 12th century. They are located just outside of the main strip in Nha Trang and are amongst the best temples in Vietnam. The cost to enter is just 22,000 VND ($0.95).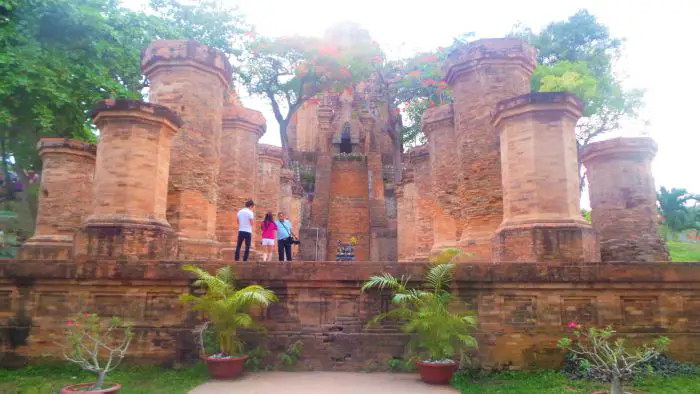 Where to stay in Nha Trang
Mojzo Inn – This accommodation boasts large, modern and clean rooms that are well-equipped with everything you need! The hotel offers both dorm rooms and private rooms, depending on your needs. They also offer bicycle rental and ticketing services.
4 days in Hoi An – Vietnam itinerary 3 weeks
Explore the ancient town by bicycle
Hoi An is probably going to be your favourite destination on this 3-week Vietnam itinerary. Motorbikes and cars are banned from entering Hoi An Old Town. Instead, rent a bicycle and roll around the romantic town, filled with old narrow streets and lanterns. You can rent a bicycle for the day from one of the rental shops or your accommodation. Bicycle rental typically costs 20,000 VND ($0.86) per bike for 24 hours.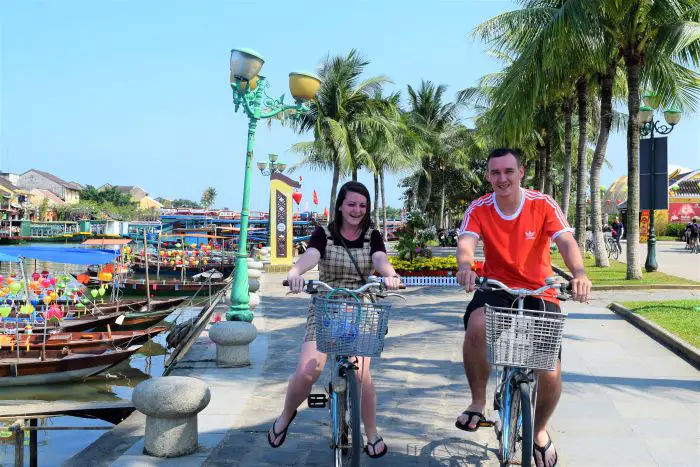 Cooking tour
The cooking tour starts with a trip to the local market to pick up fresh food. You will then board a bus towards the rowboats that will take you to a private island. You will be allowed to cook some of Vietnam's most popular dishes throughout the day. Expect to try your hand at fresh spring rolls for starters, and a steaming hot bowl of Pho for the mains.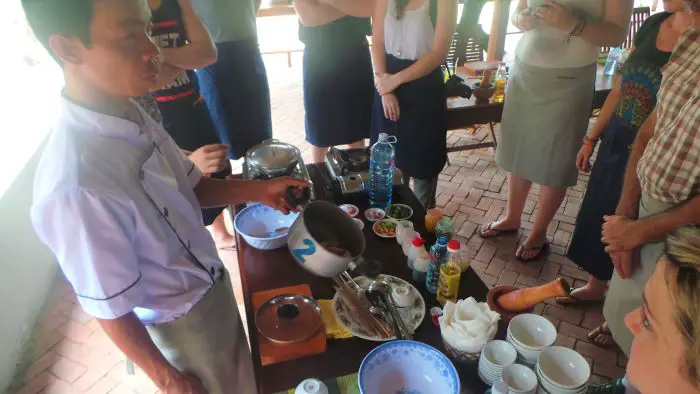 Admire the lanterns at night
Hoi An is well-known for its pretty lanterns and festivals that are held every Lunar month. The river and streets look so magical when the lanterns are lit during the evening. If you fall in love with the lanterns, you can always pick up a few of your own from one of the market stalls.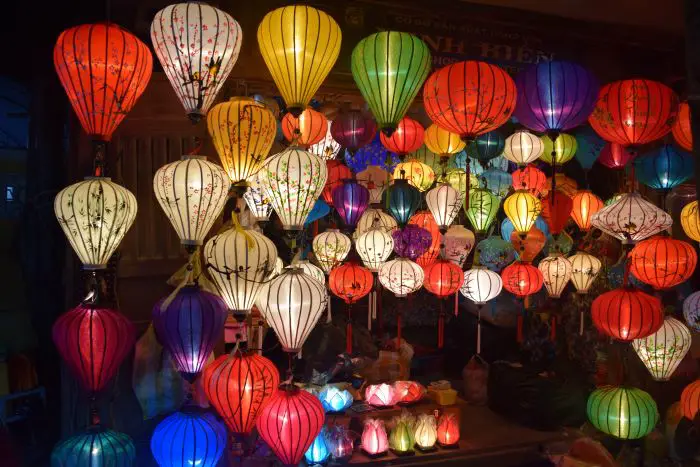 Take a trip to Danang and Ba Na Hills
Hoi An is just a short drive away from Danang City, and Vietnam's newest development, Ba Na Hills. Ba Na Hills is a new French-inspired resort that is home to the famous Golden Hand Bridge, You can easily spend an entire day here admiring the architecture and playing games in the arcade. To get there from Hoi An, you can drive yourself by motorbike or join one of the day tours.
Find a more in-depth Hoi An itinerary here!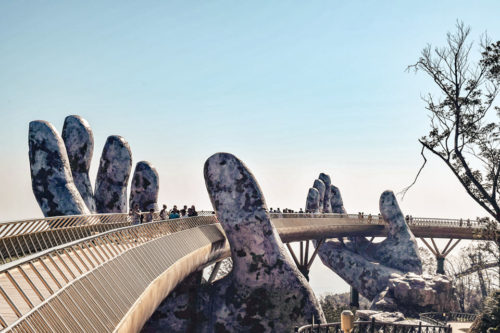 Where to stay in Hoi An
Aroma Homestay & Spa – The best area to stay in Hoi An for those on a budget is on Tran Cao Van Street. We recommend Aroma Homestay & Spa. The homestay is in a great location, surrounded by shops and eateries, and only 1 km from Hoi An Old Town. It offers modern and clean private rooms. The beds are comfortable and the staff at the homestay are welcoming and helpful. Great value for money!
2 days in Hue – Vietnam itinerary 3 weeks
Old Citadel
Hue is the former capital of Vietnam and is home to the Old Citadel; the most famous attraction in Hue. The gardens are beautiful and there are plenty of archways and designs that you should take note of as you walk around the grounds. The entrance fee is 150,000 VND ($6.47).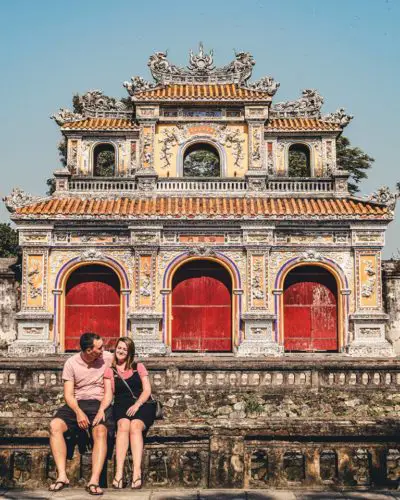 Abandoned water park
The water park closed in 2004 and has since become an attraction for visitors. The main recognisable feature is the huge dragon in the middle of the lake that is starting to decay and become discoloured. Whilst you cannot 'officially' enter the water park, there are ways to enter!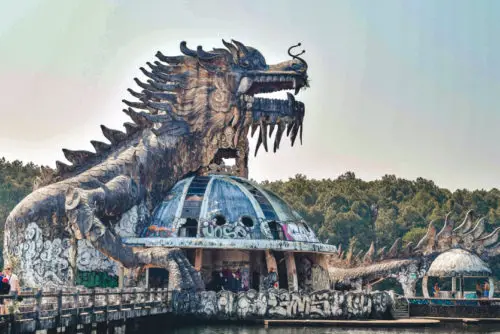 Where to stay in Hue
Bon Ami Hostel – Excellent location! Down a quiet alley for a good night's sleep, but within 1-minute walking distance to plenty of bars and eateries. The beds are comfy, and the rooms are very clean, making it great value for money. The staff members are also very attentive.
2 days in Ha Long Bay – Vietnam itinerary 3 weeks
Ha Long Bay is a UNESCO world heritage site that is famous for its thousands of limestone islands surrounded by emerald waters. A 2-day trip to Ha Long Bay is an absolute must and should not be missed on this backpacking Vietnam itinerary (3 weeks).
Overnight tours can be booked from one of the many tour companies or your accommodation in Hanoi. Alternatively, you can easily pre-book a tour beforehand for peace of mind. The price of the package varies depending on the luxuriousness of the boat. Being the budget backpackers we are, we opted for the cheapest option. Unfortunately, the food with this option wasn't great and we barely ate for 2 days. So, don't get caught out like us. Make sure to do your research beforehand.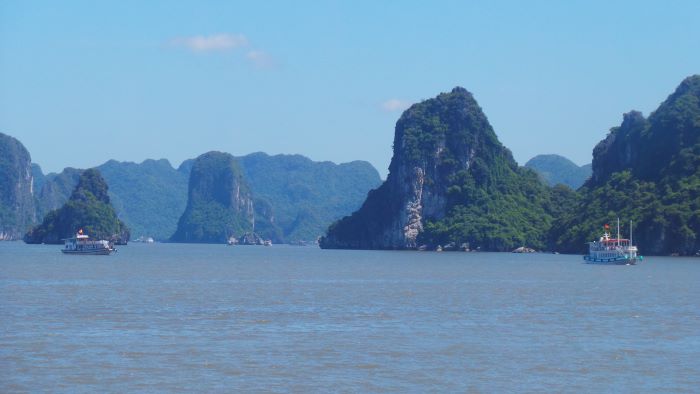 3 days in Hanoi – Vietnam itinerary 3 weeks
Hoan Kiem lake
Hoan Kiem Lake is a large lake in the centre of Hanoi, that is home to Turtle Tower. The area is a major scenic spot and a nice place to relax. In the daytime, you can stroll around and admire the scenery. By night it's one of the best things to do in Hanoi during the evening, and the road is completely shut off to vehicles. You will find young locals showing off their talents in the form of dances, singing, skipping and more. After a walk around Hoan Kiem Lake, finish your evening with a few cheap beers over on Beer Street. Beers are just 5,000 vnd ($0.21) per cup so it makes for a great cheap night out.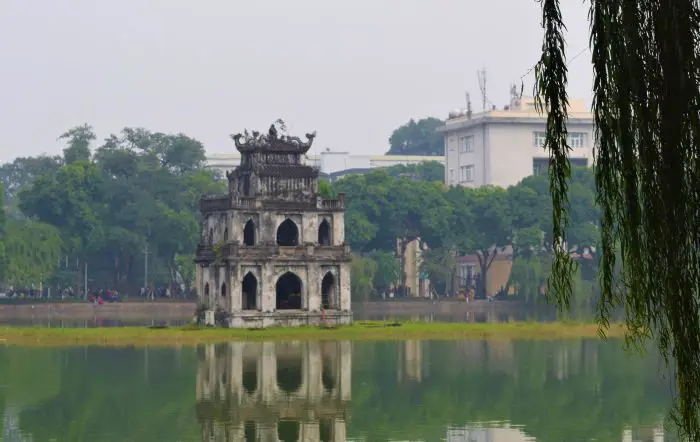 Hoa Lo Prison
Hoa Lo Prison is an interesting and educational experience. At the ex-prison, you can learn about the prisoners of war and what life was like for them. The cost to enter is 20,000 VND ($0.86) per person.
St. Joseph's Cathedral
St Joseph's Cathedral was built in 1886 and is still in use today. You will find this French-influenced-style building on Nha Tho Street. The area is great to hang out and to do a spot of shopping too.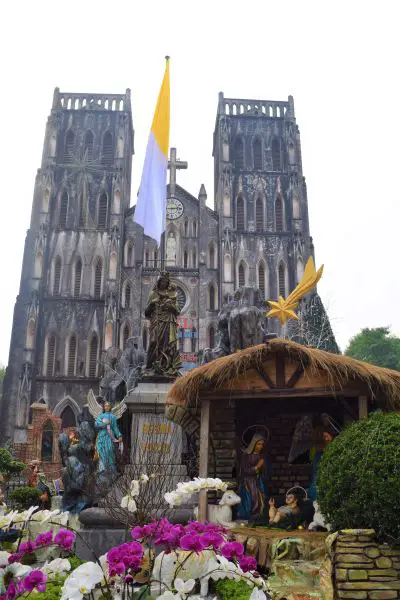 Bargain hunt at Hanoi Night Market
Fancy a spot for cheap shopping? Don't miss the Hanoi Night Market, located on Hang Dao Street. Vendors turn out in their thousands to sell all kinds of products, from cheap elephant pants, funky fruit outfits, cheap sports gear, electronics, Vietnamese trinkets, paintings, embroidery, and more. Even if you don't plan to splash the cash, the market is well worth a walkthrough for the chaotic atmosphere alone.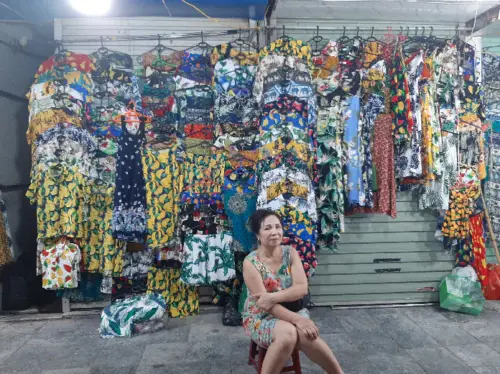 Drink egg coffee at The Note Coffee
If you're feeling thirsty whilst exploring Hanoi, make sure to call at The Note Coffee. This coffee shop is no ordinary coffee shop! It has a unique twist, with hundreds of thousands of notes handcrafted by visitors from all over the world. Not to mention, the drinks are utterly delicious.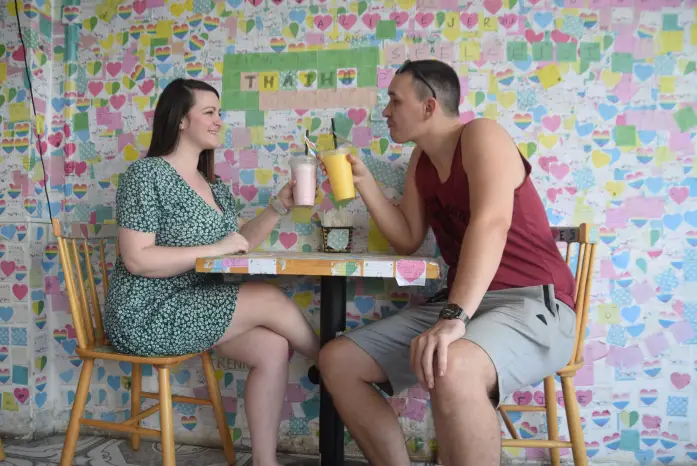 Are you ready for some beach time? Take a flight back South to Phu Quoc Island for some fun-filled island time. Or, are you more of a nature lover? the journey from Hanoi to Ninh Binh is only 2 hours and you're sure to get your nature fix.
Where to stay in Hanoi
Nexy Hostel – A relatively new funky hostel that is in an excellent location; just 500 meters from Hoan Kiem Lake. The rooms are modern, clean and cosy. The hostel has both dorm rooms and private rooms, making it perfect for couples on a budget and for solo travellers who want to meet other people in the bar area.
Costs of this Vietnam itinerary (3 weeks)
Currency: The currency is the Vietnamese Dong. The exchange rate is 23,000 VND to $1.
Daily budget: To complete this Vietnam 3-week itinerary, we recommend a backpacker's daily budget of around 600,000 VND ($26). This should cover the cost of a cheap dorm bed, street food and all of the activities mentioned.
Accommodation: Private double rooms with a bathroom average 300,000 VND ($12.95) per night. Dorm rooms range from 150,000 – 250,000 VND ($6.48 – $10.79).
Food and drink: Food and drink are extremely cheap. Local street food costs between 30,000 – 60,0000 VND ($1.30 – $2.60). Local beer can be found for as cheap as 5,000 VND ($0.22) at the Bia Hoi places on the street. In bars, the typical cost of a beer is 35,000 VND ($1.51).
Transport: Transport around Vietnam is relatively cheap. There is a hop-on-hop-off bus service that can take you from Ho Chi Minh to Hanoi or vice versa. The open bus ticket costs 950,000 VND ($41), and you can stop at any of the hot spots along the way. Alternatively, you can book all of your transport online through Bookaway. There's no need to go to a tour shop, just find your route and receive the ticket directly to your phone.
Motorbike rental: The cost of motorbike rental averages 100,000 VND ($4.32) per day.
For a more detailed post on the cost of travelling to Vietnam check out this post!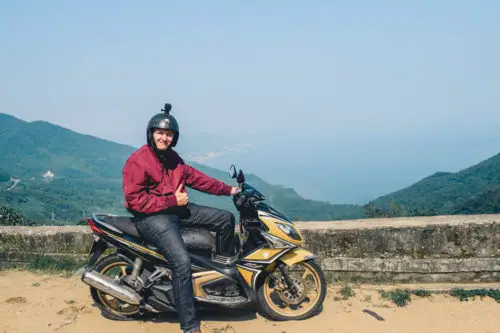 Backpacking Vietnam travel tips
Always agree on a price – Like when backpacking anywhere in Southeast Asia, always agree and be clear on the price before you receive the service. Make sure you communicate the exact amount you will pay and agree on what you will get in return. We got caught out by a driver who offered to take us on a tour around Ho Chi Minh City. The driver told us to "pay what we think is fair". At the end of the trip, he demanded 4 million Dong.  Luckily for us, our hotel staff kindly resolved the issue and in the end, we paid a fair price.
Use Grab – To get around the towns or cities, use a Grab bike or car. Grab is a taxi system like Uber. You enter your location and your drop-off point, you will then see the fare before your trip begins. You can pay in cash when your journey is complete. Since living in Vietnam, we use Grab daily and have never had any issues. The cost is extremely cheap and is often cheaper than using a Vinasun taxi.
Market barter – When shopping around the markets, don't be afraid to barter at a lower price. Outside of the tourist areas, the same item will cost 1/3 of the price.
Be careful with your Dong notes – Some of the small notes and big notes are similar in colour. For example, a 20,000 VND ($0.86) note is the same colour as a 500,000 VND ($21.59). Pay careful attention to the number on them, or you could end up massively overpaying.
Be an adventurous foodie – Vietnam, arguably, has the best cuisine in Southeast Asia (if not Asia). The food is truly delicious, so don't be afraid to try new things. If you hold back, you will miss out on some mouth-watering flavours. Here is a quick guide to some of the best Vietnamese dishes in Saigon.
Make sure to pack essential items – Depending on the time of year, the weather in the south of Vietnam can be very different from that in the north. The south of Vietnam is scorching all year round, whilst the north can get very cold in winter. So, don't forget to bring along some warm clothing! For more tips on what to pack click here.
What to wear – Speaking of packing, you may be worried about the dress code in Vietnam. Don't let that stress you out though, just check out this dress code in Vietnam post to help you out.
These are just some of the top Vietnam travel tips. For a more detailed Vietnam travel tips post make sure to click here to find 31 of them!
Essential resources for travelling in Vietnam
Travel Insurance – No matter where you're travelling to, it's a good idea to make sure you're covered for any accidents or losses. We spent days and weeks searching for insurance, but most insurers would not allow us to take out a policy as we were already abroad. Our personal choice is Safteywing. You can opt for automatic monthly payments, just like a subscription. More importantly, it is available in 180 countries and can be purchased whilst already travelling. There is no cap on the duration of travel.
Visa – Before you travel to any country, make sure to check if you need a visa. iVisa is a fantastic website that is super easy and quick to use. Just type in where you are from. and where you are going. to check if you need a visa. If you do, you can quickly make an application online.
Accommodation – Booking.com is our go-to when looking to pre-book accommodation online. Booking.com tend to almost always have the best rates and a FREE cancellation policy for most properties.
Overland transport – Our go-to website for overland transport is Bookaway. Bookaway offers multiple forms of transport, from buses, mini-vans, trains, and ferries. The routes on offer are extensive and certainly cover most of the backpacker trails. Bookaway works a little like Skyscanner but for overland transport. You will find plenty of transport options from a range of companies. All you simply need to do is book online and receive your ticket by email. The email will contain essential information, such as where the bus leaves from and departure and arrival times.
Tours & Activities – If you want to book tours and activities online, make sure to check out Get Your Guide. Get Your Guide takes the stress out of booking activities abroad. You will also find a range of benefits, such as skip-the-line passes, lunch included in your tours, and so much more.
Travel tips ebook -Before you head off on your adventure, make sure to download our free ebook. It has a whopping 109 budget travel tips to help you make your hard-earned cash go further. Click here to download your FREE ebook.
We hope you enjoyed this backpacking Vietnam itinerary (3 weeks). Of course, it does not cover everything, but it is a great start for first-timers, and we believe it will allow you to experience a mix of city life, nature and culture. Let us know if you have any questions in the comment section below.
Where to next? Maybe you're on the banana backpacking trail and your next stop is Cambodia! Check out our full backpacking Cambodia itinerary to get you started.
Like this post? Pin it!