The Chengdu Research Base of Giant Panda Breeding is situated in the Sichuan Province of China, in Chengdu. Giant pandas are found in only three provinces: Sichuan, Shaanxi, and Gansu, making a Chengdu panda visit a must for foreign tourists and Chinese tourists alike. Here is the ultimate guide of how to get there, costs, and what to expect.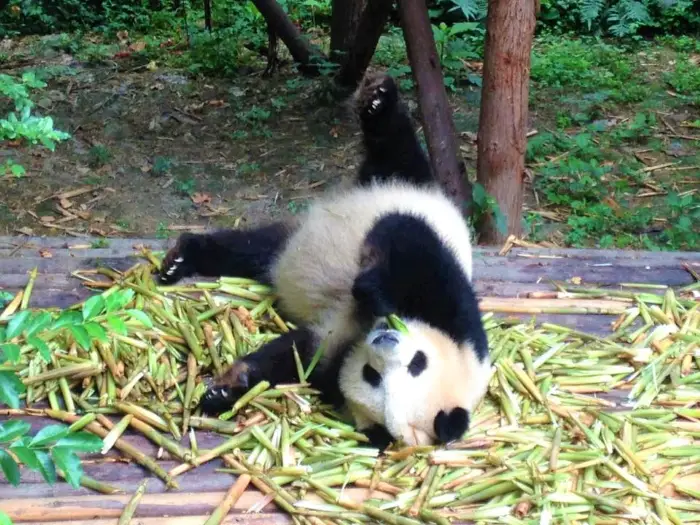 Disclosure: Untold Wanderlust contains affiliate links. If you click on these links and make a purchase, we will earn a small commission at no extra cost to you. You can find our full disclosure policy and privacy policy here.
Getting to Chengdu Panda Center
According to the official Chengdu Panda Base website, the Chengdu Panda Center can easily be reached by bus. Although, the bus can take from 1.5 hours – 2.5 hours. This would be great for those on a very tight budget! However, taxis are relatively cheap and by far the better option to make the most out of your visit. We flagged a taxi from Chunxi Road for just 34 Yuan ($4.90). For such a cheap price, we didn't think it was worth the hassle of getting the bus. Plus, we didn't want to miss the feeding time for the pandas. TIP – make sure your taxi driver starts the meter. If the driver refuses to use it, move on and find another one. The meter will be much cheaper than agreeing on a price beforehand.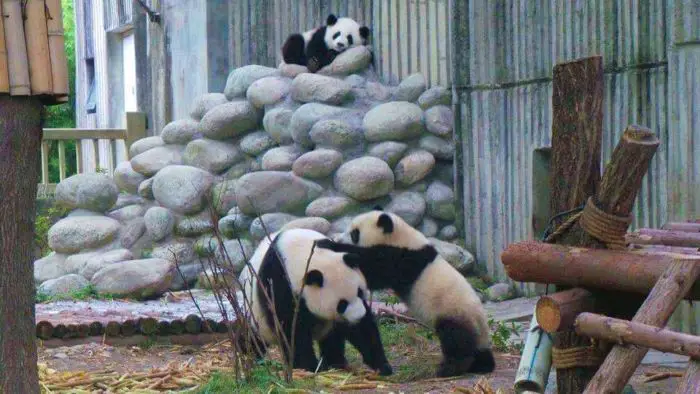 Chengdu Panda Base entrance fee
The cost to enter the Chengdu Panda Base is 58 Yuan ($8.35) per adult. Considering you can spend the entire day at the centre and it's one of the top 10 things to do in China, the price is an absolute bargain. As you pass through the entrance, there is a tourist information office. Here you can collect a map of the park. There is also an optional cart, that will take you to the top of the park for 10 Yuan ($1.44).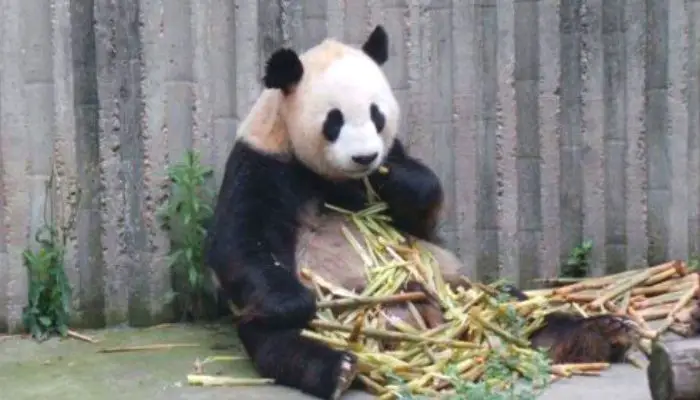 Best time to visit the Chengdu Panda Base
We recommend arriving at the panda centre as early as 7:30 am when feeding time for the pandas begins. Early in the morning, the pandas are at their most active. You will get to see them chomping down their bamboo, rolling around, chilling in the bath, or even rocking on a horse. Afternoon the pandas start to get a little lazy and may even go indoors to the comfort of the air-conditioned rooms to get away from the heat.
Types of pandas on your Chengdu panda visit
The Chengdu Panda Base is home to many pandas of all ages and sizes. Each panda has its name and a placard that tells you information about him/ her. We even had the opportunity to see some tiny baby pandas that were less than 2 months old. They were so young, they were still in incubators.
Did you know that there are red pandas too? Nope…neither did we! These little red cuties roam free and if you're lucky enough you may even see one strut past your legs. If you're extremely lucky you may even get to snap a selfie with one, so make sure to have one of these awesome selfie sticks handy. However, remember not to touch them or harm them in any way.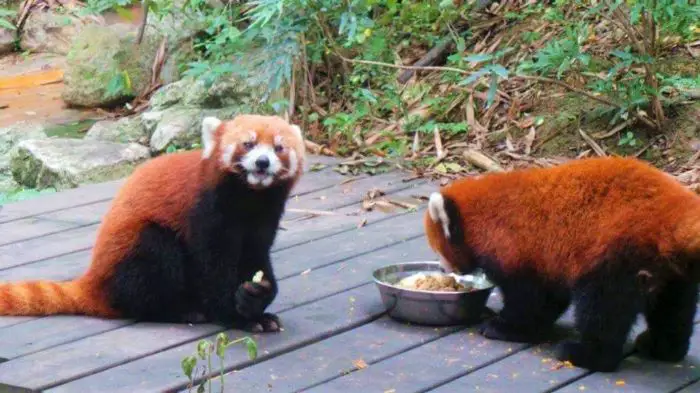 Where to stay in Chengdu
Feeling luxurious: Felton Gloria Grand Hotel – Elegantly decorated rooms with plentiful facilities. There is also an indoor swimming pool for guests to enjoy.
Budget private room: Travelling with Hotel – Cozy place to stay with a great social vibe. The hotel offers free games and table tennis.
Dorm life: Chengdu Flipflop Hostel Poshpacker – Fantastic location! The hostel boasts a cosy lounge area with games and books for guests. They also offer tour services.
For more prices and deals on properties in Chengdu, CLICK HERE.
All in all, the Chengdu Panda Center is a must-visit and a great way to get up close to see the adorable pandas. This has to be one of the highlights of our trip through China. If only we had the chance to hold the cute baby pandas, the trip would have been even better! However, panda holding has currently been suspended at the Chengdu Research Base of Giant Panda Breeding. Now you have seen the pandas, it's time to go on a day trip to Leshan to see the Giant Leshan Buddha.
Essential resources for travelling in China
Travel Insurance – No matter where you're travelling to, it's a good idea to make sure you're covered for any accidents or losses. We spent days and weeks searching for insurance, but most insurers would not allow us to take out a policy as we were already abroad. Our personal choice is Safteywing. You can opt for automatic monthly payments, just like a subscription. More importantly, it is available in 180 countries and can be purchased whilst already travelling. There is no cap on the duration of travel.
Visa – Before you travel to any country, make sure to check if you need a visa. iVisa is a fantastic website that is super easy and quick to use. Just type in where you are from. and where you are going. to check if you need a visa. If you do, you can quickly make an application online.
Accommodation – Booking.com is our go-to when looking to pre-book accommodation online. Booking.com tend to almost always have the best rates and a FREE cancellation policy for most properties.
Tours & Activities – If you want to book tours and activities online, make sure to check out Get Your Guide. Get Your Guide takes the stress out of booking activities abroad. You will also find a range of benefits, such as skip-the-line passes, lunch included in your tours, and so much more.
Travel tips ebook -Before you head off on your adventure, make sure to download our free ebook. It has a whopping 109 budget travel tips to help you make your hard-earned cash go further. Click here to download your FREE ebook.
Like this post? Pin it!