A trip to Tianmen Mountain in Zhangjiajie, China, consists of taking a ride on the world's longest cable car, a crazy trip along one of China's most dangerous roads, walking on the clouds, having your breath taken away by spectacular scenery, daring to walk over a glass walkway, and climbing down the 999 steps that lead to the famous cave hole. But with its obscure location, people often find themselves asking how to get to Tianmen Mountain. Read on to find out exactly how to get there, the costs, the ultimate route around the mountain, and essential tips for your visit.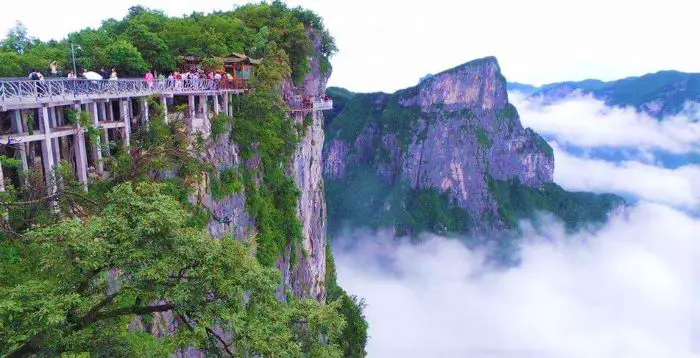 Disclosure: Untold Wanderlust contains affiliate links. If you click on these links and make a purchase, we will earn a small commission at no extra cost to you. You can find our full disclosure policy and privacy policy here.
How to get to Tianmen Mountain
A trip to Tianmen Mountain in Zhangjiajie, should well and truly be on your backpacking China itinerary. But getting there can be somewhat a pain. Below, you can Find out how to get there from different regions in China.
Get to Tianmen Mountain from Zhangjiajie
Tianmen Mountain is located in Zhangjiajie, the Hunan province of China. Getting to the mountain from Zhangjiajie centre is easy, as the main entrance and ticket office to it are right by the cities train station and bus station. All you need to do is walk there! The problem lies in getting to Zhangjiajie, as it's not well-connected to other cities in China.
How to get to Zhangjiajie from Yangshuo / Gulin
To reach Zhangjiajie from the ancient town of Yangshuo, you will need to go to the North Bus Station and take a bus bound for Guilin. Unlike other places in China, the ticket office displays signs in English. Just find the one that reads, Guilin Express. The bus takes 1.5 hours and costs 27 Yuan per person.
When you arrive in Guilin, you need to take a train to Changsha. You can walk from the bus station to the train station, which is just 500 meters apart. The cost of the bullet train is 192 Yuan and takes 3.5 hours.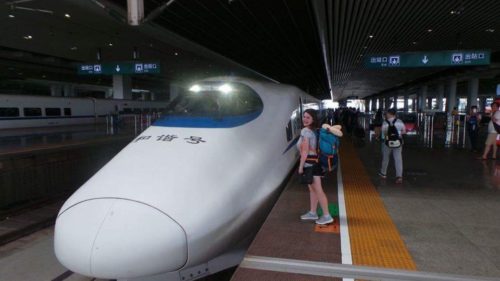 By the time you reach Changsha, it will be late in the day, meaning you need to find accommodation for the night. The train stops at Changsha South railway station.
The next morning, take a train to Zhangjiajie. The train will leave for Zhangjiajie from Changsha railway station (not the one you arrived at yesterday). This train takes 6 hours and costs 54 Yuan per person.
How to get to Zhangjiajie from Chengdu
After awing at pandas in Chengdu, get ready for out of this world nature in Zhangjiajie. From Chengdu take an overnight sleeper train to Changsha for 454.5 Yuan. Whilst some trains make the journey in 7 hours during the day, we recommend taking an overnight sleeper train, to not only save on a night's accommodation cost but so you can hop straight onto the next train. If you opt to travel during the day, you will need to stay the night in Changsha.
Once you reach Changsha, take a 6-hour train ride to Zhangjiajie, which costs 54 Yuan per person, If you have a bit of time to kill whilst in Changsha, there are a few shops, a McDonalds, a coffee shop and a few places to grab a bite to eat whilst you wait.
Costs to enter Tianmen Mountain in Zhangjiajie, China
The cost to enter Tianmen Mountain will set you back 258 Yuan. However, don't let this put you off, the price is definitely worth it! Plus, this includes everything; unlike Zhangjiajie National Park, which not only shocked us but broke us with its many hidden costs.
Tianmen Mountain cable car
The entrance to Tianmen Mountain and the lower ground cable car is located in downtown Zhangjiajie; about 1 km away from the train and bus station. Here you can buy your ticket for the day. When you buy your ticket, you will be asked if you want to take the cable car up, or down. We opted to whiz up on the cable car, because later in the day it gets, the lower the clouds fall.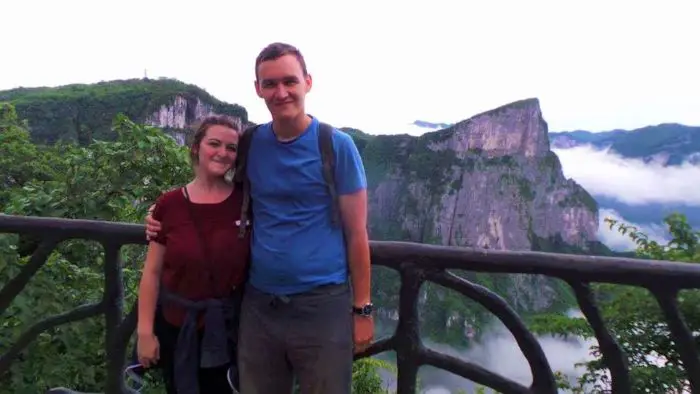 The cable car spans over 7 km and takes a little over 25 minutes (non-stop) to reach the top. The cable car starts pretty steadily and straight, over trees and farmers' fields. 10 minutes into the journey is when the real ascent begins. Before you know it, you will be whizzing up through clouds before emerging above them. The scenery along the way is spectacular, so have your cameras at the ready.
Choosing a route around Tianmen Mountain
When you reach the top of the mountain, you will need to choose which route you want to take; east or west. Don't worry though, it's one circle and you will join the other end eventually. We opted to start walking the east route, as many tours were heading west, and we wanted to avoid being pushed around by the crowds.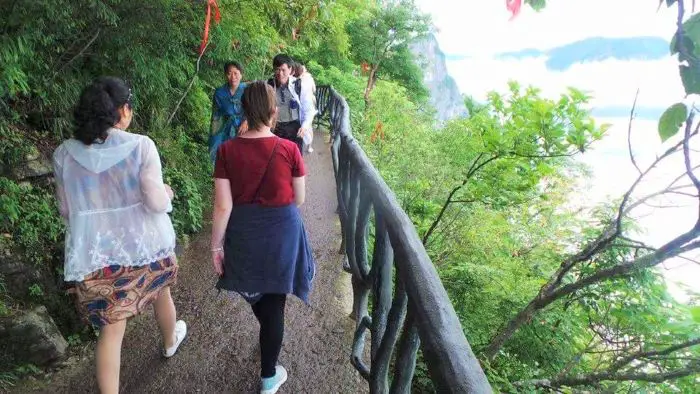 As you walk around the narrow cliff-hugging walkway, you will feel like you're walking on cloud nine. The clouds hang below you, and now and then, the top of the mountain creep through.
Tianmen Mountain glass walkway
There are 3 sections of the glass walkway; one on the east side, and two on the west side. As you tip-toe lightly, quivering in your boots, you can see the never-ending drop below you. To be able to walk over the glass, you need to wear cloth bags on your shoes. You can rent these for 5 Yuan each time. If you are afraid of heights or are too scared to walk across, there is an alternative route you can take.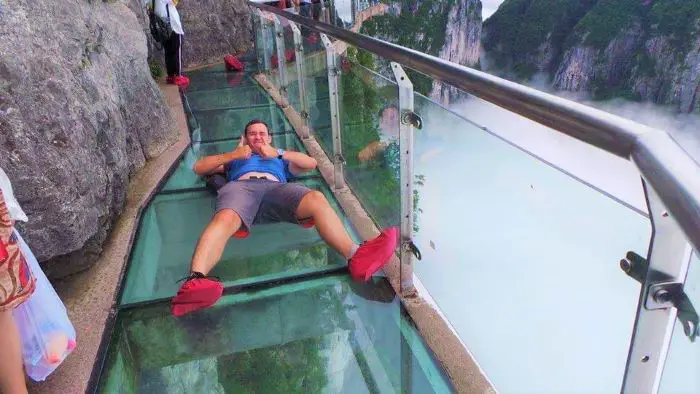 Hunan Gate A.K.A Heaven's Gate
When you have spent a few hours taking in the incredible views and scenery, you will come to a set of escalators. You can take the escalators down to the start of the 999 steps that lead to the mysterious cave hole. The steps seem quite steep and a little scary, but there are many rails to clutch on to on your way down.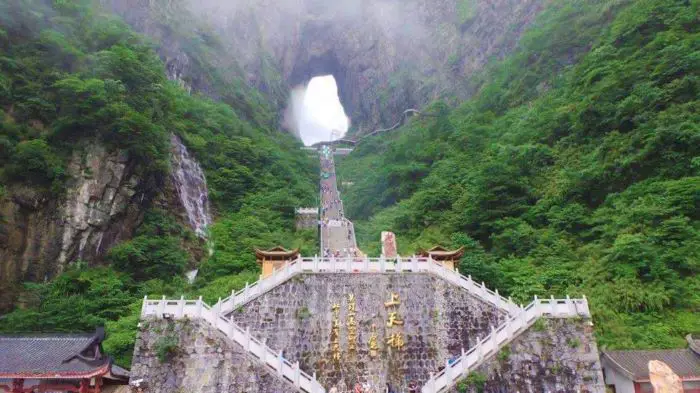 China's most dangerous road – 99 bends
Finally, ride the bus back down to the entrance through the winding and sickening 99 bends. The bus journey is pretty cool as you swing from side to side at the turn of each twist, whilst taking on one of China's most dangerous roads. Besides that, you will be thankful for a nice sit down after giving your legs a good workout from a day of walking around Tianmen Mountain.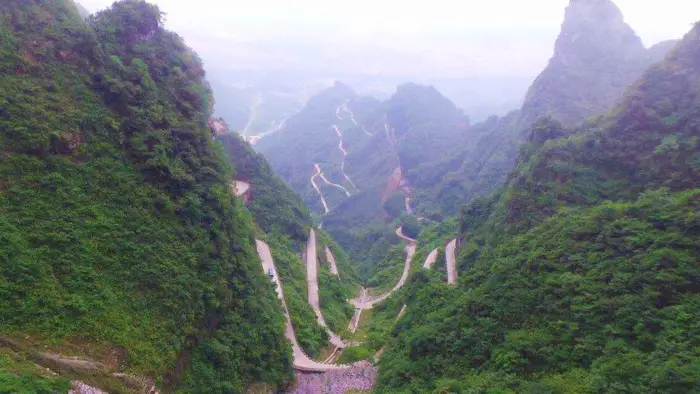 Although we think that Tianmen Mountain is super easy to navigate and get around by yourself, we understand that some of you will want to book tickets beforehand. We recommend checking out Get Your Guide for the latest deals and prices for Tianmen Mountain tours.
Map thanks to
Wanderlog
, a journey planner app
Where to stay in Zhangjiajie
Feeling luxurious: Pullman Zhangjiajie Hotel – Boats a MASSIVE swimming pool, and plentiful facilities such as a bar, karaoke room, and fitness centre. Perfect for those who want to explore the mountains, but also want a relaxing time.
Budget private room: Xiao Wu Ding Inn – Perfect for couples! Offers clean double rooms, and a buffet breakfast for you to fill up on ready for a day of exploring.
Dorm life: Zhangjiajie Cloud Youth Hostel – Great value for money that offers a variety of dorms. It also boasts a spacious balcony with views of the mountains.
Essential resources for travelling in China
Travel Insurance – No matter where you're travelling to, it's a good idea to make sure you're covered for any accidents or losses. We spent days and weeks searching for insurance, but most insurers would not allow us to take out a policy as we were already abroad. Our personal choice is Safteywing. You can opt for automatic monthly payments, just like a subscription. More importantly, it is available in 180 countries and can be purchased whilst already travelling. There is no cap on the duration of travel.
Visa – Before you travel to any country, make sure to check if you need a visa. iVisa is a fantastic website that is super easy and quick to use. Just type in where you are from. and where you are going. to check if you need a visa. If you do, you can quickly make an application online.
Accommodation – Booking.com is our go-to when looking to pre-book accommodation online. Booking.com tend to almost always have the best rates and have a FREE cancellation policy for most properties.
Tours & activities – If you want to book tours and activities online, make sure to check out Get Your Guide. Get Your Guide takes the stress out of booking activities abroad. You will also find a range of benefits, such as skip the line passes, lunch included in your tours, and so much more.
Travel tips ebook -Before you head off on your adventure, make sure to download our free ebook. It has a whopping 109 budget travel tips to help you make your hard-earned cash go further. Click here to download your FREE ebook.
Make cash on the road – If you're on a long trip, you may want to start earning whilst on the road. One way to do this is to teach English online. One of our favourite companies for this is Palfish, as the schedule is super flexible. You can open and close slots, as and when you choose, meaning you don't have to commit to the same days and hours each week. Just make sure you are TEFL certified to apply!
All in all, a trip to Mount Tianmen is an absolute must when you're travelling in China. Whilst the costs may not be budget backpacker-friendly, the views, crazy roads, and terrifying glass walkway make every penny worth it.
Like this post? Pin it!