Taj Mahal tips! The Taj Mahal is undoubtedly a spectacular wonder of the world. Its white marble stone and intricate design are something to be admired. In this blog post, you will find the low down on how to visit India's top attractions. Find out everything from costs, opening times, dress code, & more!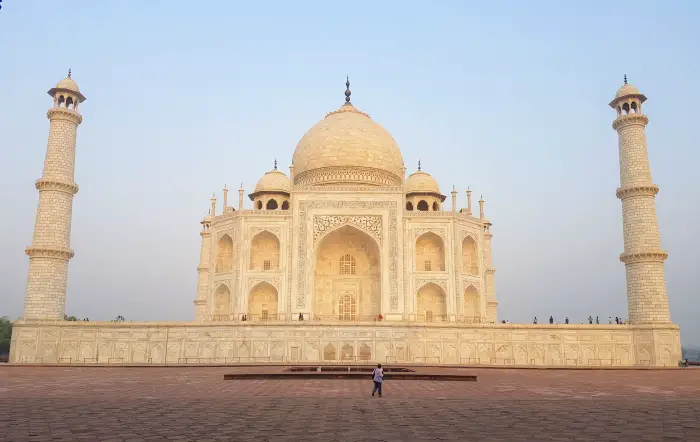 Disclosure: Untold Wanderlust contains affiliate links. If you click on these links and make a purchase, we will earn a small commission at no extra cost to you. You can find our full disclosure policy and privacy policy here.
Background information on the Taj Mahal
Before we begin with the Taj Mahal tips, it's important to know a little background information. The Taj Mahal was built in 1632 by Mughal Emperor Shah Jahan. He built it as a symbol of love for his beloved wife Mumtaz Mahal. Mumtaz Mahal was Shan Jahan's favourite wife who died whilst giving birth to his 14th child. It took 20 years for the Taj Mahal to be constructed. Since 1983, the Taj Mahal has been classed as a UNESCO World Heritage site.
How to get to the Taj Mahal
Depending on where your accommodation is, you may wish to take a tuk-tuk. For rides shorter than 2 km pay no more than 50 Rupees ($0.70). The tuk-tuk will not be able to drop you off directly at that ticket office, as the road is blocked off. Free shuttles are running up and down this road. Alternatively, you can take a short 5-minute walk the rest of the way to the entrance.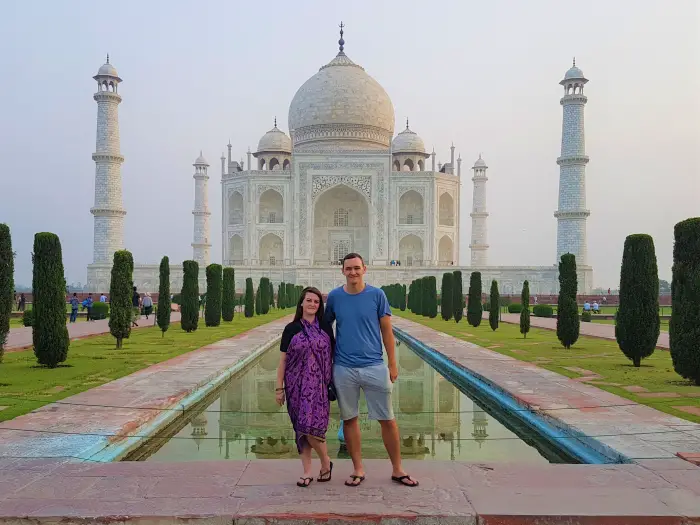 Cost to enter the Taj Mahal
The cost to enter the Taj Mahal is 1,000 Rupees ($14) for foreign tourists. The price includes entry, a bottle of water and shoe covers.
Visiting the Taj Mahal with kids? Good news! Kids under 15 years old can enter for FREE.
Taj Mahal entrance procedure
There are 3 entrance gates to the Taj Mahal. You will need to do a little research to see where the closest entrance is to your accommodation. It does not matter where the sun is due to rise or set. Once you enter the complex you can quickly and easily walk to the correct spot.
Forbidden items in the Taj Mahal
Laptops and tripods are strictly forbidden. Food and drink are also not allowed. You can deposit these items at the counter next to the ticket office. When you enter the Taj Mahal complex, you will need to walk through a scanner and have your bag checked.
Dress code at the Taj Mahal
When we visited, the dress code wasn't clear. No signs were stating any dress requirements. We saw people dressed in all kinds of clothing, from short miniskirts, sleeveless tops, elephant pants and even fancy saris. However, we highly recommend wearing brightly coloured clothing to stand out against the beautiful white marble of the Taj Mahal. The bright colours of your clothes will look good in the photos!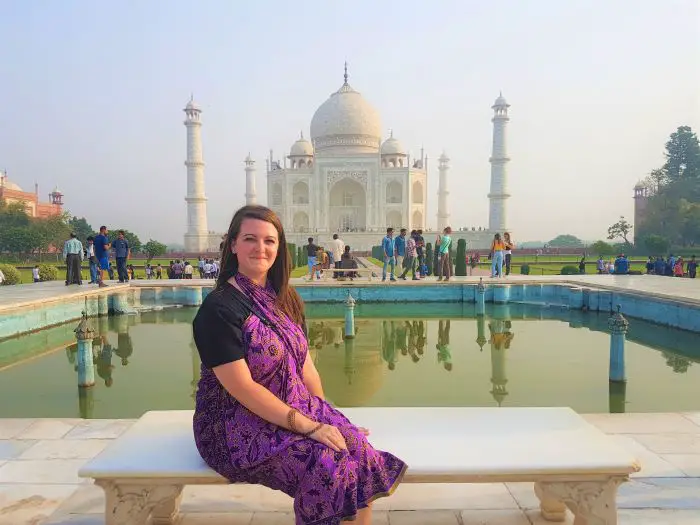 Should you go at sunrise or sunset?
Unfortunately, you're left with the difficult decision of having to choose between visiting at sunrise or sunset. Similar to other world wonders, such as the Great Wall of China, the ticket does not allow multiple entries. Once you leave, you cannot go back inside with the same ticket. You will have to buy a new one. We went during sunrise as this is the quietest time. As it was relatively quiet, we could take plenty of photos without hordes of tourists waving selfie sticks.
How long do I need to visit the Taj Mahal?
You could easily spend hours upon hours just marvelling at this beautiful building. However, after a while, you're bound to get peckish and need to leave to get food. We spent around 2 hours in the complex. We took it easy, sat down regularly and spent lots of time taking photos.
Inside the Taj Mahal dome
Tourists can enter inside the Taj Mahal, where Mumtaz Mahal's tomb is. However, you must wear shoe covers, that are provided to you at the entrance of the dome. You must NOT take any pictures inside the dome.
Photo opportunities around the Taj Mahal
The last on this list of Taj Mahal tips is to take lots of photos! There are a ton of fantastic photo opportunities around the Taj Mahal. Open your mind and try to find them as they may not always be obvious. We fell into the trap of letting a local man take our photo (after he offered). He then insisted we follow him for another one. As his first shot was decent enough, we decided to allow him to take a few more. Of course, we knew this would not be free and would most definitely come at a price. Turns out it was the BEST decision we made. He took some cracking photos for us, that we would have not got otherwise. We tipped him 100 Rupees ($1.40) for his well-deserved efforts.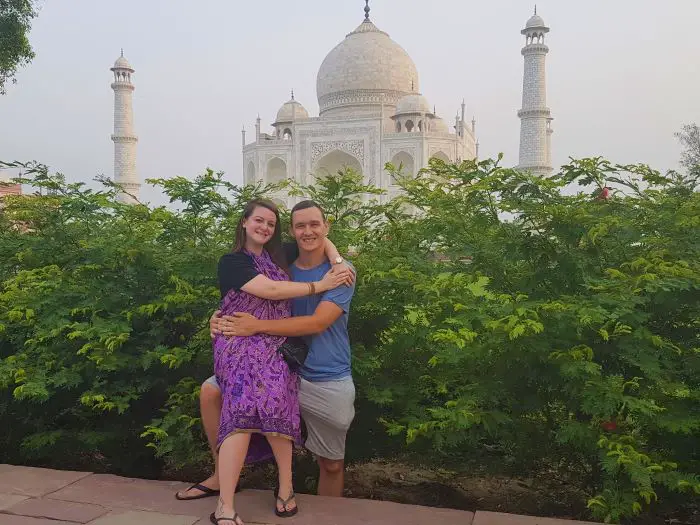 Where to stay in Agra
Backpacker Panda Friends – We stayed at Backpacker Panda Friends. The guesthouse has many rooms to choose from; dorm, private, AC and fan. The guesthouse is conveniently located 1 km away from the Taj Mahal's east gate. The guesthouse has a very social atmosphere and is run by Yusef and his friendly staff. This place is perfect for both solo travellers and couples.
For more prices and deals on properties in Agra, CLICK HERE.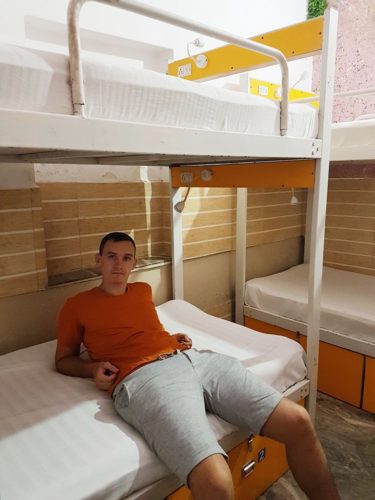 Where to eat in Agra
Bob Marley Restaurant – Located in the same building as Backpacker Panda Friends. The restaurant provides a great social atmosphere. Even in the low season, the restaurant attracts many visitors. This just goes to show that it's a popular choice among tourists. But…most importantly, the food is delicious and very affordable.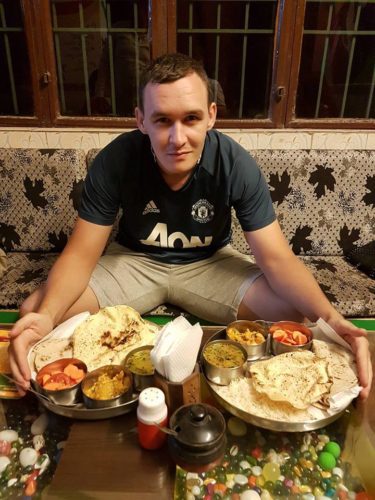 Essential resources for travelling in India
Travel Insurance – No matter where you're travelling to, it's a good idea to make sure you're covered for any accidents or losses. We spent days and weeks searching for insurance, but most insurers would not allow us to take out a policy as we were already abroad. Our personal choice is Safteywing. You can opt for automatic monthly payments, just like a subscription. More importantly, it is available in 180 countries and can be purchased whilst already travelling. There is no cap on the duration of travel.
Visa – Before you travel to any country, make sure to check if you need a visa. iVisa is a fantastic website that is super easy and quick to use. Just type in where you are from. and where you are going. to check if you need a visa. If you do, you can quickly make an application online.
Accommodation – Booking.com is our go-to when looking to pre-book accommodation online. Booking.com tend to almost always have the best rates and a FREE cancellation policy for most properties.
Overland transport – Our go-to website for overland transport is Bookaway. Bookaway offers multiple forms of transport, from buses, mini-vans, trains, and ferries. The routes on offer are extensive and certainly cover most of the backpacker trails. Bookaway works a little like Skyscanner but for overland transport. You will find plenty of transport options from a range of companies. All you simply need to do is book online and receive your ticket by email. The email will contain essential information, such as where the bus leaves from and departure and arrival times.
Tours & Activities – If you want to book tours and activities online, make sure to check out Get Your Guide. Get Your Guide takes the stress out of booking activities abroad. You will also find a range of benefits, such as skip-the-line passes, lunch included in your tours, and so much more.
Travel tips ebook -Before you head off on your adventure, make sure to download our free ebook. It has a whopping 109 budget travel tips to help you make your hard-earned cash go further. Click here to download your FREE ebook.
Are you still stuck on ways to get to Agra from Delhi? Head over to this excellent post that details the different ways to get to Agra. We hope you enjoyed reading these Taj Mahal tips and we hope they have prepared you for your visit. Let us know if you have any questions in the comment section below.
Like this post? Pin it!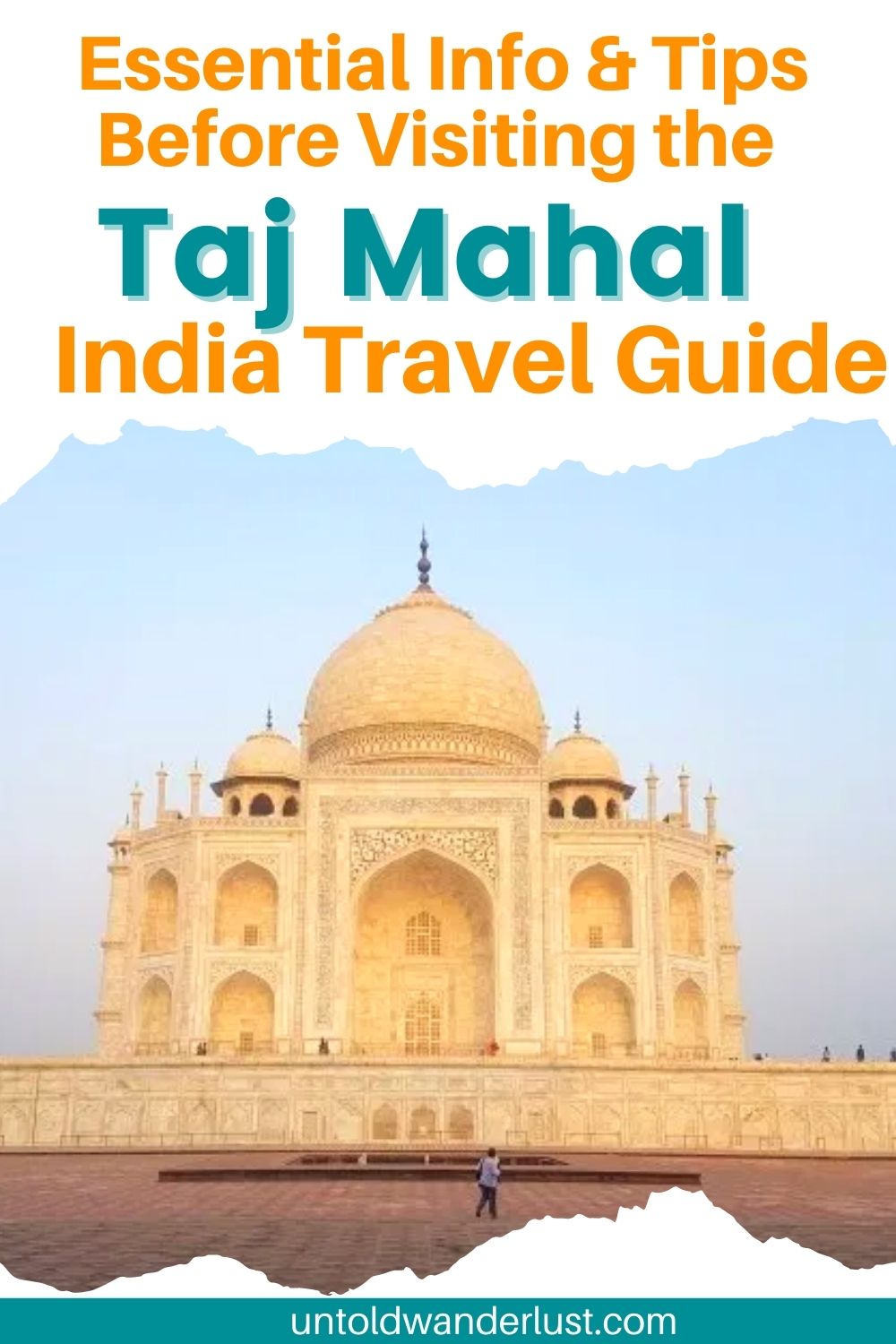 *We were hosted complimentary by Backpacker Panda and Bob Marley Restaurant. All opinions are our own, based on our experience.*