Are you ready to venture into a country that doesn't exist? Why not travel to Transnistria, an intriguing country that is stuck in Soviet times? Transnistria is a breakaway territory that claims it's a country in its own right after it split from Moldova in 1990. Despite the decades that have passed the UN still refuses to recognise it as a country and instead considers it part of Moldova. Transnistria has its own president, government, money, and even army!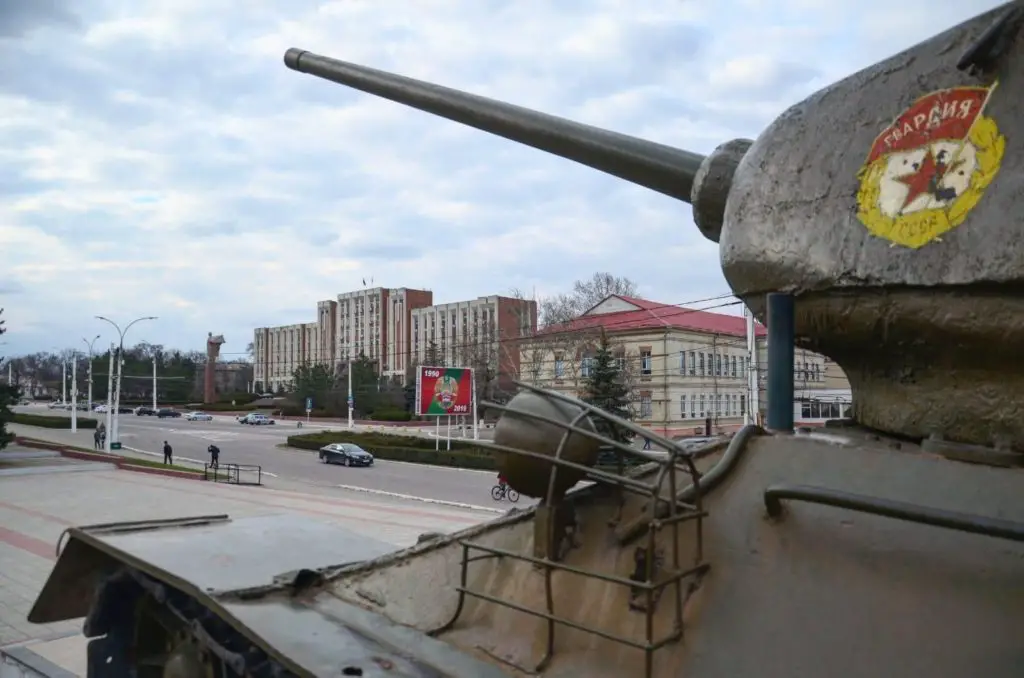 Disclosure: Untold Wanderlust contains affiliate links. If you click on these links and make a purchase, we will earn a small commission at no extra cost to you. You can find our full disclosure policy and privacy policy here.
Entering Transnistria
Getting a migration card for Transnistria
You can easily travel to Transnistria overland from Ukraine or Moldova. The best thing is that you can get a free visa at the border; all you need to do is show your passport and provide the address of the hotel or hostel where you are planning to stay. For a day trip, you may get a 12-hour transit visa.
Travel to Transnistria from Chisinau, Moldova
Tiraspol, Transnistria's capital, is just a two hours bus ride from Chisinau, Moldova. Buses leave every 15-20 minutes from Gara Central, starting from 6:30 am till 7:10 pm. The price of the bus is 2.50 Euros ($2.67). The last bus back to Chisinau is at 6:40 pm from Tiraspol and 7:20 pm from Bendery.
You can also mount the train to Transnistria which departs on Fridays, Saturdays, and Sundays at 7:05 am. You will arrive in Tiraspol at 8:20 am, then this train continues to Odessa.
The bus station and train station are located in the same place in Tiraspol. You can find them here!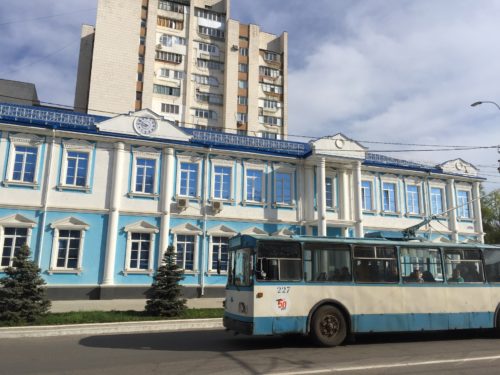 Travel to Transnistria from Ukraine
Alternatively, you can take a 3.5-hour bus ride from Odesa, Ukraine bus station. The price of a bus ticket is 4 Euros ($4.27). The schedule is less frequent than in Chisinau, running only 4 times a day. We recommend that you check the latest updates before you travel.
Currently, the train to Chisinau via Tiraspol goes from Odesa train station three times a week; Friday, Saturday, and Sunday. The train departs from Odessa at 6:45 pm and arrives in Tiraspol at 9 pm, and in Chisinau at 10:20 pm.
Note: Entry into Moldova and Ukraine is also visa-free for US and EU citizens!
Withdrawing money for travel to Transnistria
The myth that Transnistria has no economy and that you cannot withdraw money is a lie. The truth is you CAN withdraw money in Transnistria. In any local bank, just walk inside, give your passport and VISA / MASTERCARD to the cashier, state the amount of money, and what currency you wish to receive it in. You may get Euros, US Dollars, Russian Rubles, Moldovan Lei, Ukrainian Hryvnia, and of course Transnistria's national currency, Transnistrian Rubles! I would advise getting cash in Transnistrian Rubles because local institutions, shops and cafes, accept only local banknotes.
Whist you can withdraw money inside of a bank, don't get confused when passing by ATMs that you see in the streets. You can only use local bank cards, not international Visa debit or credit cards.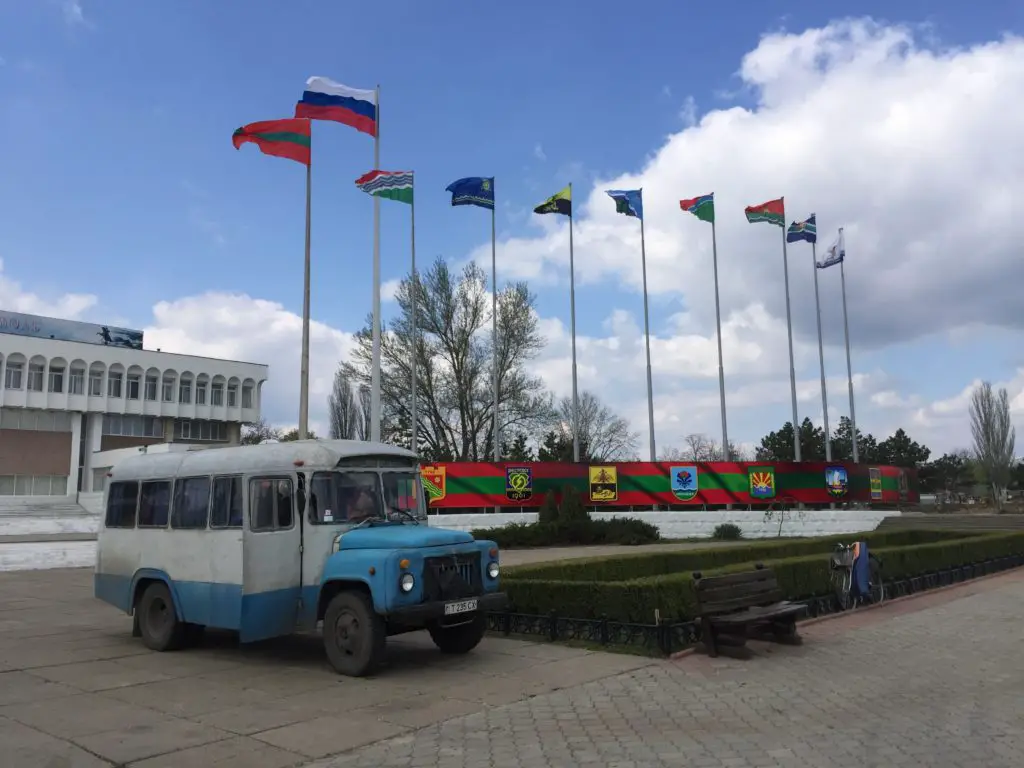 Reasons to travel to Transnistria?
1. Touch the legend and get off the beaten path
No other country is tangled in such a huge ball of rumours as Transnistria. Propaganda and falsehood make it a desirable destination for those who love off-the-beaten-path travel. Transnistria is an unrecognized country where no one speaks English, it has hostile separatists, amazing cognac, black caviar production, money made of plastic, soviet style parades, hammer and sickle on the coat of arms, armed soldiers roaming the streets, and more weapons in this dark zone than the whole Tony Stark empire can provide. So, look behind the "iron curtain" of lies and discover the real Transnistria for yourself. Travel to Transnistria and you will feel like you have been plunged back to the Soviet era.
2. For the sightseeing opportunities
Everything is close in Transnistria. The capital city is Tiraspol and the second-largest city is called Bendery. Both cities have interesting things to see, impressive government buildings from eras past, historical monuments, and nice places to taste the local cuisine. Transnistria has everything a country should have, and you will see it with your own eyes.
One of the most significant places is Dom Sovietov (also known as the House of Soviets), which is a fine example of the Stalin empire in the 1950s. It is now the place for Tiraspol city administration. And guess who is meeting you at the front? Of course, it's Vladimir Lenin himself!
As you walk the central street of Tiraspol from the State Theatre towards the Central Square, you will pass a mixture of all Soviet epoch's architecture and post-perestroika scenery till you meet Lenin again, in front of the State Parliament.
Enjoy the view from the bridge to the Dniester River, which gave the name to the country itself. Right next to it is situated the war memorial in memory of those who fell in WWII, Afghanistan, and Transnistria. The T-34 tank that you see there, is a real combat tank, whose crew were killed in battle in Hungary in 1944 near Lake Balaton. The horseman that you see at the same square is Generalissimo Alexander Suvorov, a legendary commander who is considered to be the founder of Tiraspol.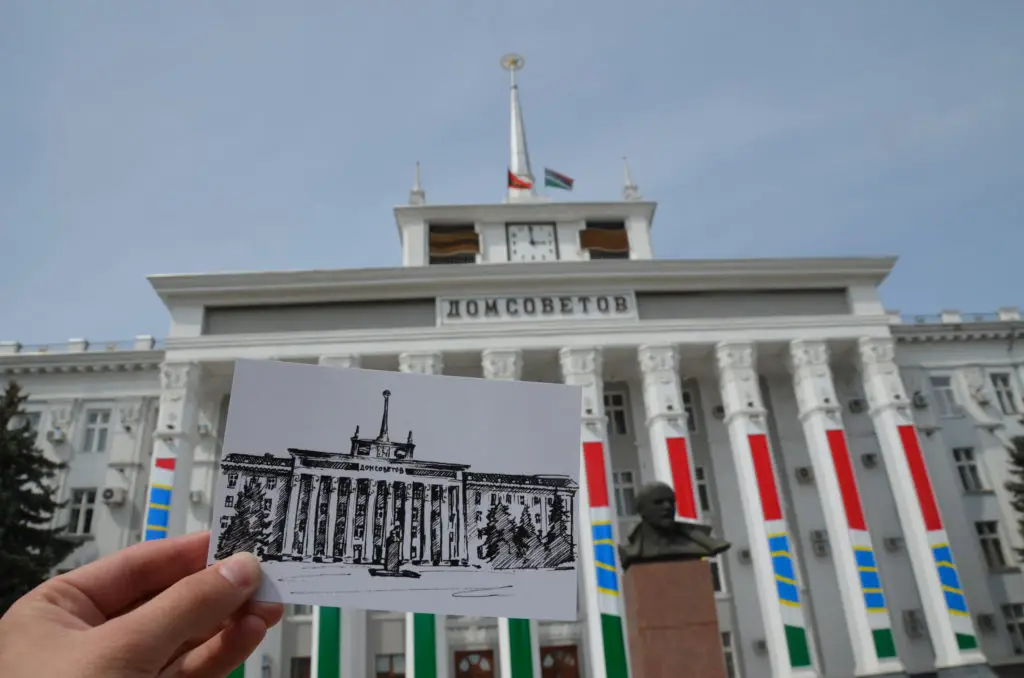 3. Experience a mix of nationalities and cultures in one
The Russian name for Transnistria, and the only one used by locals, is Pridnestrovie. Whilst the prospect of separatists roaming the country may seem a little scary, there is no fact that there is any danger in visiting the region.
Transnistria is a multinational composition of 470 000 Russians, Ukrainians, Moldovans, Bulgarians and Gagauzians living in peace and friendship despite the history. Transnistria has three official national languages; Russian, Ukrainian and Moldavian.
Students at schools in Transnistria are primarily taught in the language that the classroom teacher speaks, and the other two languages are taught additionally. Also, pupils can choose which foreign language to learn. English and German are the most popular options.
Transnistria also has the largest Bulgarian settlement outside of Bulgaria; which is in Parcani Village, between Bendery and Tiraspol.
Transnistria issues an authentic Transnistrian passport. The only problem is that the country is unrecognized, so it cannot allow you to travel anywhere except Moldova. As a rule, most Transnistrians have a second passport; Russian, Moldovan or Ukrainian. To apply for such a passport, most citizens of Transnistria go to Chisinau and visit the embassy of the country they wish to have their second passport for.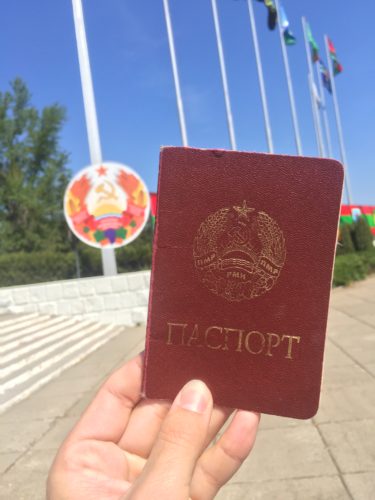 4. To taste the local beverages
Make sure to try Kvas, a deliciously refreshing drink made of bread, yeast and sugar. On every other corner, you can see big yellow barrels. In the summertime, vendors sell kvas here. Transnistria is the only place where they still use authentic USSR recipes to produce them.
Also, don't skip a tasting session of cognac and wine from "Divins, Wines and Beverages of Tiraspol", a world-famous distillery with an annual output of more than 20 million bottles of alcoholic beverages. The quality is superb, and the price is reasonable.
There is also the chance to buy good homemade wine at any local bazaar, taste "jivoe pivo" or "live beer" from Transnistrian breweries, or simply take a shot of good old Vodka.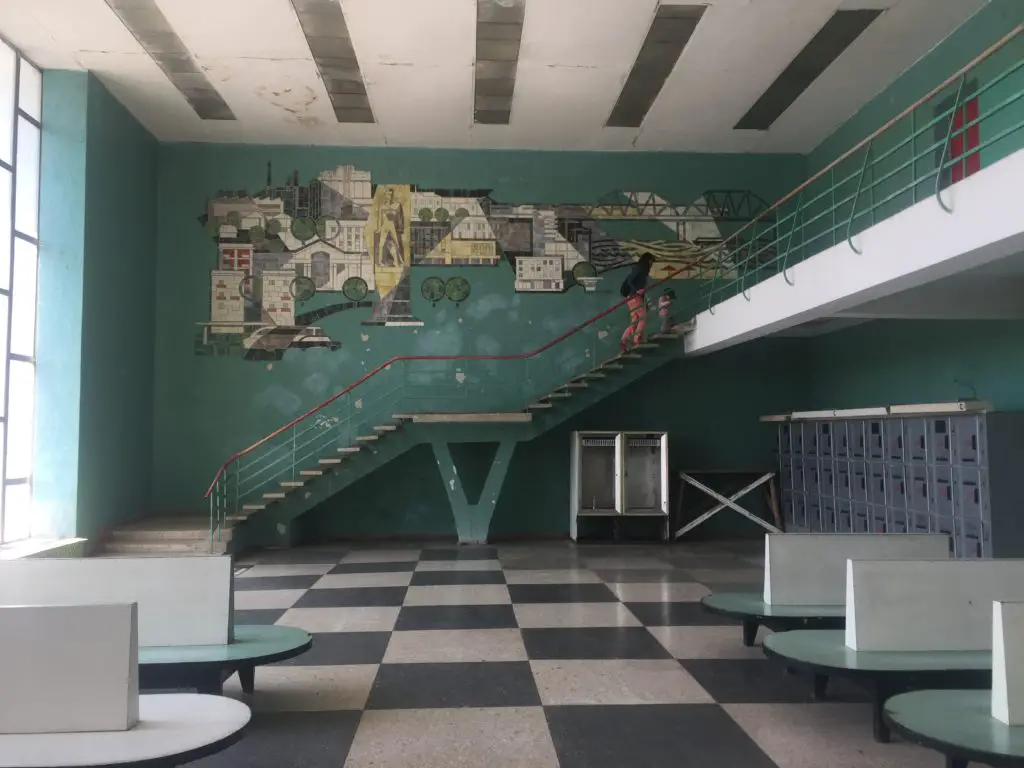 5. For the extensive history
If you yearn for USSR, revolution, WWII, the medieval Turkish empire, or want to learn about the establishment of Transnistria and everyday modern life, go for a tour with a local. The main towns, Tiraspol and Bendery, are in the immediate vicinity, making a full-day trip to the top attractions and hidden gems of them both possible.
Bendery has an Ottoman fortress at the bank of the Dniester, a Soviet train station with retro-locomotive, multiple USSR artefacts, mosaics, and monuments in between. Tiraspol's main thoroughfare, between the State Theatre and Supreme Soviet, has countless secluded spots that induce fascinating narratives. You will have the opportunity to talk and listen, exchange stories, feel the contrasts between cultures, understand the past and present, and learn what it's like to be Transnistrian. This is the only way to go deep into the past era and today's reality. You will even have the chance to take a closer look at the passport, which is the only passport in the world displaying a hammer and sickle.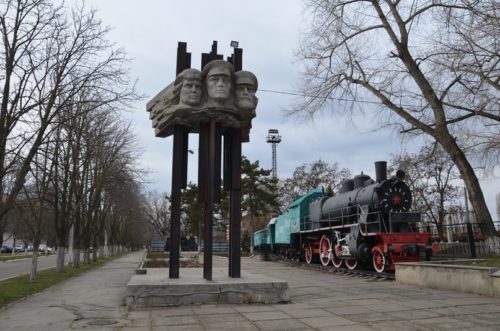 Essential resources for travelling in Transnistria
Travel Insurance – No matter where you're travelling to, it's a good idea to make sure you're covered for any accidents or losses. We spent days and weeks searching for insurance, but most insurers would not allow us to take out a policy as we were already abroad. Our personal choice is Safteywing. You can opt for automatic monthly payments, just like a subscription. More importantly, it is available in 180 countries and can be purchased whilst already travelling. There is no cap on the duration of travel.
Visa – Before you travel to any country, make sure to check if you need a visa. iVisa is a fantastic website that is super easy and quick to use. Just type in where you are from. and where you are going. to check if you need a visa. If you do, you can quickly make an application online.
Accommodation – Booking.com is our go-to when looking to pre-book accommodation online. Booking.com tend to almost always have the best rates and a FREE cancellation policy for most properties.
Overland transport – Our go-to website for overland transport is Bookaway. Bookaway offers multiple forms of transport, from buses, mini-vans, trains, and ferries. The routes on offer are extensive and certainly cover most of the backpacker trails. Bookaway works a little like Skyscanner but for overland transport. You will find plenty of transport options from a range of companies. All you simply need to do is book online and receive your ticket by email. The email will contain essential information, such as where the bus leaves from and departure and arrival times.
Tours & Activities – If you want to book tours and activities online, make sure to check out Get Your Guide. Get Your Guide takes the stress out of booking activities abroad. You will also find a range of benefits, such as skip-the-line passes, lunch included in your tours, and so much more.
Travel tips ebook -Before you head off on your adventure, make sure to download our free ebook. It has a whopping 109 budget travel tips to help you make your hard-earned cash go further. Click here to download your FREE ebook.
Want to discover more off-the-beaten-path places? Check out why you should visit Mongolia here!
Like this post? Pin it!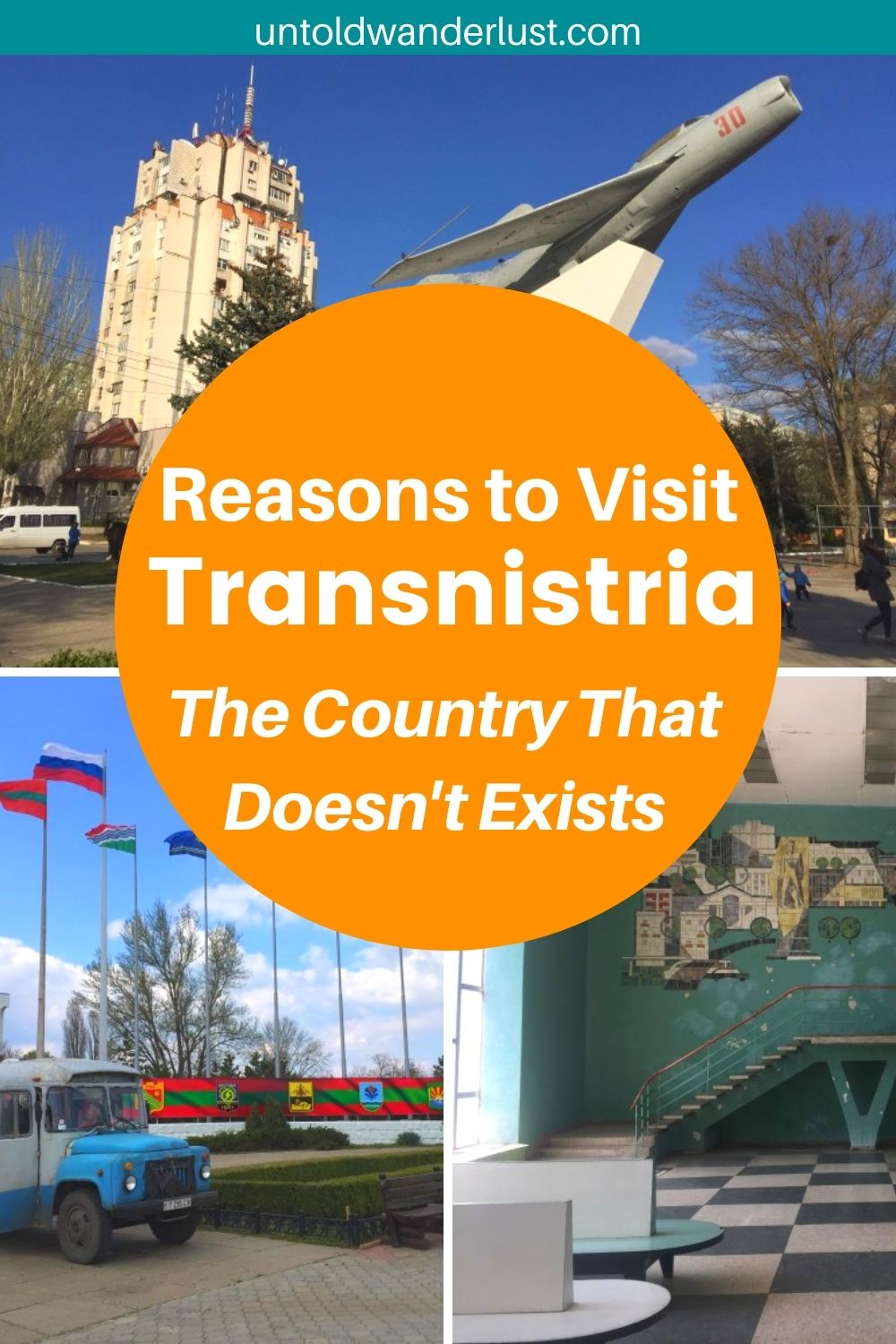 Guest blogger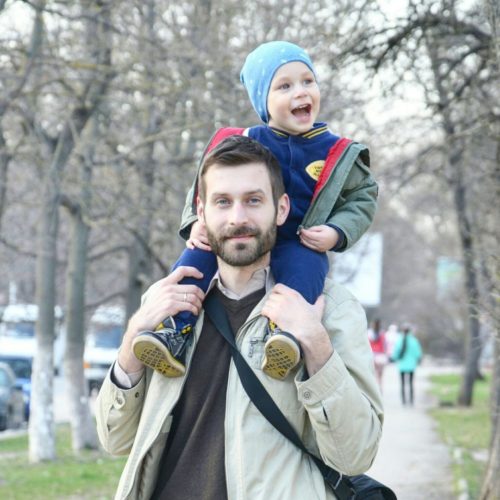 Anton Dendemarchenko – An artist and tour guide in Transnistria. He is the author of the only urban sketch postcards set in the country, founder of the 'Free walking tour in Tiraspol', and a true patriot and admirer of Soviet gems, and urban beauties of his native land. You can find Anton and join his Free walking Tour in Tiraspol or other unique extended tours of Transnistria via his Facebook or Instagram. Alternatively, you can reach out to him via email at [email protected]. His tour combines the classic "look to the left, look to the right" walk with forays for true adventurers. In Anton's words "Mount up comrades, go explore and discover the country that doesn't exist!"