Bratislava is small, but with its old cobbled streets and castle-like buildings, it may just leave you wanting more. You can easily see the best of Bratislava in a day. However, if you're strapped for time and are on a whirlwind day trip from Vienna, you may want to check out a 4-hour guided walking tour to make sure you don't miss any of the highlights. So, without further ado, here is the ultimate guide of what to do in Bratislava in one day.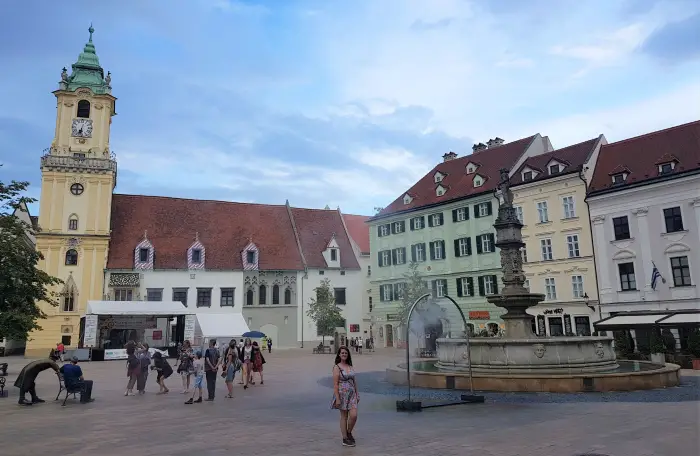 Disclosure: Untold Wanderlust contains affiliate links. If you click on these links and make a purchase, we will earn a small commission at no extra cost to you. You can find our full disclosure policy and privacy policy here.
St. Michael's Gate
First up on the list of what to do in Bratislava in one day is St. Michael's Gate. St. Michael's Gate is the oldest and last remaining gate in Bratislava; it dates back to 1300. Even if you don't plan to visit St. Michael's Gate you will find it hard to miss, as it towers over the cobbled streets and is one of the main entrances to the old town.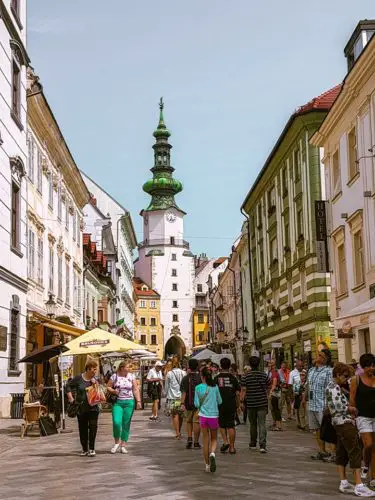 Bratislava Old Town
The old town is filled with bars and eateries. It's the perfect place to unwind in the evening along the narrow streets. Walking through the old town will have you feeling like you have stepped back into Medieval times.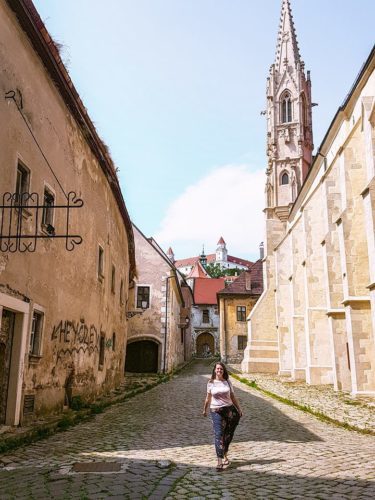 Bratislava Castle
The imposing white structure with red minarets stands proudly on top of a hill. It's hard not to miss the castle as it can be seen from the Old Town. Inside the castle, you will find the Slovak National Museum. The basic admission cost is 10 euros ($10.86). However, we opted not to go inside but instead walked around the outside gardens for free.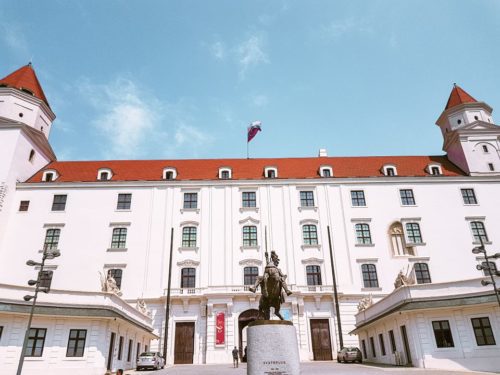 St. Elizabeth's Cathedral
St. Elizabeth's Cathedral was built in the 1900s and is a must-see on your trip to Bratislava. Its smooth baby blue walls make it quite unusual; hence its more common name 'The Blue Cathedral'.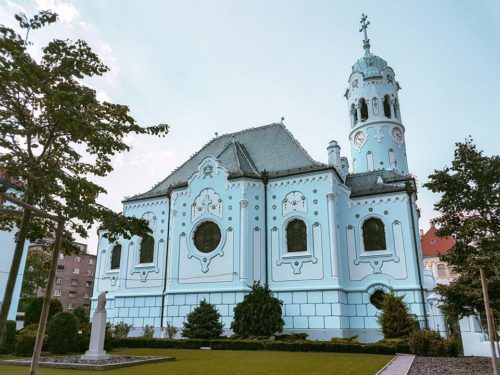 St. Martin's Cathedral
St. Martin's Cathedral is one of the oldest and largest cathedrals in Bratislava. With its interesting interiors, it's well worth a look at on your way to Bratislava Castle.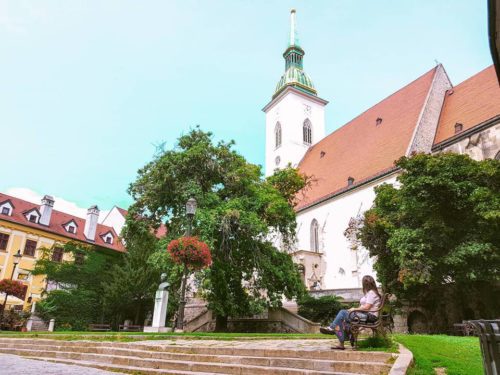 Grassalkovich Palace
A beautiful palace that is home to Slovakia's current president. Whilst you are not able to go inside, you can admire it from the outside and take a stroll through the well-kept gardens.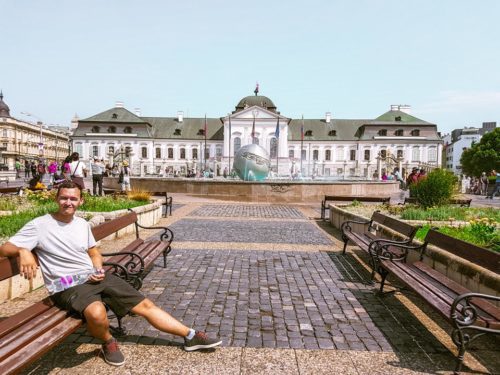 Cumil – The man at work
Bratislava is filled with quirky statues, but Cumil has to be the most famous of them all. Cumil was embedded into the ground in 1997 and has since become a tourist attraction. People say that if you touch his head, your wishes will come true.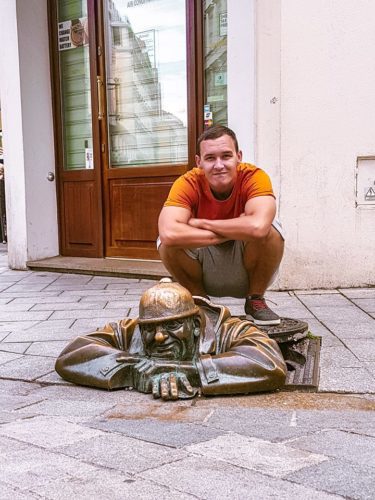 UFO Bridge
The UFO bridge is exactly what it states; a bridge that resembles that of a UFO. Due to its interesting and quirky design, it is worth checking out on your trip to Bratislava. Plus, it is connected to the 7th largest hanging bridge in the world! You can also go inside the building to the viewing deck to enjoy the views of Bratislava. The cost to enter is 7.40 euros ($8.03). However, there is a cafe below where you don't need to pay any entrance fees, you just need to buy a drink.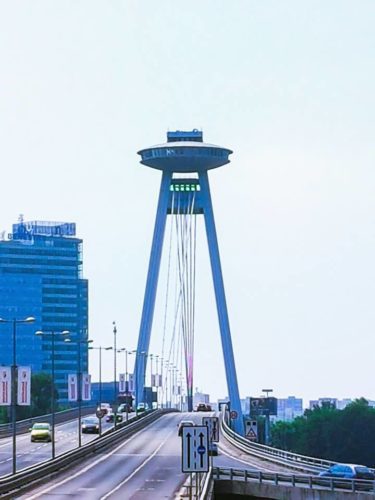 Street art
There are tons of random, colourful and unusual street art around Bratislava. All you need to do is keep your eyes peeled for them. They make for great photographs!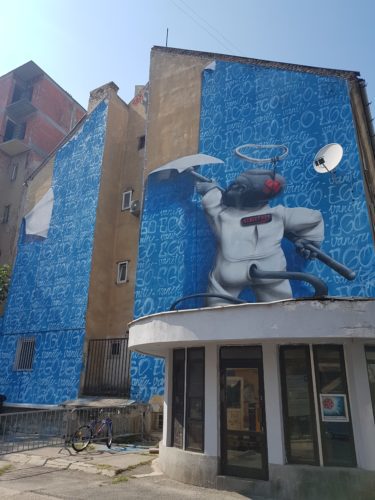 Have more time in Bratislava? Consider a day trip to Vienna!
Where to stay in Bratislava
During our stay in Bratislava, we stayed at Freddie Next to Mercury Hostel. It's a 10-minute walk away from the old town and a great location to get a good night's rest and still meet other travellers. The rooms are fully equipped with a kitchenette, plenty of cooking equipment and a fridge. There is also free tea, coffee and hot chocolate available in
the kitchen downstairs. The staff were friendly and helped us with getting around the city. We would fully recommend this hostel for travellers who want to relax but still be part of a social environment.
For more prices and deals on properties in Bratislava, CLICK HERE.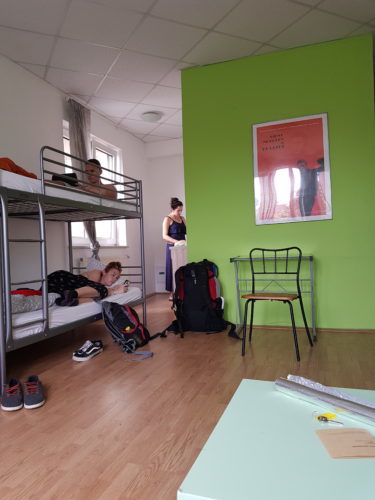 Enjoy this one day in Bratislava guide? Make sure to check out what you can get up to in one day in Belgrade!
Essential resources for travelling in Bratislava
Travel Insurance – No matter where you're travelling to, it's a good idea to make sure you're covered for any accidents or losses. We spent days and weeks searching for insurance, but most insurers would not allow us to take out a policy as we were already abroad. Our personal choice is Safteywing. You can opt for automatic monthly payments, just like a subscription. More importantly, it is available in 180 countries and can be purchased whilst already travelling. There is no cap on the duration of travel.
Visa – Before you travel to any country, make sure to check if you need a visa. iVisa is a fantastic website that is super easy and quick to use. Just type in where you are from. and where you are going. to check if you need a visa. If you do, you can quickly make an application online.
Accommodation – Booking.com is our go-to when looking to pre-book accommodation online. Booking.com tend to almost always have the best rates and have a FREE cancellation policy for most properties.
Overland transport – Our go-to website for overland transport is Bookaway. Bookaway offer multiple forms of transport, from buses, mini-vans, trains, and ferries. The routes on offer are extensive and certainly cover most of the backpacker trails. Bookaway works a little like Skyscanner but for overland transport. You will find plenty of transport options from a range of companies. All you simply need to do is book online and receive your ticket by email. The email will contain essential information, such as where the bus leaves from and departure and arrival times.
Tours & activities – If you want to book tours and activities online, make sure to check out Get Your Guide. Get Your Guide takes the stress out of booking activities abroad. You will also find a range of benefits, such as skip the line passes, lunch included in your tours, and so much more.
Travel tips ebook -Before you head off on your adventure, make sure to download our free ebook. It has a whopping 109 budget travel tips to help you make your hard-earned cash go further. Click here to download your FREE ebook.
Make cash on the road – If you're on a long trip, you may want to start earning whilst on the road. One way to do this is to teach English online. One of our favourite companies for this is Palfish, as the schedule is super flexible. You can open and close slots, as and when you choose, meaning you don't have to commit to the same days and hours each week. Just make sure you are TEFL certified to apply!
We hope you enjoyed this guide on what to do in Bratislava in one day. There are plenty of amazing free things to do in this cute medieval town. If you're looking for more free things to do in other European cities, make sure to check out this Budapest itinerary.
Like this post? Pin it!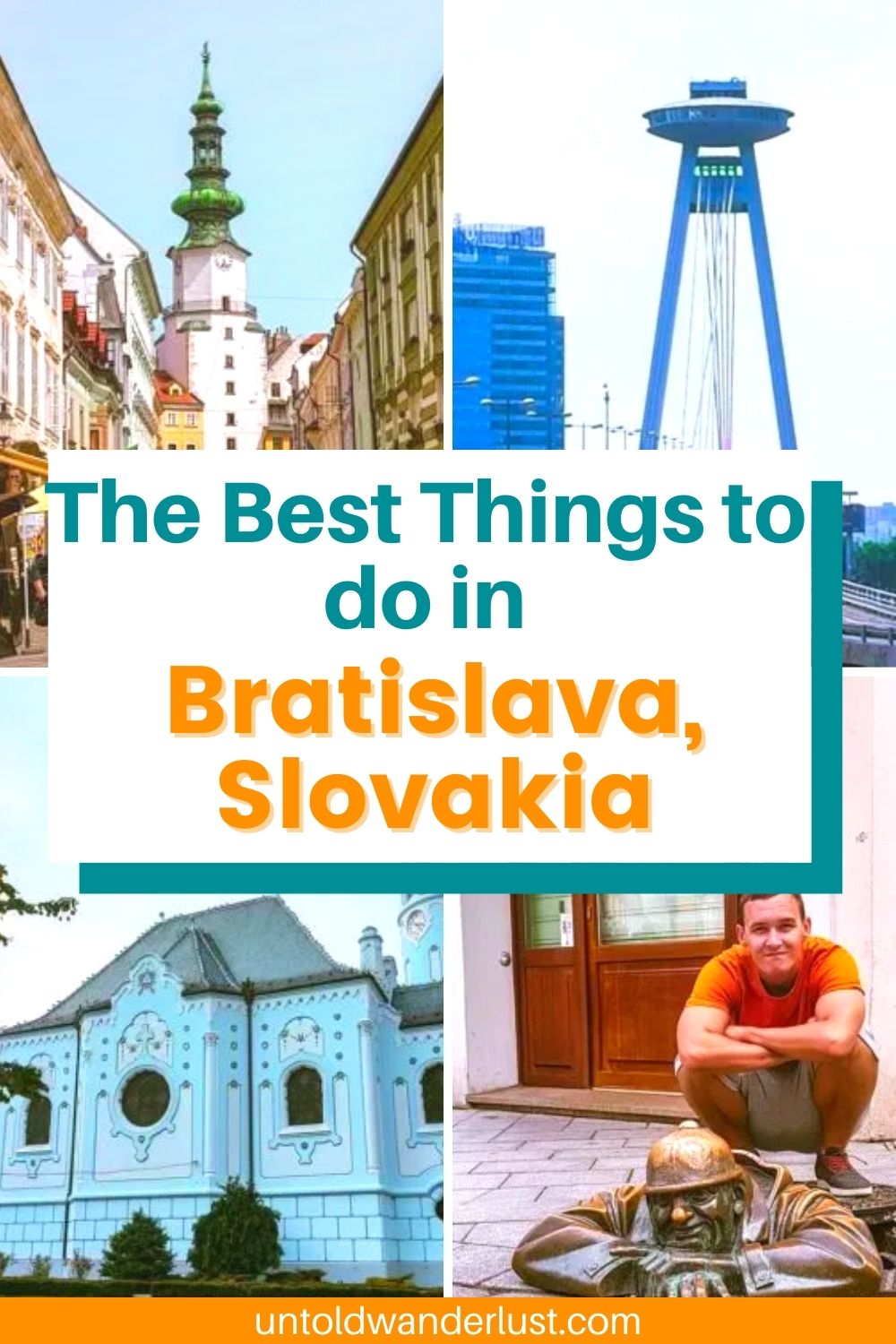 *We were hosted complimentary by Freddie Next to Mercury Hostel. All opinions are our own, based on our experience.*