The best budget Delhi itinerary! Delhi is a hugely exciting city and with a mixture of religions and cultures, there is a wide variety and style of temples to discover. From gurdwaras to mosques and even Bahai temples, you will find them all! Furthermore, Delhi is jam-packed with history, making way for museums dedicated to Mahatma Gandhi. With so little time, and so many sites to see, we sought out the free things to do in Delhi first.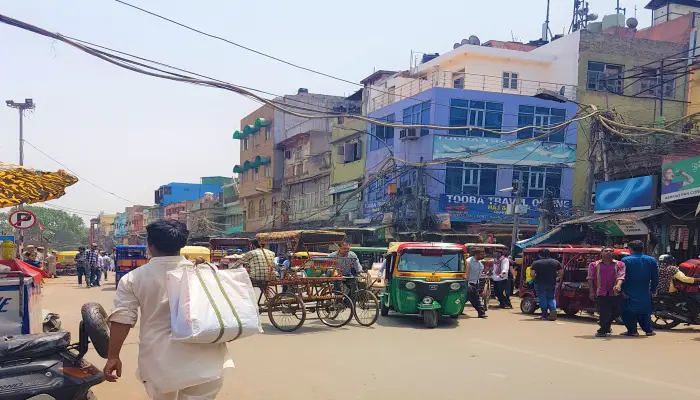 Disclosure: Untold Wanderlust contains affiliate links. If you click on these links and make a purchase, we will earn a small commission at no extra cost to you. You can find our full disclosure policy and privacy policy here.
Chandni Chowk – Day 1 Delhi itinerary
On your first day, we recommend exploring New Delhi and Old Delhi. The first stop on this Delhi itinerary is Chandni Chowk that is located in Old Delhi. Chandni Chowk is a large market area. That image you have in your head of colourful markets, cows roaming the streets, and the sound of tuk-tuks beeping away, that is Chandni Chowk, my friends. It's the perfect intro to India! It may be a little overwhelming for first-timers, but just wandering the markets and taking in the atmosphere is a great experience. So, go ahead and discover Chandi Chowk.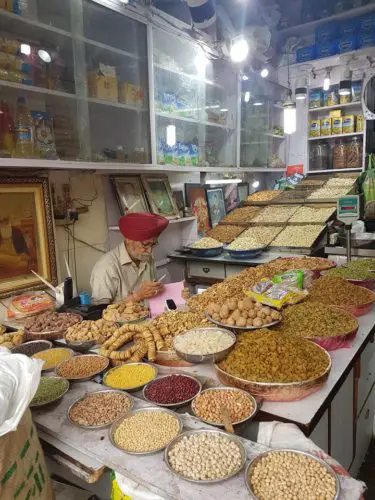 Jama Masjid – Day 1 Delhi itinerary
After spending the early morning at Chandni Chowk, it's time to make your way over to Jama Masjid; a beautiful mosque not too far from the market. Unfortunately, we arrived on a Friday morning and was unable to go inside due to Friday prayers. The next entry was at 2 pm so we decided to swiftly move along to our next stop. However, if you do wish to go inside, the entrance is FREE, but there is a charge of 300 Rupee ($4.24) for photographs.
India Gate – Day 1 Delhi itinerary
Now on over to New Delhi, where the India Gate is located. India Gate is a 42-meter archway that commemorates the thousands of Indian soldiers who lost their lives fighting for the British army in World War 1. Beware, this spot is notorious for locals wanting to take photos with you. We spent most of our time there taking pictures with other people, as opposed to experiencing the India Gate ourselves.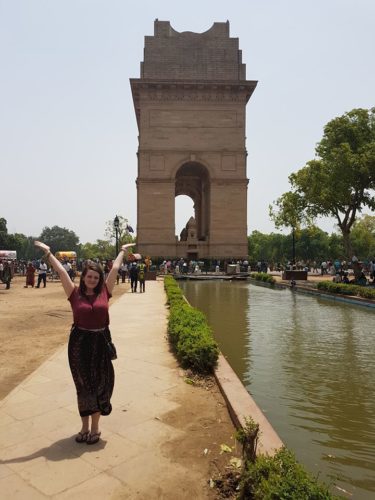 Lodhi Gardens – Day 1 Delhi itinerary
After taking lots of pictures at the India Gate, head over to Lodhi Gardens. Lodhi Gardens is a peaceful park area with lots of lush greenery and pretty flowers. There are also some ruins to get lost in too. Lodhi Gardens is the perfect place to take a break from the chaos of the city and phone waving selfie-takers. After a stroll around the gardens, head back out onto the streets to admire the Lodhi Art District, where you will find tons of fascinating art murals.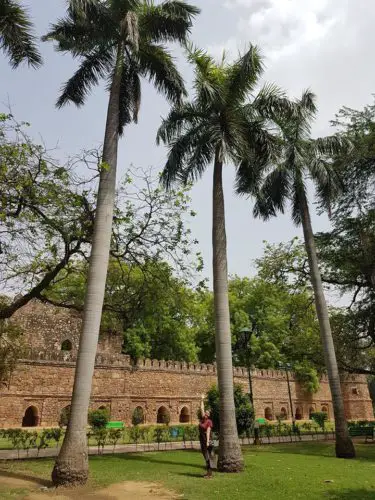 Gandhi Smriti Museum – Day 1 Delhi itinerary
The next stop is the Gandhi Smriti Museum. This museum will give you in-depth information about Gandhi's life and his significance to India. This is also the place where Gandhi lived out his last 144 days before he was assassinated on 30th January 1948.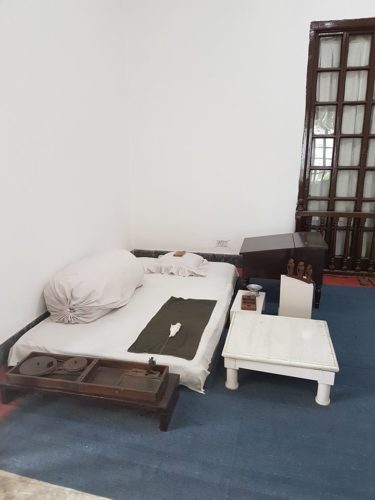 Bangla Sahib Gurdwara – Day 1 Delhi itinerary
The last stop on today's Delhi itinerary is the stunning Bangla Sahid Gurdwara. The gurdwara is very welcoming to visitors and a nice peaceful place to admire the architecture and immerse yourself in the Hindu culture. We met a nice man at the gurdwara that gave us lots of information about the temple and pointed us in the right direction of where to leave our shoes.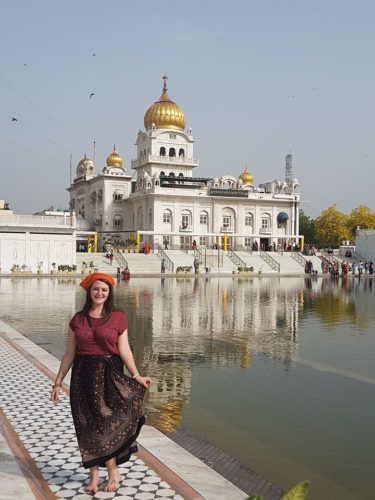 Aghhh, after a big day of exploring Delhi, it's time to tuck into some delicious Indian cuisine and relax, ready for another big day tomorrow!
Akshardham Temple – Day 2 Delhi itinerary
Wake up bright and early! Today you will be heading to South Delhi. The first stop on the itinerary is Akshardham Temple; the largest Hindu temple in the world. Surprisingly, this temple is not very popular with foreign tourists. The temple is simply stunning inside and out. With the intricate marble design and tiled floors, you could easily spend a few hours wandering around this stunning complex.
Unfortunately, it's strictly forbidden to take any electronics into the temple. This includes cameras and mobile phones. You will need to deposit them at the counter before you enter. Your valuables will be locked up safely and you will be given a token as proof. The counter staff also take pictures of you and your belongings, so you can be identified.
The cost to enter the temple is FREE.
Lotus Temple – Day 2 Delhi itinerary
Next up on this Delhi itinerary is the Lotus temple. The temple is home to the world's youngest major religion; the Bahai faith. We arrived just before sunset, which made the temple look even more beautiful under the dusk coloured sky. Throughout the day, people can enter the temple to meditate for a few minutes. Once inside the temple, you must stay as quiet as possible and refrain from talking.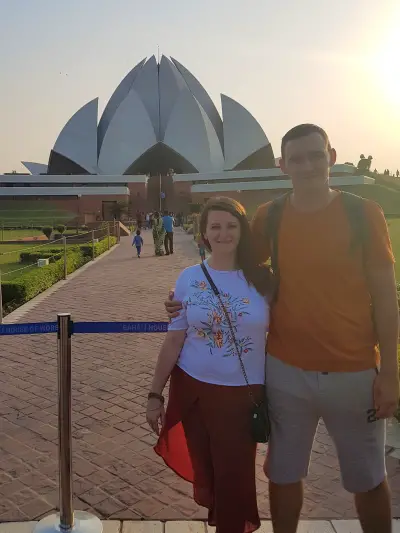 Haus Khas Village – Day 2 Delhi itinerary
Haus Khas Village is an artsy zone filled with boutique shops and quirky cafes. Unfortunately, we didn't make it to Haus Khas Village as we started our day a little late and needed an early night ready for our train to Agra. However, we have read that it is certainly worth checking out. It's also supposed to be a great place to grab food and a few beers, which would make for the perfect end to this Delhi itinerary.
Tips for getting around Delhi
Public tuk-tuk
On day 1 of this Delhi itinerary, we chose to immerse ourselves in India's hair-raising tuk-tuk culture. We opted for a mixture of private tuk-tuks and public tuk-tuks. The public ones have a set route and can carry 5 passengers, leaving room for other people to get in. As there is the option to share the ride, these types of tuk-tuks are much cheaper. Prices on the set routes range from 10-15 Rupee ($0.14 – $0.71). We found plenty of public tuk-tuks running from New Delhi Railway Station to the market area by Chandi Chowk. From there you can hop out and change to another one that goes by Jama Masjid and the Red Fort.
Private tuk-tuk
Private tuk-tuks are a little more expensive. Drivers WILL try to rip you off by asking for a ridiculous amount for a short journey. The general rule of thumb is to knock off 2/3 to get a fair price. For a journey that is less than 1 km pay around 40-50 Rupee ($0.57 – $0.71). For a journey that is 2-5 km pay around 100 Rupee ($1.41). If you're travelling further than this, consider taking the subway.
Subway in Delhi
On day two, we opted to take the subway. The temples are that are located in the South of Delhi are quite far away from Old Delhi, so the subway is the quickest and cheapest way to get around. Surprisingly, the subway is very clean, modern and efficient. It was like stepping into another country. The journeys you will need to take for this itinerary range from 20-40 Rupee ($0.28 – $0.56). We spent just 120 Rupee ($1.70) each on public transport throughout the day. We also met another couple who informed us that day passes are available at 200 Rupee ($2.83). The day passes give unlimited rides on the subway for 1 day.
Don't feel like taking public transport? or have little time?  Look into taking a Delhi tour.
Where to stay in Delhi
Backpacker Panda – Backpacker Panda is situated along the Main Bazaar, at the end of the road from New Delhi Railway Station. It's the perfect place for first-timers, due to its proximity to Delhi's attractions, nightlife, and food stalls. We recommend this hostel for budget travellers that like to meet other travellers and socialize. The hostel also has a cool rooftop area to hang out and relax in the evening.
Bloomrooms – Bloomrooms is located just a 5-minute walk away from New Delhi Railway Station. We love this hotel for its cloud comfy beds and bright sunny decor that gives off a happy and refreshing vibe. You also have the option of an all you can eat buffet breakfast. The breakfast is a nice mix of Indian and western cuisines, that will give you tons of energy to tackle this busy Delhi itinerary. This place is perfect for couples, or people who just want their own space to escape the noisy city life. The best bit is that you have the option to lie in just before an early morning train to Agra!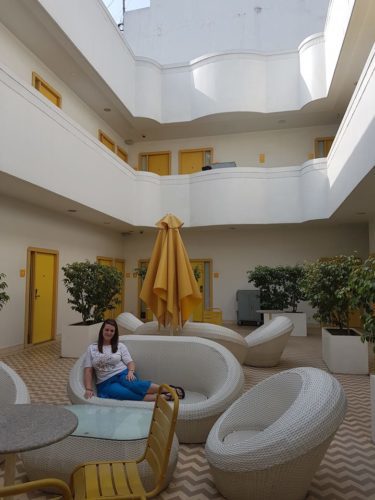 For more prices and deals on properties in Delhi, CLICK HERE.
Essential resources for travelling in India
Travel Insurance – No matter where you're travelling to, it's a good idea to make sure you're covered for any accidents or losses. We spent days and weeks searching for insurance, but most insurers would not allow us to take out a policy as we were already abroad. Our personal choice is Safteywing. You can opt for automatic monthly payments, just like a subscription. More importantly, it is available in 180 countries and can be purchased whilst already travelling. There is no cap on the duration of travel.
Visa – Before you travel to any country, make sure to check if you need a visa. iVisa is a fantastic website that is super easy and quick to use. Just type in where you are from. and where you are going. to check if you need a visa. If you do, you can quickly make an application online.
Accommodation – Booking.com is our go-to when looking to pre-book accommodation online. Booking.com tend to almost always have the best rates and have a FREE cancellation policy for most properties.
Overland transport – Our go-to website for overland transport is Bookaway. Bookaway offer multiple forms of transport, from buses, mini-vans, trains, and ferries. The routes on offer are extensive and certainly cover most of the backpacker trails. Bookaway works a little like Skyscanner but for overland transport. You will find plenty of transport options from a range of companies. All you simply need to do is book online and receive your ticket by email. The email will contain essential information, such as where the bus leaves from and departure and arrival times.
Tours & activities – If you want to book tours and activities online, make sure to check out Get Your Guide. Get Your Guide takes the stress out of booking activities abroad. You will also find a range of benefits, such as skip the line passes, lunch included in your tours, and so much more.
Travel tips ebook -Before you head off on your adventure, make sure to download our free ebook. It has a whopping 109 budget travel tips to help you make your hard-earned cash go further. Click here to download your FREE ebook.
Make cash on the road – If you're on a long trip, you may want to start earning whilst on the road. One way to do this is to teach English online. One of our favourite companies for this is Palfish, as the schedule is super flexible. You can open and close slots, as and when you choose, meaning you don't have to commit to the same days and hours each week. Just make sure you are TEFL certified to apply!
There you have it, a full jam-packed 2-day Delhi itinerary. This itinerary is perfect for first-time budget backpackers. Excluding accommodation costs, we spent just $25 on transport, food and plenty of water over the 2 days. This cost is based on two people.
Is your next stop Agra? Find out everything you need to know about visiting the Taj Mahal.
Like this post? Pin it!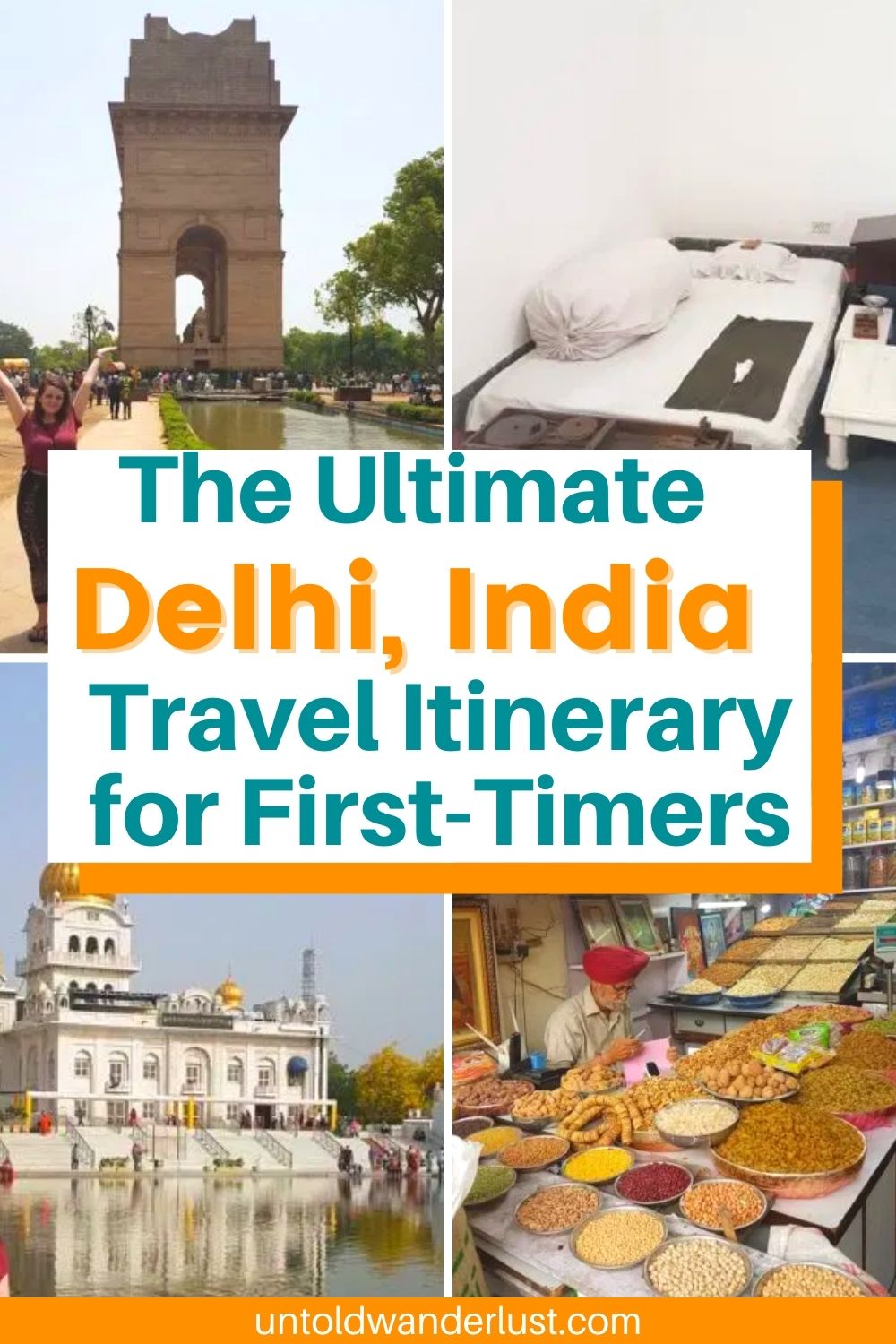 *We were hosted complimentary by Backpacker Panda and Bloomrooms. All opinions are our own, based on our experience.*