Apart from the tranquil lake, bustling markets and temples on hilltops, Pushkar in India offers more than what you might initially expect as a tourist. There are opportunities to immerse yourself in the locals' day-to-day lives with an eye-opening Pushkar flower tour. You will have the chance to witness the cultivation of one of the town's biggest exports; flowers. Here's everything you need to know about taking a flower tour in Pushkar.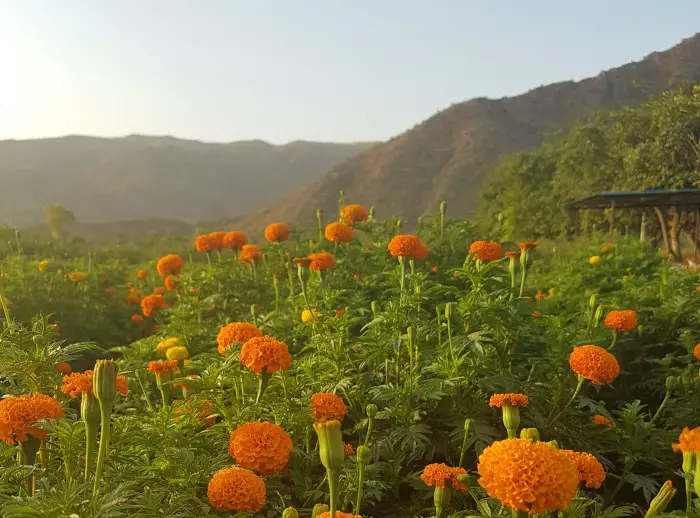 Disclosure: Untold Wanderlust contains affiliate links. If you click on these links and make a purchase, we will earn a small commission at no extra cost to you. You can find our full disclosure policy and privacy policy here.
Picking flowers in Pushkar
The Dia Homestay Pushkar flower tour is the perfect side quest to compliment the main attractions of Pushkar. Consisting of a 5-hour itinerary, you will start your day at 6 am. Transport is provided as you head to the family-owned farms that grow and pick the colourful aromatic flowers. Enjoy the sunrise as you shimmy through the fields, helping father and son pick red roses, white roses and marigold flowers.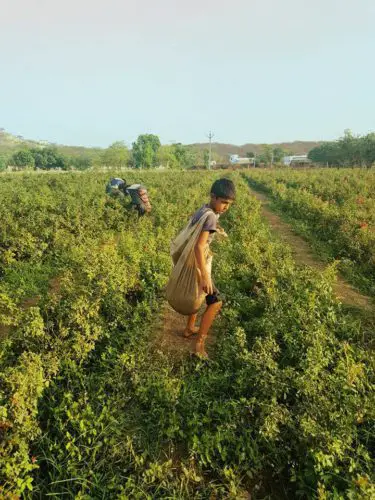 Pushkar Flower Market
After this, head to Dia Homestay for a hot Masala chai and a chance to grab breakfast on the rooftop terrace. Next, it's onto the local market. Watch as huge sacks are filled to the brim with flowers ready to be hauled to different parts of India. Here take the opportunity to learn all about the importance of the flowers; how they are used in traditional Indian weddings, festivals, for decoration, fashion, and other products.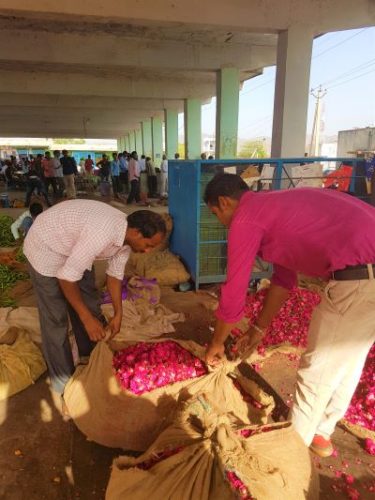 Pushkar Flower Factory
After hitting the market, it's a short drive to a factory in which those same flowers are used to make products such as fragrant water, perfume, sweets and syrup. Here you can see the workers load the flowers into concrete containers, mixed with purified water. Watch as the slow steam distillation process begins to create the rose water. The rose-water is an essential oil that has been used to create natural beauty products, and to treat health conditions for thousands of years. Benefits of rose oil include; improved various skin conditions and improved hormone health. One notable usage of rose oil we found fascinating was the application of a few drops to a light bulb. This creates a warm glow in any room and releases a relaxing aromatic scent.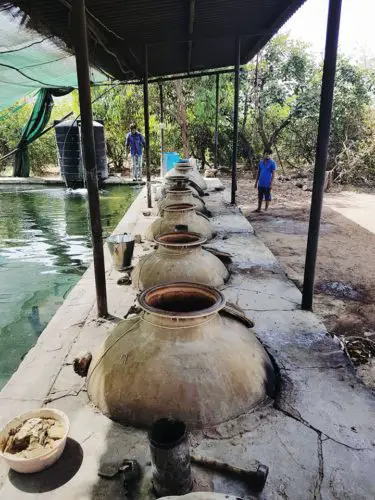 Where to book the Pushkar Flower tour
This specific tour is only possible through Dia Homestay and its partner properties. For the chance to experience this tour at a discounted price, quote our blog during your stay at Dia Homestay for a 10% discount. You can book the tour directly at Dia Homestay, or you can contact Ravi by a phone call on 919782127582.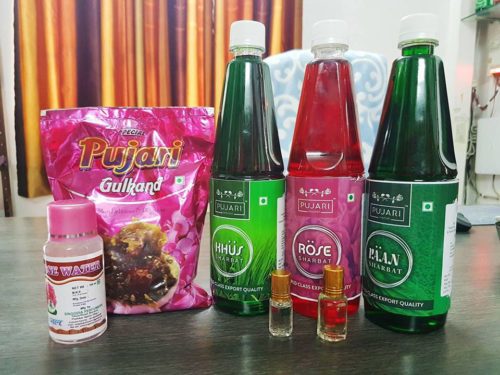 Where to stay in Pushkar
For the perfect Pushkar experience, we recommend staying at Dia Homestay It's perfect if you want to stay somewhere away from the tourist traps of the lake and surrounding markets. Dia Homestay provides the perfect escapism from Pushkar's beeping bikes and touting traders.
For more prices and deals on properties in Pushkar, CLICK HERE.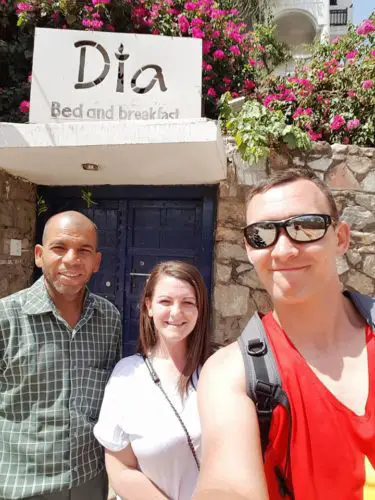 Location of Dia Homestay
That being said, let's talk location. Dia Homestay is situated a 10-minute walk from the lake in a quiet area. You will have more chance of seeing roaming cows and pigs, than cars and bikes. When arriving in Pushkar, take the first left upon passing the archway. Dia Homestay is located at the end of that left turn. Upon arriving at Dia Homestay, after a 4-hour long train journey from Jaipur to Ajmer, we were greeted by two adorable Labradors and two members of staff waiting to take our bags.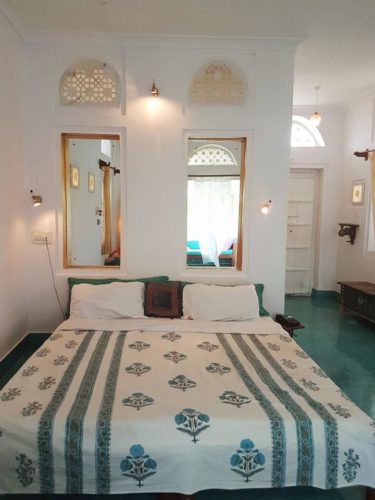 Room amenities
After the checking-in formality, we were welcomed to our room. Where do we start? The room is large, spacious and full of colourful quirky furniture and decor. A room so relaxing, we only left it that day to venture out for food! Over the course of the next couple of days, we braved the 40-degree heat and experienced what Pushkar had to offer, safe in the knowledge we had a cool relaxing pad to return to once the sun had taken its toll on us. The amenities made all the difference during our stay. Our fridge provided the refreshment and the fast wifi connection was our entertainment.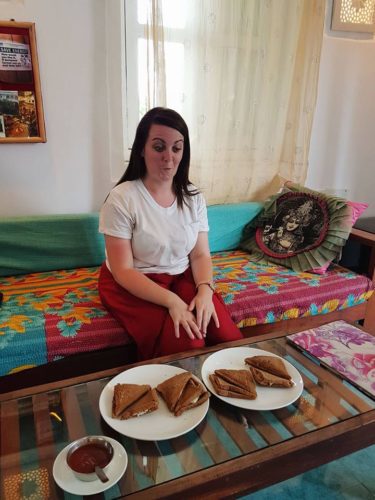 Other properties by Dia
Dia Homestay is 1 of 3 partner properties, all owned by the same owner. We visited Inn Seventh Heaven and the decor and vibe are similar. However, Inn Seventh Heaven is located right next to the market. So, if you are looking to be located among the hustle and bustle, Seventh Heaven is a great alternative to Dia Homestay.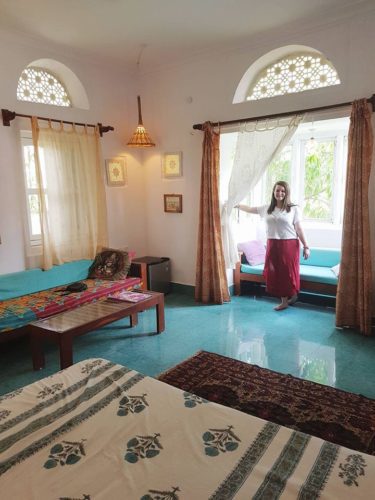 All in all, a Pushkar flower tour is the perfect way to witness local life and the mass cultivation of the town's biggest export. This tour offers you a relaxing morning of watching the sunrise over the flower fields, breakfast in a tranquil setting, and a chance to interact with local workers at the market and the flower factory.
Looking for more relaxing things to do in India? Check out Udaipur for a relaxing time!
Essential resources for travelling in India
Travel Insurance – No matter where you're travelling to, it's a good idea to make sure you're covered for any accidents or losses. We spent days and weeks searching for insurance, but most insurers would not allow us to take out a policy as we were already abroad. Our personal choice is Safteywing. You can opt for automatic monthly payments, just like a subscription. More importantly, it is available in 180 countries and can be purchased whilst already travelling. There is no cap on the duration of travel.
Visa – Before you travel to any country, make sure to check if you need a visa. iVisa is a fantastic website that is super easy and quick to use. Just type in where you are from. and where you are going. to check if you need a visa. If you do, you can quickly make an application online.
Accommodation – Booking.com is our go-to when looking to pre-book accommodation online. Booking.com tend to almost always have the best rates and have a FREE cancellation policy for most properties.
Overland transport – Our go-to website for overland transport is Bookaway. Bookaway offer multiple forms of transport, from buses, mini-vans, trains, and ferries. The routes on offer are extensive and certainly cover most of the backpacker trails. Bookaway works a little like Skyscanner but for overland transport. You will find plenty of transport options from a range of companies. All you simply need to do is book online and receive your ticket by email. The email will contain essential information, such as where the bus leaves from and departure and arrival times.
Tours & activities – If you want to book tours and activities online, make sure to check out Get Your Guide. Get Your Guide takes the stress out of booking activities abroad. You will also find a range of benefits, such as skip the line passes, lunch included in your tours, and so much more.
Travel tips ebook -Before you head off on your adventure, make sure to download our free ebook. It has a whopping 109 budget travel tips to help you make your hard-earned cash go further. Click here to download your FREE ebook.
Make cash on the road – If you're on a long trip, you may want to start earning whilst on the road. One way to do this is to teach English online. One of our favourite companies for this is Palfish, as the schedule is super flexible. You can open and close slots, as and when you choose, meaning you don't have to commit to the same days and hours each week. Just make sure you are TEFL certified to apply!
Next stop – Jodhpur! Check out our itinerary to help you discover the Blue City.
Like this post? Pin it!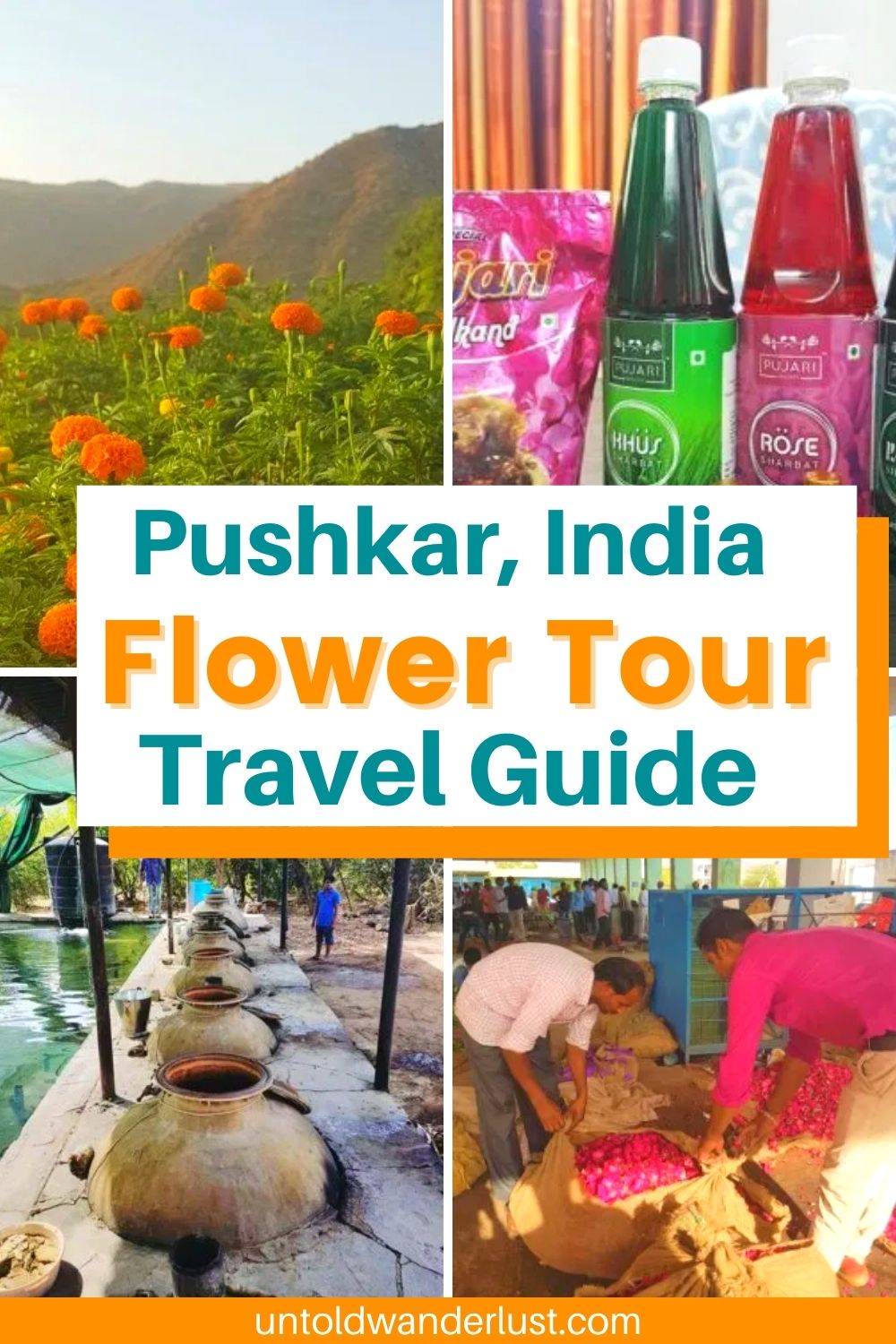 *We were hosted complimentary by Dia Homestay and given a complimentary Pushkar flower tour. All opinions are our own, based on our experience.*