The Great Wall of China is without a doubt one of the world's most popular attractions. People from all over the world have firmly placed a visit to the Great Wall on their travel bucket lists. But, with the Great Wall being such a popular attraction, many visitors would expect a trip to one of the world's seven wonders to cost a pretty penny. Read on to find the current Great Wall prices and exactly how much a trip to this ancient wonder will cost.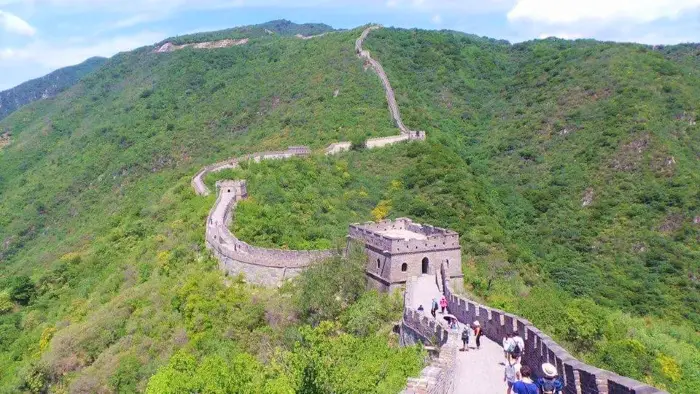 Disclosure: Untold Wanderlust contains affiliate links. If you click on these links and make a purchase, we will earn a small commission at no extra cost to you. You can find our full disclosure policy and privacy policy here.
Great Wall prices at Mutianyu
Before you reach the wall, you will need to go to the ticket office to purchase your tickets. There is a compulsory charge for the entrance to the Great Wall and there are optional transport modes that you can choose from. Below is a breakdown of the different costs.
Mutianyu Great Wall entrance fee
The general admission for the Great Wall at Mutianyu is 40 Yuan for adults, 20 Yuan for seniors, 20 Yuan for Children under 1.4 meters, and FREE for children under 1.2 meters. This cost is compulsory to see the wall. After paying this fee, you can opt to take one of the two hiking trails that lead onto the wall. The hiking trails are free. However, if you wish to take one of the modes of transport, you will need to purchase tickets from the ticket office, at the time of buying your general admissions ticket.
Great Wall Shuttle bus
The shuttle bus will take you to the entrance of the cable car and costs 15 Yuan both ways, or 10 Yuan one-way. The shuttle bus is optional but will save you time and energy; which believe me, you will need to tackle the trek on the Great Wall.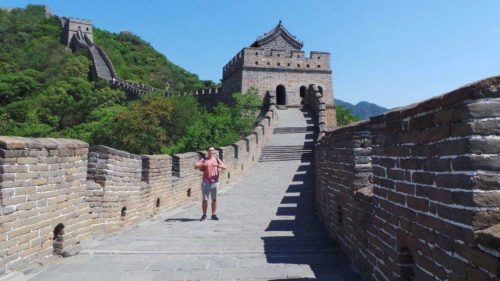 Mutianyu Great Wall cable car cost
The cable car costs 120 Yuan both ways for adults, or 60 Yuan for children, and will take you to Watchtower 14 of 23. The cable car costs 100 Yuan one-way for adults, and 50 Yuan one-way for children.
Great Wall price of the Chair lift
The chair lift is sometimes referred to as the slide rail. It's the same thing. The cost is 120 Yuan both ways for an adult, and 60 Yuan both ways for a child. One-way tickets are 100 Yuan for an adult and 50 Yuan for a child. The chair lift will take you to tower 6 of 23.
Great Wall toboggan price
To get back to the entrance of the Great Wall, you can opt to slide down on a toboggan. The cost is 60 Yuan one-way. If you have a two-way ticket for the chair lift you can also use this to take the toboggan down. The toboggan is located at Watchtower 6.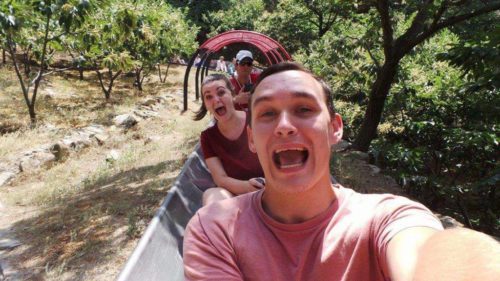 Note – you can only take one or the other; cable car or chair lift and toboggan. Both are optional, but you will spend a couple of hours hiking to the wall if you opt for neither.
How to get to the Great Wall from Beijing
Getting to the Great Wall at Mutianyu is very easy and cost-effective for budget backpackers travelling to China. Just follow the steps below:
1. Take bus 916 from Dongzhimen Wai bus station, which costs 30 Yuan one-way. You pay the fare when you board the bus.
2. After around 1 hour, get off at the Haui Rou Bei Da Jaie stop in Huairou District.
3. When you get off, you have two options to reach Mutianyu; the H23 bus which costs 3 Yuan or take a local shared taxi which costs 5 Yuan. The H23 bus gets full quickly, so we recommend spending the extra 2 Yuan and hopping into a taxi to reach the Great Wall at Mutianyu much quicker.
Just a quick tip – be careful of taxi touts jumping on the bus telling you that it's the stop for the Great Wall. IT IS NOT! Keep on going until you get to the Beidaje stop.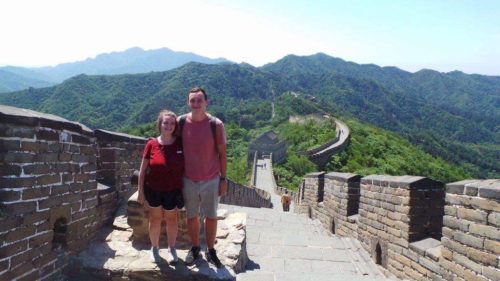 Tips for visiting the Great Wall at Mutianyu
Arrive early – We arrived at the Great Wall at 9:30 am, which was the perfect time as the tour groups didn't start to arrive until 11:00 am. It also gave us the chance to get some great pictures without herds of people in the shot.
Left of Tower 6 has the best views – We chose to go up on the chair lift and head left (going towards Tower 7). We found that the best views of the wall are between towers 6 and 14.
Drink plenty of water – Make sure to drink plenty of water as the trek can get tiring. You may find yourself feeling dehydrated.
Buy water before entering the wall – Prices for a small bottle of water can rise to a staggering 15 Yuan inside of the wall. Before getting on the shuttle bus there are plenty of shops where you can buy water for 4-5 Yuan.
No more than 5 Yuan for a minivan – When you arrive in Mutianyu you may be offered a lift to the entrance in a mini-van. We chose to use the public bus, but on our way back, we managed to hop into a mini-van for 5 Yuan per person.
Please note that the tips and information we have detailed above are for those who would like to visit the Great Wall independently. If you would like the hassle taken out of getting to the wall yourself, then we recommend booking a guided tour.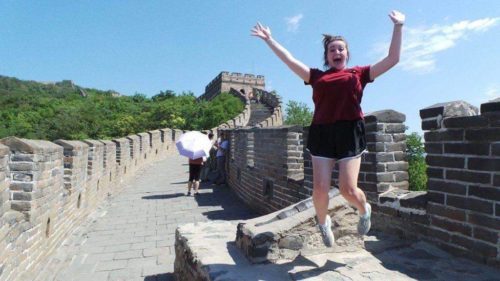 Our experience of the Great Wall at Mutianyu
After a whirlwind time working our way through China, we finally reached Beijing. By which point we were both more than ready to see the Great Wall, our last attraction before we would move onto a Mongolian adventure.
The Great Wall of China is truly a remarkable wonder of the world. It spans over a whopping 21,196.18km, making it difficult to choose where you want to start your much-anticipated trip to the wall. After lengthy trolling through websites and blogs, we chose to head to Mutianyu. We chose this point for two reasons; to avoid the mass crowds at the more popular Badaling entrance, and because of its, somewhat, easy trekking terrain.
Journey to the Great Wall at Mutianyu
The morning we had planned to go to the wall, we had set our alarm clocks for 5:30 am. By 6:000 am we were up, dressed and eagerly ready to leave. The journey to the Great Wall couldn't have gone any smoother. We managed to find the bus station and get the bus without being ripped off or wasting any time. With a good start to the day so far, we paid the Mutianyu entrance fee and were set to see our first wonder of the world!
The magical moment of stepping on the Great Wall
Upon reaching the wall, after coming off the chair lift, our excitement was beyond words. We had finally made it to stepping foot onto one of the wonders of the world! What first stood out to us, was the sheer length of the wall and how it goes on and on like a never-ending spiral. One of the most fun facts about the Great Wall of China is that it is a whopping 13,000 miles long!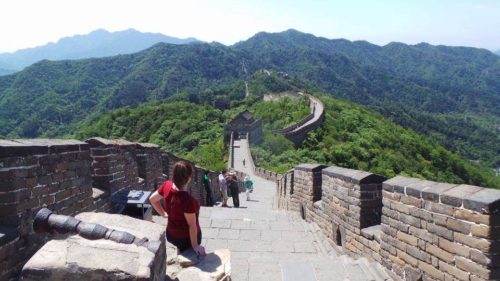 The hilly trekking terrain made for great surprises; after every steep hill, we were met with more and more incredible views. In total, we spent about 3-4 hours walking from Tower 6 to Tower 19 and back. Going up the hills was quite strenuous, particularly under the blistering sun. Whilst walking down the hills, it often felt like our toes were going to poke through our trainers, due to the steepness and our feet getting carried away. Along the way, we found plenty of fantastic photo opportunities. We must've stopped about a million times to get some great snaps and to make the most of the empty stairways before umbrella-waving tour groups arrived.
A fun end to the day
All hot, sweaty and tired, we made our way down the Great Wall mountain via the toboggan. Whilst on the toboggan we cooled down with the wind in our hair and rested our tired little feet with a great sense of accomplishment. All in all, our day at the Great Wall couldn't have gone any smoother. Taking public transport there and back to Beijing was super easy.
Where to stay in Beijing
Feeling luxurious: Asia Hotel Beijing – Offers an indoor swimming pool, garden area and fitness facilities. In a great location for travellers interested in sightseeing.
Budget private room: Beijing Together Hostel – Offers dorms and twin double rooms! Great for couples that want to socialize with others, but also want the privacy of their room.
Dorm life: Lab Hostel – Has a wide range of bed types to choose from and has a great social space. The hostel has a bar that serves cocktails, and a chill zone to watch films.
For the latest prices and deals on other properties in Beijing, CLICK HERE.
Essential resources for travelling in China
Travel Insurance – No matter where you're travelling to, it's a good idea to make sure you're covered for any accidents or losses. We spent days and weeks searching for insurance, but most insurers would not allow us to take out a policy as we were already abroad. Our personal choice is Safteywing. You can opt for automatic monthly payments, just like a subscription. More importantly, it is available in 180 countries and can be purchased whilst already travelling. There is no cap on the duration of travel.
Visa – Before you travel to any country, make sure to check if you need a visa. iVisa is a fantastic website that is super easy and quick to use. Just type in where you are from. and where you are going. to check if you need a visa. If you do, you can quickly make an application online.
Accommodation – Booking.com is our go-to when looking to pre-book accommodation online. Booking.com tend to almost always have the best rates and a FREE cancellation policy for most properties.
Tours & Activities – If you want to book tours and activities online, make sure to check out Get Your Guide. Get Your Guide takes the stress out of booking activities abroad. You will also find a range of benefits, such as skip-the-line passes, lunch included in your tours, and so much more.
Travel tips ebook -Before you head off on your adventure, make sure to download our free ebook. It has a whopping 109 budget travel tips to help you make your hard-earned cash go further. Click here to download your FREE ebook.
We hope this guide to the Great Wall prices at Mutianyu has helped you plan your magical trip to this mind-blowing wonder of the world. The total cost of a trip to the Great Wall of China can be as little as 73 Yuan ($10.40), if you opt to take public transport, and hike to the Great Wall after you have purchased your general admissions ticket.
Want to see more of China's wonders? Check out the mystical Tianmen Mountain in Zhangjiajie.
Like this post? Pin it!