Looking for things to do in Livingstone? Here's a list of the top 7 things to do! These activities will keep you occupied for your entire stay in Livingstone; Zambia's beating heart of tourism.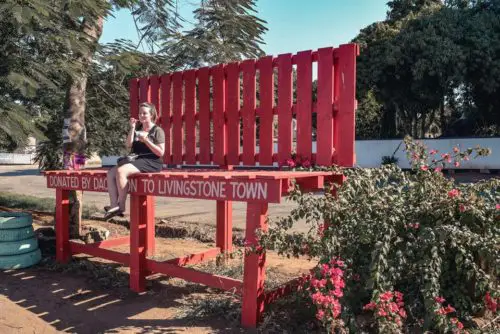 Disclosure: Untold Wanderlust contains affiliate links. If you click on these links and make a purchase, we will earn a small commission at no extra cost to you. You can find our full disclosure policy and privacy policy here.
How to get to Livingstone, Zambia
By air
Getting to Livingstone is made easy with its well-connected airport to other parts of nearby Africa. The airport in Livingstone is called Harry Mwanga Nkumbula International Airport, named after the Zambian leader responsible for the country's independence. You can find flights from nearby larger international airports such as O.R Tambo International Airport in Johannesburg, South Africa, and Jomo Kenyatta International Airport in Nairobi, Kenya.
By land from Lusaka
Zambia's capital city is well connected to Livingstone by a 7-hour direct bus. Buses cost between $15-20 and run regularly each day. Stay Connect bus service offers transport for 200 Kwacha ($16). Lusaka airport is also well-connected to destinations outside of Africa. We managed to find flights from Thailand to Lusaka for under $400.
By land from Zimbabwe
Crossing from Zimbabwe into Zambia is made easy with a Kaza visa (only for citizens of certain countries, you can check here). A Kaza visa allows you to enter both Zimbabwe and Zambia on one visa. The current cost for a Kaza visa for U.K. citizens is $50, and this can be obtained at land borders as well as airports. To cross into Livingstone from Victoria Falls, Zimbabwe, you simply need to take a taxi or walk to the Victoria Falls bridge. A taxi from Shoestrings Backpackers cost us just $5. After a quick stamp on your visa to show you have left Zimbabwe, you will need to walk about 1km across no man's land, over the bridge where you can catch a glimpse of Victoria Falls or watch the dare-devils bungee jump off the bridge.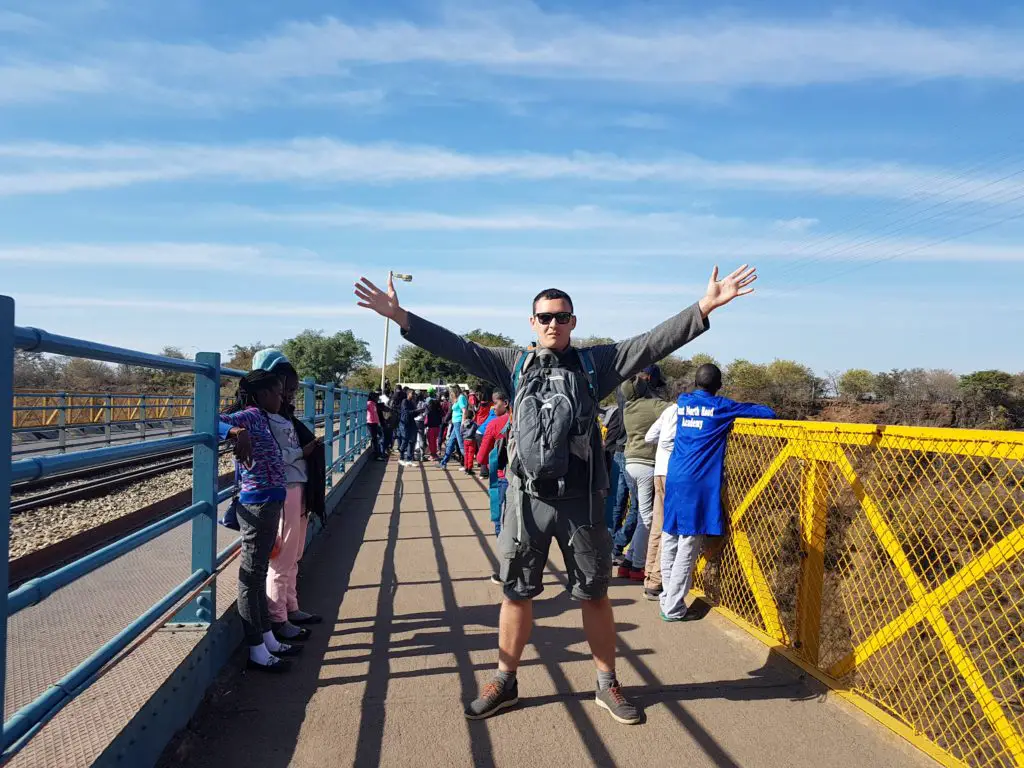 Once you cross the bridge, don't forget to pass through Zambia immigration to get your entry stamp. From there, you can take one of the many taxis that are waiting to take you to your accommodation. If you're staying at the popular Jollyboys Backpackers Hostel, make sure to take advantage of their free shuttle service that runs from the Zambia side of the falls each morning at 10:30 am. Ask around the area to locate the shuttle. It should stop and wait outside of the Zambia Falls ticket office.
Top things to do in Livingstone
Visit Victoria Falls
Victoria Falls is divided between Livingstone in Zambia and Victoria Falls town in Zimbabwe. The waterfall was named by British explorer David Livingstone. Livingstone named it Victoria after the ruling Queen of England at that time. Although the name has stuck, it also goes by the local name Mosi oa Tunya "The Smoke that Thunders".
With its width and length combined, Victoria Falls has the largest sheet of falling water in the world. Whilst some frugal backpackers may think that the entrance fee of $30 on the Zimbabwe side, or the $20 entrance fee on the Zambia side, is a bit steep for a waterfall, it's certainly a "do NOT miss" attraction!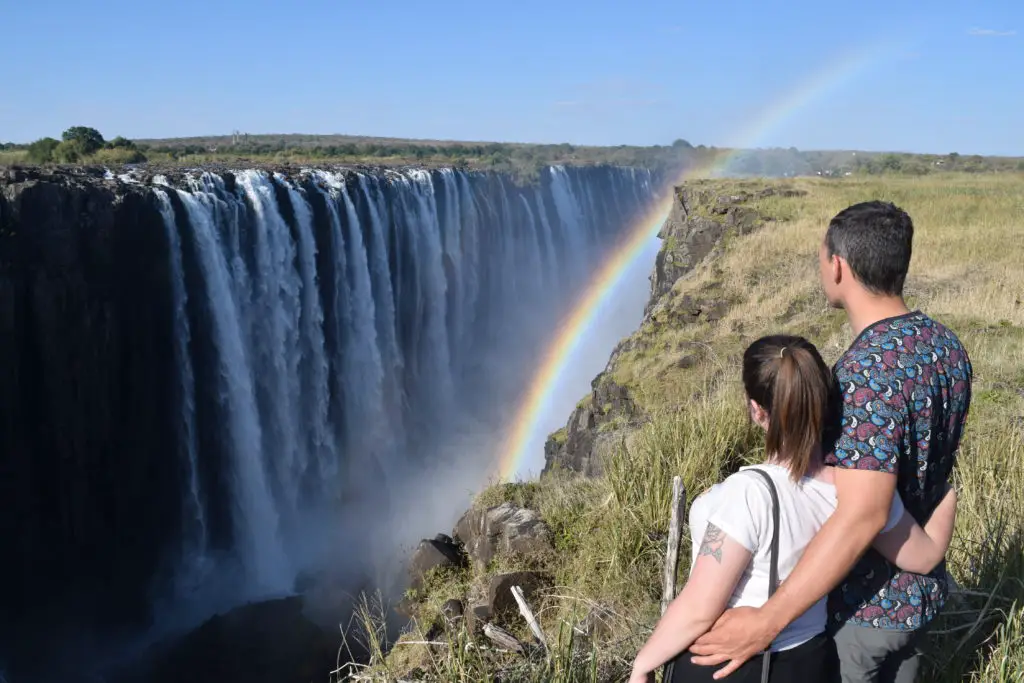 Be an adrenaline junkie and sign up for one of the Victoria Falls activities
There are tons of activities on offer for those that like an adrenaline rush. Here are just a few of the most popular activities:
Zambezi white water rafting: Full-day – $180
Bungee jump off the Victoria Falls Bridge – $160
Swim in Devil's Pool & take a tour of Livingstone Island – $110 – $150 (depending on the time of day)
Take a helicopter flight over the falls – Starting at $195 for 15 mins. (Prices increase with the length of flight time)
Go on a shopping spree at Maramba Market
Likely, Maramba Market isn't walkable from your accommodation, which is why we recommend going by taxi. If you prefer to take a private taxi, it should cost around 25-30 Kwacha ($1.32-1.58) from nearby Jollyboys Backpackers. If you'd rather have the local way of getting around, you can head over to the taxi rank opposite Shoprite on Kapondo Street and share a 5-seater for 8 Kwacha ($0.42) per person.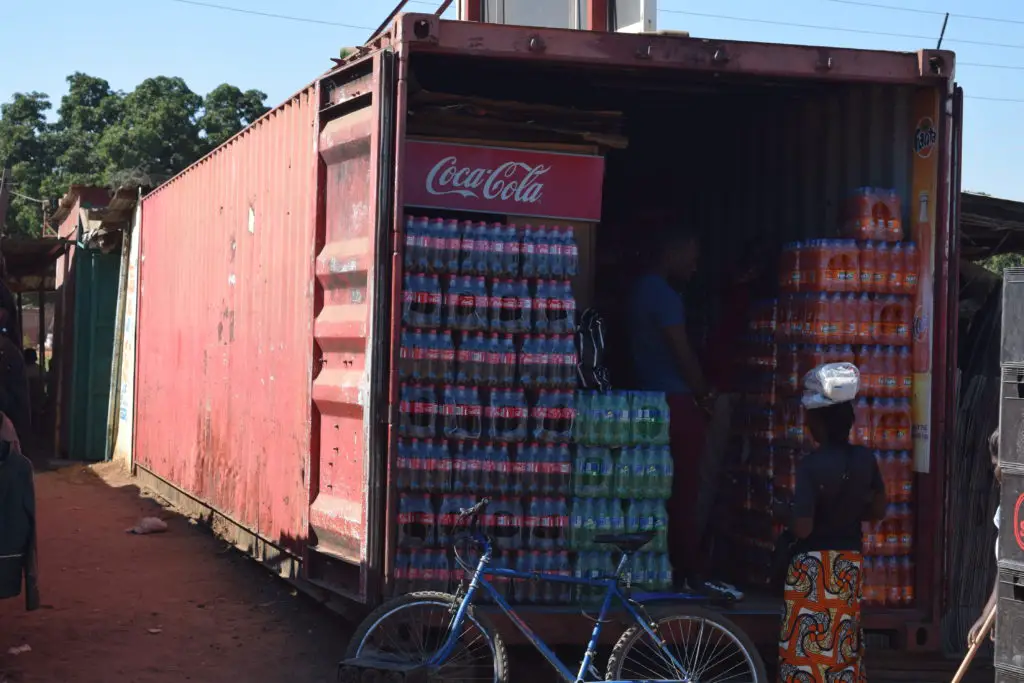 Have your camera ready because once you reach the market, there are tons of interesting shots to take. Whether that be a shipping container converted into a stall selling stacks of fizzy drinks. Or perhaps a street soaked with wood shavings where men work tirelessly to build furniture like beds, tables and chairs. After coming off an overland tour, it was a nice way to connect with locals and get an authentic feel of Africa.
Go sweet-tooth crazy at Canton's ice-cream
A walk around Livingstone town centre wouldn't be complete without a trip to Canton's ice cream. Choose from a range of flavours in 3 different tub sizes, priced at 10 ($0.53), 20 ($1.05) & 28 ($1.48) Kwacha. Don't be afraid to mix the flavours. Chocolate goes great with either Smarties or Oreos. After you've made the tough choice of which flavour(s) to have, relax and enjoy in their creatively ingenious decorated seating area.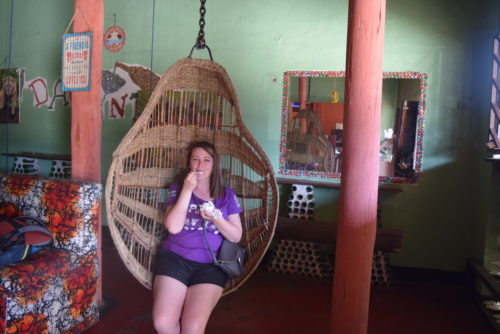 Hang out at Jollyboys Backpackers
If you're seeking out the best accommodation to find tours, like-minded folk, and a place to relax, then choose Jollyboys Backpackers Hostel. They offer private rooms, dorm beds, and camping spots. Whether or not you already have your accommodation in Livingstone sorted, a trip to Jollyboys is still worthwhile.
During the day you can hang out by the pool, play table tennis and relax in the comfy seating area and watch TV. They also have a free shuttle to the Zimbabwe border at 10 am every day, if you're interested in the activities they offer there. In the evening, do some more relaxing in the comfy seating area with a beer and a burger. What's great about Jollyboys is their daily activity board. Each day, enjoy something different the hostel has to offer. Tuesday is Braai night, Saturday is curry night, and Sunday is a pool party; just to name a few! It's worth mentioning, Jollyboys was voted the best hostel in Zambia in 2019 (Hostel World).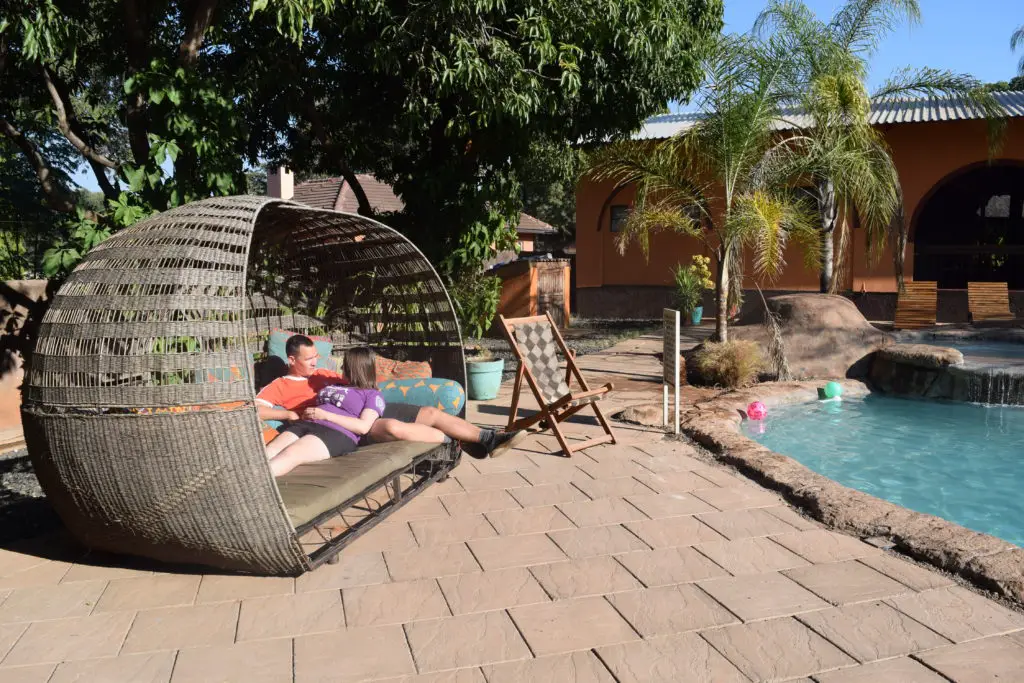 Take a day trip to Zimbabwe
We don't doubt that when reading this, you already have plans to visit Zimbabwe. If not, you might as well poke your head in, it's right next door. As mentioned at the start of this post, some countries are eligible for the Kaza visa, making Zimbabwe easily accessible. Did you know…The border town of Victoria Falls is famous for Victoria Falls Waterfall. Now that you've been educated, let us tell you what else the town of Vic Falls has to offer. Aside from the Falls, you can wander around the town, do a spot of shopping, and watch elephants crossing the roads without a care in the world. If you have already seen the waterfall on the Zambia side, we think it is worth checking it out on the Zimbabwe side too for a different view and angle.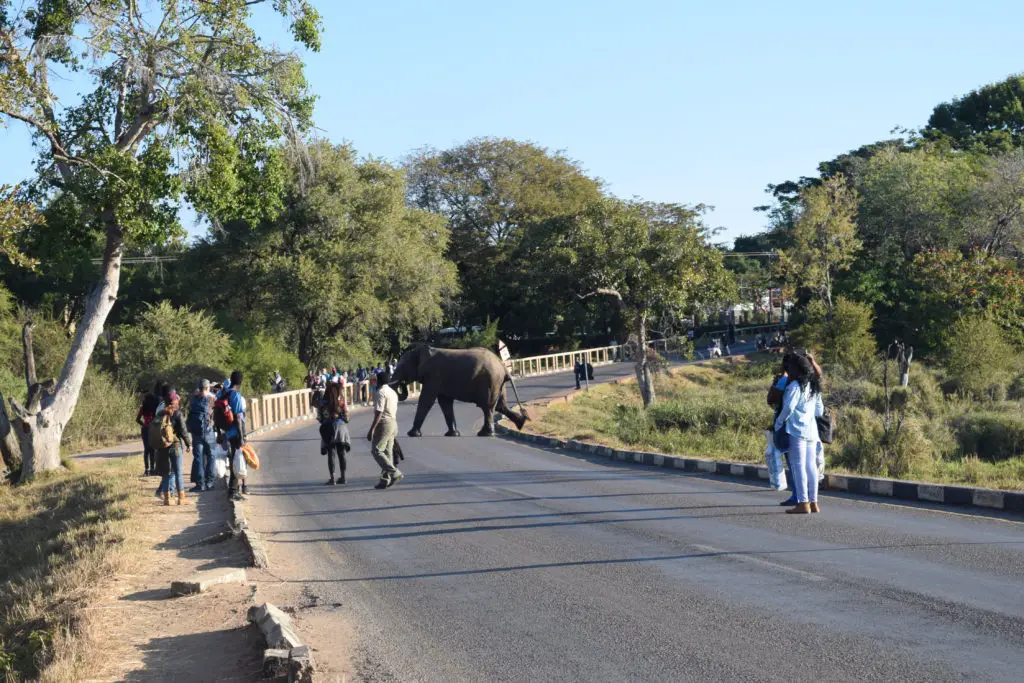 Take a day trip to Chobe National Park in Botswana
Chobe spans 12 square kilometres and is home to 4 of the big 5, excluding rhinos. If you don't have your own car, it's best to take a tour. Jollyboys Backpackers offers a variety of tours that range from 1 day to 3 days. Whilst you can take a trip there and back within a day for $157, we fully recommend staying overnight. An overnight trip will set you back $257, but camping in the bush with the wilderness and animals strutting around your tent at night is all part of the thrill of it. The terrain in Chobe National Park is a mixture of off-road gravel and off-road sand, making for a real authentic safari feel. Make sure to bring along your binoculars so you can admire the abundance of springbok and baboons that wander around or the elephants that get up close and personal.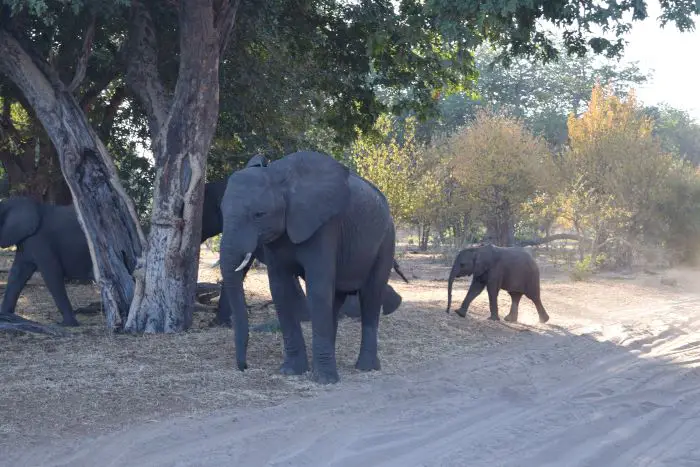 Essential resources for travelling in Zambia
Travel Insurance – No matter where you're travelling to, it's a good idea to make sure you're covered for any accidents or losses. We spent days and weeks searching for insurance, but most insurers would not allow us to take out a policy as we were already abroad. Our personal choice is Safteywing. You can opt for automatic monthly payments, just like a subscription. More importantly, it is available in 180 countries and can be purchased whilst already travelling. There is no cap on the duration of travel.
Visa – Before you travel to any country, make sure to check if you need a visa. iVisa is a fantastic website that is super easy and quick to use. Just type in where you are from. and where you are going. to check if you need a visa. If you do, you can quickly make an application online.
Accommodation – Booking.com is our go-to when looking to pre-book accommodation online. Booking.com tend to almost always have the best rates and a FREE cancellation policy for most properties.
Tours & Activities – If you want to book tours and activities online, make sure to check out Get Your Guide. Get Your Guide takes the stress out of booking activities abroad. You will also find a range of benefits, such as skip-the-line passes, lunch included in your tours, and so much more.
Travel tips ebook -Before you head off on your adventure, make sure to download our free ebook. It has a whopping 109 budget travel tips to help you make your hard-earned cash go further. Click here to download your FREE ebook.
We hope you enjoyed this Livingstone post! If you're heading to Cape Town soon, make sure to check out these awesome things to do for couples.
Like this post? Pin it!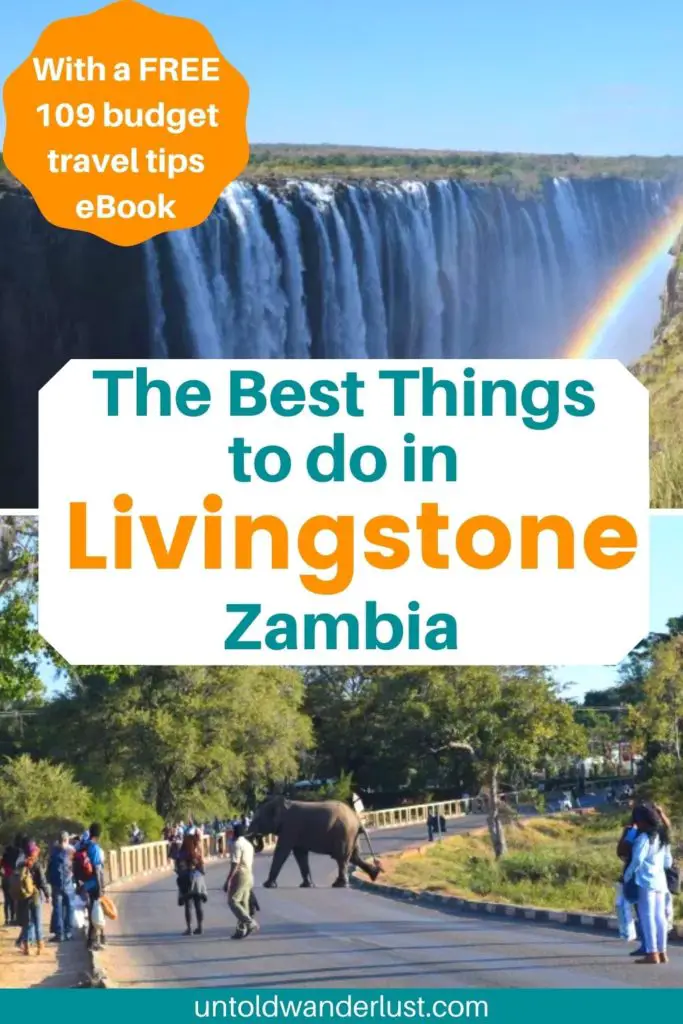 *We were hosted complimentary by Jollyboy's Backpackers. All opinions are our own, based on our experience.*