Are you looking for fun things to do in Cape Town for couples? Here's our top pick of 14 things to do, to keep you having fun for an entire week!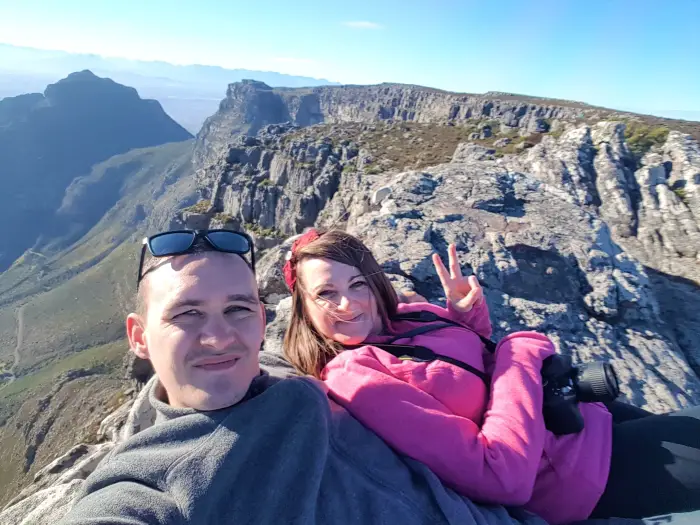 Disclosure: Untold Wanderlust contains affiliate links. If you click on these links and make a purchase, we will earn a small commission at no extra cost to you. You can find our full disclosure policy and privacy policy here.
Fun things to do in Cape Town for couples
Cape Town was our final stop in South Africa, which turns out to be one of the best countries to visit for first-time travellers. Cape Town is filled with things to do! Whether you're on a 3-day trip or spending a week in Cape Town, you won't find it difficult to pack your days with fun, history, and amazing views.
1. Take in the views at Table Mountain
Table Mountain is without a doubt one of the top attractions in Cape Town. With stunning panoramic views of South Africa's vibrant capital city below and clear views of Signal Hill and Lion's Head, it's deserving of its place on the list of the 7 new natural wonders of the world. It's also the only natural wonder that's embedded in an urban setting. To get to Table Mountain you can choose to embark on the 2-hour steep hike or relax and enjoy the views from the cable car. The cable car costs 330 Rand ($17.33) for a round-trip.
2. Hike Lion's Head at sunset
The second most popular thing to do in Cape Town is to hike the famous Lion's Head just before sunset. Hopefully, you will reach the top to witness a memorable African sunset over Cape Town. You can opt to hike Lions Head by yourself or with a guided tour. If you're staying at 91Loop hostel, consider taking the guided tour that departs every Thursday at 3 pm.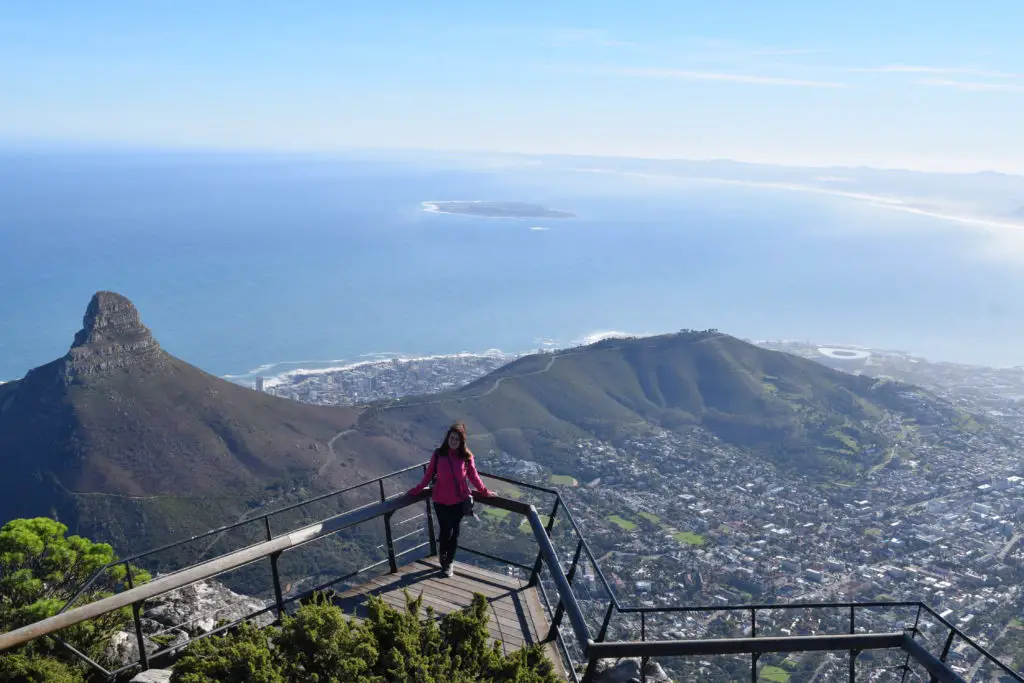 3. Go on a walking tour…or three
Like most cities, Cape Town offers free walking tours. Walking tours are a fantastic way to get to know the area and learn some interesting facts and history. There are different walking tours available and each is unique and tell a different story. Make sure to stop by Motherland Cafe to find out more about the walking tours.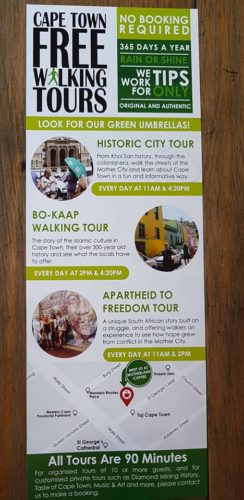 4. Go picture crazy in colourful Bo-Kaap
Bo-Kaap is a predominantly Muslim neighbourhood of Cape Town where the Muslim population settled during apartheid. What makes Bo-Kaap special are vibrant colourful houses. It's like walking down a rainbow street! The bright colours attract people from far and wide with their selfie sticks and camera to capture the "Insta perfect" picture. The Bo Kaap is probably one of the most photographed areas in Cape Town.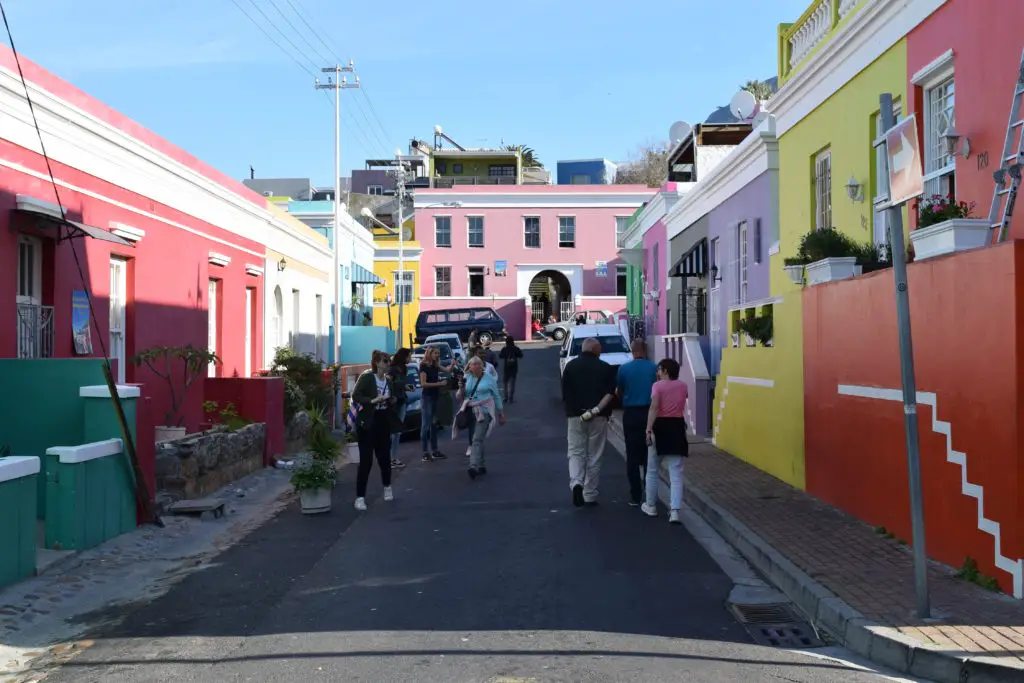 5. Wander the V&A Waterfront
In the early evening, make sure to head down to the V&A Waterfront for some delicious hot food from the market and a few beers to enjoy the sunset. If you feel like splashing out, you can also take a ride on the big wheel, which costs 150 Rand ($7.88) to ride. Bring a coat, it can get chilly in the evening!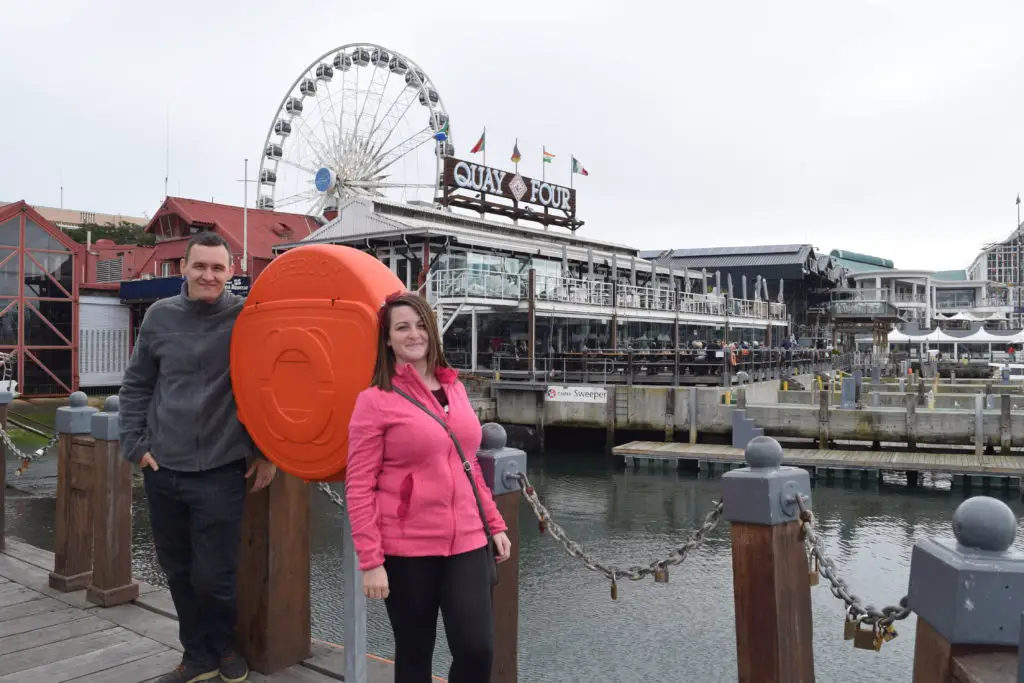 6. Eat away at Mojo Market at Sea Point
Looking for somewhere to eat in Cape Town? Head to Mojo Market and delve into the plentiful choice of food and trinket shops. Enjoy your meal looking out over the deep blue ocean. If you do happen to be there in the evening at the weekend, there is also the opportunity to enjoy a few drinks whilst jigging away to live music.
7. Visit Cape of Good Hope
Take a trip to the Cape of Good Hope, where the Atlantic meets the Indian Ocean. The views across the coast are stunning and offer the opportunity for bird and baboon encounters. Make sure to embark on the scenic hiking trail to the lighthouse, where you will find panoramic views of the ocean below. The cost of entry into Cape of Good Hope is 303 Rand ($15.91) per person.
Book a trip to the Cape of Good Hope online!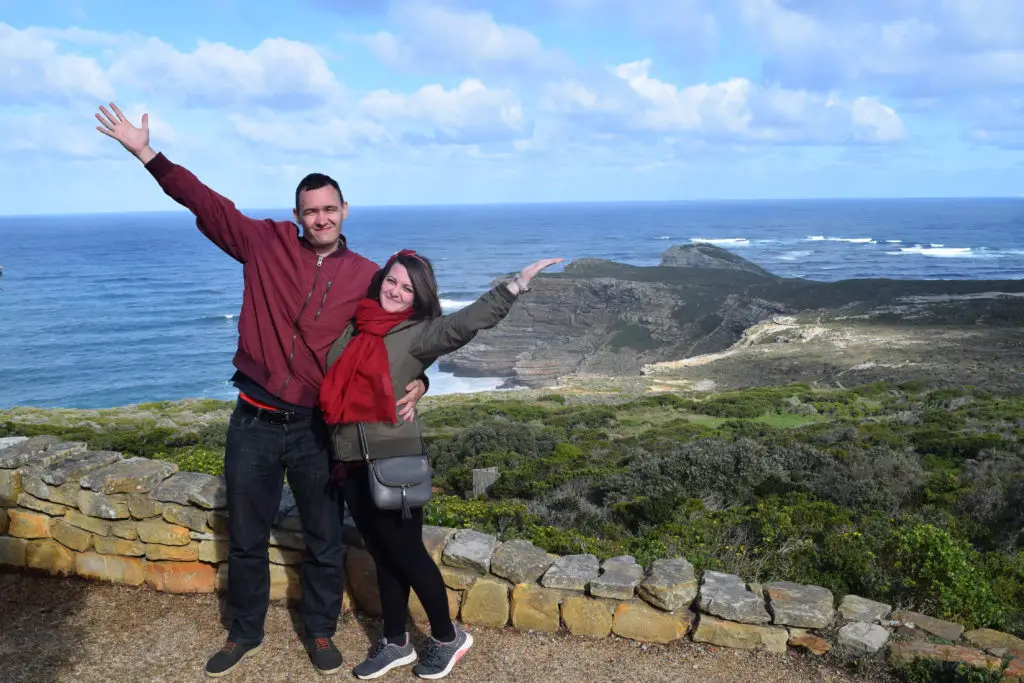 8. Be in awe at the waddling penguins at Boulders Beach
After visiting the Cape of Good Hope, make sure to stop by Simon's Town, where Boulders Beach is located. Here you will find thousands of cute waddling penguins making their way around the white sandy beach. The cost of entry is 152 Rand ($7.98) per person. However, if time permits, we recommend strolling along the other beaches nearby first. Unfortunately, we did a tour that lacked the time to fully explore the area.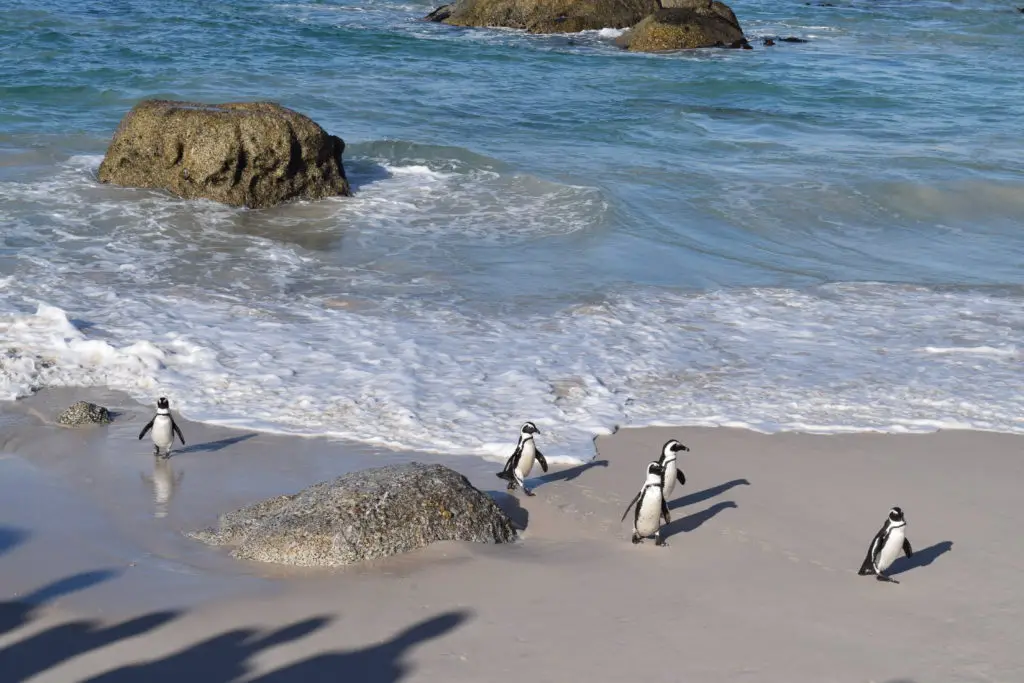 9. Buy trinkets at Green Market & drink at Heaven Cafe
Ready for a spot of souvenir shopping? Head to Green Market Square where you can buy as many African trinkets as your heart desires. Whilst you're there, make sure to take note of the interesting architecture around you, which you will learn all about on the free walking tours. After a shopping spree, you can also pop by Heaven Cafe located just across the road by the church. This cafe is special, as it offers a place for disadvantaged members of society to off-burden their worries.
10. Indulge in South Africa's deep history at the museums
Cape Town has no shortage of museums to get your teeth into the deep history of the nation. Make sure to stop by the Slave Lodge Museum to learn about the shocking abhorrent practice of slavery in South Africa. Also, make sure to call in at the District 6 Museum to find out about apartheid and why District 6 has barren land. However, avoid walking into District 6 itself; it's NOT safe! Our guide explained to us that there are lots of homeless people staying there that become aggressive.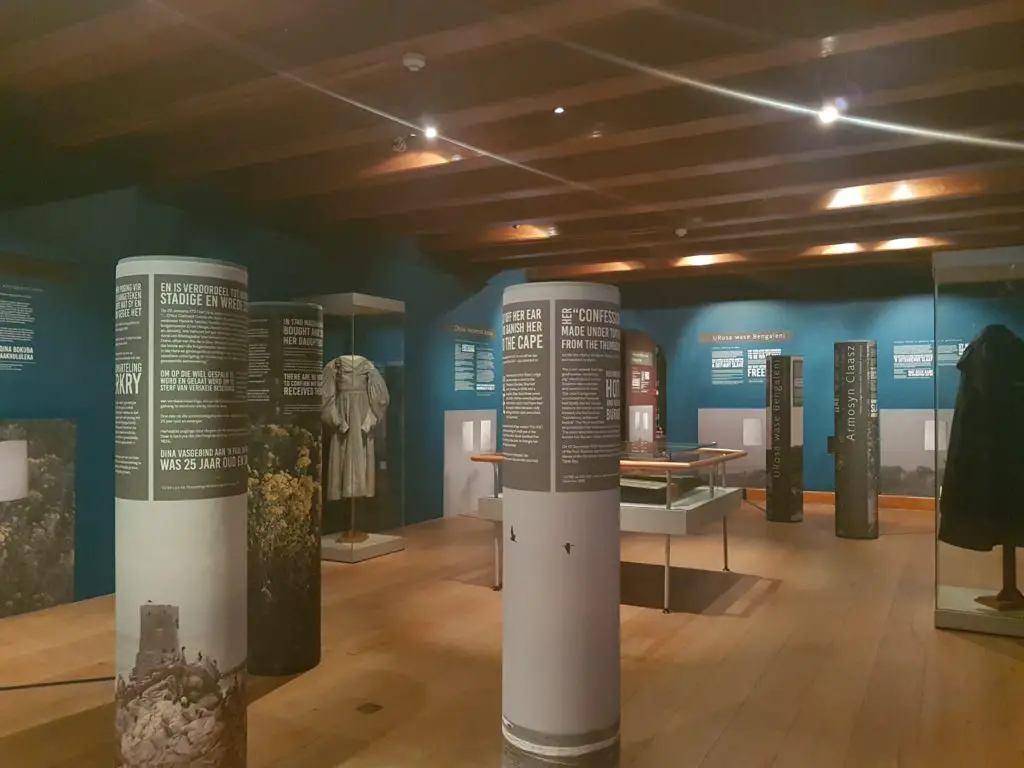 11. Take a wine tour
South Africa is known for its famous vineyards, so it makes sense for wine lovers to get away from the centre of Cape Town to the beautiful vineyards in the sun for some wine sampling. The most famous wine tour is in Stellenbosch, just 50 km east of Cape Town. However, if you don't fancy doing a full-day tour out of the city, you can easily visit Groot Constantia Wine Estate for some wine sampling which is closer to the centre of Cape Town. The cost of entrance to Groot Constantia Wine Estate is just 85 Rand ($4.46) per person and includes 5 wines to sample.
12. Chill out in nature at Kirstenbosch Botanical Gardens
For more stunning views of Table Mountain and to admire an array of colourful plants and flowers, stop by Kirstenbosch Botanical Gardens. You could spend all day relaxing in the beautiful, peaceful surroundings, having a picnic, photographing the pretty flowers, and just simply kickin' back and relaxing in nature. The cost to enter the gardens is 70 Rand ($3.68) for an adult.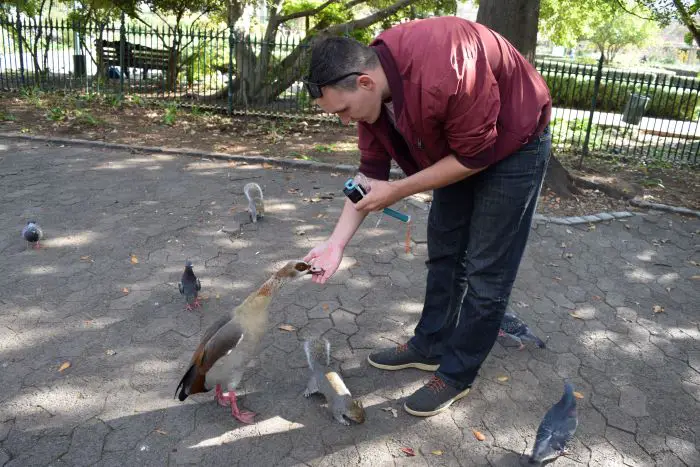 13. Street Art tour in Woodstock
Fancy seeing some colourful African street art? Hop over to the Woodstock district, where the walls are splashed with interesting colourful designs.  If you're curious about the story behind them, you can go on an organised walk or cycle with a guide. Great for art enthusiasts!
14. Party on Long Street
Finally, after the long days of enjoying Cape Town's beauty, you may be ready to unwind with a few drinks of craft beer. Head to Long Street to get down with the partygoers and continue the fun in Cape Town. If you like a more social atmosphere, where you can play games such as pool, foosball, and South African beer pong, head over to Honey Badger Bar which is attached to 91 Loop Hostel. It's just around the corner from Long Street.
No matter what type of traveller you are, make sure to check out this crash course on Cape Town. You will find everything from the highlights and how to stay safe.
Ways to get around Cape Town
You can easily get around to all of these fun things to do in Cape Town for couples without the need to rent a vehicle. Below we have listed different transport options.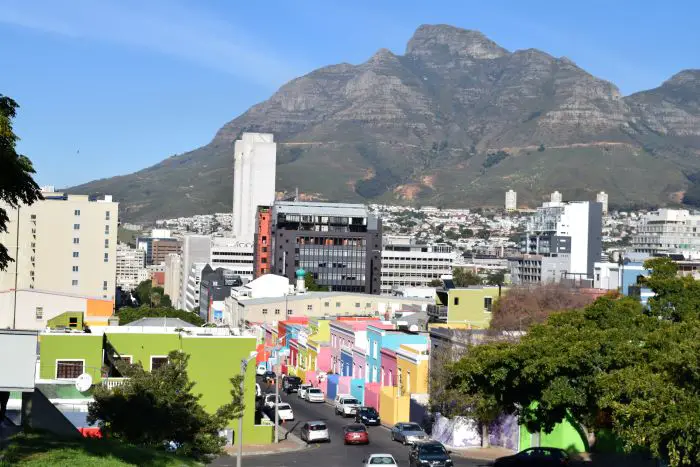 Public buses & trains
Public buses run regularly around Cape Town and are easy to use. MyCiti buses are the most popular and travel all over town. You will need to purchase a MyCiti bus card first for 35 Rand ($1.84) at one of the kiosks located at many of the bus stops. Once you have purchased your card, you can top it up for rides around the city. Click here for more information.
Whilst Cape Town does have a train system, we don't recommend using it. We were told on several occasions by local people that the underground is unsafe, even for them as locals. For this reason alone, we avoided it at all costs. It is much safer to take the bus in the daytime and to take a registered taxi in the evening.
City Sightseeing bus
The City Sightseeing bus company offers a hop-on-hop-off service to all of Cape Town's top tourist attractions. You can simply purchase your ticket online and have it sent to your mobile, or you can call by the City Sightseeing office by the V&A Waterfront or on Long Street. You can opt for tickets that last 1 day, 2 days, or 3 days. Once you have bought your ticket, you are free to hop on and hop off the buses as frequently as you like for the duration you have purchased.
Uber
Uber is widely used across South Africa, including Cape Town. Ubers are a safe and reliable way to get around. They will pick you up at your location and drop you off at your next. There's no need to wait around for buses. A massive bonus is that you know how much it will cost before you even step into the vehicle. Uber is the best way to get around in the evenings, period.
Where to stay in Cape Town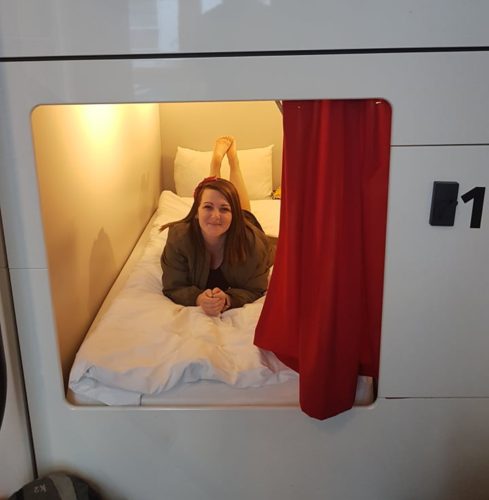 91Loop Boutique Hostel – This hostel is perfect for the social butterflies that like to retreat to their abode when they want downtime. The hostel offers a range of room types; dorms, single bedrooms, and double bedrooms. If you opt for a dorm room, you have the luxury of staying in cute pod-style beds that offer you the comfort of closing your curtain to shut off for the night. Inside the pods, you have your own light and electrical sockets to recharge your devices.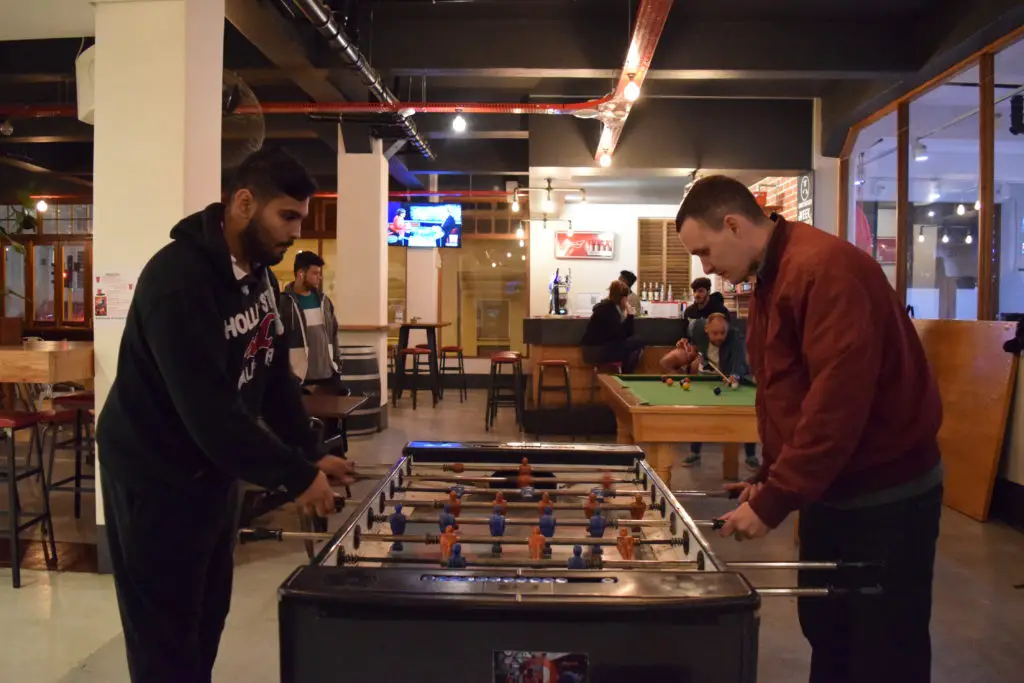 In the evenings, you can pop downstairs to the Honey Badger Bar for some delicious food, or join in the fun and games hosted by 91 Loop Hostel. There is something new to do each night of the week; from making leather products to partying the night away and playing South African beer pong.
Essential resources for travelling in South Africa
Travel Insurance – No matter where you're travelling to, it's a good idea to make sure you're covered for any accidents or losses. We spent days and weeks searching for insurance, but most insurers would not allow us to take out a policy as we were already abroad. Our personal choice is Safteywing. You can opt for automatic monthly payments, just like a subscription. More importantly, it is available in 180 countries and can be purchased whilst already travelling. There is no cap on the duration of travel.
Visa – Before you travel to any country, make sure to check if you need a visa. iVisa is a fantastic website that is super easy and quick to use. Just type in where you are from. and where you are going. to check if you need a visa. If you do, you can quickly make an application online.
Accommodation – Booking.com is our go-to when looking to pre-book accommodation online. Booking.com tend to almost always have the best rates and a FREE cancellation policy for most properties.
Tours & Activities – If you want to book tours and activities online, make sure to check out Get Your Guide. Get Your Guide takes the stress out of booking activities abroad. You will also find a range of benefits, such as skip-the-line passes, lunch included in your tours, and so much more.
Travel tips ebook -Before you head off on your adventure, make sure to download our free ebook. It has a whopping 109 budget travel tips to help you make your hard-earned cash go further. Click here to download your FREE ebook.
We hope you enjoyed this post of fun things to do in Cape Town for couples! If you're entering Africa and have a long layover in Qatar, find out how to spend your layover here!
Like this post? Pin it!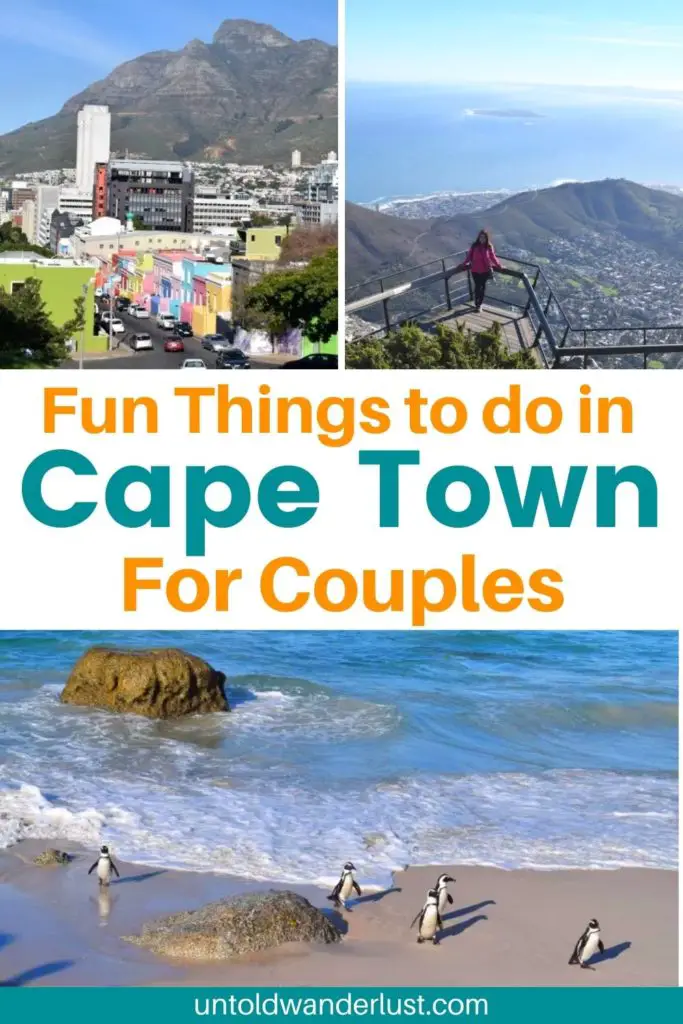 *We were hosted complimentary by 91 Loop Boutique Hostel. All opinions are our own, based on our experience.*