After endless searching on the internet on how to get from Eswatini, formerly known as Swaziland, to Durban or St. Lucia in South Africa, we hit a brick wall. No information anywhere! After much digging and asking numerous locals, we managed to find a way. In this post, we will break down exactly how to make the journey from Swaziland to Durban, or St. Lucia. You will also find current prices.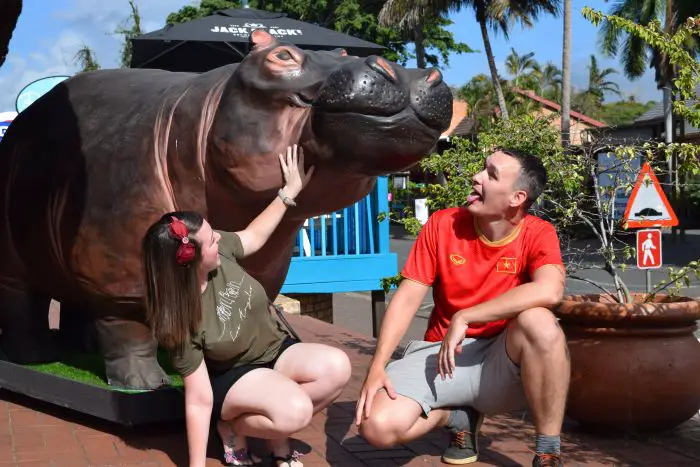 Disclosure: Untold Wanderlust contains affiliate links. If you click on these links and make a purchase, we will earn a small commission at no extra cost to you. You can find our full disclosure policy and privacy policy here.
Private shuttle from Swaziland to Durban
Aside from if you're renting a car or cycling in South Africa, then the most obvious and easiest way to make the trip is by private shuttle. After searching and searching for shuttles that run the route from Swaziland to Durban, we only managed to find one shuttle with TransMagnific. According to their website, the current price of the shuttle is a whopping 1,000 Rand ($67.38).
We thought the booking process would be easy peasy. So, we gave TransMagnific a call ready to book onto the next shuttle that was leaving. Unfortunately, TransMagnific, have a policy that states shuttles will not leave with less than 4 people. Here is where the problems began! As we are only two people, and no other people were booked onto the shuttle, we would need to wait an unknown amount of time before we would leave Swaziland. Most fellow backpackers are heading to Johannesburg, and most locals opt to use the public shared taxis.  So back to the drawing board, we went!
Shared taxi from Swaziland to Durban
Aside from a private shuttle, the only other way to reach Durban or St. Lucia is by taking a shared taxi, also known as a kombi. If you look on a map, you will see that St. Lucia is about halfway between Swaziland and Durban, making it an easy stop-off for a few days of relaxation, hippo spotting, and wildlife safaris. Here's exactly how to make the journey from Swaziland to Durban using kombis.
Go to Manzini or Mbabane main bus station
If you're staying at the popular backpacker hostel, Swaziland Sundowners, you can easily take a local kombi from the main road outside of the hostel, directly to Manzini Bus Station. The cost of a local kombi is just 10-12 Rand ($0.67 – $0.81). If you're not staying at Sundowners, it's better to look on a map to see which of the two towns is the closest to you.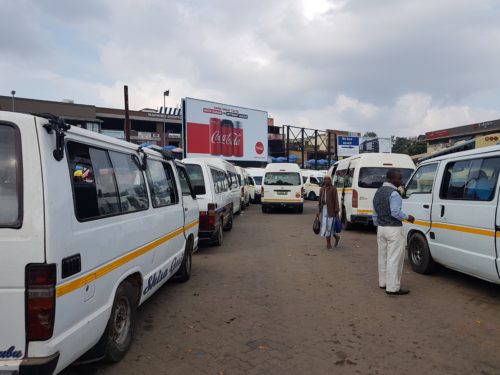 Once you arrive at the bus station, ask around for the kombis going to Durban. Don't worry, the people in Swaziland are super friendly and will be more than happy to point you in the right direction. We took the kombi from Manzini and it was easy to find.
Buy your bus tickets to Durban
Once you find where the kombi leaves from, go to the desk, pay your fare of 280 Rand ($18.88), and hand over your passport. Jake being the nervous wreck he is, got a little on edge at the thought of leaving our passports with a strange man behind a make-shift office desk, but the bus was right next to it, so we proceeded to chuck our bags in the trailer and find comfortable seats on the bus. 90 minutes later, we had new neighbours to rub shoulders with, our passports were safely back in our bags and we were on our way!
We recommend arriving at the bus station around 7 am. There's no set schedule, but when we asked a driver the day before, he told us that buses to Durban start running at 7 am and finish departing at 1 pm. Buses will only leave once they are full. So be warned, you could be waiting around for a few hours for the bus to fill up.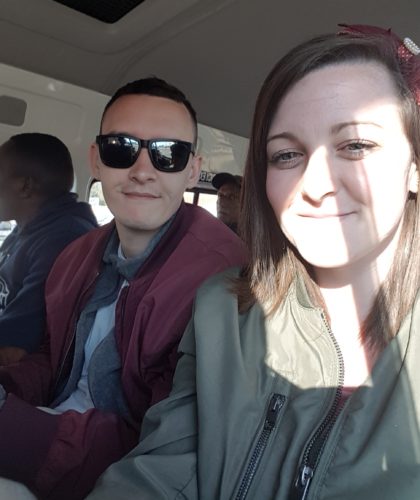 Swaziland border posts into South Africa
The border crossing between Swaziland and South Africa was super easy to cross. It took no more than 30 minutes to stamp out of the land of smiles and waves and head into the land of the big 5. Once we reached the border, passengers alighted off the bus and walked across the border. The walk wasn't far and took no more than a couple of minutes. The driver then parked on the South African side and waited for everyone to cross the immigration point. We also stopped at the local shop on the South African side to quickly grab some lunch.
Arriving in Durban
The bus arrives at Durban Train Station, either on Umgeni Road or on the other side of the tracks at Jeff Taylor Crescent. It then goes on to make its final stop at Berea Road Train Station. Once you get off the bus, we recommend having onward transport arranged. However, if that is not possible, you should at least have your hostel marked on a map and the address at the ready. We also recommend getting off the bus at Durban Train Station as it seemed like many taxis were waiting for passengers to get off. Naively, we got off near Berea Road and we couldn't find Wi-Fi or a taxi, and the area seemed a little sketchy. We ended up catching yet another kombi from Dr Pixley Kaseme Street to Curiocity Hostel.
How to get to St. Lucia from Swaziland
If you prefer to break up the journey from Swaziland to Durban, consider making a stop in St. Lucia, the hippo-filled town. St. Lucia is a backpacker's paradise and offers plenty of opportunities to take safaris on land and the river. Here's how to make the journey from Swaziland to St. Lucia.
Take a shared taxi from Manzini or Mbabane
Like making the trip to Durban, you will need to go to the bus station in Manzini or Mbabane and ask for the bus going to Durban. Even though you're going to St. Lucia you will need to pay the full fare to Durban, otherwise, someone else could easily take your place that will pay the full price of 280 Rand ($18.88).
Stop in Mtubatuba
As you're not making the full journey to Durban, you will need to let the driver know that you are going to St. Lucia. Now, the driver won't take you all the way there, but he will drop you off at the crossroads to Mtubatuba, a small town just 20 km to the west of St. Lucia. The journey to Mtubatuba from Manzini took just 3 hours.
Once you have been dropped off, you will need to flag down another kombi that will take you on the 5-minute journey to Mtubatuba Bus Station. We were lucky because as soon as we got off the kombi, there was another kombi ready and waiting for us to hop on.
The cost of the kombi to Mtubatuba Bus Station was just 10 Rand ($0.67) each.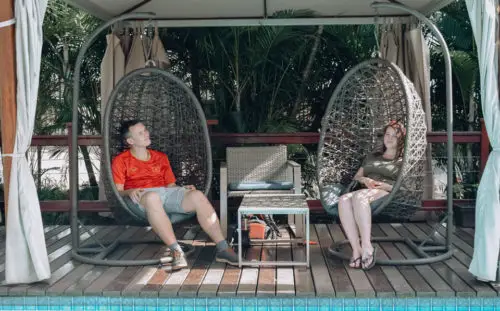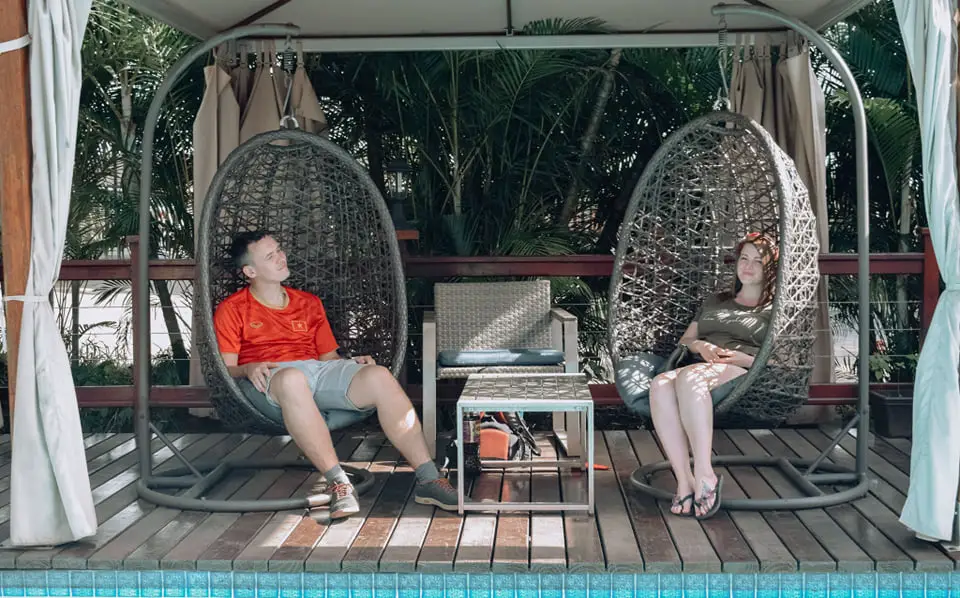 Mtubatuba station to St. Lucia
Once you arrive at Mtubatuba Station, you will need to ask around for the kombi to St. Lucia. The kombi to St. Lucia was just across from where the bus stopped, so this was not difficult to do. We hopped onto the final kombi of the day. Theoretically, the journey from Mtubatuba Station to St. Lucia town should only take about 10 minutes, but because the kombis stop every couple of hundred meters to let passengers on and off, it ended up taking about 30 minutes. Better than paying for a taxi though! The price of this kombi was just 24 Rand ($1.62) each.
P.S. We fully recommend you stay at Monzi Safaris Tented Lodge in St. Lucia. The tents all have cosy beds, lights and plug outlets. The kitchen is well-equipped, and the pool area makes for a perfect treat and place to relax.
Summary of how to get from Swaziland to Durban or St. Lucia
Private shuttle from Swaziland to Durban: Takes 6 hours and costs 1,000 Rand ($67.38). You will need 4+ people before the shuttle will leave.
Swaziland to Durban via shared taxi: Takes 6-7 hours plus waiting time for the bus to fill up. The kombi costs 280 Rand ($18.85) and leaves Manzini between 7 am and 1 pm.
Swaziland to St. Lucia via shared taxi: Take the same bus heading for Durban. Get off after about 3 hours in Mtubatuba. Take a short 5-minute kombi ride to Mtubatuba Bus Station. Take a kombi from Mtubatuba to St. Lucia. The total cost of this journey is 314 Rand ($21.15).
Planning to take an overland tour in Africa? Check out everything you need to know before you go here.
Essential resources for travelling in Africa
Travel Insurance – No matter where you're travelling to, it's a good idea to make sure you're covered for any accidents or losses. We spent days and weeks searching for insurance, but most insurers would not allow us to take out a policy as we were already abroad. Our personal choice is Safteywing. You can opt for automatic monthly payments, just like a subscription. More importantly, it is available in 180 countries and can be purchased whilst already travelling. There is no cap on the duration of travel.
Visa – Before you travel to any country, make sure to check if you need a visa. iVisa is a fantastic website that is super easy and quick to use. Just type in where you are from. and where you are going. to check if you need a visa. If you do, you can quickly make an application online.
Accommodation – Booking.com is our go-to when looking to pre-book accommodation online. Booking.com tend to almost always have the best rates and a FREE cancellation policy for most properties.
Tours & Activities – If you want to book tours and activities online, make sure to check out Get Your Guide. Get Your Guide takes the stress out of booking activities abroad. You will also find a range of benefits, such as skip-the-line passes, lunch included in your tours, and so much more.
Travel tips ebook -Before you head off on your adventure, make sure to download our free ebook. It has a whopping 109 budget travel tips to help you make your hard-earned cash go further. Click here to download your FREE ebook.
Like this post? Pin it!