When in Cape Town, a Cape of Good Hope tour is a must! It's also a good idea to include a visit to Boulders Beach to see the swarms of adorable penguins on this trip too. Here's everything you need to know about taking a tour of one of South Africa's top attractions.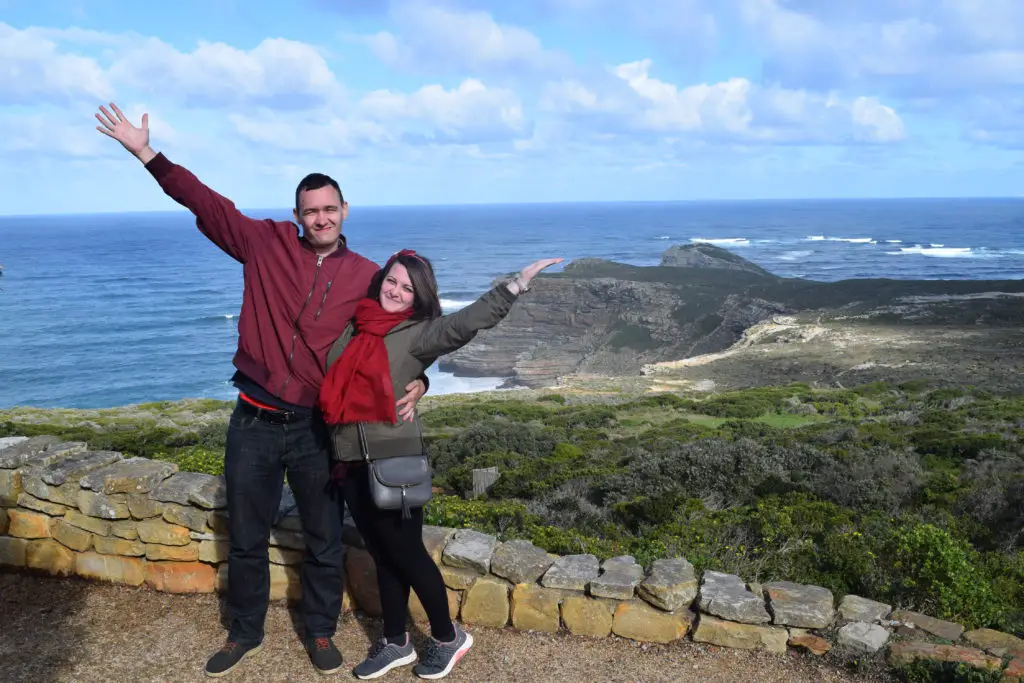 Disclosure: Untold Wanderlust contains affiliate links. If you click on these links and make a purchase, we will earn a small commission at no extra cost to you. You can find our full disclosure policy and privacy policy here.
How to take a Cape of Good Hope tour
The distance from Cape Town city centre to Cape Point is 65 km, and the drive takes about 60 – 90 minutes. There are a few ways to do this trip which we have listed below:
Rent a car and drive there yourself – This will give you the freedom to spend as much, or as little, time as you want at each place. It will also allow flexibility in stopping by at other places. However, you will need to navigate there yourself and purchase all of your tickets to the sites.
Hire a private driver – Hiring a driver will allow you to take in the views without the worry of concentrating on the road. It also allows you to manage your time as you wish. However, this can be a little expensive on a backpacker's budget. If you manage to get a group of 4+ people together then the price would be worth it! You can hire a driver for around 1,600 rands ($104.31). Split between 4 people this would be just 400 rands ($26.08) each, excluding the entrance cost to Cape of Good Hope and Boulders Beach.
Take an organised tour with a tour company – There are plenty of tour companies that run the Cape of Good Hope tour. This is the least stressful option as you won't need to worry about getting from place to place or purchasing your tickets. However, you will be limited with time and you won't have the freedom to make multiple stops.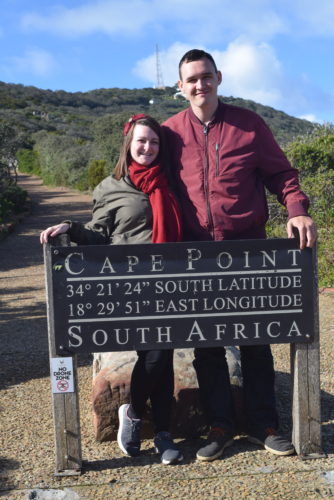 Cape Point & Cape of Good Hope tour with City Sightseeing
As Jake doesn't have a license, and Katie hasn't driven a car in over 4 years, renting a car was out of the question and we weren't able to pool together a group of cool people to keep the costs low for a private driver. So an organised tour was our only option. Here's some basic information about the City Sightseeing tour of Cape Point, Cape of Good Hope and Boulders Beach.
How to book: You can book your tickets online and receive an email receipt or you can go to one of the offices in Cape Town city centre and purchase your tickets from the desk.
Cost: The tour cost 740 rands ($48.20) for an adult and 375 rands ($24.43) for a child.
Leaving time: The last pick-up point is at the City Sightseeing office on Long Street (stop 5). The bus departs at 9:40 am.
Duration: 7.5 hours – The tour bus return to the V&A Waterfront office (stop 1) at 5:00 pm.
What's included: The bus journey and entrance to Cape Point & Cape of Good Hope nature reserve (300 ($29.54) rands for international tourists and 75 rands ($4.89) for South Africans)
What's not included: Food, drink (You can purchase bottles of water on board for 10 rands ($0.65)), entrance to Boulders Beach (Purchase your ticket on the City Sightseeing bus for 160 rands ($10.42) or at Boulders Beach for 152 rands ($9.90)).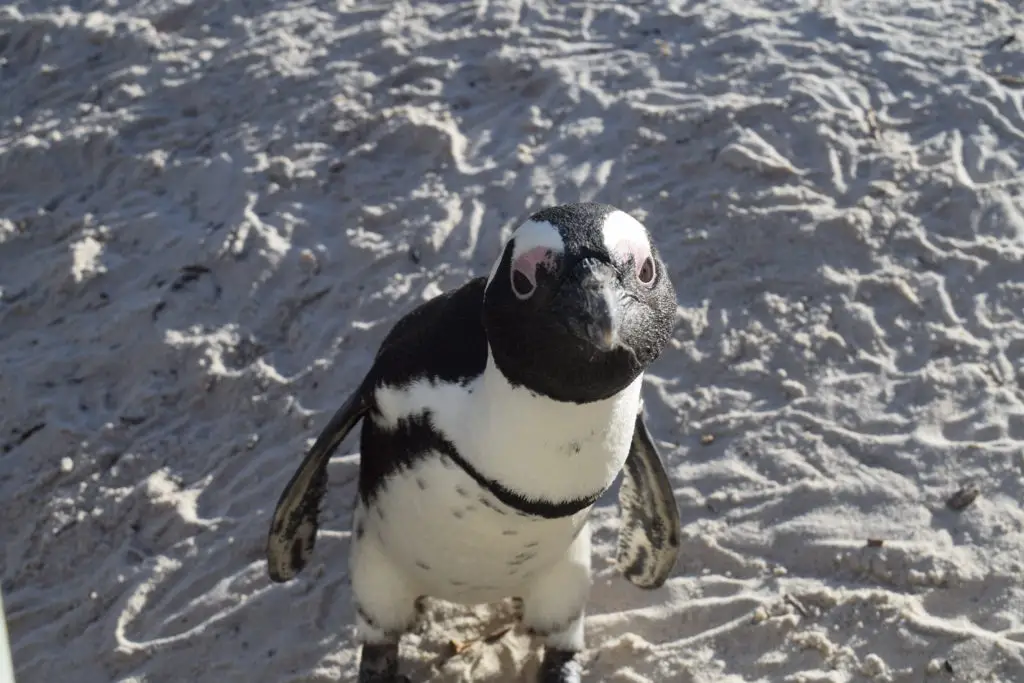 Boarding and leaving Cape Town for the Cape of Good Hope tour
The morning started with a short walk from our hostel, 91 Loop, to the City Sightseeing office on Long Street. Today was the first day all week that the skies had been dreamy blue clear, so that turned out well for us. Once we arrived at the City Sightseeing office we waited for only 10 minutes before the bus arrived. Passengers quickly boarded the bus and we were promptly on our way by 9:45 am. The tour leaves from either the V&A Waterfront office or the office on Long Street. The bus was comfortable and had wifi on board, although it did only work for the first 10 minutes of the journey and after that it was non-existent.
Cape Point & Cape of Hope hike
After a 90-minute drive, we headed deep into the Cape of Good Hope nature reserve. To the left, you can get lost in the array of green hues, and to your right, stare out at the never-ending crystal blue waters. The drive into the nature reserve is scenic and makes for the perfect start to a trip. Once the bus had parked up, we had 2 hours to wander around and explore for ourselves.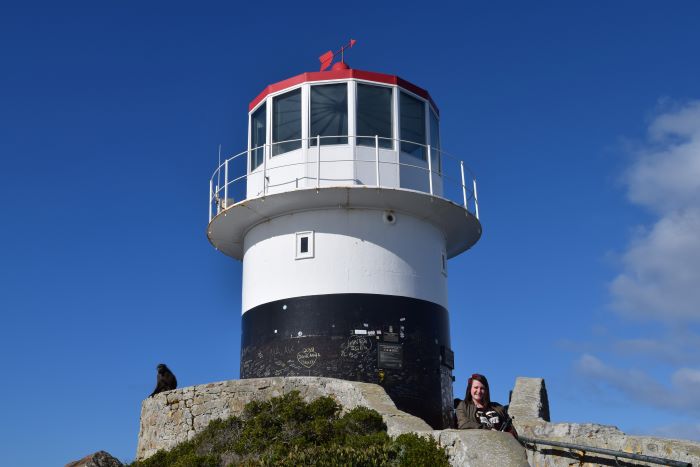 At the parking lot, you have two options; hike to the lighthouse or hike down to the Cape of Good Hope. If you're taking the tour, we recommend you hike to the lighthouse first as a guide will take you on the hike down to the Cape of Good Hope later on. Alternatively, you can choose to take the bus. The bus was scheduled to leave the parking lot at 1:40 pm whilst the guided hike was scheduled to leave at 1:20 pm. The hike up to the lighthouse is a little steep and requires a small amount of fitness, but the path is even and easy to climb. Along the path, there are plenty of viewpoints to peer out at the neverending blue ocean, with tons of photo opportunities. It's safe to say that the hiking trails in this area are among the best hiking trails in Cape Town.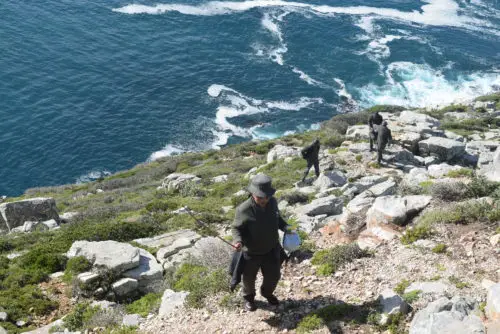 Whilst we opted to take the bus to the Cape of Good Hope, plenty of people who made the descent down, said it was a little rocky and quite a climb down. If you plan to do the hike down, make sure you have appropriate footwear!
Beware of baboons
Whilst at the nature reserve, you will notice the many furry inhabitants that roam around trying to mug people. Yes, Baboons! Accordingly, they are dangerous creatures and if you are approached by one you should calmly walk away. Most importantly DO NOT leave your bag or food laying around. They will be gone quicker than candy in a kindergarten. Whilst we were there, we heard stories on the way up of how the baboons had already stolen 3 bags that day. To our disbelief, once we reached the top near the lighthouse, we witnessed a baboon snatch another bag. The baboon was up and over the edge and climbing the rocky cliff edge before anyone could speak with astonishment. Luckily, the rangers were on hand to fight the baboon for the bag back and the woman's belongings were eventually returned after fighting for 20 minutes.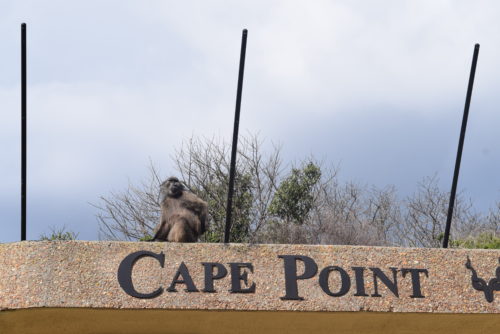 Boulders Beach – Penguin heaven
After a quick 20-minute photoshoot at Cape of Good Hope and trying to snap away at the ostriches dotted along the road, we were off to the final stop of the day; Boulders Beach. A.K.A penguin paradise! This was part of the day that we had been looking forward to the most and the main reason we decided to take the trip. If you didn't opt to buy your ticket on the bus, don't worry. You can easily purchase it at the entrance for 152 rands ($9.90) per adult.
Boulders Beach is home to around 3,000 African penguins, also known as Jackass penguins, that first settled on the bay in Simon's Town in 1982. You may have seen Instagram blow up with pictures of people running side-by-side with the penguins on this beach. But recently walk-ways have been erected to prevent humans from interacting with the penguins. Accordingly, human interaction with them can cause them stress, which can result in them dying.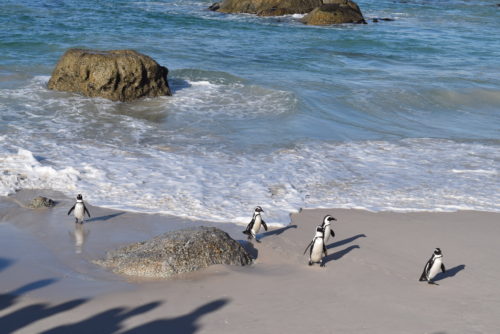 At this spot, we were given just 1 hour to view the penguins. This was nowhere near enough time, as 15 minutes of that time was spent walking to and from the bus stop. Unfortunately, with such a small time frame we couldn't look around the town or take a nice stroll on the adjacent beaches. In hindsight, it would have been better to take a quick walk on the FREE beach first, to see if we could spot penguins there. If we had more time, we think it would've been better to visit other penguin colonies near Cape Town, such as Stony Point for a more authentic experience.
Overall thoughts on the Cape Point & Cape of Good Hope tour
The Cape of Good Hope tour with a stop at Boulders Beach is amazing and makes for a fantastic day out! However, due to time restrictions on the tour and lack of actual guidance, we would recommend hiring a car or a driver for the day to allow for more freedom. The best part about this tour was the scenery and watching the adorable penguins waddle around. Unfortunately, the time allocated to Boulders Beach was nowhere near enough and customers on the tour were not given much information about the area.
Essential resources for travelling in South Africa
Travel Insurance – No matter where you're travelling to, it's a good idea to make sure you're covered for any accidents or losses. We spent days and weeks searching for insurance, but most insurers would not allow us to take out a policy as we were already abroad. Our personal choice is Safteywing. You can opt for automatic monthly payments, just like a subscription. More importantly, it is available in 180 countries and can be purchased whilst already travelling. There is no cap on the duration of travel.
Visa – Before you travel to any country, make sure to check if you need a visa. iVisa is a fantastic website that is super easy and quick to use. Just type in where you are from. and where you are going. to check if you need a visa. If you do, you can quickly make an application online.
Accommodation – Booking.com is our go-to when looking to pre-book accommodation online. Booking.com tend to almost always have the best rates and a FREE cancellation policy for most properties.
Tours & Activities – If you want to book tours and activities online, make sure to check out Get Your Guide. Get Your Guide takes the stress out of booking activities abroad. You will also find a range of benefits, such as skip-the-line passes, lunch included in your tours, and so much more.
Travel tips ebook -Before you head off on your adventure, make sure to download our free ebook. It has a whopping 109 budget travel tips to help you make your hard-earned cash go further. Click here to download your FREE ebook.
Has your time in South Africa come to an end? Consider popping over to Swaziland for a fun-filled time of culture, tradition and delicious food.
Like this post? Pin it!