The kingdom of Eswatini, formerly known as Swaziland, is a tiny landlocked country that often gets overlooked by its neighbours; South Africa and Mozambique. However, the land of smiles and waves should NOT be overlooked! Packed with culture, tradition, and beautiful nature, there will never be a dull day. Here's a list of the top things to do in Swaziland.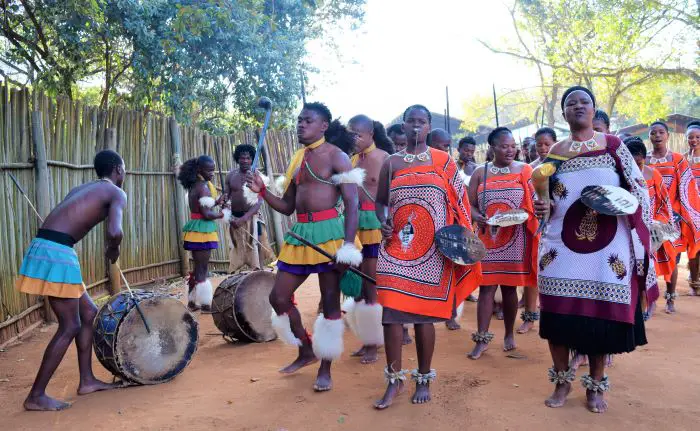 Disclosure: Untold Wanderlust contains affiliate links. If you click on these links and make a purchase, we will earn a small commission at no extra cost to you. You can find our full disclosure policy and privacy policy here.
Basic info about Swaziland
Continent: Africa
Currency: Swazi Lilangeni or South African Rand. Both currencies are accepted. You can pay for anything in Rand notes, but not coins.
Language: English and Swati are the official languages.
Weather: Summer temperatures can reach 40 degrees Celsius and winter temperatures can drop to 4 degrees Celsius.
How to get to Swaziland
Getting to Swaziland is super easy. Roads from Johannesburg (South Africa) and Maputo (Mozambique) easily connect to Swaziland. You can also reach Swaziland by kombi from Durban, with a stop off in St. Lucia, home of the hippos.
Get to Swaziland from Johannesburg
After exhausting the things to do in Johannesburg, you have the option of one of the many shuttle bus services running the route to Mbabane or Manzini in Swaziland. Prices of shuttles vary between 500-750 South African Rand ($27.79-41.49). Shuttles can even pick you up from O.R. Tambo Airport. We used Exclusive Shuttles and found them to be reliable and safe. The price was 500 Rand ($27.79) one-way.
Get to Swaziland from Mozambique
You can take a direct kombi (shared taxi) directly from the bus station in Maputo to Manzini or Mbabane. Tickets cost around 100 Rand ($5.56). We recommend that you arrive at the bus station early in the morning, around 7 am, to guarantee your seat. The kombi will only leave when it is full.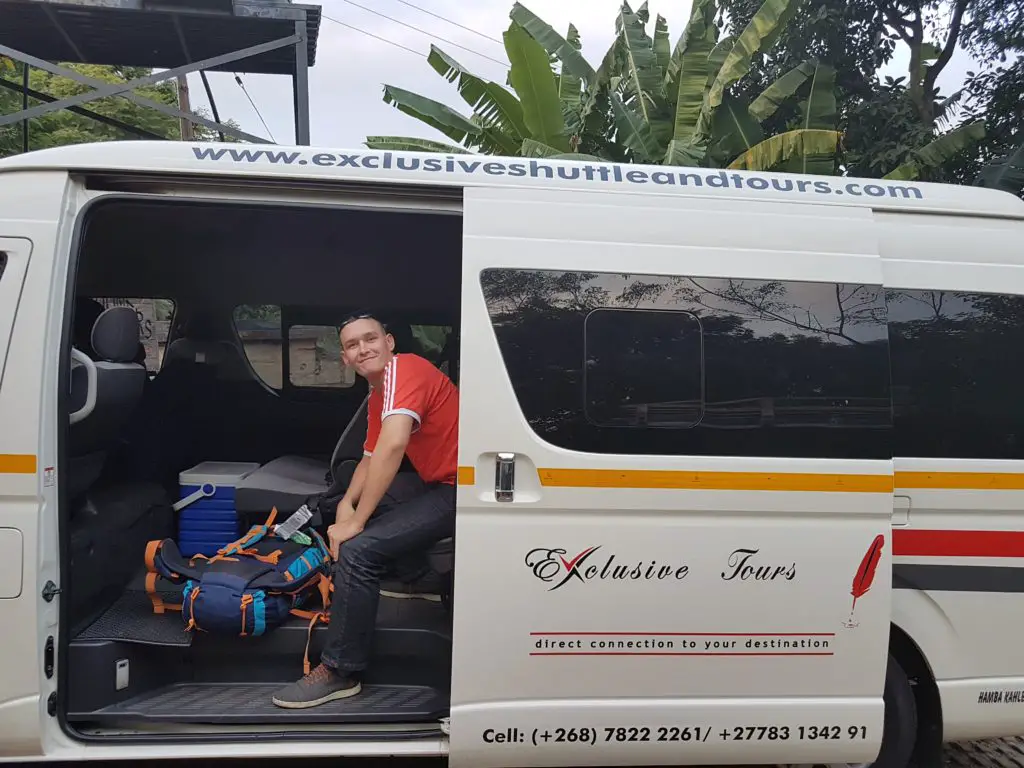 Things to do in Swaziland
Ride a kombi
First and foremost, if you do not have a rental car or tour group to chauffeur you around, riding a kombi is unavoidable. Kombis are small white vans that travel all the major roads in Swaziland. You just need to look out for an overflowing vehicle and flag it down.
How do you know where they are going? It has the final destination in small writing on the back of the kombi at the bottom. However, we found it much easier to just flag one down and ask. They were almost always passing by where we wanted to go. Kombis can seem a little intimidating at first, but there is nothing to be afraid of. The bus conductors were always helpful and made sure we were dropped off in the correct place.
Prices of kombis range from 5-15 Rand ($0.28-0.83). Short journeys of less than 5 minutes shouldn't cost more than 5 Rand ($0.28). Most journeys cost 10 Rand ($0.56).
Watch craftsmen mould away at Swazi Candles
Stop by one of Swaziland's top attractions; Swazi Candles Workshop. Swazi Candles is a famous candle brand that exports to over 20 countries worldwide. The company was established back in 1982 and created a range of candle products that are each beautifully designed. You will find almost any animal candle that you can think of. Guests can now appreciate the heart and craftsmanship that goes into creating each unique design by witnessing the candles being made at the manufacturing workshop. This is great for budget backpackers, as the visit is completely FREE.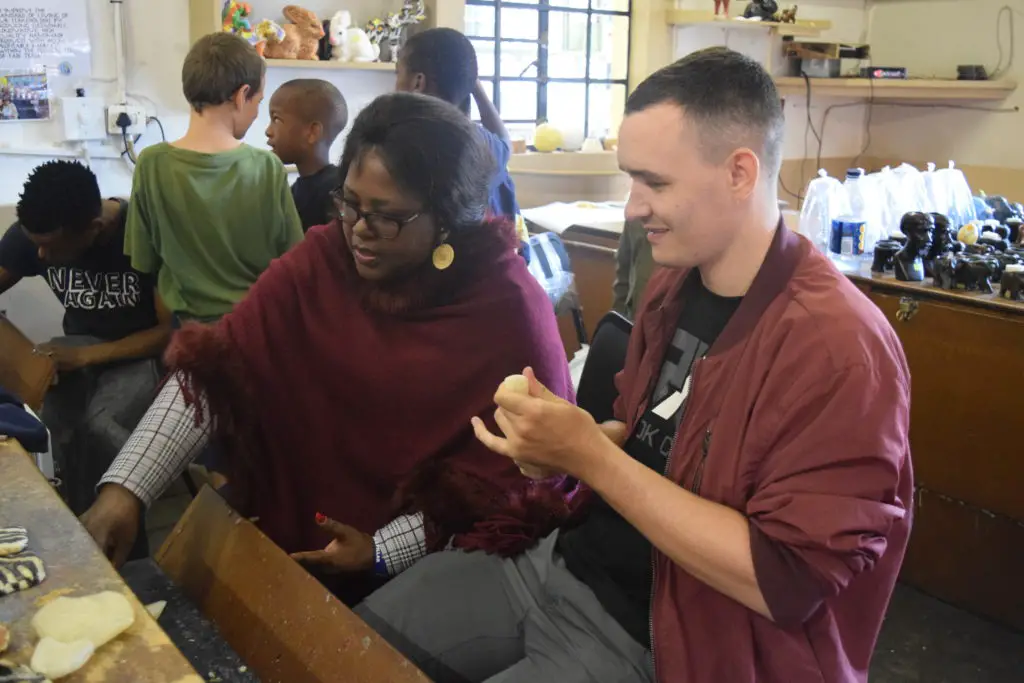 Watch a traditional dance & learn of the Swazi lifestyle at Mantenga Cultural Village
Head over to Mantenga Cultural Village for a taste of the traditional Swazi lifestyle. Sit back and enjoy the hair-raising dance performance. At just 100 Rand ($5.56) to enter the cultural village, it's money well spent. The traditional dance and singing show begins at 11 am and at 3:15 pm each day, so it is worth taking note of this so you can plan your visit around these times. Trust us, you wouldn't want to miss it! Aside from the show, take the opportunity to walk around the sixteen huts, each of which serves a specific purpose. A guide will show you around and give you the ins and outs of the captivating Swazi culture and traditions.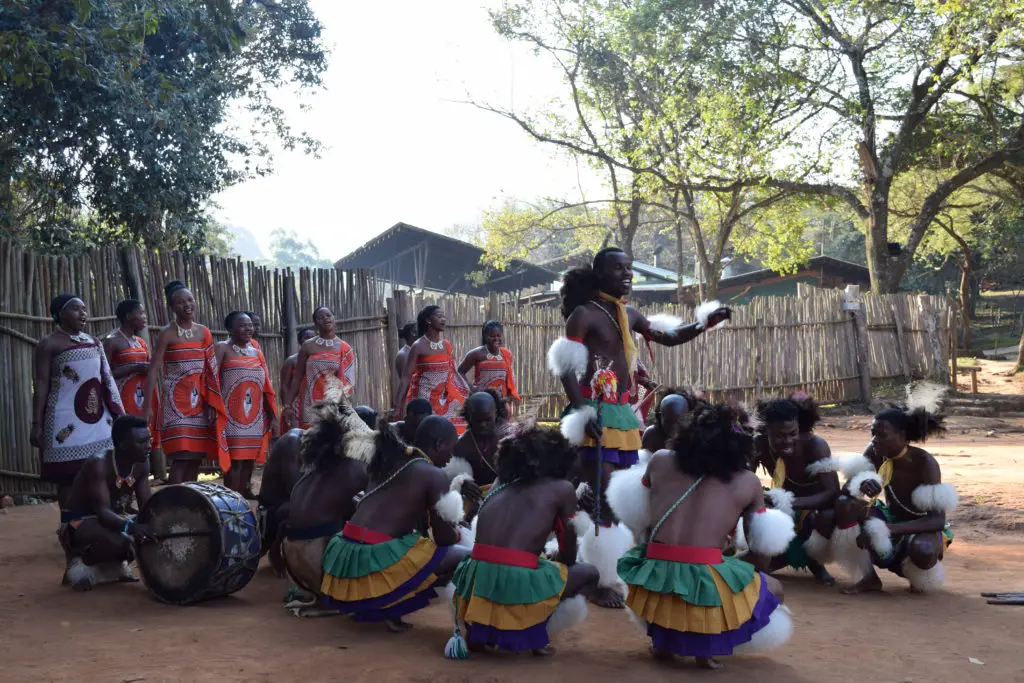 Picnic at Mantenga Falls
Whilst at the cultural village, it is also worth stopping by Swaziland's most-stunning waterfall. The setting around the waterfall provides a relaxing environment to revel in nature and enjoy a picnic. The waterfall is just 700 meters away from the cultural village and you can easily reach it on foot.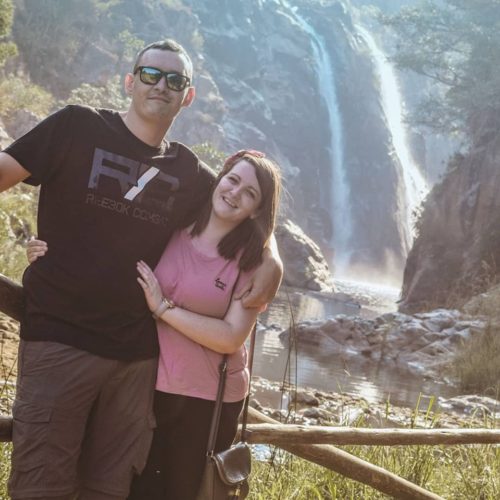 Breathe in nature at Mlilwane Wildlife Sanctuary & Nature Reserve
Located in Ezulwini, is Swaziland's biggest game park, which is rich in wildlife such as monkeys, hippos, zebras, birds, and more. If you don't fancy a game drive, opt for a stroll along the hiking trails, or burn around on a mountain bike whilst seeking out the many mammals in the area. You can find out more bout the Nature Reserve here.
Admire art at the Art Gallery
If you're a lover of art, head over to the Art Gallery in Ezulwini to admire the colourful African-style paintings and sculptures. There is also a section where you can buy handmade stickers, magnets, and paintings. The Art Gallery is FREE to enter!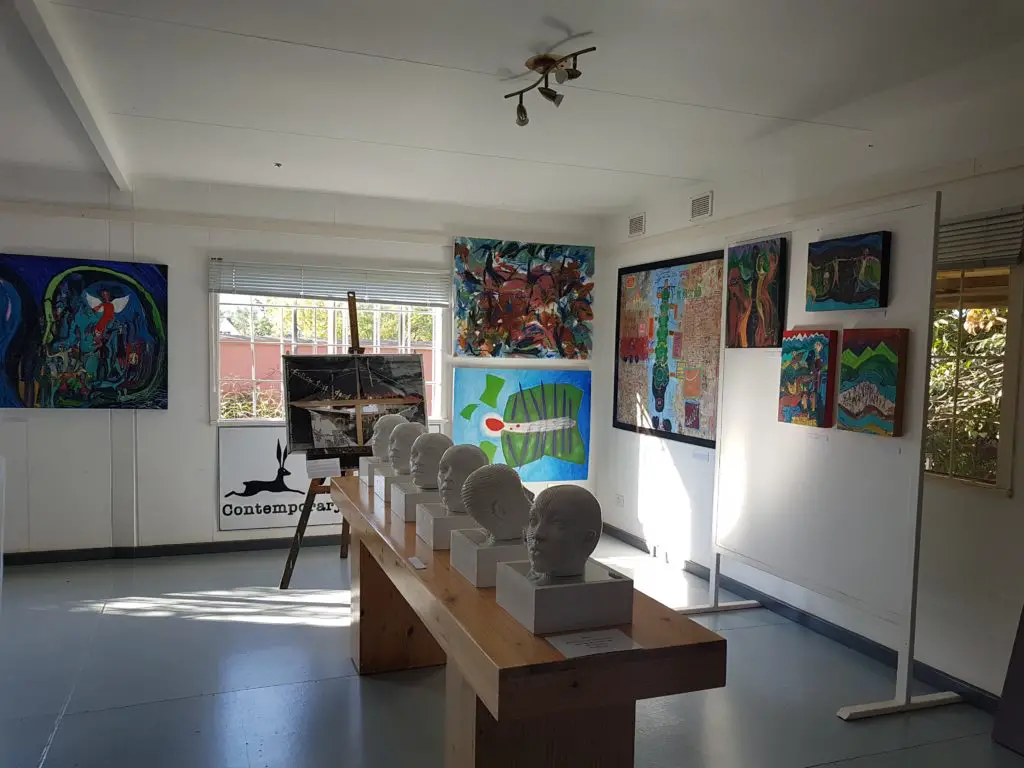 Delve into Swazi history at the National Museum
Unfortunately, we ran out of time to visit the National Museum as we left it until 4:00 pm on our last day. We were quite gutted as we think it would have been such a great educational experience to learn about the history and politics of Swaziland. The price is 80 Rand ($4.45) to enter and the museum is open from 8 am to 4:30 pm.
Gaze at glassmakers crafting extraordinary designs
Next on this list of things to do in Swaziland, is a stop at the glass factory. Located in Ngwenya, you will find the Glass Factory. Here you can witness glass blowers creating shiny glass designs in the shape of elephants, giraffes, zebras, and more. The factory is FREE to roam around. Afterwards, you can stop by the cafe for a bite to eat or shop for fancy glass items in the shop next door.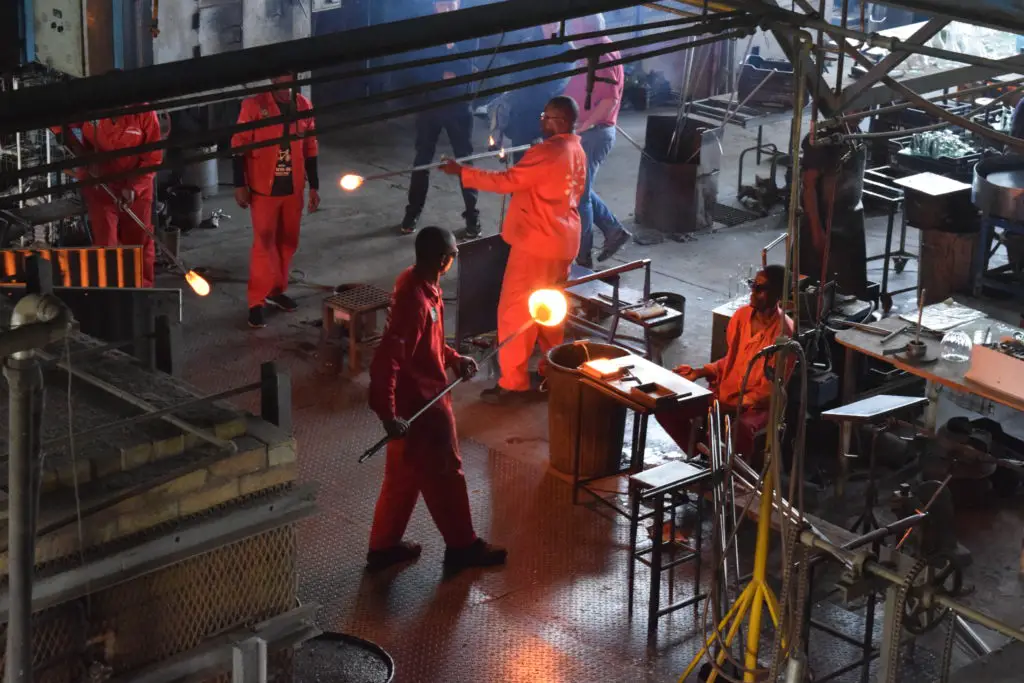 Go shopping in Mbabane or Manzini
Mbabane and Manzini are the two biggest towns in Swaziland. Here you will find tons of shopping malls and markets. Whilst the towns can be chaotic, it's an enjoyable experience to witness the African way of life. You will find dynamic and colourful markets filled with fruits, jewellery, and keep-sake trinkets.
Party the weekend away at Bushfire Festival
If you do happen to be in Swaziland at the time of the Bushfire Festival, one of the top music festivals in the world, make sure to head over to House on Fire (the venue) for a 3-day weekend bender of African music, delicious food and unique art. During the daytime, the festival offers a chilled vibe with jazz music and various activities for adults and children. By night, the festival becomes more of a rave, with pounding EDM and upbeat music and booze. The festival offers something for everyone.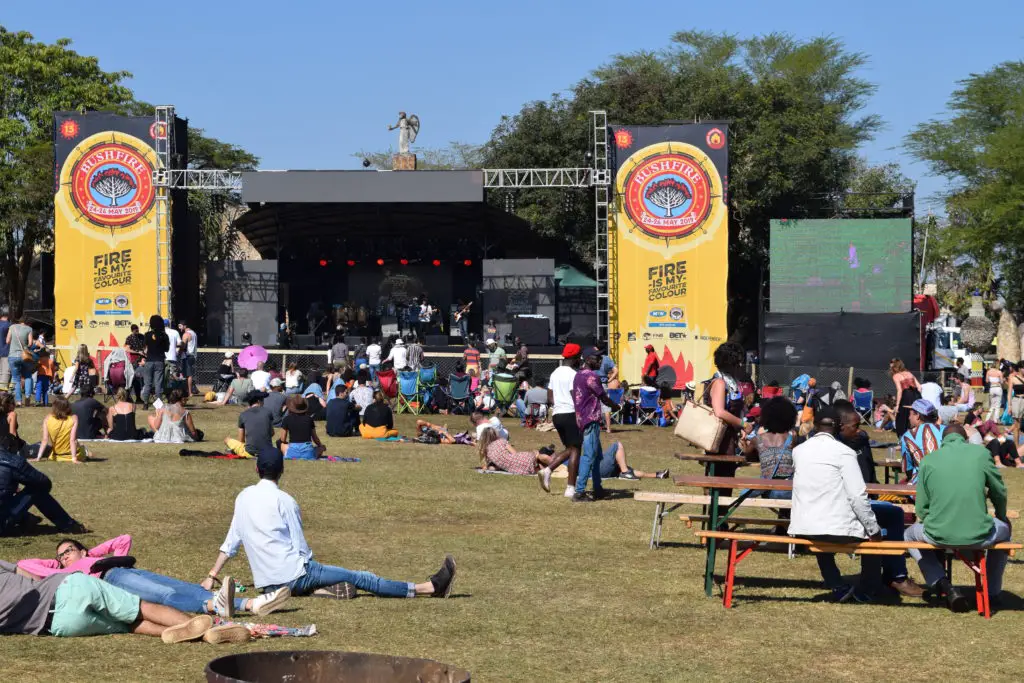 Tuck into local cuisine, Pap
Looking for authentic local dining? Give pap a try! Pap is the staple food of Southern Africa. It is a traditional porridge made from ground maize. It goes well with chicken, veg, and chakalaka sauce!
Fill up on a Braai
A Braai (also known as a BBQ in the UK) is a meaty feast! If you have the opportunity or get lucky enough to be invited to a Braai grilled by a local, jump at the opportunity. Braai's seem to be a tradition that Africans are very proud of… and rightly so. Tuck into an evening of grilled meats, cheese grillers, brekkies, and bunny chow.
Overindulge in the many flavours of pies
Finally, your time in Swaziland wouldn't be complete without a substantial dose of pies. Bakeries are everywhere and make for a cheap lunch. Unlike in the UK, where bakeries offer the choice of a sausage roll or a meat and potato pie, bakeries in Swaziland give you an abundance of choices; chicken tikka, chicken and cheese, Russian roll, beef and onion, and our favourite, pepper steak.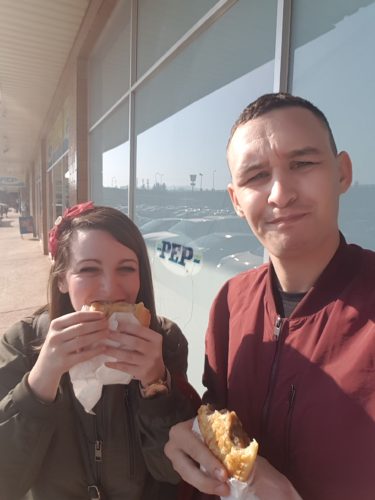 Where to stay in Swaziland
Dorm life & budget private room: Sundowners Backpacker Lodge – The only place a backpacker should consider! Sundowners offer a range of accommodation types; large dorms, small dorms, private rooms and camping. There is an on-site bar, braai facilities, a swimming pool, and a well-equipped kitchen. It is also in a great location; just a short kombi ride to Manzini. However, the best thing about Sundowners is the lovely owners, Paula and Sergio. They made us feel very welcome and they did everything they could to help us with ordering food and arranging the next part of our trip.
Feeling luxurious: Silverstone Lodge – Located just 10 minutes from Swaziland's capital, Mbabane, but close enough to enjoy the views of the river bank and rapids from your balcony. This lodge offers spacious, luxurious rooms at affordable prices.
Essential resources for travelling in Swaziland
Travel Insurance – No matter where you're travelling to, it's a good idea to make sure you're covered for any accidents or losses. We spent days and weeks searching for insurance, but most insurers would not allow us to take out a policy as we were already abroad. Our personal choice is Safteywing. You can opt for automatic monthly payments, just like a subscription. More importantly, it is available in 180 countries and can be purchased whilst already travelling. There is no cap on the duration of travel.
Visa – Before you travel to any country, make sure to check if you need a visa. iVisa is a fantastic website that is super easy and quick to use. Just type in where you are from. and where you are going. to check if you need a visa. If you do, you can quickly make an application online.
Accommodation – Booking.com is our go-to when looking to pre-book accommodation online. Booking.com tend to almost always have the best rates and a FREE cancellation policy for most properties.
Tours & Activities – If you want to book tours and activities online, make sure to check out Get Your Guide. Get Your Guide takes the stress out of booking activities abroad. You will also find a range of benefits, such as skip-the-line passes, lunch included in your tours, and so much more.
Travel tips ebook -Before you head off on your adventure, make sure to download our free ebook. It has a whopping 109 budget travel tips to help you make your hard-earned cash go further. Click here to download your FREE ebook.
We hope you enjoyed this list of things to do in Swaziland. If you're entering Africa and have a long layover in Qatar, find out how to spend your layover here!
Like this post? Pin it!