Laos is often the country that is forgotten about when backpacking in Southeast Asia. However, it should NOT be! Laos boasts beautiful nature, waterfalls, a fascinating culture, and much more. Read on for the perfect 2-week Laos itinerary. Find the best route to take, things to do, places to stay, essential tips, much & more.
Disclosure: Untold Wanderlust contains affiliate links. If you click on these links and make a purchase, we will earn a small commission at no extra cost to you. You can find our full disclosure policy and privacy policy here.
How to get to Laos
Flight vs bus
Laos is easily accessible by boat or bus. Whilst flights are available, they tend to be quite expensive, which is not ideal if you're a backpacker and you're on a budget. For those on a budget, the bus is the way to go. If you're entering Laos from Hanoi, Vietnam, you can cross the border and head into Vientiane. However, we have heard that the journey takes at least 24 hours and can sometimes even reach 36 hours. If you are entering Laos from Cambodia, you can take a bus from one of the many tourist spots and head into the Paske area of Laos.
Slow boat from Thailand
Alternatively to a flight or bus, is the popular and (in)famous 2-day slow boat from Thailand. Before starting this journey, we had read some horrendous experiences and were quite sceptical at first. However, the boat trip turned out to be great, and one of the most memorable journeys we have ever made!
The slow boat leaves from Huay Xai, the border town to Chiang Khong in Thailand. The boat takes 2 full days to reach Luang Prabang, with a night stop-over in a small town in Laos. The total cost of the slow boat is 220,000 Kip ($24.78). For more information on the slow boat, make sure to check out our Thailand to Laos slow boat post.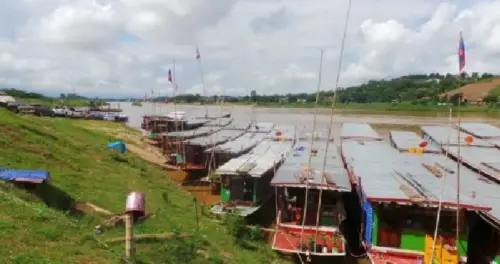 Places to visit – 2-week Laos itinerary
Your journey starts in Laos' much-loved town of Luang Prabang. Read on to find out what you can get up to in this quaint lantern-filled town.
Things to do in Luang Prabang
Kuang Si Waterfalls
Kuang Si Waterfalls are among the most well-known in Southeast Asia and are a major highlight of Laos. The waterfalls are about a 50-minute drive outside of the main tourist area of Luang Prabang. Tuk-tuks are available along the tourist strip to take you to a minivan station. The minivan will then take you to the waterfalls and wait in the car park for you. The cost of the round trip is 180,000 – 200,000 Kip ($20.27 – $22.52).
To save on costs, we would highly recommend joining other people in your hostel. The price to enter the waterfalls is 20,000 Kip ($2.25) per person. Before heading to the waterfalls there is a bear sanctuary where you can spend time before taking a dip in the clear blue waterfall. Beware! There are small fish that will nibble at your skin, but you get used to this after a few minutes.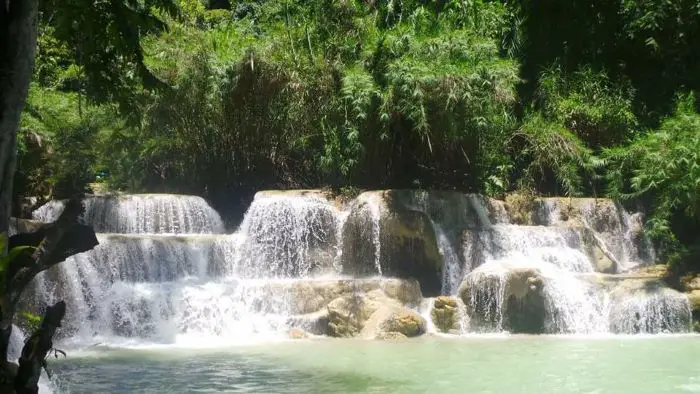 Tak bat
Set an alarm for 5:30 am to witness the morning almsgiving. This is an amazing experience and you should not miss it whilst in Luang Prabang. Hundreds of monks walk along the streets in a line, whilst locals and some tourists offer food, such as rice and biscuits. However, please be mindful that this is still a religious event, and if you are going to take part, then you should do so respectfully.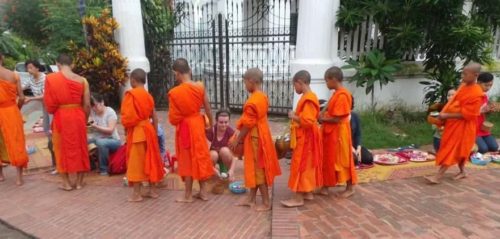 Phousi Hill and Tham Phousi Temple
Located in the centre of Luang Prabang, the temple is accessible from an entrance in the centre of the Luang Prabang night market. To reach the summit of the hill you will need to climb up a few hundred steps. Once you reach the top you can spend time viewing the temple and the surrounding scenery. Make sure to go just before sunset to witness awesome orange colours over Luang Prabang. After all, it's one of the best places to watch the sunset. The entrance to the hill is set at 20,000 Kip ($2.25).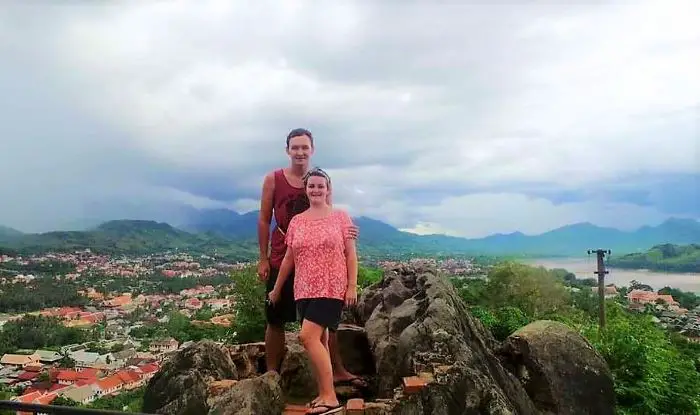 Late-night bowling
Who would've thought that a bowling alley makes for a night on the town? Most bars shut down by 11 pm, so the party-goers head to the bowling alley to continue the night. To get to the bowling alley you can take a tuk-tuk from outside a popular bar called Utopia. Late-night bowling makes for a very fun night that is very different from the norm of drinking in bars. If our drunken memories serve us rightly, the price to bowl per person is 20,000 Kip ($2.25). Worth it!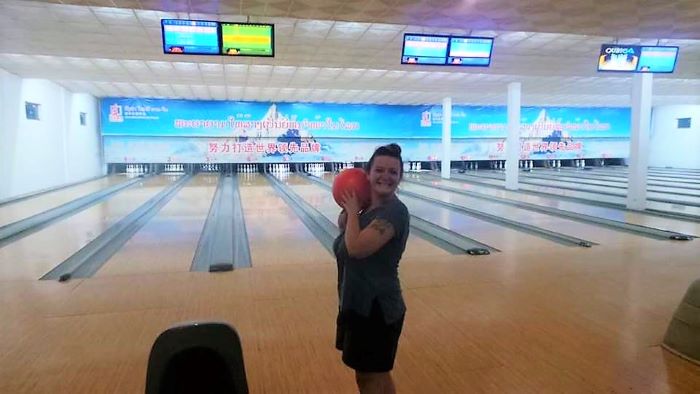 Where to stay in Luang Prabang
Sok Dee Guesthouse – The guesthouse is located in a quiet area, but within walking distance to the market and shops. The guesthouse is clean and boats very spacious rooms, equipped with a TV and dressing table.
For more prices and deals on properties in Luang Prabang, CLICK HERE.
Travel from Luang Prabang to Vang Vieng
The next stop on this 2-week Laos itinerary is Vang Vieng. Prices of buses from Luang Prabang to Vang Vieng vary from 100,000 Kip – 180,000 Kip ($11.26 – $20.27). The journey takes a little over 6 hours to reach Vang Vieng. The mini-bus stops halfway and allows you to use the restroom and grab a bite to eat. You can also admire the mountainous views from up high.
Things to do in Vang Vieng
Tubing in Vang Vieng
The very thing that Vang Vieng is famous (or infamous) for is tubing! Jump in your rubber ring, float down the riverbank, have fun, and get drunk. You can rent a tube from the tube rental place for 60,000 Kip ($6.76). You will also need to leave a 60,000 Kip ($6.76) deposit. If you return the tube in one piece, you will get your deposit back at the end of the day. The cost of the tube also includes a short tuk-tuk to the start of the tubing route.
Whilst in your tube, sit back, relax with a beer and take in the beautiful mountain scenery that surrounds you. Along the bank, there are a few bars that will draw you in with a rope. Stop off for a few drinks and some games, before heading back into your tube to carry on your voyage down the river bank. All in all, tubing in Vang Vieng is a fantastic experience!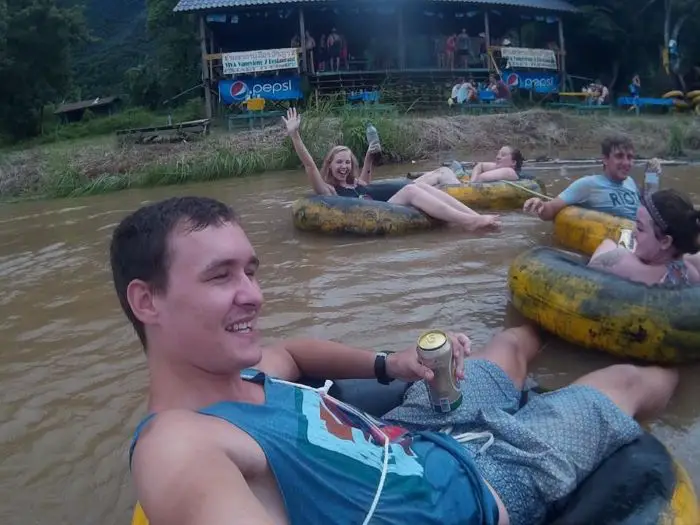 Blue Lagoon and Phu Kham Cave
Both the Blue Lagoon and the cave are in the same place. You can reach them by taking a short, but very scenic, motorbike ride, surrounded by green mountains and sandy roads. Alternatively, you can hire a tuk-tuk, or rent a bicycle. The cost of a tuk-tuk is 30,000 ($3.38) Kip per person one way. The cost of a motorbike is 50,000 Kip ($5.63).
When you arrive at the Lagoon you will need to pay an entrance fee of 10,000 kip, which also includes the cost of entering the cave. You can also rent a torch for an extra 10,000 Kip ($1.13). Whilst at the lagoon you can relax, swim in the water, jump from trees, and swing in the lagoon.
Looking for more things to do? Check out these 7 awesome things to do in Vang Vieng.
Where to stay in Vang Vieng
Faraway Suites – This hotel is conveniently on the main strip in Vang Vieng. The rooms here are very clean and modern, with a choice of dorm rooms or private double rooms. Great value for money!
For more prices and deals on properties in Vang Vieng, CLICK HERE.
Travel from Vang Vieng to Vientiane
From Vang Vieng we took a minibus to Vientiane; the last stop on this 2-week Laos itinerary. The journey took around 3.5 hours and cost 70,000 Kip ($7.86). We booked our tickets through a travel agent that picked us up on the main street in Vang Vieng. However, you can now book your tickets through Bookaway, a new company that takes the ease out of buying tickets. No need to go to the tourist shops to book in advance, just get your ticket with a click of a finger.
Things to do in Vientiane for 3 days
Explore the city by bicycle
The cost of renting a bicycle is 10,000 Kip ($1.13) for the day. Whilst exploring the capital city, be sure to find this beautiful water piece and make the most of the photo opportunity.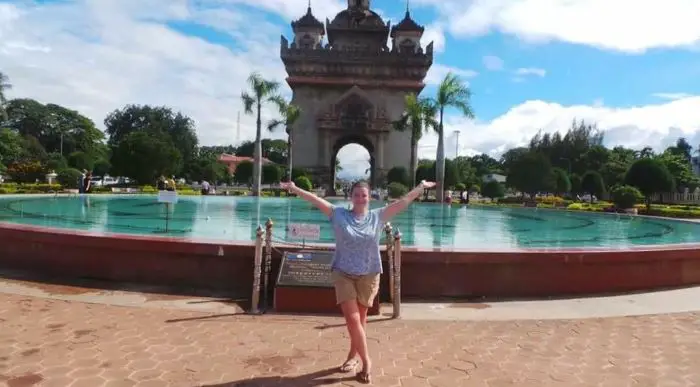 Buddha Park
Take some time to admire the park filled with fascinating Buddha sculptures. To enter the park there is a small cost of just 5,000 Kip ($0.56). To get to the park you can take local bus number 14, which takes about 40 minutes. The cost of the bus is 6,000 Kip ($0.68). As you approach the park you will be able to see the enormous sculptures to your right-hand side, so keep a lookout so you can get off at the right stop.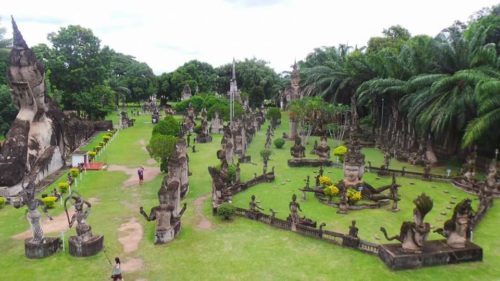 COPE Museum (Co-operative Orthotic and Prosthetic Enterprise)
This museum is both interesting and educational. You can learn a lot about the devastating effects of the unexploded bombs that had been left by US forces, as a result of the war in neighbouring Vietnam. This museum is well worth the visit and it doesn't cost you a thing to go in.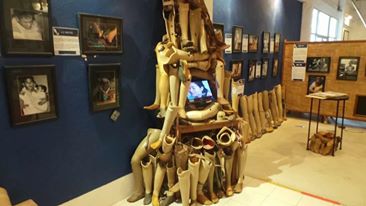 Want to continue travelling in Laos? Why not consider heading South to motorbike the Bolaven Plateau loop? 
Where to stay in Vientiane
My Box Hostel & Cafe – Highly rated and situated in the heart of the city. The hostel offers mixed dorm rooms and is perfect for those who like to meet fellow travellers. The hostel is clean and a great value for money!
For more prices and deals on properties in Vientiane, CLICK HERE.
2-week Laos itinerary backpacking costs
Currency: The local currency is the Laotian Kip. The exchange rate is 8,885 Kip to $1.
Daily budget: For two people we budgeted 400,000 Kip ($45) per day. We found Laos slightly more expensive than neighbouring countries, in terms of accommodation and food. This is because Laos is a landlocked country and many items need to be imported.
Accommodation: The average cost of a double room with a private bathroom ranges from 150,000 Kip to 180,000 Kip ($16.89 – $20.27).
Food and drink: The price of food ranges from 20,000 Kip to 50,000 Kip ($2.25 – $5.63) for a local dish. Whilst in Laos, we ate at many places that served English and American-style foods, so this did stretch our budget a little. However, you can eat at markets and local eateries for much cheaper. The price of local beer (Beer Lao) costs around 10,000 Kip ($1.3).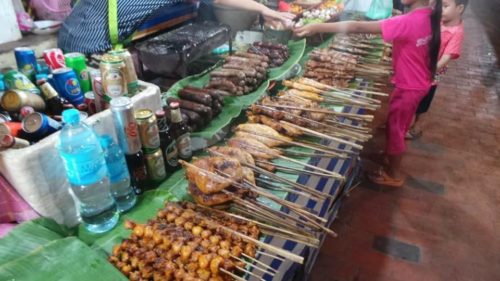 Backpacking Laos travel tips
Slow boat ticket – Always get your ticket from the official ticket office, located right by where the boat departs; even if your hostel owner tries to convince you it is the same price. It probably isn't, and you will end up paying more. We saw this happen with a few tourists who had opted to buy their tickets at their accommodation.
Slow boat friends – If you cross into Laos from Thailand via the slow boat, make the effort to speak with different people and make some friends to travel around with. After all, 2 days on a boat alone can get lonely. Plus you will want an awesome group of people to go tubing with whilst in Vang Vieng!
Split tuk-tuk costs with other travellers – Finding other people who are heading to the same places as you can seriously lower the costs of transport. For example, the tuk-tuk and minivan to the waterfall in Luang Prabang can be split between 8 people.
Be respectful – When taking part in the Tak-bat be respectful of the monks and do not get too close to them to take pictures.
Sickness tablets for travel – The road between Luang Prabang and Vang Vieng is very windy, and it's not uncommon for at least one person to be sick. If you get travel sick easily, we recommend investing in some sickness tablets, or at least a disposable bag to throw up in.
Far away drop-offs – When taking the bus from Vang Vieng to Vientiane, be aware that you may get dropped off far from the centre of the city; despite the promise of being dropped off at your accommodation. When disembarking you will be greeted with a few tuk-tuks to take you the extra few miles at an extra cost. Fortunately for us, two persistent women would not budge off the bus, leaving the driver no other choice but to take us to the original drop-off spot.
Essential resources for this 2-week Laos itinerary
Travel Insurance – No matter where you're travelling to, it's a good idea to make sure you're covered for any accidents or losses. We spent days and weeks searching for insurance, but most insurers would not allow us to take out a policy as we were already abroad. Our personal choice is Safteywing. You can opt for automatic monthly payments, just like a subscription. More importantly, it is available in 180 countries and can be purchased whilst already travelling. There is no cap on the duration of travel.
Visa – Before you travel to any country, make sure to check if you need a visa. iVisa is a fantastic website that is super easy and quick to use. Just type in where you are from. and where you are going. to check if you need a visa. If you do, you can quickly make an application online.
Accommodation – Booking.com is our go-to when looking to pre-book accommodation online. Booking.com tend to almost always have the best rates and a FREE cancellation policy for most properties.
Overland transport – Our go-to website for overland transport is Bookaway. Bookaway offers multiple forms of transport, from buses, mini-vans, trains, and ferries. The routes on offer are extensive and certainly cover most of the backpacker trails. Bookaway works a little like Skyscanner but for overland transport. You will find plenty of transport options from a range of companies. All you simply need to do is book online and receive your ticket by email. The email will contain essential information, such as where the bus leaves from and departure and arrival times.
Tours & Activities – If you want to book tours and activities online, make sure to check out Get Your Guide. Get Your Guide takes the stress out of booking activities abroad. You will also find a range of benefits, such as skip-the-line passes, lunch included in your tours, and so much more.
Travel tips ebook -Before you head off on your 2-week Laos itinerary, make sure to download our free ebook. It has a whopping 109 budget travel tips to help you make your hard-earned cash go further. Click here to download your FREE ebook.
We hope this backpacking 2-week Laos itinerary has given you some ideas of how to spend 2 weeks in Laos. There is plenty to see and do in this incredible country. So, get that flight (or bus) booked and start chasing waterfalls, tubing down rivers, and exploring the fascinating culture in the capital city.
Continuing your travels? Head over to Myanmar for ancient temples and unique culture. You can read all about the crazy journey from Laos to Myanmar overland here!
Like this post? Pin this 2-week Laos itinerary!