Thong Sala Night Market, also known to locals as Pantip Market, is home to Koh Phangan's best street food vendors, a million combinations of fruit shakes, and a buzzin' atmosphere. After a full day of rolling around this paradise island on a scooter, there is no better way to end the day than at this food market haven. Read on to find the ultimate guide to the best night market in town.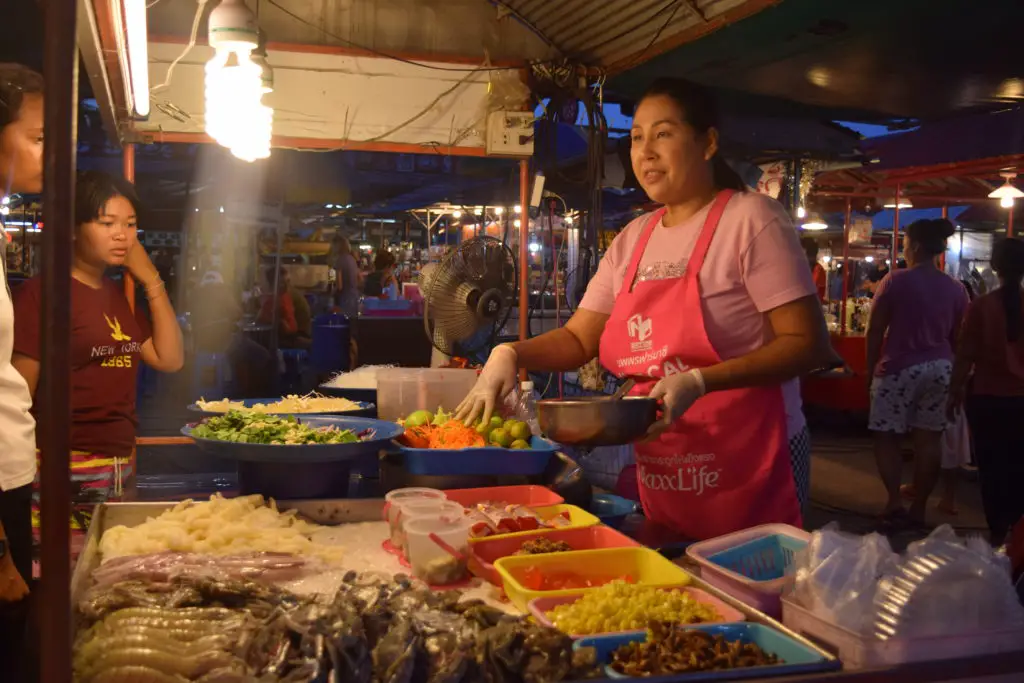 Disclosure: Untold Wanderlust contains affiliate links. If you click on these links and make a purchase, we will earn a small commission at no extra cost to you. You can find our full disclosure policy and privacy policy here.
Thong Sala Night Market location & how to get there
Thong Sala Night Market is located on the west side of Koh Phangan Island, near Thong Sala pier. Nestled between shops and bars, you will find it tucked away on Taladmai Road. 
To get there you can easily hop into one of the many songtaews (shared taxis) that beep up and down the main roads. All you need to do is hail one down and jump in the back. Just remember to always agree on a price beforehand though. Prices are between 50 – 100 Baht ($1.66 – $3.21) per ride, per person.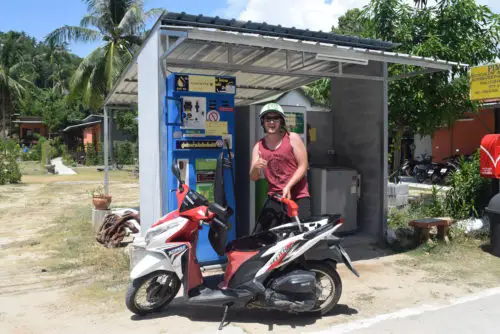 However, the easiest way to get around Koh Phangan is to rent a scooter. You can rent a scooter from your hotel or from one of the many rental shops that are dotted all over the island. The average price of a scooter per day is 250 Baht ($8.28). Parking at the Market is free. Just leave your motorbike by the roadside like everybody else.
Looking for ways to get to Koh Phangan from Bangkok? make sure to read our post HERE.
Opening times of Pantip Market (Thong Sala Night Market)
Good news! The market is open every day, all day. Well at least until 11 pm. Whilst many stalls are not open during the daytime, you will still find a few stationary stalls open selling local food, smoothies and cheap beer.
The best time to visit the market is from around 4 pm onward when all of the food vendors are out and in full force. During the day the market is quite quiet and tame, but by night the area is teeming with locals selling some of the best food in town.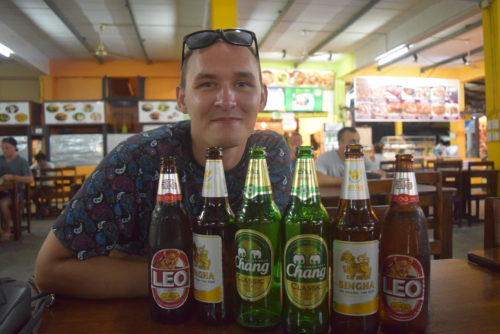 What to do at Thong Sala Market
Drink a million smoothies
Eat, drink, repeat! When the sun goes down, the night market is the perfect place to hang out, over-indulge in food, and fill up on the most delicious smoothies. We visited Koh Phangan over 3 years ago, but we still clung to many fond memories of the mouth-watering smoothies. So, on our second visit, we couldn't wait to get to the smoothie stalls. The vendors can blend any combination of smoothies you can think of. Strawberry, banana, guava, blueberry and so much more. With over 50 combinations to choose from, you could spend weeks on the island tasting each smoothie imaginable. At 30 Baht ($0.99) a pop, you can't go wrong.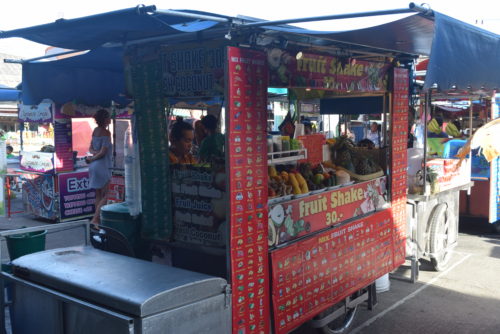 Indulge in the best food in Koh Phangan
Anyway, enough about the smoothies, let's talk about food. Thong Sala Night Market has an array of food; mainly divine Thai cuisine, but also a few stalls selling international dishes. Whilst you will find stalls serving western breakfasts (English, American and continental), falafels, burgers, seafood and vegan food, the real steal of the show is the traditional Thai food. After all, why would you come to Thailand and not sample a tempting green curry, pineapple fried rice, ginger and basil noodles, and tons more? Our fave is the egg wrapped pad Thai! It's mouth-wateringly delicious and costs only 60 Baht ($1.99) and is enough to fill you up for the evening.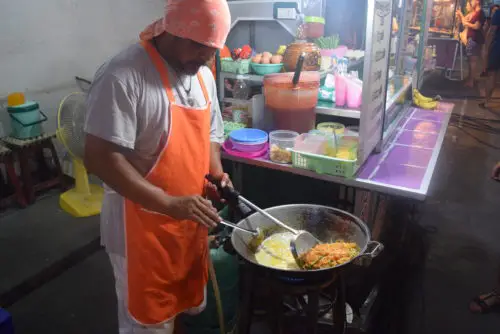 Tuck into dessert heaven
Moving away from the mains, you can easily find desserts too. If you still have a small space to fit in a scrumptious dessert, check out the stalls serving up doughnuts, ice-cream rolls, crepes and mango sticky rice. Mango sticky rice is a Thai dessert favourite and you should not pass up the opportunity to tuck into it whilst in Thailand.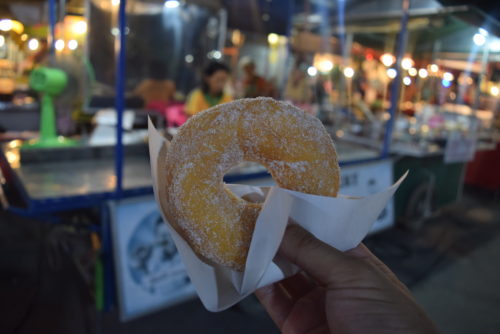 Want to visit more food markets in Thailand? Check out the floating markets in Bangkok. Or, if you're heading over to Vietnam on your travels, don't miss Hanoi Night Market!
Where to stay in Koh Phangan
Dorm life: Echo Beach Backpackers – A cool backpacker hostel just 10-minutes away from Thong Sala Pier. It boasts a beach-front bar and has a DJ playing music. It's a great place to kick back and relax in the hammocks whilst meeting fellow travellers.
Budget private room: Asia Blue Hacienda – If you're looking for a place with a pool, this is the place to be! Whilst the rooms are basic yet clean, the pool is what steals the show. The large pool is just a stone's throw away from the beach and the sea. There is even a smaller section of the pool where you can sit and enjoy the jacuzzi.
Feeling luxurious: The Cabin Beach Resort – If you're looking for a home away from home and have the cash to splash take a look at The Cabin Beach Resort. Each room has a sofa area and a balcony. The interior is stunning! Spend your mornings waking up to the sounds of the ocean waves whilst sipping on a cup of tea as you ponder out to the sea on your private balcony.
For more hotels and prices, click HERE.
Essential resources for travelling in Thailand
Travel Insurance – No matter where you're travelling to, it's a good idea to make sure you're covered for any accidents or losses. We spent days and weeks searching for insurance, but most insurers would not allow us to take out a policy as we were already abroad. Our personal choice is Safteywing. You can opt for automatic monthly payments, just like a subscription. More importantly, it is available in 180 countries and can be purchased whilst already travelling. There is no cap on the duration of travel.
Visa – Before you travel to any country, make sure to check if you need a visa. iVisa is a fantastic website that is super easy and quick to use. Just type in where you are from. and where you are going. to check if you need a visa. If you do, you can quickly make an application online.
Accommodation – Booking.com is our go-to when looking to pre-book accommodation online. Booking.com tend to almost always have the best rates and have a FREE cancellation policy for most properties.
Overland transport – Our go-to website for overland transport is Bookaway. Bookaway offer multiple forms of transport, from buses, mini-vans, trains, and ferries. The routes on offer are extensive and certainly cover most of the backpacker trails. Bookaway works a little like Skyscanner but for overland transport. You will find plenty of transport options from a range of companies. All you simply need to do is book online and receive your ticket by email. The email will contain essential information, such as where the bus leaves from and departure and arrival times.
Tours & activities – If you want to book tours and activities online, make sure to check out Get Your Guide. Get Your Guide takes the stress out of booking activities abroad. You will also find a range of benefits, such as skip the line passes, lunch included in your tours, and so much more.
Travel tips ebook -Before you head off on your adventure, make sure to download our free ebook. It has a whopping 109 budget travel tips to help you make your hard-earned cash go further. Click here to download your FREE ebook.
Make cash on the road – If you're on a long trip, you may want to start earning whilst on the road. One way to do this is to teach English online. One of our favourite companies for this is Palfish, as the schedule is super flexible. You can open and close slots, as and when you choose, meaning you don't have to commit to the same days and hours each week. Just make sure you are TEFL certified to apply!
Like this post? Pin it!