If it's your first time in Singapore and you're looking for a 2-day Singapore itinerary, look no further. Here we have you covered! Find things to do, costs, where to stay, and essential Singapore travel tips.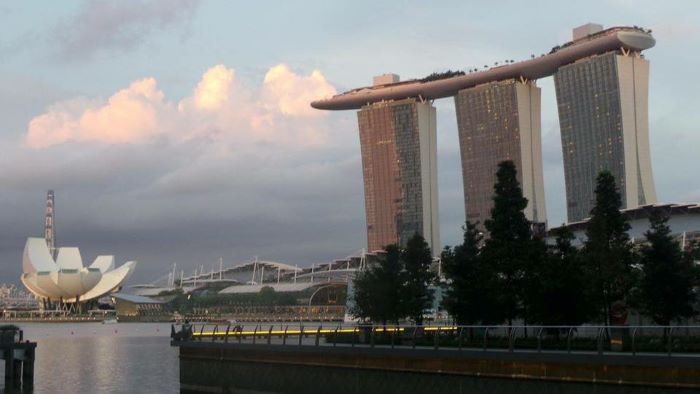 Disclosure: Untold Wanderlust contains affiliate links. If you click on these links and make a purchase, we will earn a small commission at no extra cost to you. You can find our full disclosure policy and privacy policy here.
Getting to Singapore
Flights into Singapore are cheap, particularly from Kuala Lumpur, Malaysia. Alternatively, you can enter Singapore overland from Malaysia. There are direct buses that run from Kuala Lumpur and Johor Baharu (a border town in Malaysia) to Singapore. As we finished our backpacking Malaysia trip in Melaka we took a bus from there to Johor Bahru. The bus costs 18-21 RM ($4.39 – $5.13) and takes 3 hours.
There isn't very much to see in Johor Bahru, but we decided to stay there for the night, so we could save on the cost of a night's accommodation in Singapore. To reach Singapore from Johor Baharu you will need to go to the Larkin Bus Terminal and catch the bus to the immigration point. Buses from Larkin Station to Singapore cost less than 5 RM ($1.22) and take between 45 – 60 minutes. Immigration is extremely quick! U.K. citizens can get a free 90-day visa in Singapore. When you have finished stamping into Singapore take another bus to your destination. Once you check in to Singapore, your 2-day itinerary starts and you can start to tick off Singapore's famous attractions.
2-day Singapore itinerary – Things to do
Day 1
Explore the streets, Little India & Chinatown
Spend a day walking around Singapore. Singapore is a relatively small place and you will be surprised how much you can cover on foot. Whilst on your escapade make sure to stop by at Little India, located on Serangoon Road and Race Course Road. You will find everything Indian, from eateries, sari shops, jewellery shops and more. Also, don't forget to call by at Chinatown markets too for more cultural souvenirs.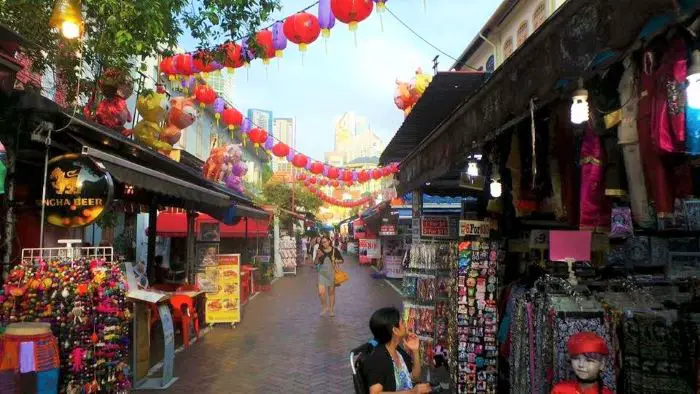 Marina Bay Sands
Marina Bay Sands is the best place to go to check out the stunning skyline. It's also one of the best things to do at night in Singapore, so make sure to visit at night as well as in the day.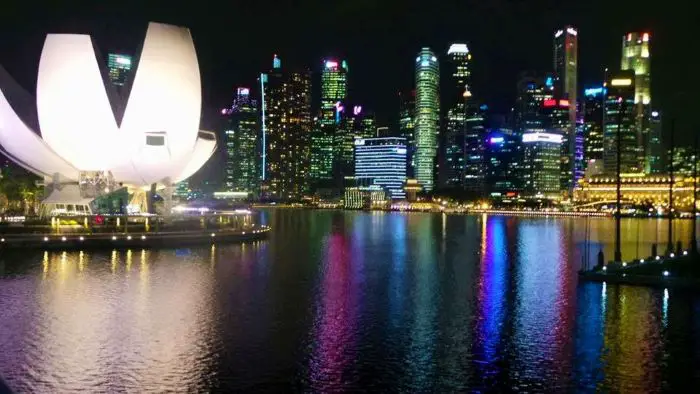 Gardens by the Bay
A massive garden right in the heart of the city with hundreds of plants. The main thing that attracts visitors to this place is the way it magically lights up the night sky. Inside the gardens, there are several attractions such as the cloud forest, flower dome, and sky-way. Walking around the gardens and admiring the pretty lights is free, making a perfect addition to your itinerary if you're looking for things to do in Singapore on a budget. However, if you do want to visit the flower dome and cloud forest, then we highly recommend purchasing your ticket beforehand. This will also allow you to skip the lines and make the most of your time. Either way, a visit to Gardens by the Bay is an excellent addition to your 2-day Singapore itinerary.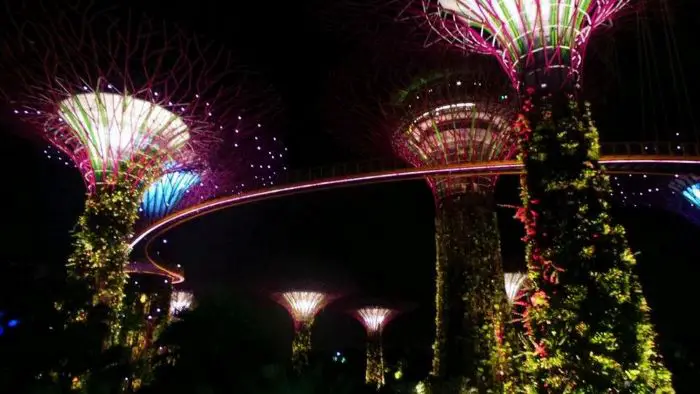 Day 2
Universal Studios and Sentosa Island
Okay, so this one isn't exactly budget-friendly! However, it does make it into the top 10 things to do in Singapore, and who can resist some good fun on spinny rides? For us, it was a must as it's on our bucket list to visit all the Universal/ Disney's in the world. The cost of entrance is 76 SGD ($55.86) per adult. If you want to buy your tickets beforehand, check out Get Your Guide for tickets that also include free hotel pickup. Even if a trip to Universal is a little out of your budget, or just simply not on your list, then you can still check out some of the other top things to do in Sentosa Island and take in the surrounding scenery.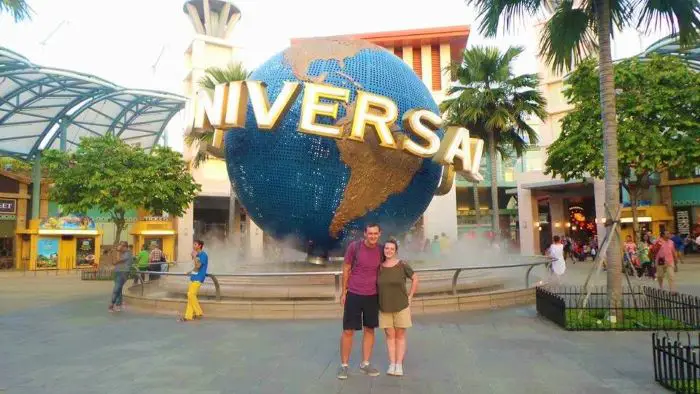 Do you have more time in Singapore? Check out this epic 4-day guide. Or, head back to Kuala Lumpur for another epic 2 days.
Costs of backpacking Singapore
Singapore is quite expensive in comparison to backpacking the rest of Southeast Asia. Prices here are almost the same as in places such as London and Paris.
Currency: The local currency is the Singaporean Dollar. $1 is equal to 1.36 SGD.
Daily budget: For a couple, we recommend a budget of 200 SGD ($146) per day. This budget includes the cost to go to Universal Studios, which admittedly did eat away at the budget. If you don't plan to go to Universal, then 110 SGD ($80) per day should be enough.
Accommodation: The cost of accommodation ranges widely in Singapore. For a bed in a hostel expect to pay between 25-40 SGD ($18.32-$29.31). For a basic private double room, expect to pay 40-120 SGD ($29.31-$51.29).
Food and drink: Expect to pay the same prices as you would in Europe. A meal in a local café costs 18-25 SGD ($13.19-$18.312) and a pint of beer costs around 5 SGD ($3.66). Unlike street food in Saigon, where there are food vendors on every corner, street food in Singapore is hard to come by. However, there are a few food markets. A bowl of noodles at the market costs around 4 SGD ($2.93).
Transport: Singapore has an extensive bus system. Buses are relatively cheap and are the easiest and cheapest way to get around. Make sure you have the exact fare though, as you will not receive change.
Where to stay in Singapore
Feeling luxurious: Hotel Indigo Singapore – Ready to treat yourself? This hotel has spacious elegant rooms, a fitness centre, room service, and best of all…a rooftop infinity pool. The perfect swim with a view!
Budget private room: Hotel Classic by Venue – Basic double rooms that are clean and modern. There is also an indoor swimming pool.
Dorm life: OSS Backpackers Hostel – This hostel has plenty of bed options to choose from and is conveniently located near bus links for easy access around Singapore. It is great value for money and is among one of the cheapest places to stay in Singapore!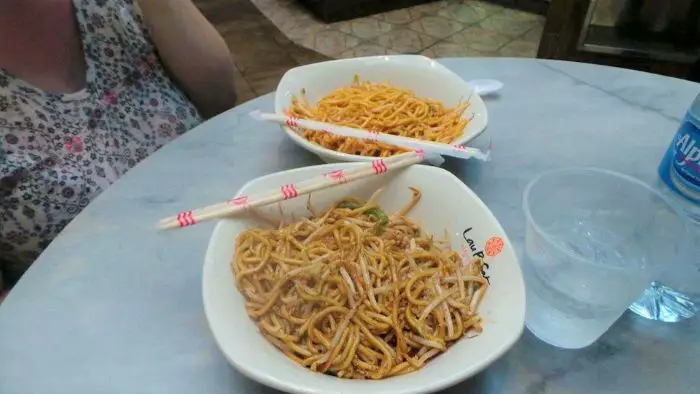 Backpacking Singapore travel tips
Arrive early morning – Try to arrive in Singapore early, that way you get a full day to explore and save on a night's accommodation cost. If you enter overland from Malaysia, then spend the night in Johor Bahru and head to Singapore in the morning.
Choose price over location – When choosing your accommodation, opt for the cheapest price accommodation over the location. Singapore's public transport is excellent and you can get around the city very easily.
Use the buses – Buses are cheap to use and run regularly. Avoid using taxis as this will eat away at your budget.
Drink tap water – Tap water is fine to drink in Singapore. Invest in a water bottle and fill it up throughout the day. This will save you tons of money on bottled water!
Essential resources for travelling in Singapore
Travel Insurance – No matter where you're travelling to, it's a good idea to make sure you're covered for any accidents or losses. We spent days and weeks searching for insurance, but most insurers would not allow us to take out a policy as we were already abroad. Our personal choice is Safteywing. You can opt for automatic monthly payments, just like a subscription. More importantly, it is available in 180 countries and can be purchased whilst already travelling. There is no cap on the duration of travel.
Visa – Before you travel to any country, make sure to check if you need a visa. iVisa is a fantastic website that is super easy and quick to use. Just type in where you are from. and where you are going. to check if you need a visa. If you do, you can quickly make an application online.
Accommodation – Booking.com is our go-to when looking to pre-book accommodation online. Booking.com tend to almost always have the best rates and a FREE cancellation policy for most properties.
Overland transport – Our go-to website for overland transport is Bookaway. Bookaway offers multiple forms of transport, from buses, mini-vans, trains, and ferries. The routes on offer are extensive and certainly cover most of the backpacker trails. Bookaway works a little like Skyscanner but for overland transport. You will find plenty of transport options from a range of companies. All you simply need to do is book online and receive your ticket by email. The email will contain essential information, such as where the bus leaves from and departure and arrival times.
Tours & Activities – If you want to book tours and activities online, make sure to check out Get Your Guide. Get Your Guide takes the stress out of booking activities abroad. You will also find a range of benefits, such as skip-the-line passes, lunch included in your tours, and so much more.
Travel tips ebook -Before you head off on your 2-day Singapore itinerary, make sure to download our free ebook. It has a whopping 109 budget travel tips to help you make your hard-earned cash go further. Click here to download your FREE ebook.
Like this 2-day Singapore itinerary? Pin it!