The perfect Cambodia backpacking route is here! Cambodia is one of the cheapest countries in Asia to travel to. It's home to the most famous temple in Southeast Asia, stunning white-sand beaches, and much more. Here is the perfect guide to get your Cambodia itinerary underway. Find a detailed route, things to do, places to stay, essential tips, & more.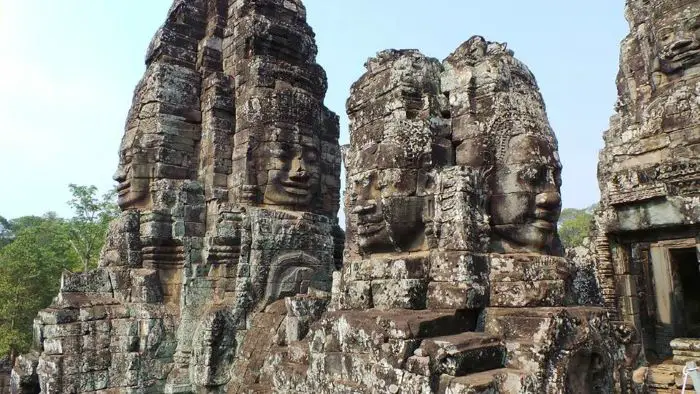 Disclosure: Untold Wanderlust contains affiliate links. If you click on these links and make a purchase, we will earn a small commission at no extra cost to you. You can find our full disclosure policy and privacy policy here.
Getting to Cambodia
Cambodia is easily accessible by bus, plane and boat. The easiest and cheapest way to get into Cambodia is by bus, overland from either Thailand, Laos or Vietnam. Buses are well-connected to the major cities, so you shouldn't find it too difficult to book a bus.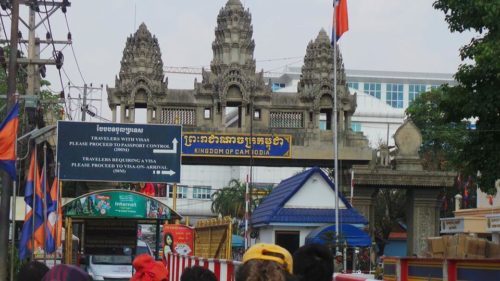 Whilst on a wider Southeast Asia trip, we entered Cambodia via bus from Thailand. We booked a bus in Bangkok at a tour shop that cost 200 Baht ($6.63). The bus took us from Khao San Road to the Aranyaprathet/ Poipet border in 5 hours. From there it's 1 km to the border crossing. Along the way, we were stopped by touts asking us to buy a visa from them. Ignore them and carry on towards the border crossing. First, stamp out of Thailand and then once on the Cambodian side, buy a visa from the officials. It's currently $30 for U.K. citizens.
Cambodia itinerary
This Cambodia backpacking route and itinerary will see you wander through the ancient temples in Siem Reap, learn about the devastating history of the Pol Pot regime in Phnom Penh, have some downtime on the white sand beaches of Sihanoukville, and finally go on motorbike adventures in Kampot. Not only is this itinerary perfect for couples and groups of friends, but it's also great for solo women travellers in Southeast Asia.
Siem Reap – The first stop on this Cambodia backpacking route
Once on the Cambodian side of the border, you will need to take a bus to your next destination. The first stop on this Cambodia backpacking route is one of the best places to visit in Cambodia; Siem Reap. After crossing the border, you may be met with several touts trying to get you into one of their overpriced taxis. Instead, take the free shuttle down to the bus station and get a bus to Siem Reap from there. The bus to Siem Reap costs $6 and takes around 3 hours.
Angkor Wat & ancient temples
One of the main things to do in Siem Reap is to see the famous Angkor Wat Temple. A One-day pass to all the temples costs $37, a three-day pass costs $62, and a seven-day pass costs $72. To get to the temples you can hire one of the many tuk-tuk drivers that are located around Pub Street or book a tour beforehand. Your driver will pick you up around 5 am, in time for you to buy your tickets and catch the sunrise at Angkor Wat. The cost of a driver for the day is between $15-20.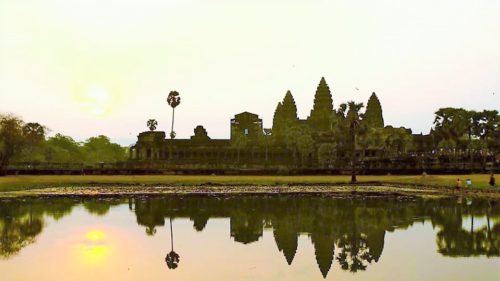 Siem Reap Silk Farm
The Silk Farm is worth a visit! A visit to the silk farm will walk you through the process of how silk fabrics and accessories are made. The best part is that the trip is free, which is great for those on a tight budget. You may even want to buy a few pretty scarfs to take back home as Cambodian souvenirs for your family and friends. To get to the silk farm go to the Artisans Angkor main site in Siem Reap to catch the free shuttle bus. The shuttle bus departs twice a day at 9:30 am and 1:30 pm. The guide who takes you on the bus will also be your guide through the silk farm. Please note, that whilst the entrance and transport are free, it would be polite for you to tip your guide (although not compulsory). The recommended tip is $2 per person.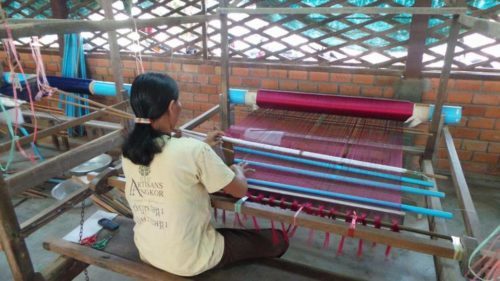 Night Market & Pub Street
Siem Reap offers a night market that sells local food and lots of fruit smoothies. Pub Street has many bars for you to relax after a day of exploring the temples. Our personal favourite is the Temple Bar which spans over 4 floors offering different genres of music on each floor. The top floor has a chilled-out vibe with bean bags to relax, whilst listening to live music. Psst…on the top floor, you will find $1 beer cans of Angkor.
Where to stay in Siem Reap
Pub Hostel – Provides several room options! We stayed in a large double room that was kept very clean. There is a swimming pool and a breakfast bar too. The hostel is conveniently located a short walk from Pub Street.
For more prices and deals on properties in Siem Reap, CLICK HERE.
Phnom Penh
The next stop on this Cambodia backpacking route is the capital, Phnom Penh. To reach Phnom Penh you can book a mini-bus from one of the many tour shops in Siem Reap. The mini-bus takes 5 hours and costs $12. Always go for the cheapest option as the 'VIP' option is usually the same on the day anyway. To prevent this from happening, we recommend checking out all of the different options on Bookaway. You can even book your tickets online and have them sent to your phone.
The Killing Fields & S21 Prison
Although the Killing Fields and S21 Prison are devastating and distressing places to visit, both places are at the top of the list of things to do in Phnom Penh. You will have the chance to learn the history of Cambodia under the Pol Pot regime and to remember those who sadly fell victim. To get to the two sites, you can hire a tuk-tuk driver for around $15-20 or pre-book a tour. The entry fee for the Killing Fields is $3, and audio guides are available for an extra $3. We highly recommend buying the audio guide to fully understand the history of what happened and to get the most out of your visit. The entry fee for the S21 prison is also set at $3.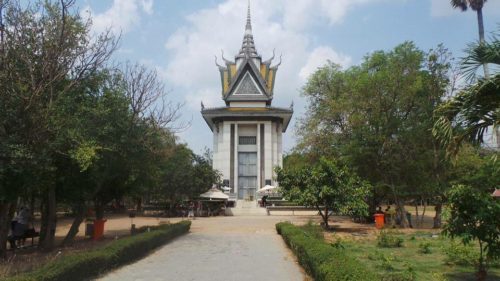 Royal Palace, pagodas & National Museum
Aside from the Killing Fields and S21 prison, there isn't much else to see and do in Phnom Penh. There is the Royal Palace and a few pagodas to see, but we just wandered around outside (too templed out from Thailand and Siem Reap). There is also the National Museum which costs $5 per person. We did go, but would not recommend it, as plates and pottery are just not our things.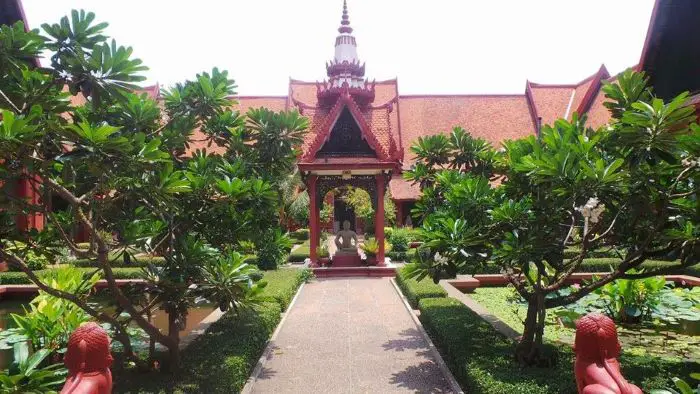 Where to stay in Phnom Penh
Mad Monkey Hostel – Clean rooms with an outdoor swimming pool and bar area. Great for those who like to have a quiet space to retreat to at the end of the day, but also want to socialise in the common areas.
For more prices and deals on properties in Phnom Penh, CLICK HERE.
Sihanoukville itinerary
Next up; Sihanoukville! To reach Cambodia's famous beach town, you can take a mini-bus from Phnom Penh. The mini-bus takes around 5 hours and costs $10.
Beach time
After a crazy hectic start to this Cambodia itinerary, it's time to soak up some rays and relax. There are many beaches in and around Sihanoukville; Otres, Serendipity and Independence Beach. Just make your choice for the day and roll out your towel! As with any beach destination, you should visit during the months when there is the least rainfall. March in Asia is a good month to travel to avoid the rainy season.
Island hopping boat trip
Take a boat trip around the many beautiful islands off Sihanoukville. Koh Rong Samloem has the whitest sand and clearest water of the bunch. The boat trip also gives you the chance to go snorkelling. Watch out for the sea urchins! Katie got stung by one, and then the tour guide ended up hitting her foot with the end of a snorkel to get the sting out. The trip costs $15 per person with lunch included. However, many people like to stay over on one of the islands. In this case, you can take a speed boat there and back, which costs $10 each way (no snorkelling and other island sightseeing included).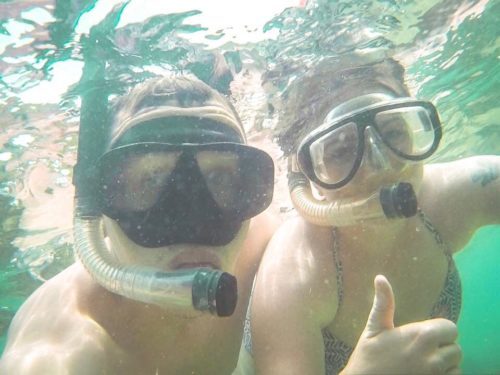 Kbal Chhay Waterfall
Rent a motorbike in Sihanoukville and drive to the Kbal Chhay Waterfall. Along the way, there is a toll road that costs less than $1 to pass through, but this is the only cost you will incur. There are a few food stalls and small shops around the waterfall for you to have lunch at.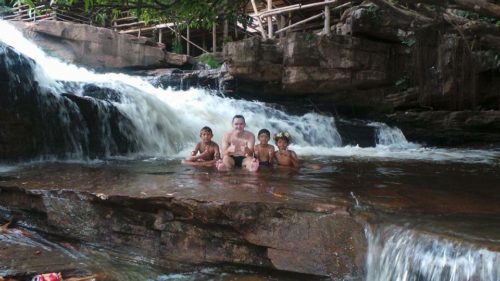 Where to stay in Sihanoukville
Onederz Sinhanoukville – Conveniently located just a few minutes walk away from the beach. The hostel is clean and has dorm beds and private rooms.
For more prices and deals on properties in Sihanoukville, CLICK HERE.
Kampot itinerary – The final Cambodia backpacking stop
The last stop on this backpacking Cambodia route is the small but cute town of Kampot. To reach Kampot from Sihanoukville the cheapest way, take a mini-bus that costs just $5 and takes just 2 hours. Alternatively, you can enter Kampot overland from Vietnam just as easily.
Bokor Mountain & abandoned ghost casino
Bokor Mountain is one of the best things to do in Kampot, so make sure to rent a motorbike to explore. Honestly, out of all the drives up various mountains across Southeast Asia, this is the most memorable. The road was nicely paved and there was hardly anyone else in sight. At times, we were sure we were the only ones whizzing around the roads like a Scalextric board! Not only that, but the views are incredible as you ponder down the never-ending greenery. Upon reaching the top of the mountain you can see the eerie castle and casino, which were abandoned as a result of the Khmer Rouge taking over.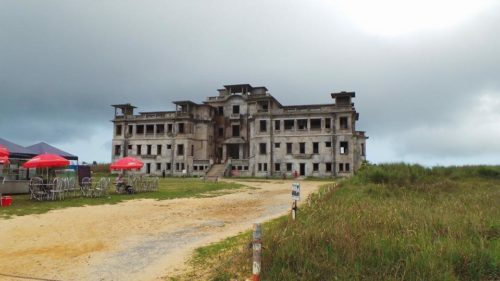 Kep Fishing Town
Kep is a small fishing town just a 20-minute drive from Kampot. Here you can take in the views of the beach and visit the fish market. There is also another mountain located here to take another scenic drive.
Fireflies boat tour
Sit back, relax, and enjoy a beer on a 2-hour boat trip to see the magical fireflies light up the trees. Boats depart from Kampot's lakefront after sunset. The trip costs $5 per person and includes a free beer onboard (bargain!).
Pepper Farm
There are two pepper farms near Kampot. There is one close to the main area and one about 30 km away. If you are just interested in how peppercorns are created, then the one closest to Kampot is great. However, if you want more information, or simply just want a reason to drive through the rural back streets, then I would highly recommend going to the one 30 km away. Both options are free.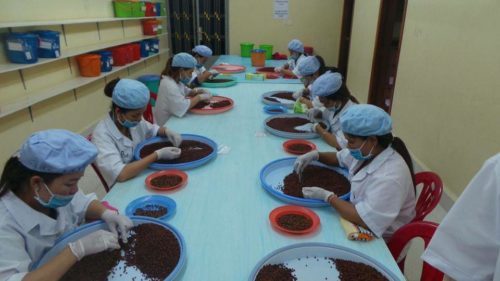 Where to stay in Kampot
Marany Guesthouse – Provides large double rooms that are very clean and modern. This is a new guesthouse and is probably the best guesthouse we stayed at whilst in Cambodia. The staff are super helpful and can help with tours and bike rentals.
For more prices and deals on properties in Kampot, CLICK HERE.
Cost of backpacking Cambodia
Currency: US Dollar and Cambodian Riel are the main currencies used in Cambodia. Cash machines dispense US Dollars, and this is the currency you will use to pay for most items over $1. Change that is less than $1 will be given to you in Cambodian Riel. The current exchange rate is 4,065 Cambodian Riel to $1.
Daily budget: For two people we budgeted $35 per day. We stayed in cheap hostels and hotels, ate local street food, and used mini-buses to get around the country. We also rented a motorbike to explore each destination.
Accommodation: A double bed in a private room with a bathroom, costs around $15, and often includes a swimming pool.
Food and drink: Local street food, or food in a small family-run eatery, ranges from $2-4 per meal. Local beer (Angkor) is as cheap as $1 for a can. However, depending on your choice of bar, prices can rise to $3.
Motorbike rental: The cost to rent a motorbike for a day averaged $4. However, if you plan to rent a motorbike, make sure to have the correct driving license.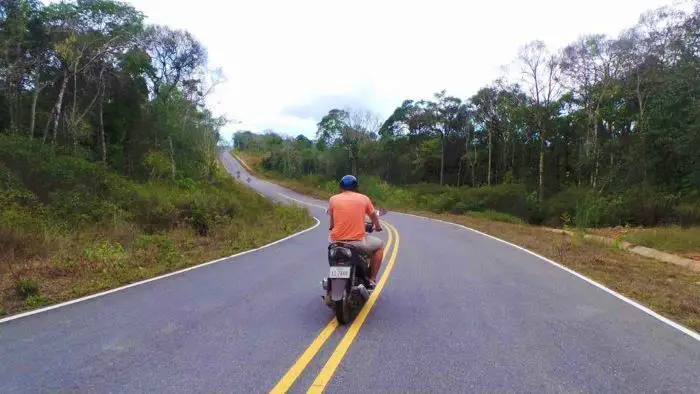 Backpacking Cambodia travel tips
Border crossing – If you're travelling to Cambodia overland from Thailand, via the Aranyaprathet to Poi Pet border crossing, be aware of the visa scam. There are people on the Thai side that claim you need to get your visa from them, at a higher cost than what it is. Ignore these people and go ahead out of Thailand and only get your visa when you arrive on the Cambodian side. You should check your official government travel advice for the latest prices on visas.
Hotel discount – If you plan to stay in one place for at least a couple of days then don't be afraid to negotiate a discount on your hotel room or dorm bed.
Split the cost of a tuk-tuk –Splitting travel costs with friends is a great way to save money; whether that be for flights, hotels, or even meals. So why not try to find other travellers to join you on day trips so you can split the cost of a tuk-tuk? The prices of tuk-tuks are not per person but for the entire tuk-tuk.
Cover up when visiting temples – When visiting the temples be sure to have clothing that covers your shoulders and legs. Whilst in other places it is okay to wrap your scarf around your waist to cover your legs, it is a NO go at Angkor Wat. We found that out after queuing for 40 minutes to go into the main temple, only to be rejected at the entrance. We then had to walk back to the site entrance to buy some elephant pants before having to queue again.
Choose the cheapest mini-bus option – When booking a mini-bus, we recommend booking the cheaper option. Whilst the VIP options with fewer people and bigger seats on board are more appealing for an extra $2, you're not guaranteed to get this despite paying for it. We found this out after booking a VIP option. When the 'VIP' mini-bus showed up it was no different to the cheaper options; no extra room, and the same amount of seats.
Stay connected – When you arrive in Cambodia, think about purchasing a Metfone sim card so you can stay connected to your friends and family back home.
Essential resources for travelling in Cambodia
Travel Insurance – No matter where you're travelling to, it's a good idea to make sure you're covered for any accidents or losses. We spent days and weeks searching for insurance, but most insurers would not allow us to take out a policy as we were already abroad. Our personal choice is Safteywing. You can opt for automatic monthly payments, just like a subscription. More importantly, it is available in 180 countries and can be purchased whilst already travelling. There is no cap on the duration of travel.
Visa – Before you travel to any country, make sure to check if you need a visa. iVisa is a fantastic website that is super easy and quick to use. Just type in where you are from. and where you are going. to check if you need a visa. If you do, you can quickly make an application online.
Accommodation – Booking.com is our go-to when looking to pre-book accommodation online. Booking.com tend to almost always have the best rates and a FREE cancellation policy for most properties.
Overland transport – Our go-to website for overland transport is Bookaway. Bookaway offers multiple forms of transport, from buses, mini-vans, trains, and ferries. The routes on offer are extensive and certainly cover most of the backpacker trails. Bookaway works a little like Skyscanner but for overland transport. You will find plenty of transport options from a range of companies. All you simply need to do is book online and receive your ticket by email. The email will contain essential information, such as where the bus leaves from and departure and arrival times.
Tours & Activities – If you want to book tours and activities online, make sure to check out Get Your Guide. Get Your Guide takes the stress out of booking activities abroad. You will also find a range of benefits, such as skip-the-line passes, lunch included in your tours, and so much more.
Travel tips ebook -Before you head off on your adventure, make sure to download our free ebook. It has a whopping 109 budget travel tips to help you make your hard-earned cash go further. Click here to download your FREE ebook.
We hope you found this Cambodia backpacking route helpful in planning your adventures through Cambodia. This Cambodia itinerary is ideal for first-timers and is perfect for a 2 to 4-week trip, depending on how fast you like to travel.
Where to next? Have you already completed the regular banana backpacking trail? Extend your trip into Malaysia and check out our Malaysia backpacking guide.
Like this post? Pin it!