Do you have the option to stop over in Qatar? Here is a guide to the best things to do, whether it be a whirlwind 5-hour stop or a jam-packed 12-hour Qatar itinerary! You will also find essential tips for travelling on a long layover in Qatar, along with the new and updated entrance fees to the museums.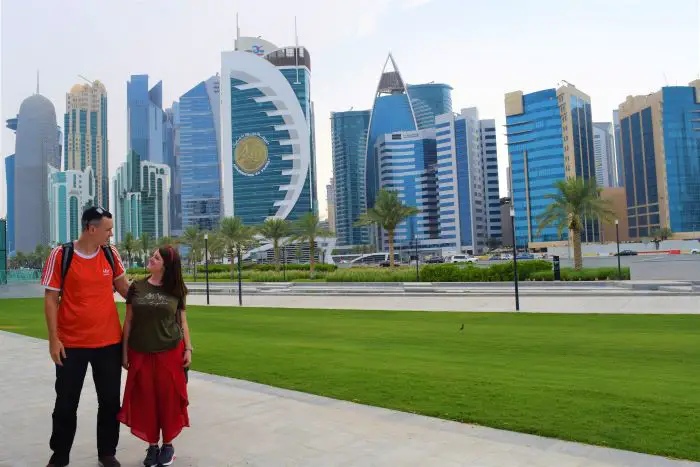 Disclosure: Untold Wanderlust contains affiliate links. If you click on these links and make a purchase, we will earn a small commission at no extra cost to you. You can find our full disclosure policy and privacy policy here.
The basics of a long layover in Qatar
Passing through immigration
When you arrive for your layover in Doha City, you will need to make your way out of the airport. Before you decide on a layover, make sure to check your government's advice if you need a transit visa. Citizens of over 95 countries are eligible for visa-free entry by using the Qatar ETA. The UK is one of them. You can check if you need a visa here.
After you pass through immigration, you will see an information desk. Here you can grab a map and ask any questions regarding events, transport, food, customs, and traditions.
Withdrawing money
There are a few ATMs and a currency exchange desk in the airport near where you collect your luggage. However, if you're travelling on a direct ticket, there is no need to collect your luggage to lug it around the streets of Qatar with you.
We withdrew money from the HSBC bank just before going through the nothing to declare area. The exchange rate was reasonable and in line with the XE converter. As a couple, we withdrew 150 Qatari Rials ($41.20), which was enough for a day pass each on the 777 bus, food and drink in the evening, ice cream, a fridge magnet, and a short taxi ride.
Dress code for Qatar
As always, when going to a new country, it's important to be aware of the local culture and dress code. As we were preparing to leave our home in Vietnam, and as we had never been to the Middle East before, we were left wondering if Katie would need to cover her hair, or if Jake would need to wear long trousers. Turns out neither is necessary! For women, we recommend wearing tops that cover your shoulders and chest (nothing too revealing), and a skirt or 3/4 pants that cover your knees. For men, anything will do. But make sure to wear a top!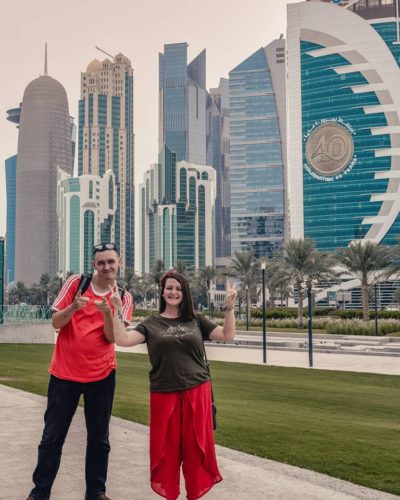 Leaving the airport
By taxi or bus
To get away from Hamad International Airport, you have the option of a taxi or bus. Taxis run to the centre of Doha in around 20 minutes and prices start from 25 Qatari Rials ($6.87). As taxis can be quite costly, we opted for the bus. At just 20 Qatari Rials ($5.49) for an all-day bus pass, you can't go wrong. The bus was super easy to use and ran every 20 minutes. Note: The last bus back to the airport is at 11 pm.
To catch the bus, after you have left immigration, turn right and follow the signs for buses. You can buy your bus ticket at the vending machine, which you will need the exact change for. Alternatively, you can purchase your ticket directly from the bus driver on the bus.
Individual bus tickets cost between 2.50-7 Qatari Rials ($0.69-1.92), depending on your drop-off point.
Bus number 777 will take you almost everywhere you need to go on this itinerary!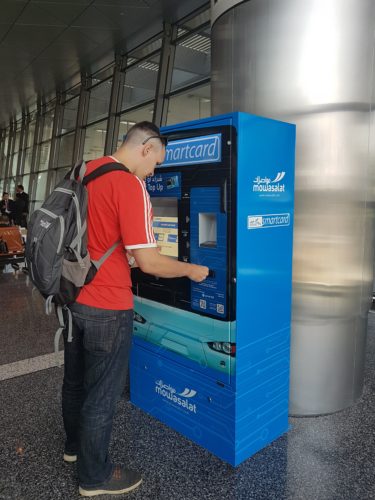 Via pre-organised tour with Qatar Airways
Until recently, customers flying with Qatar Airways with a layover of 4+ hours were offered a complimentary tour of Doha. Now, who doesn't like free stuff!? We were quite bummed out to find out that Qatar Airways have now stopped this service and instead charges 75 Qatari Rials ($20.60) per person for the same tour.
If you still want to pay, you can go to the Qatar Airways desk after you exit the plane to book your place, on the Doha City tour. We recommend this tour for anyone who is in a tight time frame. If you only have 4 to 5 hours to explore Doha, this is the quickest and risk-free way of getting around, and back to the airport in time for your connecting flight.
Places to see in Doha

on a layover (6 – 8 hours)
Be mind-boggled at the Museum of Islamic Art
The first stop you will arrive at on the 777 bus, is the Museum of Islamic Art on your right-hand side. The structure of the museum is a work of art in itself. Unfortunately, we didn't go inside as our layover was during Ramadan and the museum was closed during the day, and we didn't have much time left when it re-opened at 8 pm. Unfortunately, since 28th March 2019, the museum stopped allowing free entry to foreign visitors. The entrance cost is now 50 Qatari Rials ($13.73) for adults or 100 Qatari Rials ($27.47) for a museum pass that will allow you entrance for 3 consecutive days to all museums in Qatar.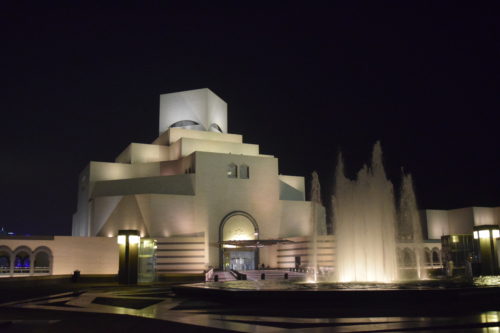 Stroll along the Corniche
After wandering around with your mind boggled at fascinating structures in the art museum, it is time to step outside and clear your mind with a relaxing stroll along the Corniche. The Corniche is a 7 km stretch of road that hugs the bay, where the old wooden boat dock and the memorizing skyline pop up. If you're not down for a long walk, the best spot for photos is by the Pearl Monument.
Take a historical journey on a dhow boat
Hop on a dhow boat to embark on a historical journey along Qatar's waters. The dhow boats are traditional vessels that were used for everyday life before Qatar discovered the country was rich in oil. A ride on a dhow boat will cost between 30-40 Qatari Rials ($8.24-10.99) per person.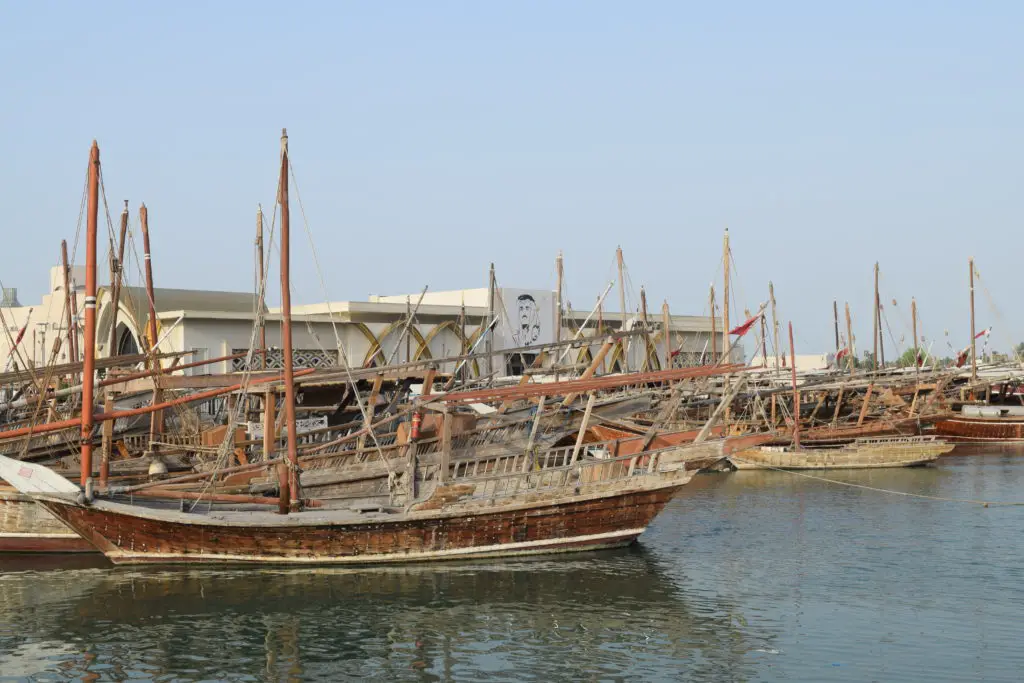 Feel luxurious along the Pearl Boulevard
Next, hop back onto the 777 bus down to Pearl Boulevard (the last stop). The Pearl is the iconic area that has an unusual shape that sticks out to visitors when flying over the gulf. Along this strip are tons of eateries and places to replenish with tasty juice. As you stroll along the boulevard, get a glimpse of the glamorous lifestyle whilst admiring the marina full of extravagant yachts.
Step back in time

at Souq Waqif Old

town

After a replenishing time at the Pearl, jump back onto the 777 bus where you got off, and head down to Souq Waqif. Sadiq Waqif is the oldest part of town. With its stone cream-washed walls, tiny alleyways, and stalls selling Aladdin carpets, you will feel like you have stepped back in time. Along this road, you will find plentiful opportunities to pick up souvenirs and plentiful places to wrap your taste buds around Middle Eastern cuisine.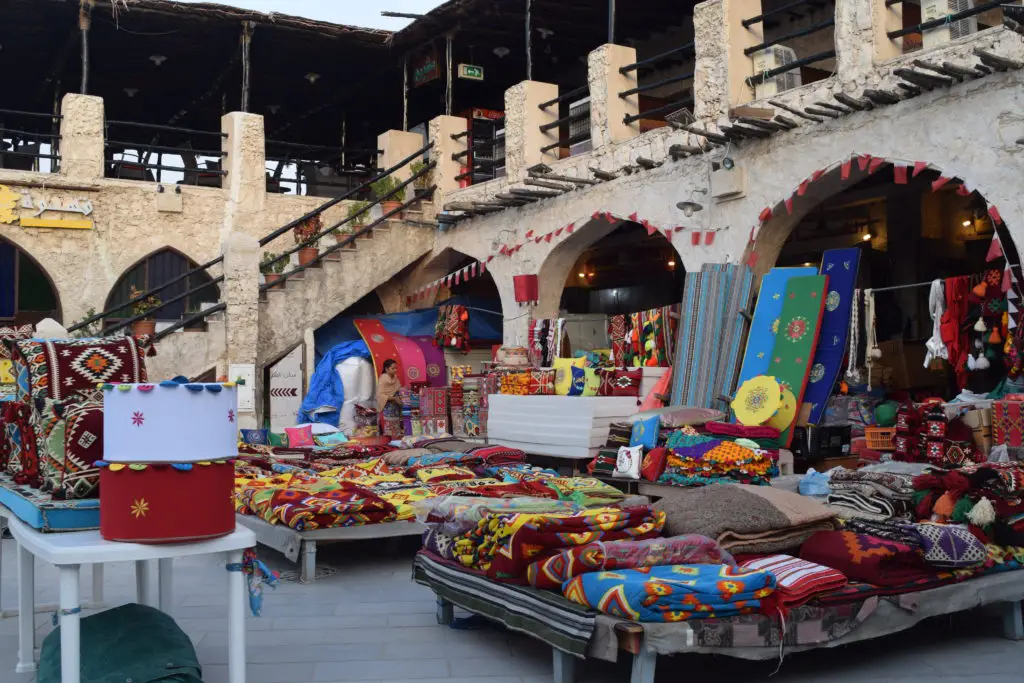 Delve into Qatar's history at the National Museum
Absorb the history of Qatar from its earliest days to the present day. Stroll around the exhibitions and buck up on your knowledge of this tiny, but rich, country. As with the Museum of Islamic Art, the National Museum is no longer free. It will cost you 50 Qatari Rials ($13.73) to enter, or 100 Qatari Rials ($27.47) for a museum pass.
Head back to the airport for your flight
It's time to wave bye-bye to Qatar! Take the 777 bus directly back to the airport. The bus will drop you off at the same place you got on. You can enter the airport terminal directly from the drop-off point.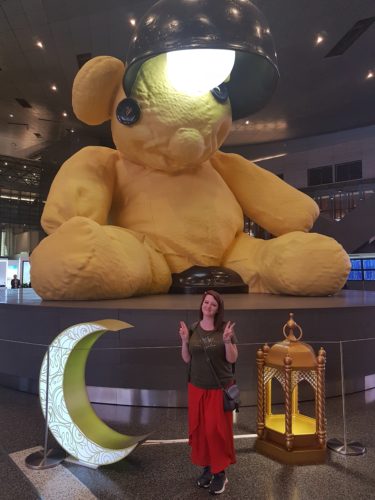 Things to add on an 8 to 12-hour-long layover in Doha
If you have a couple of hours extra to stop over in Doha, or have a car to whizz you around, consider adding these stops to your itinerary!
The

2022 World Cup

football stadium

Qatar is the first Arab state due to host the FIFA World Cup in 2022! If time permits, then don't miss out on the chance to stop by one of the planned venues for the world-famous football tournament. Each stadium, with an expected capacity of over 40,000, and impressive designs, will not fail to amaze the football frenzies out there.
Take a dunes tour
Head 40 km south of Doha to the Singing Dunes. Organise a professional driver to help you discover the famous desert area that is popular for activities such as dune-bashing and buggy riding. You have the choice of full-day tours and half-day tours.
Travelling in Qatar during Ramadan
Will you be on your long layover in Qatar during Ramadan? When we organised our 13-hour layover, it completely slipped our minds that it would be Ramadan at that time. Once we realised this, we were left with quite a few concerns and questions. Would we be able to drink water? Will shops and museums be open? Will public transport still be running?
Eat and Drink – During Ramadan, it's illegal to eat or drink in public areas, even for foreign visitors! The only exception is pregnant women and children. So, if you do have a long layover in Qatar during Ramadan, you will need to be prepared to go without food and water for a few hours or to fork out for an expensive meal behind closed doors at one of the hotels.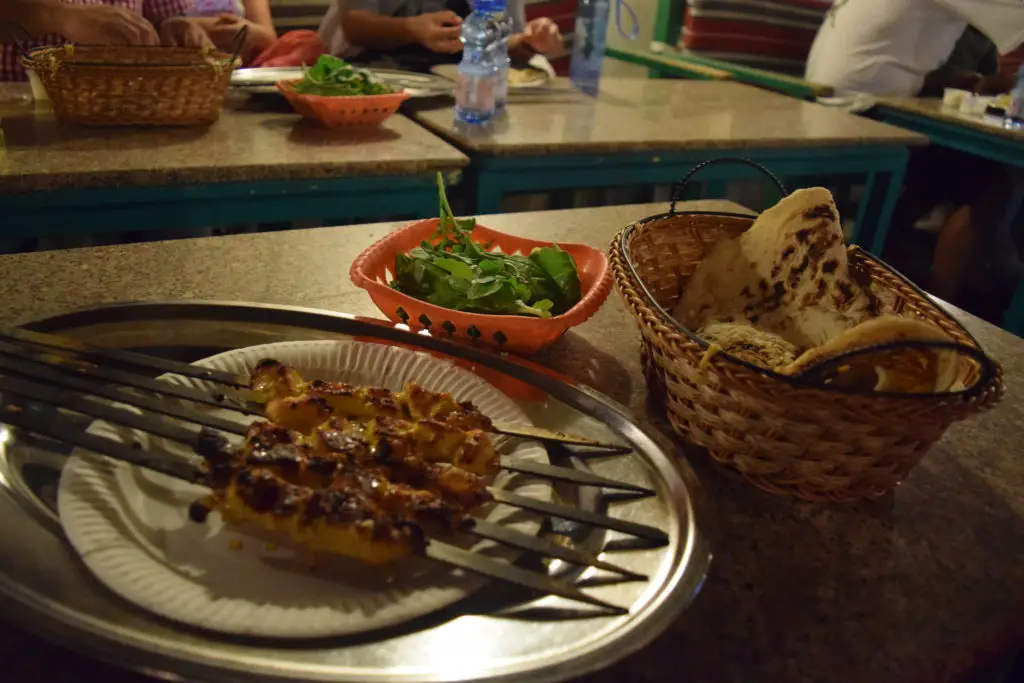 Shops and museums – As for shops and museums, pretty much everything is closed during the afternoon. On our visit, the museums opened in the morning and closed at 2 pm, and re-opened at 8 pm. However, opening and closing times may vary slightly each year according to the times of sunrise and sunset.
Public transport – Public transport seemed to be running as normal. The buses ran regularly and on time. The roads seemed clear and there was not too much traffic on the roads, even as the time of Iftar (evening meal) approached.
Hotel recommendations for a long layover in Qatar
Budget rooms: Green Garden Hotel – As far as prices go in Qatar, this hotel is one of the cheapest places that is a high rating. The hotel offers comfy double beds and large rooms.
Feeling luxurious: The Torch Doha – Offers stylish rooms and a large swimming pool to cool down from the mid-day heat. The hotel gets its name as it's shaped like a torch; another unique building among many in Doha.
We hope this post has helped you plan your long layover in Qatar. If you're heading for Southeast Asia, check out our backpacking Thailand guide to help you get started with your trip.
Essential resources for a stopover in Qatar
Travel Insurance – No matter where you're travelling to, it's a good idea to make sure you're covered for any accidents or losses. We spent days and weeks searching for insurance, but most insurers would not allow us to take out a policy as we were already abroad. Our personal choice is Safteywing. You can opt for automatic monthly payments, just like a subscription. More importantly, it is available in 180 countries and can be purchased whilst already travelling. There is no cap on the duration of travel.
Visa – Before you travel to any country, make sure to check if you need a visa. iVisa is a fantastic website that is super easy and quick to use. Just type in where you are from. and where you are going. to check if you need a visa. If you do, you can quickly make an application online.
Accommodation – Booking.com is our go-to when looking to pre-book accommodation online. Booking.com tend to almost always have the best rates and a FREE cancellation policy for most properties.
Tours & Activities – If you want to book tours and activities online, make sure to check out Get Your Guide. Get Your Guide takes the stress out of booking activities abroad. You will also find a range of benefits, such as skip-the-line passes, lunch included in your tours, and so much more.
Travel tips ebook -Before you head off on your adventure, make sure to download our free ebook. It has a whopping 109 budget travel tips to help you make your hard-earned cash go further. Click here to download your FREE ebook.
Like this guide of things to do in Qatar on a layover? Pin it!