The journey from Bangkok to Koh Phangan, one of Thailand's paradise islands, is well-trodden by backpackers. However, the journey can be long and agonising. No need to worry though, in this post, we will tell you exactly how to make the journey overland, with ease using public transport. If you prefer to save on transport costs, you can always try your hand at hitchhiking in Thailand.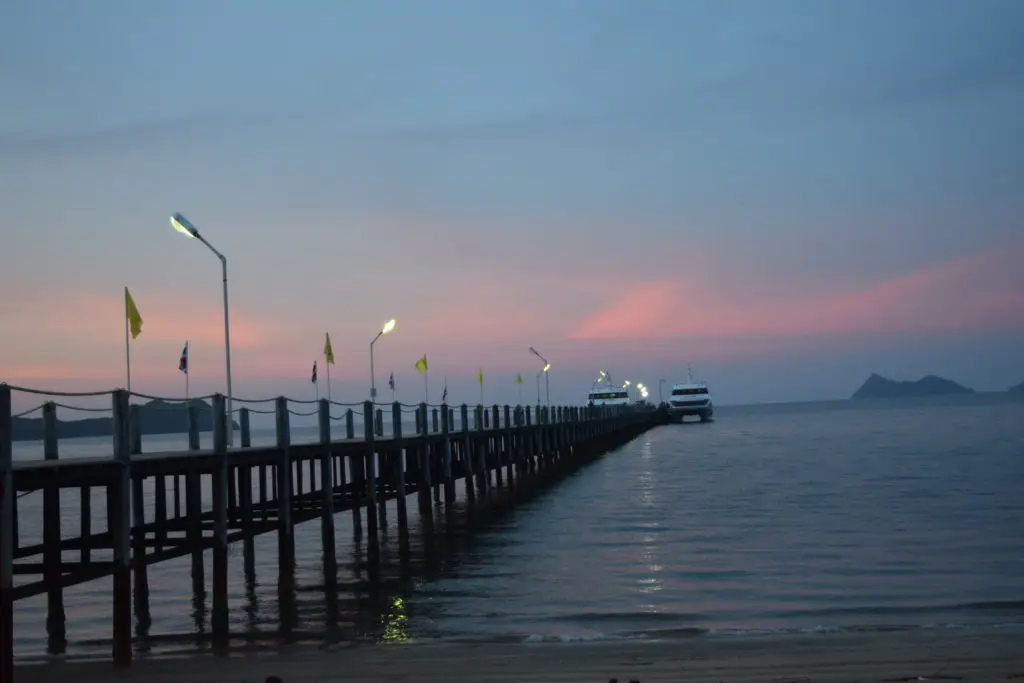 Disclosure: Untold Wanderlust contains affiliate links. If you click on these links and make a purchase, we will earn a small commission at no extra cost to you. You can find our full disclosure policy and privacy policy here.
How to book your tickets
You can easily book tickets from Bangkok to Koh Phangan by simply walking into one of the million tour agencies along Khao San Road. However, you run the risk of the journey being fully booked and you being overcharged. That's why we recommend you check out Bookaway. It's just like using Skyscanner but for overland transport. Input your start point and your endpoint and see the entire list of companies running the route. You can see the times each one departs, the journey duration, and the price. Once you have selected your journey, you can pay by card and have the tickets sent straight to your mobile phone.
The bus journey from Bangkok to Chumpon Pier with Lomprayah
Whilst multiple companies offer the Bangkok to Koh Phangan route, we opted for Lomprayah, for the only 2 reasons that the journey time is shorter, and the pick-up location is just off Khao San Road.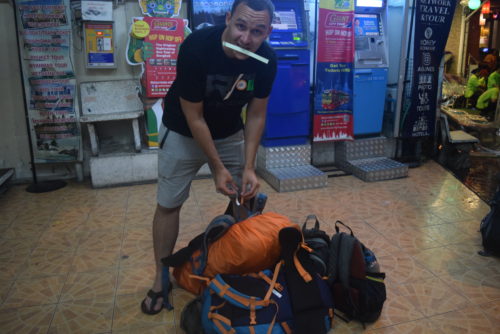 Whilst you can opt for a journey during the day, we opted for the night bus. As budget backpackers, we always take the opportunity to skip the cost of a night's accommodation. The day bus with Lomprayah departs at 6 am and takes 10 hours. The night bus leaves at 9 pm and takes 13 hours, due to the long wait for the ferry. To get the bus, we first needed to go to the Lomprayah office on 154 Soi Rambuttri Road. There, we checked in for our overnight journey by showing our mobile ticket. We then received a handful of stickers with our destination written on them so the bus operators can easily divide the passengers depending on the final destination.
The bus journey was relatively pleasant, with the ease of knowing a toilet was on board and blankets provided for when the aircon became too cold to handle. The only downfall was when the person in the seat in front decided to throw back their chair, the leg space was suitable for a toddler at most. With cramped legs for the 7-hour drive, it made it difficult to find comfort to sleep.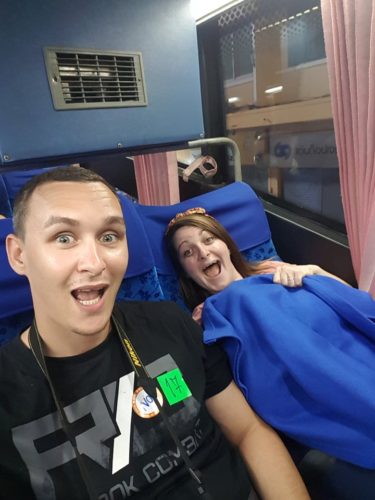 The ferry terminal at Chumpon
If you choose to take the night bus, like us, unfortunately, the bus arrives a few hours before the ferry terminal is up and running for the day. We arrived around 4:45 am but our ferry wasn't due to leave until 7 am.  However, there is a shop and a restaurant at the ferry terminal for you to grab a bite to eat, or an energy drink or two to drag you through the rest of the night. Feeling weary and too tired to walk around the shop or even eat, we decided to pitch up on one of the benches and try to get some shut-eye for an hour before the ferry arrived.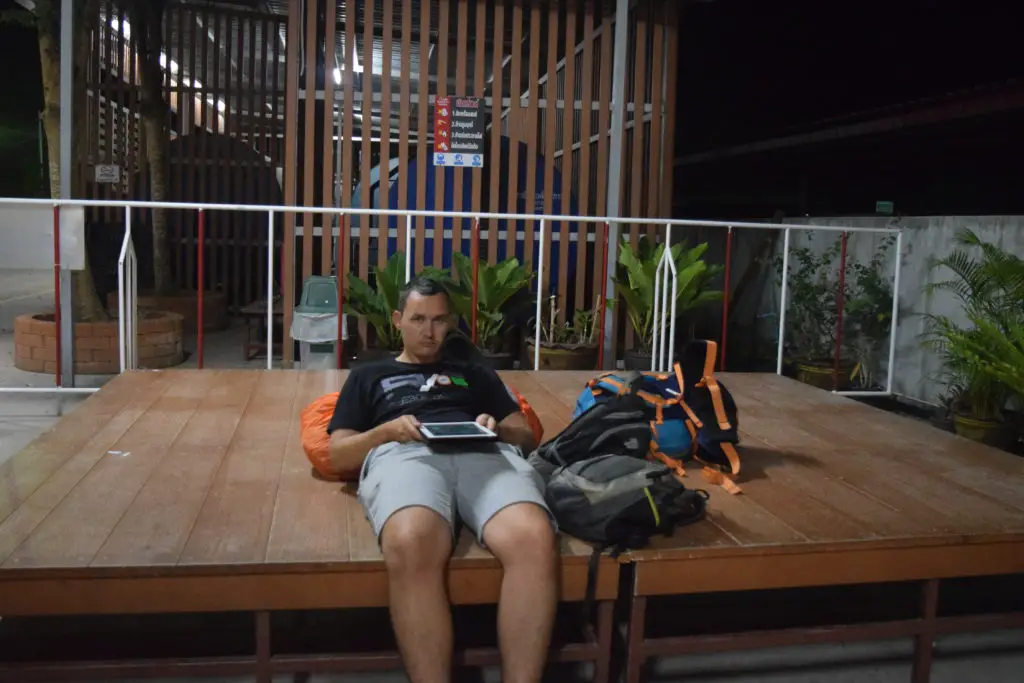 The ferry from Chumpon to Koh Phangan
The fast-speed ferry that leaves Chumpon at 7 am makes multiple stops; Nang Yuan Island, Koh Tao, Koh Phangan and Koh Samui. The journey to Koh Phangan takes 3 hours. The ferry is pleasant, as you can peer out to the endless blue ocean whilst cruising at high speed. The ferry also has a bar on board if you get peckish or need a drink to replenish.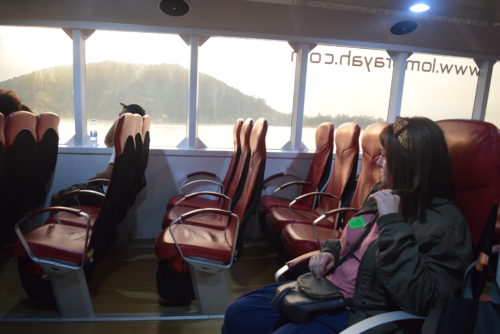 Arriving in Koh Phangan
Once you arrive in Koh Phangan, a must-visit on your backpacking Thailand route, you will be met by a sea of touts eagerly waiting to pounce and offer you their motorbike taxi service. We paid 100 baht ($3.15) each to get to our accommodation, which was 7 km from Thong Sala Night Market and Pier. However, if you walk a little further down the road you will find songthaews (shared taxi) waiting to make the journey around the island. The cost for the songthaews is around 50 baht ($1.57) per person. Once you reach your hotel, you will be more than ready to get started on the many things to do on Koh Phangan; from partying the nights away to taking fun-filled boat trips in the day.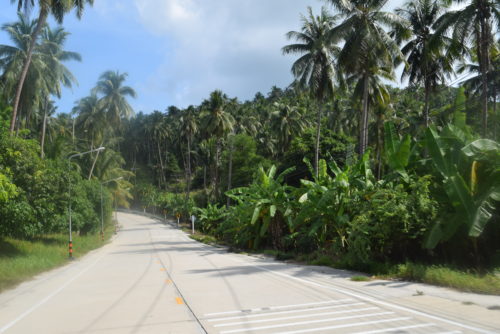 Where to stay in Koh Phangan
Dorm life: Echo Beach Backpackers – A cool backpacker hostel just 10 minutes away from Thong Sala Pier. It boasts a beach-front bar and an in-house DJ. It's a great place to kick back and relax in the hammocks whilst meeting fellow travellers.
Budget private room: Asia Blue Hacienda – If you're looking for a place with a pool, this is the place to be! Whilst the rooms are basic yet clean, the pool has to be the best thing about this place. The pool is large and is just a stone's throw away from the beach and the sea. There is even a smaller section of the pool where you can sit and enjoy the jacuzzi.
Feeling luxurious: The Cabin Beach Resort – If you're looking for a home away from home, and want to splash out, take a look at the Cabin Beach Resort. Each room has a sofa area and a balcony. The interior is stunning! Spend your mornings waking up to the sound of the ocean whilst enjoying a cuppa tea with the views of the ocean from your balcony.
For more accommodation deals and prices in Koh Phangan, CLICK HERE.
Essential resources for travelling in Thailand
Travel Insurance – No matter where you're travelling to, it's a good idea to make sure you're covered for any accidents or losses. We spent days and weeks searching for insurance, but most insurers would not allow us to take out a policy as we were already abroad. Our personal choice is Safteywing. You can opt for automatic monthly payments, just like a subscription. More importantly, it is available in 180 countries and can be purchased whilst already travelling. There is no cap on the duration of travel.
Visa – Before you travel to any country, make sure to check if you need a visa. iVisa is a fantastic website that is super easy and quick to use. Just type in where you are from. and where you are going. to check if you need a visa. If you do, you can quickly make an application online.
Accommodation – Booking.com is our go-to when looking to pre-book accommodation online. Booking.com tend to almost always have the best rates and a FREE cancellation policy for most properties.
Overland transport – Our go-to website for overland transport is Bookaway. Bookaway offers multiple forms of transport, from buses, mini-vans, trains, and ferries. The routes on offer are extensive and certainly cover most of the backpacker trails. Bookaway works a little like Skyscanner but for overland transport. You will find plenty of transport options from a range of companies. All you simply need to do is book online and receive your ticket by email. The email will contain essential information, such as where the bus leaves from and departure and arrival times.
Tours & Activities – If you want to book tours and activities online, make sure to check out Get Your Guide. Get Your Guide takes the stress out of booking activities abroad. You will also find a range of benefits, such as skip-the-line passes, lunch included in your tours, and so much more.
Travel tips ebook -Before you head off on your adventure, make sure to download our free ebook. It has a whopping 109 budget travel tips to help you make your hard-earned cash go further. Click here to download your FREE ebook.
Like this post? Pin it!